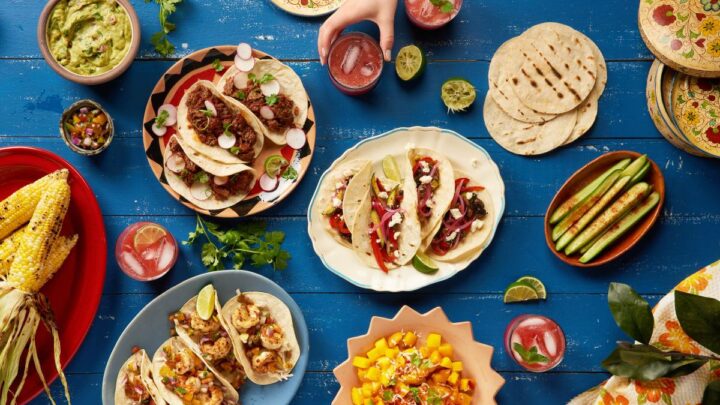 If you're looking for the best Mexican food in London, you'll be happy to hear that you don't have to go very far. The bustling capital is full of incredible Mexican restaurants perfect for every taste and budget.
From humble taquerias to high-end Mexican fine dining, you need to add these top Mexican restaurants in London to your list next time you visit.
Best Mexican Restaurants in London
Bodega Negra
For some of the best Mexican food in London, visit Bodega Negra. It's a high-end Mexican restaurant where you can enjoy traditional, delicious cocktails and innovative takes on Mexican cuisine.
Not only is the atmosphere electric, with live music on the weekends, but the restaurant's friendly servers are more than happy to explain anything on the menu to you.
Try their delicious burritos, tequila flights, and mezcal drinks when you stop in during the week or join them on Saturday for a 90-minute Bottomless Brunch with Mayan Poke and Tacos Al Pastor.
Mestizo Mexican Restaurant
Fitzrovia
For authentic Mexican food and great tequila in London, the place to go is Mestizo Mexican Restaurant.
Opened in 2004, this restaurant truly reflects its food – offering vibrant and colourful dishes you won't soon forget. With menus for vegans, allergies, and dietary preferences, you're sure to find something for everyone.
Start with tamales costeños, corn masa filled with pork and chile or chicken and steamed in a banana leaf. Then make your own tacos with the Taco Tray for 2, a great way to share four different fillings and toppings.
Yucca
Fulham
Tucked away in Fulham, Yucca is one of the top Mexican restaurants in London. This is mainly thanks to its huge portions, vast menu, and fresh ingredients. Trust us – even if you arrive hungry, be prepared to take some of your meal home with you.
Although everything they offer is delicious, their fish tacos are incredibly savoury, and their lamb dishes are stellar, too, with a robust selection of wines and speciality mocktails to pair them with.
Fiesta Mexicana
Orpington
Situated on the fringes of the capital, Fiesta Mexicana is a great place to go with a big group of people. There's ample seating, huge portions, and tons of Mexican and Cuban dishes on the menu, perfect for sharing with your family and friends.
The fajitas come to the table with fire and flair, sizzling hot from the grill with your choice of six different proteins, including steak and minted lamb. Although many of their dishes contain meat, vegan and vegetarian menus are also available.
El Camion
El Camion (and their adorable downstairs bar) are regular features here on London x London.
But this cool joint really is a must-stop spot for Mexican food, especially if you need a great bar menu. Theirs is full of Margaritas, Tequila, and Mexican beer with suggested ways to serve, like adding lime juice and salt to make a Chelada.
To soak up your drinks, enjoy housemade chips with salsa, quesadillas, and mini taco platters with meat or vegetarian options.
Kol
We love Kol – it's one of those places where you can learn quite a bit about what you're eating while savouring a delicious and hearty meal.
While the traditional Mexican food at Kol is phenomenal and the 9-course chef's table experience is worth every penny, the real star of the show is the mezcal. If you've never sampled mezcal, head to Kol and book a table in their Mezcaleria for a tasting.
El Pastor
Multiple Locations
The folks over at El Pastor champion small plate Mexican dining in London. Everything is made fresh on-site, prioritising authentic Mexico City cuisine.
Unlike many restaurants in this guide (and in London generally), El Pastor allows small well-behaved dogs in their restaurant and larger dogs on their terrace so your pup can fiesta with you.
Their prawn tacos are phenomenal, bursting with fresh ingredients and ample servings of tasty prawns with five different sauces or salsas.
Mexican Rico
Sunbury on Thames
Hidden away on the outskirts of the capital, Mexican Rico is a Mexican restaurant popular with Londoners who aren't fond of spice. This buzzy joint is relatively small, so you might want to make reservations, especially if you're dining during mealtimes or on the weekends.
Try their chilli beef enchiladas, chicken burritos, or rice. Vegetarians and vegans will love their refried beans. It's one of the best Mexican restaurants in London for people who don't eat meat.
Tigre Tacos
Stoke Newington
Tigre Tacos started as a pop-up and food truck sensation and has since evolved into a brick-and-mortar location that Londoners simply can't get enough of. It's whimsical, fun, and funky – not to mention that it's only a 20-minute walk from Stamford Hill London Overground station.
Once you're inside, you'll enjoy all sorts of Mexican classics and fusion dishes. Their roasted pineapple salsa is incredible, and the octopus ceviche is fresh, flavorful, and completely addictive.
There are also plenty of options for vegetarians, and a mezcal bar below, so you can keep the party going.
Taqueria Exmouth Market
Clerkenwell
If you're looking for a brilliant spot in London that does tortillas right, Taqueria Exmouth Market is where it's at. Their corn tortillas rival the best, and they load them up with all kinds of goodies.
It does tend to get a little bit loud at Taqueria Exmouth Market, so it might not be the best place to try to have a quiet meal out. It's an excellent spot for big groups of friends and family, though.
Try their potato tacos for a fun twist on a classic, or opt for something a little bit more familiar, like beef or chicken.
Tortilla
Multiple Locations
Tortilla is an excellent Californian-style Mexican joint, with locations dotted throughout London. They are famed for serving simply good Mexican cuisine in a humble setting.
Their jackfruit tacos are delicious and an excellent alternative for people who are going meat-free. For meat lovers, try the carnitas, and you simply can't miss their homemade salsas. Make sure that you get plenty of them because they're all fantastic.
Santo Remedio – Cocina Mexicana
For an excellent bottomless brunch head to Santo Remedio- Cocina Mexicana, a small but charming restaurant near London Bridge. It has plenty of outdoor and indoor seating and has a vast selection of craft beers and margaritas to wash down your meal with.
For mains, check out the Barbacoa Lamb shank or fill up on the Elote side dish, grilled corn on the cob slathered with chipotle mayo, cheese and chilli. Delish.
Practical Tips for Finding Cool Mexican Restaurants in London
Don't be fooled by appearances; some of the best Mexican restaurants look relatively humble.
There's no denying that over-the-top Mexican decor is fun, but it's far better to choose restaurants that can tell you about their origins and the culture. We guarantee that the food will taste way better at these kinds of spots.
Mexican Restaurants London: Map