​​Discover London's best French restaurants. From Michelin Star restaurants to classic bistros and brasseries, the city does not disappoint.
If you don't have time for a Eurostar ride across the channel but you're craving the delicacies of French cuisine, you're in luck.
London has a wide variety of delicious and authentic cuisine within its city limits. Time to dine your way around the best French restaurants in London.
The Best French Restaurants in London
Casse-Croûte
££
Casse-Croûte's cosy environs will truly make you feel like you're in a village of Aix-en-Provence. The charming French restaurant on Bermondsey Street in London has an inviting vibe, featuring a rustic blackboard menu that's updated daily with French classics.
The intimate setting and red-chequered tablecloths pair well with the sophisticated charcuterie boards and fine wine. There are only three choices per course, which makes it a perfect opportunity to try something outside your comfort zone.
La Petite Auberge
Multiple Locations
£££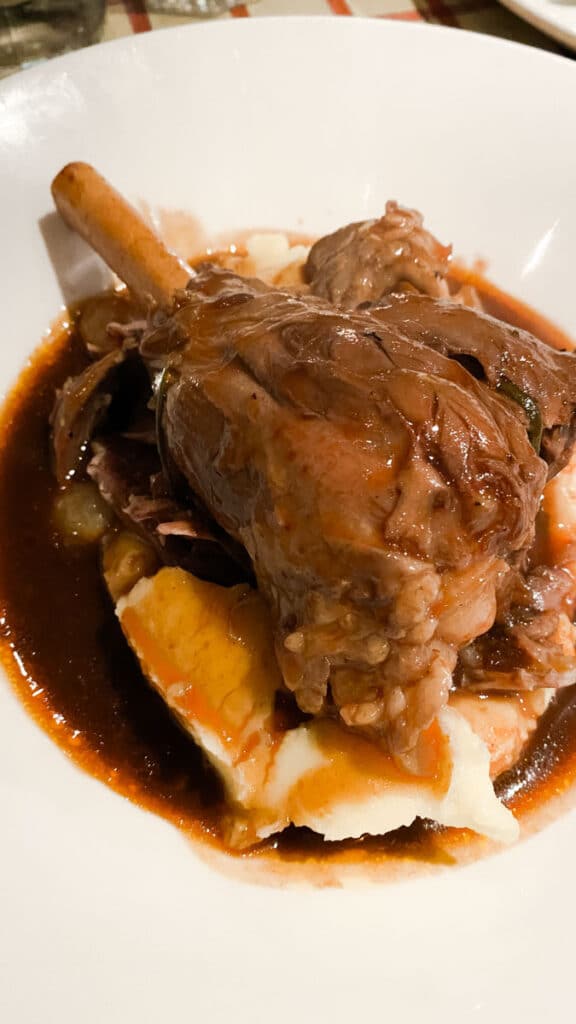 If you're looking for a classic French brasserie in London with a twist, look no further than this creative spot, with locations in Islington and Cockfosters. The chefs pride themselves on their fresh ingredients, which are locally sourced from nearby farms and butchers.
La Petite Auberge has a special lunch menu as well as a la carte options, making it a perfect spot any time of day. We'd especially recommend their evening prix fixe menu, and a decadent crepe to follow.
Galvin La Chapelle
£££
Part of the Galvin family of restaurants, this Michelin French restaurant in London is a luxury Shoreditch staple. The space is fit for a king, with large arched windows and high stone ceilings that reflect the traditional but modern menu.
The Galvin brothers pride themselves on their locally sourced ingredients and travel personally to Covent Garden Market every night to find the best and freshest produce and meats. Enjoy their signature Assiette of Herdwick lamb, or branch out with the succulent fallow deer.
Club Gascon
Clerkenwell
£££
Of all the Michelin star French restaurants in London, Club Gascon is the most imaginative. Inspired by the flavours of southwest France, legendary chef Pascal Aussignac presents innovative takes on classic French ingredients just off of Smithfield Market in Clerkenwell.
This spot is housed in a former Lyon's Tea House and retains the poised aesthetic and marble furnishings. We'd recommend their impeccable seasonal tasting menu, which can be ordered classic or fully vegetarian, neither of which skimps on flavour.
Frenchie
££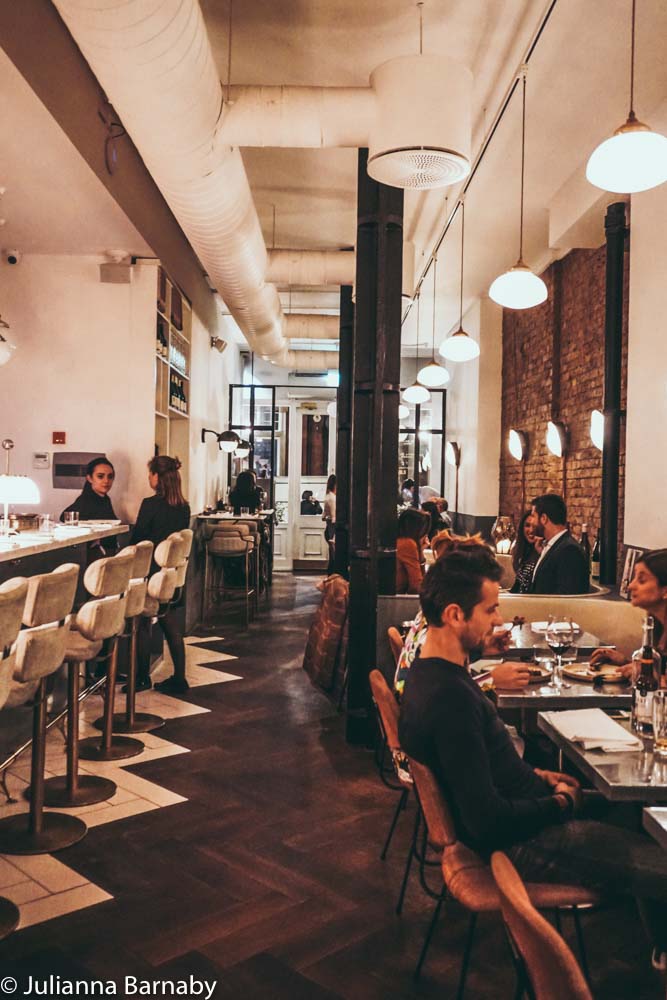 Frenchie is our favourite French restaurant in Covent Garden. Here, at this British outpost of a Parisian original, classically trained chef Greg Marchand brings a completely authentic French restaurant to London. When you step through the doors, you'll feel like you've been teleported to the streets of Paris, with carefully curated decor and a chic atmosphere.
Beautiful location aside, it's the food that really makes Frenchie pop. We wrote a review telling you why.
Brasserie Zédel
££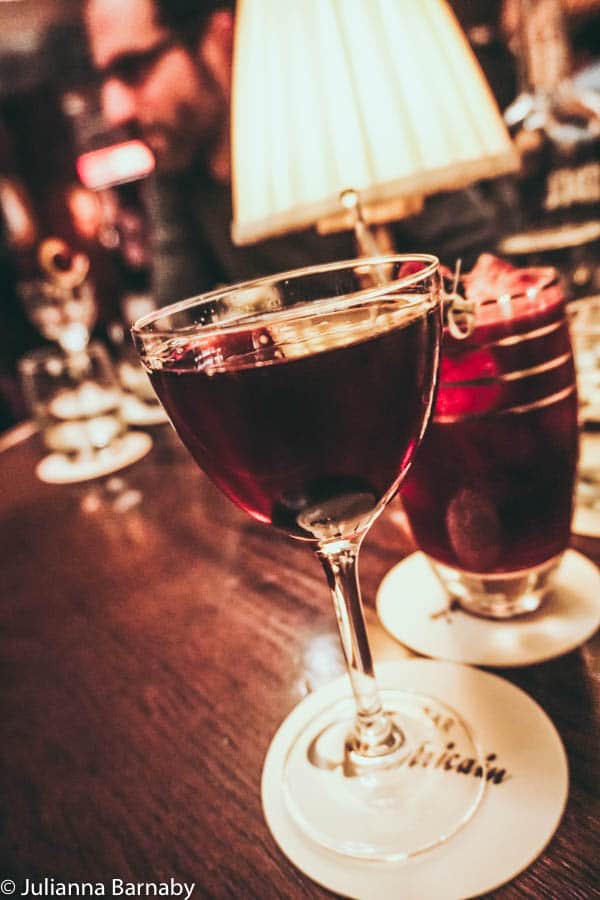 An iconic French restaurant in Central London, the massive Brasserie Zédel is ideal for a family dinner or special occasion – or just treating yourself because You. Are. Worth. It.
As one of the more traditional French restaurants in London, their exciting art deco space in a gorgeous 1930s building accompanies the classic and affordable fare.
With set menus covering two courses, this is the perfect place to introduce your loved ones to French flavours. After a satisfying meal, enjoy a show next door at their lively cabaret venue.
The Bistro at the Bleeding Heart
££
A traditional French Bistro in London, Bleeding Heart offers year-round outdoor seating and an aesthetic that's a mix of French farmhouse and British Victorian architecture. The inside of the restaurant is theatrical but classy, with 19th Century wine posters and vineyard sculptures.
The food is as classic as a traditional French restaurant in London can be, with hearty classics like coq a vin, rabbit with mustard sauce, and steak frites. Try any of these with one of their 450 wine options.
Gauthier Soho
Soho
£££
Gauthier is the most exclusive French restaurant in London's Soho. When you arrive at the refined townhouse, you'll ring a doorbell and be greeted by a sophisticated Frenchman who will take you to an intimate table—the entire experience will make you feel completely indulgent.
Any dish that Michelin-star chef Alexi Gauthier makes will melt in your mouth, so it's no surprise that this all-vegan menu will as well. It's unusual to find a vegan French restaurant in London, but you'll be amazed at how decadent and sumptuous this entirely plant-based menu is.
Aix Restaurant
Crouch End
££
One of the best French restaurants in North London, Aix's seasonal menu is accompanied by a cosy and romantic atmosphere. Once you've been taken to your quiet table and settled into your plush seats, you'll be able to enjoy the velvet curtains and Renaissance-style murals in one of their two bohemian dining rooms.
This chef-owned restaurant features a menu of archetypal French dishes with an occasional British twist, especially its sought-after sunday roast. This unbeatable combination features a garlicky leg of lamb, a French lunch staple, with British roast potatoes and Yorkshire pudding.
Soif
Battersea
££
While London's iconic Terroirs has tragically closed its doors, their offshoot Soif feels like a neighbourhood bistro in the French countryside right in Battersea Rise. The same team that deftly ran Terroirs brings their Parisian style and extensive knowledge of natural wine to this chic spot.
Enjoy one of these locally made wines along with a classic charcuterie board or Tapas that blends Mediterranean tradition with French flavours.
Upstairs at The French House
Soho
£
This iconic spot is a two-for-one that's frequented by locals and tourists alike. The French House itself is a legendary Soho watering hole that is a must-visit for London's art crowd. What many don't know is above the boisterous pub is a tiny dining room serving delicious French cuisine.
The stripped-back tables and minimal decor allow you to just enjoy the food, familiar classics like lamb chops and cheese boards, and some not so familiar options like calves' brains with brown butter and capers.
Hatched
Clapham
£££
If you've grown tired of all the traditional French options in London, try Hatched for something more modern and laid-back. The chefs at Hatched see creativity as one of their main goals, and the no-frills, casual atmosphere means each dish stands out.
The food at Hatched is global, but while the dishes are from around the world, each boasts an unmistakable French twist. Innovative chef Shane Marshall brings classical French training to unique, seasonal ingredients.
Coq d'Argent
Bank
£££
If you're looking for delicious food that will make your Instagram followers jealous, reserve a table at the gorgeous verdant rooftop garden at Coq d'Argent. With four terraces to choose from, heated lamps, and cozy blankets, you can enjoy panoramic views of London all year round with your French bites.
We'd recommend this spot for their weekend brunch, where you can order anything from a French take on eggs Benedict to caviar.
Practical Tips for Booking French Restaurants in London
All of the spots on our list of the top French restaurants in London are deservedly popular, so most of them won't be able to fit you in if you show up on a Friday evening.
For any of these places, we'd recommend trying to get a reservation a couple weeks to a month in advance, especially if you're going with a group. If reservations are fully booked, some restaurants may consider putting you on a shortlist.
French Restaurants in London: Map
Discover More London Dining Guides