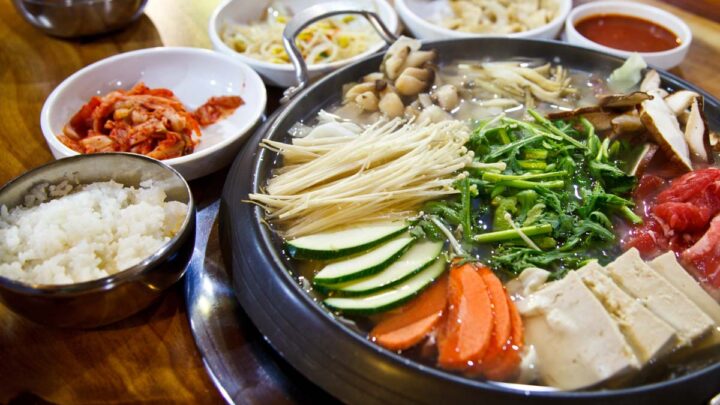 Looking for the best Korean restaurant in London? You're spoilt for choice.
The crispiest fried chicken, tantalising sauces, tender meat – this comforting cuisine will help you recover from a night out or warm you up on a cold day. In other words, the meals are hearty and really hit the spot.
Ready to chow down? Let's take a jaunt around London's best Korean restaurants.
Best Korean Restaurants in London
The Petite Coree
West Hampstead
With dreamy decor and an extensive wine menu, The Petite Coree blends European and Korean cuisine perfectly. This is a great starting point for those looking to dive into Korean food but not sure where to start.
Fried chicken, seafood pancakes, and hunks of bulgogi are all on the menu here, but with a slightly more palatable take for Westerners filled with trepidation.
Ordering a Sojito – a Mojito made with SoJu – to wash everything down with is a total given.
Jin Go Gae
New Malden
Jin Go Gae is all about the BBQ.
It's actually family-owned – father/Chef Cho still follows the authentic methods of cooking and brings Korean flavours right here to us folks in London.
It's almost like you're eating KBBQ in Seoul… except it's New Malden.
They offer plenty of banchan (side dishes) in the form of pickles and veggies, starters like Par-jeon (which is a delicious Korean squid pancake filled with spring onions and crab sticks, FYI) and, our favourite, Budae Jjigae: an army soup made from ramen, sausages, cheese, and veggies. Yum.
Kimchee
King's Cross, Holborn
If you're looking for a swankier Korean restaurant in central London, Kimchee needs to be at the top of your list.
There are two locations – one in King's Cross, the other in Holborn – both are the perfect place to venture further than just the humble bibimbap or BBQ and explore some of the more adventurous Korean dishes.
Kimchee offers a wide range of authentic Korean recipes. Our favourite is Cheese Dduk Bok Gi – which is rice and fish cakes with vegetables simmered in a spicy sauce and smothered in grated cheese.
Cut through the cheese-heavy meal with a glass of Soju, making sure to shout Gonbae (or cheers) and thank us later.
Zipbab
Holborn
Looking for real Korean food? Zipbab's got it covered. We're talking comforting dishes like Korean ramen noodles in a warm spicy broth.
It's not unusual to see people perched in corner shops in Seoul, slurping spicy microwave noodles – these kinds of traditions are elevated at Zipbab.
You can't go wrong with the classic Bibimbap – rice topped with your choice of protein, steamed vegetables and pickles, served in a hot stone pot. Or stray from strictly Korean cuisine and opt for a side of sweet potato fries. Asian sweet potatoes hit differently, in case you were wondering.
You'll want to also get a side of Gimbap, which is Korea's version of sushi; filled with an array of flavoursome ingredients and (we're not sure why, but it works) Spam.
Sarang
Golders Green
Meaning 'Love' in Korean, you can find Sarang Restaurant on Finchley Road.
It's easily among the best cheap Korean restaurants in London and is (unsurprisingly) very popular among locals – what it lacks in frills, it makes up for in authenticity. That said, don't be surprised if you have to scrap for a seat.
Waiters will often cook on the table in front of you, so you can watch your BBQ as it's being prepared. The service is instantaneous, and everything you need is well within reach – so sit back and let the waiters prepare a mouthwatering dish right in front of your eyes.
You've got plenty of sides, starters, and mains to choose from, but we recommend you order from the set menu, where you'll get a hefty selection of meats and side dishes for a bargain price.
Envelope the meat in lettuce for a delicious Ssam wrap – in true Korean style.
Bibimbap & Chimaek
New Malden
The fried chicken culture in Korea rivals that of the US, and a popular way to eat this crunchy goodness is by indulging in Chimaek – chicken with Maekju (beer). Sounds too good to be true? It's not, and you can enjoy it at this restaurant.
Crispy skin reveals deliciously moist meat underneath; choose from sauces such as garlic honey, spicy sweet chilli, or soy sauce. Don't shy away from chicken with bones – they add the flavour and moisture you'll be craving more of.
That said, the Bibimbap at this restaurant is equally as delicious #justsayin.
Kalbi Korean BBQ
Clerkenwell
If you want to chow down on hearty Korean food in an understated but stylish setting, Kalbi is your joint.
They offer a BBQ buffet that's very popular among Londoners, and you can try everything from meats to fish, dumplings, kimchi, and more.
Opt for a set and you get unlimited pork and chicken bulgogi, spicy meat variations, a delectably smokey BBQ chicken, and melt in the mouth pork belly.
The best news? You can eat as much as you want for 90 minutes. Our top tip is to order the more expensive meat first so you get your money's worth.
By the time you've added a starter into the mix, you can see why our advice is to go hungry.
Korean BBQ & Vegan
Barbican
The only truly halal Korean restaurant London has is Korean BBQ & Vegan. They're certified and they follow the rules of Halal.
They don't serve alcohol, nor do they use it in their food. And pork is nowhere to be seen on the menu.
That's not Korean BBQ & Vegan's only USP though – the food is great too – there are a wide range of vegan and non-vegan dishes that are cooked to perfection.
If in doubt, go for the Cheese Fried Chicken – a glorious dish of Korean fried chicken topped with melted cheese. However, they also have a lot of vegan dishes, all of which are mouth wateringly good.
Olle
Soho
Whilst family-style Korean restaurants are often the way to go, Olle brings sophistication and swish decor to central London.
This Shaftesbury Avenue gem is a firm favourite among those in the know, with the mandu (dumplings) and savoury egg souffle – trust us, it's delish – our go to's.
We'll level with you: everything on their menu is a winner, but the wagyu and pork bulgogi are standouts. Get the grilled eel on the side for a little slice of umami.
Bento Bab
Spitalfields
You'll find Bento Bab in Spitalfields; it's easily one of the tastiest Korean restaurants in east London. What's more? It's affordable and portions err on the generous side of things (read: they're massive).
The dumplings prove popular, as does the jjigae, which is hot stew with rice. And you'll want to save room for the sides of Korean fried chicken – the sweet chilli and soy garlic variations just can't be beaten.
If you fancy trying something a little bit different (and not typically Korean) you can also scoff some kimchi fries.
With K-pop music blasting and neon signs adorning the walls, it really feels like a Friday night in Itaewon.
Bibimbap Soho
Soho
For a Korean restaurant in London Soho, Bibimbap tops the lot. For one, as the name suggests, they make excellent bibimbap. Two: The food is genuinely Korean, and three – the menu offers plenty of choice.
In fact, you might have trouble deciding because there are so many options. Which is obviously the best problem ever.
Will you devour the spicy pork with brown rice? What about chilli chicken ramyeon soup, which comes with an egg mixed in? Whatever you opt for, you're in for a treat.
Yokoso Korean
Isle of Dogs
Those not in the centre of the capital can breathe a sigh of relief: nestled away in the Isle of Dogs, Yokoso Korean is a Korean restaurant in east London that rivals those in the centre (and well worth making a journey out for, in our humble opinion).
The samgyupsal – which is BBQ pork belly with lettuce leaves for those unacquainted with the Korean language – has chilli, garlic, and soy sides for dipping.
You'll want to get in on the ssam action here too. Layer lettuce, meat, radish, and sauces, then proceed to shove in your gob for the ultimate mouthgasm.
Another favourite is the soondubu jjigae, a spicy tofu soup with mixed seafood, as well as eggs and vegetables in case you weren't already unbuttoning your trousers at the table.
Veggie? The vegan bibimbap and other vegetarian dishes hit the mark, offering authentic Korean flavours sans the heavy meat additions.
Practical Tips for Visiting London's Korean Restaurants
In Korean restaurants, it's commonplace to hear people shouting for their waiter. Try saying "Yogiyo!" (pronounced like yoh-gi-yoh) when you're in need of a BBQ refill. When you finish your meal, tell the staff "Jal-muhguhs-seub-nida" meaning "I ate well".
In Korean, side dishes are called Banchan and will usually accompany your meal – they consist of small plates of kimchi, radish, and stir fried cucumbers and they're really delicious.
You'll want to know how to use chopsticks in a Korean restaurant, though Bibimbap (mixed rice) is a safer option if you're a total newbie as it comes with a spoon for mixing.
Korean Restaurant London: Map
Looking for More London Restaurant Guides?