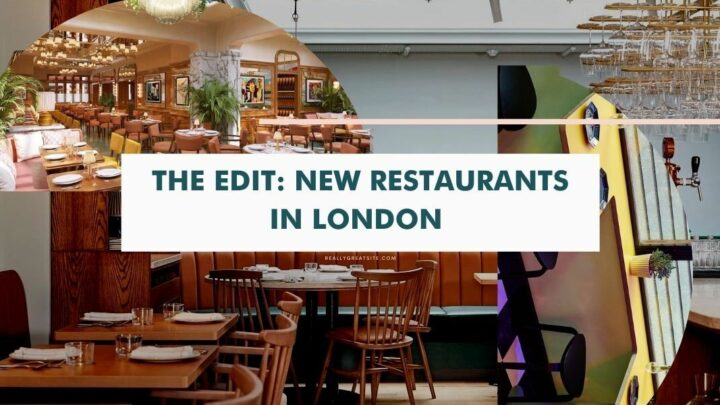 Looking to try out the best new restaurants London has to offer this month? We've rounded up the top eats in the capital right now.
It's safe to say that London has had a flurry of new restaurant openings over the last year, much to the delight of foodies everywhere.
But we've all been in that disappointing situation when you finally visit a new spot, only to find it has been overhyped and it's all style and no substance – so which spots are worth spending your hard-earned cash on?
Don't fret – we've got you covered with this guide to great new restaurants in the capital.
Pssst… keep reading until the end for a couple of restaurants to keep on your radar for when they open in 2022.
Price Guide (based on a main):
£ – under £10
££ – between £10 – £15
£££ – over £15
New Restaurants in London You Have to Visit
Parrilan
London Bridge
Opened May 2022
£££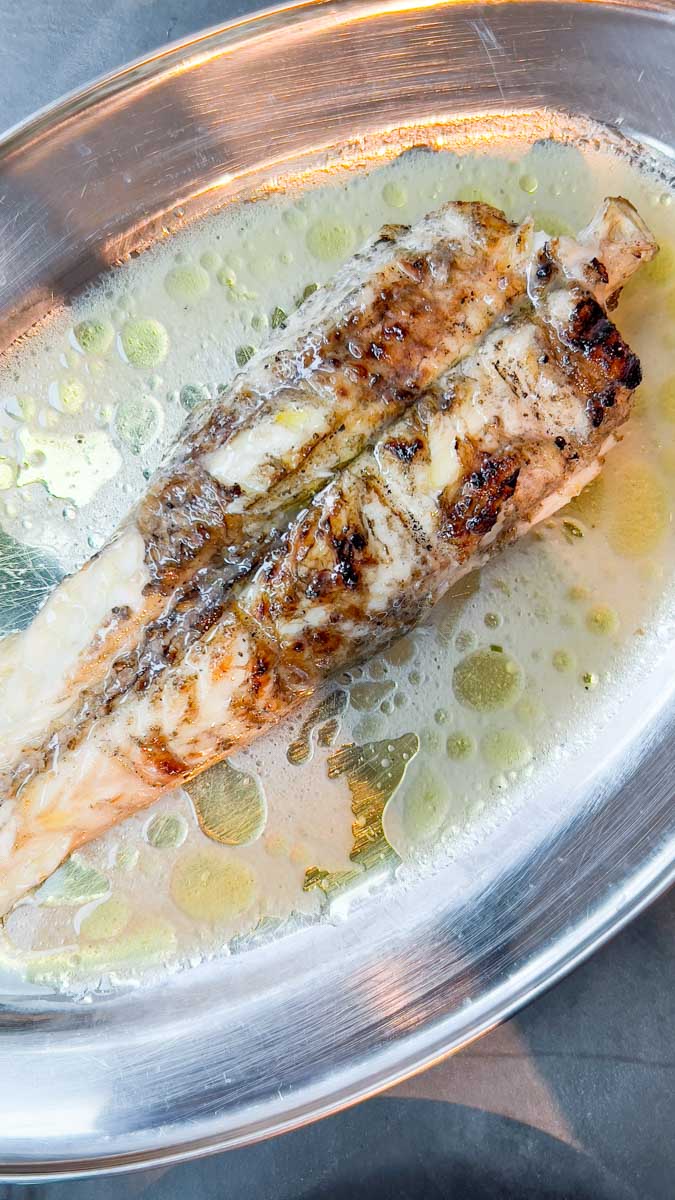 Cooking over the flames of a wood-fired grill, Spanish produce and sitting under the romantic arches of Borough – this restaurant has it all. Without a doubt one of the best new restaurants in London.
And guess what? If you fancy it, you get to grill your own meat. Your waiter will bring you an individual parrilla grill brought to your table and give you some insider tips on how to grill to perfection. There's something pretty rewarding about grilling your own meat.
The daily-changing menu features dishes using the freshest ingredients. On our recent trip, the monkfish and scallop were *chef's kiss*.
We recommend the pan de coca con tomaquet de penjar (tomato bread) as a starter or for the veggies, one of the best we've ever tasted.
Either sit inside or on the terrace and enjoy what feels like a trip straight to Spain. Another exciting feature (or gadget) is that each seat comes with electronically heated cushions! Now that's a restaurant who cares.
Rarebit
Elephant and Castle
Opened June 2022
££
The place that's putting Elephant and Castle back on the map. Laid back, high quality food and a very special atmosphere.
The restaurant also doubles up as a grocery shop for your breads and pastries along with one of the best wine lists we've ever seen.
Head down to Elephant and Castle to enjoy one of the coolest new restaurants in London. (Definitely give the scallops a go, and obviously, the rarebit).
Pascor
Kensington
Opened June 2022
£££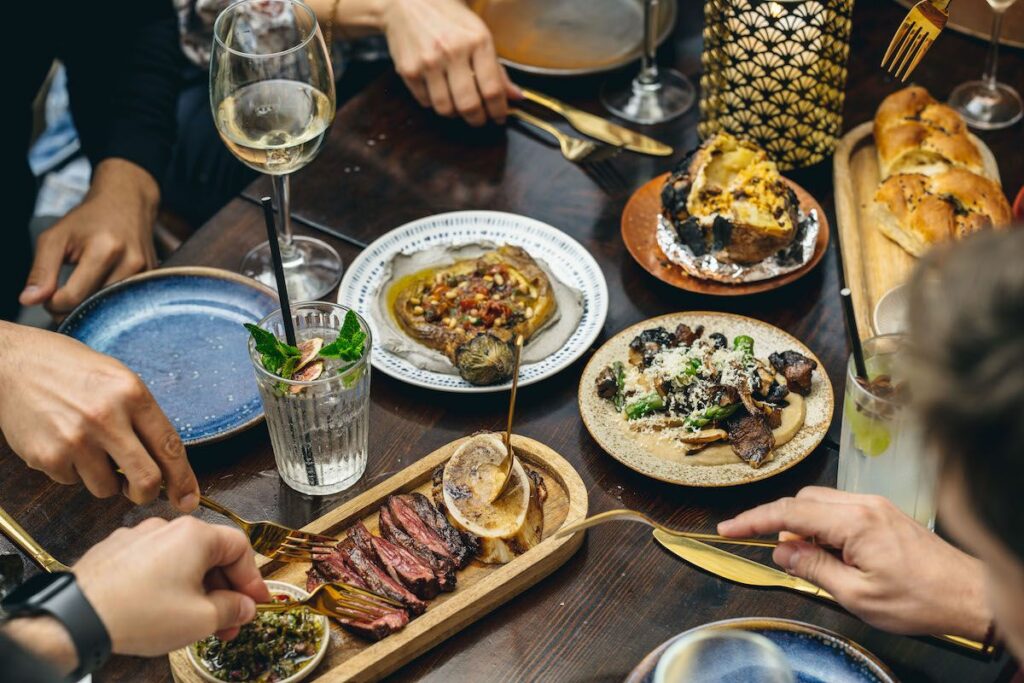 Pascor has had a total revamp and is officially open and looking like one of hippest new restaurants in London. Pascor, a fire-focused new Levantine restaurant has just opened in Kensington.
While the name remains the same and you may have heard of this restaurant before, everything else has changed. New menu, new chef, new everything.
Think Levantine small plates, fun cocktails and stunning wines by the glass with a menu to match the magic.
The Ex-Palomar Chef Tom Amedi is overseeing the project and his magic is all over this new gem.
Zoom East
Whitechapel
Opened June 2022
££
A very exciting new restaurant in East London, Zoom East. The menu is a gorgeous taste of regional Sicillian cuisine with some dishes dipping into Greek and North African influences.
It couldn't get more East London than the fact all fish is sourced from the best fish market in London, Billingsgate market.
The restaurant also has its own private dining room, a courtyard and aperitivo deli bar. We recommend the arancini balls to start and the grilled octopus as a main, both are delicious.
The Boundary
Shoreditch
Opened June 2022
£££
Formerly the Albion Café, The Boundary Shoreditch has opened a brand-new ground floor bar and restaurant with new Head Chef, Robin Freeman.
All-day British Brasserie-style menu, weekend brunch and Sunday roasts – this restaurant has it all.
The boundary is your brand new drinking spot in Shoreditch as well as the best new spot for food in East London. Make sure you get your booking in as it's set to be booked up this summer!
The Residency
Opened May 2022
££
Ultra-cool new restaurant The Residency brings a touch of British flair to Notting Hill, with a menu filled with elevated classics.
Top picks from the menu include the irresistable chargrilled chicken thighs topped with a sweet bell pepper and onion jus, pan-seared seabream with truffle butter, and The Residency's bone marrow beef burger – though, anything from the small-but-perfectly-formed menu promises to be tasty.
Save room for the creamy banoffee pie – it's vegan, though you won't be able to tell.
Amethyst
Opened May 2022
£££
Amethyst is a stunning new restaurant that has opened in London this month. With a 12-course tasting menu (served on a beautiful amethyst table, no less) taking diners on a journey for the senses, inspirations have been drawn from Nordic and Japanese cuisine with nods to French and Arabic food.
The menu changes regularly, but expect the likes of scallops and foie gras with rose petal salmon, yuzu, and hazelnuts to make an appearance.
It's safe to say that Head Chef Carlo is a master of his craft – after all, he entered his first professional kitchen at 13 years old. Since then he has spent many years living in the likes of Japan, France, and Sweden, honing his skills even further.
Laurel's On the Roof
Opened May 2022
££
On top of the Shoreditch Mondrian Hotel, Laurel's is the coolest new London restaurant that has taken inspiration from 1970s LA.
As expected from an east coast joint, Californian classics are on the menu – think Malibu shrimp cocktail, Jersey oysters, and cobb salad. Drinks-wise, expect garish glassware and an array of vintage-inspired cocktails.
Revolve
Opened May 2022
£££
Thanks to the likes of Caravan, the capital seems to be loving revolving chef menus right now – and Revolve is equally as brilliant. In fact, we think it's one of the very best new restaurant openings London has seen in recent years.
A roster of guest chefs will be delighting diners with dishes that focus on simple British brasserie classics, set inside a dreamy NYC-inspired dining space. Though, you can head there any time to enjoy the likes of south coast lobster and Scottish angus steak with a bone marrow sauce.
Audrey's
Opened May 2022
££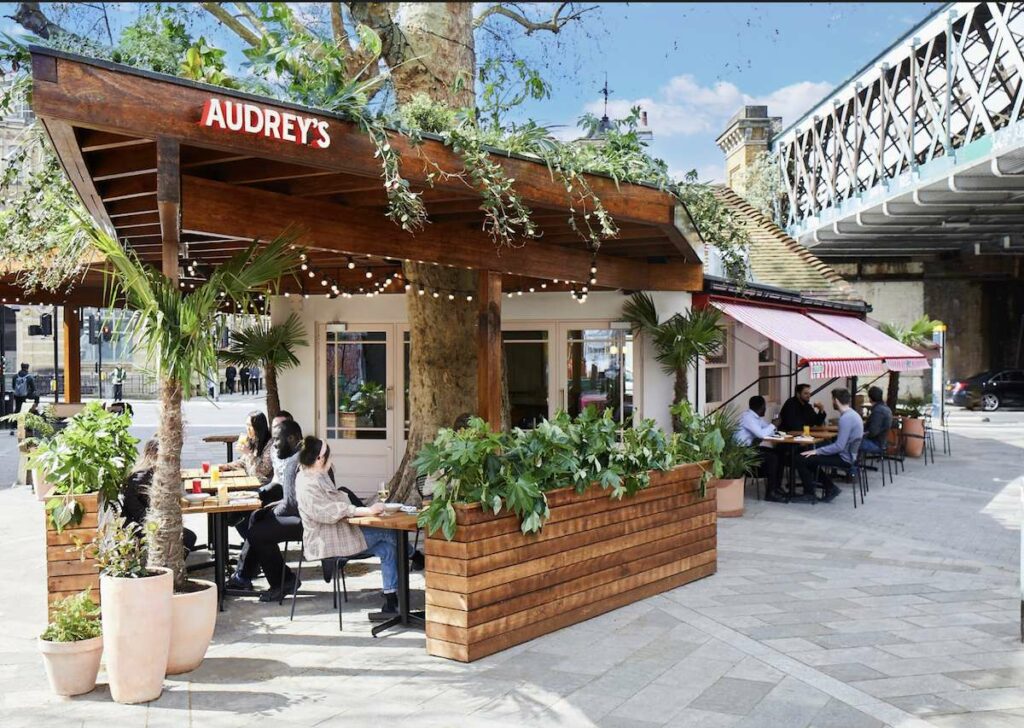 The team behind the likes of Flat Iron Square and Tap & Bottle has opened Audrey's – a brand new all-day cafe bar in South London.
Featuring a cosy indoor space, as well as plenty of outdoor seating, Audrey's serves up a delicious array of seasonal dishes throughout the day, as well as a hearty collection of sarnies and pastries to devour with a coffee.
Head there for brunch and order the tangy rhubarb porridge, or swing by mid-afternoon for a plate of pork chop schnitzel.
The Lanesborough Grill
Opened April 2022
££
The Lanesborough Hotel's brand new restaurant, The Lanesborough Grill, opened last month in London and has been delighting diners with a classically elegant menu ever since.
Head Chef Shay Cooper has a wonderful track record, with his work at the likes of The Bingham Hotel and The Goring resulting in Michelin Stars.
Many dishes are served tableside on Gueridon trolleys, with big winners including the likes of coronation crab salad, beef wellington, and a deliciously-tempting Yorkshire rhubarb trifle.
Richoux
Piccadilly
Opened April 2022
£
Richoux opened last month in London, bringing a touch of Parisian flair to central London. We've checked it our for ourselves and we come bearing brilliant news: It's flippin' lovely.
The decor at this spot (which is one of the coolest new restaurants London boasts, FYI) is classic and elegant, yet not too stuffy, with clashing patterns and dim lighting creating the ultimate chilled-out ambience.
More importantly, the food is truly delicious (and none of those measly portion sizes, either). Order the flat iron steak frites or the classic croque monsieur and you won't be disappointed.
Cicchetti
Opened April 2022
££
We've raved endlessly about the opening of Cicchetti in recent months. Partially because we're huge fans of the OG Covent Garden location, but also because it's one of the most beautiful restaurants in London in 2022, with it's Venetian-themed interior complimenting the classic Italian menu.
Speaking of the menu, you have to try the slow cooked beef meatballs in tomato sauce and Strozzapreti pasta – washed down with a glass of Italian red, of course.
The restaurant also features a standalone bar and a private dining room – perfect for any big events that you might have coming up this year.
Acme Fire Cult
Dalston
Opened April 2022
£
Acme Fire Cult have teamed up with 40FT Brewery to bring an exciting new restaurant to the capital – and we couldn't be more excited.
Expect all the goodies from their pop up location (and a few extras), including their tasty flatbreads, mouthwatering meaty plates, and equally delicious fish dishes. You've also got a huge selection of craft beers and cocktails to wash it all down with – we love the black lager.
A spot that teams barbecued food with beer was always going to be a winner, wasn't it?
Lisboeta
Fitzrovia
Opened April 2022
£££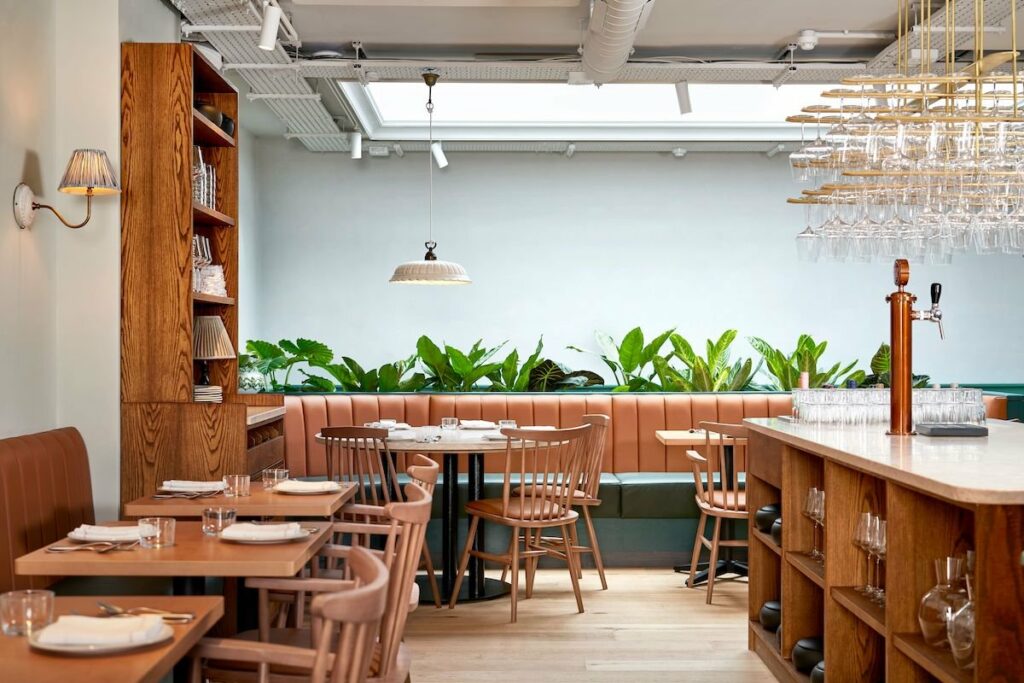 Described perfectly as a 'love letter to Portugal', Lisboeta is the dreamiest new Mediterranean joint in London – and the menu is irresistible.
Featuring Petiscos, which are Portuguese-style small plates to share with friends, as well as Tachos and Travessas (or larger platters), the dishes are inspired by Lisbon, an often-forgotten haven of gastronomy.
Our top picks include the Arroz de Marisco, a deliciously tender red prawn and razor clam rice bowl, and the Bacalhau à Brás – confit cod, caramelised onions, and potatoes.
Ochre at The National Gallery
Westminster
Opened April 2022
££
Museum and gallery food isn't exactly known to be delicious – but Charlotte and Sam Miller of Muriel's Kitchen are looking to shake things up in The National Gallery with Ochre.
The new cafe, espresso bar, and restaurant has just opened, and has brought with it an innovative menu filled with British dishes – the saddleback pork and Westcombe cheddar croquette with wild nettle pesto, aged parmesan is just one example of the mouthwatering plates on offer.
They'll also be launching afternoon tea from May, so keep your eyes peeled.
Upcoming London Restaurants Opening in 2022
These are the spots to keep on your radar this year…
Isibani
Knightsbridge
Set to be one of the top new restaurants in London.
A new West African restaurant is set to open in Knightsbridge this July headed up by Victor Okunowo, previous semi-finalist on BBC MasterChef The Professionals in 2020.
Vibrant designs, bold colours of Nigerian fashion and a menu to die for. Get your bookings in as this restaurant is sure to be a special new addition to the London scene.
Caia
Notting Hill
Another new opening in London!
The most anticipated restaurant of the year in Notting Hill, this one has everyone talking. This summer, coming to Golborne Road, this stunning new wood-fire restaurant is really upping the game.
Not only has the seasonal menu and stunning wine room got us excited, the restaurant also has a basement where you'll find a Kuzma R record player with some Auditorium R-25 speakers (apparently, this is a huge deal.)
The perfect spot for dinner, ambiance and music.
Roji
Mayfair
Another spot rumoured to be opening in Spring is Roji, an intimate Japanese Omakase restaurant seating just ten people.
Sushi and Sake are said to make up the bulk of the menu, with a particular focus on exquisite pairings to tickle all of your tastebuds. Sign us up.
Socca
Mayfair
Summer 2022 looks set to be one of the best for foodie fans, as chef Claude Bosi and restaurateur Samyukta Nair team up to open up a French-Mediterranean bistro.
The menu and design of the restaurant are yet to be revealed, though it's rumoured that the bistro will be designed to look like a sunny Côte d'Azur villa – in particular the Villa Santo Sospir, which was graced by the likes of Yves St Laurent and Picasso.
The Ivy
Mayfair
Yet another Mayfair opening promised towards summer is a brand new The Ivy. Expect all the vintage glamour that can be found at the brasserie's other locations, alongside a hearty menu filled with tasty favourites.
This looks set to be one of the top brunch spots this summer.
Raffles
Whitehall
Raffles looks set to be one of the most exciting openings in late 2022. Not only is this hotel going to be h-u-g-e, but it's going to boast 11 brand new restaurants and bars that are said to reflect the global culinary scene.
In fact, Michelin-starred chef Mauro Colagreco is set to take charge of three of these dining spaces, with a brasserie, a fine-dining spot, and an exclusive chef's table.
Practical Tips for Booking Best New Restaurants in London
Bookings for new restaurants in London tend to fill up quickly – you'll need to check almost daily to be in with a chance of snagging a reservation.
Waiting a few months to visit a new spot can make it easier (and more enjoyable) as the crowds die down, and you can also wait to see if a particular restaurant is worth spending your money on.
New London Restaurants: Map