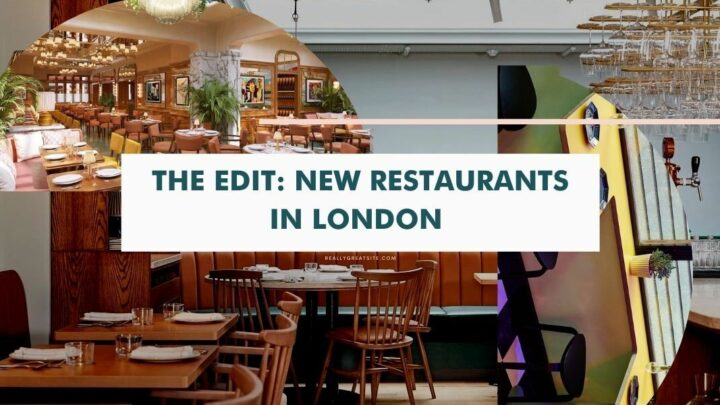 Looking to try out the best new restaurants London has to offer this month? We've rounded up the top eats in the capital right now.
It's safe to say that London has had a flurry of new restaurant openings over the last year, much to the delight of foodies everywhere.
But we've all been in that disappointing situation when you finally visit a new spot, only to find it has been overhyped and it's all style and no substance – so which spots are worth spending your hard-earned cash on?
Don't fret – we've got you covered with this guide to great new restaurants in the capital.
Pssst… keep reading until the end for a couple of restaurants to keep on your radar for when they open.
Price Guide (based on a main):
£ – under £10
££ – between £10 – £15
£££ – over £15
New Restaurants in London You Have to Visit
La Gamba
Opened in February 2023
££
Lovers of tapas have reason to be excited this month. That reason is the opening of La Gamba. It's a new project from the Brothers that run Applebee's Fish in Borough Market and will focus on tapas from the ​​Galician region of Spain.
That's a particularly savvy move as Galacia has thousands of kilometres of coastline and a strong emphasis on seafood in their cooking. The seafood is being sourced around the UK though with Cornish crab and St. Austel mussels already appearing on the menu.
Of course, food this good needs a drink to accompany. A team of mixologists are on hand to make Spanish-inspired cocktails. Think things with plenty of vermouth, a variety of sherry and sangria, and also a menu of Spanish gins.
Count us in for a G&T.
Zapote
Opened in February 2023
££
The latest opening to grace the already well-restauranted Shoreditch is Zapote, a Mexican restaurant that looks like its trying to up the level of a cuisine that's usually reserved for hand-based eating to the accompaniment of a couple cervezas.
The food is contemporary, generally made for sharing between a couple of people and served on plates of according size.
They make their tortillas fresh in-house every morning and that attention to quality ingredients seems to be spent on their other cooking too. We're nodding to the beef tartare taco on that count.
Naturally for a place like this cocktails are a must and come with heavy preference for tequila and mezcal bases.
Socca
Opened in February 2023
££
Perhaps the most high-profile opening of the past few months is that of Socca. This fine-dining French restaurant has Claude Bosi at its helm. He's the chef that's also behind the two-michelin-starred Hibiscus in Mayfair.
He's cooking up food from the south of France, so plenty of fish, Mediterranean-style dishes that may appear slightly Italian to the untrained eye.
The restaurant looks charming, calling on the rural charm of the French countryside and splashing in a little of their ex-Royals rococo for good measure. There's a nice outdoor terrace which will no doubt be a hot spot once the weather takes a turn for the warmer.
We'll see you there.
JOIA
Battersea
Opened in February 2023
££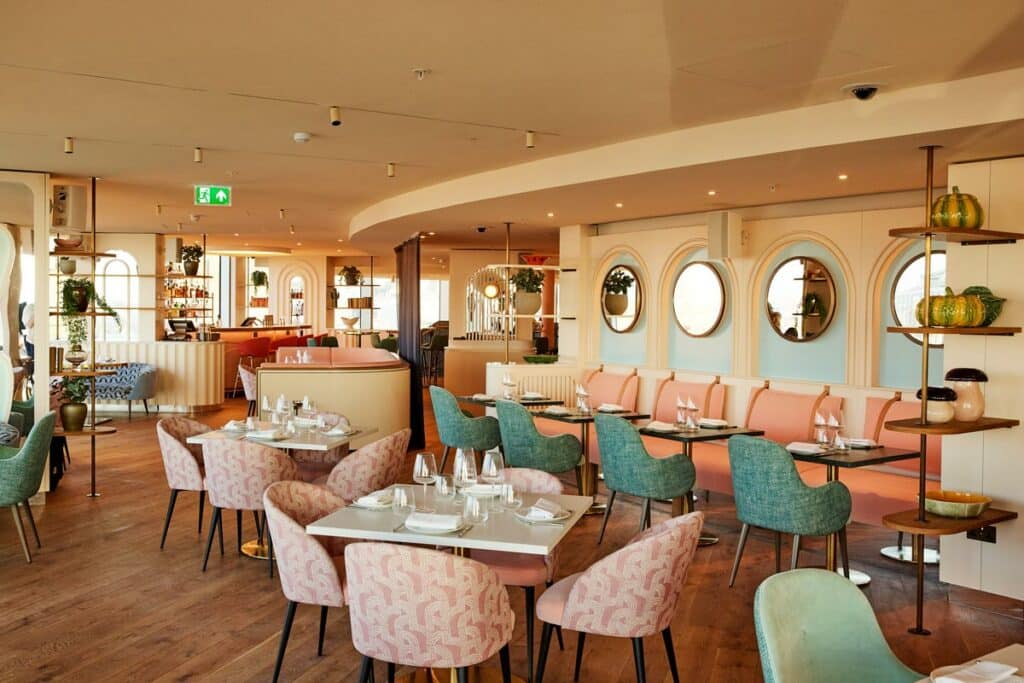 The latest opening to grace the much-hyped, and already restaurant heavy, Battersea Power Station, JOIA is set to make a bit of a splash.
It's part of the Art'otel there, and comes from the acclaimed Portuguese chef Henrique Sá Pessoa who's picked up a few Michelin Stars for restaurants in his home nation.
The name of the restaurant is the word for 'jewel' in Portuguese. The food also hails from Portugal but incorporates Catalan methods and local British ingredients. If the prospect of top-end cooking from the continent doesn't get your heart racing, not the view.
JOIA sits on the 15th floor of the power station, and thus commands some pretty spectacular views of the city.
Kapara
Soho
Opened in February 2023
££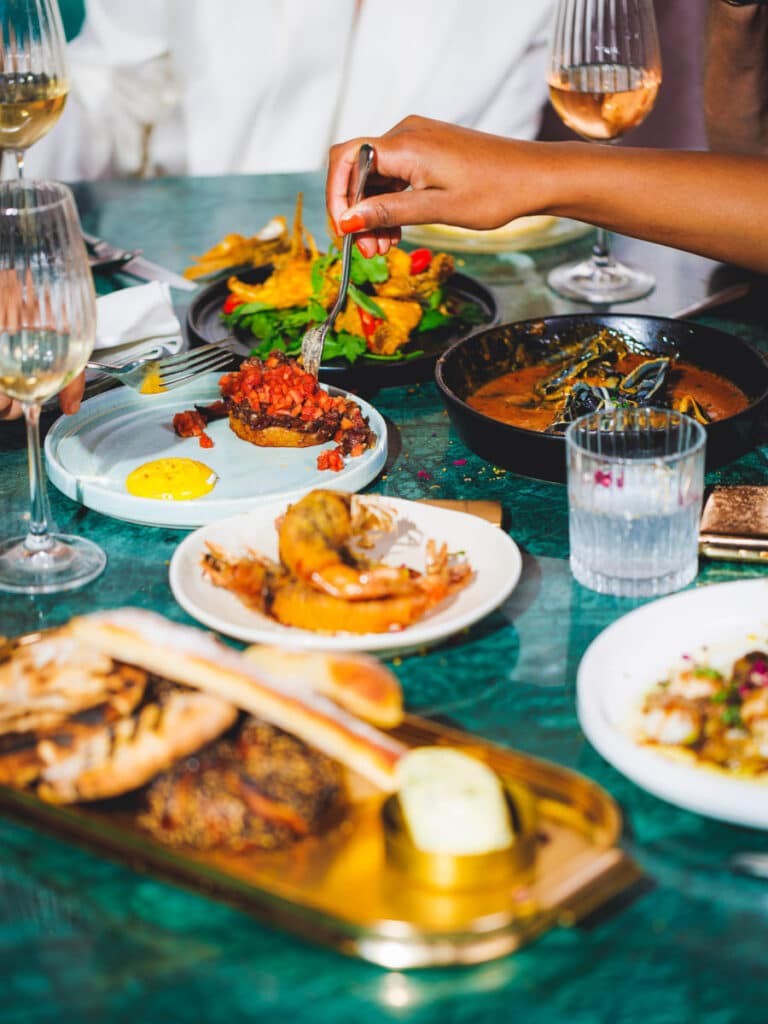 Kapara is a new opening from the team behind one of London's most treasured Israeli restaurants, Baya Bala. The restaurant is laid out over two floors with a chef's table, terrace and late night dining menu available until 12.30am.
Eran Tibi is the name behind the place and he'll be knocking up a spread of contemporary dishes in the Tel Aviv style. The plates look pretty, covered in vibrant colours and presented with a strong eye for the aesthetics.
If you are a fan of Baya Bala (and who isn't), you should be booking yourself in here.
Jacuzzi
Kensington
Opened in January 2023
££
The latest project from bombastic restaurant group Big mama comes in the form of Jacuzzi, a four floor "pleasure palace" in Kensington.
If you're familiar with the type of restaurants these guys put out, you'll know what we mean when we say it's over the top. If you don't, picture faux stucco, plants hanging from every conceivable place – and even actual trees in the restaurant – chandeliers, grand staircases and baroque fittings where possible.
That's not to say we should get too hung up on aesthetics here. The food is really actually pretty good, and probably deserves a bit of credit. That deco though…
Shiro
Opened December 2022
The City was treated to another sushi spot at the end of last year. Shiro is the London opening of a famed Hong Kong sushi joint that made a name for itself by inventing the beautiful crystal sushi – you kinda have to see it to believe it.
They kicked off with a sushi counter and robata (BBQ) bar and offer their own take on bento boxes that will no doubt be filling the recycling bins of many a hedge fund/investment bank's office floor.
We've since been down to do a full review. You can read that here.
Speedboat Bar
Opened December 2022
££
Chinatown picked up a new player in the late-night dining game this month. Speedboat Bar is the latest project from Luke Farrel, the man behind Plaza Khao Gaeng – the highly authentic Thai restaurant in the food court at Centre Point.
His new opening follows a similar suit, serving great Thai food at a price you'd be willing to part with in a restaurant downstairs and running a bar with a more casual atmosphere for eating and drinking on the top floor.
Speedboat Bar is open till 1am on Fridays and Saturdays, so needless to say we're expecting it to be a party spot come the weekend.
St. JOHN Marylebone
Opened November 2022
£££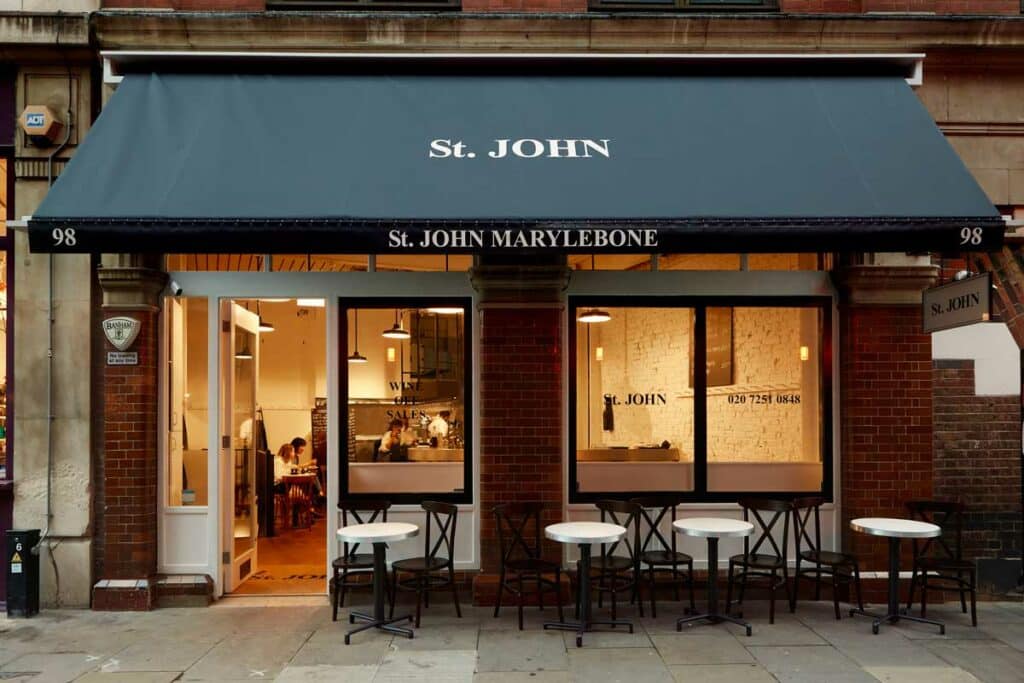 This is the new outpost of London dining institution St. JOHN. It marks the third restaurant opening in the brand's portfolio, (although they do have a few bakeries around the city) and the first in nearly two decades.
They've taken over a small spot in Marylebone and decorated it in their characteristic simple style with lots of white paint and nice woods. The food stays true as well. Simple, sustainable cooking from the champions of the nose-to-tail movement.
Bacchanalia
Opened November 2022
£££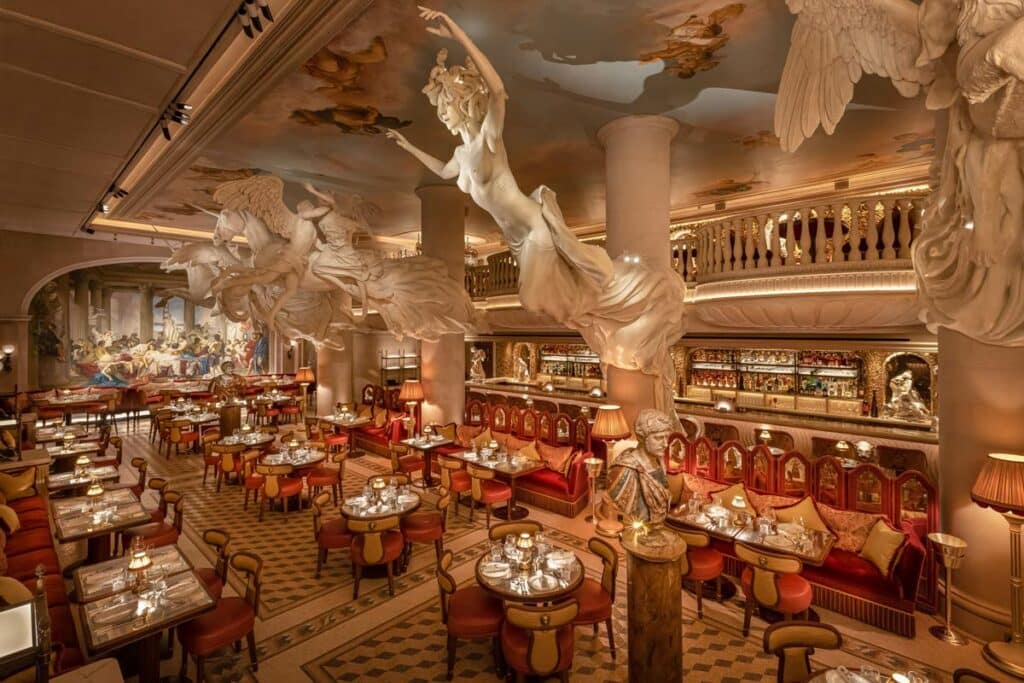 A new venture from restaurant mogul Richard Caring (Anabel's, The Ivy) Bacchanalia is named after a roman religious festival devoted to indulgence of the senses, and the restaurant certainly lives up to that.
Food is understandably high-end, stradling the cuisines of Greece and Italy where the festival was celebrated, and the decor is similarly lavish. Apart from swanky private members areas and milenia old artefacts they've got (characteristically for Caring) over-the-top artworks
Damien Hirst has been commissioned to make a set of giant statues that hang over the dinner tables – one of lovers entwined on a unicorn – and a giant mural recreating Roman's at Their Leisure with some modern-day flourishes.
NOTTO
Piccadilly
Opened November 2022
££
NOTTO started off as an online pasta delivery service, but the team has decided to open a bricks and mortar store in buzzy Central London. It's all thanks to Chef Phil Howard who held two Michelin stars at now-shuttered The Square, and business partner Julian Dyer (Pots & Co).
Exec Chef Louis Korovilas has previous experience at Bancone, NOTTO have also lifted the restaurant's pricing strategy, serving pasta dishes at the £8 – £12 mark, with cocktails and wines at similarly reasonable prices.
Straker's
Opened November 2022
£££
Thomas Straker has worked under some big-name chefs at some big-name locations, Heston Blumnethal and the Dorchester to name a few. He spent Lockdown becoming a TikTok and instagram star for cooking vids about "food you want to eat".
We promise the grub at his new restaurant shows his talent for cooking is greater than his talent for coming up with catchy taglines. Straker's serves up sustainable food with a focus on seasonality, working in conjunction with small-scale suppliers to reach its goals.
The restaurant takes over what used to be Zayane in Notting Hill, a small space with seating for about 40. Maybe a few more could be stretched out on the counter seats at the back.
Having been fans of his on the interwebs we're very excited to see how his cooking tastes IRL.
Studio Frantzén
Opened November 2022
£££
Harrods hit a dining home run when they got Björn Frantzén in for the opening of a new restaurant space on the top floor of the department store, and Studio Frantzén is as luxury as the place it rents from.
The brains (and namesake) behind the operation, Björn Frantzén, runs two three-star Michelin restaurants in Singapore and his home of Copenhagen, and is bringing the same class to London with this opening.
The Studio opens till 11.30pm serving fine-dining fare inspired by nordic cuisine. Expect to see things like moss garnishing your plates, and your plates more decorated than filled with things like fermented lingonberries and blistered lobster.
Daytime shoppers will be enticed in by a more laid-back, but no less quality, menu for lunch.
Stem & Glory
Broadgate
Opened November 2022
£££
This fully-sustainable gem comes to London by way of Cambridge with menus of plant-based dishes that look as appetising as anything you might find on a menu of fine-dining food.
In spite of that, the food is simple and laid back. They've got a special pizza menu and you can expect to see items like fish tacos, dirty burgers, and katsu curries from their regular card being devoured by hungry proponents of the meat-free lifestyle.
This is Stem & Glory's second London opening, and has been in the works since well before (don't mention the pandemic) some unforeseen events put a spanner in that work. We're very excited to see it wasn't a nail in the coffin.
Upcoming London Restaurants Opening in 2023
These are the spots to keep on your radar this year…
Bossa
Mayfair
Opens December 2022
Alberto Landgraf, ranked as a world's top 50 chef and brain behind two-Michelin-starred Oteque in Rio de Janeiro is opening a restaurant in London before the year is out.
The food is going to be Brazilian but that's about as much information as we have right now. The move to London is actually a return of sorts for Landgraf who trained here under Gordon Ramsey and Tom Aikens among others, before returning to Brazil to ply his trade in his home country.
Shiro
Opens December 2022
The City is getting another swanky sushi restaurant before the year is out. Shiro is the London opening of a famed Hong Kong sushi joint that made a name for itself by inventing the beautiful crystal sushi – you kinda have to see it to believe it.
They're kicking off with a sushi counter and robata (BBQ) bar and will be offering their own take on bento boxes that will no doubt be filling the recycling bins of many a hedge fund/investment bank's office floor once the restaurant goes live.
Ploussard
Clapham Junction
We actually also wrote about Ploussard in our new bars article recently, but we're going to include it here because it comfortably sits in both categories.
The concept is a wine bar and restaurant duo. Seeing as you're here for restaurants we'll tell you what we know about the food. It's all designed to be shared alongside a nice glass or two of whatever you choose from the bar, and will comprise of a seasonally-changing menu.
Some of the dishes they've already announced go in interesting directions: lamb & anchovy crumpet, BBQ scallop, Jerusalem artichoke & back fat, to name a few.
Ploussard comes from the team behind the much-loved Other Side Fried so you can rest assured you're in good hands.
Lasdun
South Bank
Opens May 2023
Another new opening on the South Bank comes in the form of Lasdun, a restaurant from the highly-praised Marksman team that runs the pub of the same name in Hackney.
Lasdun will have quite some digs. They're taking over the house restaurant in the National Theatre.
Not much is known about what's going on there yet but we're expecting a good pre-theatre menu (safe bet, we know). We can also tell you about the name – it comes from Denys Lasdun, the man who designed the theatre.
Raffles
Whitehall
Opens Spring 2023
Raffles looks set to be one of the most exciting openings in late 2022. Not only is this hotel going to be h-u-g-e, but it's going to boast 11 brand new restaurants and bars that are said to reflect the global culinary scene.
In fact, Michelin-starred chef Mauro Colagreco is set to take charge of three of these dining spaces, with a brasserie, a fine-dining spot, and an exclusive chef's table.
Practical Tips for Booking Best New Restaurants in London
Bookings for new restaurants in London tend to fill up quickly – you'll need to check almost daily to be in with a chance of snagging a reservation.
Waiting a few months to visit a new spot can make it easier (and more enjoyable) as the crowds die down, and you can also wait to see if a particular restaurant is worth spending your money on.
New London Restaurants: Map