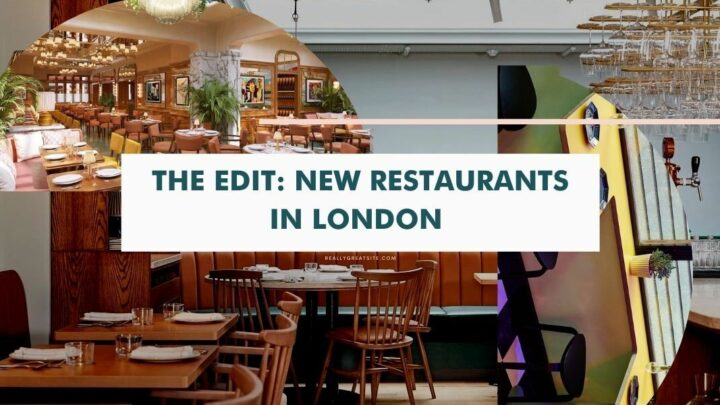 Looking to try out the best new restaurants London has to offer this month? We've rounded up the top eats in the capital right now.
It's safe to say that London has had a flurry of new restaurant openings over the last year, much to the delight of foodies everywhere.
But we've all been in that disappointing situation when you finally visit a new spot, only to find it has been overhyped and it's all style and no substance – so which spots are worth spending your hard-earned cash on?
Don't fret – we've got you covered with this guide to great new restaurants in the capital.
Pssst… keep reading until the end for a couple of restaurants to keep on your radar for when they open in 2022.
Price Guide (based on a main):
£ – under £10
££ – between £10 – £15
£££ – over £15
New Restaurants in London You Have to Visit
King's House
Chelsea
Opened October 2022
£££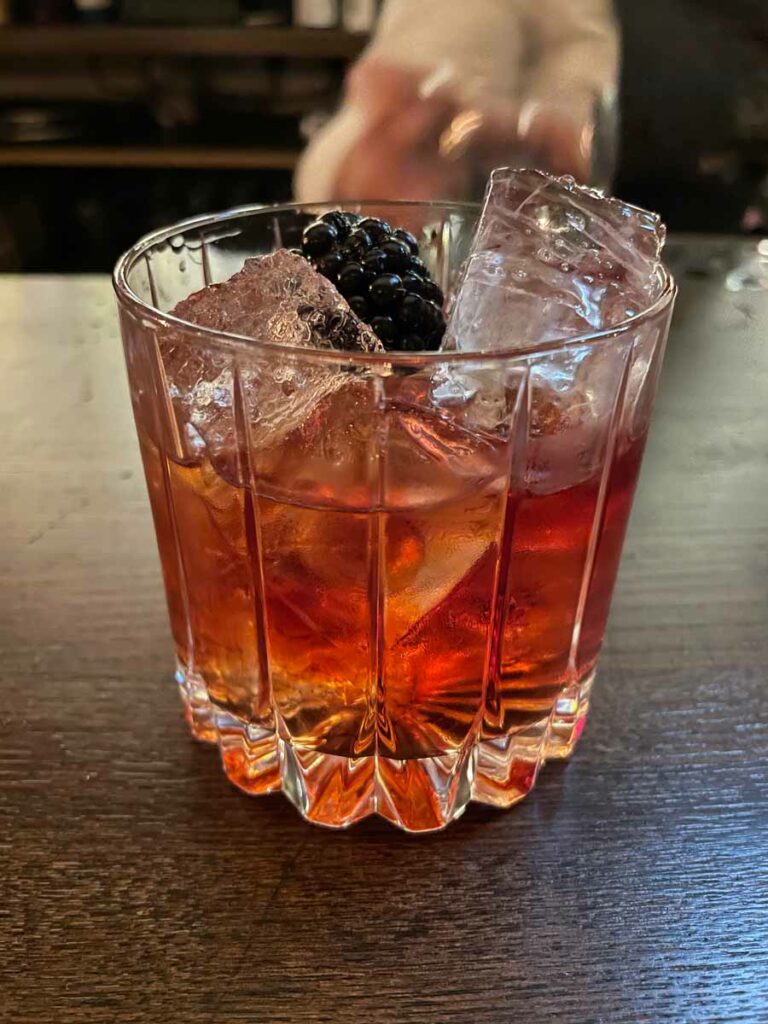 King's House, the new spot on the King's Road comes from the people behind Chelsea institution the Jam Tree. Their new project is a basque restaurant with a mean cocktail selection.
Masterchef winner Dhruv Baker has had his hand in the menu that ranges from smaller sharey plates, mains of elevated Spanish fare, Sunday roasts and Brunches.
The latter there being something people are already sizing up for the warmer months given the spacious-yet-secluded garden out back.
Until the weather picks up they'll just have to enjoy it in the comfort of the bright, airy pub conversion taking up the ground floor of the beautiful old building King's House calls home.
The Viaduct
Opened August 2022
£££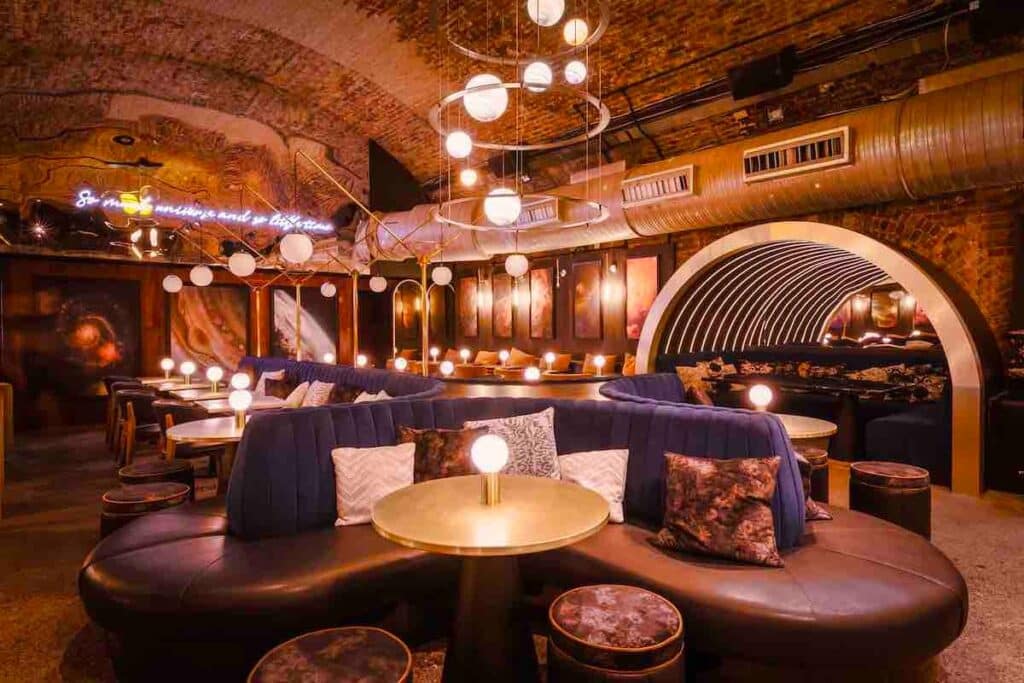 The Viaduct is the hottest new opening in the capital. This multi-functional space boasts a restaurant, a taproom, and a cosmic cocktail bar of dreams – head to the terrace for elevated British cuisine in a beautiful setting.
Brunch is served all day (music to our ears), while there's a hearty selection of sandwiches and mains if you're feeling hungry. The pork belly with mash, fine beans, and cider jus along with the buttermilk chicken burger are the standouts.
Mriya
Opened August 2022
££
Yurii Kovryzhenko has brought Ukrainian cuisine to one of London's swankiest neighbourhoods, and it has quickly become one of the best places to dine in the capital. This is one of the London new restaurants we are most excited about.
The menu features Ukrainian favourites, old and new, including the likes of a delicious Borsch – a soup made from tomato and beef, served with heavenly pampushkas which can only be described as giant garlic dough balls – and Chicken Kyiv with mashed potatoes and green beans.
Kovryzhenko is also keen to highlight cultural successes of Ukraine in such a turbulent time for the country – after all, the name Mriya means dream.
Granger & Co.
Opened August 2022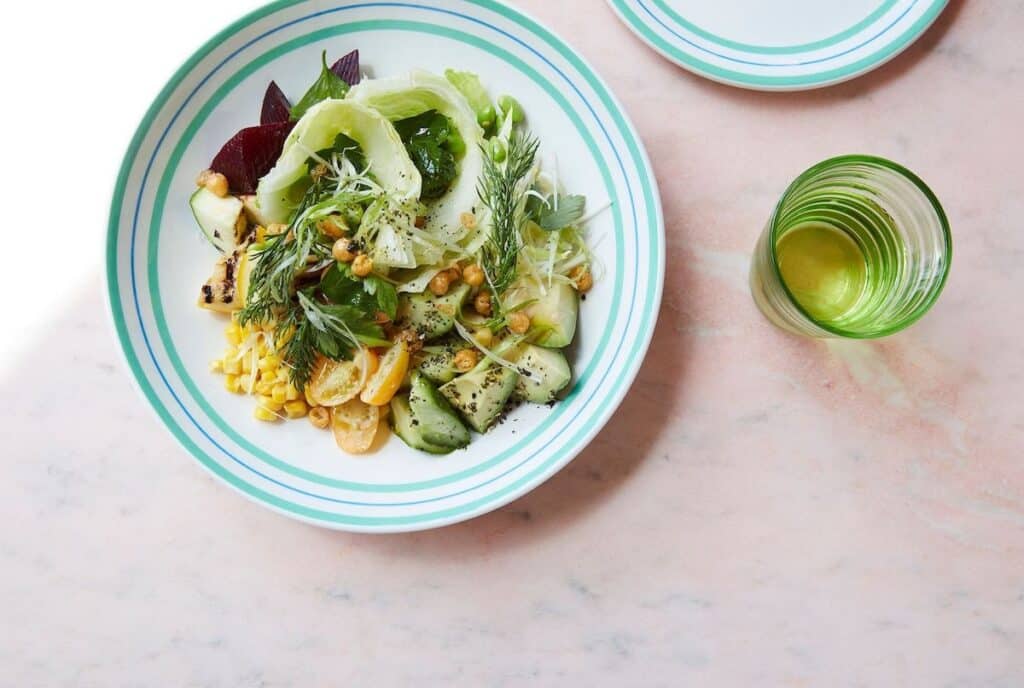 Aussie cafe-slash-restaurant Granger & Co. opened a fifth site in August 2022, following the huge success of their chilled out brunches and dreamy coffee.
The hottest new brunch spot in London, Granger & Co. oozes both style and substance. All day breakfast plates, fresh juices, and some of the best coffee in the capital – what's not to love?
Sessions
Opened July 2022
££
London is filled with incredible food halls, but Sessions has come to take the crown.
The concept? Four unique menus served for a limited amount of time, with local chefs on rotation. The result? Delicious dishes that will leave you dreaming of your next visit.
Expect everything from modern Korean burgers to Ghanian dishes – this spot is a real wild card that never fails to impress.
Sunda Kitchen
Opened July 2022
£
Expect elegant South East Asian dishes at Sunda Kitchen – after all, it's named after the tectonic plate that runs through the region.
Thai Lemongrass Chicken, Vietnamese Jelly Fish Salad, and Malaysian Red Curry are just some of the stellar options on this menu, though the entire offering sounds pretty tasty.
Save room for the Banana Fritter Speedboat pud, two slices of deep-fried banana flanking icecream and chocolate sauce.
Feels Like June
Opened July 2022
££
Europe meets California at this sunny American restaurant in Canary Wharf – it's one of the top new trendy restaurants London boasts.
How exactly does that play out in terms of menu? We'll tell you – with Cacio e Pepe Tater Tots, plenty of Mediterranean-inspired salads, and a killer brunch menu (of course avocado features heavily).
Oh, and a small but groovy cocktail menu featuring cool takes on classics. Pass us a Rhubarb Cosmopolitan, we're mentally in LA.
Miznon
Opened July 2022
£
Soho seems to have been a little bit neglected lately when it comes to new restaurants – have no fear, Miznon is here to save the day. Offering delectable Mediterranean cuisine, prepare to be transported from the streets of London to the sunny Med coast.
Chef Eyel Chani has compiled an excellent menu, if we do say so ourselves. The menu is an explosion of flavour, though the falafel pitta is what the restaurant is most famous for. The (bottled) cocktails are ridiculously cheap, so this is perhaps the place to come for a boozy meal with a group of friends.
Roji
Opened July 2022
£££
Looking for new restaurants in Mayfair? An intimate restaurant seating just ten people, if sushi and Sake is your jam, you'll adore Roji. Especially since there's a particular focus on exquisite pairings to tickle all of your tastebuds.
Husband and wife chef duo, Tamas and Tomoko, serve up an omakase menu based on Japanese principles of cooking; grilling, simmering, steaming, frying and cutting. It's not cheap to dine here, but it's an incredibly special experience.
The Quarter Kitchen
Hackney
Opened July 2022
£
Alright, so this is less of a restaurant and more of a food truck in a Hackney churchyard, but when Chef Rodrigo Cervantes has worked at the likes of Smoking Goat and Koya, we're not quite sure we care.
Mexican breakfast dishes have been pimped up at The Quarter Kitchen – expect the likes of breakfast burritos, tacos, and gorditas. Head there early (it opens at 12pm) for a chance to snag a table.
Isibani
Opened July 2022
££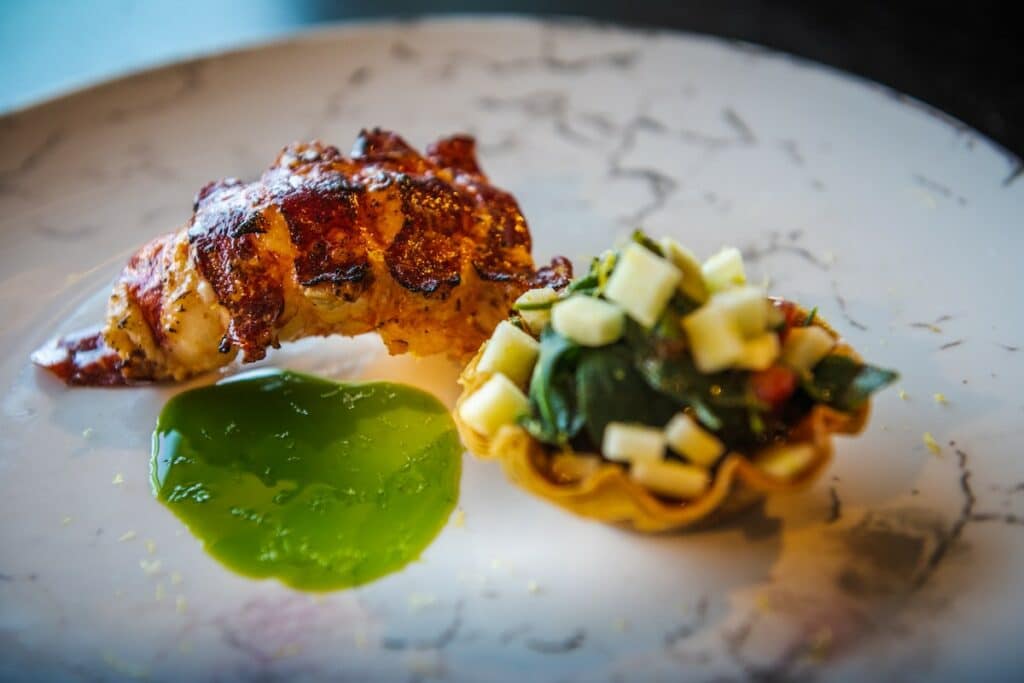 We have patiently been waiting for Isibani to open up in London… And, boy, we were right to be excited.
This West African restaurant opened in July and is headed up by Victor Okunowo, previous semi-finalist on BBC MasterChef The Professionals in 2020.
Vibrant designs, bold colours of Nigerian fashion and a menu to die for. Highlights include the jollof rice with grilled broccoli and Ata DinDin, and the Puna Yam served with plantain dauphinois chips and a tangy red pepper emulsion.
Caia
Opened July 2022
££
Another dazzling new opening in London and perhaps the most anticipated restaurant of the year in Notting Hill. Golborne Road's Caia is a stunning new wood-fire restaurant that has got everyone talking.
The seasonal menu is often changing, but firm favourites include the octopus with burnt pepper and a spicy Nduja crumb, along with the monk fish and sweet corn plate. Save room for the ultra-indulgent chocolate eclair with tonka-bean chantilly cream – you won't regret it.
Not ready to leave? The restaurant also has a basement where you'll find a Kuzma R record player with some Auditorium R-25 speakers (apparently, this is a huge deal.)
The perfect spot for dinner, ambiance and music.
Upcoming London Restaurants Opening in 2022
These are the spots to keep on your radar this year…
Koyn
Mayfair
Opens September 2022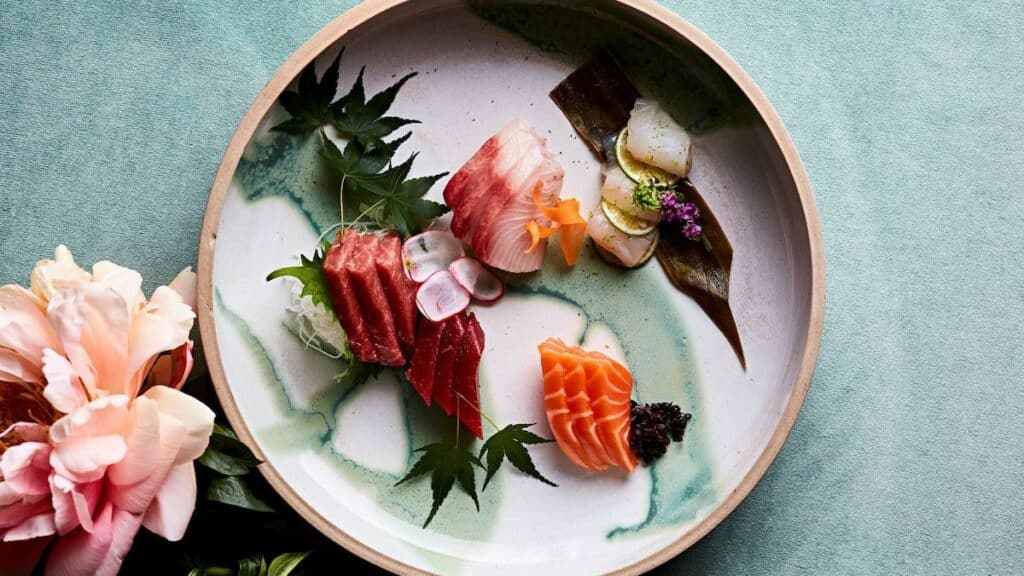 Inspired by Mount Fuji, Koyn is a brand new izakaya-esque spot opening up in London in September 2022.
With two different dining spaces dedicated to the volcano and the lush vegetation surrounding it, this restaurant is a conceptual masterpiece. We can't wait to devour the classy Japanese menu.
OTTO
Piccaddilly
Opens November 2022
There's a hot new pasta bar coming to London this autumn, and it's all thanks to Michelin-starred chef Phil Howard and business partner Julian Dyer (Pots & Co).
OTTO started off as an online pasta delivery service, but the team has decided to open a bricks and mortar store in buzzy Central London. It's expected to be extremely popular, so get ready to fight tooth and nail for a reservation.
Sparrow Italia
Mayfair
Opens Autumn 2022
Sparrow Italia may be opening in autumn but it's certainly sounding like it will provide all the summer vibes in its pretty Mayfair restaurant. Chef AJ McCloud is responsible for the menu, so expect a huge European wine list and food inspired by Italian coastal towns.
This looks set to be one of the most exciting new London restaurants 2022 offers.
Raffles
Whitehall
Opens Late 2022
Raffles looks set to be one of the most exciting openings in late 2022. Not only is this hotel going to be h-u-g-e, but it's going to boast 11 brand new restaurants and bars that are said to reflect the global culinary scene.
In fact, Michelin-starred chef Mauro Colagreco is set to take charge of three of these dining spaces, with a brasserie, a fine-dining spot, and an exclusive chef's table.
Practical Tips for Booking Best New Restaurants in London
Bookings for new restaurants in London tend to fill up quickly – you'll need to check almost daily to be in with a chance of snagging a reservation.
Waiting a few months to visit a new spot can make it easier (and more enjoyable) as the crowds die down, and you can also wait to see if a particular restaurant is worth spending your money on.
New London Restaurants: Map