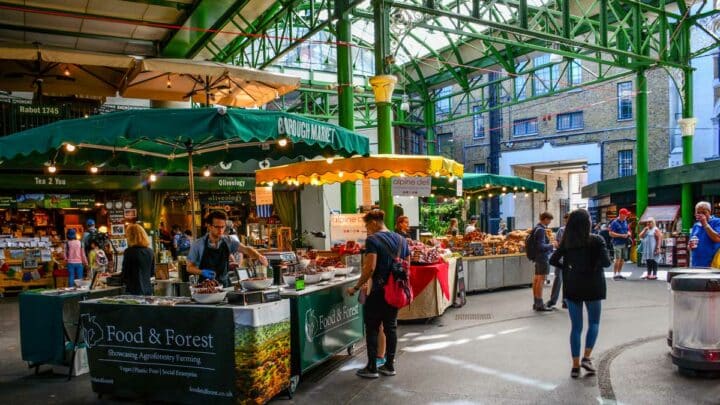 Eat like a king on the stable boy's budget with our guide to London's value-for-money restaurants.
London doesn't have to be fun for the first few weeks of the month when you've actually got some money, and horrible when you spend the next couple tightening the belt to make up for the sting of rental prices.
If you know where to look, London's got a score of restaurants that don't have to break the bank. It's not easy, but that's where we come in.
We set out to find you some restaurants where £10 will get you a good feed. Here's what we found.
Cheap Eats in London
Cheap Eats in Central London
Bun House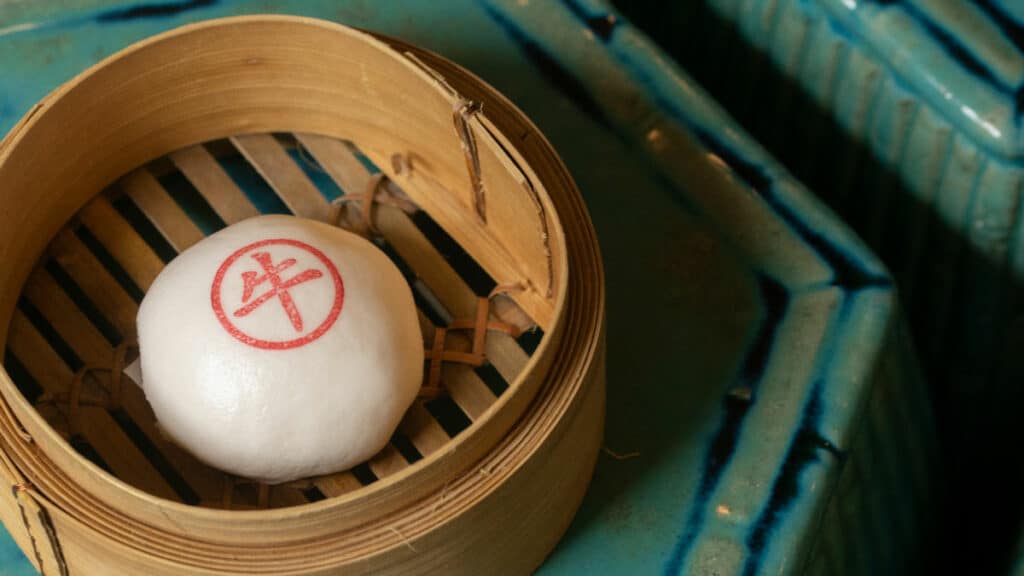 The most popular restaurant in Chinatown is also one of London's cheapest. If you can hold out long enough in Bun House's queue you'll find more than enough on the menu of quality Chinese cooking that won't break the bank.
The Scorched Rice & Five-Spiced Short Rib at £9.80 is a prime example of that, but if you go for the equally delectable hoisin sesame cheung fen (£6.60) you can save your change for a bao – they are, afterall, the house speciality.
Bancone
Bancone is such a steal it's been awarded the Michelin Guide's Bib Gourmand award for affordable dining, and they hang the sign pride of place by the door. Problem is this restaurant is no secret. Getting a table at peak dining times can often mean booking months in advance.
If you can slim down your dining group to just one or two people and persuade them into a late dinner you'll find yourself dining in a sleek, forward-thinking pasta restaurant that could easily charge an arm and a leg for the quality of their cooking.
You'll also see, right at the top of the mains section, the delightfully named "Silk handkerchiefs, walnut butter & confit egg yolk" – a pasta dish for bang on £10.
Sons and Daughters
A big contender for the crown of cheap places to eat in London is Sons and Daughters, a spot in Coal Drops Yard serving monstrously-sized swanky sandwiches.
You'll rarely see a sarnie on their menu that goes over the £7 mark, leaving you with a bit of change for a packet of crisps. Not that you'll need them. Sons and Daughters cut their bread thick, and pack their elevated sandwiches so generously you'll genuinely have a hard time fitting one in your mouth.
Of the permanent items on the menu (you will see a bit of rotation if you're a regular) you really can't go wrong. We'd highly recommend the merguez number they do, but then we'd have to forgo mentioning the roast chicken with its flakes of soy-cured parmesan – how could we?
Roti King
Euston
Roti King opened in 2014 and we're pretty sure they've not had a quiet night since. Not least because of their almost overly-reasonable prices, but also because the quality Malaysian food coming out of the kitchen makes this one of the best cheap eats in London.
If you're looking to spend under a tenner you'd have the whole menu to choose from so that doesn't narrow it down much. We'd have to recommend the nasi lemak with its kitsch leaf-shaped plate and three large chunks of fried chicken – £8.95 and you will not be going home hungry.
Cheap Eats in East London
Tayyabs
Whitechapel
If you're looking for cheap restaurants in London, you couldn't do much better than Tayyabs.
You're not going to get incredible service, in fact even as a table of ten you'll just be one more group on the conveyor belt of diners that never walk out the door anything less than satisfied.
Tayyabs started serving its traditional Punjabi fare back in 1972 and have kept at it, picking up an award or two along the way, but sticking to their simple, affordable roots. A quick glance at their menu turns up curries for under a tenner, which will leave you a few quid to spend on something from the grill
Which while we're on the matter, should probably be the seekh kebab, £1.10's worth of coal-licked lamb skewers that are simply sensational.
Pizza Union
Aldgate
One of the best value restaurants London has in what we're sure will one day be in every neighbourhood is Pizza Union. They, like Tayaabs, pack people into large, noisy spaces and sling you food good enough you can't believe it's so cheap.
Their thing: thin-based, crispy pizzas. They do them in a range of varieties that easily climbs into the double digits so you won't be spoilt for choice.
Our go to is the Vesuvio, an American hot with an Italian sounding name for £6.50 that packs the kind of heat you want but often don't get from a pizza that claims to be spicy.
They have glasses of wine for a very reasonable £3.50 – cheap enough to trick you into thinking you're actually in Europe, except when you look around you're not in a quiet Neapolitan cafe, but a bustling hall of eager diners – and that's why we love it.
The Beigel Spots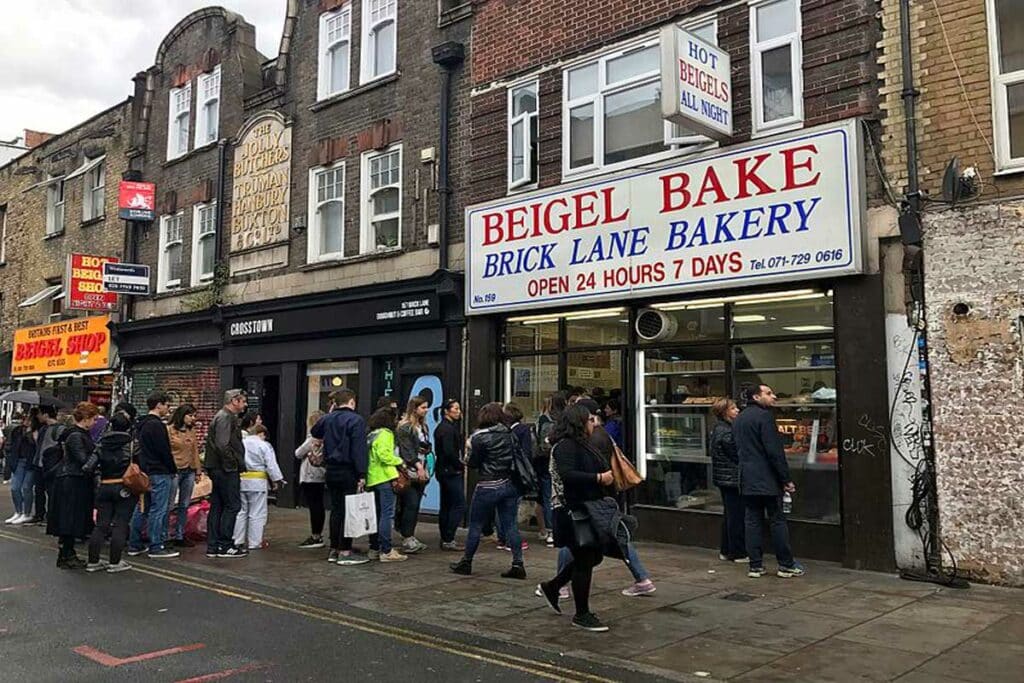 These two are the most notorious cheap eats east London has. Beigel Bake and Beigel Shop have been at the heart of heated controversy that's been dividing friendships and fueling pub-table debates for decades.
The two time-honoured stores, Beigel Bake and Beigel Shop, both do a killer salt beef bagel for under a tenner, but you'll have to choose which one you like best – there's a playground tribalism about the whole thing. Just loitering outside deciding which queue to join can induce strangers to try and rope you into their lines.
When you finally get your hands on one you'll see what all the fuss is about.
Padella
Going to a Padella makes you realise how simple Italian cooking can be, and once you've had that driven home you have to ask yourself why you pay what is basically extortion money to eat it in London.
Everything here is made about as fresh as can be. Sauces are rich and inventive in a way that makes them feel exciting and quite traditional, and you'll find plenty to impress when it comes to prices.
In our minds the tagliarini with dried dried chilli, garlic and pangrattato on the menu for a cool £8.50 is clear proof Padella is one of the best affordable restaurants in london
Cheap Eats in South London
Falafel and Shawarma
Camberwell
This off-the-radar shawarma joint should be on more people's minds when they've thinking about affordable restaurants in London.
Wraps of falafel with cores as fluffy as clouds and shawarmas that seem straight off a big rotating stick in heaven for only £5.50 save you a bit of cash for the mezze menu (go straight for the vine leaves).
All the above leaves us wondering how his South London classic can remain such a hidden gem.
No website. Just an address: 27 Camberwell Church St, London SE5 8TR
Joe Public
Clapham
If you were a New Yorker your cheap eat option would probably be a slice of pizza cut out of 'za the size of a truck's rear tire. At Joe Public you'll find exactly that.
Their mega-slices never sell for over a fiver which means doubling down is practically a must. Pick up a cold can of something craft from their fridge, hit the long wall counter and tuck in.
Half standing, half sitting on the high stools, and guiding slices of their chicken, chorizo and haloumi pizza into your mouth – careful not to let any drop on the floor – you'll quickly forget that you've got no money in the bank. To dine at Joe's is to dine like a king.
JB's Soul Food
With all the well-priced jerk options South London has to offer it was a battle of wills which one made it into our guide.
In the end it had to be JB's Soul food. £9.60 for a portion of beautifully-charred jerk chicken and rice with a choice of sides, drizzled with a sauce of unknown origin that could quite easily be termed: the devil's honey.
Need we say more?
Persepolis
Peckham
Arguably the best affordable restaurant London has to offer comes in the form of a Peckham cornershop that tucks its restaurant behind shelves of Persian spices and import goods: Persepolis.
You can feed two on their large mezze platter, mopping up everything up with baskets of warmed bread and leave without having spent more than £10 quid. Food is authentic and made with the kind of care that makes you believe the chefs really care about getting this stuff right.
It's no surprise then, that Persepolis' cooking has had an entire cookbook dedicated to it.
Cheap Eats in North London
Norman's
Finsbury
Everyone's got a theory about what makes Norman's so great. On the surface it's just a regular old greasy spoon, but finally get a table (the queue will put you off most weekends) and life behind the gingham curtains starts to take on a new colour.
Chequered lino floors, plastic seats fixed to the floor spaced so you'll have to do your best not to drag your sleeves through someone else's fry up as you squeeze past. This is propper London caf vibes.
The food: decent greasy spoon fare. Ham, egg and chips will set you back £8, or two sausages, chips and beans £9, which would save you a quid for a cup of tea.
The Cheese Bar
If you're looking for cheap restaurants, London isn't often easy on you. It's hard to find something that feels like you're getting your money's worth without sacrificing on some key indulgences, like, say… cheese.
Well folks, we're here to tell you those days are over. Enter the uber-sleek Cheese Bar in Camden. They were running a toastie operation out of a shack in the food market there, but upgraded to a brick-and-mortar location that is light, airy and stylish enough to pass as a natural wine bar.
While a strict budget won't allow you to explore the far reaches of their fondue menu (come back for that after pay day) you'll be able to pick up any of their toasties, all champions of British cheeses, for under £9.50. The Rosary goats' cheese with walnut, honey and rosemary butter is divine.
Hai Cafe
We scoured the Pho Mile looking for a noodle soup under ten quid and came up trumps. In the end we reverted back to this old favourite. Hai Cafe serves plates that burst with colour and freshness in a way that quietly shunts at your expectations of what Vietnamese food can be.
If you can find a way to resist a portion of summer rolls, you can have a full lunch on a pho or one of their superb lemongrass chicken curries and not spend more than a tenner.
Looking to cut costs right down? The same lemongrass chicken turns up on the banh mi menu in a sandwich that costs £7 and is worth every penny.
Cheap Eats in West London
Normah's
Bayswater
On top of being one of the best cheap restaurants London lays claim to, Normah's is easily one of the most wholesome places to eat in the city. The owner and namesake grew up in a family of thirteen kids, and the food has all the love and care that you'd need to feed that many hungry mouths.
Normah is unwaveringly dedicated to its authentic, traditional Malaysian roots, even when updating the menu to ensure everything ingredients are sustainable. Although you'll have to cough up a bit more than a tenner to sample most dishes here, you don't need to look much further than Normah's beef rendang.
That meat gets a four-hour braise in ginger, and spice until you can pretty much talk it into falling off the bone. We're rabid fans.
The Regency Cafe
Millbank
The Regency Cafe has been doing no-nonsense grub since 1946. Fry ups and variations thereof. It's about as quintessentially British caf vibes as you can get. Probably why it featured as a set in Layer Cake.
Don't mess about. £6.00 here will get you a set breakfast deal: an egg and sausage, two rashers of bacon, beans or tomatoes, bread or toast, tea or coffee, and no bleedin' changes!
So long as you don't push your luck with that last rule you'll be in good, iconic, London hands.
Phat Phuc Noodle Bar
If you're in Chelsea on a warm day, scrap any idea of a posh dinner. You can eat as good a meal as you'll find anywhere else at Phat Phuc Noodle Bar.
The outdoor restaurant is run out of a sunken courtyard and a kitchen that looks like it could have once been a food truck that's grown roots and become part of the stone that it backs up against.
Drop your order off at the man in the window and grab a seat under the gazebo. You'll be waiting for a prawn, or perhaps vegetable (if you're that way inclined) laksa. Don't even think of ordering anything else. Just go for it. You'll see what we mean later.
Da Maria
Part of eating a great meal is its ability to transport you to another time and place. And if you're thinking of cutting that summer holiday in Italy to save a bit of cash you might find a little solace in the food at Da Maria.
They're an authentic Neapolitan restaurant where it's likely they may not have updated the decor in many years, but that's all part of the charm.
£10 will only get you one item on the pasta menu, but it's the most important one: a bowl of the house Napoletana pasta – a simple and delightful way to take yourself on a little personal journey to the boot-shaped nation.
Practical Tips for Exploring London's Affordable Restaurants
Check out the websites before heading down. A lot of these gems are run by old timers that don't work on the usual clock.
Get adventurous. We're assuming that if you're here, you (like us) will be avid foodies. If you're not, don't turn your nose up at eating in some under-reported joint. That's likely where you'll find the most interesting food London can offer, and quite likely where the city's top chefs are eating too.
Cheap Eats in London: Map