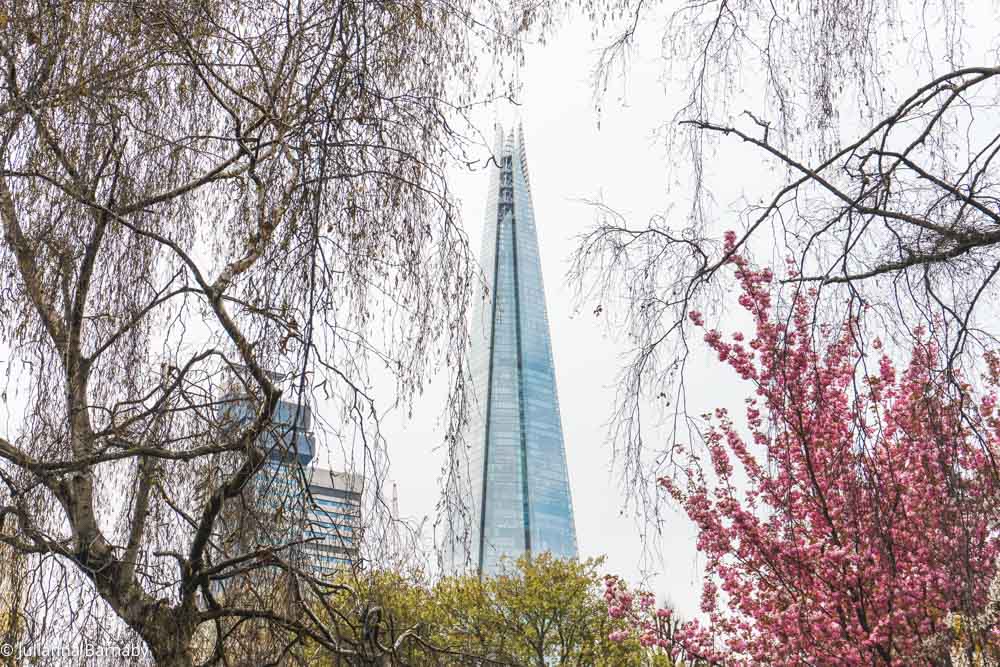 Bermondsey Street is one of London's coolest spots, with a wealth of eateries, bars and cultural attractions. Planning your visit? Don't miss this guide to the best things to do and places to discover on Bermondsey Street.
With its selection of cool bars, shops and restaurants, Bermondsey Street is London at its best – quirky, full of independent businesses and a lovely place to take a stroll, popping into wherever takes your fancy.
We've long been fans of Bermondsey Street and watched first with trepidation and then pleasure as it's transformed in recent years.
It's trendy without affectation and boasts more than its fair share of London's gourmet eats: Jose, Casse Croute, Flour & Grape to name a few.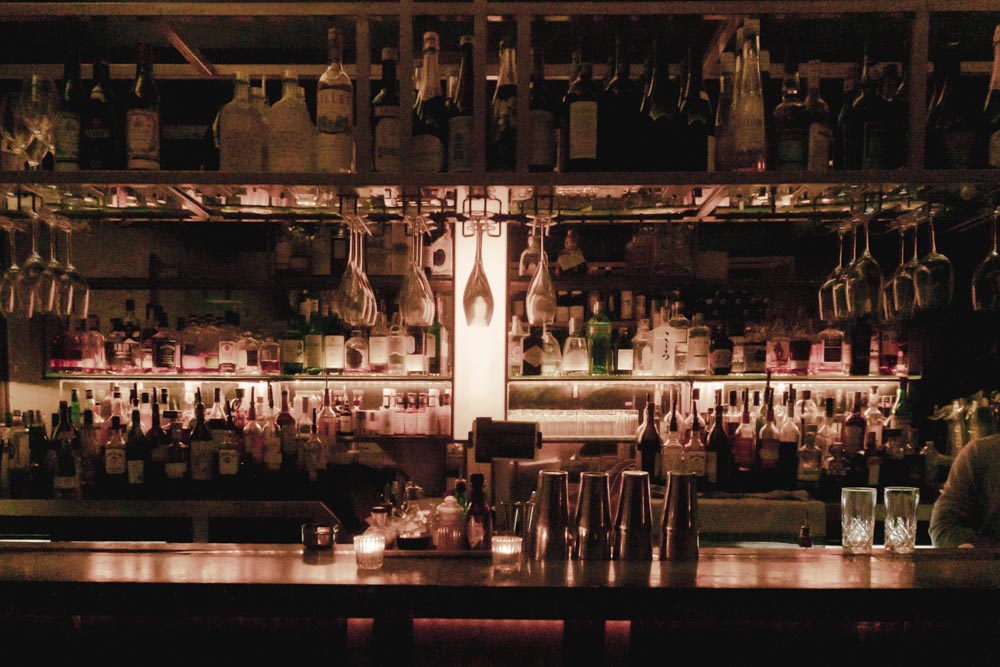 Bermondsey Street is full of cool spots
Walking around today, it is hard to believe that Bermondsey Street was once the centre of London's tanning (leather, not skin) industry: an industrial heartland in the centre of the city.
There are still traces though. The Leather Hide & Wool Exchange and a few of the street names (ahem, Tanner Street) give the game away.
Heading to Bermondsey Street? These are the restaurants, bars, pubs, cafes and cultural attractions that should be on your radar.
Cool Things to do on Bermondsey Street
Fashion & Textile Museum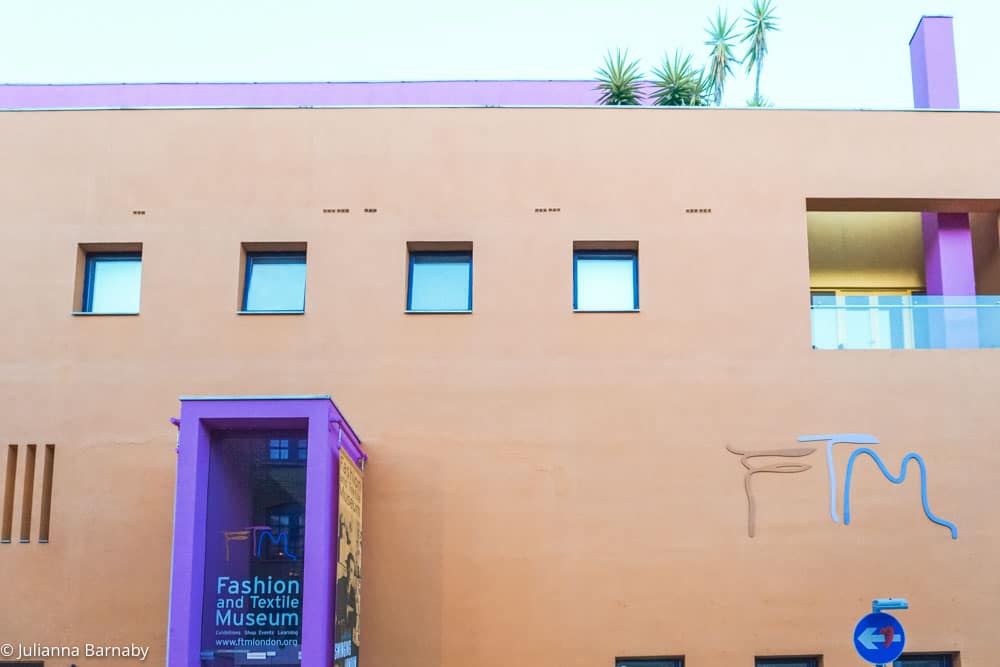 We're big fans of fashion that makes a statement – as well as fashion museums that make a statement, like the Fashion & Textile Museum.
While visiting Bermondsey Street, you really can't miss its out-there facade. You might think a combination of hot pink, burnt orange, bright yellow and baby blue is a fashion no-no – but architect Ricardo Legorretta clearly disagrees.
Inside, you'll find a fabulous museum devoted to all things fashion and style. Their ultra-cool rotating exhibits celebrate different fashion styles, periods and designers.
Tanner Street Park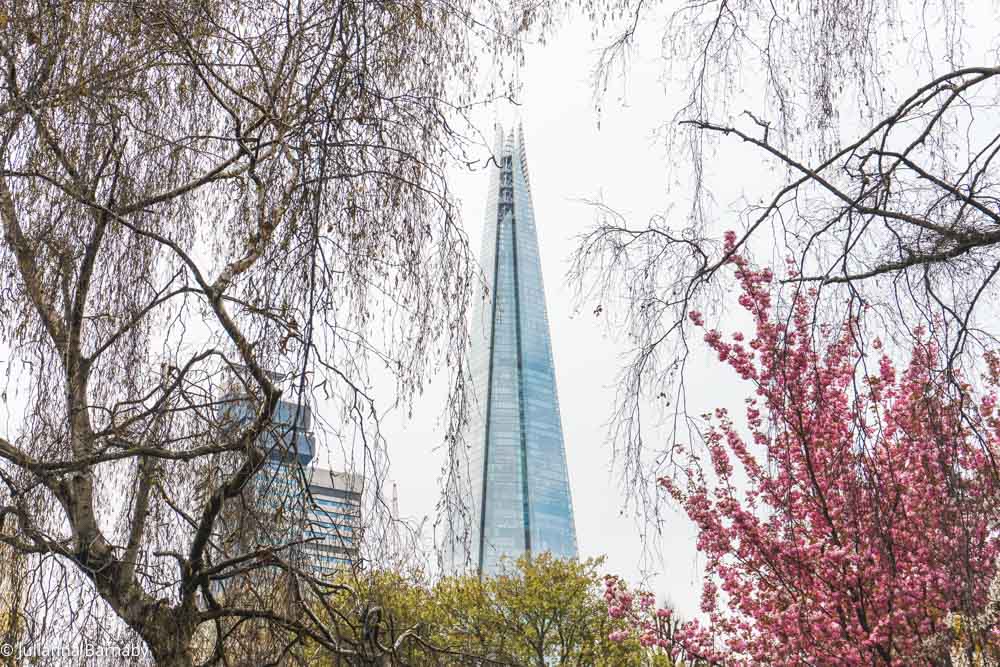 Overwhelmed by the crowds or maybe the costs of London town? If so, you'll want to make for the free and peaceful Tanner Street Park in Bermondsey.
As well as being a pretty green strip, Tanner Street Park is also THE place to get your Serena Williams on and try a hand at tennis.
There are five tennis courts and it's free to play. You'll be ready for Wimbledon in no time.
Visit Vinegar Yard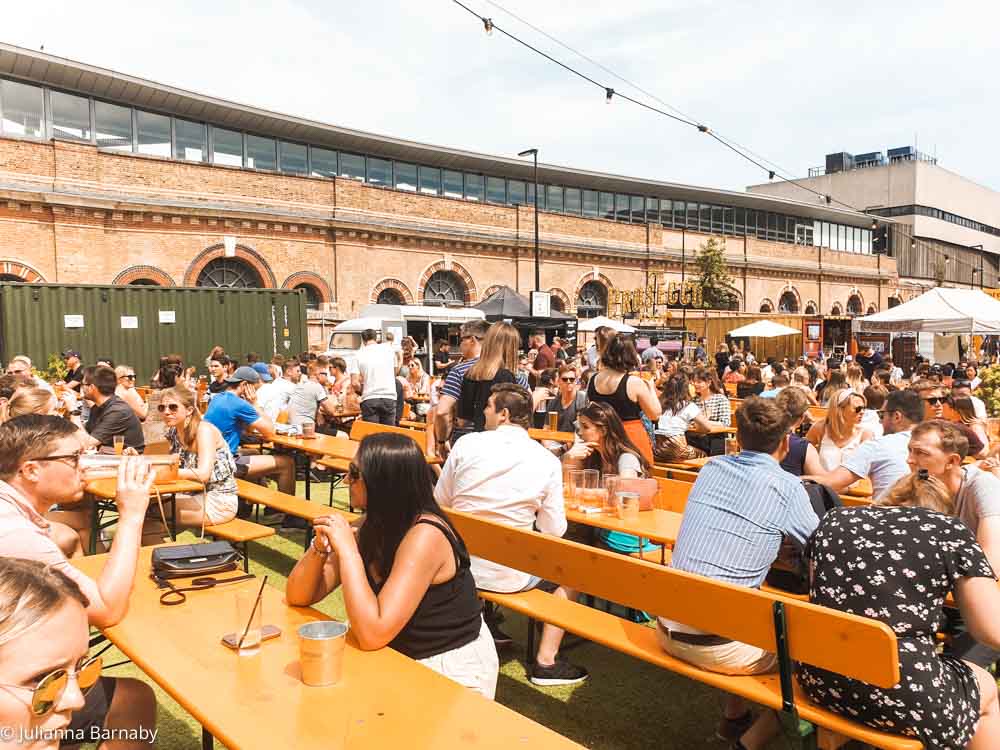 You know we're all about a great food market – and Bermondsey Street has a particularly fab one in Vinegar Yard. It's just at the top of Bermondsey Street, across the road from London Bridge.
Sister to one of our long-standing faves, Flat Iron Square, Vinegar Yard was always going to be a winner.
Describing it just as a Bermondsey Street food market does it a disservice. It's also a shopping and art space, with the weekly London flea taking place there each weekend.
We've got to admit we're mainly about the food, though, and it doesn't disappoint. From Sugo to Baba G's it's a cool little spot to pick up a bite to eat, particularly when the sun is shining.
Read Next: London's Best Food Markets
White Cube Gallery
The White Cube Gallery was all about minimalism well before minimalism was cool.
Long before the days of Marie Kondo, Scandi-style and Kanye West, White Cube Gallery was famous for its stripped back interior design and sleek exterior.
Inside is one of London's premier art galleries. Part of what makes this gallery unique is the way it has supported young and up-and-coming British artists.
If you've got cash to burn you could always invest in a piece (it may just be The Next Big Thing), but if you're on a budget you're welcome to just look around.
Electric Shuffle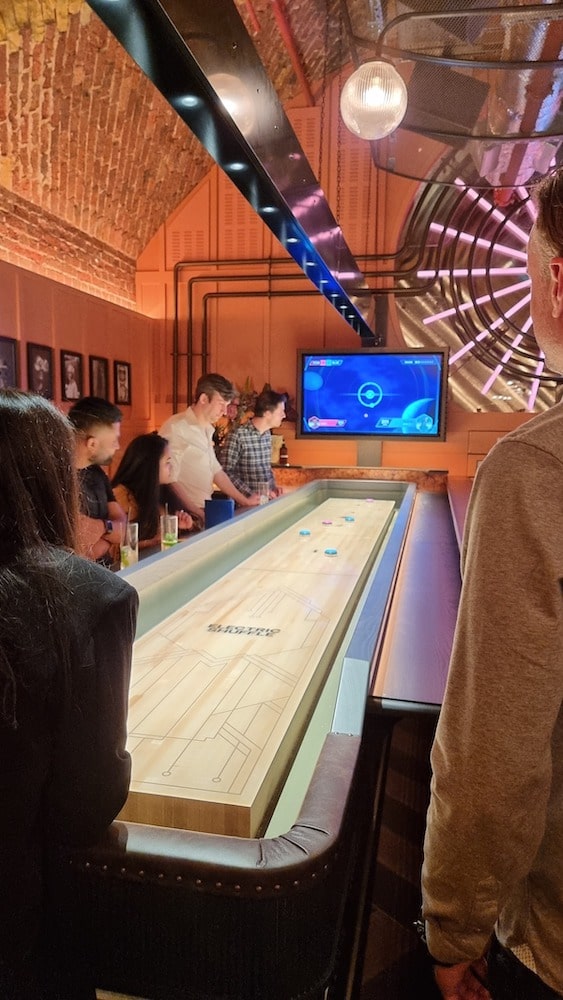 Bermondsey Street newbie Electric Shuffle is a quirky spot – a giant subterranean venue dedicated to the humble art of shuffleboard.
Now, we won't blame you if the word shuffleboard has you scratching your head in perplexity – it's a 15th century game that's slowly gaining popularity in modern times. All you need to know is that a) you can pick up the rules pretty quickly and b) chances are all your teammates will be similarly clueless before you get started.
Though the big focus is on shuffleboard here – we would be remiss if we didn't mention the fact that this is one of the best bars on Bermondsey Street too – lively, fun and perfect for an evening out.
Shopping at Bermondsey 167
If you want to take home a little piece of that quirky and loveable Bermondsey vibe, you'd best head to Bermondsey 167.
I love this little shop, which is often (accurately) described as a treasure trove. It's a bit like walking into Aladdin's Cave – you're never quite sure what you'll find.
For ultra-quirky home decor to hand-crafted clothing and accessories, anything you buy here is sure to be a talking point.
Hit Maltby Street Food Market
A stroll down Maltby Street Food Market is a must for anyone visiting Bermondsey. It's not as popular as some of London's other big eating markets but it's basically just as good. So what should you be eating?
Well, the brownies at Bad Brownies are a must. They're hella indulgent and moreish enough that you might be taking a few away in a box for later. Then of course there's The Cheese Truck. This place turns out cheese toasties that deserve some kind of award.
A special mention must be made for Finest Fayre, and in particular their scotch eggs. To put it simply, they're a fantastic example of a British food icon.
The Best Bermondsey Street Restaurants
Flour & Grape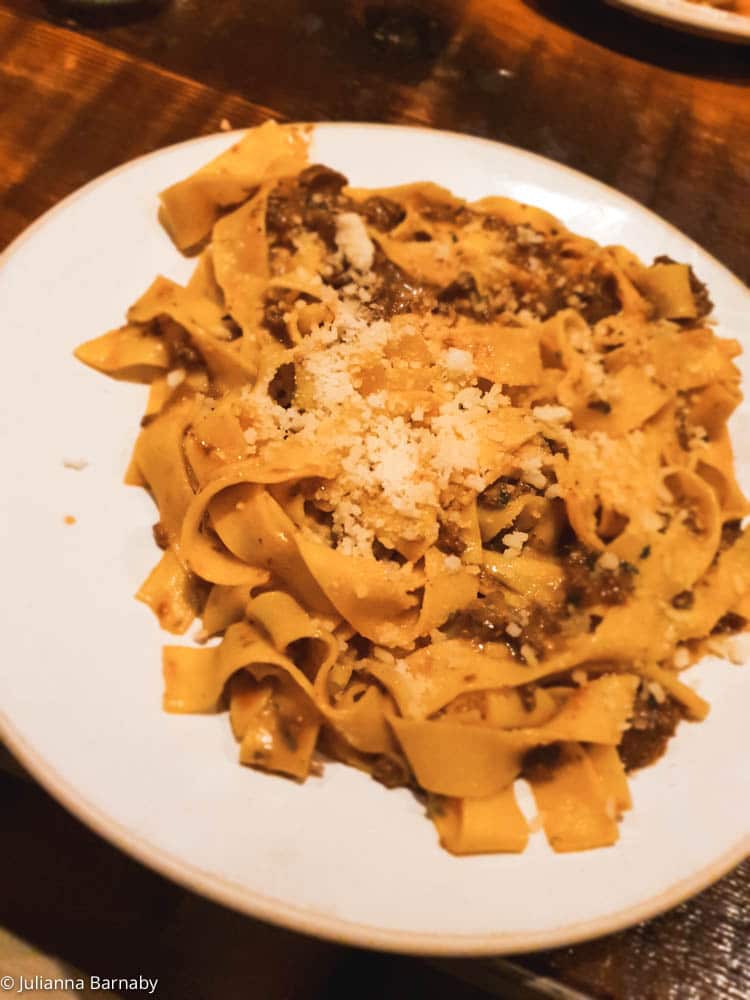 Another great option if you're peckish in Bermondsey is Flour & Grape. There's a simple premise here: fresh pasta, and great wine.
It's a pretty epic combination, and Flour & Grape have it perfectly down. Their handmade pasta is a total delight – especially the amazing tagliatelle (wild girolles – yum.)
The only problem with this great Bermondsey Street eatery is that you might never be able to go back to store-bought pasta again. Sorry.
Casse Croute
Despite the cross-Channel rivalry, we're the first to admit that French food is pretty amazing. Especially at Casse Croute.
This fabulous Bermondsey Street restaurant serves up a très French menu that changes by the day. You might just need to brush up on your French to read it.
The good news is, pretty much everything is delicious – so even if it's an educated guess as to what's on the board, it's basically guaranteed to be amazing.
Don't forget to check out their drinks list, which is quite the who's who of French wine producers.
Pique Nique
Sister restaurant to the above-mentioned Casse Croute, the wittily-named Pique Nique will be noticed first and foremost for the odd mock-tudor building it's taking up space in. That's not to say the food isn't giving its fair share of shine.
Like its sister restaurant, you'll find a sumptuous menu of French classics that are to-the-core legit. Yep, lay on the foie gras, bring on the champagne. It's that kind of an affair.
A meal here is definitely not for anyone who is trying to cut butter and cream out of their diet, but who'd be foolish enough to try a thing like that if it involves missing out on cooking this good?
40 Maltby Street
Set under the arches right off Maltby Street food market is 40 Maltby Street, a total gem of a restaurant. They source ingredients fresh from the stalls of the market and knock them up into delicious sustainably sourced food.
The site itself is actually part of the Gergovie Wines warehouse so you can be sure they have a good selection of those on offer too. They come in the form of the best of boutique European imports by the bottle or the glass.
They don't take bookings so getting a table here can be a bit of a struggle, especially at the weekends. We can assure you that it's worth all the hassle.
Jose
Brilliant Jose is like a little slice of Spain right in the middle of Bermondsey. This tiny restaurant feels just like the pokey tapas bars of Barcelona – and we love it.
The menu here has all your classic Spanish options like patatas bravas and jamon, as well as more unusual choices too.
Of course, it wouldn't be a visit to a tapas bar without pairing your food with some wine or sherry.
With a carefully selected drinks list, you really can't go wrong with anything that's on it.
Tanner & Co
After our quick tour around the food giants of Western Europe, it's time to offer the best of British cuisine with Tanner & Co.
We've first got to talk about the decor – it is amazing. Like many London restaurants it is rustic and industrial inspired, but it's also unique and gorgeous.
This Bermondsey Street restaurant is the perfect setting for anything from a tasty brunch to dinners that turn into late night drinks. You can even have marmite as a starter.
It doesn't get much more British than that.
Village East
From Europe to America, another great option for a meal in Bermondsey is the New York-inspired Village East.
As you'd expect from a venue inspired by the Big Apple, it's industrial-chic with a great menu. Think delicious options like Cajun bass and a smoked applewood cheeseburger. Yum.
There's also a mean cocktail list, so we recommend settling into this one for the long haul
Pizarro
We have not one, but two great Bermondsey Street restaurants to thank Jose Pizarro for.
Not content only to offer his tapas joint Jose, he's also got a gorgeous restaurant too – fittingly, it's called Pizarro.
The commitment to delicious, fresh Spanish food is the same – however, Pizarro has more larger plates on offer. Perfect for when tapas just won't cut it.
This fab restaurant is usually bustling, especially in the evening. It really does beg the question: what will Jose Pizarro name his next Bermondsey Street eatery now that Jose and Pizarro are taken?
The Best Bermondsey Street Bars
214 Bermondsey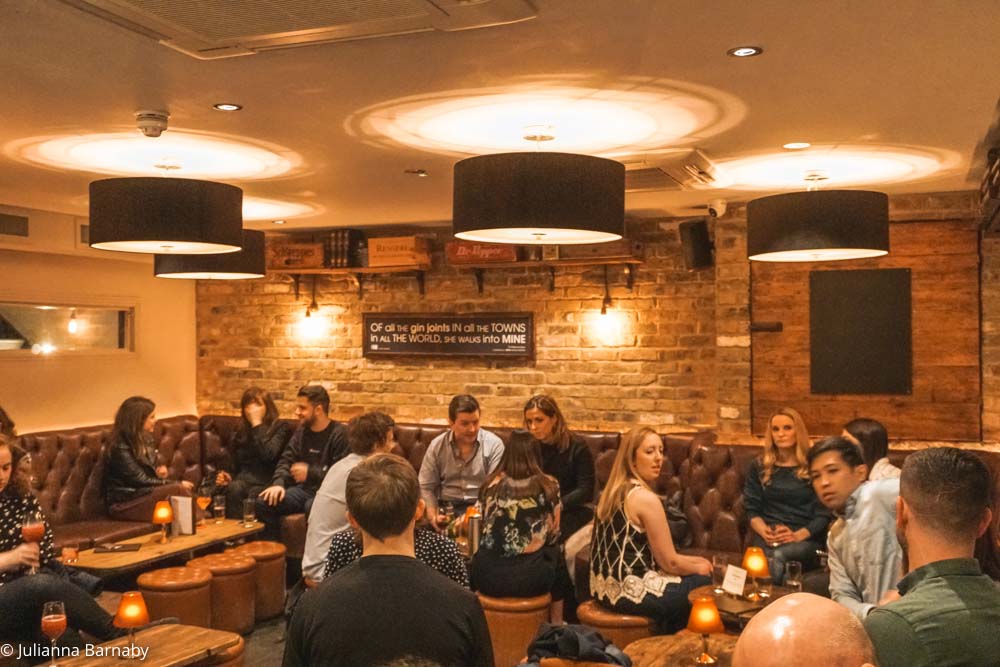 We love gin, but we've got to admit these days it's all got a tad overwhelming. It seems you need a science degree to decipher the ingredients on the back of the label.
Luckily, in London we've got great venues like 214 Bermondsey to help you enjoy great gin without any of the snobbery.
They're gin enthusiasts, sure, but they're also just passionate about helping you enjoy a great drink. So whether you're looking to discover a new distillery or just fancy a tipple, this is a great choice.
Read Next: Best Bars in and around London Bridge
Nine Lives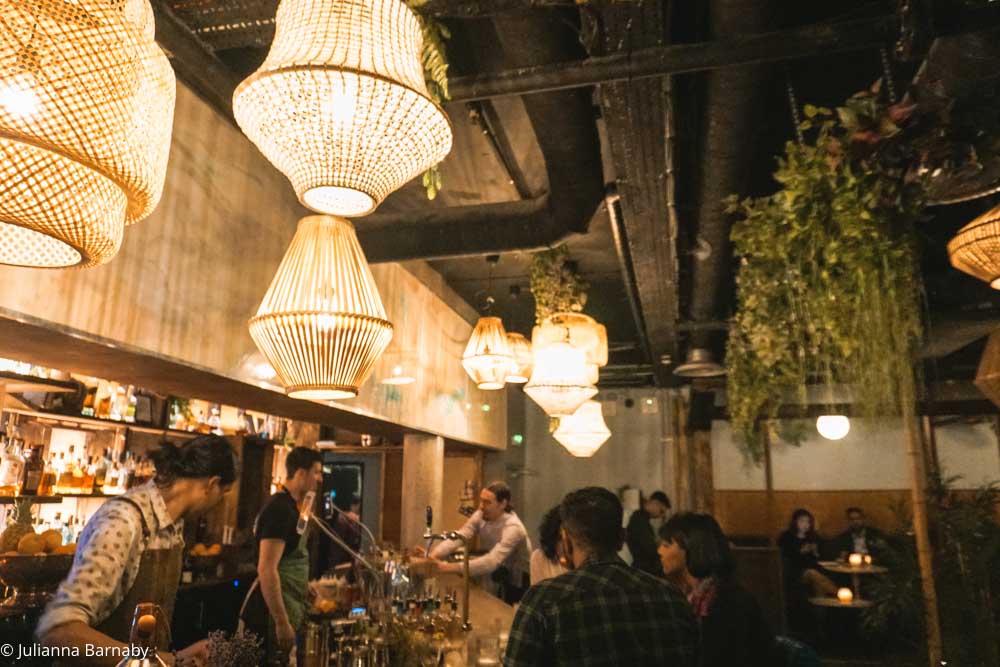 We've all been to beautiful bars that just feel… well, a little stale. Everything is just that bit too perfect and polished at the expense of character.
Not Nine Lives. Its name comes from its love of salvaging secondhand goods, which have all been put together to create something epic.
It's got that lived-in feel of your favourite haunt, paired with the amazing cocktail list of those fancy bars you dream of visiting. And that's all good in our book.
The Hide Bar
Us Londoners are a proud bunch, especially when it comes to our local brews and spirits. If you fancy sampling them, head on over to The Hide Bar.
One of our favourite Bermondsey Street bars, this little gem serves up a great selection of local drinks. The range changes often, but it's always local.
So, if you're feeling the London pride – head for the Hide Bar.
Brilliant Pubs on Bermondsey Street
The Woolpack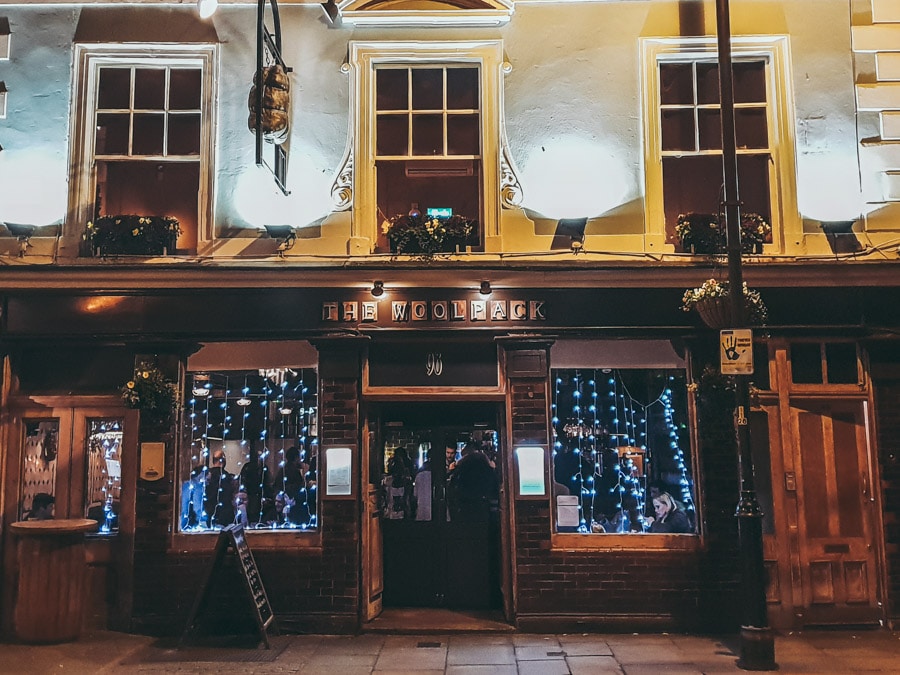 The Woolpack claims it serves up the best Sunday Roast in south London. Having tried it – we may have to agree, they do the classic well.
If the British institution of a Sunday roast isn't your thing, don't despair. The menu has plenty of other pub classics to enjoy as well.
Or, you can always just take a seat in this beautiful and historic pub. Grab a pint, and enjoy the good vibes and enviable Bermondsey Street locale.
The Garrison
Having opened up its wooden doors in 2003, The Garrison was one of the first Bermondsey Street pubs to really embrace the foodie revolution.
More than a decade and a half later, it's still doing what it does best. Great food, great service and ample drinks.
The menu relies mostly on seasonal British produce, and is absolutely delish. The wine list is pretty great too.
Oh, and did we mention they do bottomless brunches on Saturdays?
Must-Try Cafes on Bermondsey Street
F*ckoffee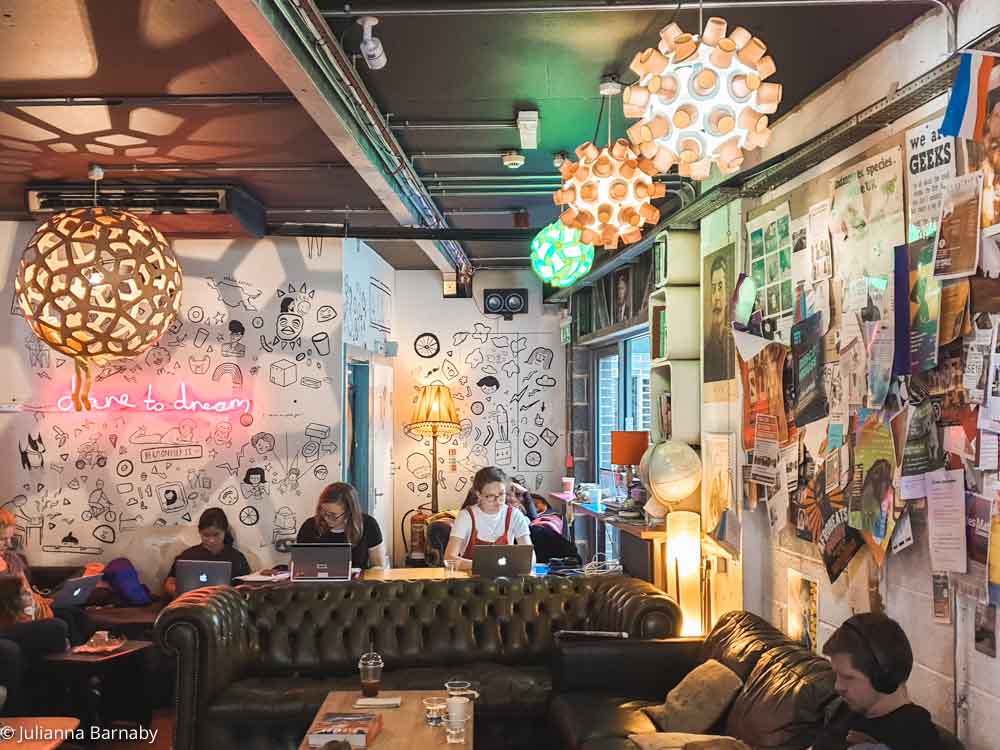 Now there's a name you won't forget in a hurry. Hey, at least they censored it a bit for the pearl-clutching neighbours?
Provocative name aside, F*ckoffee is hands-down one of the best cafes in Bermondsey Street.
From the quirky decor to the perfectly poured coffees and fab menu, this has all the elements for a perfect coffee house.
Read Next: The Best Coffee Shops around London Bridge
B Street Deli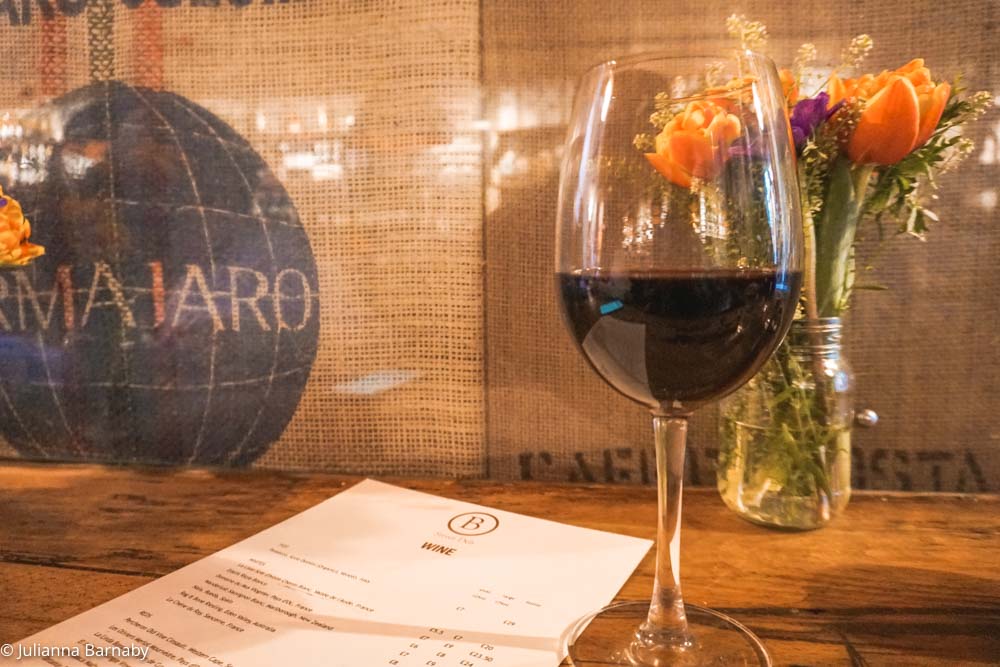 It's your local deli – only much cooler. Unless you're lucky enough to live on Bermondsey Street, that is.
This fabulous cafe/grocer/wine bar has pretty much everything Londoners love under one convenient roof. You can grab your favourite preserve and indulge in a tipple.
B Street Deli also does light lunches and charcuterie boards if you're looking for something to nibble on.
The Watch House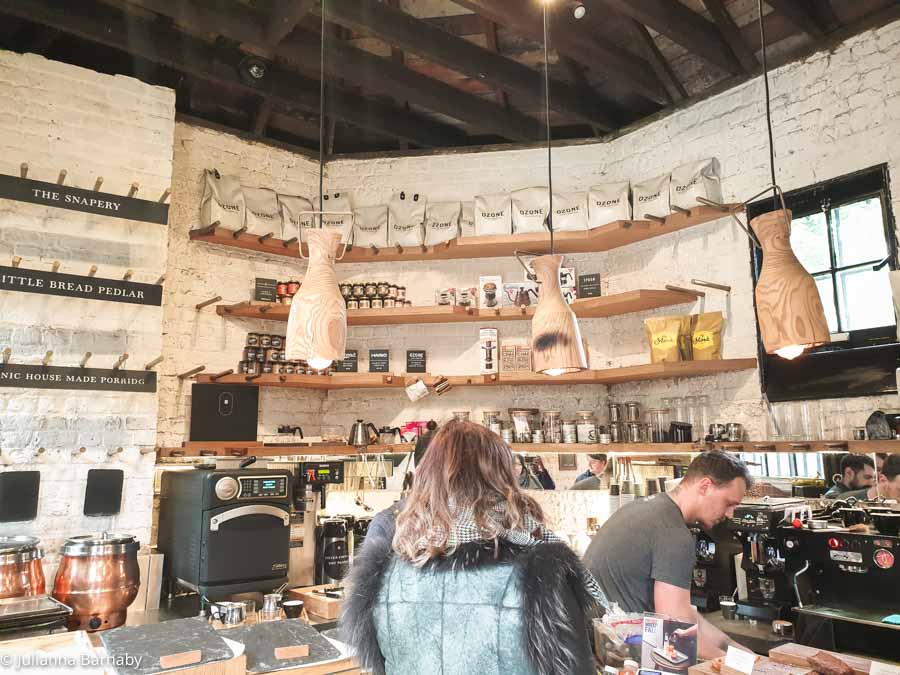 It's a Bermondsey Street cafe. In a historic watchhouse. Next to a graveyard.
We may have reached peak London – and we are totally here for it. This ultra cosy space might be only 25 square feet, but it's one of our favourite places to go for a coffee and lunch.
Cute decor, a great menu, excellent coffee and a great backstory? You know you've just got to try The Watch House.
Bermondsey Yard Cafe
In another example of Londoners turning everything we can into quirky cafes, we present: Bermondsey Yard Cafe.
The location of this cafe was once an old car park – but this is London, and who needs a car park when you can have artisan coffee?
We definitely approve of this reinvention. Offering up great coffee and a menu including classics like fish and chips, it's one of our favourites.
Chapter 72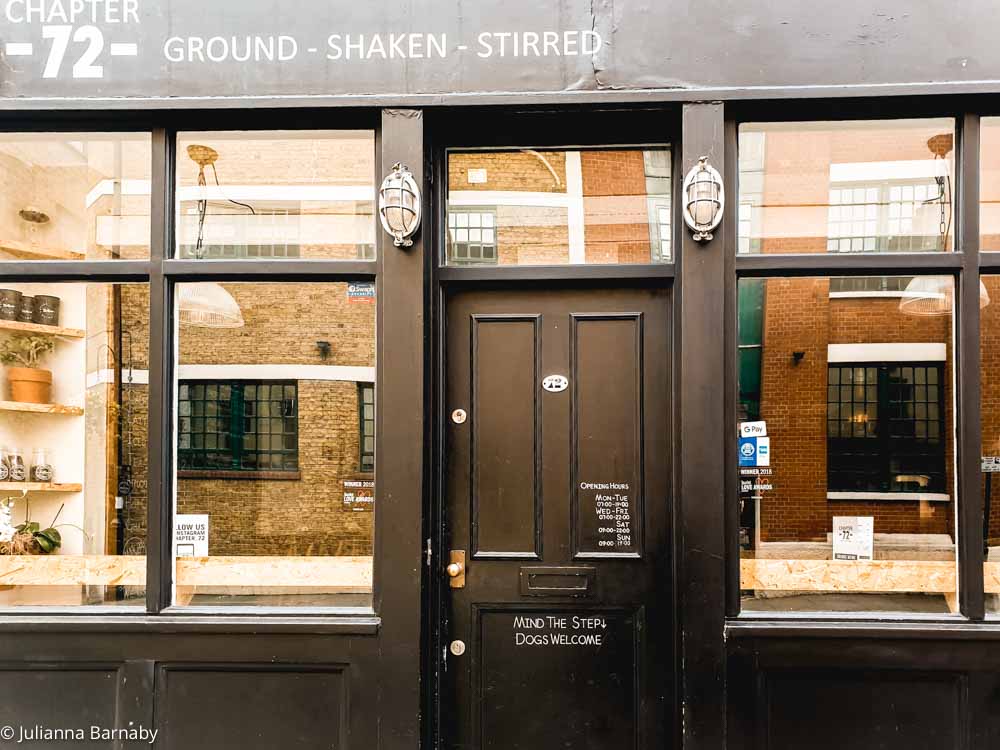 Why choose between coffee and cocktails when you can have both? You might not want to have them at the same time, but you always could at Chapter 72.
In some ways Chapter 72 is your classic London coffee house – no gimmicks here. However, the friendly staff and warm atmosphere have made this many a Londoner's local haunt.
Fittingly, they also offer an espresso martini masterclass if you want to learn to mix up your own coffee-inspired cocktail.
Practical Tips for Visiting Bermondsey Street
How to Get There
As Bermondsey is located in bustling south London, your best option to get there is to make like a real Londoner and get the Tube.
London Bridge Tube Station is about a ten minute walk from Bermondsey Street, and is serviced by the Northern and Jubilee Lines.
There's also the Borough Tube Station (Northern line) as well as Bermondsey, which is on the Jubilee line. Both are about a 15 minute walk.
Where to Stay Near Bermondsey Street
Shangri La at the Shard (High End)
With sky-high views and plush environs, Shangri La at the Shard is one of the best hotels in London, with the prices to match.
The Bermondsey Square Hotel (Mid-Range)
Trendy boutique hotel Bermondsey Square Hotel offers a unique alternative to the branded cookie-cutter hotels that dominate the capital's hotel scene. Go for chic rooms and close proximity to sights like Tower Bridge and Maltby Street Market.
Bermondsey Street: Map
Click here for a Google Map of the places featured