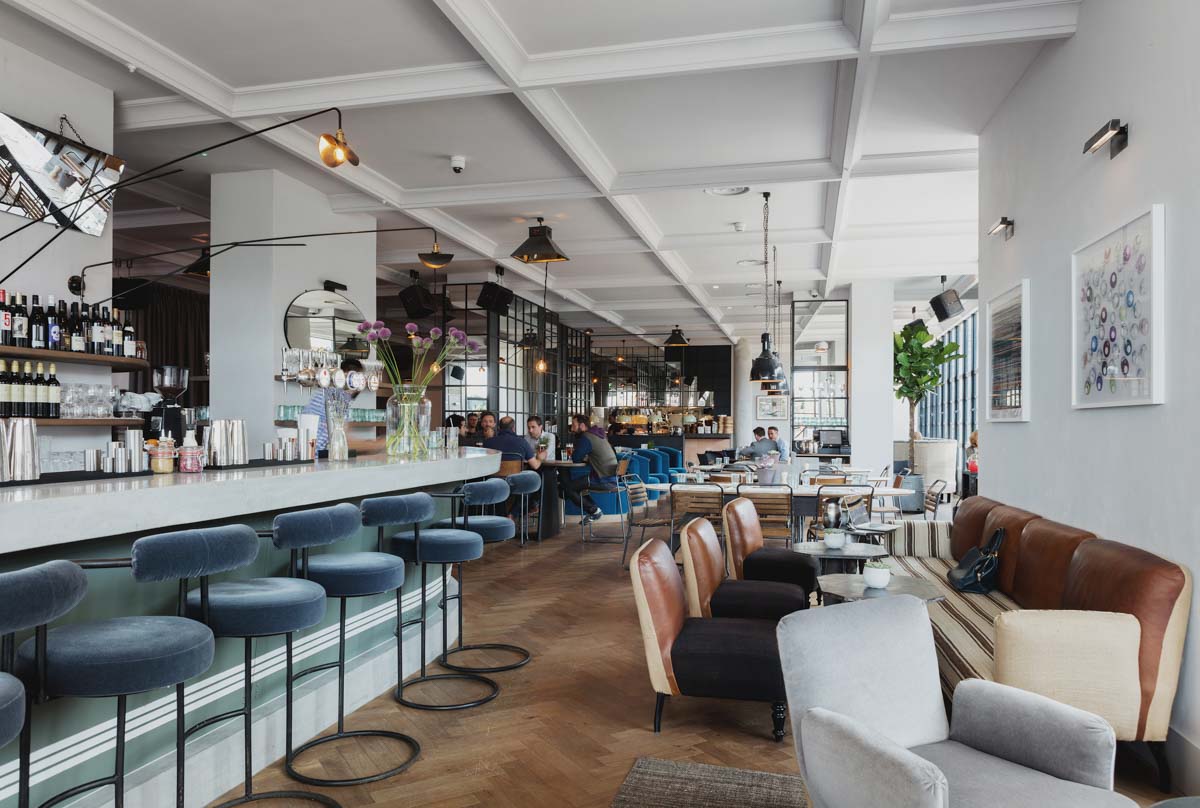 ​​Looking for the best bars in London? Don't miss this guide – London's best drinking spots, area by area.
We hate to come across like braggy-mc-braggfaces but if there's one eternal truth, it's that London knows how to do a good bar.
Scrap that – it knows how to do an absolutely amazing bar….
You know, the kind that you pop in for a quick one with a friend and end up drinking your way through a large portion of the menu, spending your life savings and waking up with a sore head, fuzzy mouth and fond memories the morning after.
Drinking our way around the best bars in London is something we've become rather good at – from Farringdon to Covent Garden, Shoreditch to Soho and London Bridge, we've written so many neighbourhood bar guides that it made sense to do the big one: the best bars in London.
The bar is high (pun intended), but these are the places where you can always find a delicious drink, stellar service and the kind of atmosphere that puts you at ease.
Just remember to eat dinner first.
PS – looking for spots with outdoor areas? Check out our guide The Best Outdoors Bars in London.
Best Bars in Central London
St James Bar
The St James Bar is a rare find – a chic hotel bar that's got one of the most inventive cocktail lists in town. The award-winning cocktails blend flavours and spirits with a skill that doesn't go unrewarded.
Pair that with friendly bar staff and a gorgeous art-deco decor and you'll see why this is one of our favourite bars in London.
Disrepute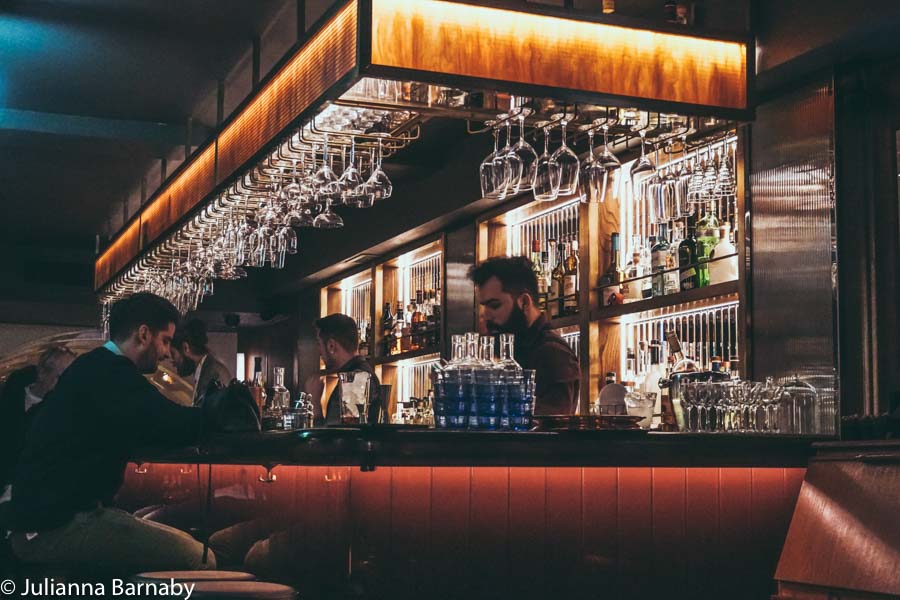 Soho
My pick of the ever-popular Soho cocktail scene is the glamorous Disrepute. Tucked down a laneway in the heart of Soho, it's a cocktail lovers' dream.
The setting is elegant yet unpretentious, while the cocktails are mixed to perfection.
It's technically a member's bar, but walk-ins are welcome.
Address: 4 Kingly Court, Soho W1F 9RR
---
Upstairs at Rules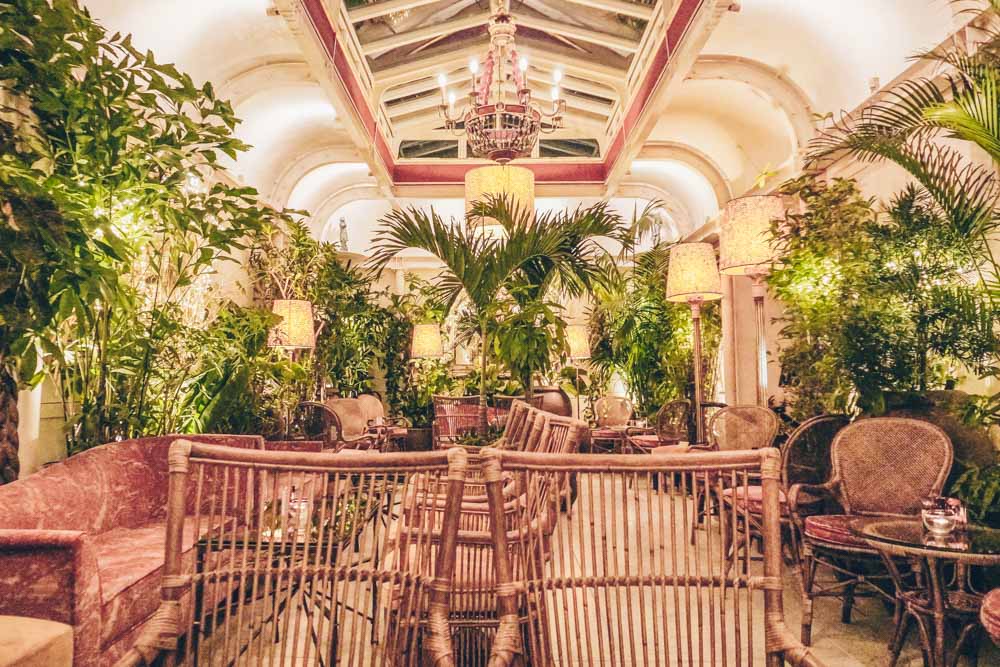 Covent Garden
Hidden away atop one of London's oldest and best-respected restaurants, Upstairs at Rules is a serious delight.
The decor here looks a little like stepping into a glasshouse, and then the ah-may-zing cocktail list is the stuff your dreams are made of. It's straight up one of the prettiest places in London.l
Don't miss this one if you're looking for nice bars in central London – she's pretty fabulous.
Address: 34-35 Maiden Lane, Covent Garden, London WC2E 7LB
---
Experimental Cocktail Club
Chinatown
Fair warning: it's not easy to find this speakeasy-themed bar tucked away in Chinatown. Once you do though – the Experimental Cocktail Club (ECC) is hard to leave.
The cocktails are absolutely fabulous – if you've got a favourite then chances are the bartenders can mix it up for you, or take your pick from the seriously good list.
Address: 13a Gerrard St, Chinatown, London W1D 5PS
---
Oriole
Farringdon
Great bars in London don't come much more effortlessly cool than Oriole.
From its hidden location and speakeasy vibes, to its utterly fabulous cocktail menu, this is a place for serious drinkers.
Or anybody who just wants to have a good time in a gorgeous setting – usually with jazz.
Address: E Poultry Ave, Farringdon, London EC1A 9LH
---
Nine Lives
London Bridge
If you like your cocktail bars more on the "community living room" side, then you've got to make your way down to Nine Lives.
There are houseplants galore, friendly staff (and regulars) plus great vibes. Don't worry, the cocktails are awesome as well.
Address: 8 Holyrood St, London SE1 2EL
---
American Bar at Brasserie Zedel
Soho
Don't let the name fool you – this top bar in London is actually all about the Parisian chic. Even though it's got definite opulent vibes, the American Bar at Brasserie Zedel also unpretentious and welcoming.
From fab cocktails and a great wine list, to delish French-inspired small plates, it's all good in our book.
Address: In the Basement of Brasserie Zedel, 20 Sherwood St, Soho, London W1F 7ED, UK
---
Swift Bar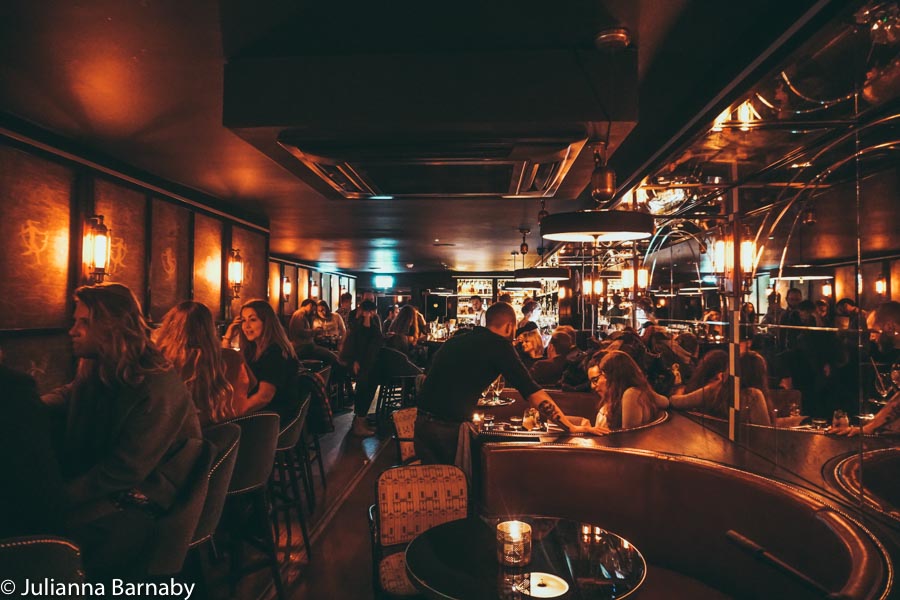 Soho
Why choose one amazing bar in London when you can have two? Yup, that's what's on offer at Swift Bar.
Upstairs you'll find a cocktail bar serving up light dishes, while downstairs things are all about the live music (and drinks, of course).
Address: 12 Old Compton St, Soho, London W1D 4TQ
---
Bar Termini
Soho
We all love coffee and cocktails – and the fabulous Bar Termini approaches them both with equal care and consideration.
Whether you're getting a fabulous daiquiri or a perfectly poured latte, you can expect to be seriously impressed.
That is – if you can get a seat. There's only 25 on offer, so you'll want to book or go early.
Address: 7 Old Compton St, Soho, London W1D 5JE
---
Lyaness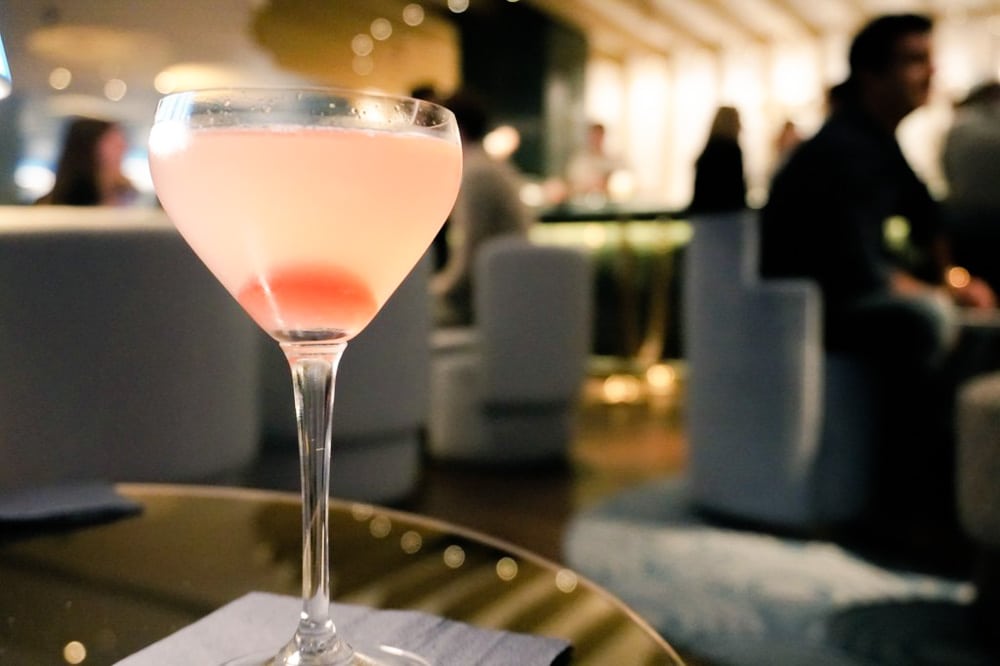 South Bank
London collectively gasped in horror when it was announced that Lyaness's predecessor, Dandelyan, was closing down. It had, after all, been named the best bar in the world.
Amazingly, the reinvented Lyaness has managed to outdo it. This is the cocktail bar of all cocktail bars – perfect drinks, perfect decor and perfect service.
Address: Sea Containers, 20 Upper Ground, South Bank, London SE1 9PD
---
12th Knot
South Bank
Located upstairs from Lyaness at Sea Containers, 12th Knot has the additional allure of being a rooftop view.
The cocktails are also fabulous, and you can enjoy them while looking out at that iconic London skyline.
Address: Roof Sea Containers, 20 Upper Ground, South Bank, London SE1 9PD
---
Mr Fogg's House of Botanicals
Fitzrovia
Spend any time in London and one thing will become abundantly clear: we really love our gin.
Undoubtedly, one of the best places to try some of the capital's best gin is at the whimsical Mr Fogg's House of Botanicals.
The drinks list is great and the decor is seriously fabulous – weird and wonderful in equal measure.
Address: 48 Newman St, Fitzrovia, London W1T 1QQ
---
The Cellar King's Cross
King's Cross
As a recent addition to the multitude of Central London bars, The Cellar King's Cross had a lot to live up to. But luckily, it does.
Offering up sustainable wines, ethical coffees, and a delicious array of charcuterie boards, The Cellar proves it's never too early in the day to have a glass (or two).
The Cellar promises low-fuss, but still manages to look completely cool inside.
Address: 258 Pentonville Rd, London N1 9JY
---
The Nest
Fitzrovia
For unparalleled views across the capital, The Nest inside Treehouse Hotel hits the spot.
Not only is this potentially the most beautiful bar in London, decorated in what can only be described as rustic-chic accents, but whatever time of day you visit, you're guaranteed incredible 360 views.
With a great selection of wines, beers, and cocktails on offer, make sure you pay a visit to The Nest – you won't be disappointed.
Address: 14-15 Langham Pl, London W1B 2QS
---
Flight Club
Victoria
You can find a couple of Flight Club locations all over London, but the Victoria offering is one of our favourites.
As one of the most fun bars London has to offer, an evening playing darts and quaffing drinks at Flight Club is a must.
The draw of this bar is definitely the dart boards, but even if you don't fancy a game, the electric atmosphere and selection of drinks are reason enough to visit.
Address: 6 Sir Simon Milton Square, London SW1E 5DJ
---
The Thin White Duke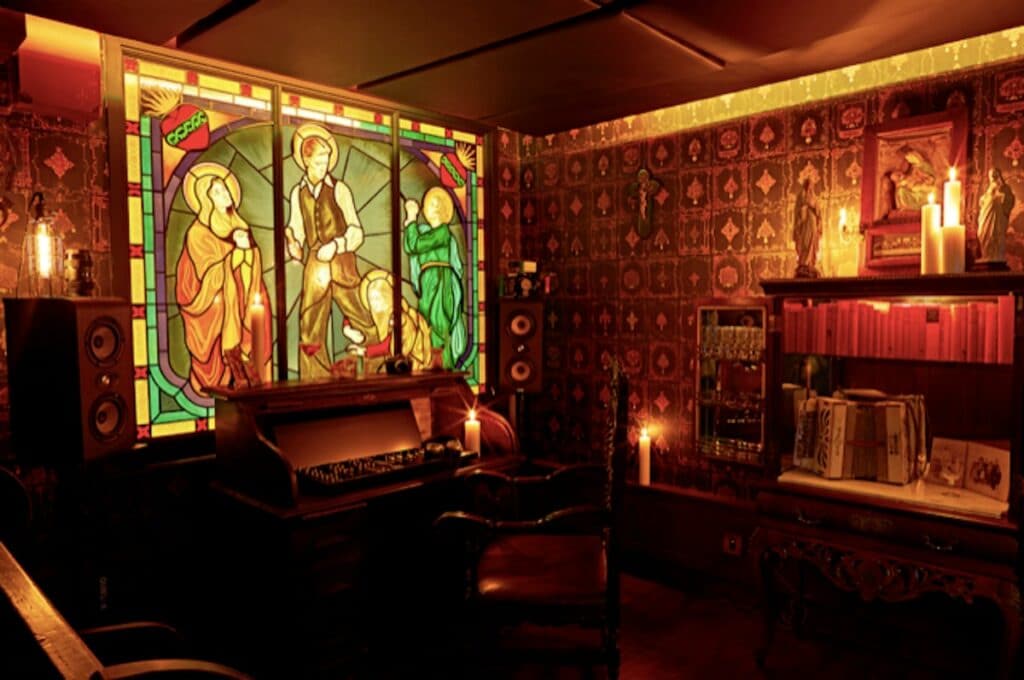 Soho
Fancy drinking somewhere a little bit different? Enter The Thin White Duke, a David Bowie-esque joint with nods to Berlin and Japan.
Mixologist Dav Eames is a master of the craft and has created a menu that is both classic and unique – top picks include the …Away, a heady mezcal-based drink, and the Gin & Milk (it's a weird mix, but it works).
Interior-wise, it's a real wild card. One room is a tranquil Kyoto-inspired space, while another sees a huge stained glass mural of Bowie adorning the walls. It's weird and we love it.
Address: 22B Great Windmill St, London W1D 7LD
---
The Little Scarlet Door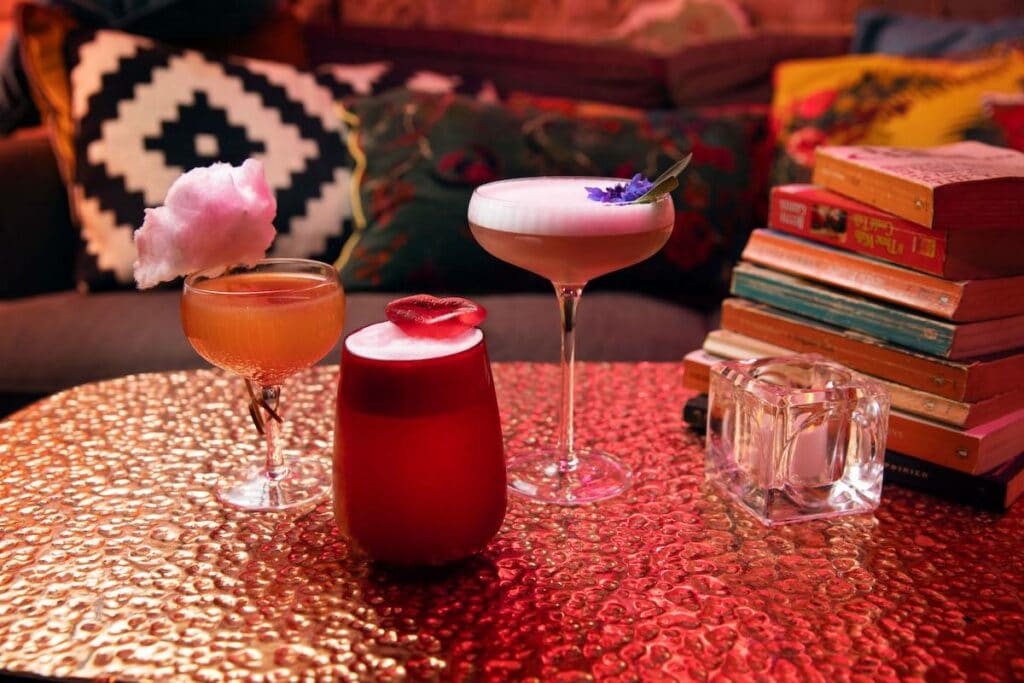 Soho
The latest offering from The Little Door Co. is a scandalous scarlet affair in Soho – and it's one of the top places to drink right now in the capital.
The cocktail menu is cheeky and boozy, and sees classics given a scarlet twist. Take the Crimes of Passion, for example – a Pornstar Martini served in a goblet with a toasted marshmallow. Or the Mad Men, a sour take on a Manhattan.
---
Soda & Friends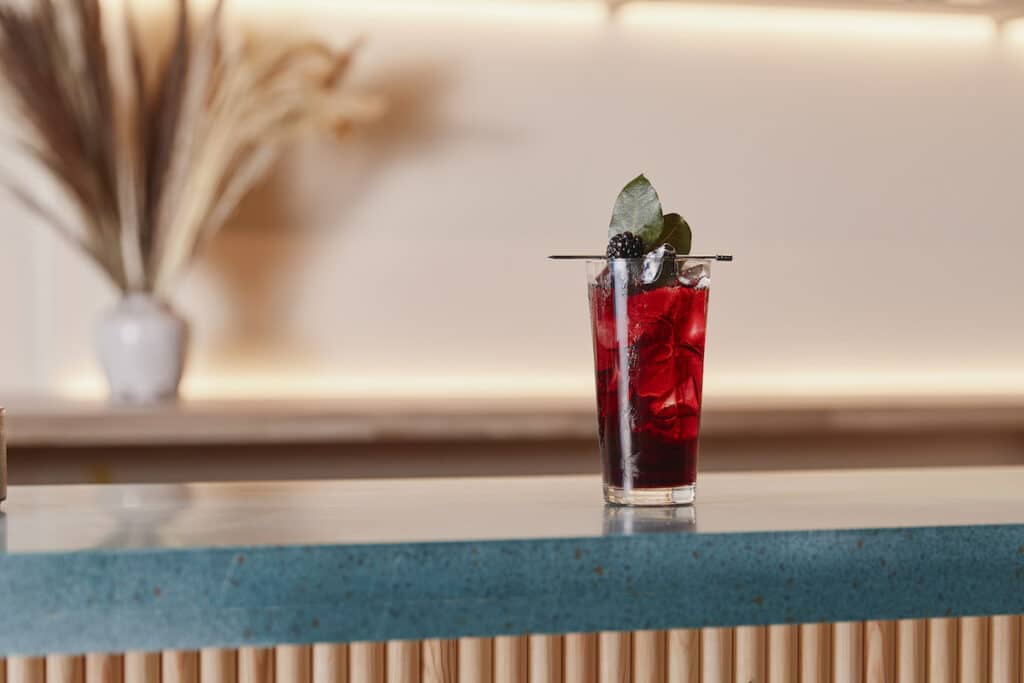 London City Island
Soda & Friends is a new addition to London's bar scene, a relaxed neighbourhood highball bar, that prides itself on highball serves and fine spirits. The cocktails are lyrical, each telling the story of a rare spirit mixed with house-made cordials.
What's good? The Soda House Highball is the top offering for a reason. It's a blend of pear, apple, and plum with whiskey and soda – and extremely delicious, if we do say so ourselves.
Address: 20 Hopewell Square, Leamouth Peninsula, London E14 0SY
---
Amie Wine Studio
Victoria
Prepare to be wowed by Amie Wine Studio – first by the pastel pink interior and secondly by their brilliant wine. The sweet yet dry rosé is the star of the show here (of course, how on brand), though the white is equally as delicious.
Part bar, part concept store, and part design studio, this isn't a place for you to drop by for drink after drink, though if you fancy indulging in a well-priced glass for a good cause (they donate a £1 of every sale to charity), then this is the best spot in central London.
Address: 13 Eccleston Yards, London SW1W 9AZ
---
Red Room
Tucked away inside The Connaught Hotel, Red Room might just be the most beautiful wine bar in London. Art and wine are a marriage made in heaven at this pretty spot, from the pink onyx bar to the 'I Am Rouge' artwork by Louise Bourgeois hanging over the fireplace.
We'll warn you, the drinks are seriously expensive here – but boy, they're beautiful.
Expect to pay upwards of £20 for a glass or wine or a cocktail, of which the selection is a sophisticated mix of classics and some more unique offerings. Is it worth the splurge? If you're serious about getting the perfect shot for the 'Gram, definitely.
Address: Carlos Pl, London W1K 2AL
---
Best Bars in London: East London
Nightjar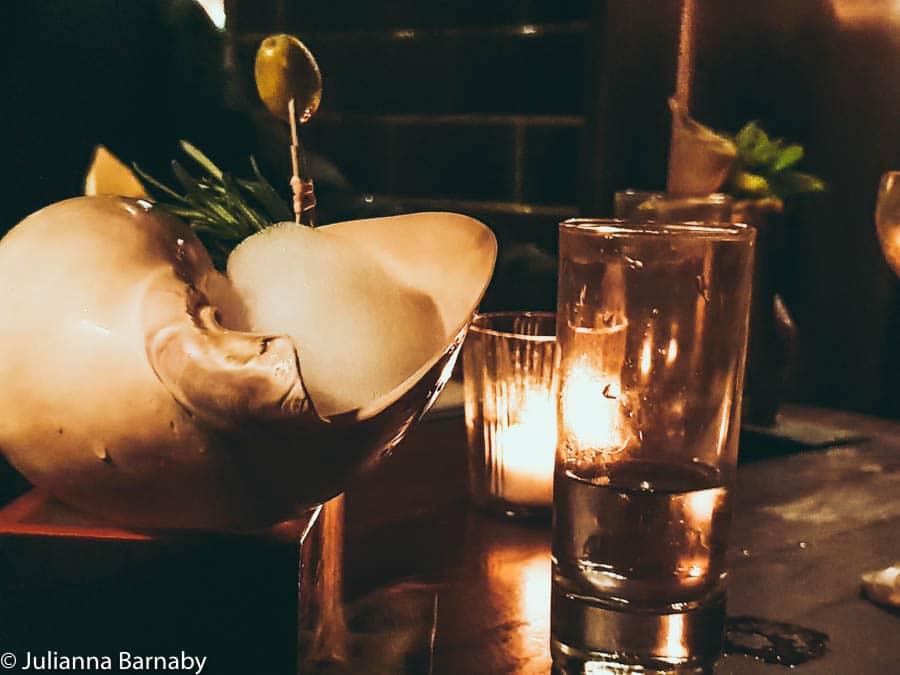 Shoreditch
No type of music goes better with cocktails than jazz. Fact. And that's exactly what's on offer most nights of the week at Nightjar.
Amongst the speakeasy set, it's one of the most popular bars in London – for good reason. The cocktail list is super cool, and so is the decor. Go find out what all the fuss is about.
Address: 129 City Rd, Hoxton, London EC1V 1JB
---
Callooh Callay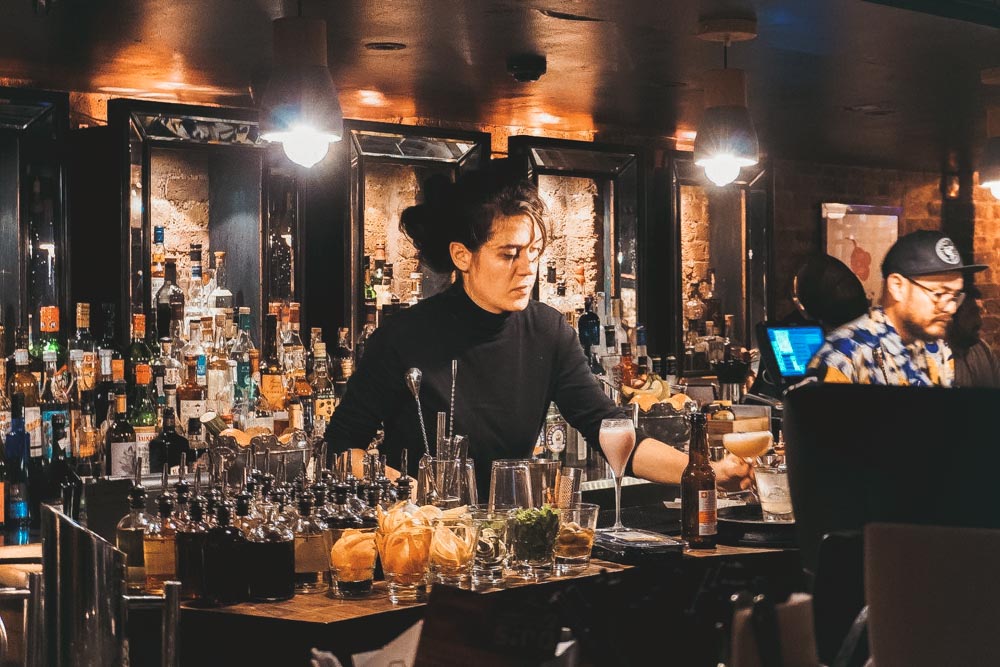 Shoreditch
Go down the rabbit hole with this amazing literary themed bar in uber cool Shoreditch.
If the setting isn't enough to have you totally enamoured, the cocktails at Callooh Callay should do the trick.
If you're extra lucky, you might even score an invite to the exclusive upstairs club, JubJub.
Address: 65 Rivington St, Hackney, London EC2A 3AY
---
Happiness Forgets
Shoreditch
If you want to flex your knowledge of London's fabulous bar scene, then you'd best get yourself a table at sought-after Happiness Forgets, one of London's hottest bars.
Tucked away on Hoxton Square, the cocktails here are legendary – meaning tables are scarce. Book ahead and prepare for some seriously epic drinks.
Address: 8-9 Hoxton Square, Hackney, London N1 6NU
---
Found Shoreditch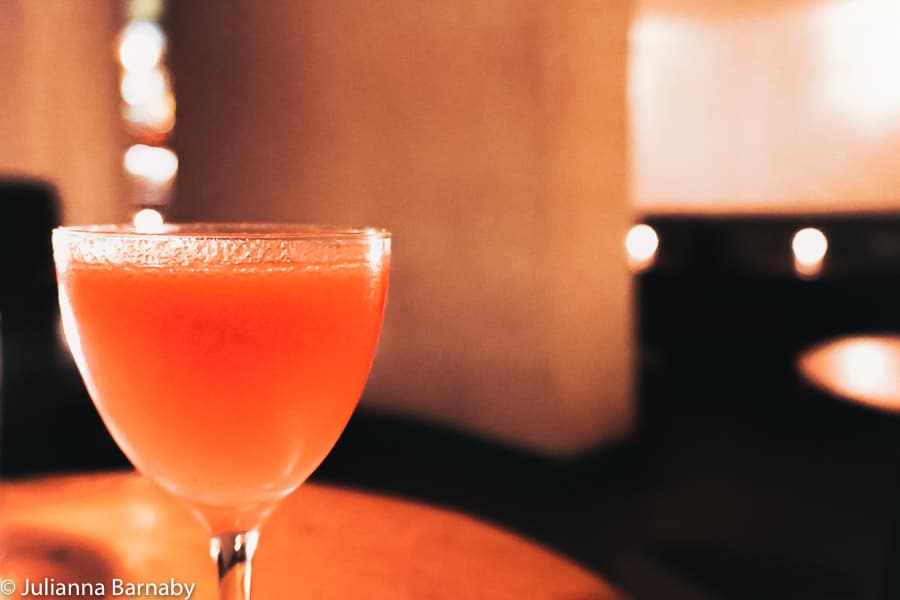 Shoreditch
It's certainly not the biggest of London's bars, but it's perfectly-sized and one of our faves.
Cosy and romantic, Found Shoreditch is one of those places where you can settle in for a romantic date or heart-to-hearts with your best friends.
The fabulous, ever-changing cocktail list is pretty awesome too.
Address: 5 Ravey St, Hackney, London EC2A 4QW
---
Victorian Bath House
The City
Us Londoners love a quirky take on the classic London cocktail bar. From parking lots to public loos, we've turned all kinds of spaces into drink stops.
One of these is the Victorian Bath House – the hint for its past life is in the name.
The quirk is fun, but what we really love about this place is the excellent cocktail list and overall good vibes.
Address: 7-8 Bishopsgate, London EC2M 3TJ
---
Old Street Records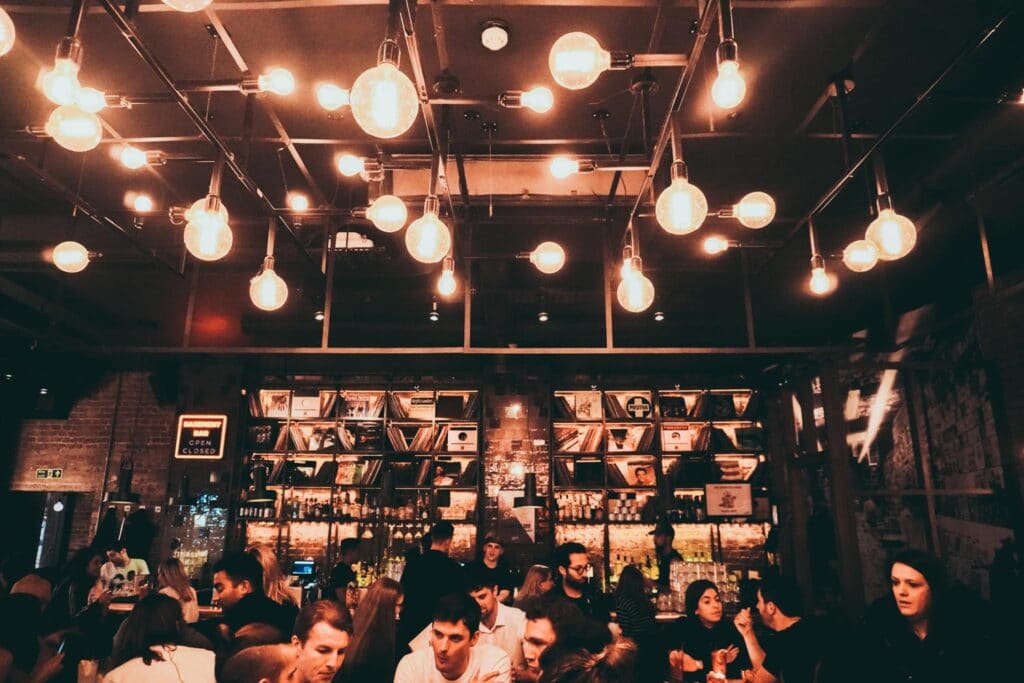 Shoreditch
This New York-inspired bar is one of our favourites if you're on the lookout for a way to enjoy great cocktails and save a few pounds.
This is one of our picks for a happy hour in London – they're 2-4-1 and just as epic as usual.
If you miss the Happy Hour, Old Street Records' drinks are still worth it at full price.
Address: 350-354 Old St, Hackney, London EC1V 9NQ
---
The Last Tuesday Society
Cambridge Heath
If you like your cocktail bars on the quirky side, then prepare to be totally dazzled by The Last Tuesday Society.
Firstly, it's nestled in the Viktor Wynd Museum of Curiosities, Fine Art & Natural History. Then there's the calendar of events, usually of the literary variety.
Finally, there's the creative cocktail menu – with the absinthe being a particular highlight.
Address: 11 Mare St, London E8 4RP
---
Ruby's Bar & Lounge
Hackney
The stairs down to Ruby's Bar & Lounge are a little on the rickety side, but trust us – delights wait downstairs.
This bar opened up in 2012 but it looks a lot older, with an eclectic range of antiques.
Of course, the main highlight is the to die for cocktails.
Address: 76 Stoke Newington Rd, Hackney Downs, London N16 7XB
---
Passione Vino
Shoreditch
Oenophiles (wine lovers), get ready for a serious delight. Passione Vino is legendary amongst the wine-loving crowd in London.
It's easy to overlook the humble facade, but step inside and lose yourself with over 300 fine wines on offer. They're predominantly Italian, and all fabulous.
Address: 85 Leonard St, Hackney, London EC2A 4QS
---
Coupette
Bethnal Green
Coupette is undeniably one of the best places to drink in London.
As brandy enthusiasts, their menu features an extensive range of drinks that really pack a punch. From heady cocktails to lighter fizzes, you'll be able to find your perfect tipple here.
Add to that a dimly lit setting that misses the pretentiousness of some of the other bars in London, Coupette is a real winner.
Address: 423 Bethnal Green Rd, London E2 0AN
---
Boathouse Cafe & Bar
Barking
Located on the River Roading in the east stretches of Barking, Boathouse is a relaxed watering hole where you can grab a chilled pint.
Inside you'll find lots of quirky decor designed to get you talking, and paired with the delicious bespoke cocktails on offer (courtesy of local legend Derrick), this is the perfect setting for a fun evening with friends.
Address: 80 Abbey Road, The Granary Building, Barking IG11 7BT
---
Seed Library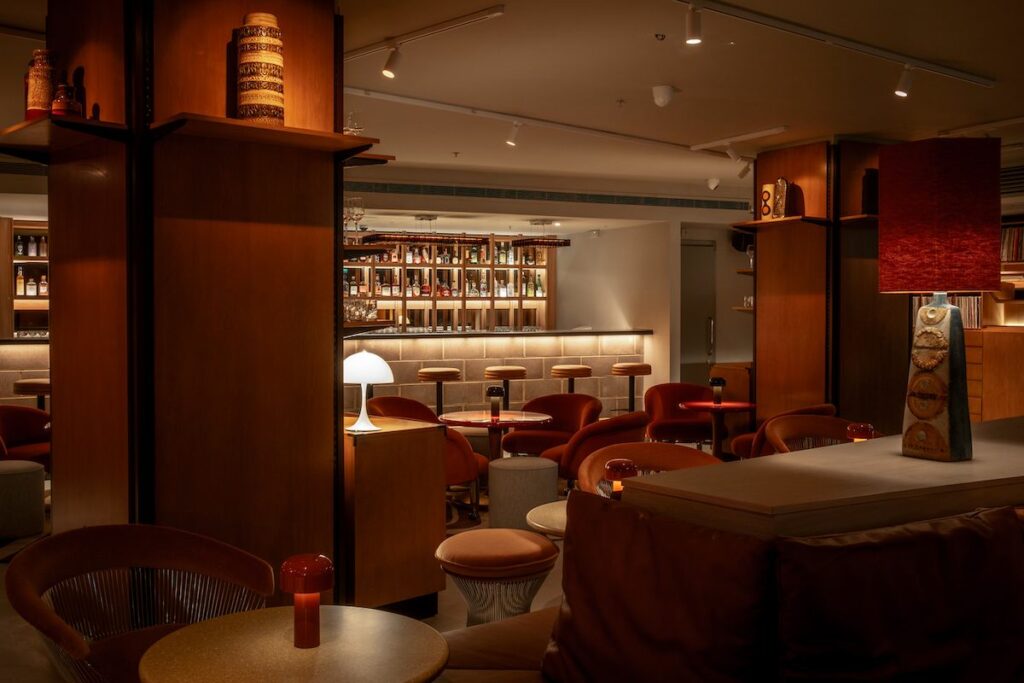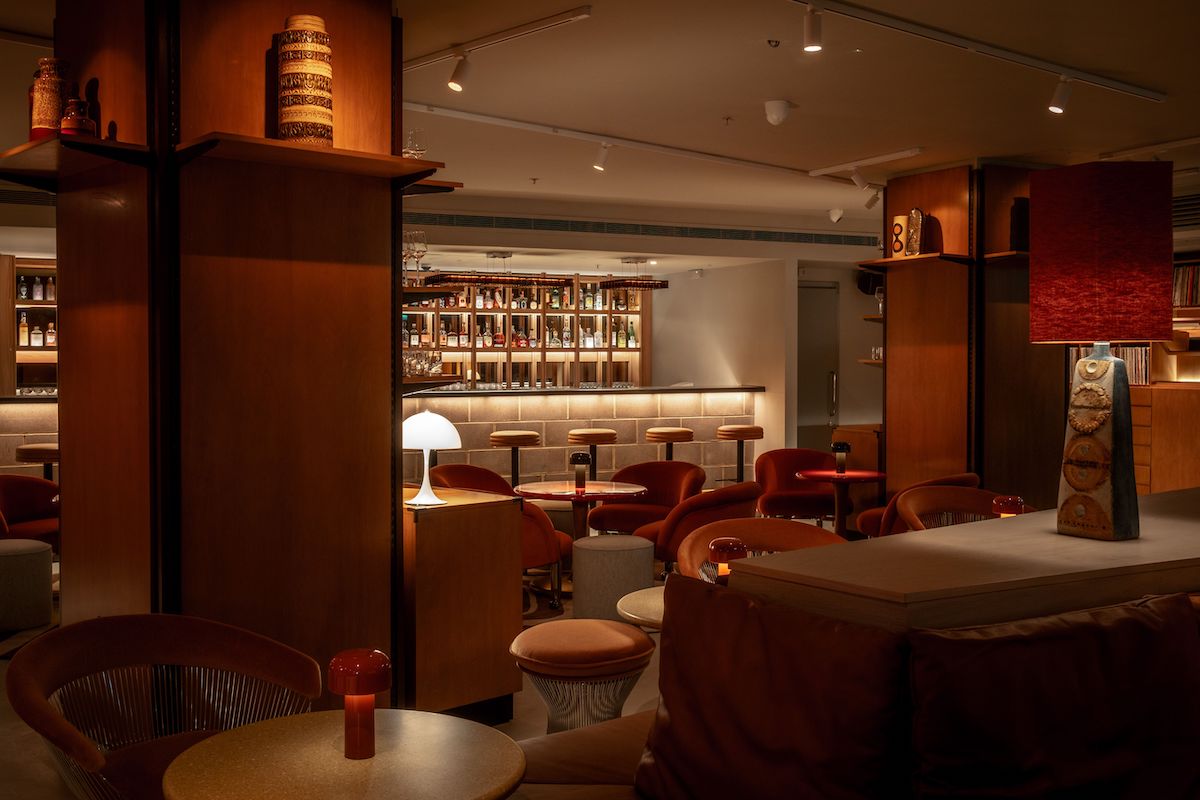 Shoreditch
Two words: Mr Lyan.
Ryan Chetiyawardana has outdone himself with his latest bar, Seed Library. It's dark, it's moody, it's excellent.
The drinks are outstanding (and decently-priced – a big win). Our favourites include the Raspberry Leaf Bellini and the Curry Leaf Stonefence, though feel free to drink your way through the menu. You're going to want to stay a while.
Address: 100 Shoreditch High St, London E1 6JQ
---
Looking Glass Cocktail Club
Shoreditch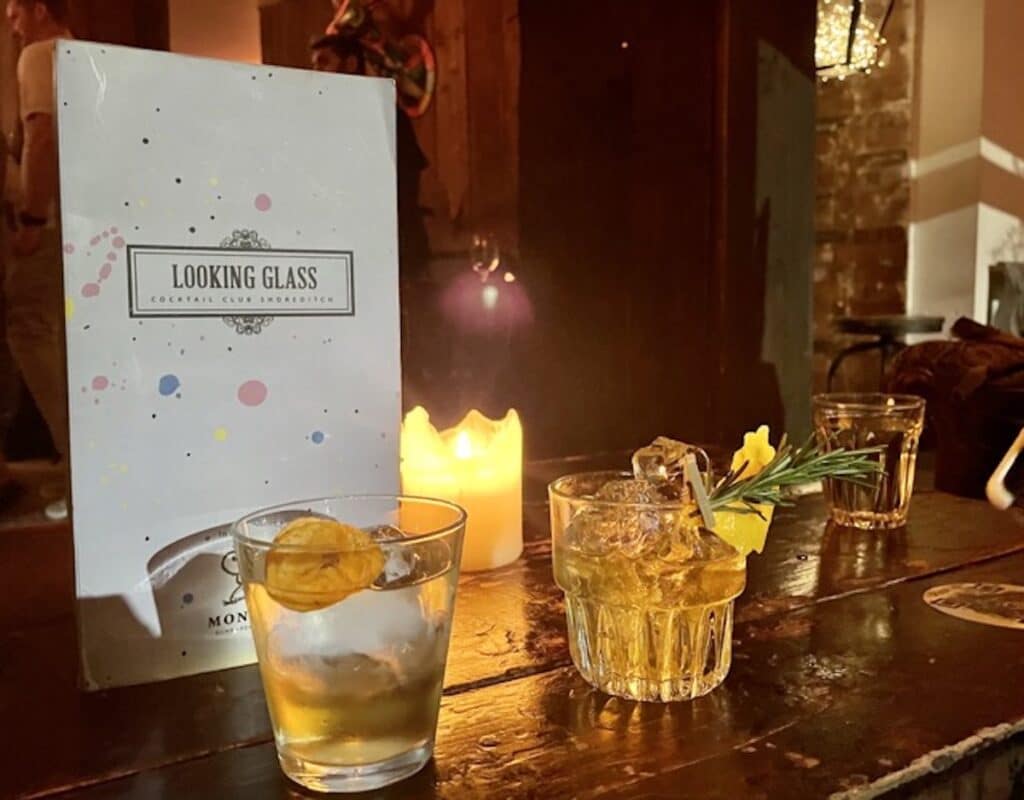 We've raved about Looking Glass already here on London x London, though it seriously deserves its praise. It's subtly themed minus any gimmicks, while the mixologists are seriously knowledgeable about their drinks.
The Mrs. Alexander is a standout cocktail – a seriously weird blend of Martell VS, dark chocolate, clarified milk, and banana. But it's so good. That said, we've tackled a fair portion of the menu and haven't been disappointed yet.
Address: 49 Hackney Rd, London E2 7NX
---
Best Bars in London: South London
Frank's Cafe at Bold Tendencies
Peckham
There are few better places to enjoy London in the sun than at the breezy Frank's Cafe at Bold Tendencies.
It's a not-for-profit arts organisation, and the artsy vibes definitely shine through on the rooftop bar.
The drinks are good, but what's particularly awesome here is the atmosphere and sunshine.
Address: Bold Tendencies, 7th-10th Floor Multi Storey Car Park, 95A Rye Ln, London SE15 4ST
---
Shrub & Shutter
Brixton
A simple, Scandi-style cocktail bar and cafe is a bit of a juxtaposition against bustling Brixton. However, it totally works.
Unusually for a place that also does excellent food, Shrub & Shutter serves up drinks that can compete with any London cocktail bar.
Perfect when you great drinks and great food in a trendy setting.
Address: 336 Coldharbour Ln, Brixton, London SW9 8QH
---
No29 Power Station West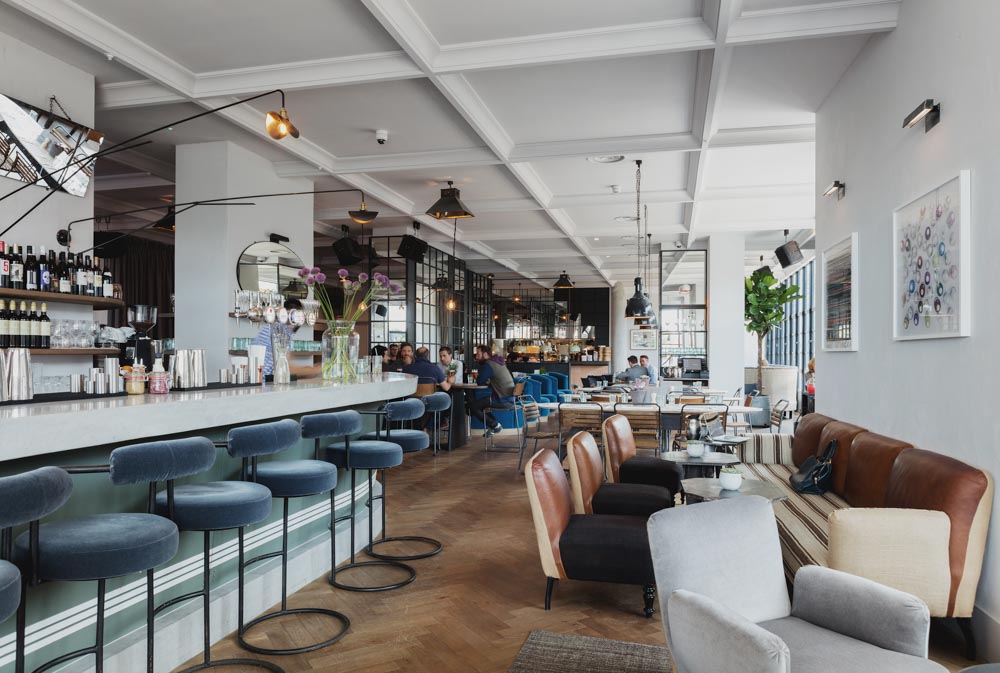 Battersea
An old power station might not seem like the ideal setting for a great bar in London. However, you can always trust Londoners to take something grunge-y and turn it into something super cool.
In this case, it's a fabulous cocktail bar and restaurant by the name of No29 Power Station West. With great decor and drinks, it's a definite winner.
Address: Battersea Power Station, 29 Circus West, London SW11 8NN
---
Brunswick House & Garden
Vauxhall
Settings don't come much more impressive than the elegant Georgian mansion of Brunswick House & Garden.
So, if you're looking for a very English cocktail experience, you'd best check out the bar inside.
It's all extremely glamorous and sought-after – so make sure you book ahead to secure a spot.
Address: 30 Wandsworth Road, Vauxhall, London SW8 2LG
---
Lost & Found
Balham
This little cocktail bar has oodles of vintage charm, from the old school wallpaper to eclectic mix of gilded frames on the wall.
Lost & Found has a real local feel – if your local serves up really, really freaking good cocktails.
So, if you're after a great drink in a charming city – this is a great pick.
Address: 10 Bedford Hill, Balham, London SW12 9RG
---
Little Nans at The Cavendish Arms
Sometimes it's just so hard to pick between the good pubs and the good bars in London. For those times, there's Little Nans at The Cavendish Arms.
The first highlight of this bar is the quirky, eclectic decor. The second is the seriously fabulous drinks, from the great wine list to the oh-so-fab cocktails.
Address: Deptford, London SE8 4BZ
---
Best Bars in London: North London
Laki Kane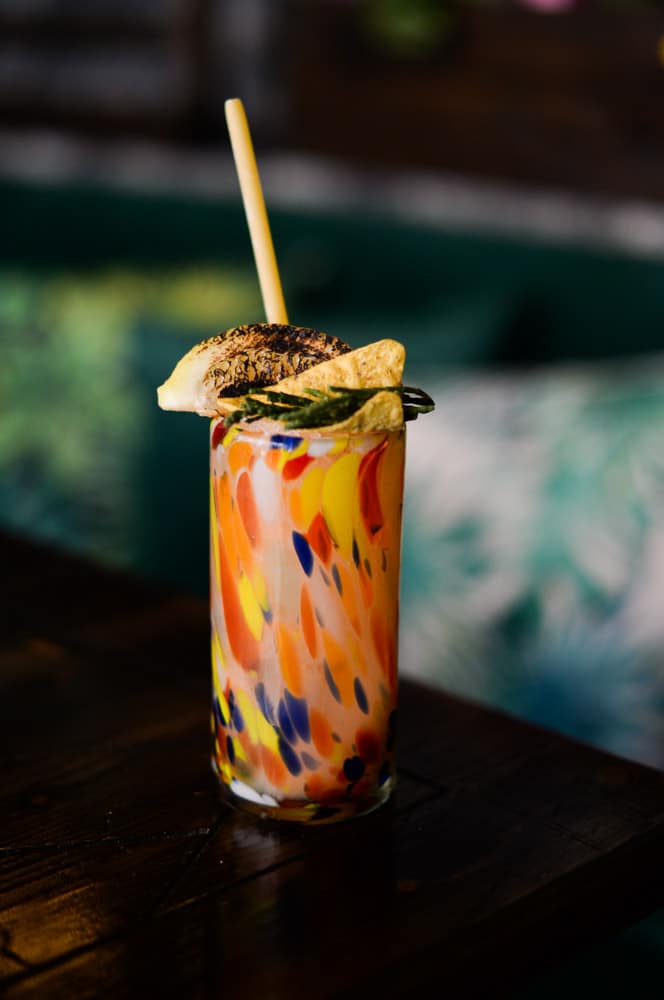 Islington
We might joke, but when it gets down to it – who doesn't love a tiki bar, really?
For a stylish yet fun take on your traditional tiki experience, there's Laki Kane in Islington. What's in a name? Laki Kane means 'a lucky person' in Polynesian – you'll undoubtedly be feeling pretty lucky once you have had some of their delicious cocktails (made only with natural ingredients you know).
Rum is the beverage du jour here, and there are frequent tastings and other events. The rum based cocktails are fab, although there are other options if that's not your thing.
Address: 144-145 Upper St, Islington, London N1 1QY,
---
Hoxley & Porter
Islington
Retro interiors can sometimes get a tad questionable (or totally tacky), but then there's places like Hoxley & Porter that do them just right.
Effortlessly styled like an early 1900s hideaway, this cocktail bar is a true gem.
Drop by for the beautiful decor, stay for the exceptional drinks.
Address: 153 Upper St, Islington, London N1 1RA
---
Clerkenwell & Social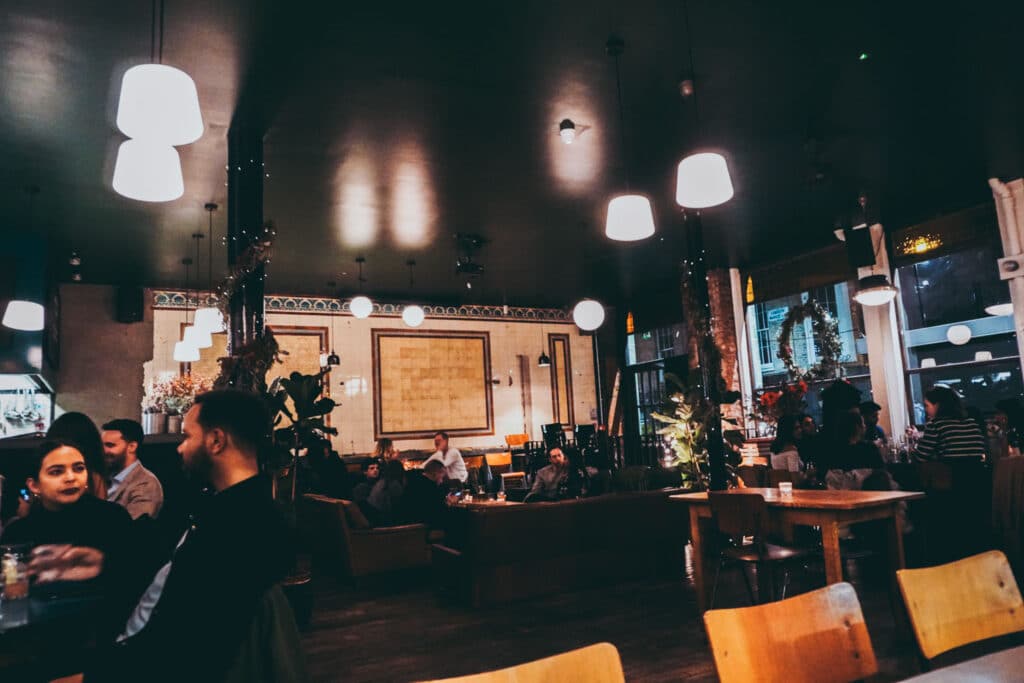 Farringdon
If you're craving something fairly substantial to eat along with your world-class drinks, head on over to Clerkenwell & Social.
Its cocktail list is impressive, with the classics as well as a few more innovative options. They also offer up some great food, including delicious pizzas. Because pizza and cocktails is a winning combination.
Address: 2-5 St John's Square, Farringdon, London EC1M 4DE
---
Little Bat
Islington
There's no need to choose between a cosy night at the pub or a stylish night at a cocktail bar with Little Bat.
Blending the best of London's drinking scene together, this fabulous little bar is a favourite with visitors and locals. Whether you want a killer martini or a humble pint, they've got it on offer – and it's damn good.
Address: Cocktail Bars, 54 Islington Park St, Islington, London N1 1PX
---
Bar Liber
Islington
When it comes to nice bars, London has you covered. Bar Liber is a sophisticated wine bar in St Pauls that impresses – including a few glasses that cost well over £100.
But don't stress if that's out of your budget, the rest of the menu features a great selection of reasonably priced wines and cocktails, including a sour pisco punch and their signature Fred (think a red wine slush puppy, for adults).
Address: 274B St Paul's Rd, London N1 2LJ
---
Little Mercies
Crouch End
Crouch End's Little Mercies restaurant and bar is an exciting jaunt and one of the best places to drink in North London.
Not only do they sell their brilliant drinks online (you might recognise the cheeky emoji packaging), but their ultra-cool bar is the perfect place to relax with a drink.
Little Mercies' extensive selection of wines, craft beers, and cocktails is rather impressive – there's even an orange wine on the menu.
Address: 20 Broadway Parade, London N8 9DE
---
Barrio Angel
Angel
The vibe at Barrio Angel is pure fun.
From the exciting Latin American theme, to the many rum-based cocktails on offer, you're in for a fun night at this vibrant bar in London.
Make sure you check the calendar in advance as Barrio Angel hosts regular DJ nights and special offer days (including our fave, Pina Colada Wednesdays).
Address: 45 Essex Rd, London N1 2SF
---
Homeboy Bar
Islington
Homeboy is a fun Irish bar in London, serving up award-winning cocktails in a speakeasy setting.
If you're a whiskey drinker, this is easily one of the best bars in London (we counted 10 whiskey-based concoctions on their menu!). If not, there's plenty of cocktails and wines to choose from.
Homeboy also serves up food from Auntie Banh Mi – who knew Irish drinks went so well with Asian sandwiches?
Address: 108 Essex Rd, London N1 8LX
---
Mezcalito
Islington
Freshly-opened Mexican joint Mezcalito is a one-stop spot for Mexican food and an abundance of mezcal. The interior can only be described as chaotic fun, with Latin American memorabilia plastering the walls.
But what about the drinks? Well, they're excellent.
Punchy cocktails that each come with their own story and an array of mezcal so large you would probably need to spend a week there to get through it all. Oh, and an entire page dedicated to tequila. Yes, please.
Address: 63 Newington Green Rd, London N1 4QU
---
Best Bars in London: West London
Gin Tonica at The Distillery
Notting Hill
Too much gin can only be a good thing – and don't the folks at The Distillery know it. Our favourite of their offerings is Gin Tonica, the exceptional bar.
The emphasis is – obviously – on gin – served up in huge, fishbowl glasses popular in the Basque region of Spain.
If you love gin, don't miss this one.
Address: 186 Portobello Road, London W11 1LA
---
Trailer Happiness
Notting Hill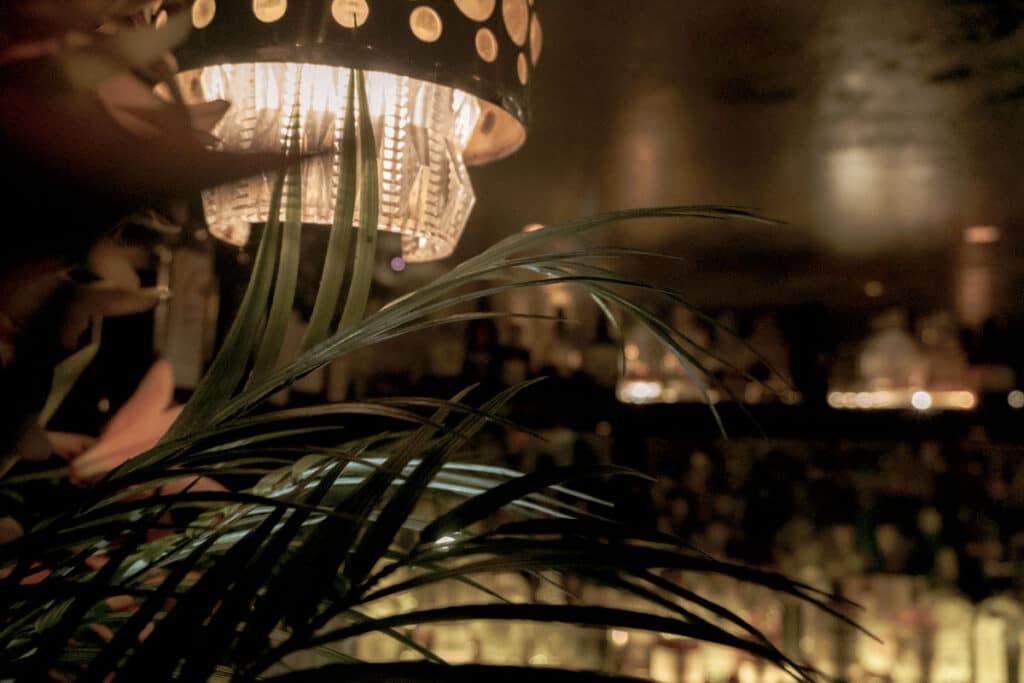 In a world full of sleek, minimalist style decor, sometimes you just need a place that goes all-out on the kitsch.
That place is Trailer Happiness, which is inspired by Polynesia and offers up some seriously good vibes. If you're looking for a fun spot for a great drink, you can't go wrong here.
Address: 177 Portobello Rd, Notting Hill, London W11 2DY
Want to know more about Trailer Happiness? Check out our interview with its owner, Sly Augustin!
---
Vagabond Fulham
Fulham
Wine lover? Don't miss Vagabond Fulham, one of the all-around best vino experiences of any bar in London.
Here, you can get a "wine card" that allows you to taste some of the 100+ varieties on offer. Cheese and charcuterie boards are also available.
There's a dazzling selection by the glass, so get prepared for a wine masterclass here.
Address: 18-22 Vanston Pl, Fulham, London SW6 1AX
---
The Bletchley
Chelsea
Who doesn't love a cocktail bar that's also more than a little theatre and brain tester?
That's what's on offer at The Bletchley bar in Chelsea, one of the best bars in London if you're on the hunt for something quirky.
It's an immersive WW2 bar and quite the experience. Hint: don't drink too much, as you'll need your wits about you to navigate the cocktail list.
Address: 459 King's Rd, Chelsea, London SW10 0LJ
---
No 11 Pimlico Road
Belgravia
One of the best all-day dining and drinking options in London, this Belgravia bar is light and breezy.
The food is great and so are the drinks (cocktail, wine and craft beer). Best of all, they're on offer all day at No 11 Pimlico Road – so it's perfect if you're on the hunt for a boozy brunch.
Address: 11 Pimlico Rd, Belgravia, London SW1W 8NA
---
Ricco Lounge
Kensington
Ricco Lounge describes itself as an art-deco lounge for the creative and the cultured, and this Kensington hot spot serves up a delicious selection of cocktails and sharing plates.
The velvet and gold interior is seriously beautiful, providing the perfect backdrop to the cabaret shows and live music performances that play at Ricco Lounge.
Address: 11 Russell Gardens, London W14 8EZ
---
Bobby Fitzpatrick
West Hampstead
With its retro theme, Bobby Fitzpatrick is a fun London bar serving up some delicious cocktails.
From the garish wallpaper to the brown leather furnishings, this is a bar that really nails the 1970's style.
The drinks range from classics like Singapore slings and Zombies to the more unusual Enrique the 5th, so there's something to take everyone's fancy.
For a fun evening in a relaxed setting, pay a visit to Bobby Fitzpatrick's charming spot.
Address: 273 W End Ln, London NW6 1QS
---
Portobello Star
Notting Hill
Portobello Star has a long history in West London. Having been open since 1740, the bar has served up a cheeky drink or two to the likes of both Royals and criminals.
Offerings here include craft beer, house spirits, and classic cocktails. For great 2-4-1 deals, head to Portobello Star during Happy Hour in the week between 4pm – 7pm. You can thank me later.
Address: 171 Portobello Rd, London W11 2DY
---
Caia
Notting Hill
Notting Hill's hottest new wine bar, Caia, opened in Spring 2022 to rave reviews. But does it live up to the hype? Absolutely, yes.
The restaurant and bar takes its name from the Roman goddess of fire – so alongside an excellent wine list, Caia features a chef's table which seats 10 and allows guests to watch their food be cooked over an open fire.
Stellar food, exquisite wine, and well-thought-out decor… it was always going to be a winner, wasn't it?
Address: 46 Golborne Rd, London W10 5PR
---
The Act
Notting Hill
The only surprising thing about The Act is that it isn't located in the West End. After all, this London bar is theatre-themed and totally camp.
Not only do the bartenders whip up delicious cocktails, but they also give live performances throughout the evening (musical-themed, of course).
This is certainly not a spot for everyone, but if you're a theatre kid at heart you will be in your element. Order the Jean Valjean (vodka, elderflower liqueur, and grapefruit) and settle in for a treat, 24601!
Address: 126-128 Notting Hill Gate, London W11 3QG
---
Vagabond
Fulham
Light, bright, and filled with cracking wines, Vagabond is a wine lover's dream in West London. The wine selection spans the globe, though Vagabond's French offerings are where it's at.
And, guess what? Head there in the afternoon for a boozy take on afternoon tea – with unlimited wine! You heard us right. For £32, you get a classic afternoon tea experience complete with 90 minutes of bottomless vino. This is not a dream, we promise.
Address: 18-22 Vanston Pl, London SW6 1AX
---
Dear Grace
White City
Looking for somewhere a little bit more low-key? Dear Grace is a beautiful new coffee and wine bar in the heart of White City that has quickly become one of the best bars London boasts.
With an excellent selection of modern plates and cocktails, the menus are seriously impressive. Opt for one of the pizza boards and share with friends as you quaff glass after glass of wine.
Cocktail-wise, Dear Grace boasts a mixture of classics and specials, and the Kumquat Sour is a favourite of ours. Bulleit bourbon, kumquat, lemon, and miracle foamer. Delish.
Address: 18-22 Vanston Pl, London SW6 1AX
---
Great Bars in London: Final Thoughts
So, there we are – 59 totally amazing bars in London you can smash over the summer. Drink safely kids, your liver will thank you.
Any burning suggestions? Drop them in the comments below.
Top Bars in London: Map