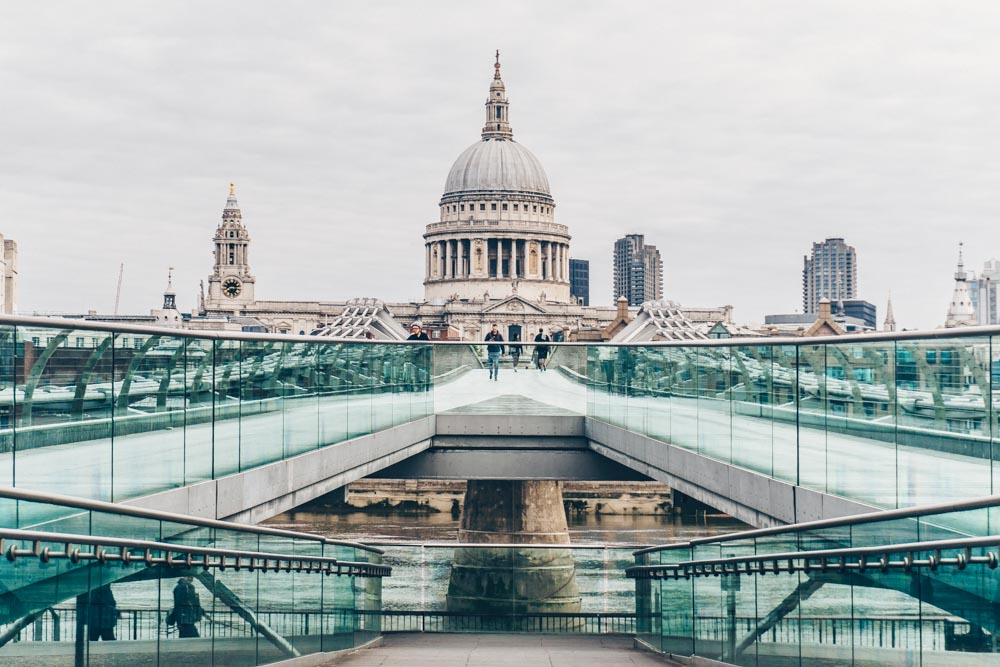 Looking for the beauty in the concrete jungle? Here's where you can find it.
The other day something in an old episode of In Our Time with Melvyn Bragg caught our attention (yes, sometimes a few of us like pretend we're 90, wrapped up in a warm, cosy blankets listening to podcasts about the history London – we're just *cool* like that).
Imagine this.
We're just sitting there, listening to historians (im)politely bicker about the interpretation of events that shaped the city's history and half thinking about dinner when something made us sit up and pay some f*cking attention.
You see, one of the guests, Claire Tomalin casually threw out this statement: "London is not a beautiful city."
Sorry. Wut?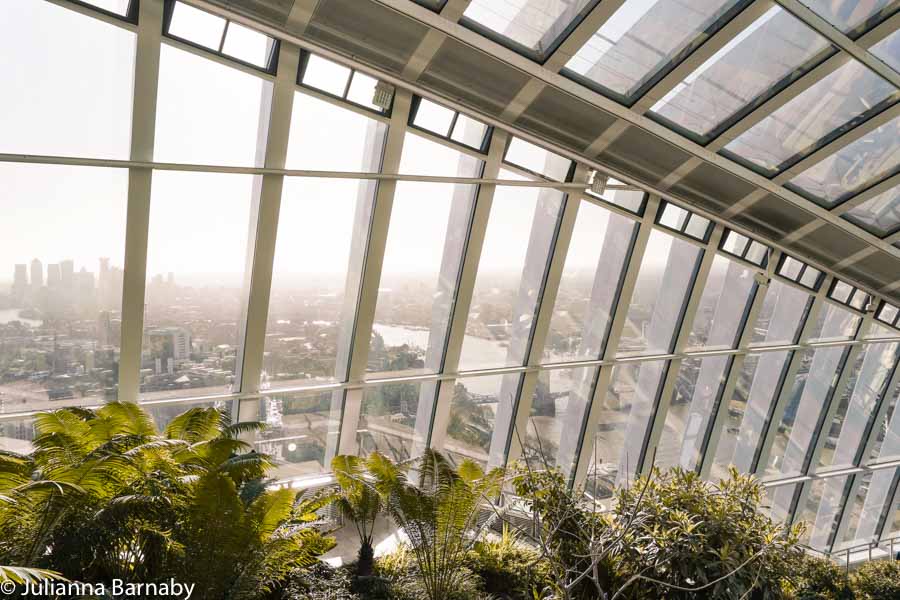 Look, the programme was filled with all kinds of controversial points of view. We can accept their chat about the plague not necessarily being that bad for everyone because Samuel Pepys had a bit of a blast as the city's poor died in their droves….
But to say that London isn't pretty? Well, that's straight up horrifying.
No. Just no.
London is a beautiful city.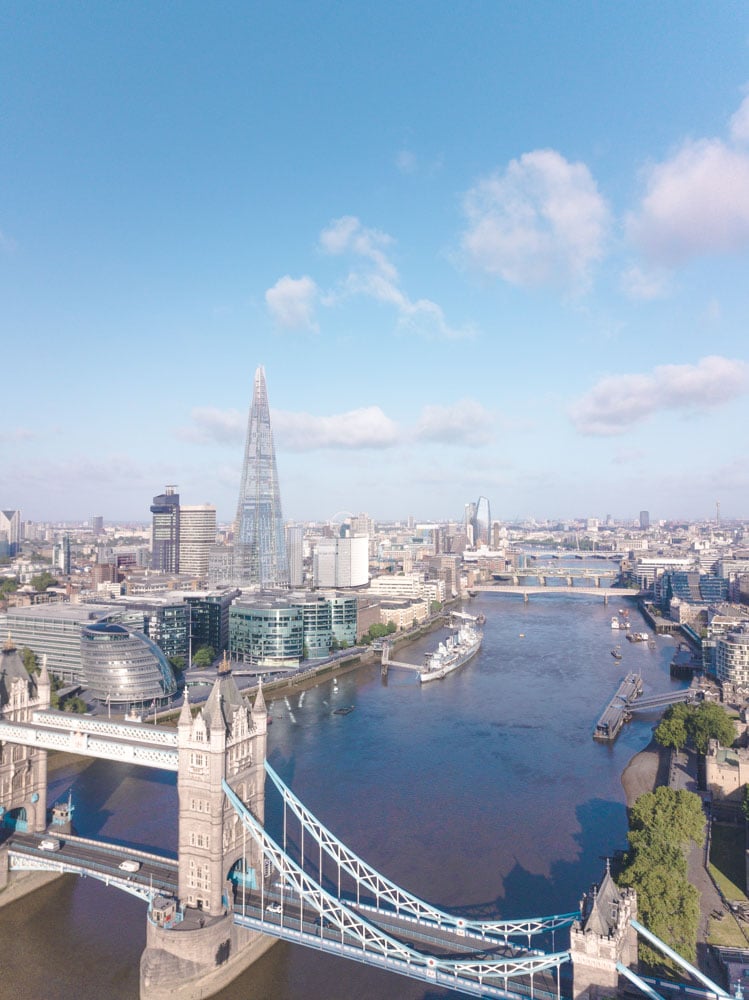 We might not have some ridiculous nickname like the city of love or ridiculous waterways that are distinctly out of place in the 21st century but what we do have is a vibrant, handsome city filled with lots of gorgeous spots.
We've always loved photographing London, so you can take this as our visual ode to the city. Beautiful places photographed throughout the years, gathered here in one epic guide.
Want to discover some of the most beautiful places in London for yourself? Here's where to start.
Beautiful Places in London
St Dunstan in the East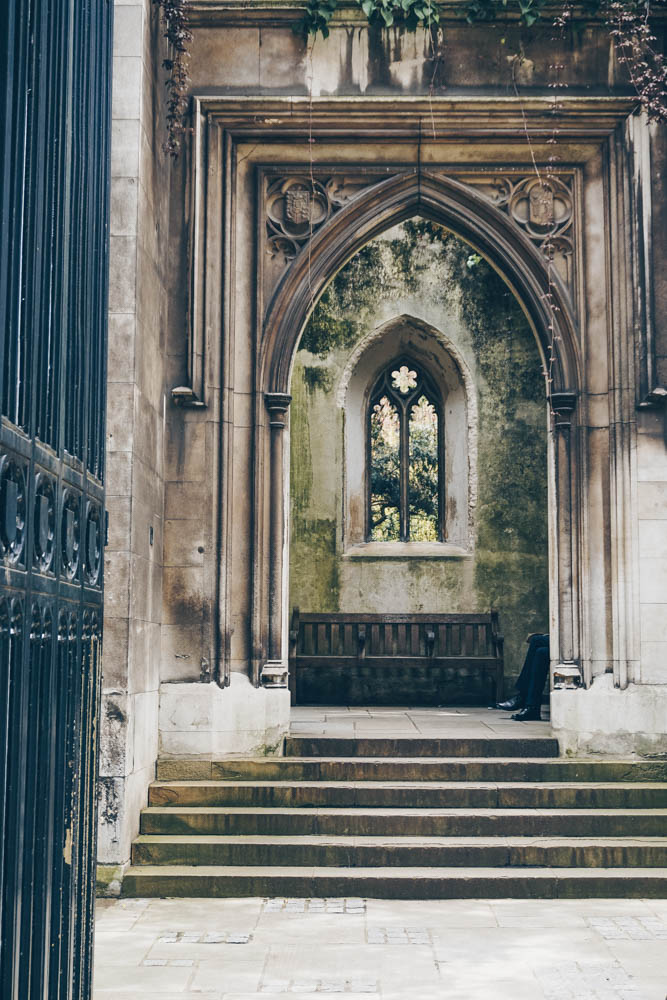 The tale of St Dunstan in the East might be a sad one (TLDR version: wrecked by the fire of London, rebuilt, almost collapsed, rebuilt again, destroyed by The Blitz) but the upshot is that it's now one of London's prettiest spaces.
It's not often that you get to chill in the ruins of a church that has been transformed into a nature-filled park is it?
St Paul's Cathedral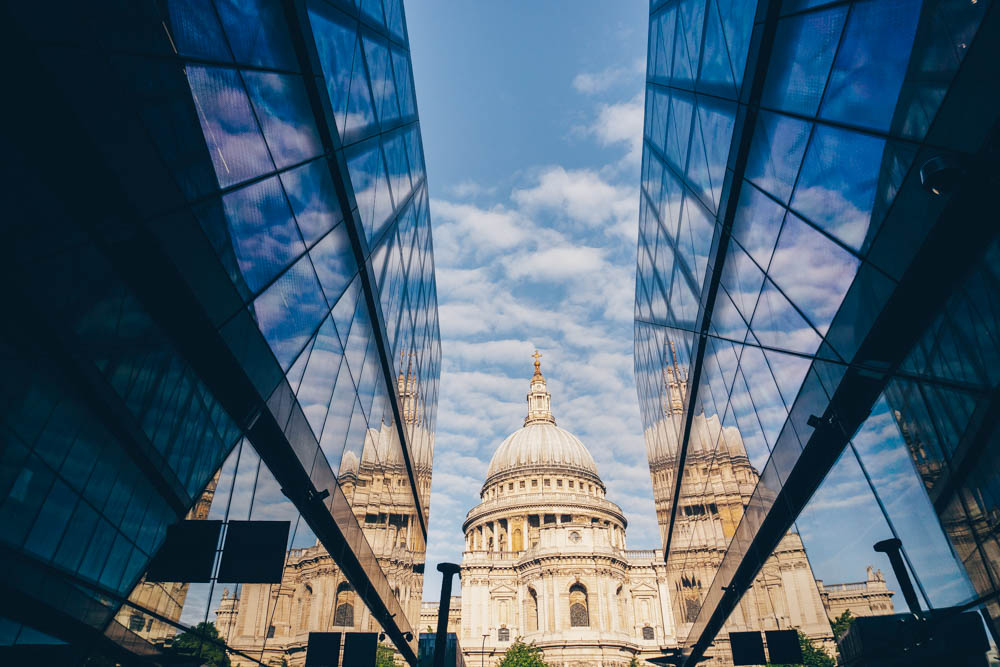 There's really only one question when it comes to St Paul's Cathedral. Which is prettier: inside or out?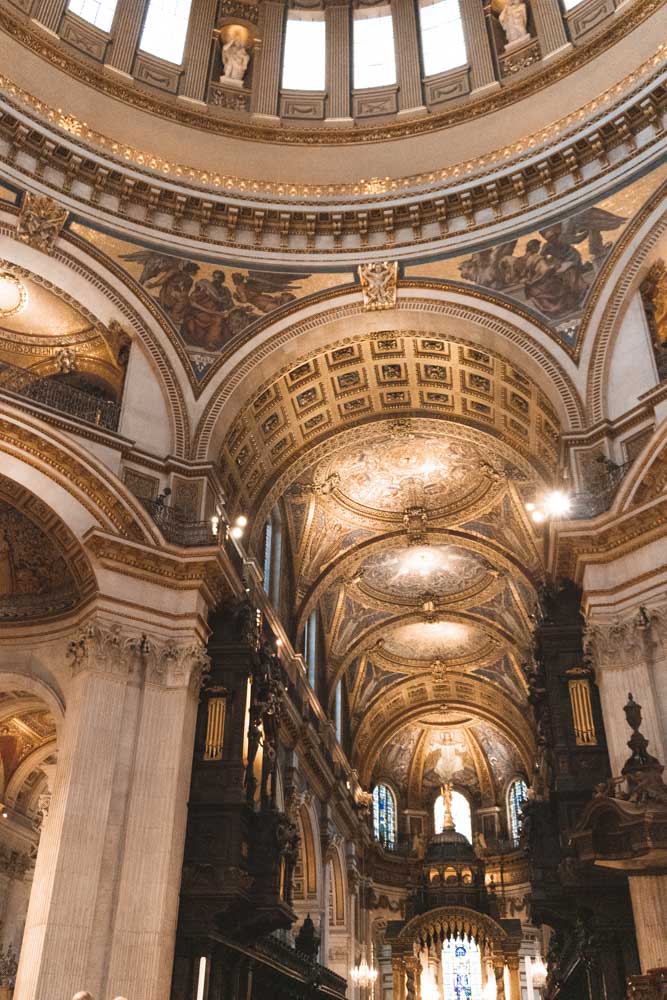 Honestly, St Pauls is one of those places you just take for granted on the London skyline but if you really stop and look, you see just how striking Christopher Wren's domed cathedral is.
That's all before you get inside too, where the beautifully OTT clash of patterns, gilt and opulence come together to create one of London's most opulent spaces.
The Millennium Bridge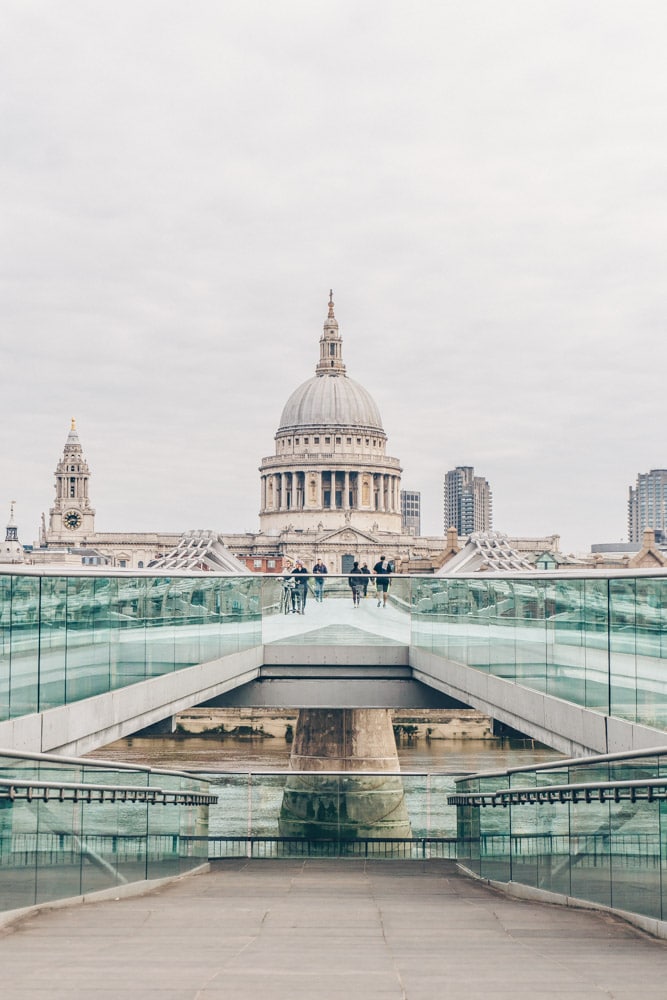 Like most Londoners, I was so busy taking the p*ss out of the Millennium Bridge for the fact it had to be closed for another two years almost as soon as it opened because it wobbled so much that I really didn't pay attention to how striking the bridge was for years.
My bad. The bridge provides the perfect frame for St Paul's Cathedral – but is also pretty striking in and of itself.
Royal Naval College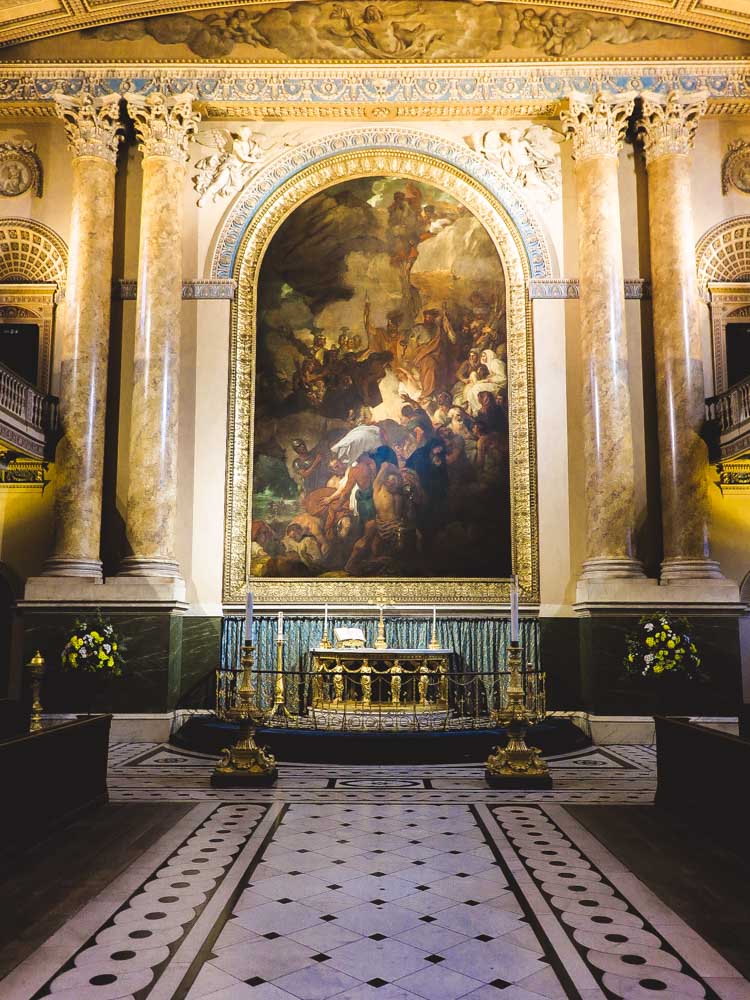 The outside of the Royal Naval College in Greenwich is pretty enough. The buildings were designed by Christopher Wren and their sneaky symmetrical design meant that they didn't block the view of the river enjoyed by the Queen's House (oh to have such power).
Still, it's inside the Royal Naval College where things get really jazzy.
The Painted Hall is often referred to as London's Sistine Chapel (IMHO, it's better) and the Chapel of St Peter & St Paul also does it's own razzle-dazzle wow that's pretty thing.

Queen's House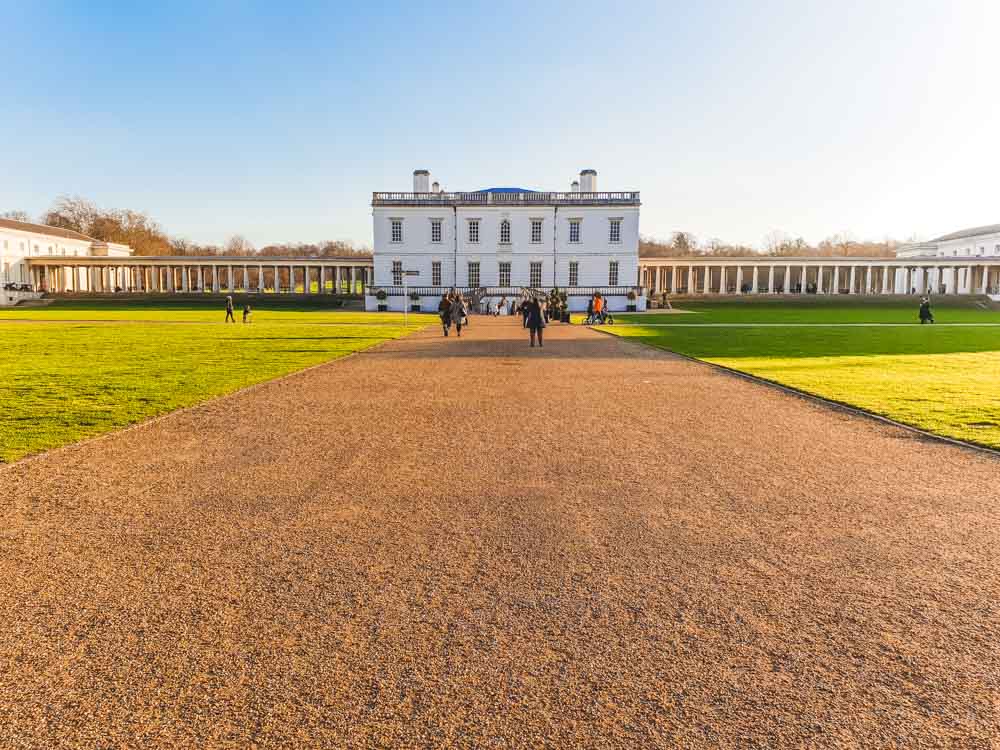 No, not that boring monstrosity Buckingham Palace: this Queen's House is in Greenwich, much prettier and you're actually allowed inside.
Once you've gotten over the Neoclassical exterior, go inside where you'll find the much photographed Tulip Stair and some gorgeous palatial interiors.
Leighton House Museum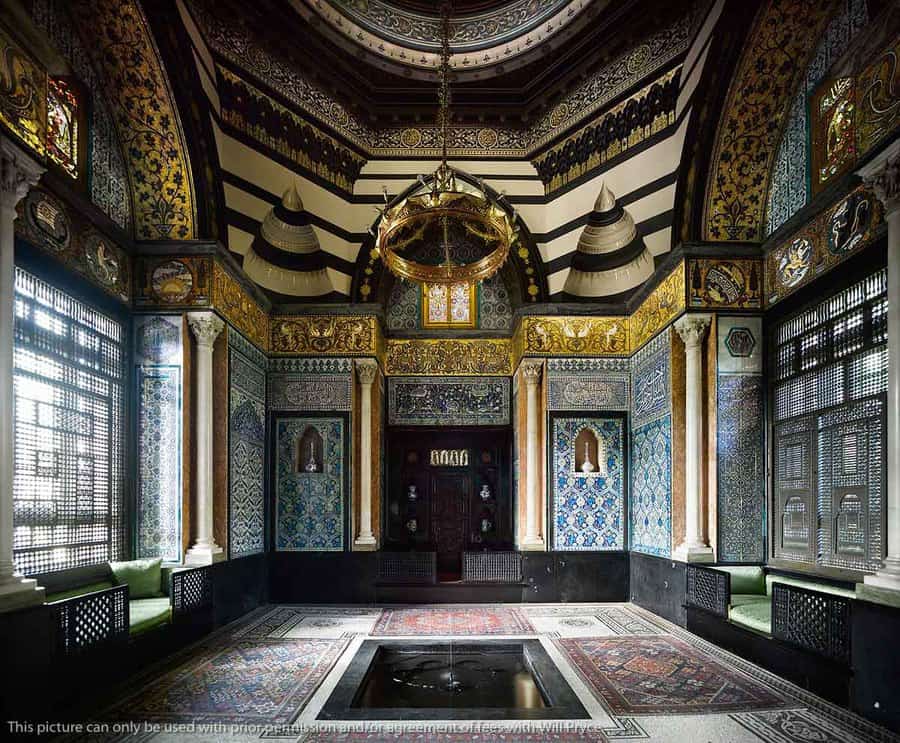 If you've never been to Leighton House Museum, let me tell you, you're missing out.
Tucked away in a rather unassuming building in Holland Park, Leighton House boasts one of the most decadent interiors you can find in the city.
I mean, what else would you expect from the former home of Sir Frederick Leighton, a prolific (and moneyed) Victorian artist and head of the Royal Academy of Arts?
Eltham Palace
That Eltham Palace has been described as a 'maximalist's wet dream' tells you everything you need to know.
Not much of the medieval part of the palace is still standing but the buildings, many of which date from the 1930s when it was purchased by Sir Stephen and Lady Virginia Courtauld, are an Art Deco fantasy.
Is it beautiful? Is it just insane? In my mind, it's both – and all the better for it.
Nunhead Cemetery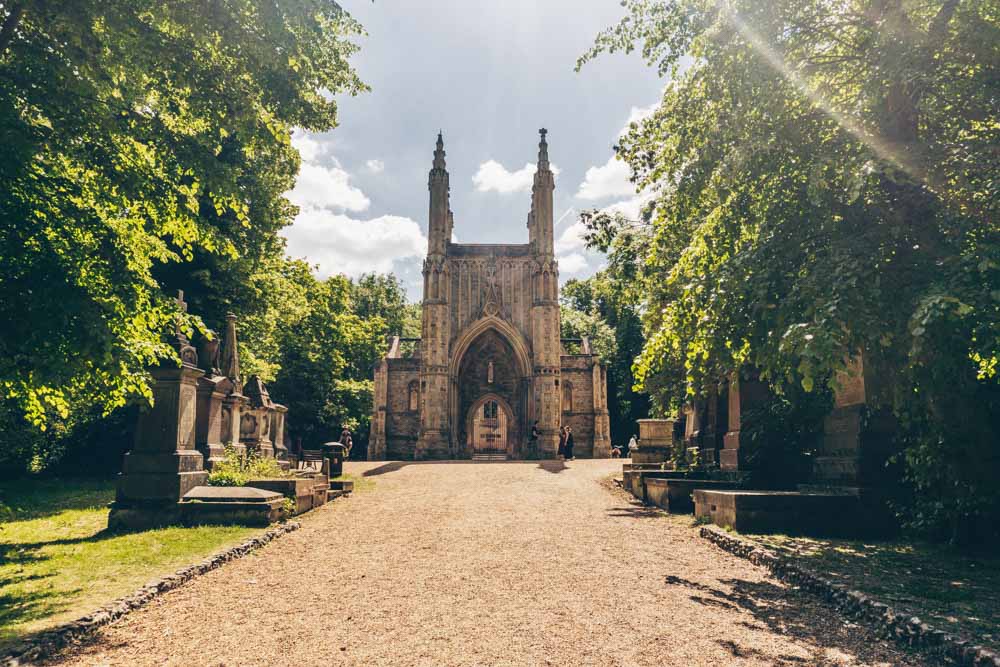 Cemeteries are pretty divisive.
For some people, the idea of spending any time in a cemetery outside of attending a funeral or paying respects at a grave, is lunacy.
For everyone else… there's Nunhead Cemetery.
Nunhead Cemetery is what you get when you take one ornate Victorian Cemetery, age it a century or so and then abandon it for a couple of decades so nature can effectively re-wild large parts of it.
Sound intriguing? It is.
The Tate Britain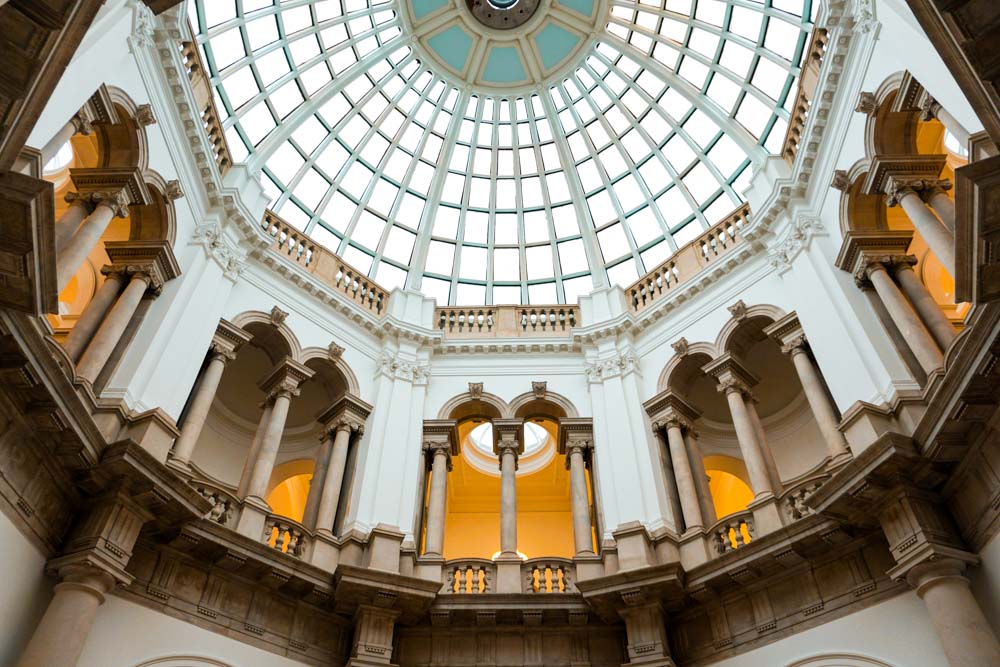 Light years away from the Brutalist in-your-face architecture of the Tate Modern, The Tate Britain is delightful.
Immerse yourself in the vast collection of art, but also take the time out to appreciate the fabulous buildings designed by Sidney RJ Smith which culminate in a jaw-dropping domed rotunda with a monochromatic terrazzo floor.
Goodwin's Court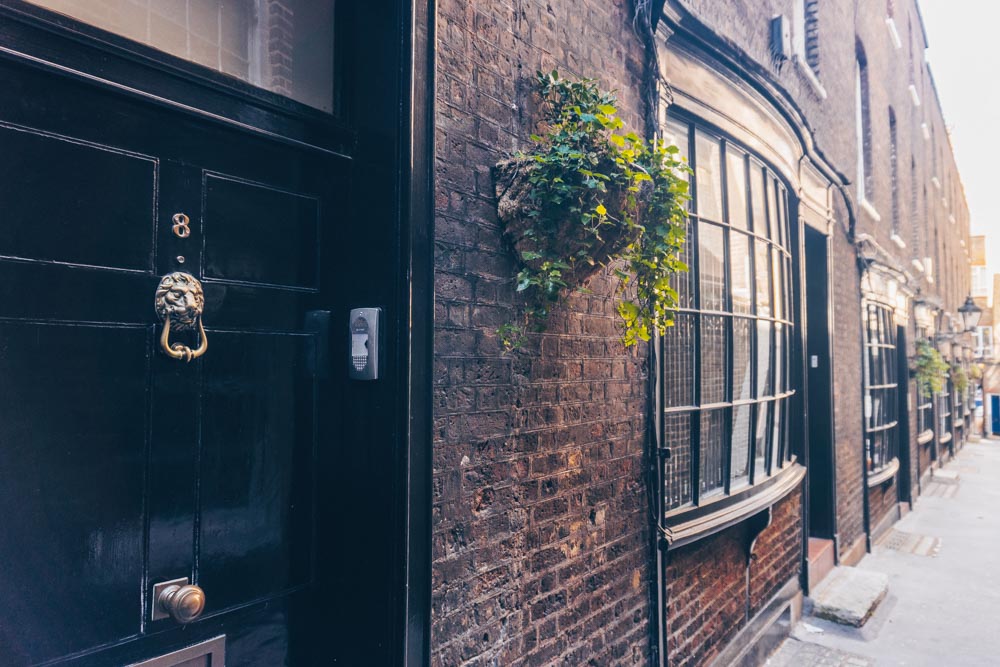 Lots of people (including me) have waxed lyrical about the Victorian edifices in nearby Cecil Court near Covent Garden – but there's a much more hidden gem around the corner that really is like stepping back in time.
Goodwin's Court is the land that time forgot: the gloomy light that filters from above illuminates a narrow alley of slightly-bulging windows and Victorian gas lamps.
No wonder it's said to have inspired JK Rowling to create Diagon Alley.
Hill Garden & Pergola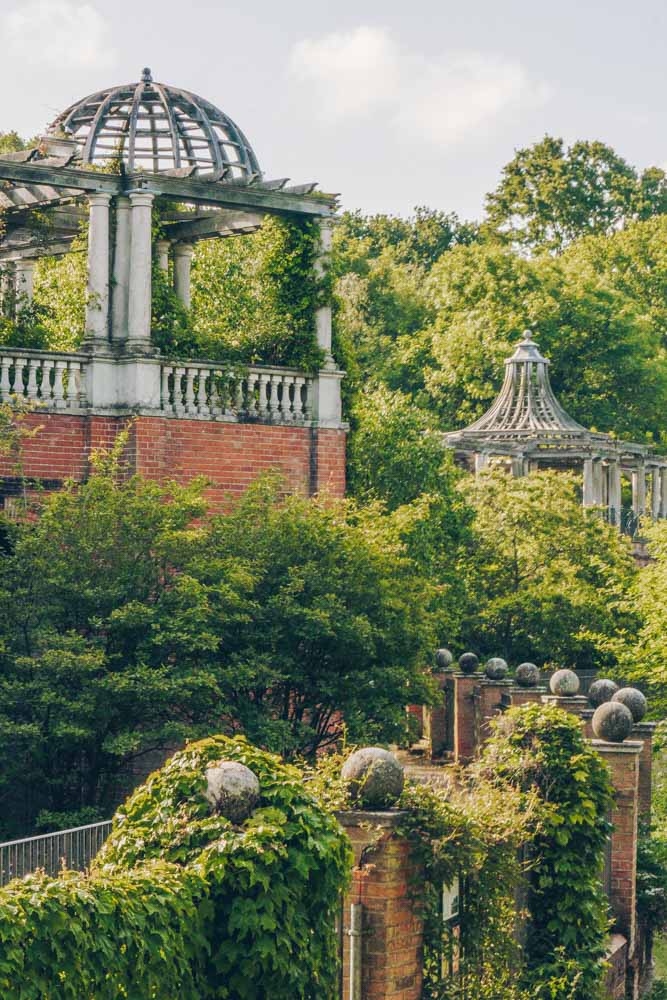 The well-manicured gardens of Hill Garden, complete with its elaborate pergolas couldn't be further away from the unkempt beauty of the rest of Hampstead Heath – north London's wildest park.
The once lavish pleasure gardens of the nearby Inverforth House and the former setting of many a high-end soiree now has an aura of faded grandeur that is enchanting and appealing in equal measure.
Streatham Rookery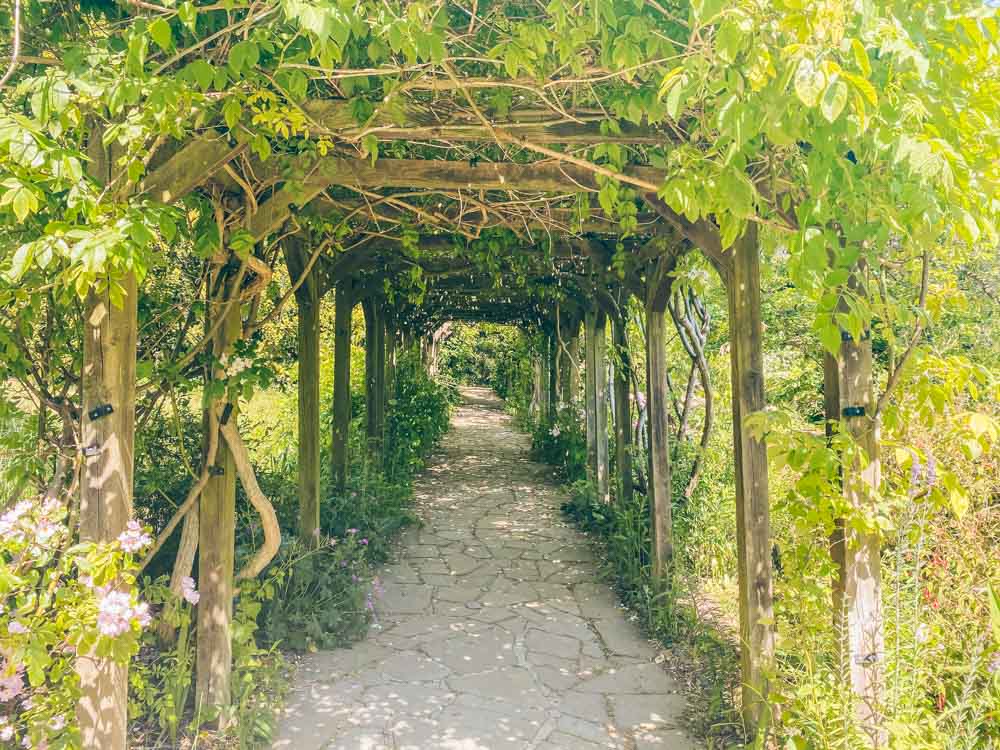 It's not often that you can say that a place is truly hidden, but only a select few are in the know about Streatham's Rookery. Atop the rather unremarkable South London park Streatham Common, The Rookery is a flower-lover's delight.
Arbor after arbour, trailing with fragrant roses, draped in wisteria – The Rookery dates back to 1913 and is based in one of the mineral spas that transformed Streatham from a rural backwater to one of the spa destinations of the 17th century. Imagine that.
Westminster Abbey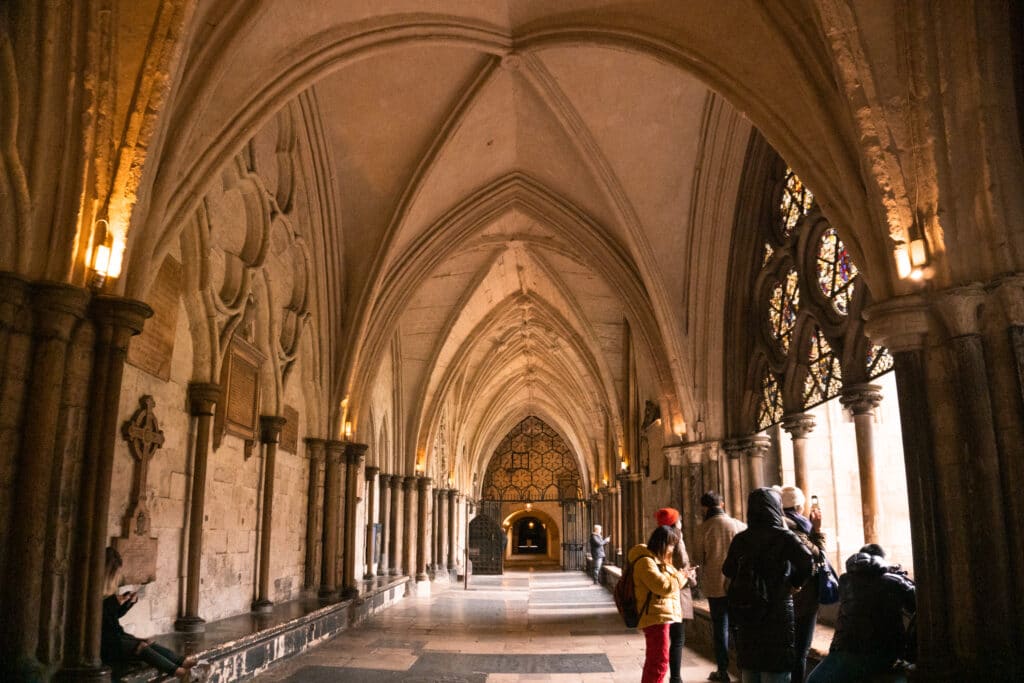 Like all naughty Londoners, it took me a long, long time to actually get round to seeing many of the city's most famous sights.
Westminster Abbey was one of the many spots I used to rush past during those heady teenage years when I was (as always) late for my shift at the London Eye.
Can you believe that I'd never had the chance to see how marvellous it is inside – until last year that is. The shame.
It is rather ravishing – a hodge podge of architectural styles and baubles, not to mention the setting for so many important historical events.
Westminster Cathedral
No, I'm not going mad and no, they're not the same.
Less well-known than its Protestant Westminster counterpart, the Roman Catholic Westminster Cathedral is hidden just around the corner from Victoria railway station.
The Neo Byzantine architecture is rather… distinct. Plus there's a viewing tower from which you can stuff your eyes with birds-eye views of London.
St James's Park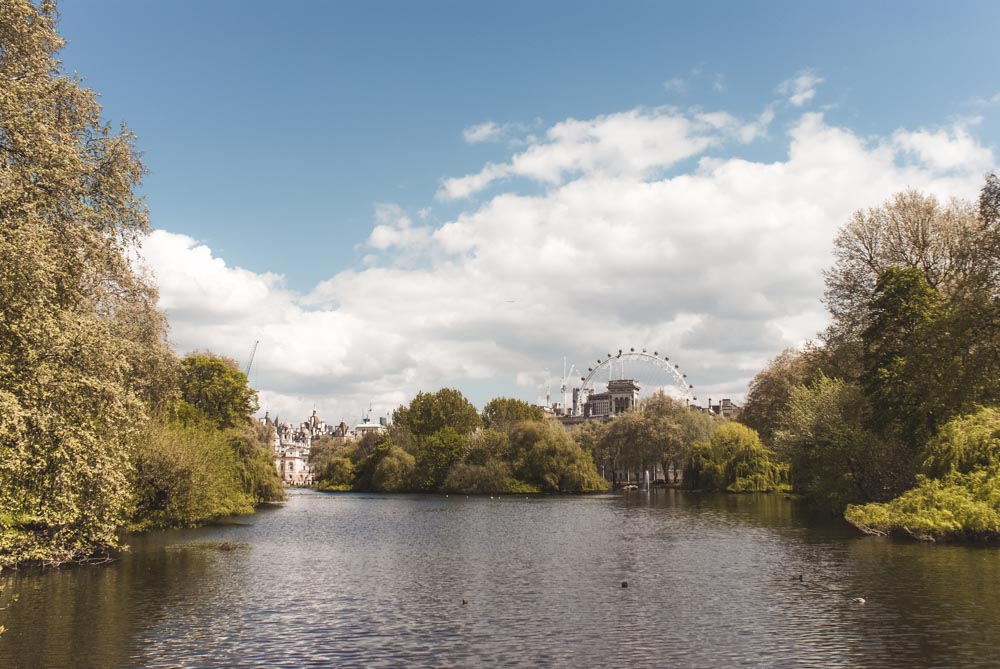 Seeing as it's just across the road from Buckingham Palace, it kind of figures that St James's Park is one of the most scenic places in London.
Can you imagine if the Queen had to look at some barren wasteland each morning? Yeah… thought not.
Filled with romantic winding pathways and a peaceful lake, St James's is a strong contender for the title of prettiest park in London.
Queen Mary's Gardens, Regent's Park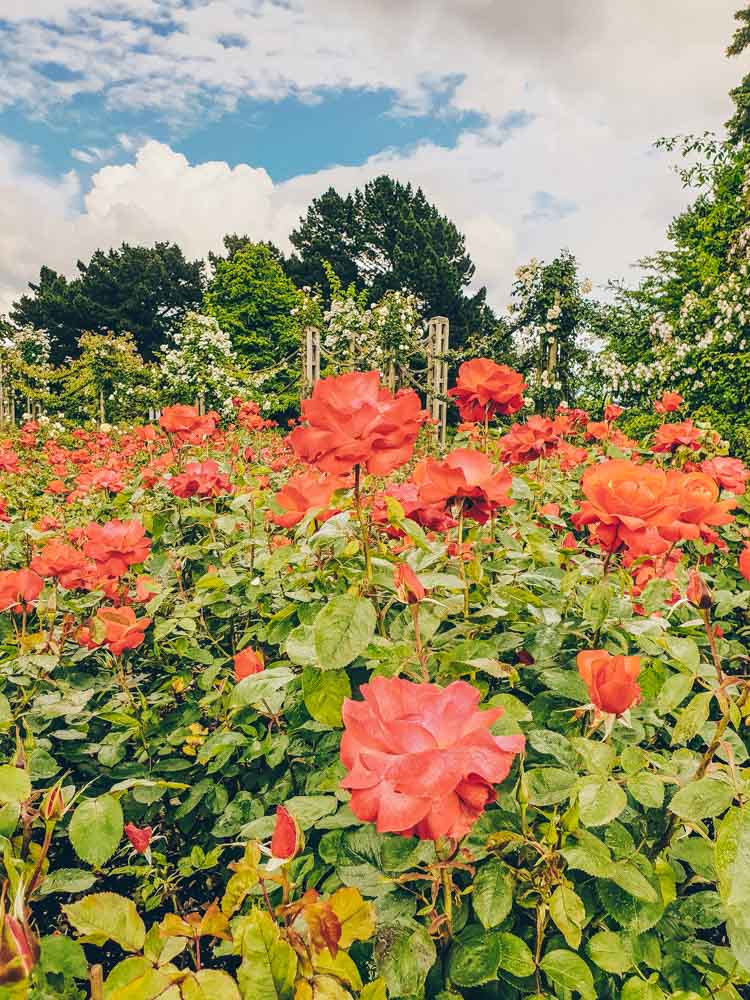 Can I be honest? For the most part Regent's Park leaves me a bit cold.
It lacks the prettiness of St James's Park or the can't-believe-I'm-in-a-city herds of deer of Richmond Park.
That said, Regent's Park does have a few heavy hitters up its sleeve of which Queen Mary's Gardens is the best.
Visit and you'll find yourself surrounded by London's largest collection of roses – over 12,000 of them in fact.
Luckily for us, we're on the cusp of the best time to visit, which is the first two weeks of June.
Colourful Houses of Notting Hill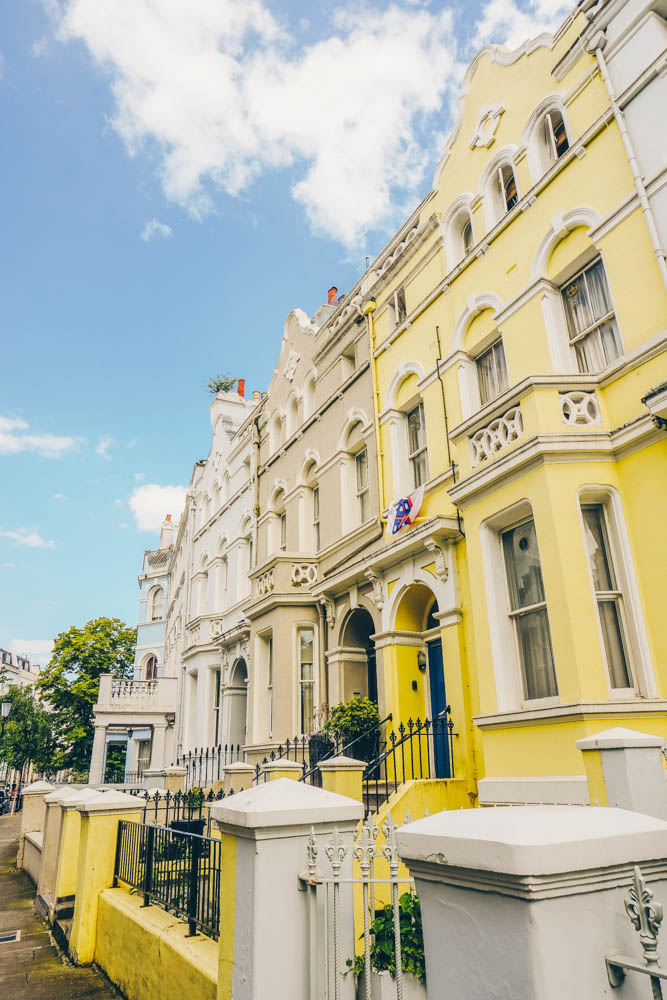 I really paused for a moment before including the colourful houses of Notting Hill in this guide because a) they've been done to death and b) like literally to freaking death.
Clichéd as they are though, like most clichés they became such for good reason.
Rows of candy-coloured houses sloping off towards the end of the rainbow invite you to wish you were rich enough to live in one of them (you aren't) and look as hawt as Julia Roberts did in the famous film (you probably don't).
One Tree Hill
If you've been reading the blog recently, you'll know that this is one of my most recent discoveries (if not, tap that notifications bell so you can start following along with the adventure).
One Tree Hill is a woodland nature reserve in deepest leafiest South London that only a few locals know about.
What's the big deal? Erm. I'll let you take a look at a picture of that view.
The Landmark Hotel
It takes a lot to get in the running for the title of London's most iconic hotel – after all, the city has more prestigious hotels than most.
Still, The Landmark isn't just any hotel… it's that one with the gargantuan palm-filled atrium that's almost certainly made an appearance on your Instagram feed recently.
That, my friends, is the winter garden.
Don't worry though, you don't have to stay there to see it IRL, you can book in for a cheeky afternoon tea, cocktail session or dinner in the striking space.
Upstairs at Rules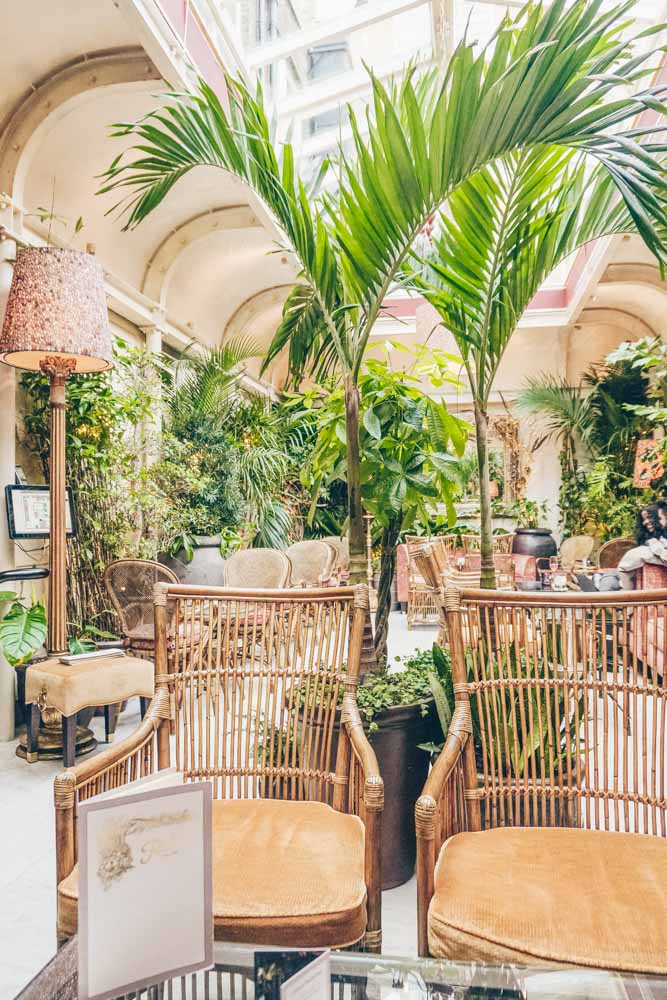 It's a well-known fact that Rules is London's oldest restaurant. Less well-known is the fact that if you head upstairs you'll find one of the city's best cocktail bars.
The cocktails are stellar and so is the decor – particularly the newish winter terrace, filled with secluded nooks for gossips and romantic dates.
Burlington Arcade
Burlington Arcade bills itself as "the original department store" which tells you two things. 1) it's old AF and 2) it's not the kind of arcade filled with slot machines and dodgy people trying to make their fortunes on those penny machines.
What that description doesn't tell you is that it's drop dead gorgeous: a light-filled homage to elegance, taste and the finer things in life, complete with carved archways and a refined monochromatic decor.
Somerset House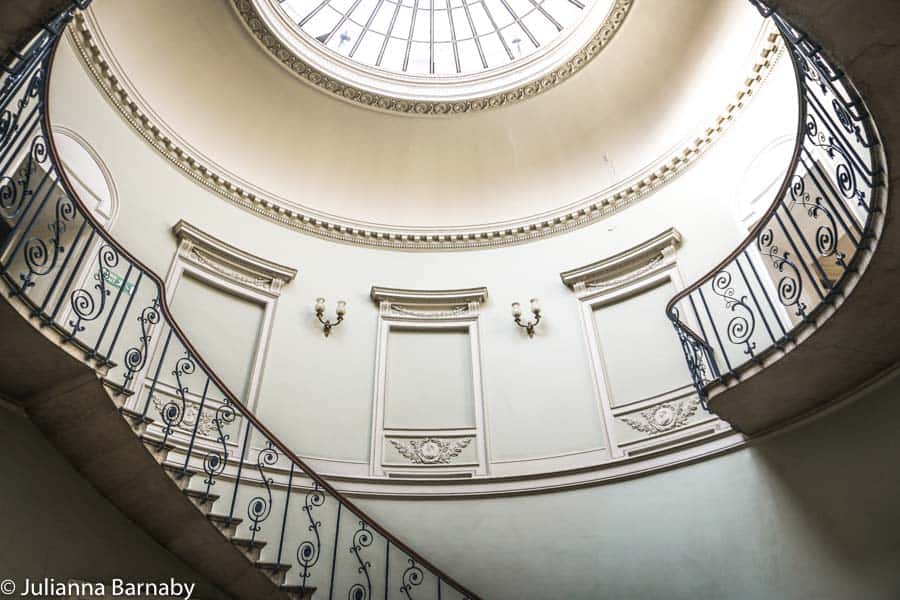 The last remaining bastion of the numerous Thameside palaces that used to line this stretch of the river, Somerset House is one of London's cultural hubs.
Nowhere near enough people venture inside though – do so and you'll find the beguiling rotunda of the Nelson Stair.
Leadenhall Market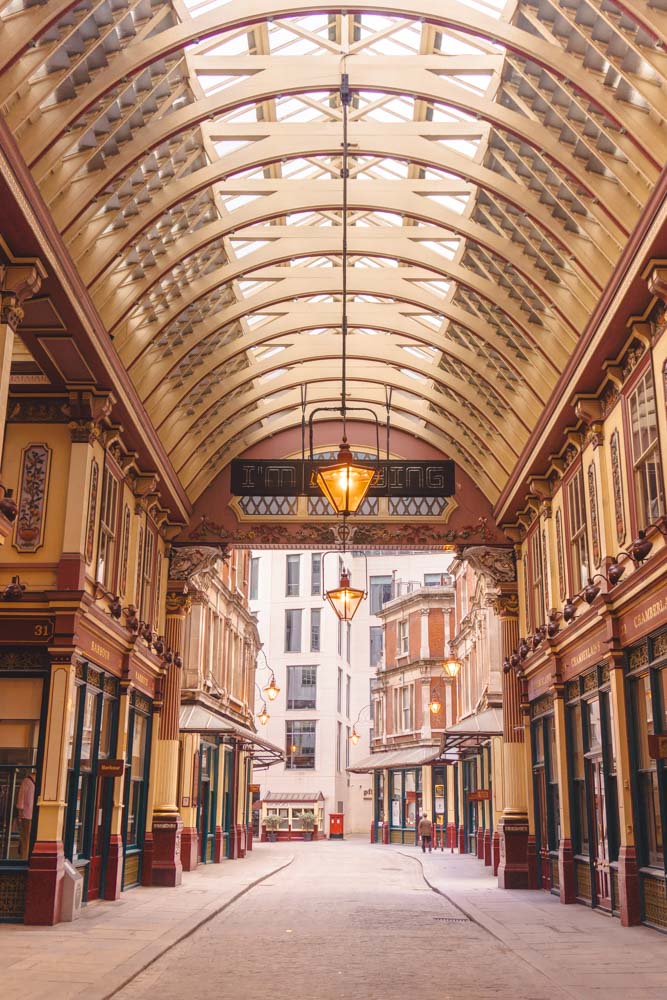 The golden lettering, cobbled walkways and red-hued archways of Leadenhall Market always guarantee it a place on any list of pretty places in London.
The market dates back to Medieval times but is still in use today.
It also makes an appearance in several films – perhaps most notably as one of the entrances to Diagon Alley in Harry Potter and the Philosopher's Stone.
Tower Bridge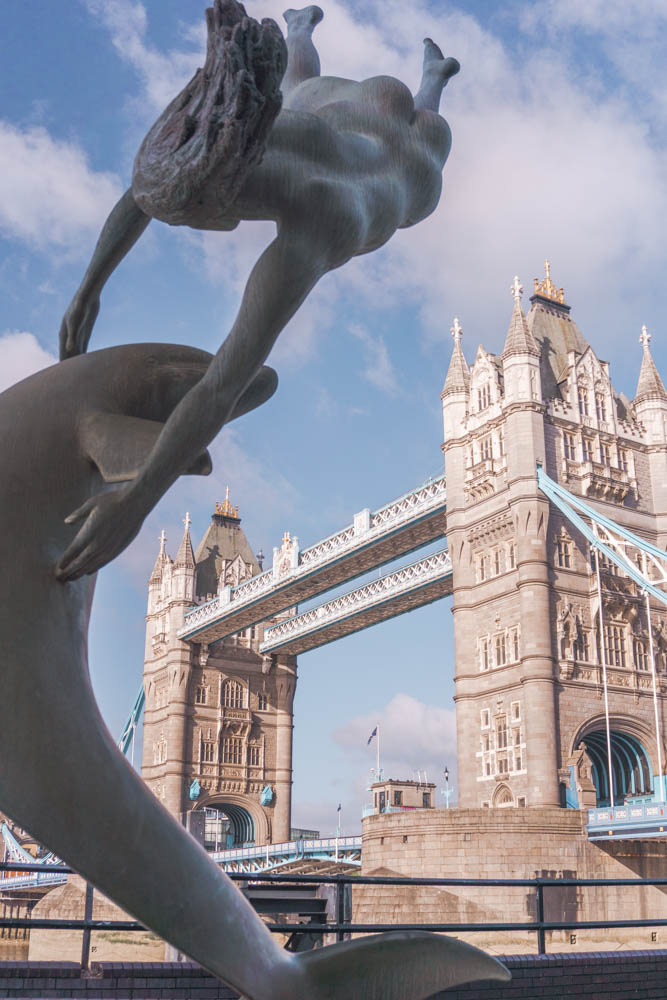 Is Tower Bridge London's most iconic landmark? It's certainly the spot many people conjure up when you ask them to think of London sights.
That iconic status doesn't detract from the fact that it really is rather pretty and a must-visit even if you don't hang around for one of the rare openings.
Walk to the Girl with the Dolphin statue for a classic shot.
Mercato Mayfair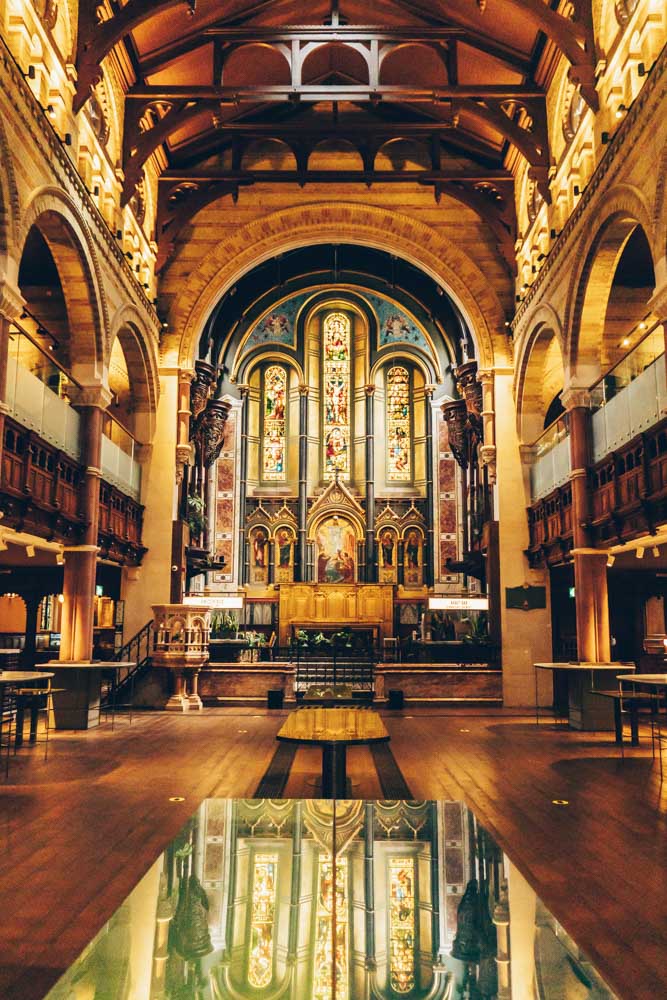 Sister to the decidedly less pretty Mercato Metropolitano in Elephant & Castle, Mercato Mayfair opened at the end of last year.
Like it's older sis, Mercato Mayfair houses a collection of street food traders purveying delicious artisanal food, except this time it's located in a cavernous old church.
Read Next: The Mayfair Area Guide
Holland Park Mews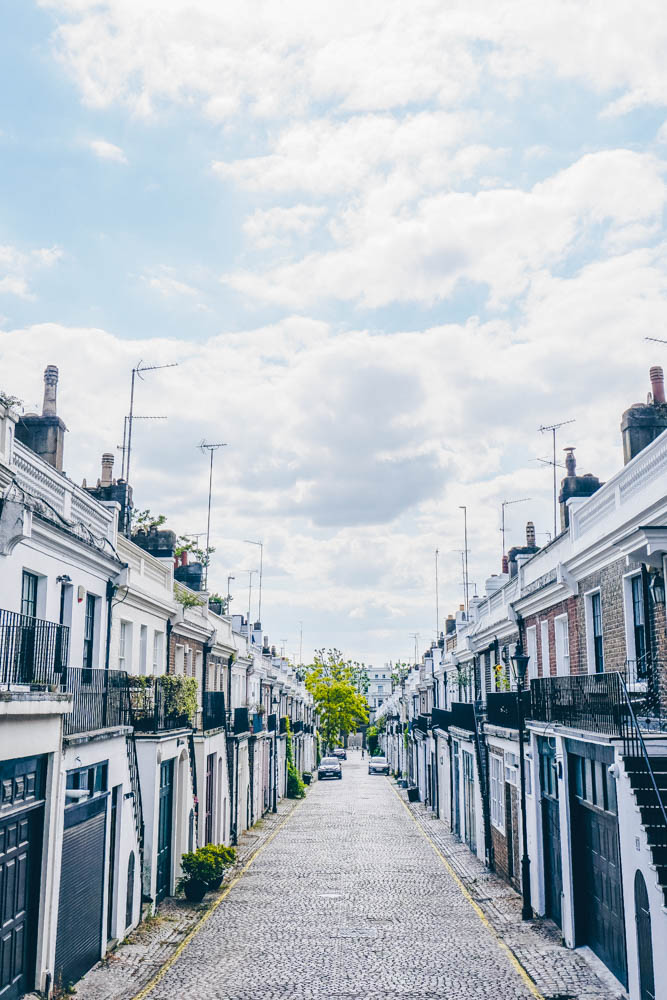 People love to go gaga over London's many mews – but of them all, Holland Park's is the best.
The Grade II listed buildings are hidden behind an archway just steps away from Holland Park – expect to see many of the original features including the elegant wrought iron staircases.

The Churchill Arms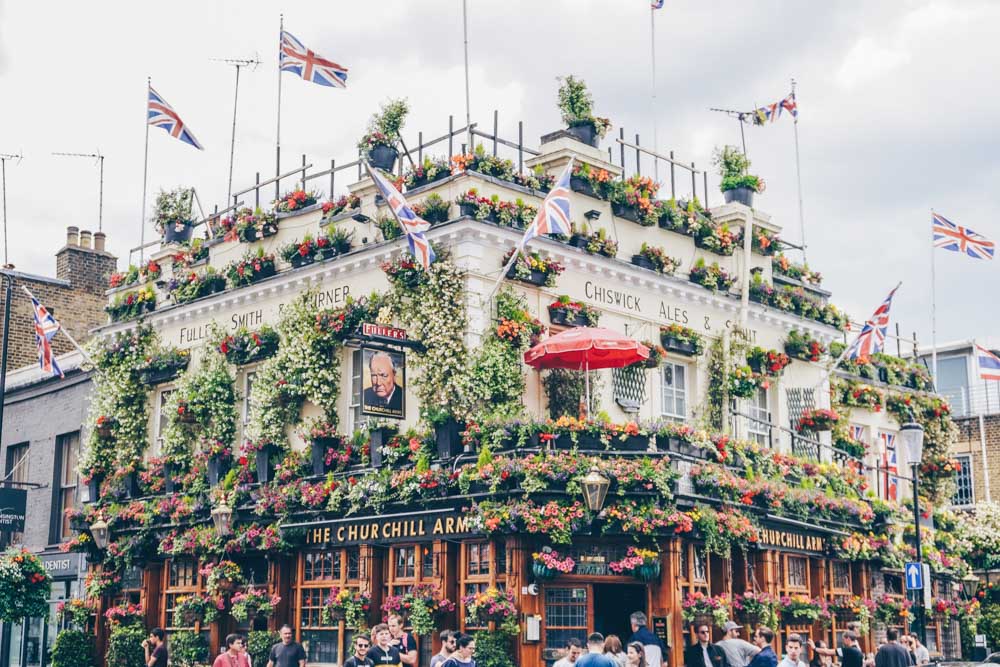 London loves to show its bonkers side from time to time – resulting in gloriously bizarre places like The Churchill Arms.
What might have been just a plain old pub boozer in Kensington has been transformed into a floral extravaganza that changes throughout the seasons.
Need more of an excuse to go? The interior is just as crazy and they serve brilliant Thai food.
Guildhall
So many of London's elaborately carved Medieval stone buildings are churches, and there's nothing wrong with that.
It's a little known fact that the Guildhall, the ceremonial centre for the City of London corporation is the only non-ecclesiastical stone building of the Medieval times to survive.
All very interesting but this isn't a history lesson… It just so happens that the Guildhall is also rather easy on the eye – it's free to enter too.
Victoria & Albert Museum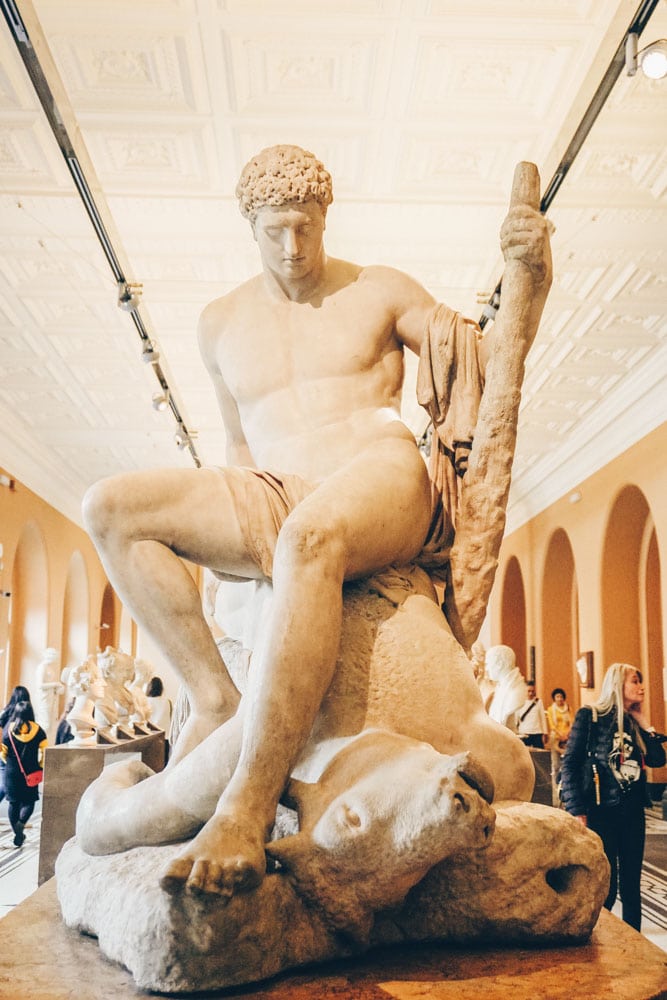 It took a long time for me to come around to the charms of the Victoria & Albert Museum – as a child I loathed it as a missed opportunity to go to the much more fun Science Museum next door.
That's all changed though – who could resist the grandiose architecture and vast collections of this palace of design?
Daunt Books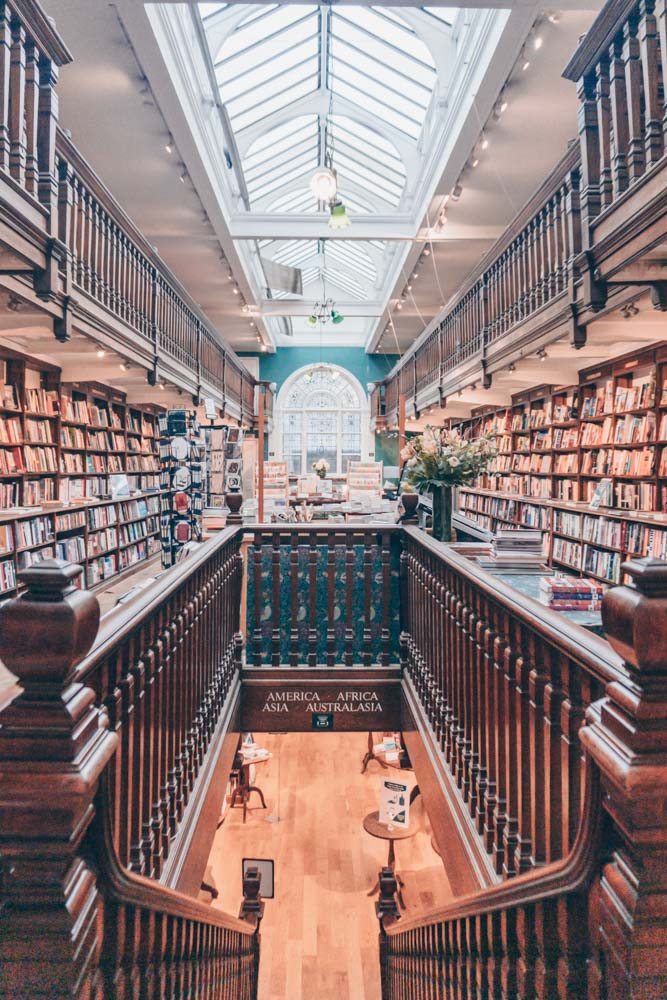 What does it say about today's society that London's best-known independent bookshop has been largely catapulted to fame for its looks? Nothing good I suspect.
Look, Daunt Books is gorgeous (particularly the Marylebone branch) but it really annoys me when I go in there to stock up on my next stack of reads and see a parade of posers snapping their pictures and leaving without so much as a glance at the books themselves.
If you go, have a ferret, find a book and buy it, that is what it's there for after all. Rant over.
Natural History Museum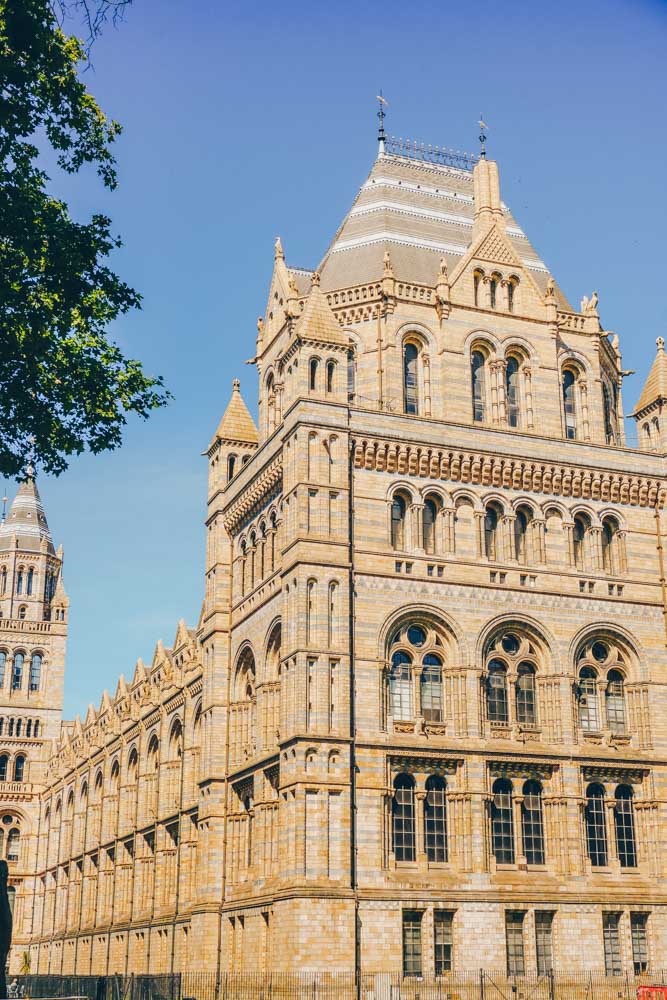 It says something that I had to feature not one but two museums from South Ken's Museum Mile in this guide.
First of all, the exterior of the Natural History Museum's Victorian Neo Gothic buildings are too magnificent to be ignored. It doesn't end there though – the interior is just as dramatic, particularly the cavernous Hintze Hall.
Parliament Hill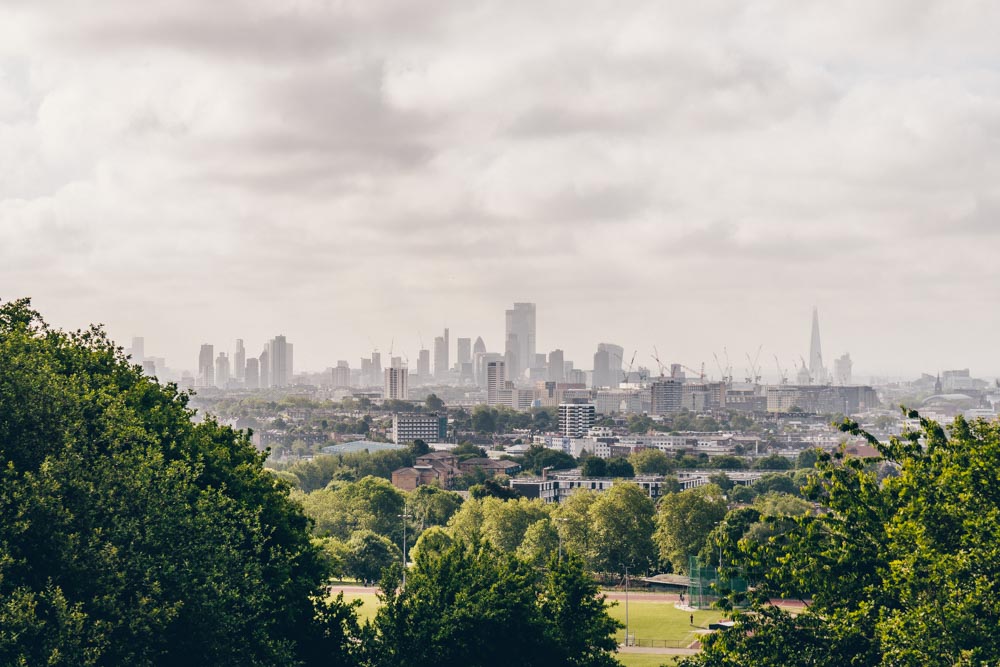 There's been enough written about the view of the city from Parliament Hill to fill many, many books.
Just know that it's grand and you can play the fun game of which weird central London contemporary monstrosity is that (joking… kind of).
Sky Garden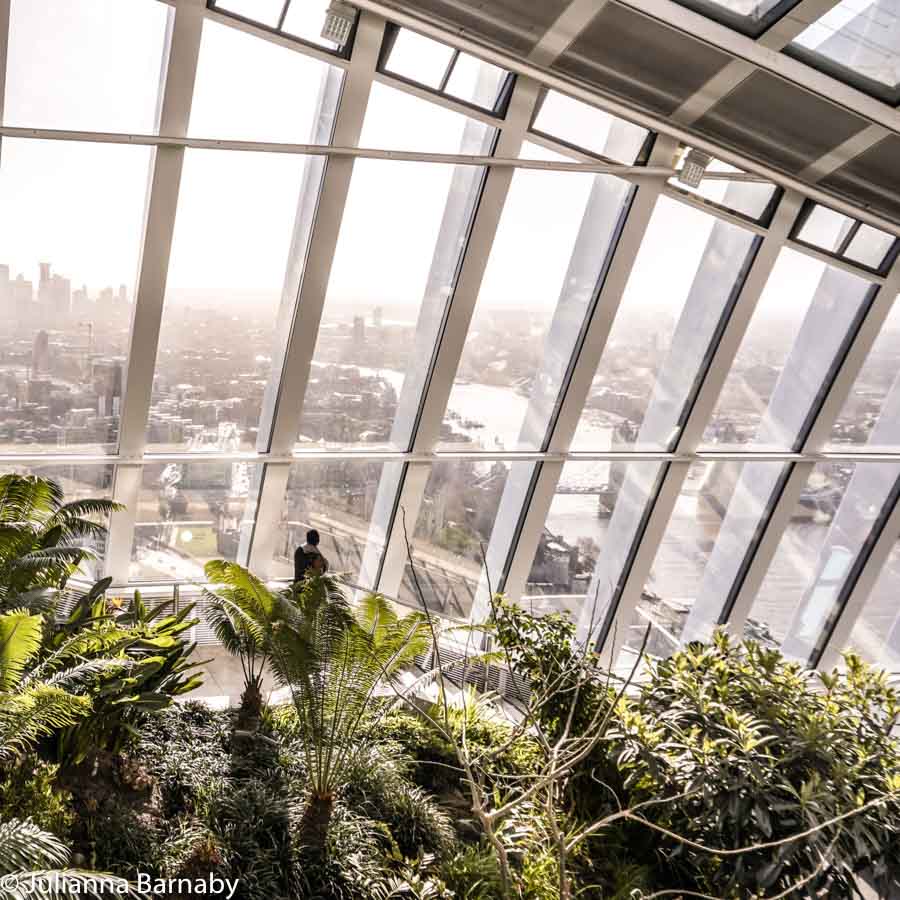 Sky Garden. Isn't that the public garden you can only access by booking a lot of the time and for which it can sometimes feel like it's impossible to snag a ticket for.
Confused? I wouldn't blame you.
Let's make it nice and simple. Go to Sky Garden for breakfast when all the queue-forming suckers are still in bed and you can see the sunrise without queuing, booking ahead or the bother of other people. Worth the pain of getting up at butt-ass am for.
Little Venice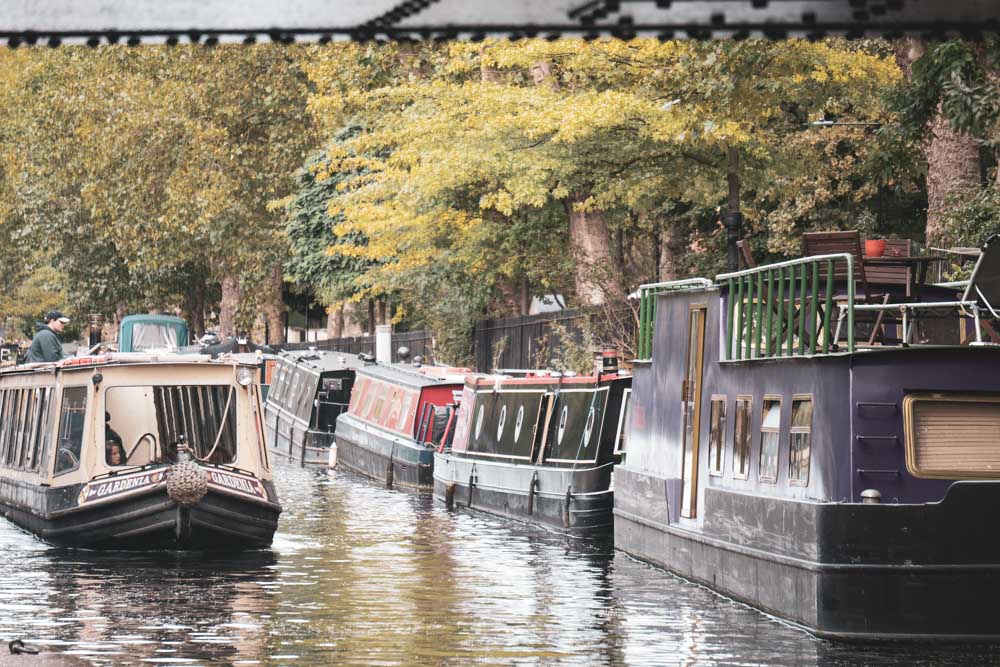 It's hard to imagine a bit of Venice called Little London – what would that look like?
In fairness, you can see where they were coming from when they named the idyllic area of Little Venice – surrounding a section of the Regent's Canal where the peaceful waterway belies the fact you're not far from the city centre.
Barbican Conservatory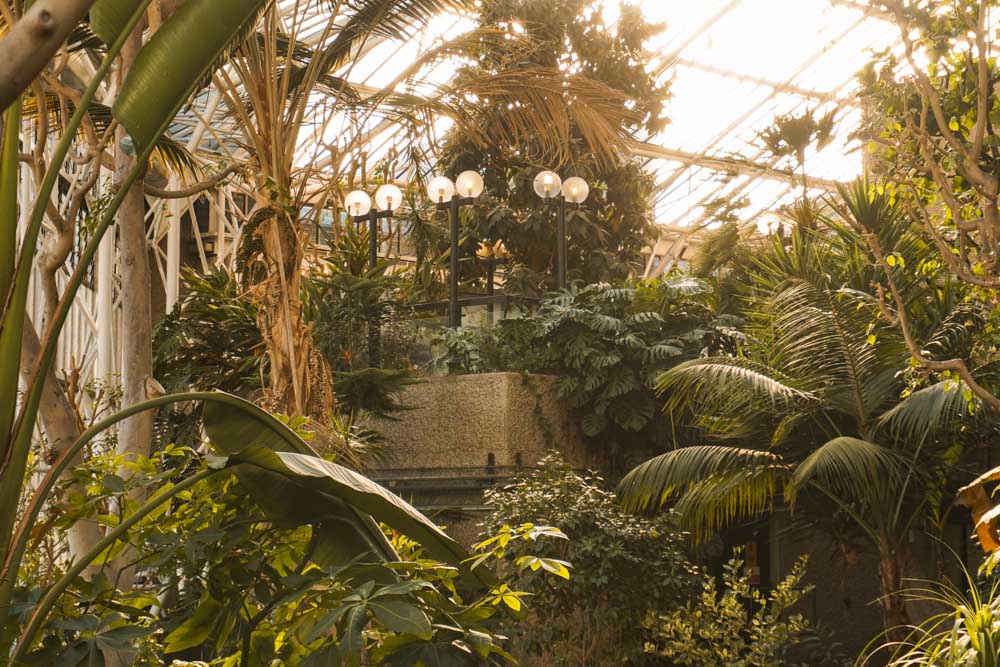 I was half minded to include the Barbican in this guide to the most scenic places in London but tbh, I couldn't be bothered dealing with the raving foaming anti-Brutalist brigade who seem to take exception to the idea that it could be considered beautiful by anyone on the planet.
Still, I love to get my own way so… may I present the Barbican Conservatory.
All the brutalist London beauty but filled with enough curtains of hanging greenery and exotic plants that no one can dispute its entry. Sneaky I am.
Thames Barrier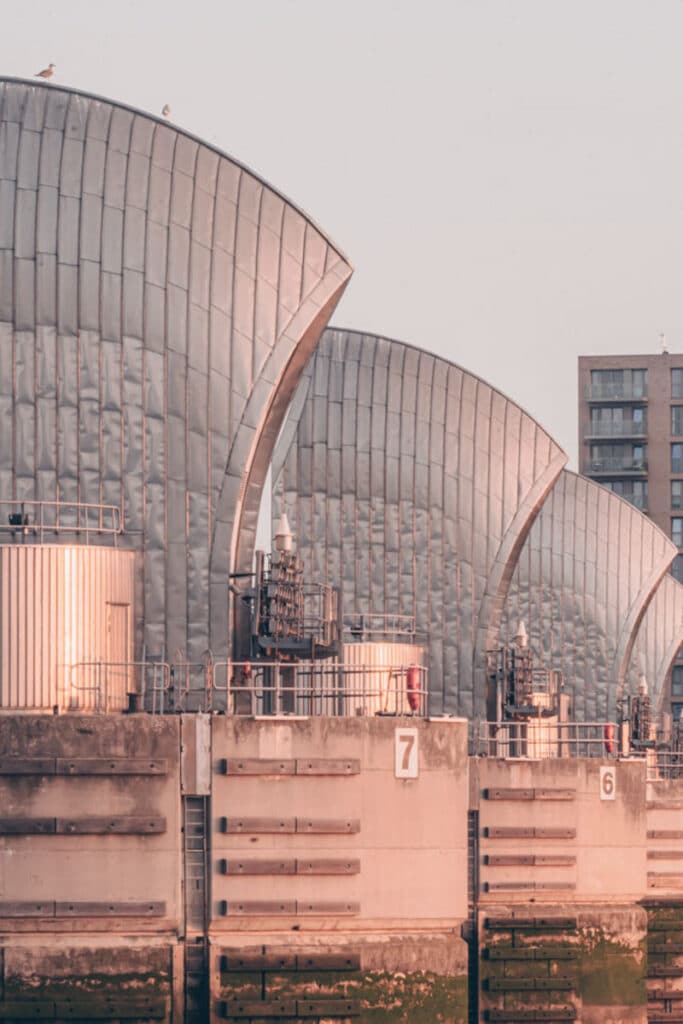 Proving that functional can indeed be beautiful, the Thames Barrier plays the very important role of ensuring that London doesn't get washed away by the freak tidal waves that sometimes surge up the river.
Thankful as I am (and that's genuine thanks, not my normal sarcastic eye rolling thanks), it's also an oddly graceful sight.
Go for sunrise or sunset when the barrier picks up the sky's golden hues.
Chinatown
Anyone who has stood in the middle of Chinatown, sun streaming through the iconic red paper lanterns, will know what I'm talking about when I say that Chinatown is not only one of London's most unique areas, it's also one of its most handsome.
Kew Gardens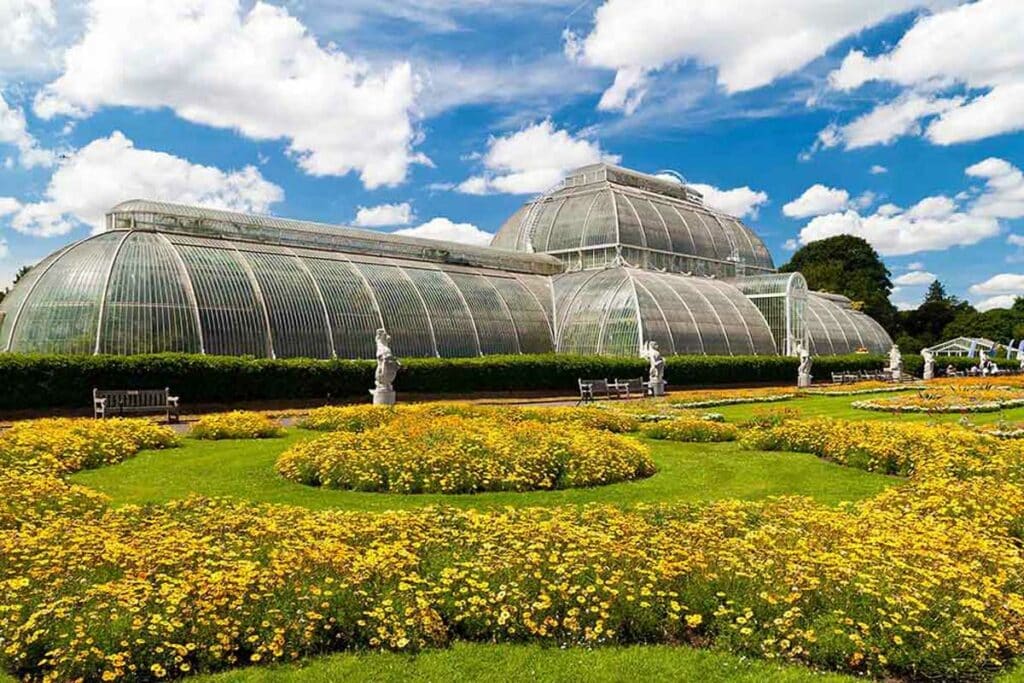 Visitors and locals alike flock to Kew to see its near encyclopaedic collection of flora.
It's impossible not to have a place filled with flowers and not create some kind of beautiful spectacular… but sh*t gets real ravishing when you throw in a Victorian wrought iron and glass greenhouse or two.
BAPS Shri Swaminarayan Mandir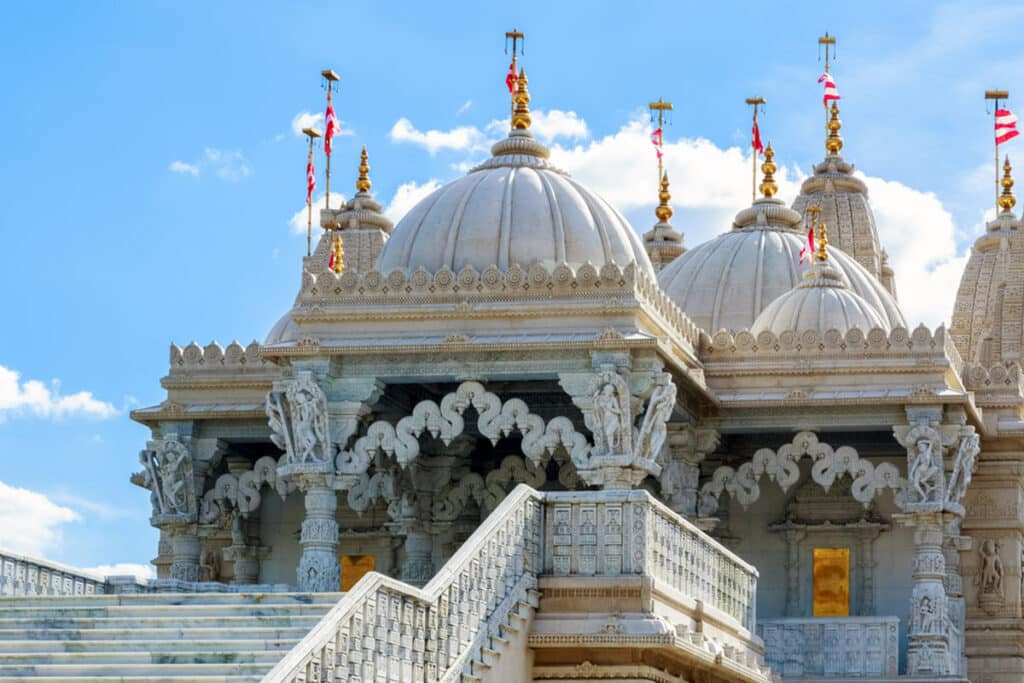 This little-known hindu temple in Neasden is a beautiful hidden gem, and definitely one you should check out. The temple is built entirely of cut stone – some of which had to be shipped to India in order to be worked on by the few craftsmen in the world capable of handling such intricacies.
The result is an enormous structure that would be just at home in India as it is in north London, with a multi-domes roof that's really quite a marvel to behold.
Be sure to check out the exhibition on hindu spiritualism beneath the temple.
Kyoto Gardens
BAPS Shri Swaminarayan Mandir isn't the only place in London where you can go for a slice of the exotic. If you head to Holland Park over in Notting Hill you'll find a corner of the space given over to what's known as the Kyoto Gardens.
These gardens were donated by the government of Japanese City Kyoto as a symbol of friendship between our two countries.
They're also a beautiful place to visit. Styled the Japanese way you'll find paths winding through the neatly kept flowerbeds and stone lanterns guiding your way. There's also a few interesting animal friends in the pond…
Fenton House
There are loads of gorgeous stately homes around London but one of our favourites is Fenton House in Hampstead. Built by a wealthy 16th century merchant the house is now owned by the National Trust.
They keep it the way it would have been hundreds of years ago and manicure the gardens to a tee. Highlight of the whole space? The orchard. It contains 32 varieties of pear and apple tree, but most of all it's just stunning – especially in low, evening light.
Sessions Arts Club
London loves a good dinner, and we love a beautiful restaurant to eat one in. While London's got more than its fair share of stunning places to dine, Sessions Arts Club really steals the show.
The space used to be the dining room of magistrates and has since fallen into beautiful disrepair. Peeled paint and potted plants, splashes of art on the walls all help reclaim the place into one of the most atmospheric dining rooms in the city.
Let's not forget that Florence Knight's cooking is some of the best you can find in London too…
Shad Thames
Remarking that somewhere looks a lot like the setting for the first act of Once Upon a Time in America might not be the best way of saying that it looks beautiful, but this stretch of ex-industrial building on the riverfront has its own charm to it.
The space between the red-brick warehouses is crisscrossed by walkways jutting across at varying heights making the winding path a very atmospheric place for a quick stroll.
It's also exactly the type of place you can knock up an edgy instagram picture in front of.
Gordon Square Garden
London has loads of these lovely gardens and squares in its posher neighbourhoods. In our humble opinion one of the finest is Gordon Square Gardens.
It's easy to see why on a summer's day. Flowerbeds grow out in all sorts of directions, creating quiet places to sit and there's plenty of dapple from the trees that line the roads outside.
Part of the beauty of this place, though, comes from its history. That history being that Gordon Square Gardens was once the hangout of many notable London writers, including a young Virginia Woolf who lived in one of the adjacent buildings who was often encouraged to take her books out into this very park and read.
---
Whew. There we are.
Hopefully you now have a whole list of beautiful places in London you really, really want to see (if you don't, what have you been doing for the duration of this guide – reading it backwards?).
---
Pretty Places in London: Practical Tips
If you're looking to visit a place that's not open 24/7 like, for example, Chinatown, make sure you check for opening times and tickets. They may sell out of the latter so try to book ahead if you can.
London is full of pretty places, we find that generally the whole city looks most beautiful in the hours just after sunrise, and just before sunset.
Don't ruin other people's day by spending all your time taking selfies. Remember to soak in the beauty for yourself – it's more important than your instagram likes!
Pretty Places in London: Map
Click here for a map with the locations of the destinations featured in this guide.