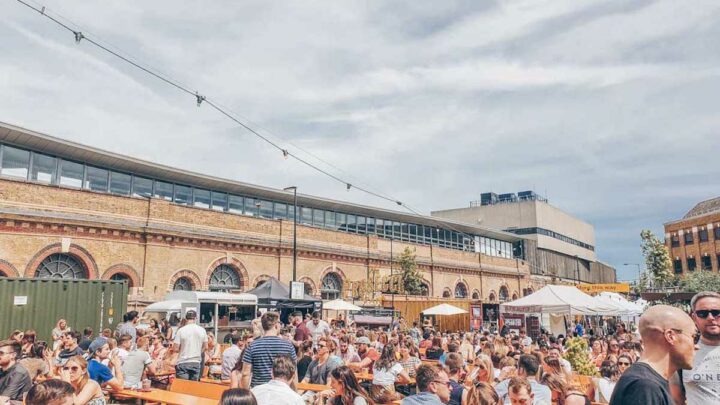 Looking for the best outdoor bars in London? We've done all the drinking hard work for you and compiled the ultimate guide.
Wrap up warm and don as many layers as you can – alfresco drinking is really catching on in the capital.
Looking for the best outdoor bars in London? Don't miss these spots (or the handy saveable Google Map with all their locations at the end).
PS – Wanna eat? Check out our guide to the best restaurants with outdoor dining instead.
Best Outdoor Bars in London
Central London
Jin Bo Law
One of the newest outdoor bars in central London, Jin Bo Law's pineapple-themed decor and jaw-dropping views have proven popular in recent months.
The cocktail list is rather something – innovative, adventurous and not too crazily priced (well, for The City anyway).
Address: 14th floor, 9 Aldgate High Street Dorsett City, London EC3N 1AH
Nine Lives
Long one of the best bars in London Bridge, Nine Lives really upped its game earlier this year with a large alfresco drinking street space that brought much-needed tacos, cocktails and good vibes to central London.
It gets better – they've covered the terrace for the winter months. Meaning you can still grab a drink with your mates… without freezing your tits off.
Address: 8 Holyrood Street, London SE1 2EL
Vinegar Yard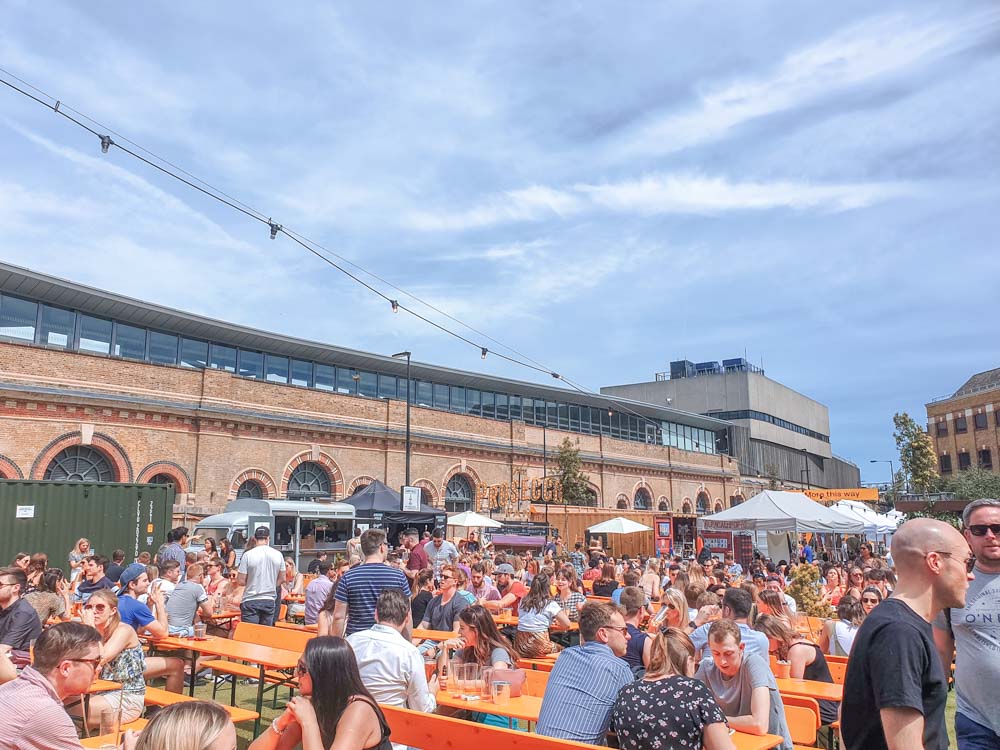 Sitting in the shadow of The Shard, the spacious outdoor area at Vinegar Yard is a godsend for summer boozing with your buddies.
It's a cool hangout spot, with a decent range of local craft beers, wines and spirits on offer and street food eats from the likes of Baba G's, Nanny Bills and Sugo to munch on alongside.
Address: 72-82 St Thomas St, Bermondsey, London SE1 3QX
Flat Iron Square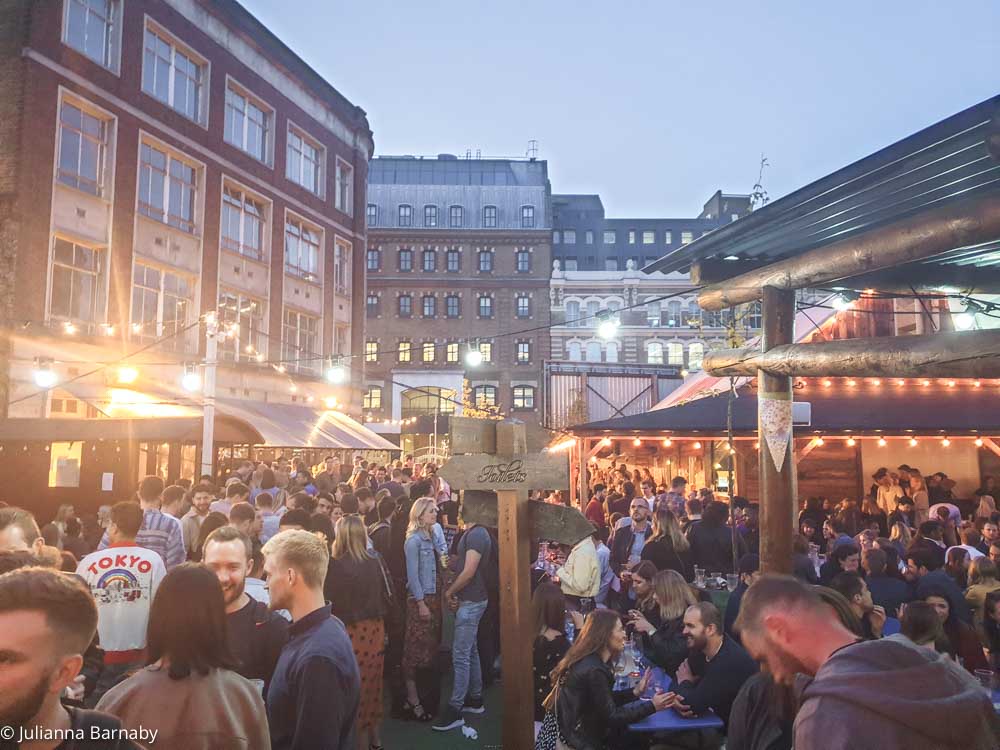 The older sister of Vinegar Yard is just a short hop, skip and stroll away in Southwark but also sports a sizable beer garden/terrace for those days when hanging in the park with a tinnie just isn't the vibe you're going for.
Even better, the folks at Flat Iron Square have just put up their awnings and popped on the heating to make things nice and cosy.
Address: 45 Southwark St, London SE1 9HP
Bar Elba
Sporting a rather quirky theme centred around Napoleon's exile (we guess it is by Waterloo after all), Bar Elba is a cool outdoor bar in London with live DJs and gorgeous Thames views.
It's massive too – so you're almost always guaranteed to be able to nab a table.
Address: Rooftop Mercury House, 109-117 Waterloo Rd, Bishop's, London SE1 8UL
Madison at St Pauls
We're not going to lie – 99.99% of the appeal of Madison St Paul's is the view of… St Pauls.
The cocktails are mediocre and the outdoor seating a bit worse for wear but well, where else can you drink eye to eye with London's most famous dome?
Address: New Change, London EC4M 9AF
No need to reserve for drinks, dinner reservations here
Rooftop: The Trafalgar St James
The word iconic is bandied around so much that it's become pretty meaningless – but really, when a bar's view looks straight out at Nelson's Column and Trafalgar Square what the hell else are you supposed to call it?
As it's one of London's best rooftop bars, it's a spenny option but the heated terrace and cosy blankets make for a fabulous outdoor drinking spot in London no matter the time of year.
Address: 2 Spring Gardens Trafalgar Square, London SW1A 2TS
Radio Rooftop
Sitting jauntily atop the Hotel ME on The Strand, Radio Rooftop has a gorgeous wrap-around terrace with views out over central London and the Thames. It's not cheap and the staff aren't exactly the friendly sort, but the cocktails are banging and the views even better.
Address: 336-337 Strand, London WC2R 1HA
Jurema
There are worse places to spend a few hours sipping on boujee cocktails than in the lush environs of Jurema, the rooftop terrace at The Mandrake hotel.
Think gorgeous draped foliage, bamboo furniture topped with plush cushions and you've probably got the picture as to why this is one of our favourite outdoor terrace bars in London.
The cocktails, while excellent, are not cheap – save your pennies for your trip.
Address: 20-21 Newman St, Fitzrovia, London W1T 1PG
The Nest Rooftop Bar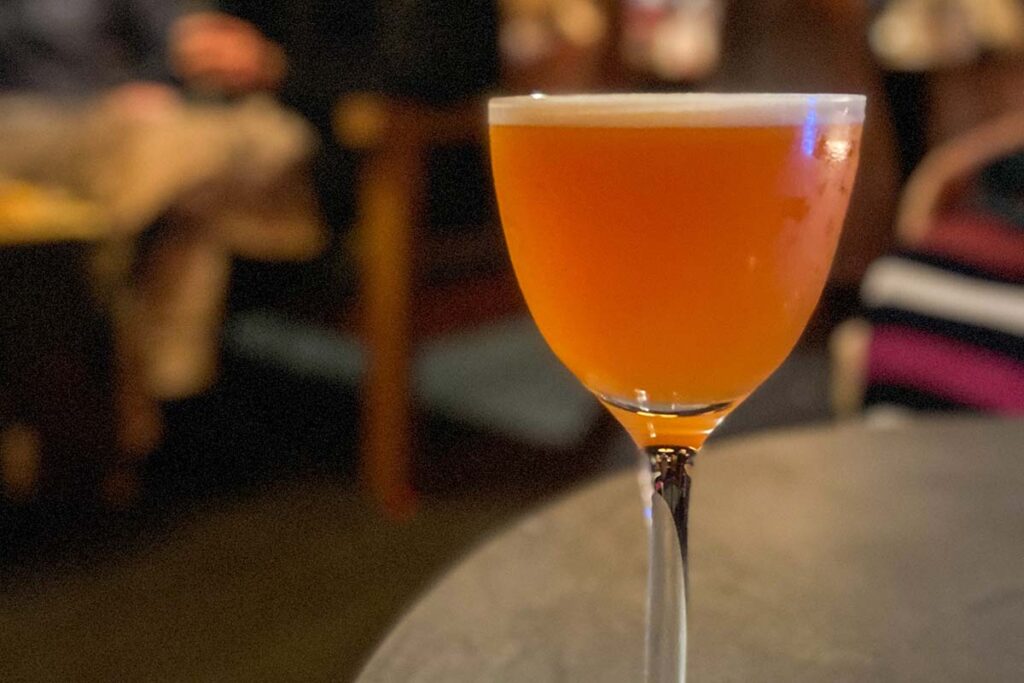 Indoors is one of London's prettiest drinking dens, outdoors has city skyline views – what's not to like at The Nest – the Treehouse Hotel's cool bar.
The 360-degree terrace is decked out with benches and loungers that not only are tier-2 appropriate but pretty damned gorgeous to boot.
Address: 14-15 Langham Pl, Marylebone, London W1B 2QS
Bookings: Email
Big Chill Bar King's Cross
Though it may lack the sophistication of some of the other bars in our guide, Big Chill more than makes up for it with it's rooftop bar – a place of very chilled vibes (as you may have guessed from the name) and one that's never not rammed with happy drinkers.
Address: 257-259, Pentonville Rd, London N1 9NL
East London
Skylight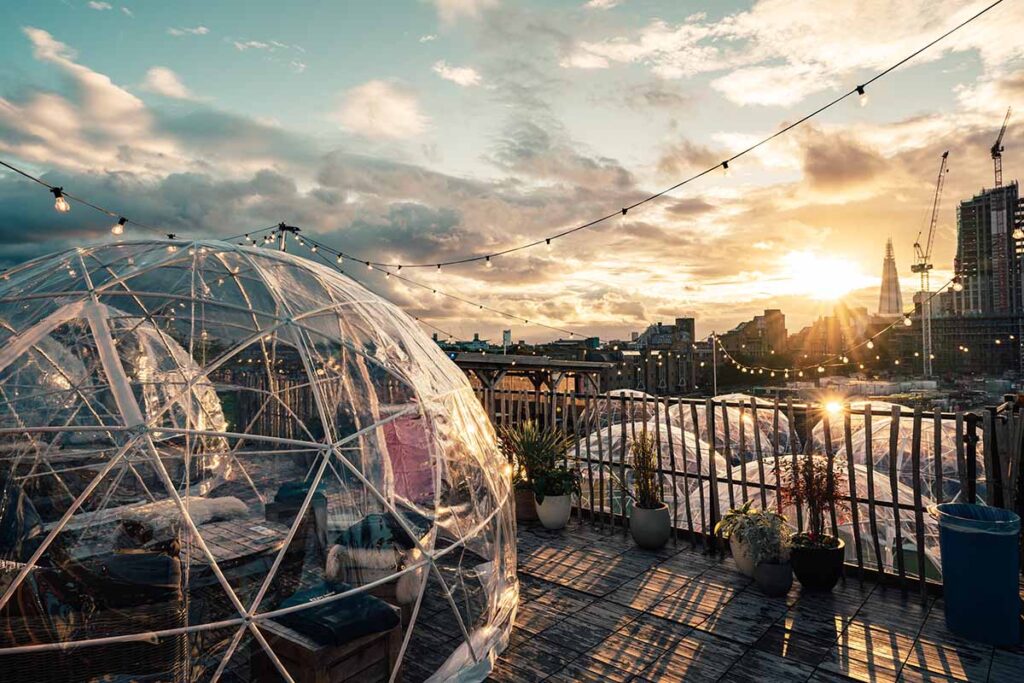 Sprawling over an extensive rooftop in Tobacco Dock, the covered terraces at Skylight provide a year-round drinking spot with gorgeous views.
There are drinks (of course) and street food for you to pair it with. It's certainly breathed a new lease of life into what used to be a disused car park.
Address: Tobacco Dock, Pennington St entrance, St Katharine's & Wapping, London E1W 2SF
Hackney Church Brew Co
Bohemia Place's recent evolution to a cool hangout space has given us many treasures – not least the brewbar/ restaurant of craft brewery Hackney Church Brew Co.
Though the emphasis is (quite rightly) on the stellar beer, the food menu from the folks at Lagom is pretty excellent too.
Cheers all round!
Address: 16 & 17 Bohemia Place, Hackney, London, E8 1DU
The Queen of Hoxton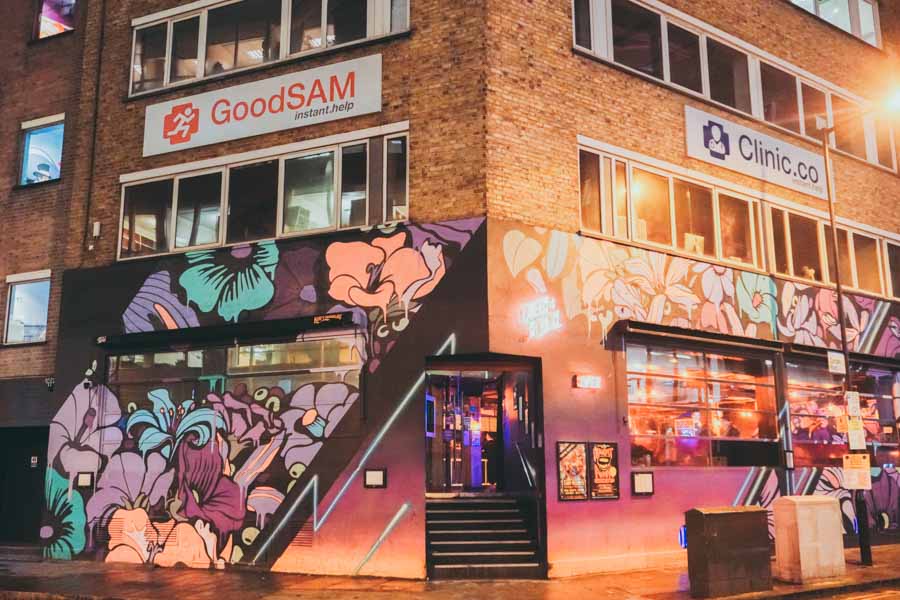 One of Shoreditch's best-known hangouts, The Queen of Hoxton's seasonally themed rooftop is always one of the area's coolest spots and this year is no different.
The winter rooftop is unmissable – it brings a whole load of apres-ski vibes. Think fur blankets, lots of fairy lights and hot buttered rum to keep you toasty.
Address: 1 Curtain Rd, Hackney, London EC2A 3JX
Number 90
Tucked away in a stunning canal-side mural-filled location in Hackney Wick, Number 90 has been staunchly blazing the trail for outdoor drinking in London for almost a decade.
Let's face it, combining some of the city's most iconic street art with a seasonal cocktail list, delicious eats and (during normal times) live music is never going to be a bad shout.
Address: 90 Wallis Rd, Hackney Wick, London E9 5LN
Boundary Rooftop
There's a lot to like at the alfresco-ish (it's covered by a much-welcome glass roof) Boundary Rooftop. The striking city views for one – the plethora of chill spots for sundowners for another.
It transforms itself into a fairy-lit haven during the winter months so you can take refuge from the cold, cold world outside.
Address: 2-4 Boundary St, Hackney, London E2 7DD
Barge East
Settings don't come much dreamier than Barge East.
Whether you drink on the giant barge perched jauntily on its mooring on the River Lee or in the idyllic awned garden pitched up alongside, it's little wonder it's become a local favourite in Hackney Wick.
Address: River Lee, Sweetwater Mooring, White Post Ln, Hackney Wick, London E9 5EN
Mama London Shoreditch
The gorgeous outdoor bar at Shoreditch newbie Mama London is a cool hangout that's got the social distancing thing down to a t. Quirky decor, covered seating and inventive cocktails lure drinkers to the terrace – just don't blame anyone if you don't want to leave.
Address: 437 Hackney Rd, London E2 8PP
Bookings: Call + 44 207 613 6500
The Gantry
The Gantry is one of the newer kids on the block in Stratford, and the hotel's outdoor terrace is the perfect place to recline in the evening with a drink.
Enter into a garden filled with jungle foliage and allow Head Mixologist Walter Pintus to throw together a cocktail or two. Two open-air fire pits ensure that you won't feel too cold, while the cushions and mohair throws provide ultimate comfort.
The Gantry has quickly cemented itself as one of the best outdoor bars London has to offer.
Address: 40 Celebration Ave, East Village, London E20 1DB
Florattica
A new addition to the Aldgate drinking scene, Florattica boasts some pretty spectacular views of the city of London from its wrap-around terrace.
As for the drinks: cocktails, twisting old classics with floral aromas and tarting them up with flashy techniques like smoking glasses.
The interior decor also takes inspiration from the floral. This time the tapestries of the Huguenots.
Address: 11-15 Minories, London EC3N 1AX
Sager + Wilde
Tucked under the Bethnal Green railway arches known as Paradise Row you'll find Sager and Wilde. The place does decent food but you'll be here for the even better selection of wine they have on offer.
You're also here for the terrace seating that makes an ideal location for a bit of al fresco drinking, especially when sipping on a nice european wine.
They do have two locations – just remember it's the Paradise row you'll want for outdoor drinking.
Address: 250 Paradise Row, London E2 9LE
South London
Bussey Rooftop Bar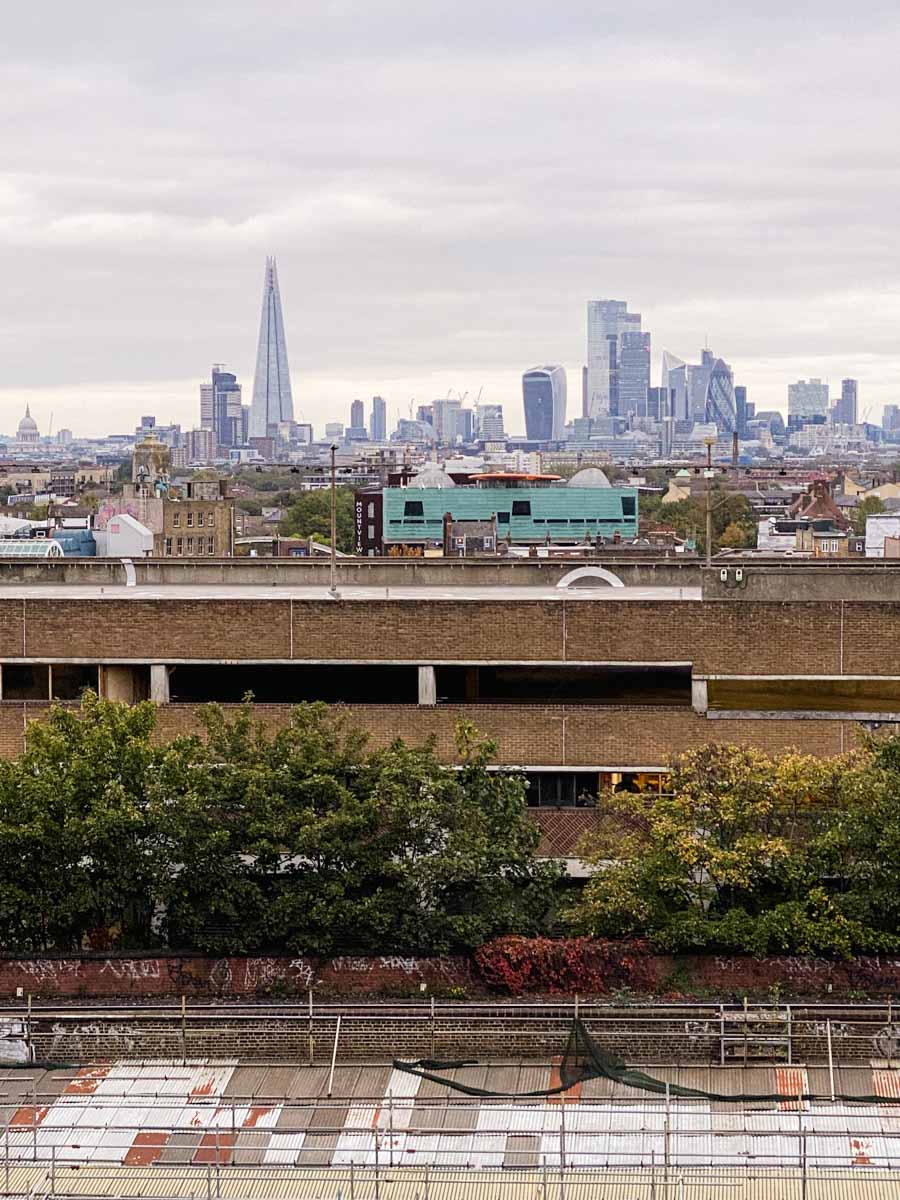 Boasting the same incredible views and rooftop kudos as the legendary summer pop up Franks around the corner, it's little surprise that the Bussey Building's Rooftop Bar is one of Peckham's most popular drinking spots.
The extensive terrace is the perfect place for quaffing sundowners in the twilight hours – and there are plenty of tables, so booking generally isn't too much of a pain in the ass.
Address: Roof B Bussey Building, 133 Rye Ln, London SE15 4ST
Forza Wine
Peckham's rooftop bar-come-eatery is a welcome addition to the ever-growing roster of outdoor bars in south London.
These guys really know their way around a cocktail (a fact cemented by the extensive range of negronis on offer). Perfect for bringing that one friend who turns their nose up at everything – even they won't find something to sniff about.
Address: The Rooftop, 133A Rye Ln, Peckham, London SE15 4BQ
Prince of Wales
Livelier than most of the entries on this list – the Prince of Wales wobbles between the line of pub, bar and club – delightfully so. The rooftop – always a happening spot – has become a mainstay of London's music scene thanks to its lineup of cool djs and heated booths.
Address: 467-469 Brixton Rd, Brixton, London SW9 8HH
Bookings: For tables Tuesday to Thursday call 020 7095 1978 – book weekend events here.
Pop Brixton
Brixton's extensive shipping container market has it all – great restaurants, retail and, most importantly, bars. It's pretty much all outside and they don't take reservations, so it works well for impromptu drinks with the crew.
Drinking options include fancy wines from Specialist Stellars and beers from the aptly named Beers of the World.
Address: 49 Brixton Station Rd, Brixton, London SW9 8PQ
No Reservations
Lost in Brixton
Wind your way up the seemingly inauspicious staircase in a corner of Brixton Village to discover Lost in Brixton, Brixton's too-cool-for-school drinking spot.
The secret rooftop bar is one of the city's most characterful – with colourful murals and lots (we mean lots) of hanging foliage. Beer pumped straight from Brixton Brewery and food delivered straight from the traders downstairs only add to the appeal.
Address: Brixton Village, Coldharbour Ln, Brixton, London SW9 8PS
Copeland Social
This Peckham drinking spot is as chilled as they come. The space is pretty big but quickly fills up with Peckham's hip young crowds, spilling out into the yard on sunny days and warm evenings.
The fact that Copeland Social is also at the foot of the Bussey Building means you're right in the centre of the action, and never too far from a couple of the other south London bars in this guide should you not be able to find space to sit down.
Address: Unit 10, Copeland Park, 133 Copeland Rd, London SE15 3SN
Book by emailing at bookings@copelandsocial.com or call on 020 3146 1774.
North London
Authentique
Oozing charm and a relaxed atmosphere – Authentique has not only guaranteed its position as a favourite with Tufnell Park locals, but it's also gathered quite the city-wide following too. That's in no small part down to the excellent wine – sourced from French-speaking parts of the world – and tasty deli bites.
The terrace is its secret gem – bedecked with a colourful mural and all the chilled wine-drinking vibes you could want.
Address: 116 Fortess Rd, Kentish Town, London NW5 2HL
Beavertown Brewery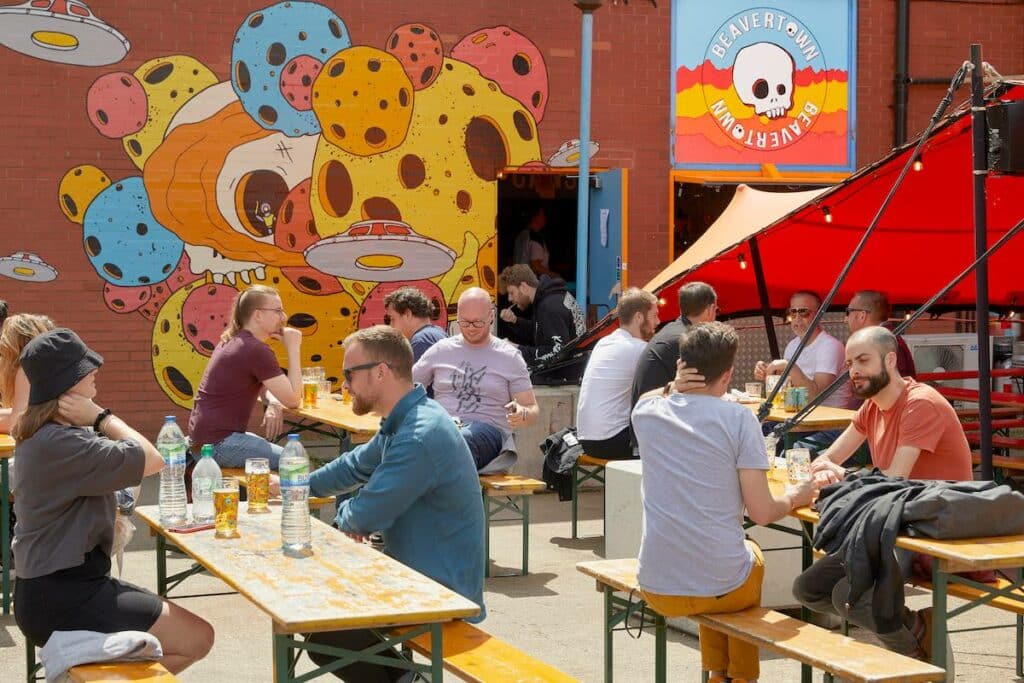 Beavertown's unashamedly cool vibe translates to their impressive taproom in Tottenham – complete with a massive outdoors space seating tables of six at two metre intervals – little wonder that it's a frequent feature on any guide to the best breweries in London.
The beer – as you would expect – is great, just wrap up warm 'cos you're very much at the mercy of the elements. It's only open on Saturdays and Sundays.
Address: Unit 17, Lockwood Industrial Park, Mill Mead Rd, London N17 9QP
No Reservations
The Chapel Bar
Boasting a Venetian Chandelier bar and a rooftop terrace (did we mention it's heated?) The Chapel Bar is a stunning spot for outdoor drinks in London.
The bottomless brunch is particularly wonderful – for just £45, nab unlimited Prosecco, Aperol Spritz, Vino Bianco Spritz or Elderflower Spritz over the course of 2 hours, plus a starter and main course.
Address: 29 Penton St, London N1 9PX
The Castle
Another brilliant Islington outdoor bar, The Castle's rooftop terrace makes quite the spot for a chilled-out drink or three with friends.
Everything on the cocktail menu is dreamy – but we would always opt for the strawberry daiquiri tree to share with pals. The beer tower is a suitable alternative.
Address: 54 Pentonville Rd, London N1 9HF
Heads + Tails
Heads + Tails is a cute little neighbourhood bar in West Hampstead with a dreamy outdoor terrace for summer boozing.
The drinks menu is on the smaller side, but it's filled with high-quality offerings spanning classic cocktails to Spanish reds. Don't believe us? This bar is currently ranked as one of the world's top 500 bars. And we happen to agree.
Address: 175 W End Ln, London NW6 2LH
West London
Pergola Paddington
Pergola's sun-drenched, flowery terrace has fast become one of London's must-visit summer spots.
It doesn't end when the seasons change though – in the chillier months they crank the heating on, flick the switch on the mood lighting and shimmy their way back into your social diary.
Address: 4 Kingdom St, London W2 6PY
Neverland + Winterland
Fulham hotspot Neverland's is one of the top places to drink in the city, though we particularly love this bar during the wintertime.
They go hard on the Alpine village vibes – with fire pits, mulled wine and DJ tunes to complete the picture. The rest of the year though, the bar hosts drag bingo, quiz nights, and plenty of other cool events.
Address: Neverland, Wandsworth Bridge Road, London SW6 2TY
The Hawk's Nest
The Hawk's Nest is a garden bar hidden under a glittering arch in West London. With plenty of themed evenings – Margarita Mondays, Quiz Tuesdays, and 2-4-1 Student Wednesdays – you're always sure to be in good company.
The cocktail menu is very impressive, as is the wine and craft beer list. And don't panic – should it rain (very likely) you're covered and heated.
Address: Goldhawk Rd, Shepherd's Bush Market, London W12 8DF
Amie Wine Studio
Tucked away in Eccleston Yards in West London, Amie Wine Studio is a chilled-out wine concept store with a small outdoor terrace where you can enjoy a glass or two with friends.
While you might fancy drinking outside, you'll no doubt want to check out the dreamy interior – it's a vision of pink and natural tones. Swing by for a glass of their famous rosé and you won't be disappointed.
Address: 13 Eccleston Yards, London SW1W 9AZ
No Booking Required
Practical Tips for Outdoor Drinking in London
It's boring but if we had to give you one piece of advice it would be book, book, book – and preferably not just on the day either. Look, we know it's a right royal PITA but lots of the smaller spots book up quickly and days in advance.
Not all outdoor bars in London are created equal – it's worth checking whether the space has heating and whether it's covered so you can dress accordingly.
Map of Outdoor Bars in London