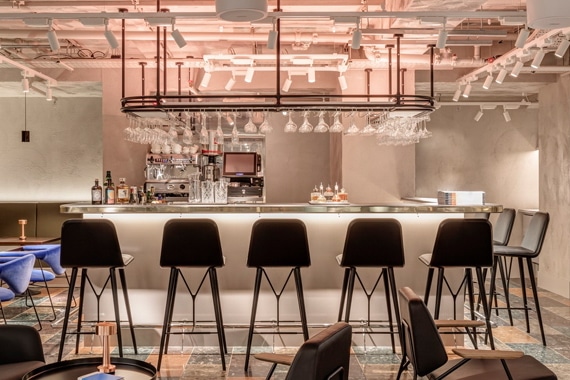 Looking for the best bars in Knightsbridge? These are the spots you should hit up in London right now.
Oozing with class and brimming with swish designer stores, flash cars and Michelin-starred eateries, it's no secret that Knightsbridge is up there with some of the most upmarket districts of London.
Whether you're on the look-out for an old-fashioned luxury establishment to linger over a perfectly-made cocktail, or are in the mood for a contemporary space to enjoy a delightful glass of vino, you are sure to find it in Knightsbridge.
Looking to break the Knightsbridge bar scene but not sure where to start? Allow us to recommend some of the area's unmissable spots.
The Best Bars in Knightsbridge
The Capital Bar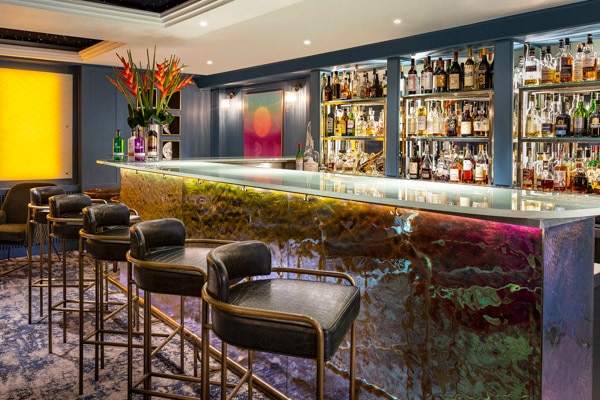 Classy and traditional, The Capital Bar is a sophisticated venue, situated inside the famous Capital Hotel on Knightsbridge's affluent Basil Street.
Cosy and classic, The Capital Bar exudes a warm and dazzling atmosphere, and serves up some unbeatable cocktails; regardless as to whether you are a guest at the hotel or not, I would highly recommend visiting this spot for some quintessentially English hospitality in the heart of Knightsbridge.
The Capital Bar also runs whisky and cocktail masterclasses, which are fantastic, and a fun, engaging way to learn more about the skill that goes into each drink.
The Fifth Floor Bar – Harvey Nichols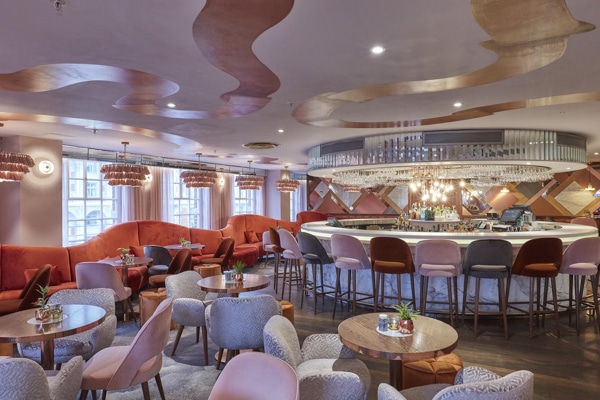 For an exciting and exclusive experience, The Fifth Floor Bar in the iconic Harvey Nichols department store is the place to be.
Whether your tipple is a cocktail, a glass of ice-cold Champagne, or a sumptuous G&T, The Fifth Floor Bar has a huge selection of beverages; whilst the interior is gorgeous, there is also a terrace outside, where you can look out over London whilst sipping away on your drink.
There are also loads of experiences and masterclasses to join in on, including the Billionaire Experience, and the Oyster Hour, where you can get three Jersey oysters AND a glass of Champagne for £19! Bargain!
Bar 109 – Harvey Nichols
Because Harvey Nicks couldn't just settle for one swanky drinkery in their already glammed-out shopping mecca, they also run a space on the lower ground floor called Bar 109.
This one leans gently towards the gentlemen (it is right next to the menswear section) with TV playing sport and a good selection of beers. That's not to say the ladies won't find lots to love about their cosy booth seating and selection of cocktails and wines too.
Or get into the sport and have a beer, it's the 21st century after all. Gender stereotypes be gone!
Egerton House Hotel Bar
A stone's throw away from the renowned Victorian and Albert Museum, The Egerton House Hotel has its own brilliant bar, which is the perfect place to unwind after a long day of exploring the wonders of Knightsbridge.
The bartenders and mixologists at The Egerton House Hotel really know their stuff, and I would highly recommend trying their speciality, their martini special.
They begin the process with a frozen glass, which has been chilled to 22 degrees below. They then add a splash of vermouth, at which point, you are supposed to neck it in their trademark 'Egerton Slurp', before taking a hit of lemon.
The atmosphere here is wonderful, and it is without a doubt, one of the best bars in the whole of Knightsbridge.
Caviar House and Prunier – Harrods
Even the name Caviar House and Prunier exudes swank. The bar of this seafood restaurant has everything you'll need to feel like the million-dollar man (or woman).
The setting of the place only emphasises that. Even the tiles in this place are Grade II listed.
What you'll find behind the bar is a selection of wines from around the world and about 100 cuvées (wine from a barrel) that can be sampled by the glass. They boast an impressive 1,200 bottles in the cellar too – the mind boggles at what that place must look like.
Of course, all this can, and should be, enjoyed alongside some of their caviar. It is what they do best after all.
The Sake Bar and Lounge – Zuma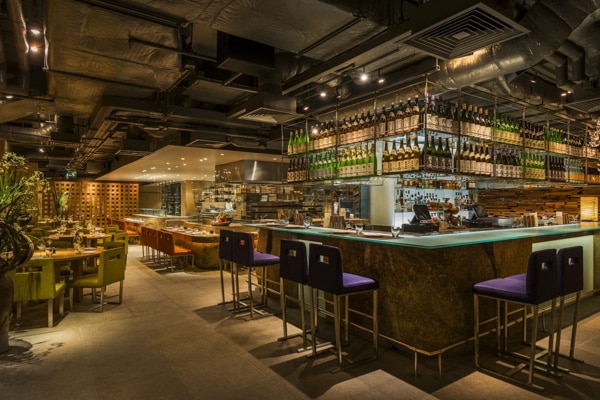 If sake is your favourite tipple, there is no place better than The Sake Bar and Lounge, which is situated within Zuma Restaurant, in the heart of Knightsbridge.
With over 40 different types of sake on their bar shelves, as well as an enormous menu of unique and delicious cocktails, The Sake Bar and Lounge is a fabulous spot to sample some delicious drinks.
The interior is also gorgeous, and incorporates traditional Japanese elements with a modern and contemporary twist.
Buddha Bar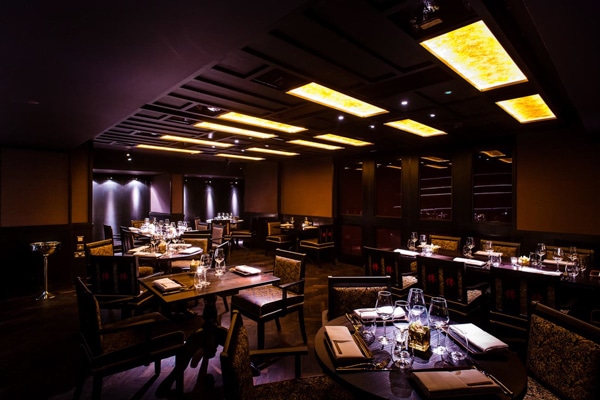 Winner of Outstanding Achievement at the London Club & Bar Awards in 2017, Buddha Bar is one of the most iconic and well-known bars in Knightsbridge, and London as a whole.
Its origins date back to 1996, when Raymond Visan established the first Buddha Bar in Paris; since then, it has become one of the most successful bars in the world, and has branches across the globe.
Renowned for its nightclub vibe, electrifying house music, and dazzling cocktails, Buddha Bar is really in a league of its own, and epitomises the opulence that Knightsbridge is so notorious for.
The Hari Bar
Bar of the five-star Hari hotel, the cocktails at The Hari Bar are among some of the best in Knightsbridge, and the service is there to match. From champagne to fine wines and a menu of expertly-mixed cocktails there'll be something for everyone here.
Special mention should be made for their menu of 'Haritinis'. That's, as you can probably guess, a menu of martinis and twists thereof.
We'd find it hard to keep ourselves from ordering the Gin 'n' Jam, a concoction of gin, blackcurrant jam, lemon juice and a dash of tonic.
These beauties come with a recommended pairing from their bar menu, which as you can imagine in a place as luxurious as this, are pretty special.
Mandarin Bar
For a truly glamorous experience in the heart of Knightsbridge, the iconic Mandarin Bar in the Mandarin Oriental Hotel should be your go-to venue.
Showcasing innovative and contemporary designs with a classic and traditional twist, the Mandarin Bar is one of the most chic and elegant bars in Knightsbridge.
Serving up a range of mouth-wateringly delicious signature cocktails, all of which have been inspired by the plants and trees that are visible in the nearby Hyde Park, the Mandarin Bar epitomises class.
Make sure you try one of the Hyde Park Signatures, a series of cocktails that are inspired by the memories and experiences of Marco Stella, who was the renowned Head Bartender; one of the best is 'Torta Della Nonna', which combines Nonino Grappa, lemon curd and pine nuts, yes, you heard that correctly.
The Blue Bar at The Berkeley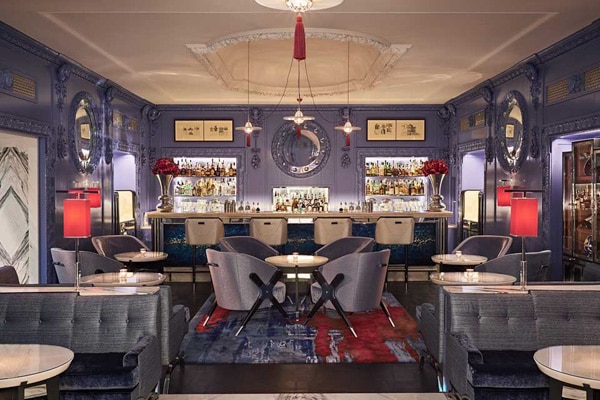 With so many different bars and lounges across Knightsbridge promising to provide the best experience around, it can be a little challenging to know which are as great as they claim, and those that fall short.
For the real-deal, you simply cannot miss The Blue Bar at The Berkeley Hotel – one of my favourite cocktail bars in Knightsbridge.
As the name suggests, The Blue Bar is decked out head-to-toe in blue furnishings and décor, which gives it its own distinctive character and charm.
The Blue Bar knows how to really get your taste buds tingling with their selection of innovative and colourful cocktails. For a real knock-out drink, order the 'Champagne Milkshake'. Though it is difficult to even imagine what this would look like, I can promise you that it is an absolute delight to drink; combining Grey Goose, La Coste rose, strawberry, rosehip and topped with Laurent-Perrier, this is a cocktail to remember.
The Hyde Bar
Bar of the swanky Marriott hotel in Knightsbridge The Hyde Bar is renowned for its Gin Jubilee cocktail. We're not sure if dear old Lizzy drank one of these in honour of her 70 years on the throne but if she did we're sure she'd have liked it.
If you don't fancy your drinks with the royal touch there's still an excellent menu of classics and a few more of their own creations to choose from.
The suave interior of this place is only matched by the plush cigar terrace – the kind of place that makes smoking look glamorous enough to make you want to take up a serious habit.
Privée
In the heart of Knightsbridge, Layalina & Privée offers its guests a unique experience.
Whilst Layalina is the upmarket Lebanese restaurant, Privée is an avant-garde, cabaret and burlesque bar, which you can head to after enjoying some delicious dinner upstairs.
With a vibrant, pulsating atmosphere, there are also some spectacular cocktails on offer, all of which have been crafted by the executive chef, Joseph Chahine.
The speciality of Privée is the Champagne Cocktail, which is absolutely divine, and uses only the freshest, seasonal ingredients.
Arguably, there's no better way to spend an evening in Knightsbridge than sipping away on a sumptuous cocktail on a candle lit table, whilst watching some of the best performers in London do their thing.
The Lounge – Bulgari Hotel Bar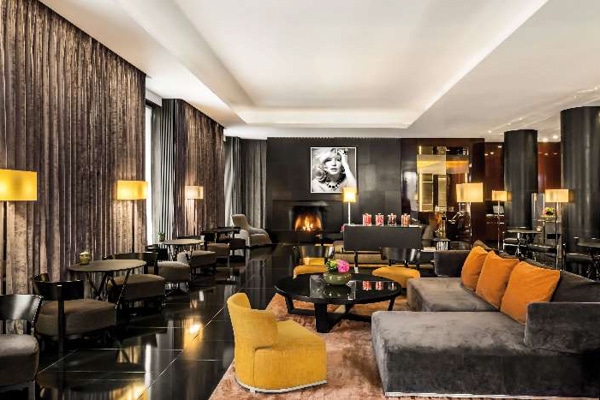 Lavishly adorned with black resin features and gorgeous, comfy chairs, the Bulgari Hotel's bar, The Lounge, is chic, elegant, and incredibly inviting.
With mirror-polished black granite floors, and deep mahogany walls, The Lounge is super cosy and atmospheric; it is without a doubt one of the trendiest and most Instagrammable bars in the whole of Knightsbridge.
There are a huge selection of quality cocktails and other drinks on offer here, and it is the perfect spot for some after-dinner tipples.
The Library Bar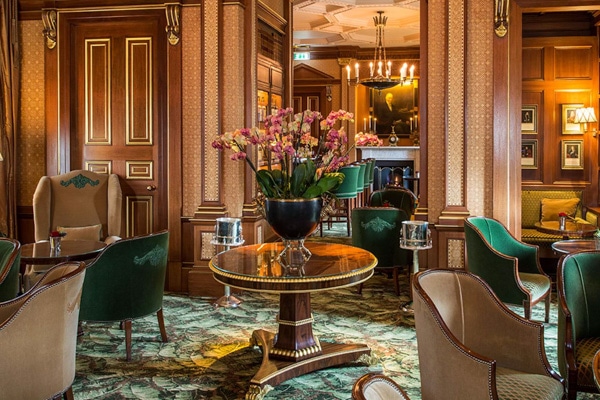 One of the most iconic and unmissable bars to visit in Knightsbridge is The Library Bar.
Offering the inviting and intimate private club atmosphere, The Library Bar feels truly exclusive; it is no surprise that this has been a long-standing favourite with the locals, as well as curious tourists.
One of the specialities that The Library Bar is most well-known for is the selection of cognacs, which date back to the 1770s. If cognacs aren't really your thing, there are also some expertly prepared cocktails, that are lovingly created by award-winning mixologists.
109 Bar & Kitchen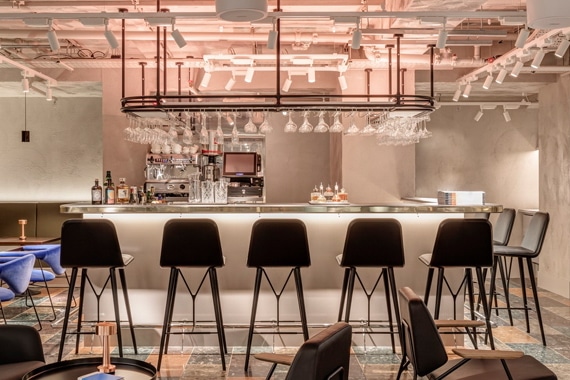 Situated in the iconic Harvey Nicholas department store in Knightsbridge, 109 Bar & Kitchen is a contemporary space that combines an array of different styles, from Scandi chic to rustic warehouse, it's utterly charming.
Located right next to Knightsbridge tube station, this one is super central, and you really can't miss it.
Serving up gorgeous cocktails alongside an array of delicious light bites and sandwiches, this is the perfect spot to visit for a boozy lunch or an afternoon tipple on a day out in Knightsbridge.
For the quality, and for the area, prices are actually very reasonable.
Bar Boulud
For an upmarket wine experience in the heart of Knightsbridge, be sure to check out Bar Boulud.
Tucked away in the cellar, Bar Boulud is centred around Daniel Boulud's favourite wine making regions, which are Rhone Valley and Burgundy in France, though there are also lots of other options if French wine isn't your favourite.
There is also an expertly curated selection of craft beers, that are sure to get your taste buds tingling.
Set inside The Mandarin Oriental Hotel, you would think that this place would be super expensive, but, it's actually relatively affordable, given its location and the quality of the wines served.
Mamounia Lounge
For something a little different in the heart of Knightsbridge, head to Mamounia Lounge.
Creating an enticing and authentic environment for visitors to enjoy a fantastic Arabian drinking experience, Mamounia Lounge is absolutely amazing, and so unique.
One of the highlights of Mamounia Lounge is the afternoon tea (which can be adapted to include an alcoholic beverage, don't worry!); putting a Middle Eastern spin on a quintessentially British activity, it really is a fun and unique experience.
There are also loads of amazing events held here, such as belly dancing shoes, DJ sets and live bands, so there is always something new and exciting to experience.
Cool Bars in Knightsbridge: Practical Tips and Map
The bars in Knightsbridge can get pretty busy, particularly on Friday and Saturday nights, so if you are looking for a quieter evening, visit earlier in the week.
If you have a designated driver who is planning on driving to any of the bars in Knightsbridge, it is worth checking where you will be able to park first, as many of them will not have parking available.
Many of the bars in Knightsbridge will require a reservation, so it is worth checking this beforehand to save any disappointment.
It is definitely worth checking if any of the bars you plan on visiting have a dress code; many of the more upmarket establishments will require smart or smart-casual attire.
Maybe a little obvious, but Knightsbridge is generally very expensive. This is worth knowing before you head into a bar, order a glass of wine, and then faint at the sight of the bill!
Looking for More Knightsbridge Guides?