Neighbouring areas Clerkenwell and Farringdon aren't short on watering holes to quench your thirst and empty your pocket – but not all bars are created equal. Looking for the best Clerkenwell and Farringdon bars to ease you into the evening? Look no further.
Farringdon (and its close neighbour Clerkenwell) is one of my favourite London haunts. Back in my heady lawyering days, I worked my way around pretty much every bar within a mile radius of the office, which just so happened to be smack, bang in the middle of Farringdon.
Hate to brag, but when it comes to choosing the best bars in Farringdon and Clerkenwell – I'm pretty well qualified.
Anyway. Here's your guide to the best Clerkenwell and Farringdon bars, cocktail dens and wine joints. Let's go.
Oriole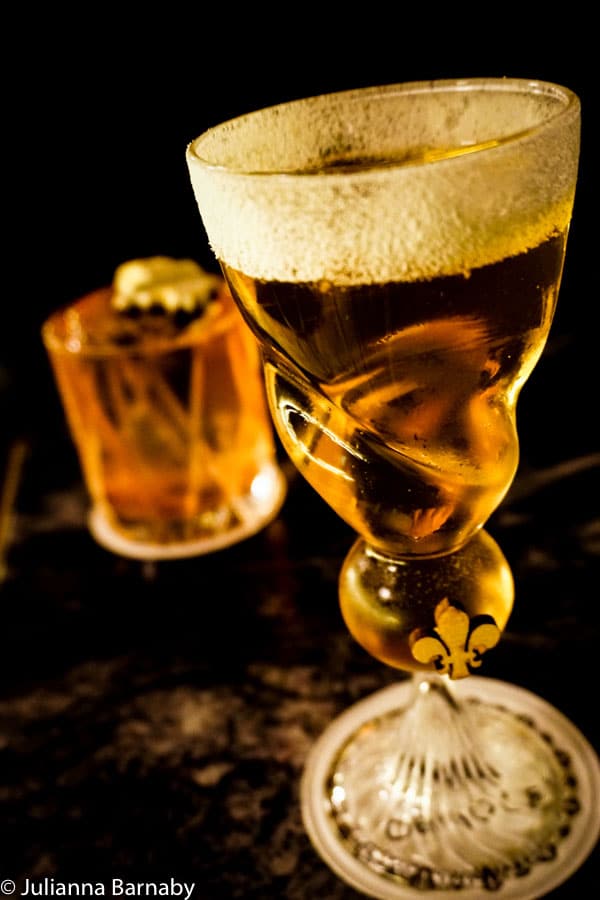 The best bar in Farringdon for a blowout night.
I'm going to make a prediction.
Oriole is about to become your new favourite cocktail bar.
This underground den is a cocktail-lover's dream – with sumptuous decor, live music and a cocktail bible that spoils for choice. Each cocktail is unique – innovative creations of unusual ingredients, homemade tinctures and sometimes bizarre flavours that somehow work incredibly well.
The sister bar of the well-famed Nightjar (one of the best bars in Shoreditch and frequently named as one of the best in London), I'm going to be bold and say that Oriole is actually better than its predecessor.
First of all, it's not impossible to get in on a Friday night, which is a great start – but it has the edge for friendly staff and a relaxed vibe. The posers haven't quite found it yet either.
You'll probably need help picking your drink (or deciphering some of the weirder ingredients – roots mastiha liqueur anyone?) – the staff are always on hand to give you tips and guide your choice.
That said, some of the joy is just picking one that looks good and having it take you by surprise. The Château de Saumur – a heady mix of cognac, cacao butter syrup, absinthe, escubac and Veuve Clicquot was a real knockout…in more ways than one. Oh and the bar food is great. Just go.
Read More: Oriole – The Speakeasy Showing London How it's Done
Le Bar at Club Gascon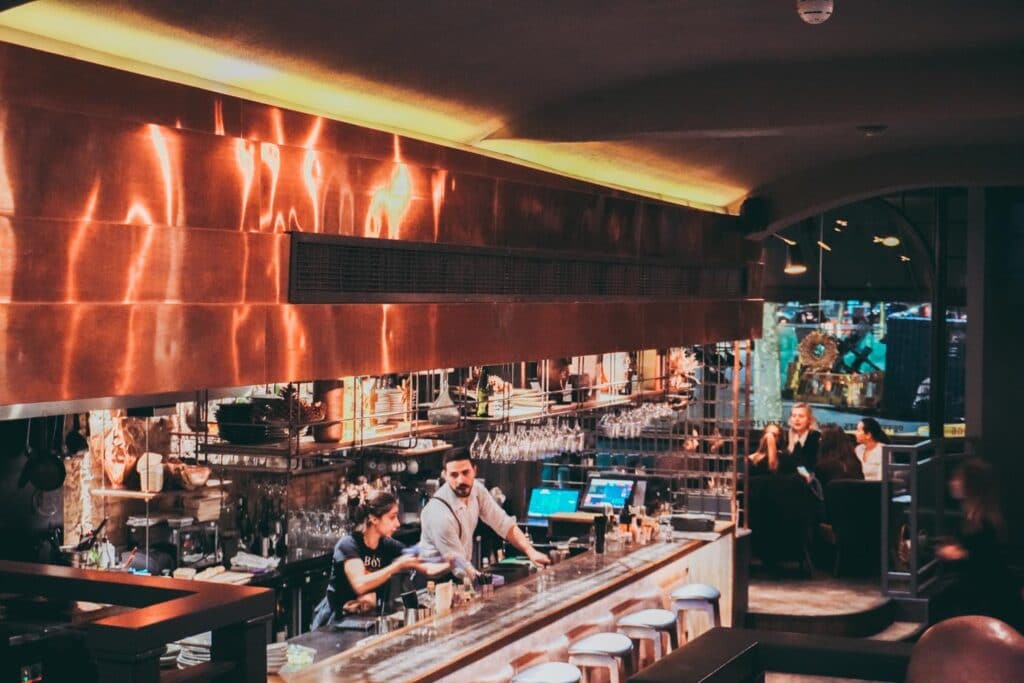 Michelin-starred bar snacks and snazzy cocktails.
Club Gascon – isn't that the ridiculously fancy restaurant? Of the renowned Gascon brothers fame? With a Michelin star to boot? Yes, it is the very same.
But I'll let you in on a little secret – Club Gascon's bar – Le Bar – is not only one of the best bars in Farringdon, it's pretty much the only one where the bar snacks will blow you away.
I don't know what else I need to say. A cocktail bar in Farringdon that comes with Michelin-starred snacks (cheekily called Frapas on the menu – that's french tapas to you and I)? I'm certainly sold.
Cocktail-wise, there are a lot (I mean A LOT) to choose from – the classics make the required appearance, but we love to live a little right?
That's why you should plump for the pleasantly sharp St Jean de Luz – a quaffable concoction of Jack Daniel's, Cointreau, Raspberry Puree and Lemon Juice.
Pair it with the aptly-named piggy treats and sit back, safe in the knowledge that this is exactly where you are meant to be.
Read More: The Best Pubs in Farringdon & Clerkenwell
The Winemakers Club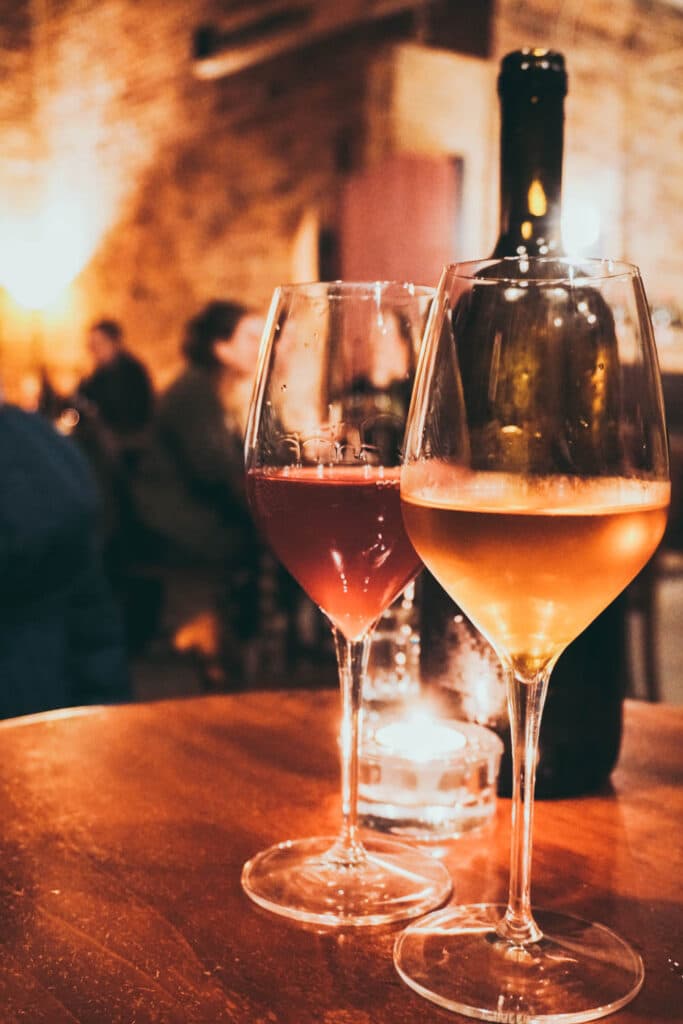 Farringdon's coolest wine bar
There are plenty of wine bars in Farringdon – so it was always going to be tough for a new one to break onto the scene. But The Winemakers Club has done so with aplomb.
Opening in 2014, it has taken a space that's been used as a wine cellar for over 150 years and turned it into one of Farringdon's most unique drinking spots.
What's the deal? First of all, there's the gorgeous setting in the vaults under the Holborn Viaduct – bare brickwork, moody candle lighting and plenty of space. In an area where you're used to sitting on top of each other, having the space to have a private tete a tete is no small thing.
Secondly, and most importantly, there's the wine. With a name like the Winemaker's Club, it's not difficult to guess that these guys take their wine seriously.
That's why you'll find bottles from high-quality independent producers – and a list that focuses on organic and biodynamic wines from around the world.
Prices are on the high side (£8 and upwards for a small glass) but the quality more than justifies them. Highly recommended.
The Bar at the City of London Distillery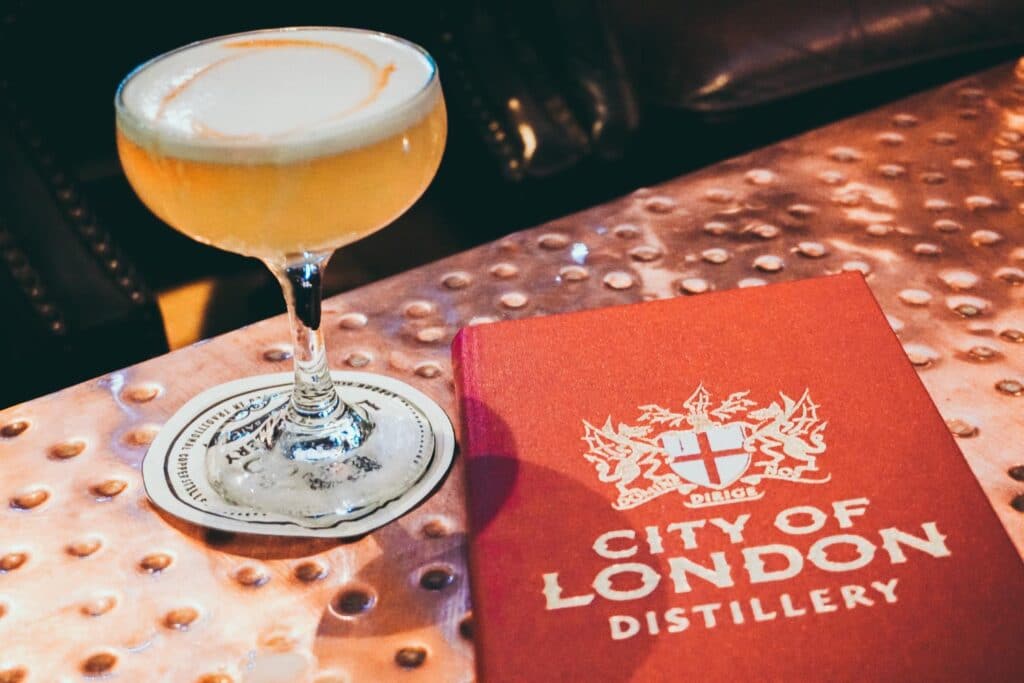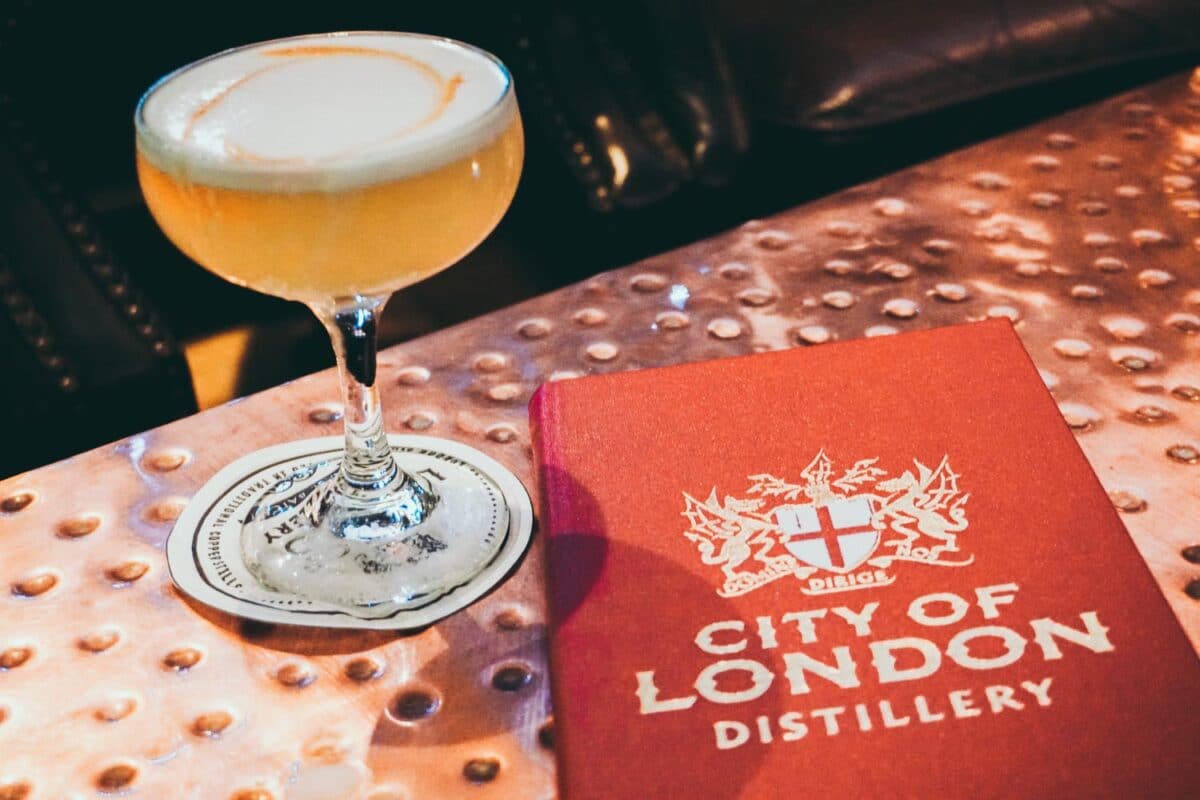 Best for cocktails straight from the source
There have been a whole slew of distilleries popping up across London in recent years, with the City of London Distillery leading the way.
This gin distillery might be tucked away on St Bride's Lane, but word of its rather tasty creations has spread like wildfire, meaning that on a Friday night, this is one of the hottest tables in town.
Descend into the basement bar, where if you're lucky enough to grab a table, you can while away a few hours (at least) working your way through their stellar gin-based cocktail menu – starting with the Cold Fashioned – a perfect mix of gin, whisky, bitters and cucumber.
What's more, the City of London Distillery holds frequent tours and workshops for you to delve deeper into the history and creation of mother's ruin.
You can even make your own gin, flavoured with your choice of botanicals. Dangerously good.
Read Next: The Best Gin Bars in London
The Basement Bar in Ask for Janice
Trendy drinks in an underground speakeasy bar
We Londoners just love, love a hidden cocktail bar. Let's face it, drinking just isn't the same if there isn't the thrill of finding the secret door to lead you to a hidden lair. Ask for Janice is more than willing to oblige.
Sure, it may be a little too trendy for comfort – it's no accident that Ask for Janice has gained a reputation as one of the cool bars in Farringdon – but unlike many others, Ask for Janice has the goods to back it up.
The Basement Bar ticks all the boxes. Great cocktail list. Check. Big list of gins as long as your arm? Check. Comfy seating and cosy spots for you to fall asleep in post drink chill out in. Check. Friendly staff who are more than willing to work with you to create your new favourite tipple. Check. What's not to love?
5cc at Harrild & Sons
Speakeasy style on the Farringdon Road
There are actually two 5CC bars in the area and both are worthy contenders to make the cut of best cocktail bars in Farringdon. Why did I choose the Harrild & Sons one? IMHO it just about pips its Exmouth Market counterpart to the post.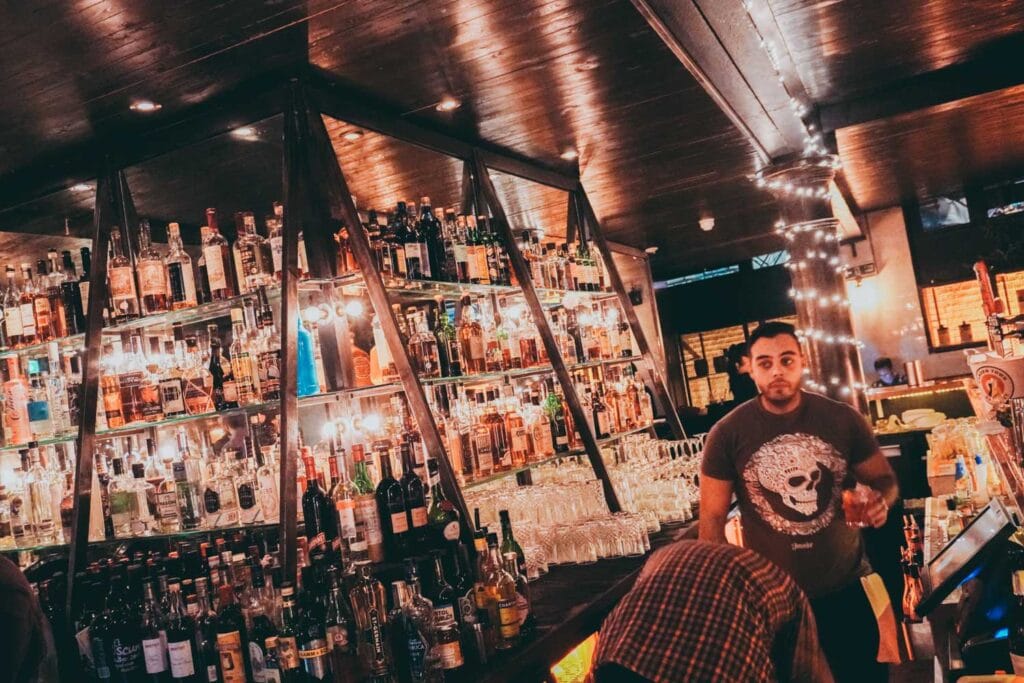 Located right on the Farringdon Road, the upstairs bar Harrild & Sons is guaranteed to be packed every day of the week. Here's the kicker though – if you head downstairs to the 5CC bar, you're much more likely to get a seat AND they serve awesome cocktails. Win win.
The cocktail menu isn't expansive – but what 5CC do, they do it well. I can personally pay testament to the fact that their Espresso Martini will perk you up no end (who knew that coffee and alcohol would do that… ) and their Manhattan is up to par.
That's the good stuff. The bad? When it's busy, service is slow – so very slow. You're much better off going to the bar than waiting for someone to come to you. That said, it's a cool little spot in central Farringdon and well deserving of a drink or two.
Vinoteca
Classic wine bar in Farringdon for a relaxed evening with friends
For anyone that's ever been to one of the cosy bars in the Vinoteca chain, this is where it all started. Vinoteca is one of London's flagship wine bars – the kind that you find everywhere on the continent but which are still surprisingly difficult to unearth in London.
Unpretentiously hearty and delicious plates are paired with stellar wines – it's a simple formula that has made Vinoteca one of London's best-known wine chains.
Book ahead to get a table – as one of the best bars near Farringdon station it fills up early and it can be difficult to nab a spot.
Read More: Ideas for a Romantic Date in London
Enoteca Rabezzana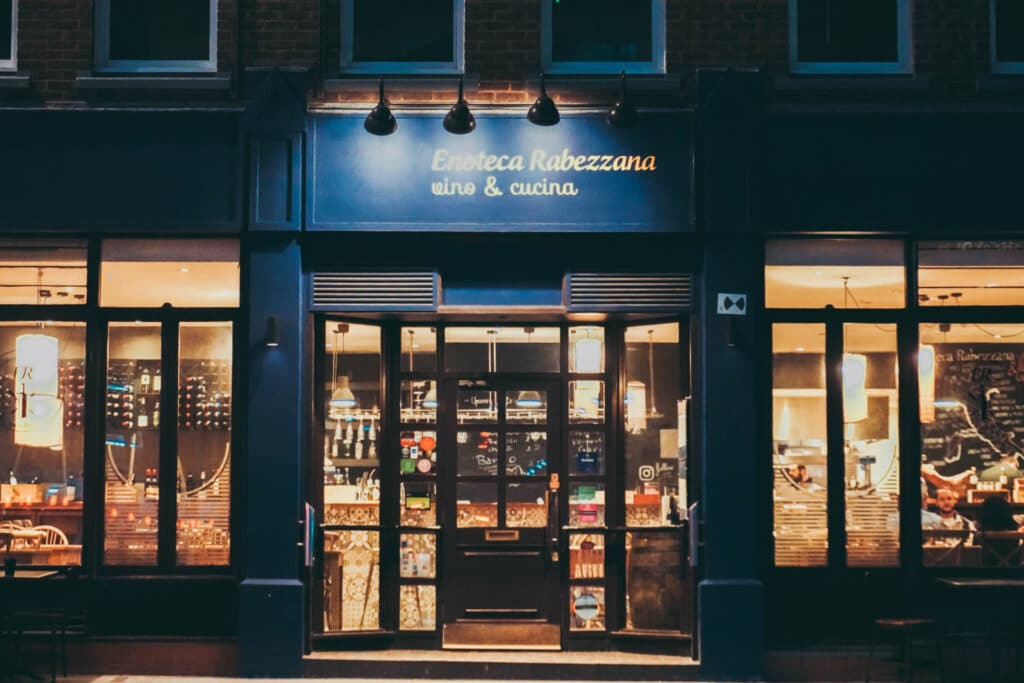 Italian chic with an extensive wine list
I know – another wine bar in Farringdon but I couldn't make a list of the best bars in the area and not include Enoteca Rabezzana.
Rabezzana's relaxed atmosphere and stellar wine list should put it on the top of everyone's list of Farringdon drinking spots. It should be packed, but somehow, it's managed to stay relatively under the radar. Others' loss is totally your gain – Enoteca Rabezzana is one of the nicest bars in Farringdon for a quiet drink accompanied by a few choice plates. It bills itself as bringing Italian wine and food culture to London and that's exactly what it does.
The Italian wine list spans over 100 wines from every conceivable region in Italy. Plump and spicy reds sit alongside dry proseccos and zingy whites. Ask for recommendations, who knows, you might just find your new favourite.
The Zetter Cocktail Lounge
Quirky Clerkenwell bar with sublime cocktails
If only the walls of the Zetter Townhouse's eccentric cocktail lounge could talk. The legendary cocktail bar in Farringdon is like stepping into a world that's part Alice in Wonderland, part batty great-aunt chic and fully fabulous.
Huge pillowy armchairs, brocade cushions, pleated lampshades – The Zetter Cocktail Lounge is one of the quirkiest bars in London and it's not afraid to show it.
Drinks are masterminded by mixology legend Tony Conigliaro. The ever-changing menu created under his beady eye is always filled with enough concoctions to tempt you into having one to many (not to mention leaving with your wallet that little bit lighter than you intended).
PS, they also do a mean afternoon tea which you may or may not pair with a cocktail. It's your choice.
Coin Laundry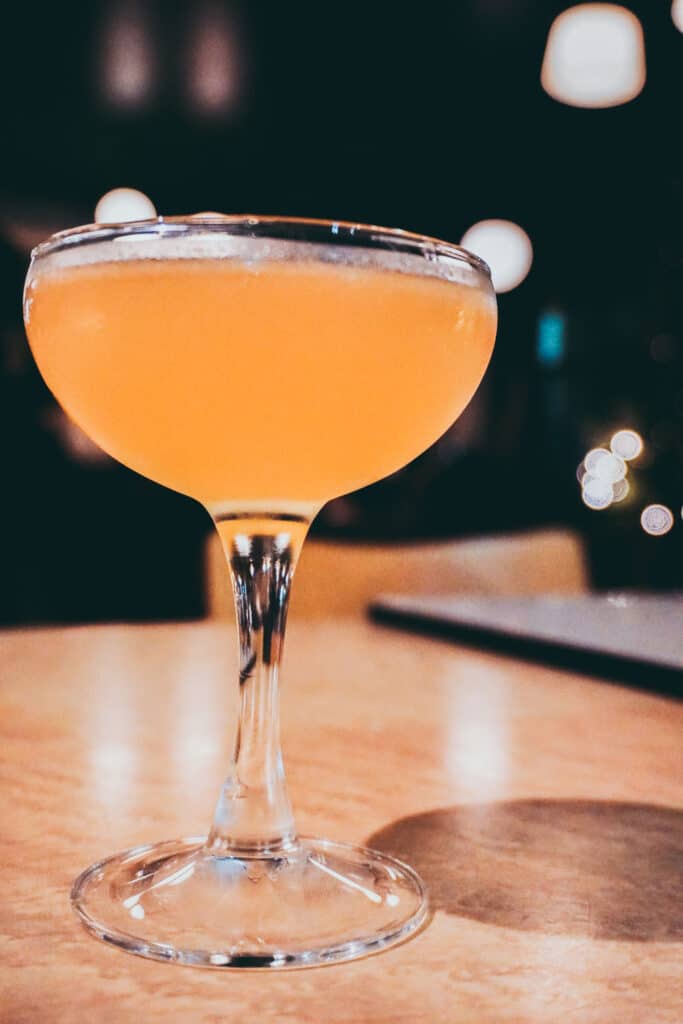 The cool cocktail bar in Clerkenwell that doubles as a neighbourhood hangout
Occupying a large corner spot at the end of Exmouth Market, Coin Laundry is a relaxed neighbourhood hangout that also happens to do some banging cocktails.
Add to that a reasonable wine list and choice of craft beers and you have the recipe for one of the best bars in Clerkenwell.
It's not pretentious, the vibe is definitely more on the chilled out side than others but that's exactly what makes it so great.
They're open from late morning to late night and there's something on the menu (both food and drink-wise) to tempt your palate at all hours in between.
They up the pace a little on Saturdays for the bottomless brunch when you can drink your choice of three bottomless cocktails to accompany their seasonal British mains.
Bourne & Hollingsworth Buildings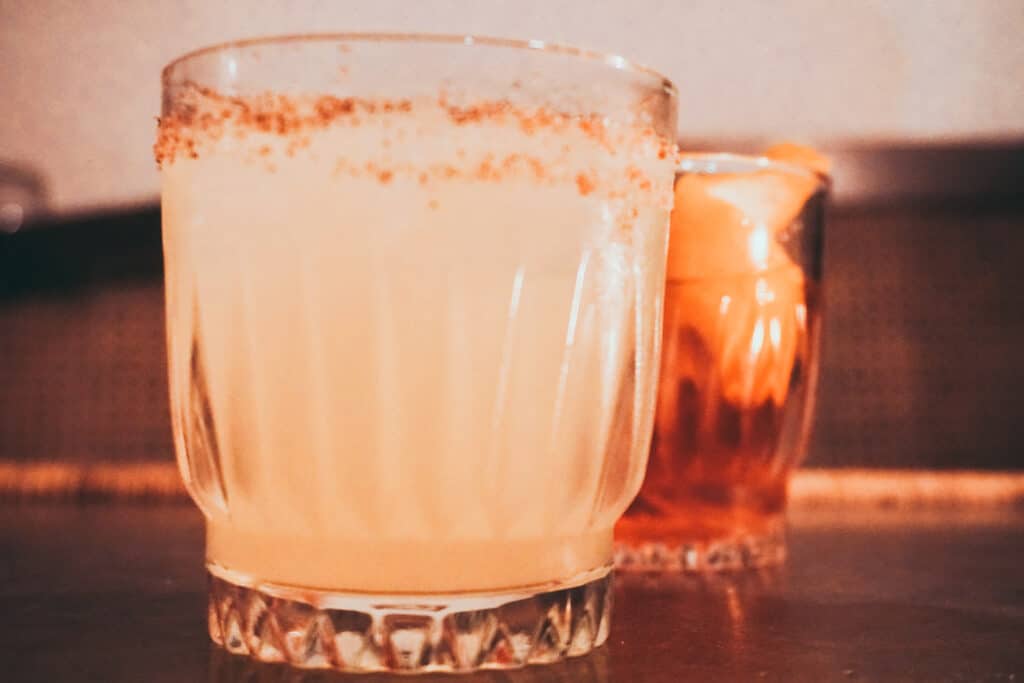 Jack of all trades, master of none. Isn't that how the saying goes? Well, maybe the Bourne & Hollingsworth Buildings is the exception that proves the rule.
They describe themselves as a multi-faceted clubhouse "restaurant, greenhouse, cocktail bar, cookery school and late-night underground drinking den" – which may sound a little ambitious. You know what? It works.
Still, we're here to talk about the drinks. They're good. The cocktail menu treads the line between the familiar and the sublime – there are a few mediocre sips in there (too much ice) but when they get it right, they get it right.
Case in point? The Luchador, a mix of tequila, mezcal, Solerno blood orange liqueur, lime and spice.
Bird of Smithfield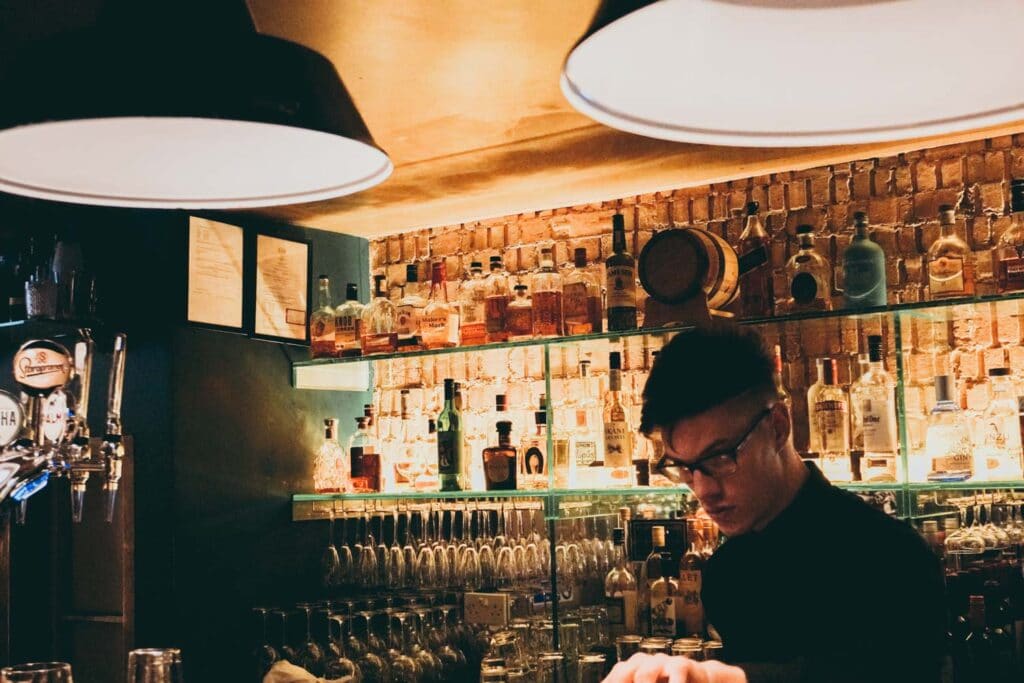 The not so secret Farringdon rooftop bar
Part bar, part restaurant, part elite social club, Bird of Smithfield is one of those Farringdon Bars that escapes definition.
In the summer months you can bag a spot on one of the only rooftop bars in Farringdon to soak up the sun with a glass of rose. I mean early though- anytime after 5 on a Friday evening and you have a better chance of winning the lottery than scoring one of those elusive seats for a spot of smug "bring on the weekend" drinking.
Obviously, that's less appealing in the winter, when punters decamp to the ground floor bar. The cocktails aren't going to blow you away but if you're looking for an upmarket spot to ease you into the night, it's a pretty good choice.

So, there we are. The best bars in Farringdon and Clerkenwell. Drink responsibly kids.
Best Bars in Farringdon and Clerkenwell Map
Looking for More City of London Guides?
Check these out…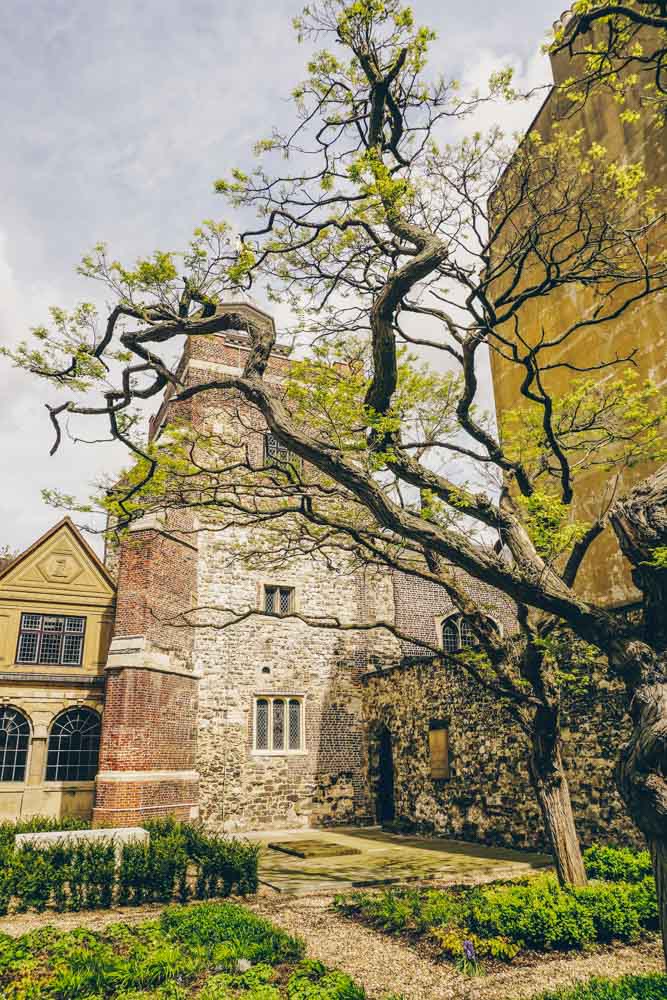 Farringdon Area Guide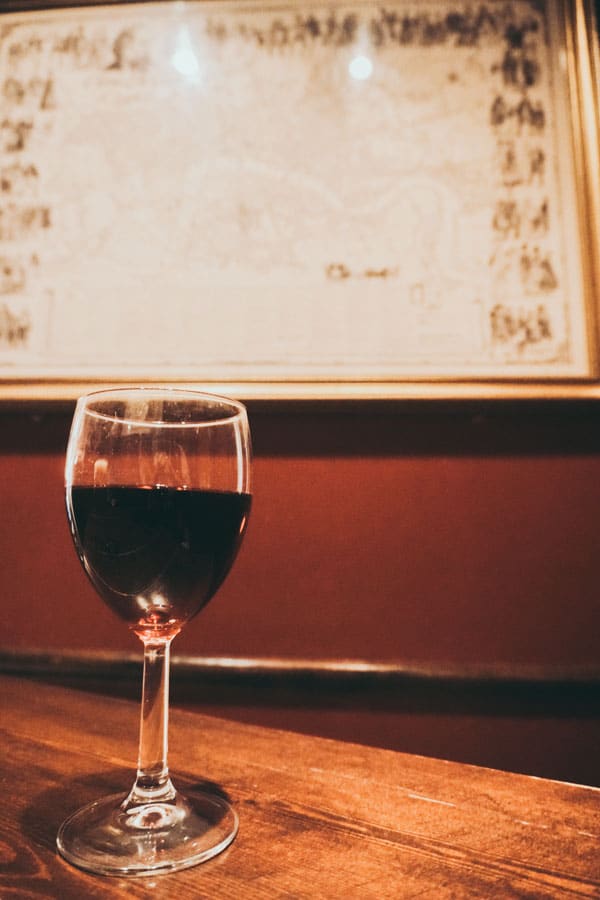 Best Pubs in Farringdon & Clerkenwell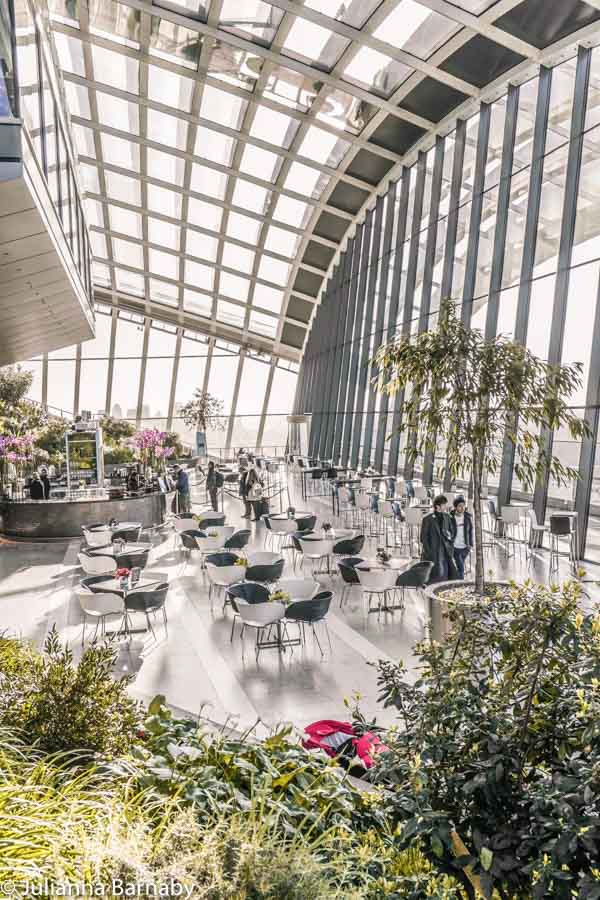 Visiting Sky Garden