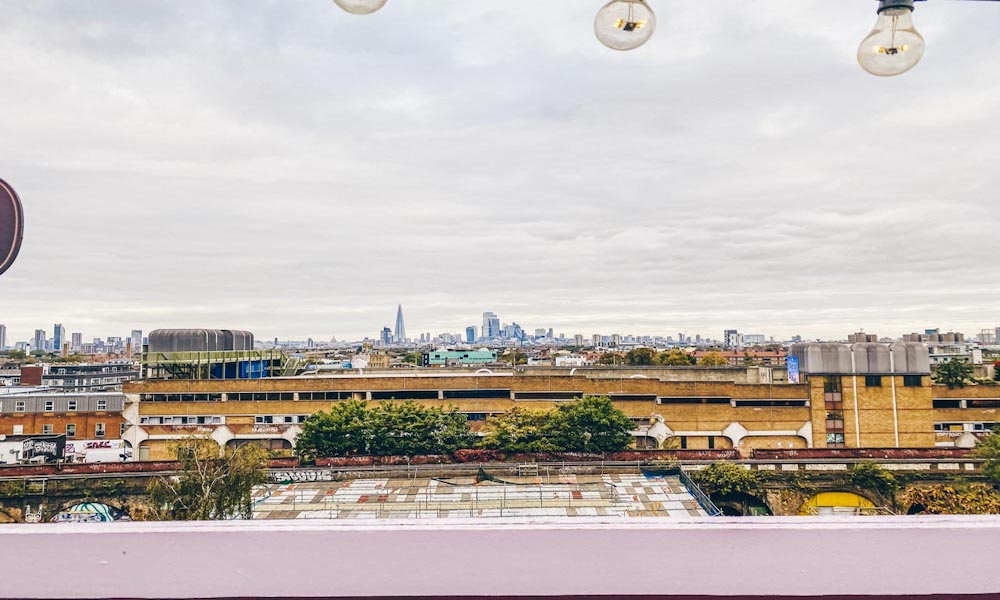 Looking for the best rooftop bars in London? Add these spots to your little black book.
The sun is out and we can hear you all rushing to your phone to search for the best rooftop bars. One of the best ways to see London is from a rooftop. And what's the best kind of rooftop? A rooftop bar of course.
Get out to a rooftop cocktail bar or terrace while the sun is shining and enjoy drinks, food, tunes, and good company. We've rounded up all the best rooftop bars in London, so you can find one near you and make the best of the summer in the city.
And if the weather turns, don't worry, bars in the city know the score, so many are heated or covered, and a couple even have fancy retractable roofs to keep you dry while you take in the skyline.
Prices for food and drink obviously vary, but I've assessed how expensive each of these bars are on a rough scale as follows:
£ – cocktails or mixed drinks under £10
££ – cocktails or mixed drinks £10-15
£££ – cocktails or mixed drinks over £15
Best Rooftop Bars in London
Best Rooftaps Bars in Central London
The Nest Rooftop Bar
Fitzrovia
£££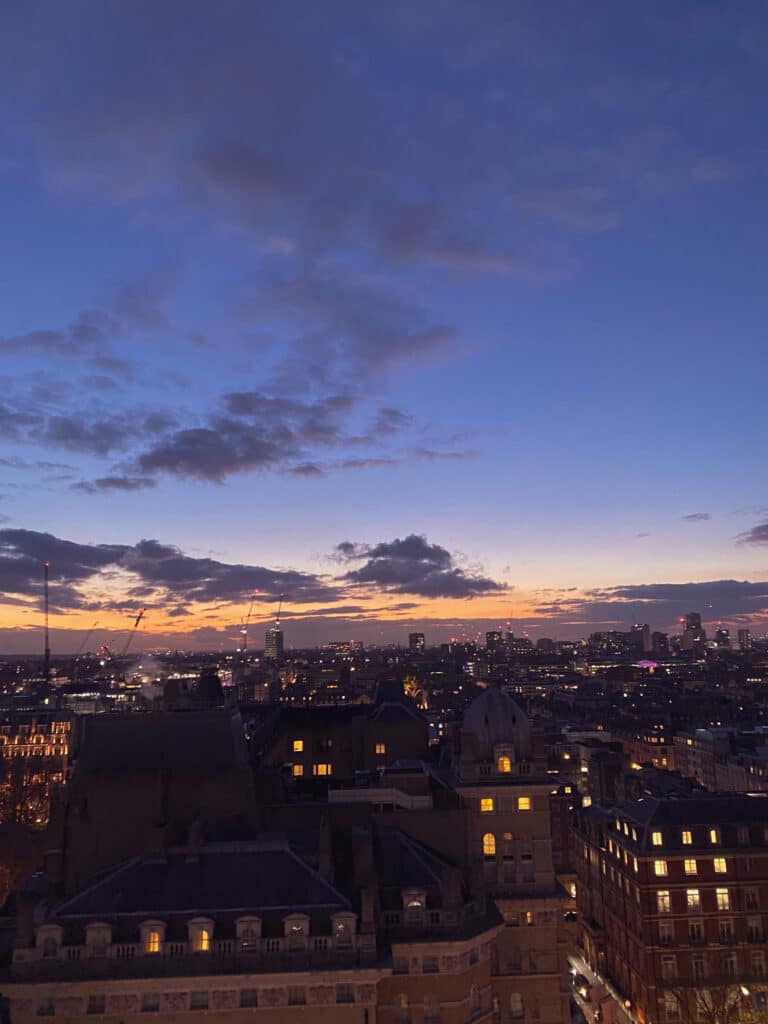 Grabbing a drink at The Nest, a rooftop bar at the treehouse hotel in Fitzrovia, is like hanging out in an enchanted forest. If Mr Tumnus was more into mid-century modern decor, that is.
Inside is warm and inviting, but the real jewel here is that rare thing, a London outdoors bar with amazing panoramic views of the city. It's partially covered and heated, so the great British weather won't get in the way of you enjoying the vista or the upmarket nibbles and cocktails offered at the bar.
Food includes charcuterie boards, miso baked aubergine, and a wagyu beef burger, while Nest signature cocktails are adventurous and on trend while remaining pretty sweet and mass market.
The Pink Apple, for example, is Tanqueray gin, granny smith apple, and pink pepper. Why not sip on one while you take a look through the terrace's resident telescope?
Glasshouse
Holborn
££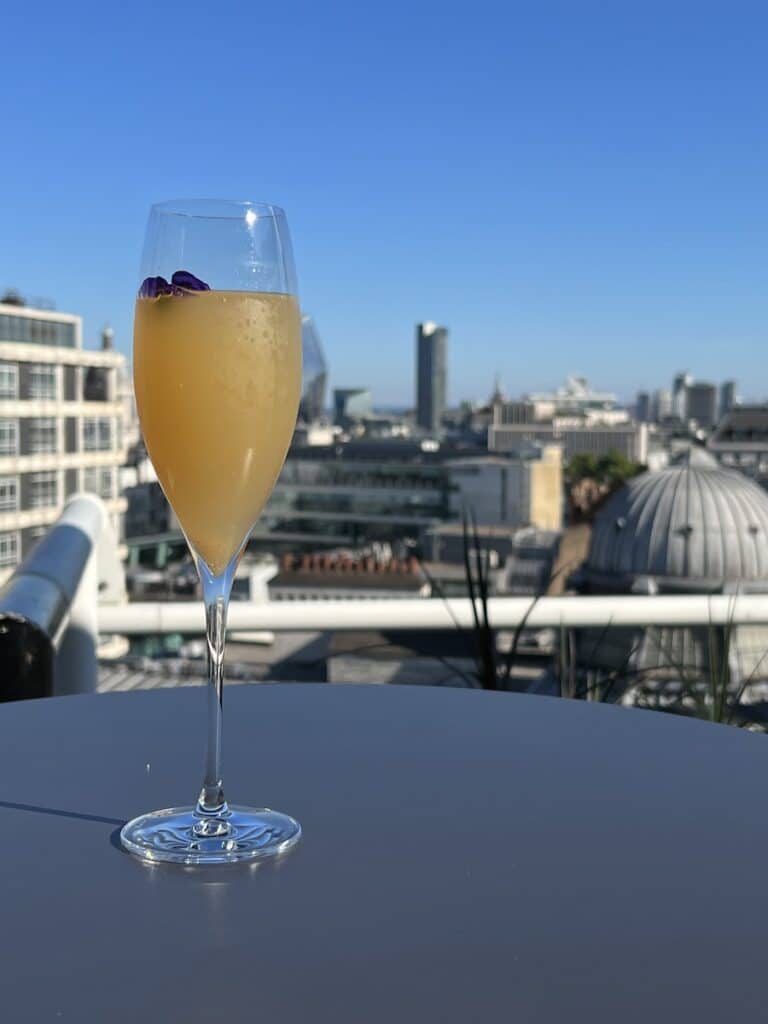 Sweeping views of central London, quirky pop art, delicious cocktails. Sign us up. On top of the NYX Hotel, you'll find Glasshouse – a groovy rooftop bar that ticks boxes for sky-high drinking in every season thanks to its retractable roof.
The drinks are playful twists on classic cocktails, but if that's not your cup of tea you'll also be able to get your hands on a bit of nice champagne by the glass or bottle depending on how much of a night you're about to get into.
Their playlist of retro disco and funk usually signals the start of a party. Better go for the bottle.
OXO Bar
South Bank
££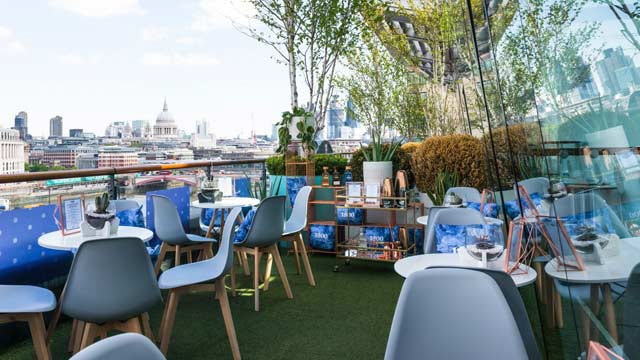 The OXO tower on the South Bank is a landmark that's not to be missed. Its terrace bar isn't as large as some full rooftop bars in London, but it offers views across the river to St Paul's, and fantastic cocktails mixed by experienced bar staff.
In fact, the OXO bar has been open for two decades, so they certainly know what they're doing.
Cocktails range from classics like Negronis and Manhattans to vintage delights like a Brandy Alexander and the 50s Americana inspired Vanilla Chocolate Malt.
If you're looking for a quintessential London experience, with a cocktail in hand, definitely grab a drink at the OXO Bar, where you really feel like you are in the beating heart of the city.
Fancy something to eat? There's a reason we've also named it as one of our favourite London restaurants with a view.
Radio Rooftop
ME London, The Strand
£££
If you're looking for interesting, well-crafted cocktails with a view in central London then you'll probably like Radio Rooftop. We've reviewed this bar before, and really enjoyed the drinks and service.
The views are also, for want of a better descriptor, epic. You can see half of London from the top of Covent Garden's ME building, which is probably why Radio Rooftop is often listed as one of the best rooftop bars in London.
If you're visiting, or have visitors to impress, then this is one to hit. At the moment, you can even hire a private igloo at Radio Rooftop, so you can enjoy the views and excellent drinks no matter what the weather is doing.
Aviary
Moorgate
££
One of the best rooftop bars in the City of London, Aviary is usually abuzz with unwinding office workers enjoying small plates and cocktails as the sun goes down over glinting glass tower blocks.
Cocktails lean towards the traditional, with Old Fashioned's, English Martinis and Amaretto Sours all popular. At the moment, you can grab a private igloo at the Aviary and stay cosy as you look out over London from the two terrace bars on the ninth and tenth floors.
Sabine Rooftop Bar
St Paul's
£££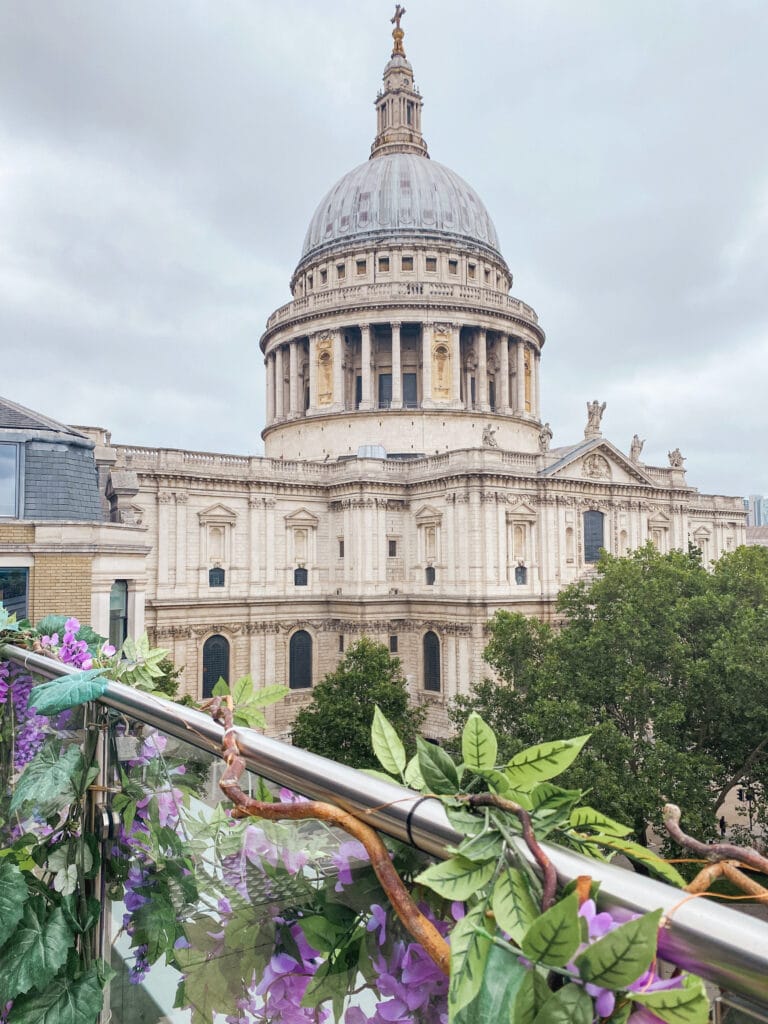 Sabine Rooftop has managed to keep its ethos of being a secret garden in an Oasis of the city. Surprise your friends or keep this one up your sleeve for that special date spot, it truly is a hidden gem.
Not only are the views over St Paul's completely breathtaking, the outside terrace and glass domed roof makes it a rooftop bar above all others.
This rooftop isn't afraid to push the boundaries with their cocktails. If you're a gin lover, you're in for a special treat with a menu dedicated solely to G&T's.
John Lewis Roofgarden
Oxford Street
£££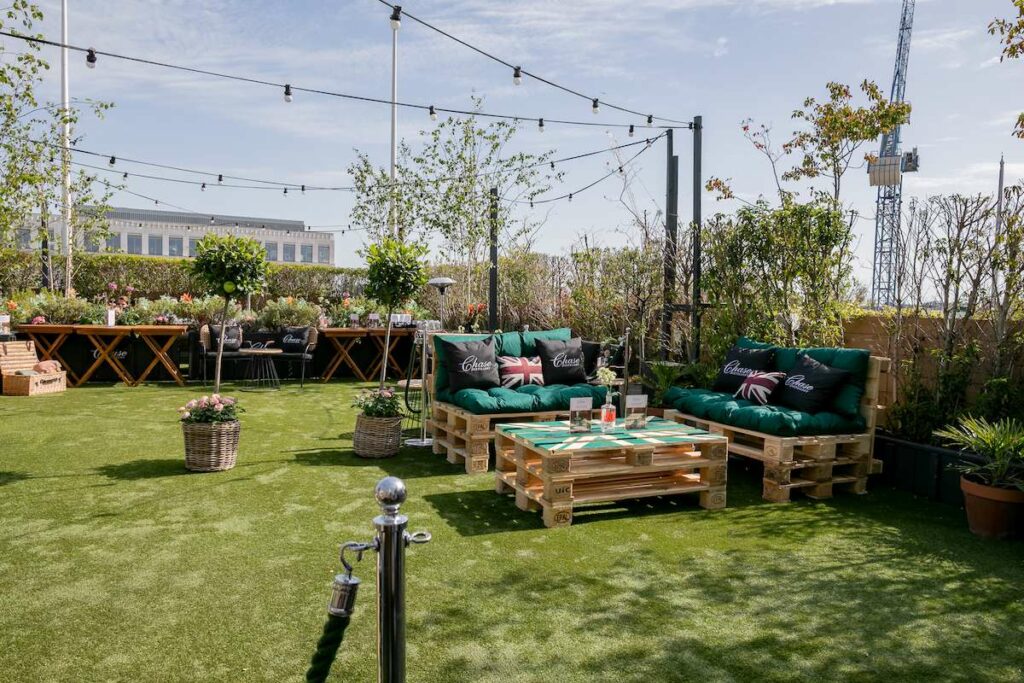 A sanctuary above the mayhem of Oxford street, sometimes the only way is up at one of Oxford's streets best rooftop bars.
We watched this stunning spot turn into a Christmas wonderland with mulled wine and christmas trees, and now we're watching it turn into the stunning 'Willow's on the roof' in partnership with Chase Distillery.
Life music, daily events, incredible food and cocktails. The John Lewis Roofgarden is somewhat new, only opening in 2019 and it's ready to host you with open arms.
East London
Netil 360
Hackney
£
Netil 360 has everything. A panoramic bar, cafe, coworking, eating, sometimes a cinema, and a hot and cold sauna experience. Yes, seriously. While I'm not sure that the sauna should be combined with booze, everything else about Netil 360 is perfect for a summer night out in East London.
Netil are lucky enough to have one of the best rooftops in London. It's huge. And with no bookings taken, you have to just turn up and hope you'll get a chance to see the amazing views of London and sip on a pint of Aperol Spritz! You might have to queue (virtually at the moment) but it's definitely worth it.
NT's Loft
London Fields
£
If you want a real East London night out, with the joys of a rooftop bar thrown in for good measure, NT's Loft in Hackney is a great choice.
The industrial bones of this old warehouse building are softened by modern touches and splashes of greenery, but views onto railway tracks and views from the heated terrace bar out over East London mean you never forget where you are when you're partying at NT's.
During the day, you can enjoy a laid back atmosphere, and vegetable forward vegan dishes like kale caesar salads and miso mushroom bowls from Palm Green's, and by night it's all craft cocktails and local DJs.
Queen of Hoxton
Hoxton
£
The Queen of Hoxton is well known as one of East London's best rooftop bars, and one of East London's best party spots. Obviously, there's stiff competition in Hackney so The Queen of Hoxton has something special going on!
The views are great, but you'll probably be distracted by the bright decor, ever changing DJs and events, reasonably priced cocktails and wine slushies, and succinct but satisfying burger menu. A little rough and ready, and very pink, the Queen of Hoxton is all about having a good time as often as possible for as long as possible.
Skylight
Tobacco Dock, Wapping
££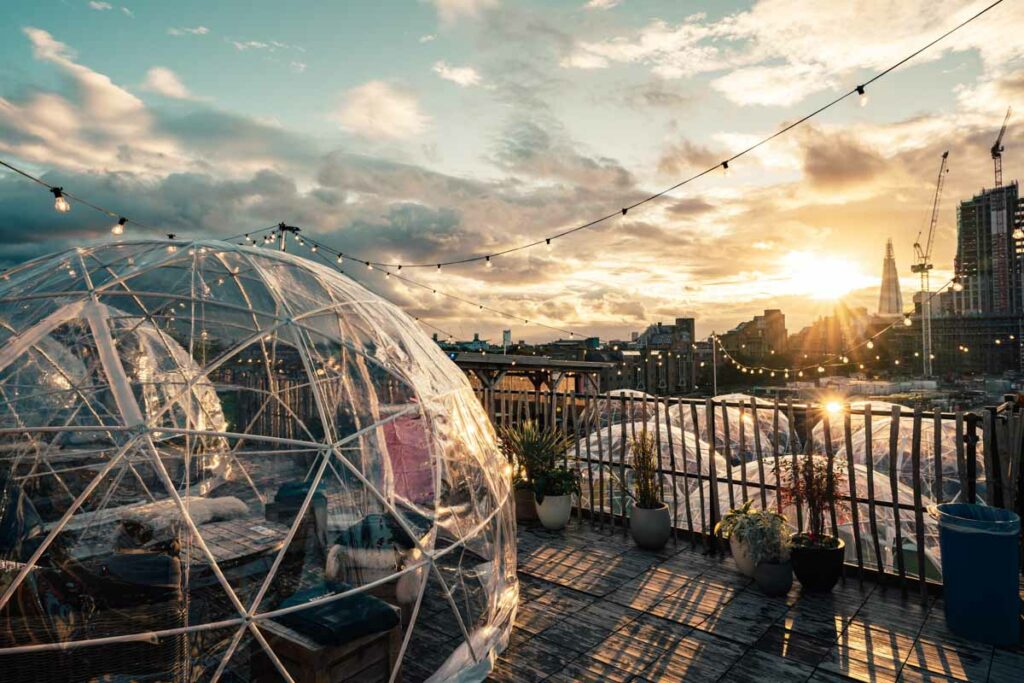 Another huge East London rooftop bar, Skylight offers covered booths, a sunshine garden, and a wide expanse of outdoor tables. It's a reasonably priced cocktail bar for the area, with drinks running 11 or 12 quid, and even offers cocktail masterclasses for groups, and lawn games like croquet, petanque and table tennis.
Skylight is well located, just down the river from the City of London, so it's equally popular with the after work crowd and visitors to the city, and a great place to while away a few hours sipping on drinks and taking in the views.
Best Rooftop Bars in South London
Bussey Building Rooftop
Peckham
££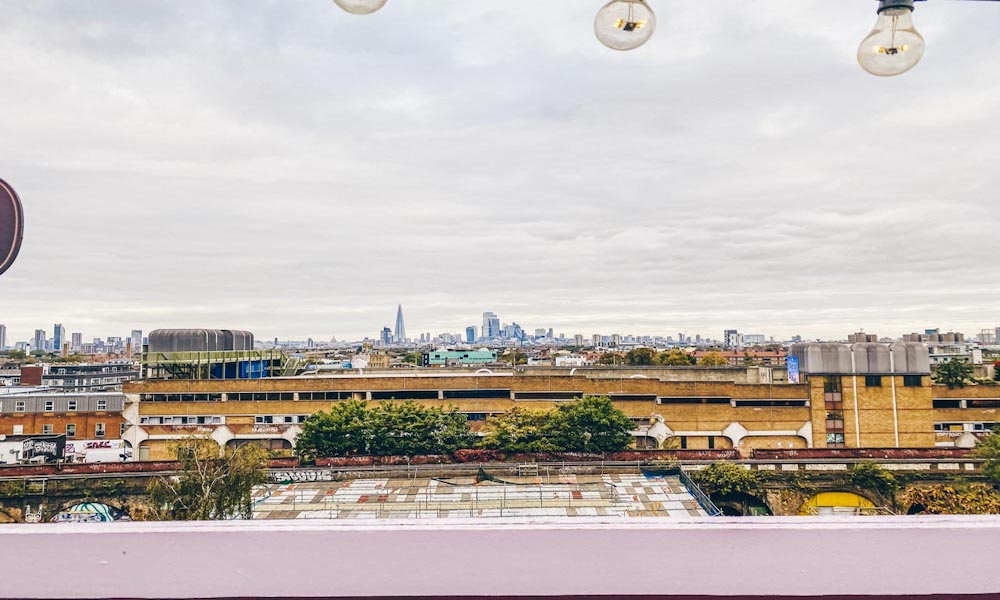 The weather in Peckham doesn't always comply, but come rain or shine tropical vibes are plentiful at this rooftop bar in south east London.
The covered, heated terrace bar area serves relatively cheap cocktails, beers, wine and pizzas from midday to 11pm weekends, and 5pm to 11pm Monday to Friday. And it's all on one of the best rooftops in south London, offering incredible views that extend right into the centre of the city.
The Bussey building is an iconic landmark, with craft and art markets on weekends, a whole host of restaurants and bars on site, and some of the best club nights in the capital.
Frank's
Peckham
£
Frank's has long been a favourite haunt of both cocktail lovers and architecture lovers. Grab a margarita or a bicicleta at the surprisingly cheap rooftop cocktail bar, and settle down to gaze at the view and maybe at the excellent food menu too.
The cafe at Frank's offers brunch at weekends, and lunch and dinner every day. Hot smoked salmon, potato tortilla and scotch bonnet hot sauce with a michelada or a melon cooler, anyone? An excellent brunch option, and just as good value as the cocktail menu.
Lost
Brixton
££
Aptly named, because you haven't really been to Brixton until you've got yourself lost in the massive, labyrinthine covered market, Lost is another brilliant London rooftop bar turned jungle.
Festooned with greenery, the venue has a retractable roof and becomes an outdoor terrace cocktail bar when the sun shines (or when Covid regulations require). Drinks are Latin American inspired – Cancun margaritas, plenty of rum punch – and you can get food delivered from any of Lost's partners and friends in Brixton market. Perfect for an eclectic evening discerning what SW has to offer.
Skylight Peckham
Peckham
££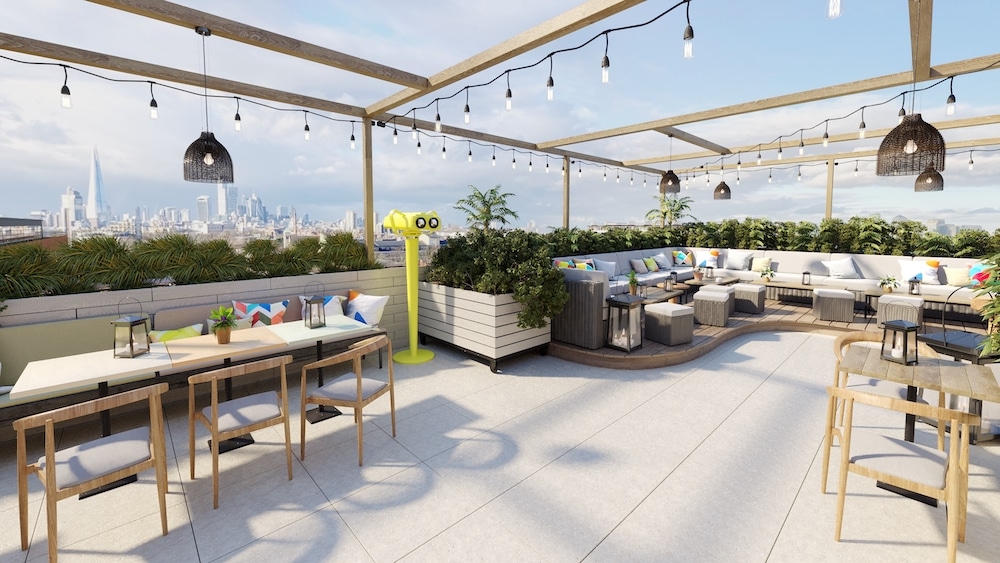 Skylight Peckham has made a name for itself with its Sunday BBQ's, bottomless brunches and live music on Thursday.
Make sure you check their website to see what events they've got coming up, we've got our eyes on the bottomless drag brunch and comedy nights.
Skylight Peckham is also a great spot for hot desking if you're tired of working from home for just £10 a day, we couldn't think of a better backdrop for your calls.
The Corin
Tooting
£££
The Corin has put tooting back on the map in recent months. An elegant rooftop bar, decked out with quirky interiors (there's even a giraffe standing in front of a leafy wall if you fancy spicing up your Instagram page).
This is the place to go for an after work drink or to unwind with soft Jazz on Thursday's and Sunday's.
Classical cocktails are available but if you're feeling adventurous and a little healthier, you could try their infamous 'Kale Me Now'. A real kale infused gin & lime.
Best Rooftop Bars in North London
The Abbey Tavern
Kentish Town
£
Right on Kentish Town Road, The Abbey Tavern is a classic London boozer with the unexpected twist of fantastic roof terrace. An already tempting prospect, this pub is made more of a must-visit North London destination by its daily two for a tenner happy hour, extremely solid pub food – from lamb chops to halloumi burgers – and regular DJ sets and events at the weekends.
The Castle
Angel, Islington
££
Locals know to head to The Castle if there's even a hint of sunshine, because this London pub rooftop is an absolute suntrap. Luckily, there's also a covered area as the weather in North London doesn't always play ball. Rain or shine, you can grab excellent cocktails and food. The Beefeater martini is particularly great if you like your cocktails strong and, on a Sunday, they do an excellent Vegan roast.
Best Rooftop Bars in West London
Lyric Rooftop Bar and Grill
Hammersmith
££
A surprisingly well kept secret, the rooftop bar and grill above the Lyric theatre in Hammersmith offers a great spot for after work drinks on the terrace bar, London skyline views, and a pre-theatre menu.
Obviously, this is the only rooftop bar to frequent if you're going to see a show at the Lyric, but it's a great spot to pop into as well. The terrace is planted with greenery, so you can escape the glass tower blocks that surround you and get some fresh air in the heart of West London.
601 Queen's Road
Wimbledon
££
If you find yourself in Wimbledon at a loose end, or anywhere nearby in fact, then definitely check out 601 Queen's Road.
At night, the wraparound roof terrace at this bar twinkles with fairy lights, offering a comfortable chillout spot, great cocktails, and fancy pub food with high end ingredients like steamed mussels, dry aged Dexter beef, and brick over sourdough.
Inside, a circular bar means everyone gets views out the panoramic plate glass windows, though watching a mixologist knock you up a Berry Negroni or a Capiroska might prove equally diverting.
Pergola Paddington
Paddington
££
A great spot for birthdays and to go in big groups, not quite the place if you're looking for a quiet date spot.
Pergola Paddington has a fun weekend buzz to it and is proud to stand as one of the defacto cool rooftop bars in West London.
You could even combine a visit to Pergola Paddington with a walk down Portobello Road or explore Notting Hill beforehand.
London Rooftop Bars Map
Looking for More London Bar Guides? Check these out: