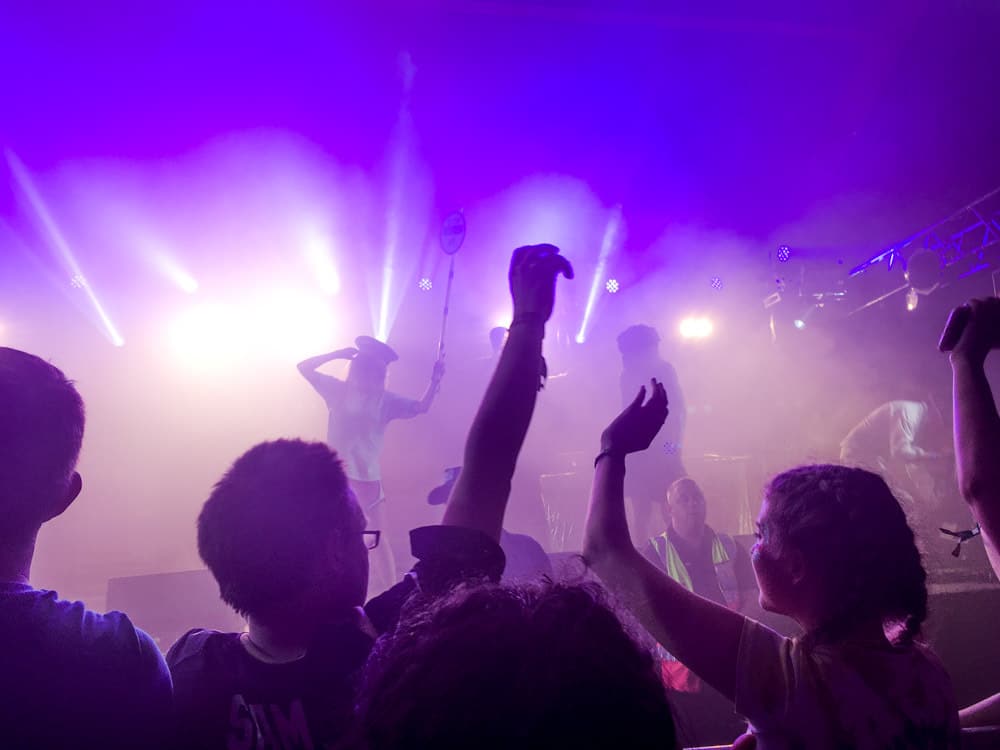 Our guide to London's best venues for live music.
There's no shortage of late-night bars, live music venues and rocking clubs in the capital to keep the party spirit alive. However, knowing where to find the best live music bars London has to offer is another thing.
Whether you're searching for the best jazz clubs and bars in London, on the hunt for iconic music venues, or even seeking smaller intimate hideaways, we've got you covered.
Read on to uncover the very best music venues in London for soaking up beats.
Iconic Music Venues in London
O2 Academy Brixton
There's something quite special, maybe even magical about the Brixton Academy. The fact that it manages to attract major talent, despite its relatively teeny 5,000 capacity, is testament to this.
The greatness lies in its acoustic design – with sloping floors facing the oncoming stage, allowing fans to rock out from the beer-stained cervix of the arena.
All the greats have walked through its sticky floors; Amy Winehouse, Pearl Jam, Iggy Pop, Queens of the Stoneage, Sex Pistols… you get the picture. Even so, the programme is surprisingly adventurous and diverse.
Note: Unfortunately the Brixton O2 is, at the time of writing in 2023, closed. We're sure it will reopen soon. Check the website on the link below for more info.
Get tickets on the O2 App, or on the website.
Stereo
Covent Garden
Combining a bit of a holy trinity of dining, drinks and music is Stereo, the new kid on the block of London's live music scene. And they're not one to be overlooked either.
The very chic space they operate underneath Covent Garden Market kinda says it all.
Stereo is the kind of place you want to go for a classy night. They do a nice little menu of American-inspired bar food and great cocktails to boot. The music is usually led by the house band though they get in guest musicians and bands on the reg.
Looking to really turn up the heat? Come the weekend it's also not unusual to see a DJ turning Stereo into some uber-cool subterranean club.
The O2, London
Same-ish name, different place! The O2 is the biggest music venue London, with room for up to 20,000 revellers, hells yeah!
No surprises then that it pulls in the big guns, with Elton John and Billie Eilish next in line to grace its swanky halls.
This is live music done like no other, with VIP service on ice, corporate boxes galore, glitz, glamour and a whole world of restaurants and after-hours fun to slide into. If you're planning to see the biggest names in music, then the biggest venue is where it's at.
Get priority tickets on the 02 app, or on the website.
Jazz Café
Camden has long attracted music aficionados and an up-for-it crowd, making it the perfect destination for the Jazz Café.
Since '92 this spacious joint has been serving up a feast of audio delights, ranging from afrobeat through to neo-soul and hip-hop to jazz.
Some come for the internationally renowned talent, some come to be inspired – whatever the reason, it's one of the best live music bars London has to offer.
The venue is open from 6pm daily, with double shows at the weekend.
Buy tickets through Ticketweb.
Koko
Camden
Koko has been at the beating heart of North London's music scene since 1900, with everyone from Charlie Chaplin through to The Rolling Stones and Madonna playing here.
Its theatre-like surroundings remind you of its rich history, which hopefully the current facelift will only further enhance.
They also lay on some pretty killer club nights and electronic music nights that run into the early hours of the morning.
Further information on its website.
Alexandra Palace
Muswell Hill
Perhaps London's most iconic venue for live music is The Alexandra Palace. It's not a dedicated music venue per se, but they do shows that pack in enormous crowds and never fail to impress.
Stars as big as Led Zeppelin, The Who and B.B. King, as well as a gilded list of rock 'n' roll hall of famers have graced the stage in the venue's long history, and more recently folk like Jay Z, Fred Again and Fourtet have filled the room.
They aren't stopping when it comes to getting the big names in, and if someone you like is performing, it'd be hard to find a cooler spot to see them.
Tickets and show listings can be found here.
The Best Small Music Venues in London
Piano Bar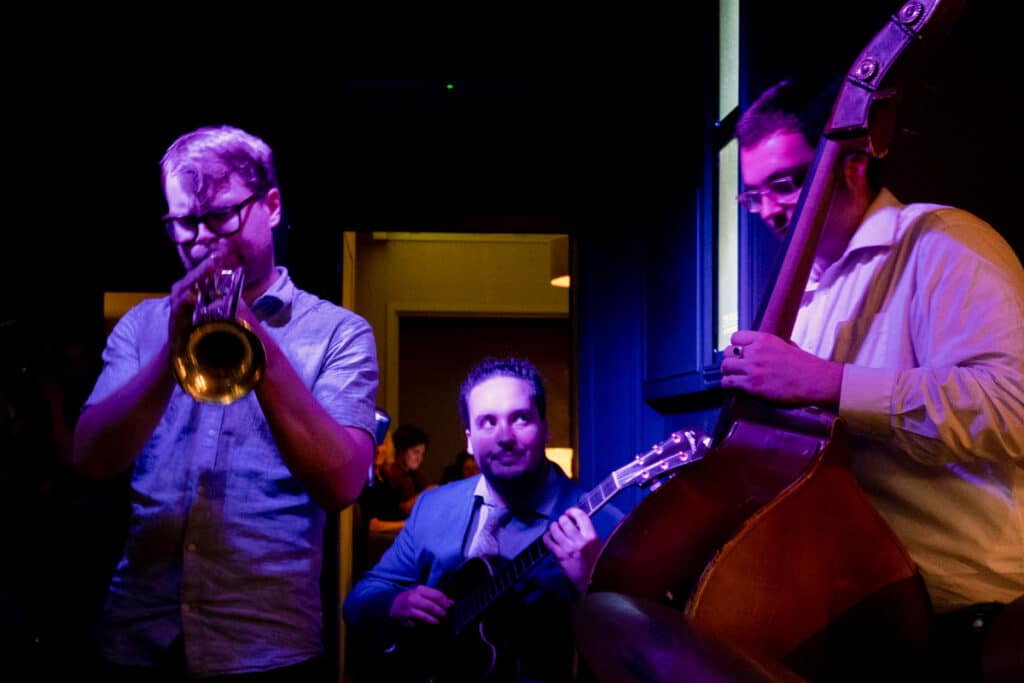 Ease yourself into a musical journey at Soho's famous Piano Bar. Dishing up live music every night of the week in one of the cosiest small music venues London, this bustling venue transports you to another place and time.
There are always epic performances from world-class vocalists and musicians in the jazz scene. Shimmy up to the bar, order a Smoked Old Fashioned and let the Piano Bar work its magic.
Tickets available online (members get 50% off).
Fox & Firkin
Lewisham
There's a casual community vibe at the Fox & Firkin, welcoming guests with open arms. From DJs to live bands, and indie-rock to reggae, a whole feast of music can be enjoyed right here.
Unearthing some of the finest underground and yet-to-be-discovered talent, it continues to champion new artists from all corners of the musical spectrum.
Plus, with outdoor seating, craft beer and street food to tuck into, you might have just found one of southeast London's hidden gems.
Don't miss out, book online in advance.
The Windmill
Looking for a hip haunt where all the cool kids go? Thought so. The Windmill can be found in an unassuming corner of Brixton, yet has built up a fearsome reputation as one of best small music venues London.
Shimmery stage décor brings all the working men club vibes: there's no pretension to this place – just great music. That is, if you don't mind it's slightly alternative and leftfield stance.
With capacity for up to 150 guests, you'll need to get in quick, especially on Sundays where the crowds gather with hungry mouths for its legendary outdoor barbecues.
Burger and a boogie – don't mind if we do.
Get tickets in advance online.
Moth Club
Hackney
There's no shortage of achingly hip music hangouts in Hackney. But Moth Club has a buzz about it that brings the gigs, cabaret and even yes, bingo nights – that make it an unmissable small music venue London.
Once a servicemen's members club, there are still memories of its working-class roots lingering.
Today it's reinvented for the shabby-chic-appreciating clientele, with original hanging paintings, red leather seating and wooden walls for all the throwback feels.
With a live music stage drawing you in, it's a great little find bursting with joy.
Join the waiting list, or buy tickets online now.
The 100 Club
Soho
Putting the 00 in cool! If you could bottle the spirit of The 100 club, you'd surely have the best-selling formula because this L E G E N D A R Y venue is so much more than a dirty basement club.
It's a capsule of musical memories, earning its place in history as one of the greatest small music venues London has ever spawned.
Everyone, and we mean everyone, worthy of a musical accolade has played here – BB King, Siouxsie & The Banshees, Oasis, Paul McCartney, Mark Ronson – the list is endless. Squeezing in 350 people to its sweat-filled room daily, you'll want to make sure you're one of them.
Roll up, get your tickets here.
The Water Rats
King's Cross
One of our fav small music venues in London has to be The Water Rats. This local pub is a small but mighty one. The front functions like your regular old boozer, and then out back they've got a stage and space enough for a small crowd and an intimate performance.
If you're wondering what makes this place special, consider that Oasis played their first-ever London gig here and that Katy Perry has played, and shot music videos, in this very room. As an aside, Karl Marx also used to live upstairs.
These days the Rats gets an eclectic range of bands in, mostly rockers, and still turns up the heat for the gigs.
Best London Concert Venues
The Royal Albert Hall
A beacon in the London skyline, this iconic venue opened in 1871 by Queen Victoria and has been keeping the entertainment scene alive ever since.
Along with stalwarts in music all playing here, the London concert venue showcases incredible music collaborations: movies played with a full orchestra band, the BBC Proms, and legendary opera singers bellowing out of its dome-filled room.
Nowhere does pomp and majesty quite like The Royal Albert Hall – it really must be visited at least once.
Tickets available online.
The Roundhouse
Chalk Farm
Calling all cool cats, The Roundhouse is one of the prime London concert venues and melting pots of diverse talent.
Whether it's Pink Floyd or Wiley, this 1,700-capacity strong venue throws up an extraordinary level of talent, with an injection of new and emerging artists – so committed it is to the next generation of musicians.
Its spherical design only adds to the intimacy of live performance, making it much-loved by both artists and fans.
Buy tickets online.
The OVO Wembley Arena
Wembley
The second largest music venue London, The OVO is a stone's-throw away from the equally iconic football stadium.
With great infrastructure built around its venue, it's also one of the most accessible arenas in the capital, designed for the very purpose of entertaining.
There's no shortage of talent in its line-up either, from pop to rock, house music to breakbeat – all can be found in this musical mecca.
Buy tickets online.
Best Live Music Bars and Pubs London
Ronnie Scott's
Soho
Few venues come with the reputation of Ronnie Scott's.
It's been called a 'Soho Jazz Institution' (the Guardian) and one of the coolest jazz clubs in the city. In fact, it might just be the best live music bar London can offer.
Since the days of Miles Davis and Sarah Vaughn, music lovers have flocked here from afar, to witness the very best in jazz music and punchy cocktails to boot.
Load up on world-jazz downstairs, or head to the first floor for its bustling bar.
It remains one of the top venues offering a heady mix of blues sessions, tap dancing, Cuban Jazz and even flamenco, that you're likely to see in the capital.
Book tickets online now.
The Piano Works
West End, Farringdon
Remember the scene from Top Gun, where Tom Cruise belts out 'Great Balls of Fire' in a piano bar? Well, it's time to relive your best 80s life in the Piano Works and do like Cruise.
The musical maestros behind the keys take any requests you throw at them, with guests unashamedly singing along, perhaps after one too many – no judgement here of course.
It attracts a lively crowd, confirming its status as one of the most unique and fun live music bars London has to offer.
Book tickets online now, you won't regret it!
Make a reservation online.
Nightjar
Not far from the buzzing nightlife of East London, you'll find Nightjar. With all the speakeasy feels, this low-lit subterranean bar has earnt a solid reputation out east. The vast (and very theatrical) cocktail menu is the perfect foil to the first-class live music menu on offer – there's nowhere that does ragtime jazz with such aplomb.
Book online now.
Jazz After Dark
Soho
Putting the oh in Soho, Jazz After Dark is one of those late-night bars you read about in magazines and see in old movies.
It's far from plush – dim-lit lighting and a makeshift stage attracts talent as raw as its setting. This is no polished establishment, but it's most certainly keeping it real.
However, what it lacks in aesthetics, it compensates for this with its easygoing drop-in vibe, and tapas menu.
Music Venues London: Practical Tips
It goes without saying, but book those tickets in advance.
Plan your route home. When it comes to the bigger, more iconic, venues it can be an absolutely mad rush for everyone to get to the nearest underground line as soon as possible. If you're smart about it, try figure a route to one that's further away but not too far. It could save you a lot of hassle.
Be careful of people selling fake tickets to these venue's events. Whether online or in person outside the venue, there are a lot of scammers out there. To be on the safe side, book tickets directly through the venue when possible.