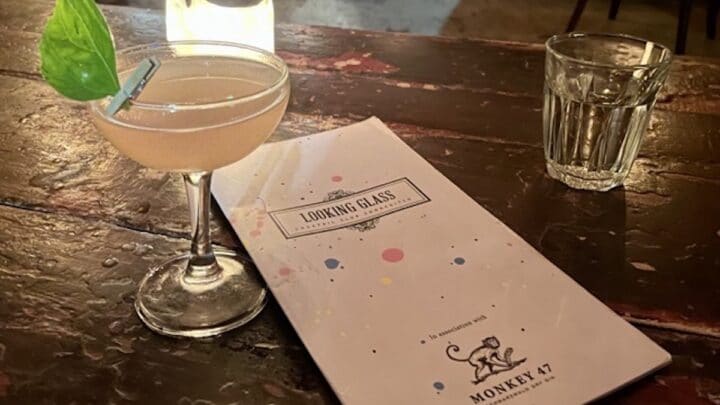 Ready to step through the looking glass and enter into wonderland? Here's why you need to visit the Looking Glass Cocktail Club in Shoreditch.
Shoreditch isn't exactly lacking in cool bars – in fact, it's our first stop for drinks when in East London. So when we found out about the Looking Glass Cocktail Club, an Alice in Wonderland-themed joint – we had to admit that we were intrigued.
Head to Hackney Road and keep your eyes peeled for the yellow neon lights that adorn the outside of the bar, step inside and that's where the fun really begins.
Looking Glass Cocktail Class
The Drinks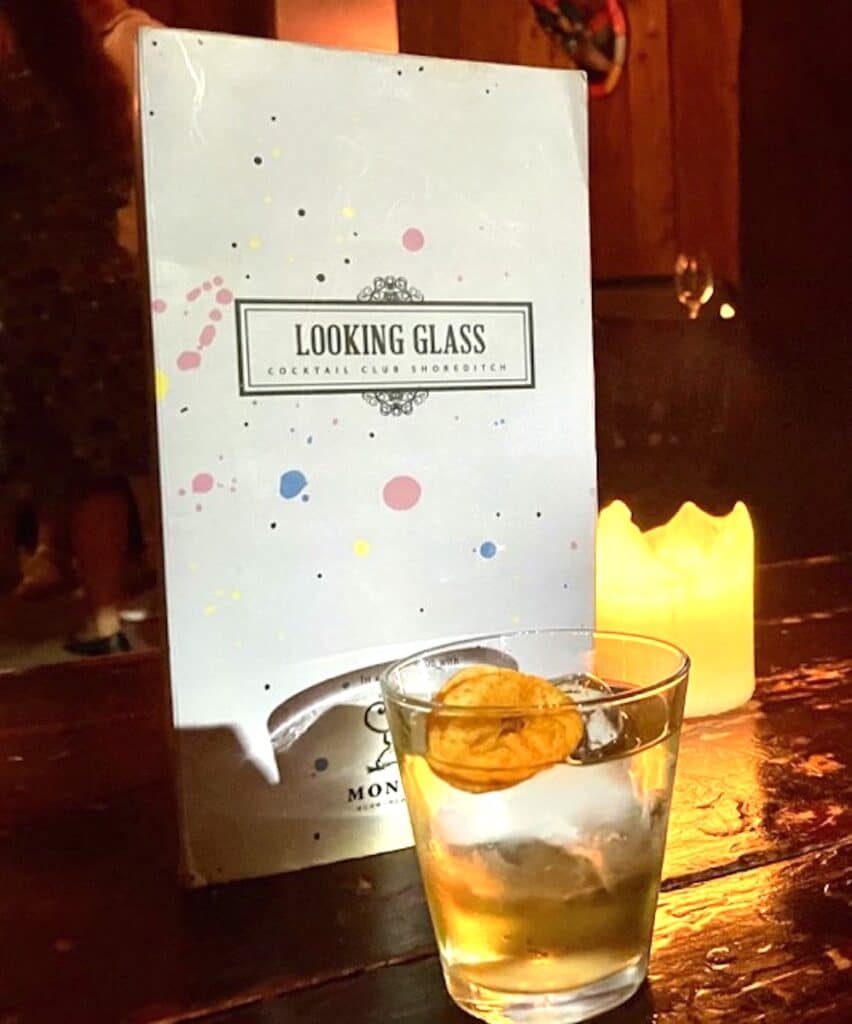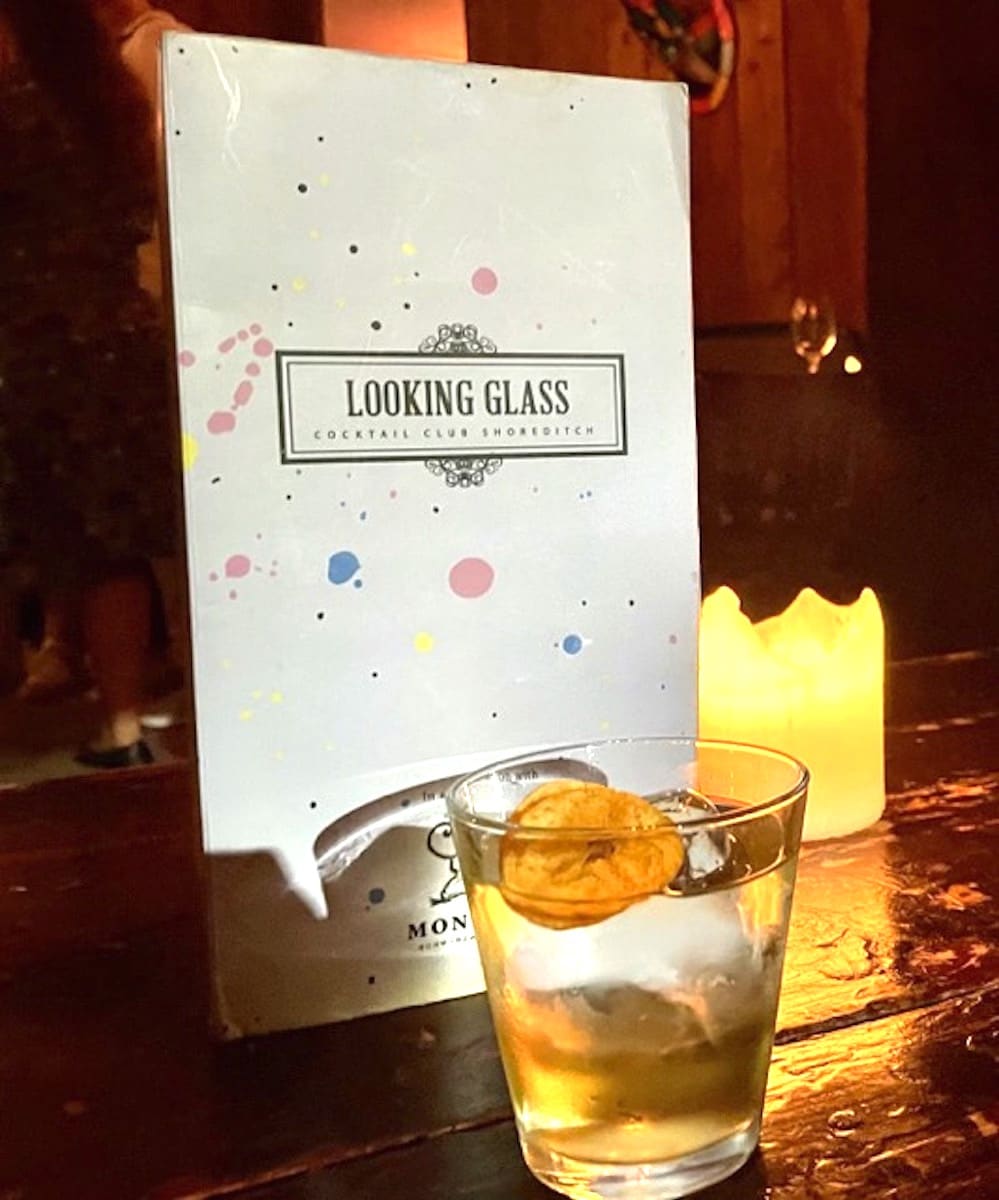 This is the reason you're here, right? Read on to discover whether the drinks live up to the big literary theme.
The bar was on the smaller side, but nonetheless completely stocked up to the ceiling with liquors, spirits, wines… you name it, they had it. The bartender handed us the menu adding that, as well as the carefully-curated cocktail menu filled with drinks unique to Looking Glass, they would be more than happy to whip up a classic if we fancied it.
Intrigued by the bespoke options on the menu, we instead opted for the Black Forest Bandit (Monkey 47, Black Forest berries, elderflower, and lemon), and it was unusually sharp.
Don't get me wrong, it was delicious – but far from the sweet Bramble-tasting cocktail I imagined I was going to be sipping. More of a complex cocktail that the finest red wine drinkers would surely appreciate.
This was quickly followed by the El Jefe, a punchy kick of tequila and citrus that you can't help but smile as you quaff, while my friend sipped the fruity Loki's Coupette (vodka, guava, mastiha). No complaints from either of us.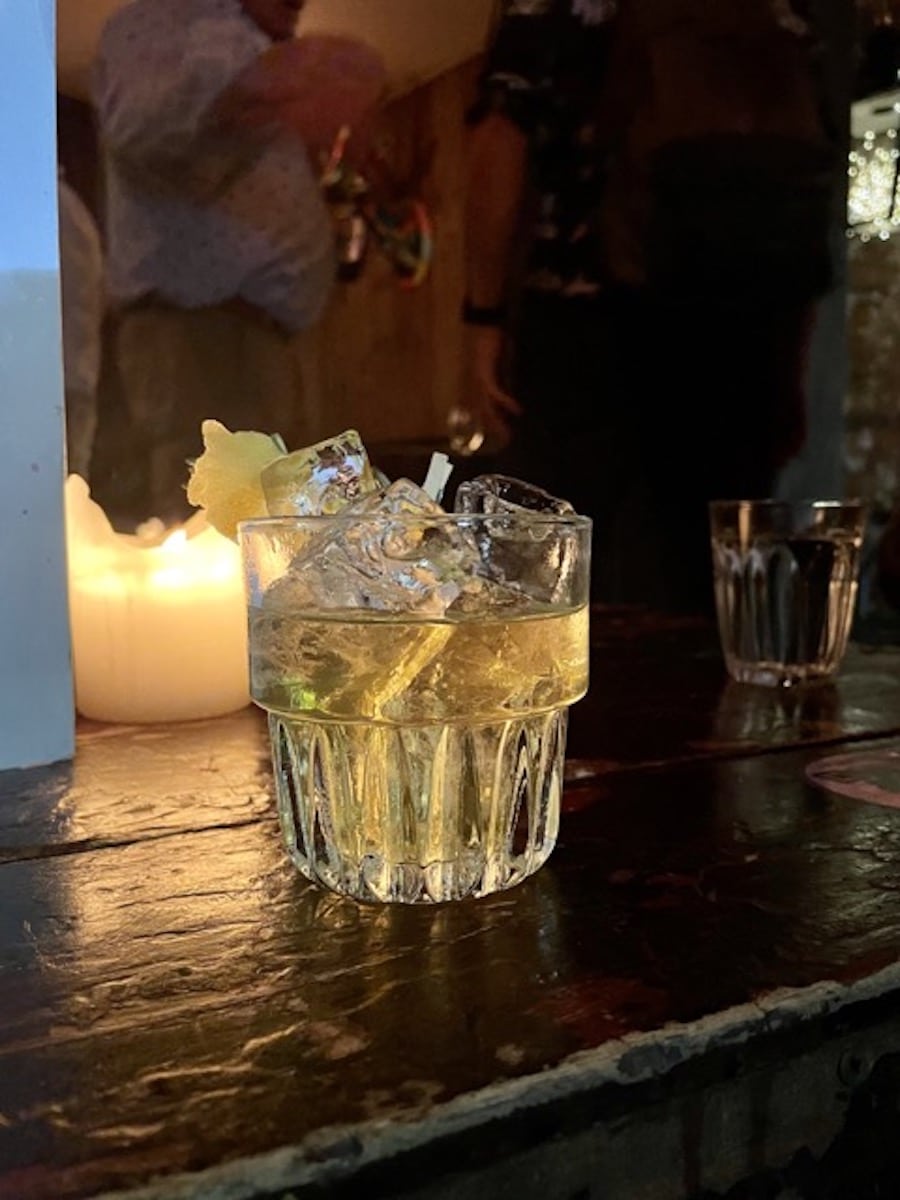 We then, in a brave move that I can only blame on the alcohol, asked the bartender for his wildest offerings. And boy, did he deliver.
He sat down with us and explained that the Mrs. Alexander was his favourite – an unusual concoction of Martell VS, dark chocolate, clarified milk, and banana, of all things. We're also pretty sure he ran us through the entire distilling process while we stared on with a slightly glazed look – though don't ask me to repeat it back to you.
We were sceptical of his recommended drink, but it turned out to be our favourite of the evening – it tasted like a banana milkshake for grown ups, and we very much approved.
The Look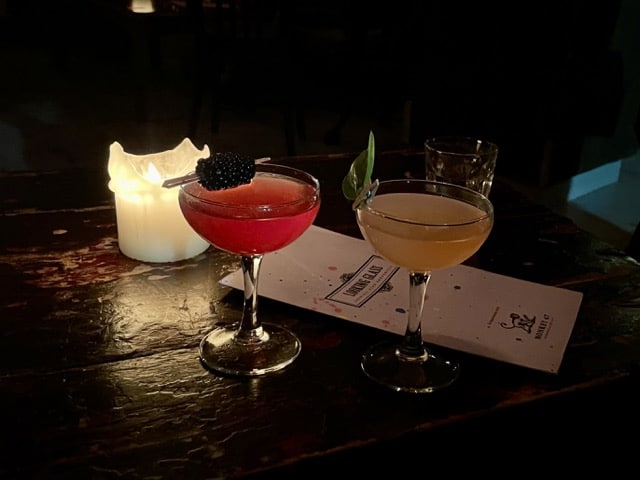 At first, the Looking Glass Cocktail Club appears to be your run of the mill, though undeniably cool Shoreditch joint. You know exactly what I mean – the lighting is warm and dim, artsy graffiti adorns the wall, and the leather chairs are just balancing on the right side of shabby-chic.
Nothing wrong with that, though with a name like Looking Glass, we expected to be smacked in the face with fantasy and wonder.
Though we soon ate our words, as the bartender invited us to step into the white mirror (the looking glass, if you will) and enter into the cosy backroom – the perfect space for events, equipped with a DJ and a dancefloor.
Rather than being over-immersive, the Looking Glass Cocktail Club is lightly-themed, paying subtle nods to the literary novel. Which is perfect if you enjoy less garish spots and would rather focus on the matter in hand (drinking).
There's not a gimmick in sight, just expertly-crafted cocktails.
We visited on a weekday, and it was a wonderful spot for quiet(ish) drinks, but we imagine that things ramp up a little bit on the weekend – and we're already planning to return.
Final Thoughts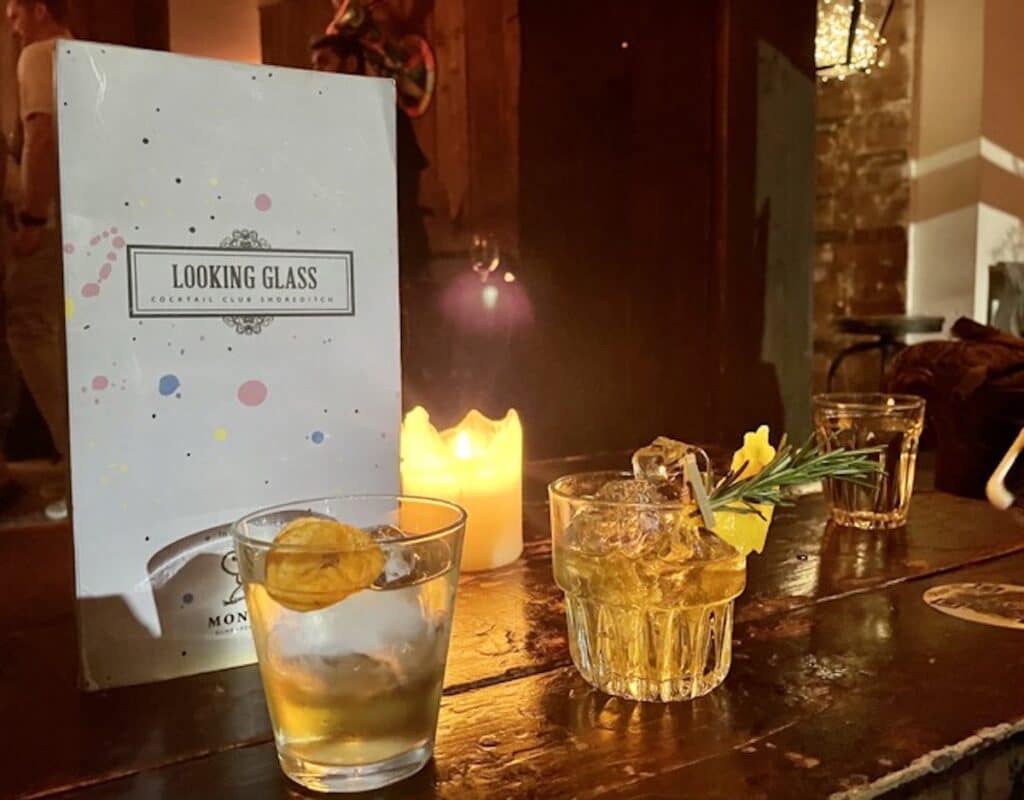 The Looking Glass Cocktail Club is a wonderful example of why we love Shoreditch so much.
The drinks are decently priced (when compared to what you would pay in other areas like Soho) and the staff go above and beyond to find you your perfect tipple. Even if that does mean explaining the ins and outs of milk-distilling.
Whether you're after a cosy spot for chilled mid-week drinks or a great starting point for a wild Saturday night, we highly recommend it.
Looking Glass Cocktail Club – Practical Information and Map
Price: £££
Address: 49 Hackney Rd, London, E2 7NX
Discover More Shoreditch Guides
Looking Glass Cocktail Club
Summary
Understated and cool, add the Looking Glass Cocktail Club to your little black book of places to drink in Shoreditch right now.
Looking Glass Cocktail Club