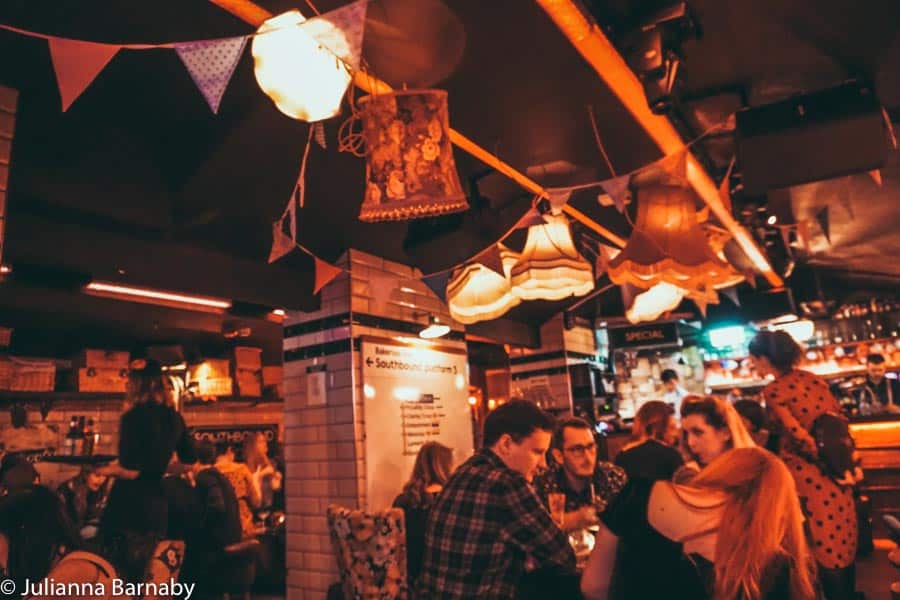 Cahoots is a 1940s style speakeasy in the setting of an old air-raid shelter styled up to resemble a former underground station. As much attention as it's received, it does not live up to the hype. Here's why.
Cahoots, Cahoots, you've got to go to Cahoots. It came up time after time in the research for my Soho bars guide.
You can see the appeal: a Blitz-themed bar, complete with bunting and a spiffing location in a disused air raid shelter, with more than a few retro-styled drinks to wash it down with. I'll admit that I was intrigued.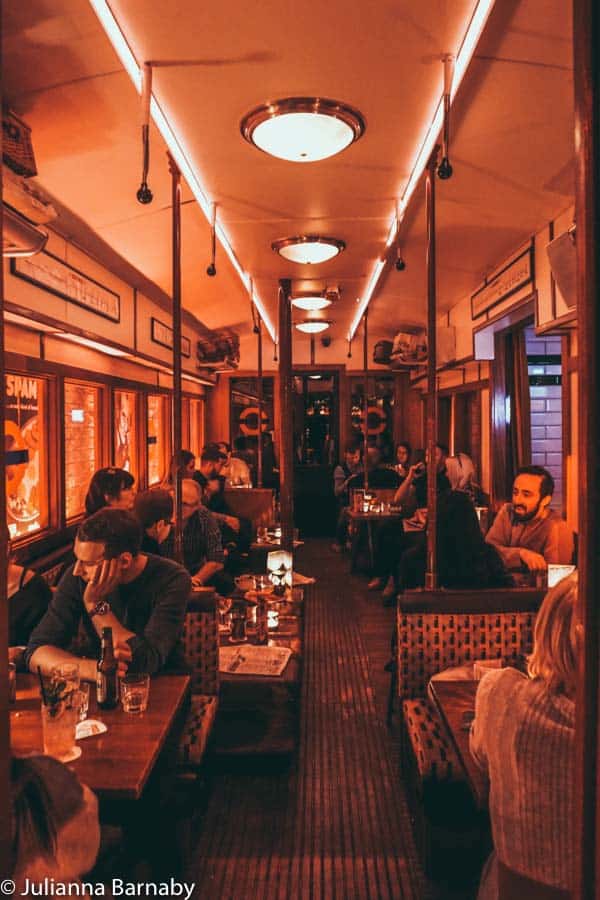 Reviews told me that it would be pointless to turn up without a booking – so I duly hopped online to make my reservation. I wanted to go the next day, a Saturday, so the only time they had available was 5.30pm or earlier. Fine. After all, this is one of London's hottest tables right?
Wrong.
Don't buy into the hype: Cahoots bar is the perfect example of style over substance. Somewhere that should be great – and probably was – until the crowds started coming, the tables started filling and it settled to become more of a gimmick than a genuinely enjoyable cocktail bar.
Looking for an alternative? Head to Disrepute a few doors away…
Cocktails
Call me old-fashioned, but I think that the measure of a good cocktail bar should be… its cocktails. Take away the bunting and the costumes and what do you have? In the case of Cahoots, the answer is not very much.
The cocktail menu looks promising at first glance – and has clearly been put together by someone who knows their way around a liquor cabinet.
So it was with high hopes that we ordered the Ginger Rogers (Bombay Sapphire, Campari, Essentiae orange liqueur, lime & sparkling wine) and the Don the Cahooch Comber.
The latter made with their in-house grog – a combination of Mount Gay Black Barrel rum, Bulleit bourbon whiskey, Cointreau Noir liqueur and Martini Rosso vermouth, plus Cahooch, Lagoon Juice, lime, Angostura bitters and Wood's Old Navy rum.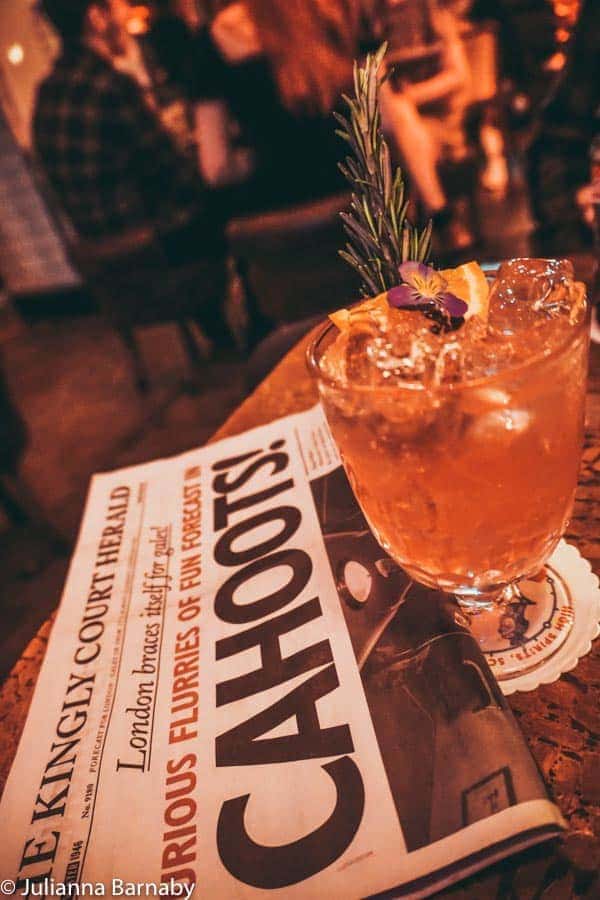 Those hopes were soon dashed – it's difficult to describe a cocktail as unremarkable – you would think that with so many constituent ingredients there would be some kind of payoff – but unremarkable is the kindest word that can be applied to the cocktails at Cahoots London.
My Ginger Rogers came laden with a bucket of ice – it was filled to the point that I couldn't actually drink it without removing around ¼ of the ice in the glass. Each time I'd attempt it, the ice would slide forward and settle on my face far before the drink would reach my tongue.
It was actually OK once I'd worked my way to the actual cocktail – nice in the way that fruit cordial is nice – certainly not deserving of any excitement or praise.
Jon's drink told a similar story: pleasant enough to keep you sipping, bland enough that you do so without really thinking about it.
The remainder of the evening's drinks were equally unremarkable, so I won't remark on them.
Read More: London at Night – Exploring the City After Dark
Service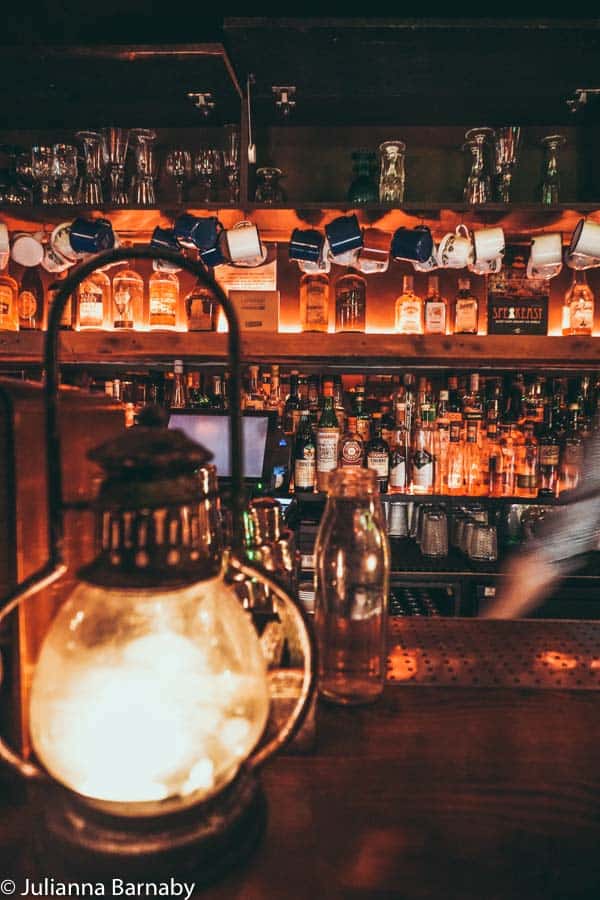 I'll put it bluntly, the charade of getting into Cahoots sucks. We'd been turned away after arriving 30 minutes early on the pretence that there wouldn't be any space downstairs (the doorman never actually checked) only to be kept waiting for 20 minutes in a queue when the time for our booking did arrive.
The real kicker? There were, of course, plenty of empty tables when we were finally shown down to the inner sanctum. There were quite a few free tables for the whole time we were down there – yet predictably we heard the doorman telling another wannabe punter that they were completely full as we left.
I'm not sure if this is a deliberate ploy to make the bar seem far more popular than it is (or deserves to be) or whether its genuine miscommunication between the staff downstairs and the doorman upstairs. Either way, it's a mess.
Read More: Cool Things to do in Soho
Atmosphere
Cahoots does what it sets out to do well – make you feel like you've stepped back in time to a rose-tinted glasses version of Blitz-time Britain. You know, a wartime underground bar in London without the bombs and destruction.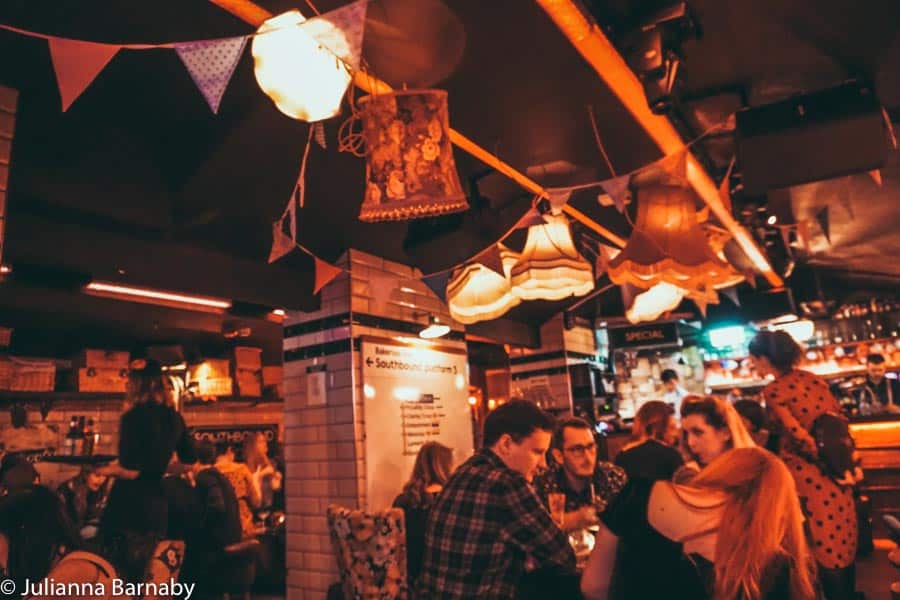 It would be churlish not to commend the level of attention to detail that has gone into creating the experience – from the newspaper-style cocktail menus to the retro swag adorning the walls, they've spent a lot of time focused on the small details that bring it to life.
There's a definite buzz – even without the live music that kicks in late at night. And if that's all you're looking for then Cahoots will deliver. Just expect to be let down on every other front.
Cahoots London: Practical Information + Map
Address: Cahoots Soho, 13 Kingly Court, Soho, London W1B 5PW
Telephone: 020 7352 6200
You can see a copy of the Cahoots London menu here.
Click here for a map with Cahoots' location.
Cahoots London: Read Next