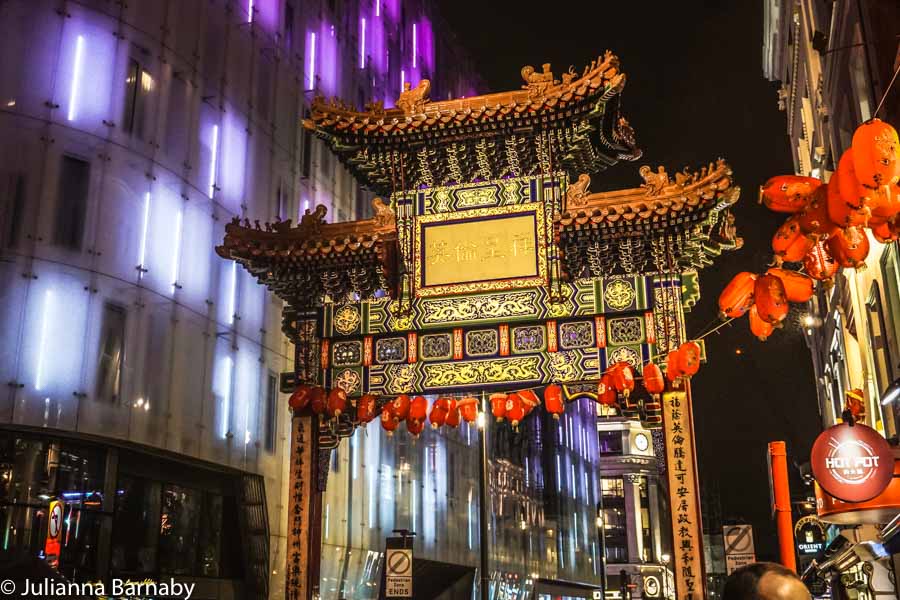 Chinatown stands out – a vibrant and distinct part of London's West End it's beloved by locals and tourists alike. Planning a visit? Here's what you need to know.
Chinatown stands in the centre of London's West End, a distinct melange of paper lanterns, shops, restaurants and cafes, bounded by four gates that mark your passage into an area unlike any other in the city.
Stellar food, beautiful location, quirky finds. What's not to love?
Unmissable Things to do in Chinatown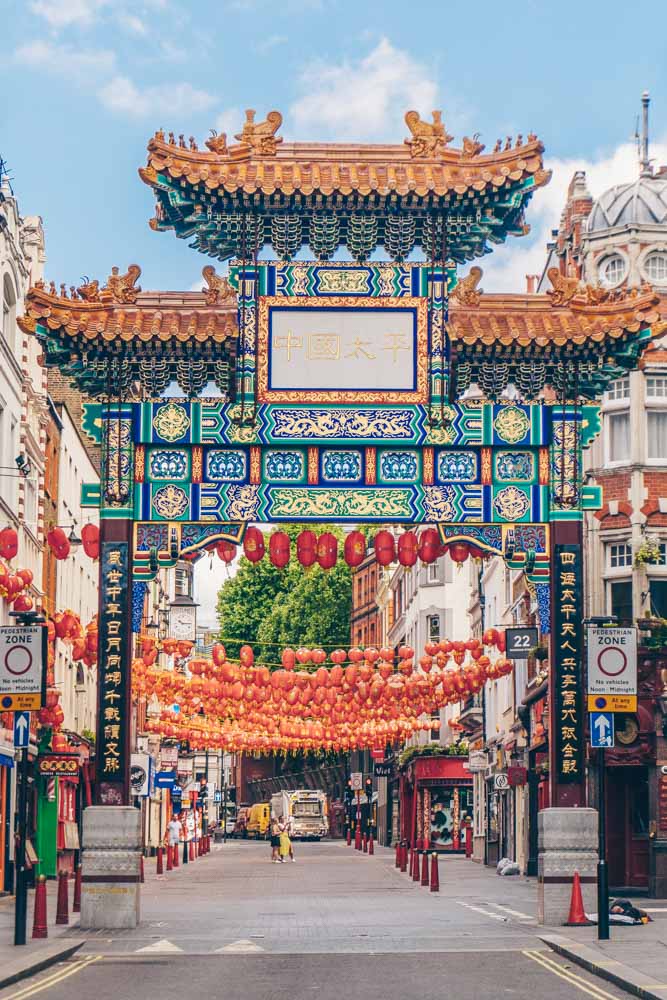 From its modest beginnings, Chinatown has grown to be one of the most vibrant and dynamic places in London. Don't skip these cool things to do in Chinatown.
The Four Gates
The four gates stand on the boundaries of Chinatown – ornate, imposing and impossible to miss – welcoming you to this frantic hub.
Designed in different styles, they're all beautiful – the newest – the so-called fourth-gate is the most striking of them all. Located on Wardour Street, the gate was added in 2016.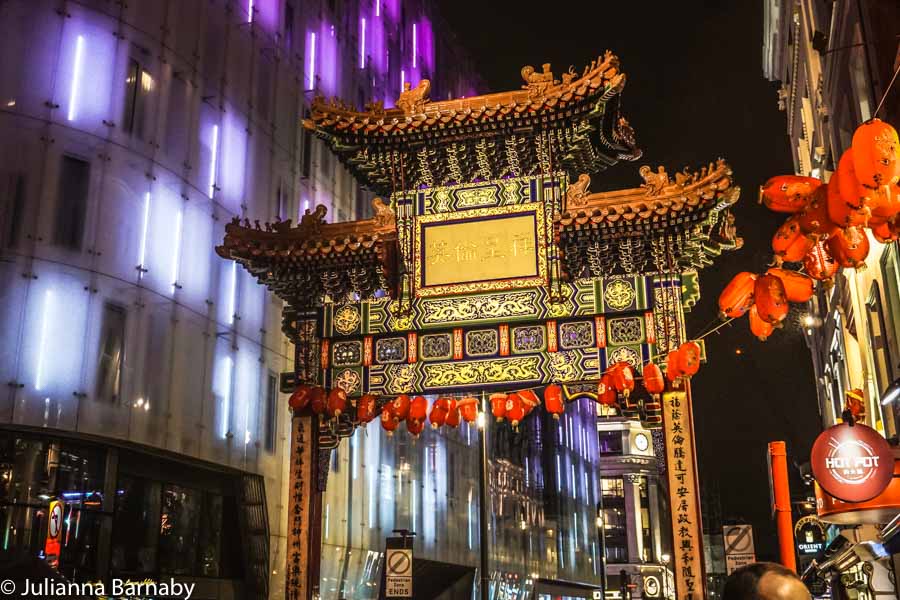 Its design is a homage to the influential Chinese Qing dynasty, and it is really spectacular – in fact, it's one of the most popular things to do in Chinatown. It is intricately decorated with dramatic shades of blue and green, and it is also the largest Chinese gate in the United Kingdom.
The three other gates are also beautiful in their own rights, although perhaps not quite as grand. They can be found on Gerrard Street. Interestingly, although they look old, they were actually built in the 1980s.
Read More: Cool Things to do in Soho
Shop for Traditional Goods
Shopping at Chinatown in Soho is quite the experience – take it from us. You're never exactly sure what you'll come away with but that's half of the fun.
From bakeries selling scrumptious treats to boutiques hawking all kinds of interesting trinkets and wares, there's amazing variety.
Some of the most well-loved items for sale include ornate paper lanterns and authentic maneki-neko (that's the cat with the waving paw, said to bring good luck and fortune).
It's also the place to go if you're looking for authentic and fragrant Asian spices and sauces to use in your at-home cooking.
You might not be able to cook up a storm like the chefs working away in the windows of Chinatown's restaurants, but you can't go that wrong if you start with the right ingredients (or so they say).
Celebrate Chinese New Year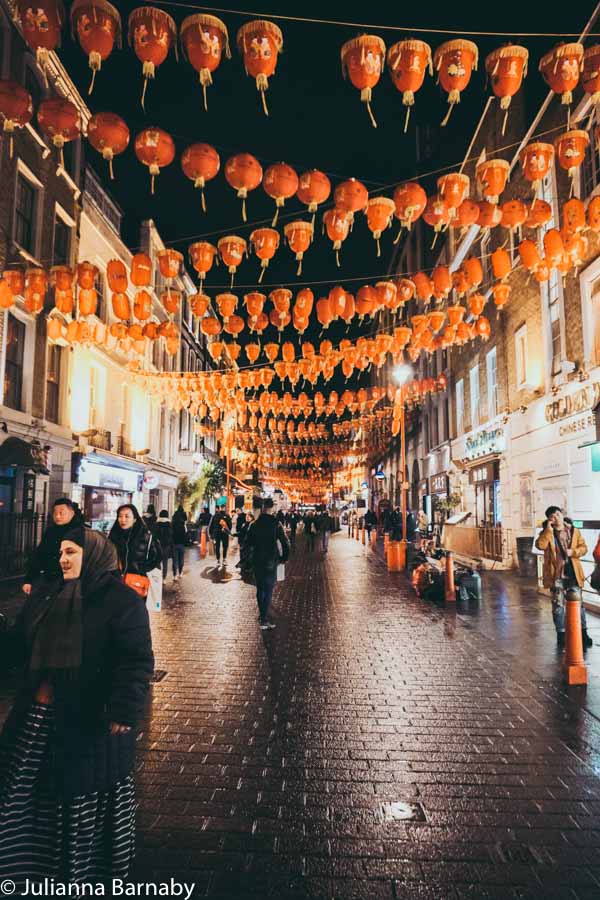 There's never a bad time to visit Chinatown in London, but it is really an incredible spectacle during the annual Chinese New Year festivities.
The entire area erupts into an exuberant burst of colour and life. Costumes, food, music, dancing – you name it, you'll find it in Chinatown during the Chinese New Year celebrations.
Chinese New Year is held according to the Chinese Lunar calendar, and so the date varies. It's usually held in January/February, so it's best to check the exact date in advance. Even if you have to move your travel plans around to fit it in, it's well worth it to see the celebration!
It's an amazing display of Chinese culture mixed with London vibes. Where else in London would you be able to watch a traditional dragon dance through the streets or a gorgeous Lantern Festival?
Karaoke at Plum Valley
Karaoke is an East Asian tradition (and one of the most popular Chinatown activities), with many joints staying open until the early hours of the morning. Plum Valley is home to some of the fanciest booths in London.
It's also a great place to eat, serving up delectable dim sum in an ultra-sleek restaurant. But, if i'm honest, the karaoke booths are why everyones here.
The rooms are insane – think a private nightclub with neon lights, a full dining table, and a flat screen TV, equipped with a wide selection of songs, ranging from popular Chinese music and K-pop to well-known Western tracks. Get those vocal chords warmed UP.
Catch a Film at the Prince Charles Cinema
Ok, we're very aware this isn't particularly Chinese, or even Asian, but The Prince Charles – the best cinema in London – belongs here because you absolutely can't beat stepping out of a good film and into the neon night of Chinatown.
The cinema tends to show old classics, but also shows new releases of films they deem fit for their glorious screens. They also whack on movie marathon nights and singalongs if you really want to get stuck right in.
Our tip: catch something by Wong Kar Wai – Chungking Express or maybe In the Mood For Love (they're both on regularly) – then hit Cafe TPT down the street for a bowl of noodles and a perfect Hong-Kong-but-it's-London experience.
The Best Things to Eat and Drink in Chinatown
It's simply criminal to leave Chinatown without trying some delicious food, from street food snacks to petite desserts. Here are some of the best things to eat in Chinatown, Soho.

Once you've run out of stuff to do in Chinatown (although, it's pretty impossible), it's simply criminal to leave without trying some delicious food. From street food snacks to petite desserts, here are some of the best things to eat in Chinatown, Soho.
Bubble Tea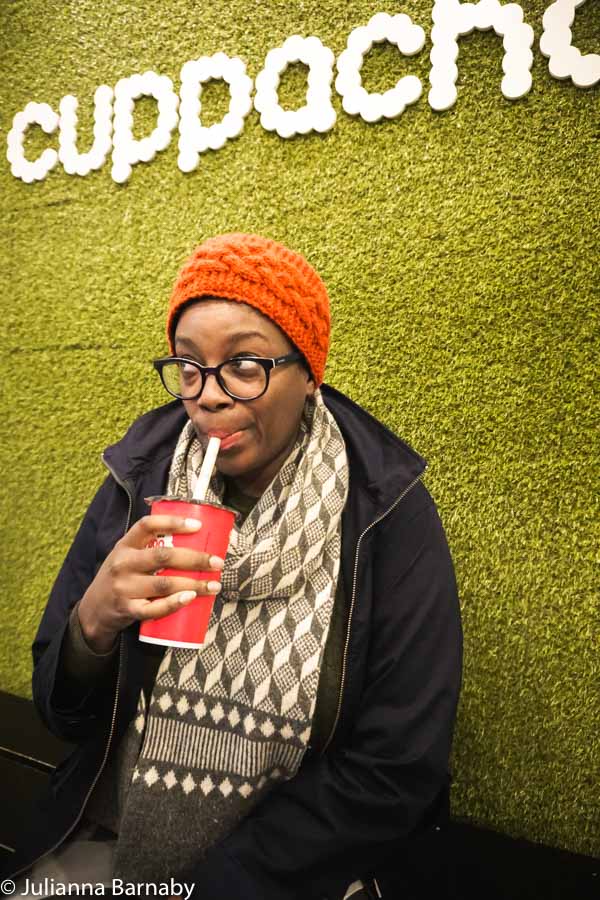 Is it a drink? Is it a snack? Is it a bit of both?
Who knows what Bubble Tea is, apart from a taste sensation that's taken the world – including Chinatown – by storm.
Traditionally, Bubble Tea is actually a Taiwanese drink made from tea and powdered milk, with flavoured jelly balls at the bottom. However, in Chinatown – and all of London – you can find many innovative twists!
There are a few bubble tea places dotted across the area, but we particularly love Cuppacha and their scrumptious Taro milk bubble tea with tapioca pearls.
The pearls take some getting used to, chewy and filling in a way that is pretty unusual but you should absolutely give it a go. Happy Lemon and Chatime are good bubble tea go-tos too.
Eat Roast Duck at the Four Seasons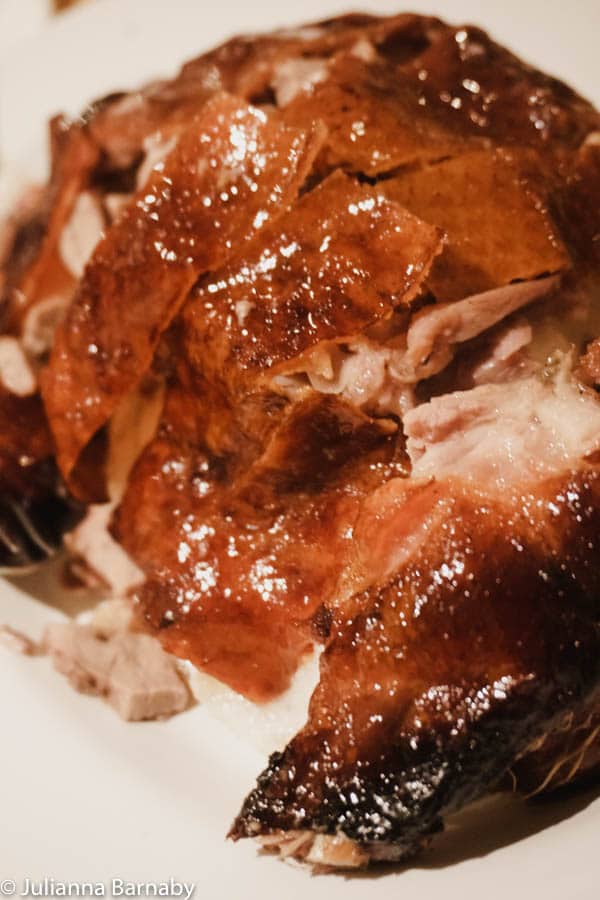 If you like duck then you have to try the Four Seasons in Chinatown. In fact, even if you don't like duck, you should see if this place changes your mind.
It's been named the best roast duck in the world by Financial Times magazine – so it's something pretty special.
While the recipe is distinctly Pan-Chinese, the ducks themselves are actually from Ireland. The best of both worlds combine to create a sublime dish with crispy skin yet melt-in-your-mouth tenderness underneath.
No wonder this is such a foodie hotspot in Chinatown, London – perfect for an evening feast on the town.
Cocktails at the Experimental Cocktail Club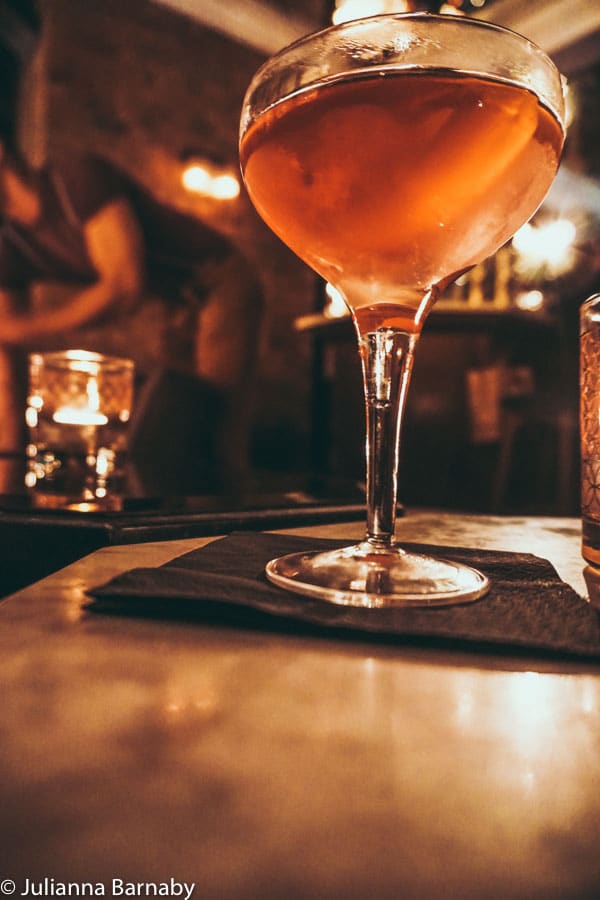 Londoners love a good speakeasy, and The Experimental Cocktail Club is no exception.
Hidden behind an unmarked door on Gerrard Street, you climb the stairs to be transported to a three-floored warren – filled with some incredibly skilled mixologists… and people more than willing to pay homage to that talent by slurping up cocktail after cocktail.
The menu is adventurous and the cocktails are perfection. Highly recommended.
Read More: These Are the Soho Drinking Spots You Shouldn't Miss
Hot Pot at Baozi Inn
I love Sichuan food – not only is the region in China known for its spicy, powerful tastes, but also for making eating a real experience.
Take the hot pot for example. For the uninitiated, a hot pot sees a large bowl of boiling water placed on the table, with various ingredients that can be skewered and cooked in the water. It's a meal best enjoyed as a group.
The hot pot at Baozi Inn is unique – while the classics vegetables and meats are available, you can also choose from more unusual choices like hot dog, kelp and pig intestine.
You can be as adventurous (or as unadventurous) as you like. The choice is yours.
Malaysian Cuisine at Rasa Sayang
Despite the names and decorations, Chinatown is actually distinctly multicultural. Inside, you'll find many different styles of cuisine (with an emphasis on Asian restaurants).
One of our favourites is Rasa Sayang, serving Malaysian favourites with just a slight Singaporean twist.
Unlike many other London restaurants, Rasa Sayang hasn't invested much into elaborate decor – it's pretty basic and not where you'd take your fancy date.
Who cares, because Rasa Sayang is all about the food, which is utterly delicious. Classics like char kway teow and beef rendang are authentic and mouthwatering, with fragrant spices and herbs.
Best of all, it's one of the most affordable places to eat in all of London. The tasty fried chicken wings here will set you back less than a single ticket on the Tube.
Taiwanese Fried Chicken at Ji Chickens
I recommend finding a quiet time to visit Ji Chickens – a.k.a The Chicken Shop in Chinatown – as TikTok has lately got a hold of this gem, leading to longer queues.
But, make it through hordes of people and you will soon find yourself holding a small bag of the best fried chicken in central London. Just putting it out there.
Whether you opt for the basic variety, or venture out into a cheesy or spicy option is up to you, but we promise you won't be disappointed. The plum chips don't go amiss, either.
Japanese-American Fusion at Ichibuns
You're not short of places to go in Chinatown for delicious food, but if you've never heard of Ichibuns, we're about to change your life.
The cuisine is a blend of American and Japanese food – think katsu sandos, wagyu burgers (so good we've named them one of the best burgers in London), and innovative sushi options. Drinks-wise, you've got everything from soft drinks, to milkshakes, and even some Japanese varieties of tea.
However, the decor is unapologetically Japanese-inspired, with lucky cats and retro Japanese packaging adorning the walls. Head there in the evening to see Ichibuns transform into Ichibar, a cool and cosy spot for cocktails in the centre of the city.
Bubble Waffles at Bubble Wrap London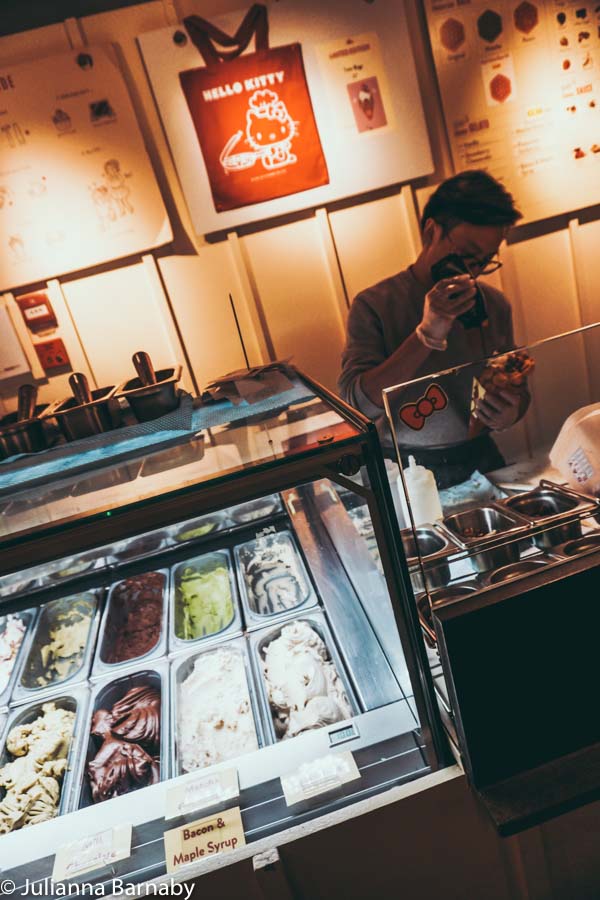 Okay, so waffles are delicious. But what is even more delicious than regular waffles? Ones filled with ice cream, of course (how did we not think of this, how).
That's what Bubble Wrap London serves up in Chinatown. Taking a classic Hong Kong street food and applying a London twist, their Bubble Waffles are melt-in-your-mouth delicious.
Filled with little pockets of a sweet batter that includes egg, milk and sugar, the waffles themselves are quite the revelation on their own.
But it doesn't stop there. Bubble Wrap then load the waffles with ice cream and add in scrumptious toppings like your classic banana split, oreos or peanut butter. If it sounds like the recipe for a seriously tasty treat, it's because it certainly is. Don't miss it while you're in Chinatown.
Cantonese at Cafe TPT
Nothing beats the transportative power of dinner in Chinatown, and one of the best spots for it is Cafe TPT. The pokey Cantonese Diner is a great rendition of the type of cafes you find all over Hong Kong and they do some very good food.
You should go for a bowl of wonton or noodle soup for the full experience, maybe throwing in a couple of sharing dishes if you're eating with a group. Wash it all down with a milk tea and then hit the streets to soak up more of that Chinatown atmosphere.
Just to sweeten the deal, Cafe TPT boasts some of the best prices in all of Chinatown.
Thai at Speedboat Bar
If you want to kick things up a notch in the spice department, head down to Speedboat Bar. It's the Chinatown outpost of Chef Luke Farrell's Thai empire. Farrell is known for keeping his food traditional, not pandering to the tastes of the west and the cooking is excellent for it.
Dishes are often fiery hot, and always prepared with a quality that's hard to match in London. Speedboat Bar stays open late too, becoming as much a bar on weekend night as it is a restaurant.
Upstairs you'll find games to keep you entertained, freezing cold beer and a great menu of smaller bites and bar snacks.
Baos at Bun House
You'll see Bun House first by its queue, often out the door and winding down the street. Don't be put off, it tends to move quick. It's also a sign that this place is very popular.
Bun House has a small restaurant serving up dim sum and tea. Skip that, you're unlikely to get a seat, and anyway you're here for the Baozi. They've got about six flavours and you can mix and match. The classic pork bun is always a big hit and the vegetarian buns are great too.
Pick a few, get them boxed up and wander the streets of Chinatown chomping down on delicious buns. You can't beat it.
The History of Chinatown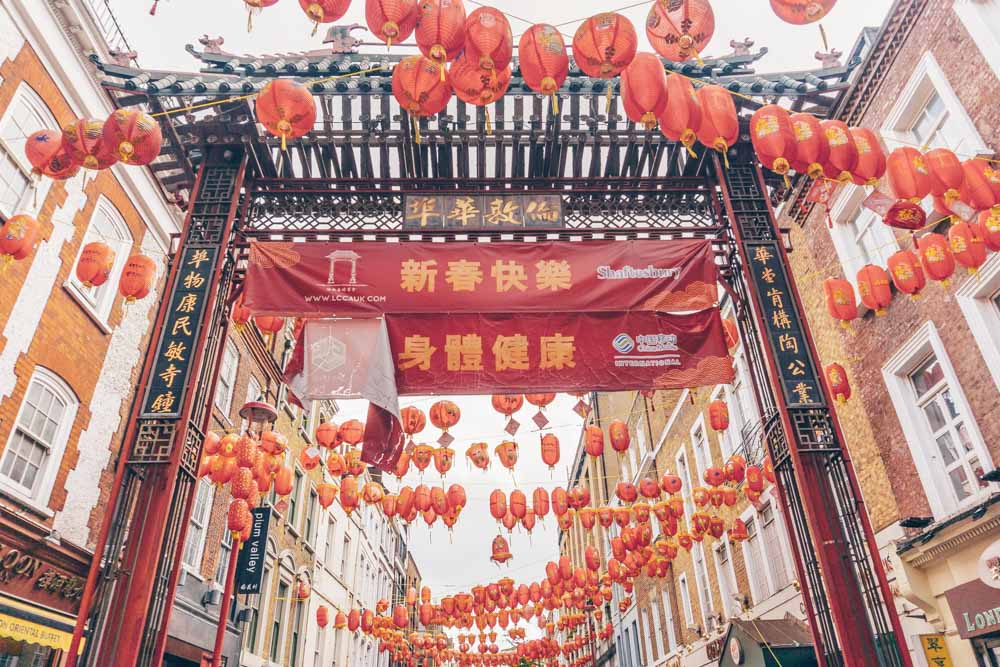 The history of London's Chinatown dates back a long way, but not always to its current location in Soho.
The first Chinatown was actually in the East End, and specifically Limehouse. This is where the first Chinese migrants to London arrived, and gradually began building businesses to cater for other migrants and sailors.
By the beginning of the 1900s, the area was teeming with restaurants, import stores and even opium dens (they were legal back then).
Other migrant groups – primarily the Maltese – also left their mark, but it remained largely influenced by the Chinese.
While originally it was mainly frequented by migrants looking to be reminded of home, the popularity soon spread and business boomed – at least temporarily.
In the mid-1900s, however, shipping began to decline and World War II wreaked havoc on London and Chinatown. As a result, many of the businesses moved away. Eventually they found new digs in Soho, while new ventures also sprouted up.
It was during the 70s and 80s that Chinatown really started to take on the character that we now know and love. This is when features such as the colourful lanterns and stone lions arrived, giving it a distinct and vibrant look.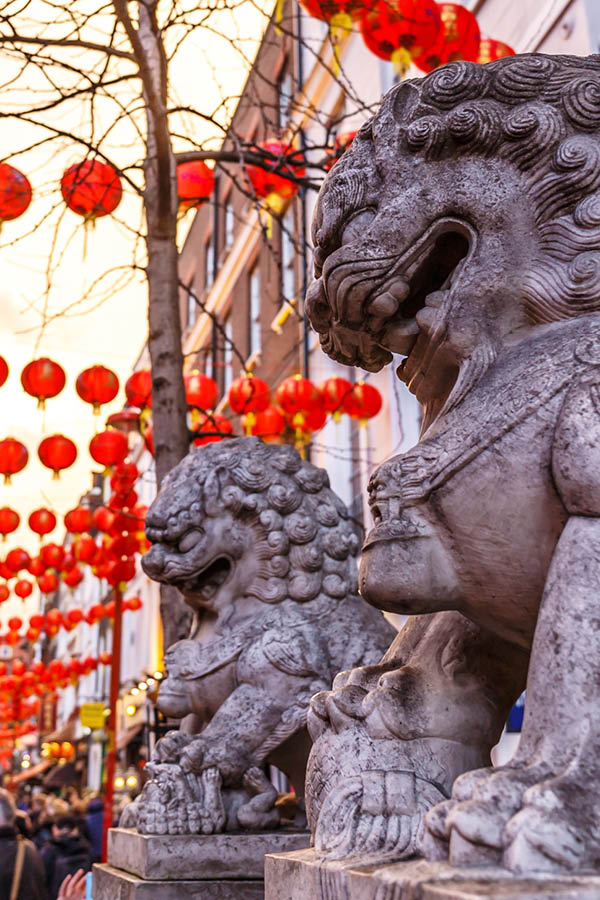 Where is Chinatown in London?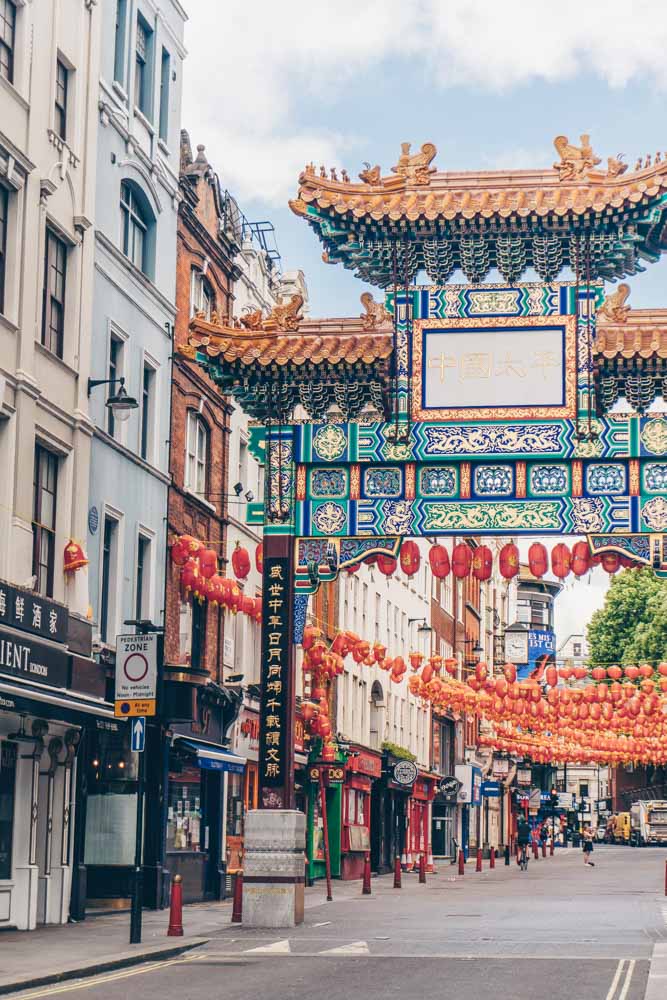 Chinatown sits at the heart of London's West End – framed by Shaftesbury Avenue to the North Charing Cross Road to the east, Leicester Square to the south and then Rupert Street to the west.
Across the road from Soho – it's a short hop to some of London's biggest tourist attractions including Trafalgar Square, Covent Garden and Piccadilly Circus.
Like most of London's famous sights, Chinatown is easily reached on the Underground. The closest Chinatown London tube stop is either Leicester Square or Piccadilly Circus – both of which are less than five minutes walk away.
Not sure if you've made it to the right place? Helpfully, if you're worried about where Chinatown in London is, it's pretty hard to miss. The beautiful ornate gates and colourful lanterns make it pretty obvious that you've found the place!
Chinatown: Practical Information
Most of the restaurants and bars in Chinatown have pretty extensive opening hours. Most stay open until at least midnight, but some do a roaring trade until 4am.
If you are visiting for Chinese New Year, be aware that the public transport schedules change to keep up with the demand. Lots of these Chinatown activities may also be affected. You may want to check ahead if you're on a tight schedule.
There are several places to stay in Chinatown, although the fact that it's so convenient on the Tube means it's easily accessed from wherever you are in the city.
Chinatown London: Map
Looking for More Chinatown & Soho Guides?