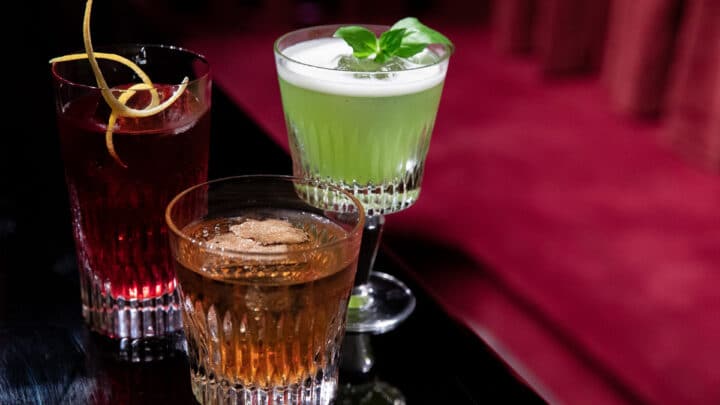 Looking for the best new bars in London? We've got you covered with this handy guide to the hottest new spots.
2023 is well under way and the capital has been blessed with an explosion of wonderful new drinking spots – we're loving it.
Whether you're in the mood for cosy drinks in a subterranean drinking den or want to booze as you enjoy a sports game, these are the places you need to visit this month.
Oh, and we've also included the hottest upcoming bar openings in the capital… you're welcome.
Ready?
New Bars in London You Have to Visit
Lucy Wong
Fitzrovia
Opened in March 2023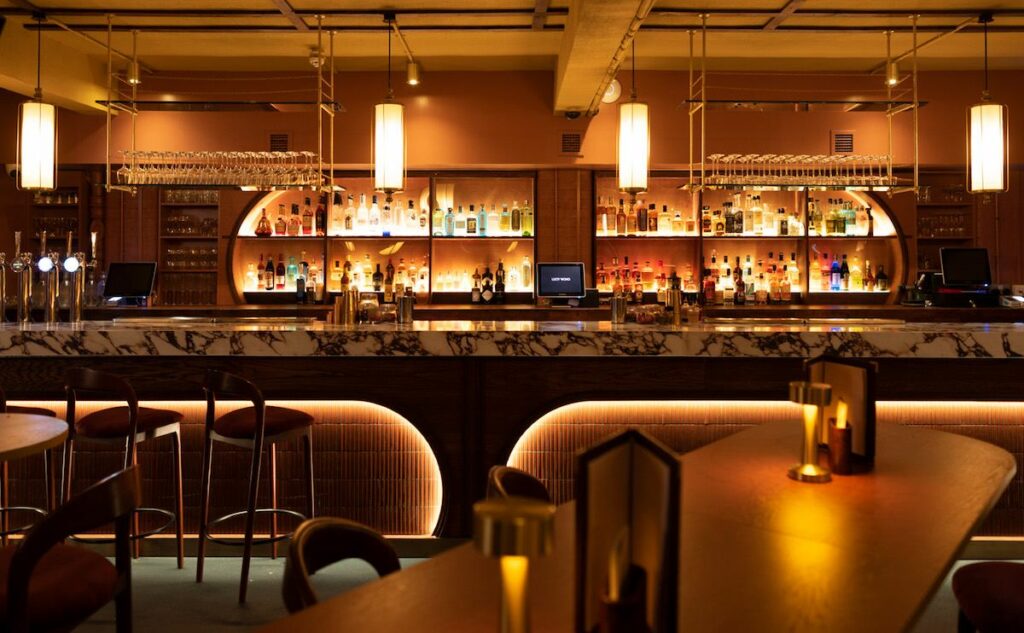 The Breakfast Group (Opium, Gas Street Social, et al.) has a hot new project – it's an eccentric new cocktail lounge in the beating posh heart of central.
Lucy Wong takes inspiration from the 1957 novel 'The World of Suzie Wong' by Richard Mason which tells of a very juicy romance in 1950s Hong Kong. The bar's namesake is a London socialite who, we imagine, likes her cocktails.
The bar, as you can imagine, takes on this theme, though it also makes nods to later eras of Hong Kong styles (nothing later than the 80's). We popped down for a drink earlier this month and, we have to say, it's a seriously impressive addition to the London bar scene.
The Bishop's Vaults
Bishopsgate
Opened in February 2023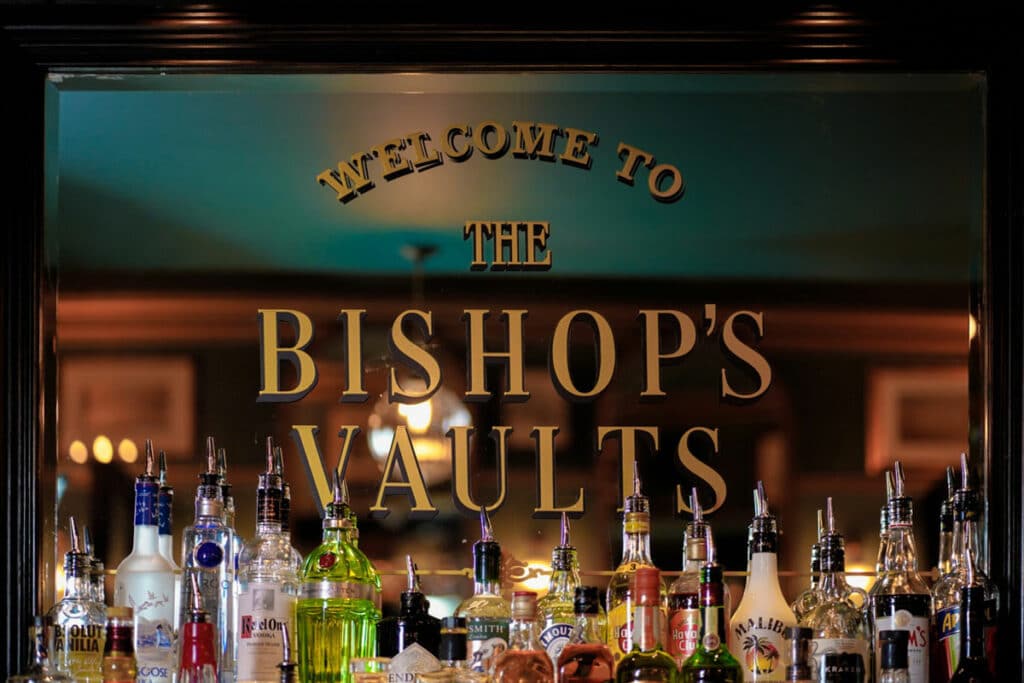 Lovers of hidden bars and speakeasies should be taking note here. The Bishop's Vaults is a new wine bar tucked away in a subterranean lair somewhere in the City of London.
The place is cosy with intimate little booths nestled under cellar arches and a wide array of wines to choose from.
With all the vino flowing, they naturally do a selection of charcuterie boards that look rather tantalising. They're also planning live music events, though no word on what kind of genre. We're picturing something smooth.
Mama Funki
Camberwell
Opened in February 2023
If you're big into your cocktails, or your South London living, you will probably have had a drink or two in Funkidory in your time. They serve up delicious bespoke cocktails to a playlist of funk, hip-hop and soul that makes it all too easy to while away entire evenings at the bar.
Well, those guys are opening a second South London space down the road in Camberwell. It's on a similar key to its parent branch, except it's bigger and usurping the parent title by calling itself Mama Funki.
The subterranean space is decked out with deep reds and oranges, and persian rugs to make a combo that's warm and chilled (huh?). The music is still on point, and so are the drinks.
Viajante 87
Notting Hill
Opened in January 2023
People in Notting Hill generally know how things should be done. That's certainly the case at Viajante 87. Let's get to the big question first. What's with the name? Well it means 'traveller' in Spanish. The 87? We're not sure.
Not that it matters too much. If you're spending too much time fretting over the name, you won't be spending enough time savouring the quality drinks. They lean hard into agave-based things, so expect lots of tequila on the menu.
Even if you're off the stuff, you should be able to stomach what they've got on offer. Panos Kanatsoulis is creating them and he's hot from behind the bar of The Clumsies in Athens, rated as one of the top ten bars in the world.
3rd Half at the Hard Rock Hotel
Marble Arch
Opened in January 2023
The Hard Rock Hotel is opening a sports bar in its Marble Arch branch early next year. That makes them a little too late to cash in on the World Cup but we're sure it'll be a hit nonetheless.
Not much more info than that at this point but they've opened one of these at their hotel in Ibiza before and we're expecting it to follow along the same lines: beers, big screens, and a menu of greasy food to keep the hangovers at bay.
Vesper Bar
The Dorchester
Opened in January 2023
Cornerstone of the London up-market hotel trade, the Dorchester, peaked interests when it announced it'd be doing a James Bond themed bar, not least because gimmicks like that seem totally above the hotel's already very high brow.
The bar, it turns out, doesn't look like the inside of a villain's lair. It doesn't even have a secret entrance. The inspiration comes in name only – and perhaps the serving of a killer Vesper Martini.
It's also worth mentioning that Ian Flemming was a regular patron of the hotel, and probably sank a few martinis there himself. In that respect perhaps Vesper's is more of a tribute. It's certainly swanky as hell.
Florattica
Aldgate
Opened in December 2022
Another bar with an ex-Nightjar mixologist involved – this time it's Serena Carrino who's added some floral flair to the cocktail menu. But let's not beat around the bush, you're going to Florattica for the view.
Situated on the top floor of the Hilton's brand-new Canopy hotel in Aldgate it's got panoramic views of London's landmarks and an outdoor terrace that people will no doubt be braving the winter weather to grab a seat on.
They do a good spread of food divided into categories of things from the land and things from the sea. It's class fare. Expect oysters and champagne, which, in front of the view, probably means you can expect Florattica to be London's hot new date spot for a while.
Pretty Decent Beer Co. Taproom
Forest Gate
Opened in December 2022
The latest edition to the Blackhorse Beer Mile is a new site for Pretty Decent Beer Co. They'll be using it to brew off 1500 litres of the good stuff at any one time, and serving it to the ever thirsty patrons of London's busiest craft beer strip.
Their taproom has over 20 taps that regularly change depending on what's being brewed in the back of house, and they have ambitious plans to brew up 20,000 pints a week over the next two years.
Our question: how many of those do you think you could drink?
Bar 1790
The City of London
Opened in December 2022
Bar 1790 gets its name from the Sandeman Port Company that's been running in St Swithin's Lane, Bar 1790's home, for the past 230 years (do the maths).
As they're tied with the Sandeman's company, they specialise in all things Portugal. What you'll be drinking, with the exception of a few bottles of Champagne and a single bottle of English sparkling wine, are all Portuguese.
They also have a menu of tapas dishes to nibble on while you quaff back the best that Portugal lets their people export – including an octopus dish that looks superb.
Swift, Borough
Borough
Opened in November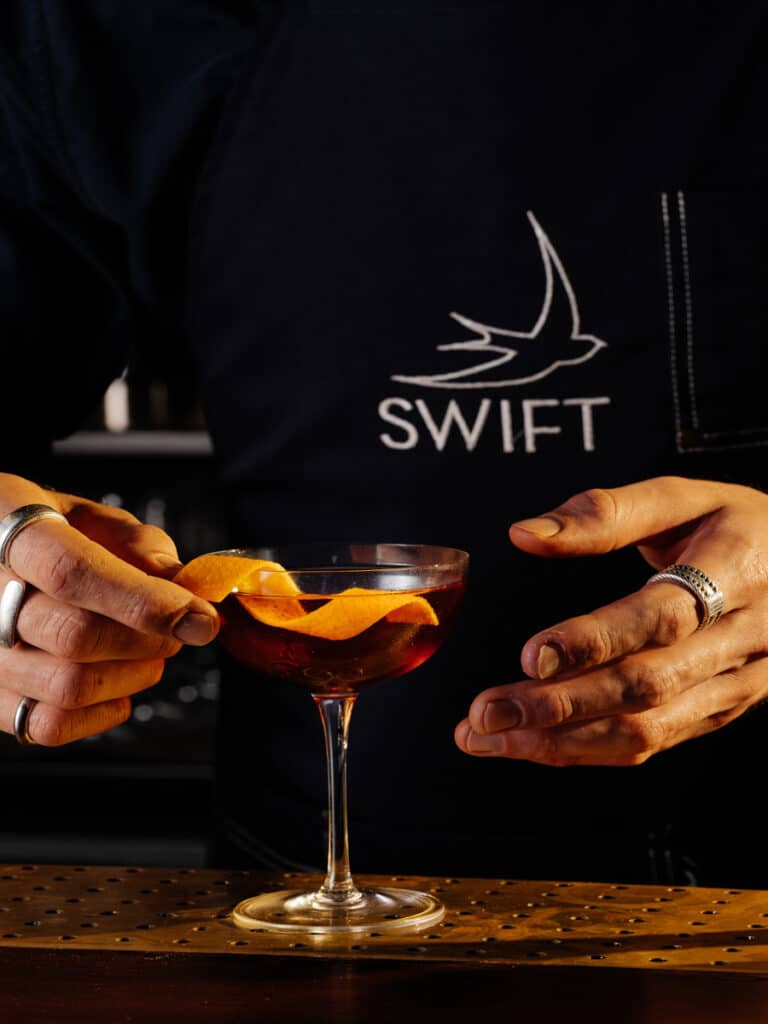 Not so long ago London was a Swiftless city, and what a drab place it was. Then along came the bar that made itself right at home in the hearts of London's cocktail lovers.
In their meteoric rise to become one of the top 50 bars in the world, sweeping up all sorts of prizes along the way, they've opened a branch in Shoreditch, and then, in October, came the Borough iteration.
It's the same concept, an upstairs-downstairs split with cocktails inspired by the people and places they open up shop in. Of course, for those who aren't too adventurous – and you should be at Swift, you just can't go wrong – there's always their old classics.
Lowback Canary Wharf
Opened in November 2022
Hawksmoor's ambitious project for Canary Wharf opened recently to much fanfare. The Lowback gets its name from an invention that helped guide and launch small boats – we guess they're tapping into something with their waterside location.
The bar and steakhouse sits on a pontoon in the middle of a Canary Wharf dock. It's another of Hawksmoor's adept bar concepts. A nine-metre long bar serving quality drinks without all the stiff atmosphere that puts some people off.
They're running a happy hour that is pretty liberal with its definition of an hour. From 4-7 they'll mix up original creations that you can't get anywhere else. Then of course there's all that steak to eat…
Bruno's
Clerkenwell
Opened in November 2022
If you're a fan of Caravel, the reclaimed barge restaurant in Clerkenwell, you'll be pleased to hear that the minds behind it have taken over their neighbour's boat and turned it into a floating bar.
Bruno's has all the charm of its next door partner, but with a bit more sullen-evening gloom and a plusher interior. They're serving up natural wines, classic cocktails and some original mezcal-based numbers at the bar.
There is, of course, a menu of snacks. It's light – we guess the idea is that you go next door for a full meal – but saucisson meatballs and trays of charcuterie never fail with us.
The bar gets its name from the owner's dog, and we think that's wonderful.
Alma
Opened in November 2022
Popular Soho restaurant Sucre owns the basement below their eatery and originally set it up as a bar called Abajo. That project, which featured glow in the dark cocktails and less than adequate lighting, didn't go down well with the punters, so they've gone back to the drawing board.
What they've come up with is Alma, a much more suave affair that looks like it could be straight out of the late 60's with its tasteful shades of brown and plush banquette seating.
This time around Tony Pescatori who, before Alma, was manning the bar at Nightjar, is on the drinks. That's a good sign. The snack menu of Spanish/Latin American nibbles isn't a bad one either.
Velvet
St. James's
Opened in November 2022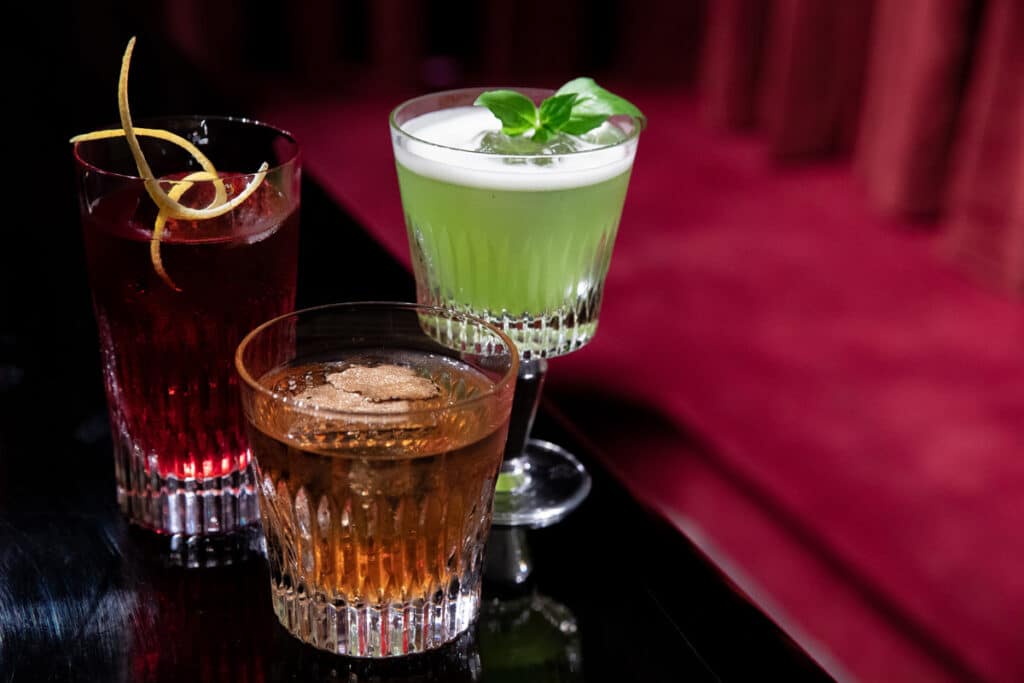 Velvet is certainly one to get excited about. It comes from Salvatore Calabrese, the man behind the infamous Duke's Martini, and one of the UK's most highly-acclaimed bartenders, and is as luxurious as the fabric it's named after.
The interior looks like the kind of place you might find Al Capone at leisure – a 20's themed lounge, dark and moody. They may have chosen the bar's name based on the one thing that's most present in it, and that's saying something because Velvet is wall-to-wall with punters.
The drinks are high-end, the idea being that Velvet is both a champagne and cocktail bar. The menu divides itself between 1920's classics and modern creations, with Calabrese getting his magic touch on a list of martinis. Patron's of the high life will love this place.
Oranj
Opened in November 2022
So cool it didn't even need the letters g or e to get its point across, Oranj is a hip new natural wine bar that doubles up as a restaurant in a 2000 sq ft Victorian warehouse near Brick Lane.
Apart from doing all things 'Oranj' in the glass and bottle, they're also serving up some dishes of hearty Cajun fare: New-Orleans-style barbecue Shrimp, boudin stuffed confit pork belly, chargrilled oysters with garlic-pecorino butter.
The concept was born out of an online wine-delivery store that kept London's glasses topped up with natural wine during lockdown. Oranj is the physical manifestation of that passion. All the above gives us plenty of reasons to get excited.
Upcoming London Bar Openings
Ploussard
Clapham Junction
Opens Spring 2023
News of an intimate little wine bar opening at the top of Battersea Rise is starting to trickle down the grapevine. That place is Ploussard, and comes from the brains of Matt Harris and Tommy Kempton, the duo behind cult chicken shop Other Side Fried.
Not much is known about the project yet but we've been told there will be a good spread of low intervention wines and food to boot – likely in the form of small sharing plates.
Little Cellars
Opens early 2023
From the crew that brought us the beautiful wine bar and eatery that is Peckham Cellars, South London will be getting another contender to its wine-bar game.
Little Cellars will be a sister branch to the original and will follow, we expect, much the same formula – quality small plates for sharing with an eclectic menu wines from around the world.
The new spot will be about ten minutes down the road from Peckham Cellars, and will add a basement tasting room and a bottle shop to their offerings.
Practical Tips for Exploring London's New Bars
Us Londoners go gaga for a new bar opening and tables are often booked up months in advance – you'll want to snap up a reservation ASAP.
If all else fails and you don't manage to get into one of London's newest bars, we've got plenty of guides to London's best watering holes. The best bars in London, secret bars and speakeasies, and sophisticated wine bars, to name a few.
New Bars in London: Map