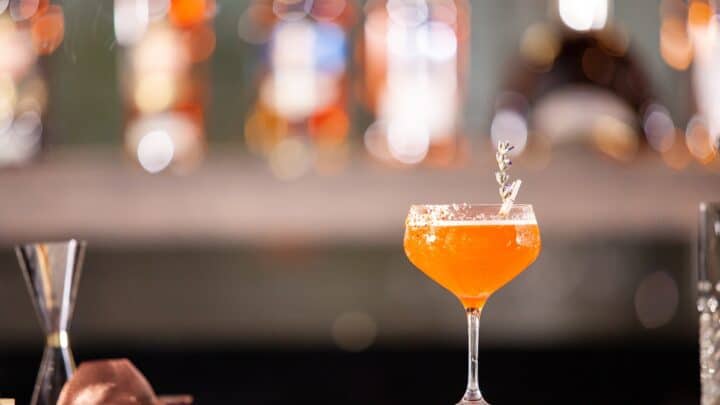 Looking for the best new bars in London? We've got you covered with this handy guide to the hottest new spots.
We're (well) over halfway through 2022 and the capital has been blessed with an explosion of wonderful new drinking spots. And we're not mad about it.
Whether you're in the mood for cosy drinks in a subterranean drinking den or want to booze as you enjoy a sports game, these are the places you need to visit this month.
Oh, and we've also included the hottest upcoming bar openings in the capital… you're welcome.
Ready?
New Bars in London You Have to Visit
The Cocktail Club Canary Wharf
Canary Wharf
Opened October 2022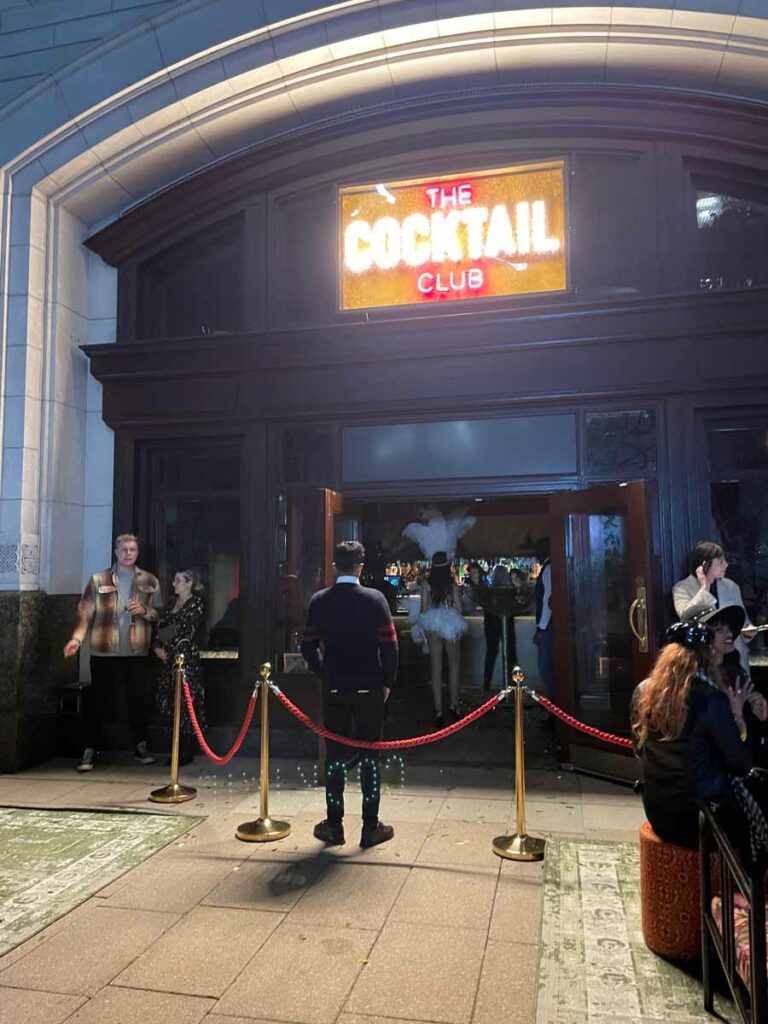 The Cocktail Club continues its expansion, this time heading eastwards to cash in on the rows of bustling restaurants and bars that line the waterfront in Canary Wharf.
You'll find much of the winning formula still there: bartenders that blow whistles while whipping shakers of espresso martini in each hand, dancers in outrageous outfits and music that warrants late-night table dancing – which is actively encouraged.
Quite possible that this place will become the jewel in the crown of nights out in Canary Wharf. Quite possible you'll see us there. Our's will be a Vanilla Ice, if you're buying.
Adam's
Opened September 2022
London loves a pop-up, and it's safe to say that Adam's, a brand new LGBTQ+ neighbourhood bar founded by Adam Caddy, has been a roaring success since it opened on the 9th September.
Each Thursday, Friday, and Saturday evening from 5.30pm to 11pm, Adam's takes over Freddie Janssen's Snackbar with the aim of creating more safe spaces for London's LGBTQ+ community.
The drinks menu is on the smaller side, but you come here for the vibe anyway. Expect a short but sweet classic cocktail offering, including the likes of a Negroni and Tom Collins, as well as a few wines to choose from.
The Cross
Opened September 2022
The beloved King's Cross venue, The Cross, has reopened and it's one of the capital's hottest new places to drink. While it might not be the lively club that it was back in its heyday, this new bar has taken over The Driver pub.
The cocktail menu is pretty impressive, a combination of elevated classics (we'll take the Lemon Meringue Martini, thanks) and, surprisingly, a refreshing collection of non-alcoholic offerings.
If cocktails aren't your thing, the wine list certainly impresses, as does the page-long selection of spirits, beers, and softs.
Uncle Zorro
Opened September 2022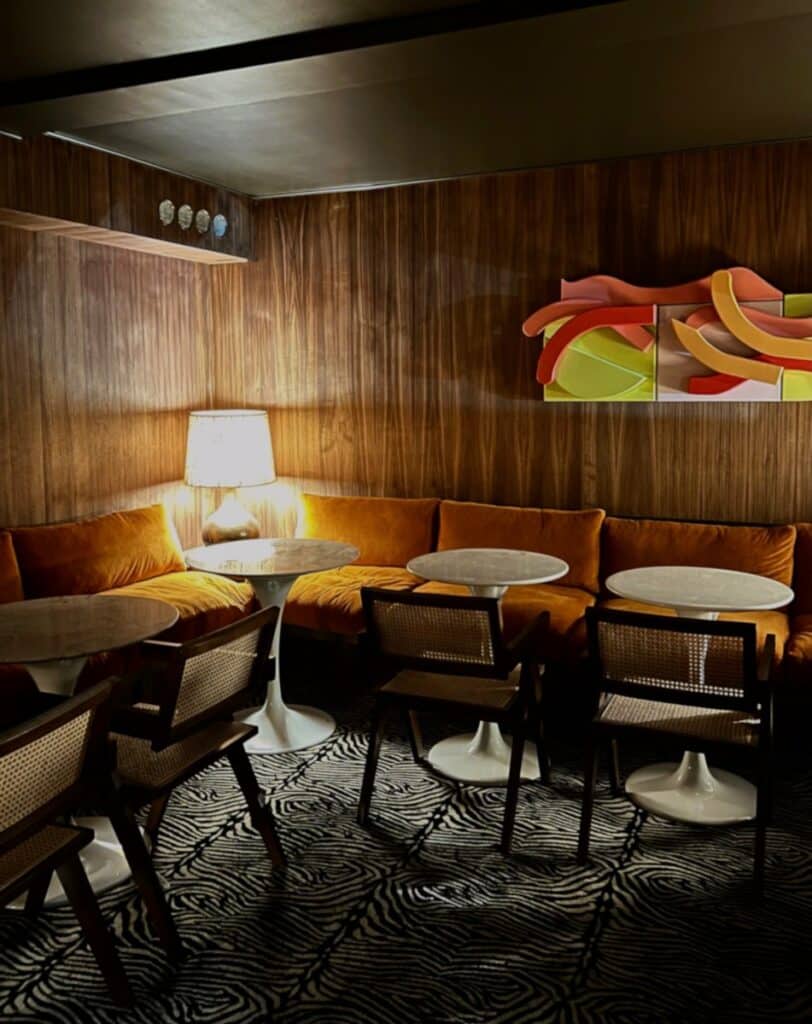 One of the best new bars London boasts, Uncle Zorro, is tucked away around the corner from Covent Garden and it might just be our new favourite drinking spot.
Upstairs, Uncle Zorro boasts a casual cafe space, but downstairs is where the fun happens. Head into the basement where a secret bar awaits, oozing 1970s glamour.
The drinks menu at Uncle Zorro revolved around natural and biodynamic wines and a classic cocktail selection with a twist.
Bantof
Soho
Opened September 2022
Fresh from Bantof's London Fashion Week debut (yes, you read that right), the bar is now open in London. Well, we say bar, but Bantof is much more than that – it's a conceptual space that involves booze and art.
Classic cocktails take centre stage here, though there's a cheeky champagne menu if bubbles fit the mood.
In terms of food, Chef Asimakis Chaniotis (who also just so happens to be in charge of Michelin-starred Pied a Terre) has crafted a stellar menu. Though drinks and meals will rotate depending on the art that is being displayed.
Searcys at St Pancras (Reopening)
King's Cross
(Re)opened September 2022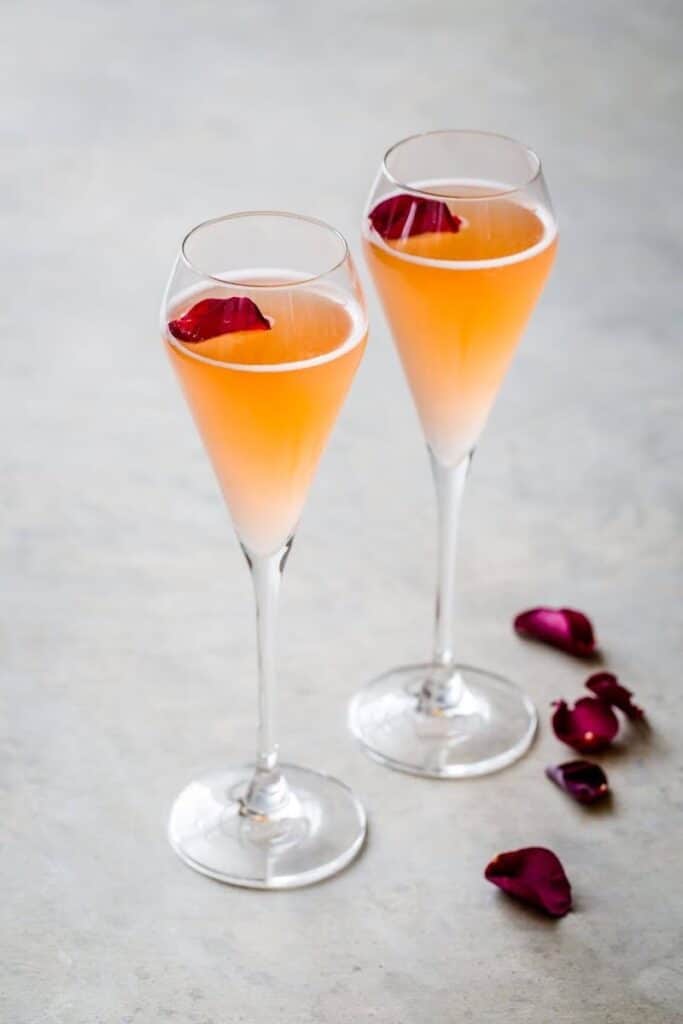 After undergoing a fun renovation, Searcys at St Pancras Champagne Bar has reopened, so you can grab a glass of bubbly before hopping onto a train. If you've never had a drink (or two) at this bar, you're seriously missing out – it's got the longest champagne bar in Europe, in case you were curious.
And now, it's even glitzier. Expect new, ultra-cosy booths, a huge seafood bar, and a long list of champagnes. Oh, and don't worry – the 'Press for Champagne' buttons are still there.
Goldwood
Bank
Opened August 2022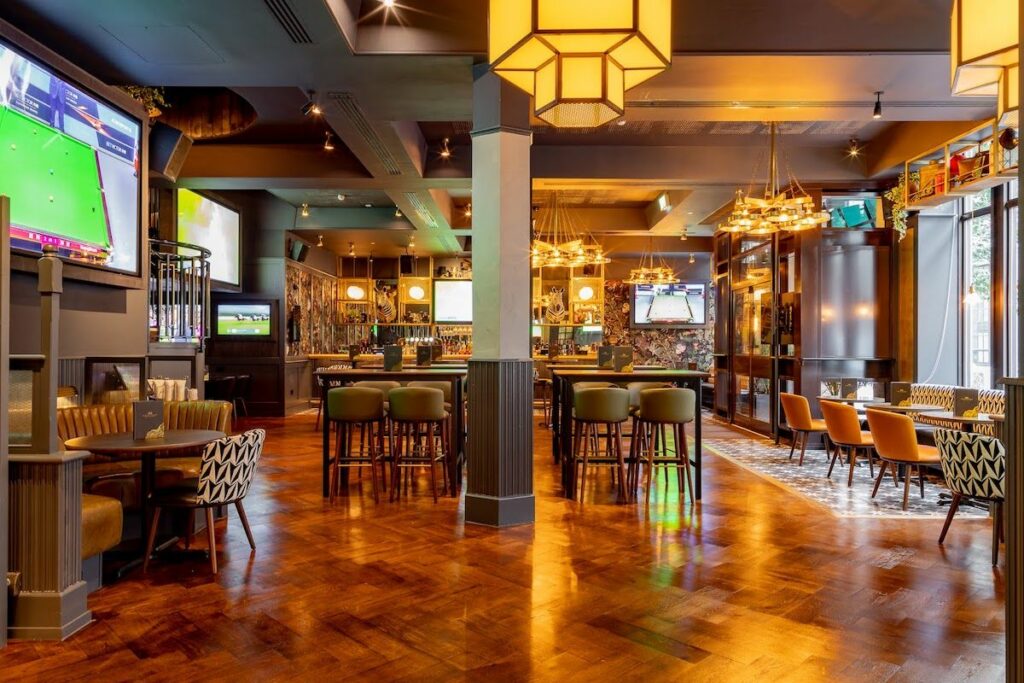 Need somewhere to catch up on sports throughout the colder months? Goldwood Sports Pub and Kitchen opened last month in the capital, and is serving up brilliant drinks with a side of thrilling games.
Signature and classic cocktails, craft beers, and international wines accompany a tasty American food menu. Because nothing goes better with a big, juicy burger than a side of heart-racing sports on the big screen, right? Absolutely right.
Lost Property Office
Opened August 2022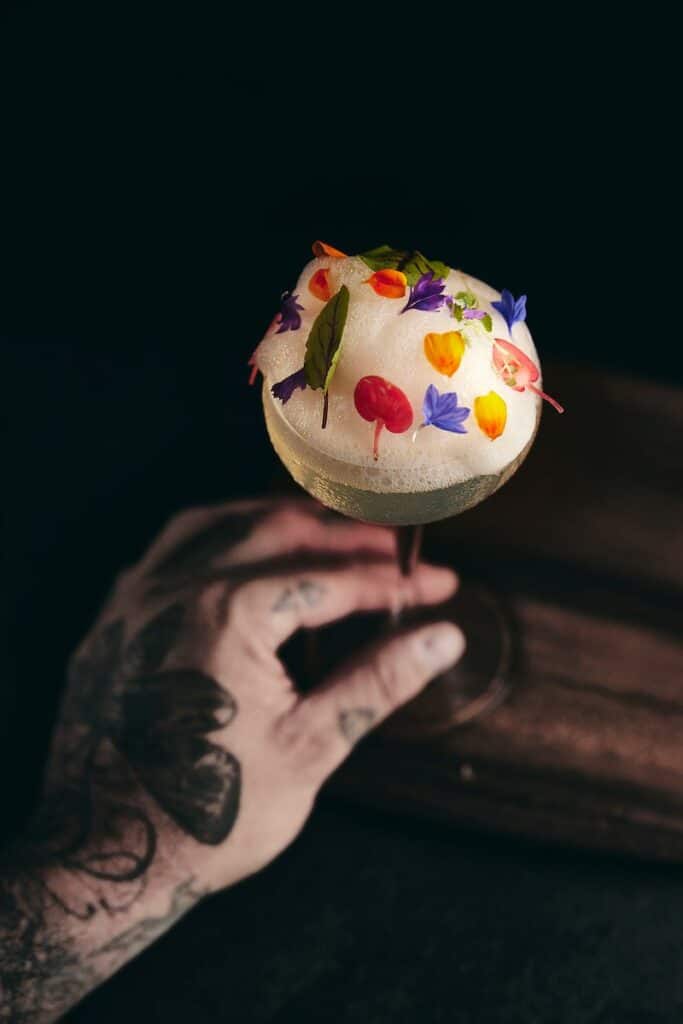 A brand new speakeasy opened up this August in London – and you should be very excited.
Rich Woods (A.K.A The Cocktail Guy) is responsible for some of the best cocktail menus in London, and he has brought his expertise to Lost Property Office. And, it's only accessible via a hidden door in Brewdog's new venue inside Waterloo Station.
Expect classic cocktails given a new lease of life, as well as a few surprises. This bar is open from 5pm daily, so head there for innovative pre-dinner drinks in an ultra-cool boozing space.
KRAFT Dalston
Dalston
Opened July 2022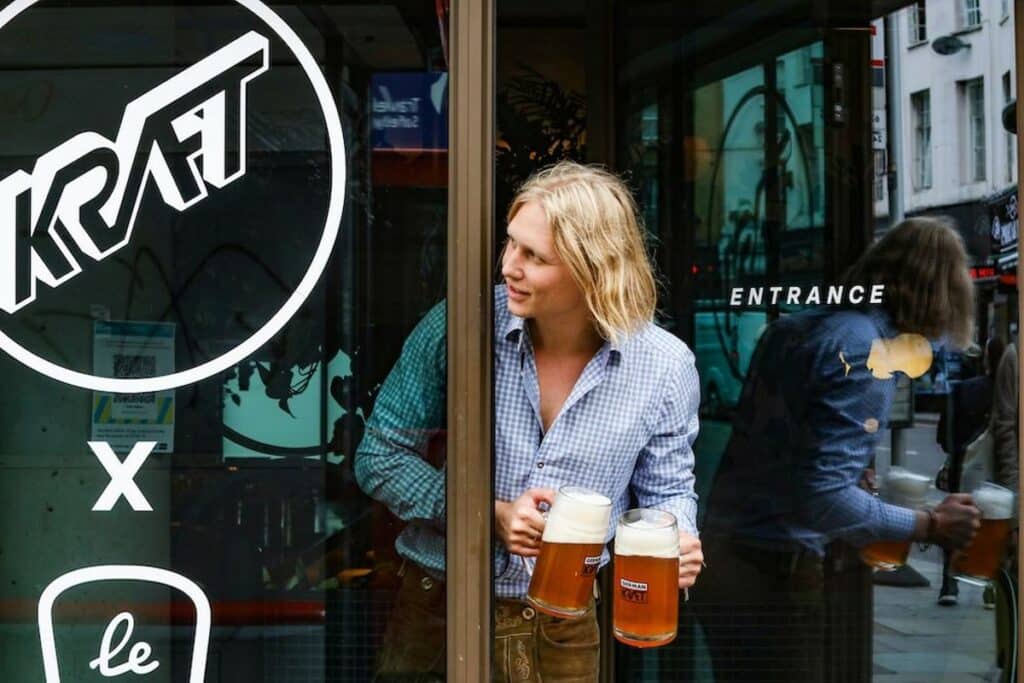 Germany meets South Korea in this quirky new bar and restaurant opening: the best of German beer is paired with Seoul-inspired dishes for a flavour sensation like no other.
The light, spacious, and pastel-hued interior blends with the greenery that surrounds it – not that you'll notice how pretty the decor is after a drink or two.
The cocktail menu is an innovative array of East-inspired drinks – the limited edition Soju and watermelon offering is oh-so-quaffable. Get it while you can.
The Lucky Club Camden
Camden
Opened July 2022
The second Lucky Club to grace the capital and the Camden version offers all the coolness you would expect – from a totally Instagrammable interior, just on the right side of industrial-chic, to a menu filled with boozy drinks guaranteed to kick your evening off in style.
Head there on Mondays for 2 for £12 cocktails all day. Yes, really – they're excellent, too.
Ranging from expertly-crafted classics to some wild card choices you cannot help but be intrigued by. We're talking about you, Craberita – a heady blend of tequila, fresh cranberry, ginger syrup, Lime, and a ginger beer top up.
Did we mention that the menu is Mexican-inspired? Grab a taco and get ready for a fiesta.
Mr. Fogg's Apothecary
Opened July 2022
We're sure you've heard all about Mr. Fogg's near Covent Garden, but he's expanded to a brand new location in Mayfair – bringing with him a wonderful cocktail menu and his ever-eclectic interior.
Themed as a Victorian apothecary, head down the staircase and step into Phileas Fogg's wacky world of potions. We think a Doctor's Lively Fizz Tin (Aperol, lemon verbena liqueur, fresh lime juice, and raspberry syrup, topped with Kombucha and passion fruit foam) would cure all your ailments.
The Umbrella Workshop
Shoreditch
Opened July 2022
From the team behind Discount Suit Company comes equally elusive The Umbrella Workshop – a brand new bar serving up Umbrella London's bottled cocktails, Irish whiskey, ciders, and ginger beers.
Located in an old atelier workshop dating back to 1895, the space has been restored and renovated in a way that retains its original features. The best part? Anything you drink is available to purchase from the shop.
Read More: The Best Cocktail Bars in London
Upcoming London Bar Openings
Common Decency
Opens September 2022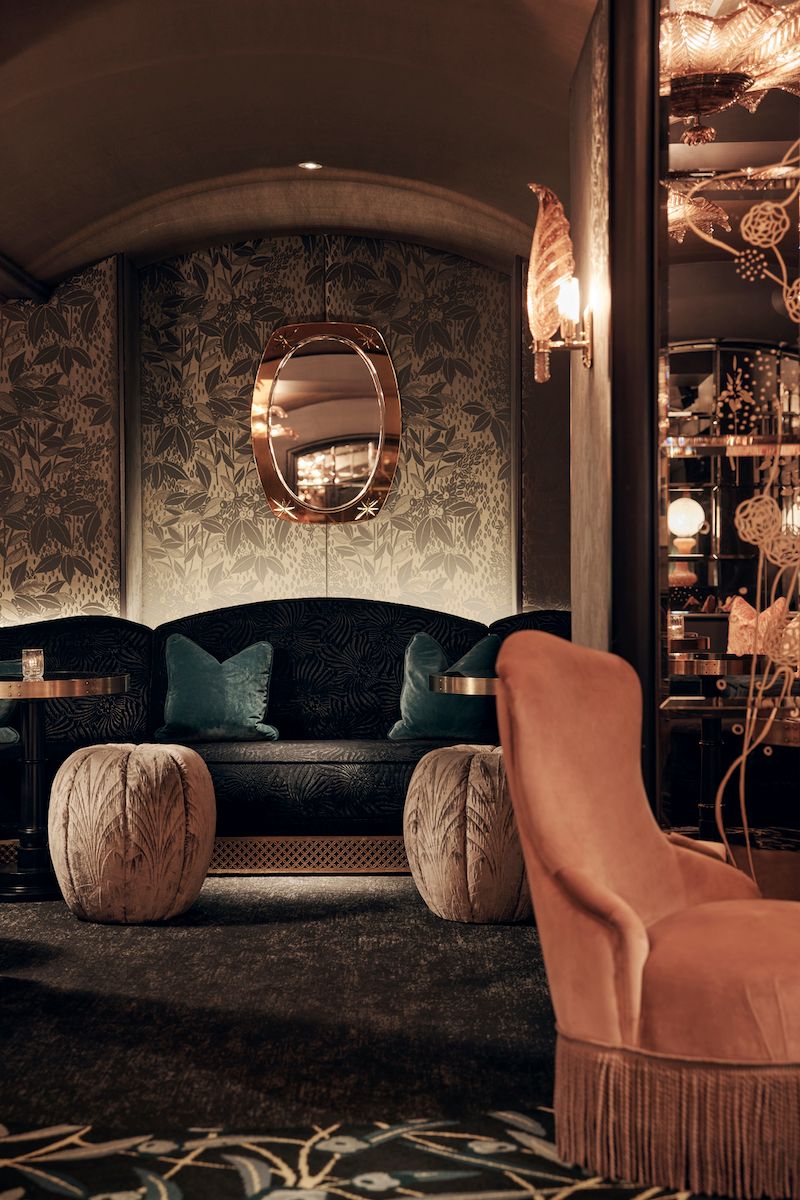 One of the hottest new bar openings in London will be NoMad Hotel's Common Decency, set to open its doors at the end of September. Situated inside the Bow Street police station where Oscar Wilde was detained for his so-called sins, this spot will pay homage to the past through timeless decor.
The cocktail menu is being kept under wraps for now but promises to encapsulate London's West and East Ends with pairs of drinks that utilise the same seasonal ingredient – we can't wait to visit.
The Palm House
Opens September 2022
Miami indulgence comes to London at the end of September with The Palm House, a tropical oasis blending Cuban cool with 1930s Miami.
This space will be set over two floors and, better yet, there's going to be a dedicated daiquiri bar where you can get your cocktail fix.
Fairgame
Opens October 2022
We're not quite sure you're ready for the opening of Fairgame in Canary Wharf. Dubbed to be a fairground for adults, this looks set to be one of the best bar openings in London 2022.
From wack-a-mole to roll-a-ball derby, games and booze make the best pairing since… well, wine and cheese. The best part? Smart tech will allow you to track your scores via a wristband, so when you're a few drinks in you can still see who's winning.
The Libertine
Royal Exchange
Opens October 2022
Possibly the most exciting London opening this year, the vaults of London's historical Royal Exchange have been transformed into The Libertine – the first venue to serve alcohol in London with a Royal Licence.
Menus have been kept very tightly under wraps, but it's believed that The Libertine will feature a large main bar, with other casual spaces, and two private areas for late night drinks.
Practical Tips for Exploring London's New Bars
Us Londoners go gaga for a new bar opening and tables are often booked up months in advance – you'll want to snap up a reservation ASAP.
If all else fails and you don't manage to get into one of London's newest bars, we've got plenty of guides to London's best watering holes. The best bars in London, secret bars and speakeasies, and sophisticated wine bars, to name a few.
New Bars in London: Map