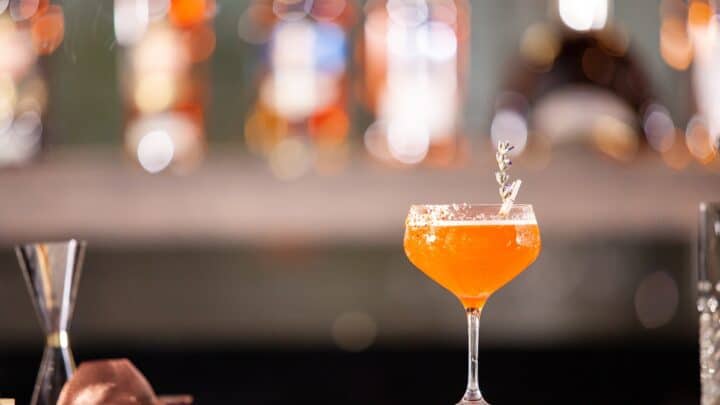 Looking for the best new bars in London? We've got you covered with this handy guide to the hottest new spots.
We can't quite believe how quickly this year is going. The capital has been blessed with an explosion of wonderful new drinking spots… and we're not mad about it.
From Korean spots to eccentric cocktail bars, these are the places you need to visit this month.
Oh, and we've also included the hottest upcoming bar openings in the capital… you're welcome.
Ready?
New Bars in London You Have to Visit
The Lucky Club Camden
Camden
Opened July 2022
The second Lucky Club to grace the capital and the Camden version offers all the coolness you would expect – from a totally Instagrammable interior, just on the right side of industrial-chic, to a menu filled with boozy drinks guaranteed to kick your evening off in style.
Head there on Mondays for 2 for £12 cocktails all day. Yes, really – they're excellent, too.
Ranging from expertly-crafted classics to some wild card choices you cannot help but be intrigued by. We're talking about you, Craberita – a heady blend of tequila, fresh cranberry, ginger syrup, Lime, and a ginger beer top up.
Did we mention that the menu is Mexican-inspired? Grab a taco and get ready for a fiesta.
KRAFT Dalston
Dalston
Opened July 2022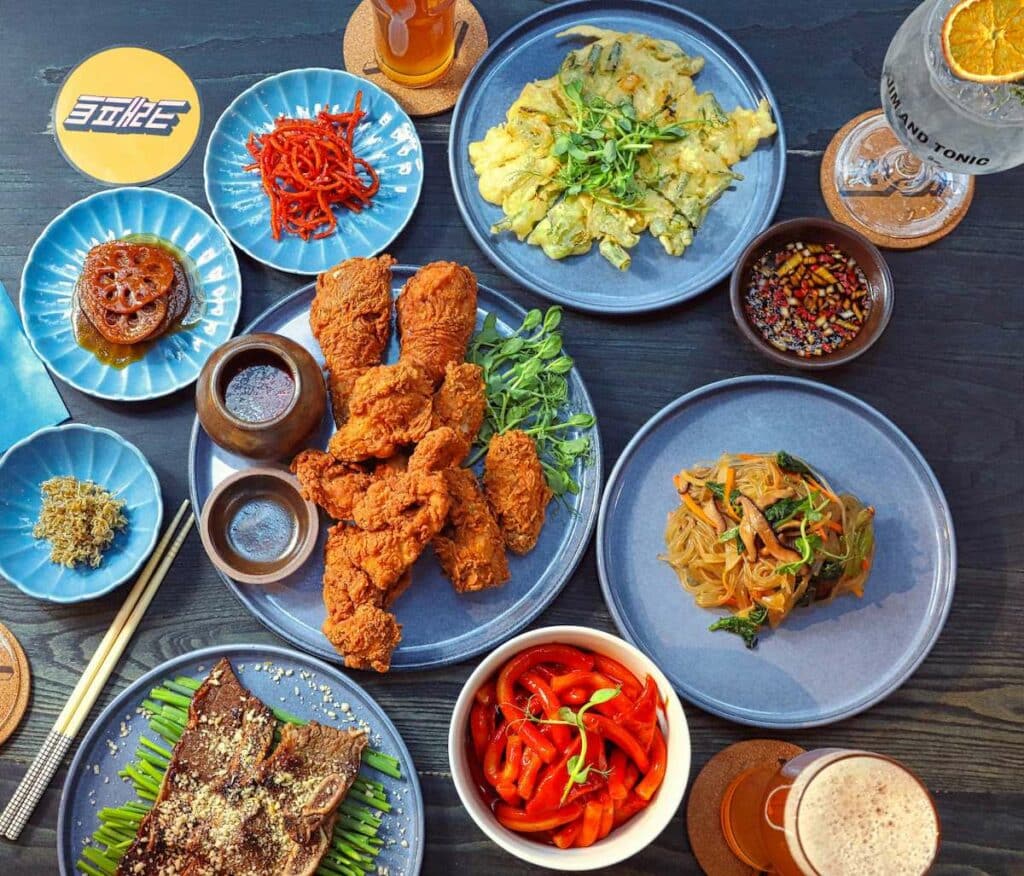 Germany meets South Korea in this quirky new bar and restaurant opening: the best of German beer is paired with Seoul-inspired dishes for a flavour sensation like no other.
The light, spacious, and pastel-hued interior blends with the greenery that surrounds it – not that you'll notice how pretty the decor is after a drink or two.
The cocktail menu is an innovative array of East-inspired drinks – the limited edition Soju and watermelon offering is oh-so-quaffable. Get it while you can.
Mr. Fogg's Apothecary
Opened July 2022
We're sure you've heard all about Mr. Fogg's near Covent Garden, but he's expanded to a brand new location in Mayfair – bringing with him a wonderful cocktail menu and his ever-eclectic interior.
Themed as a Victorian apothecary, head down the staircase and step into Phileas Fogg's wacky world of potions. We think a Doctor's Lively Fizz Tin (Aperol, lemon verbena liqueur, fresh lime juice, and raspberry syrup, topped with Kombucha and passion fruit foam) would cure all your ailments.
Rarebit
Elephant and Castle
Opened June 2022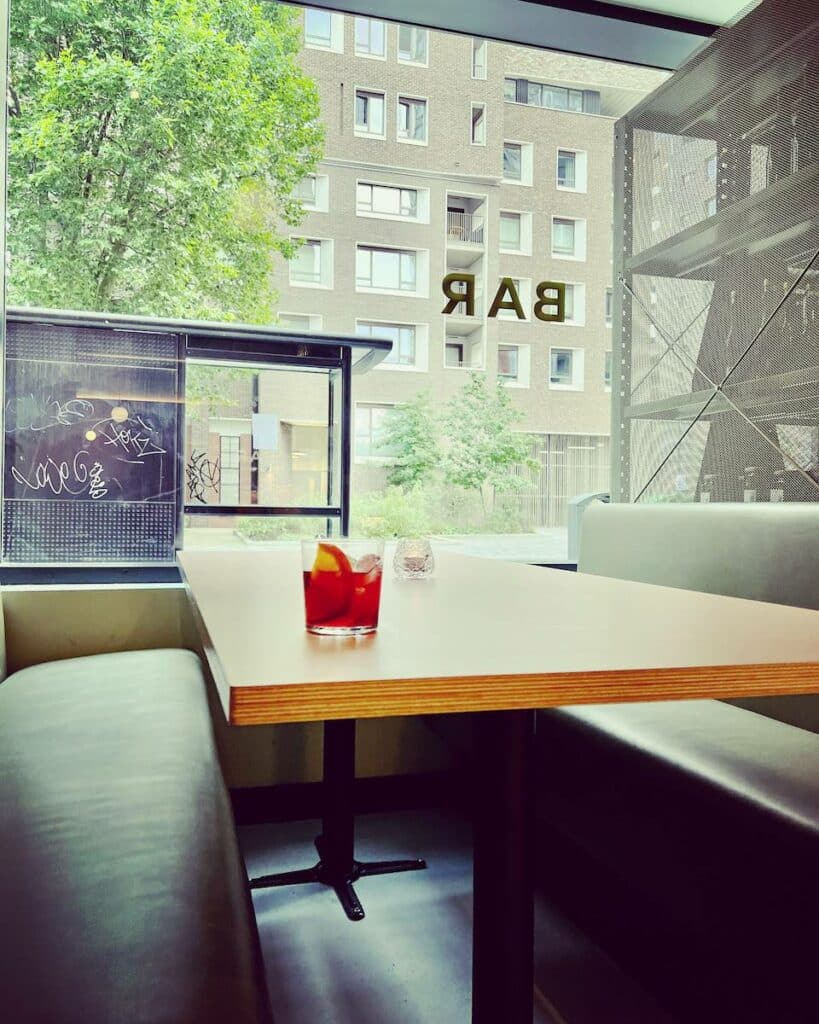 Rarebit is a new kitchen and bar open in Elephant and Castle, and it looks set to be one of the hottest places to dine this summer in London.
Boasting an excellent selection of classic cocktails – and a happy hour between 4:30pm and 6:30pm Tuesday to Friday – after-work drinks never tasted (or looked) so good. Oh, and take it from us, you'll want to order a plate of the grilled peach, burrata, and thyme to enjoy as you sip. Delish.
Bar Daskal
Opened June 2022
Borough Market's hottest new watering hole, Bar Daskal, makes it into our guide of the best new bars in London you need to visit.
This Spanish wine bar is from the same team behind Barrafina – so is it really any wonder it's popped off so much?
Expect a stellar selection of wines, sherries, cocktails, and beers, all paired with tempting small plates to share between friends. Oh, and a super intimate atmosphere. It's a winner for us.
The Umbrella Workshop
Shoreditch
Opened July 2022
From the team behind Discount Suit Company comes equally elusive The Umbrella Workshop – a brand new bar serving up Umbrella London's bottled cocktails, Irish whiskey, ciders, and ginger beers.
Located in an old atelier workshop dating back to 1895, the space has been restored and renovated in a way that retains its original features. The best part? Anything you drink is available to purchase from the shop.
The Little Scarlet Door
Opened June 2022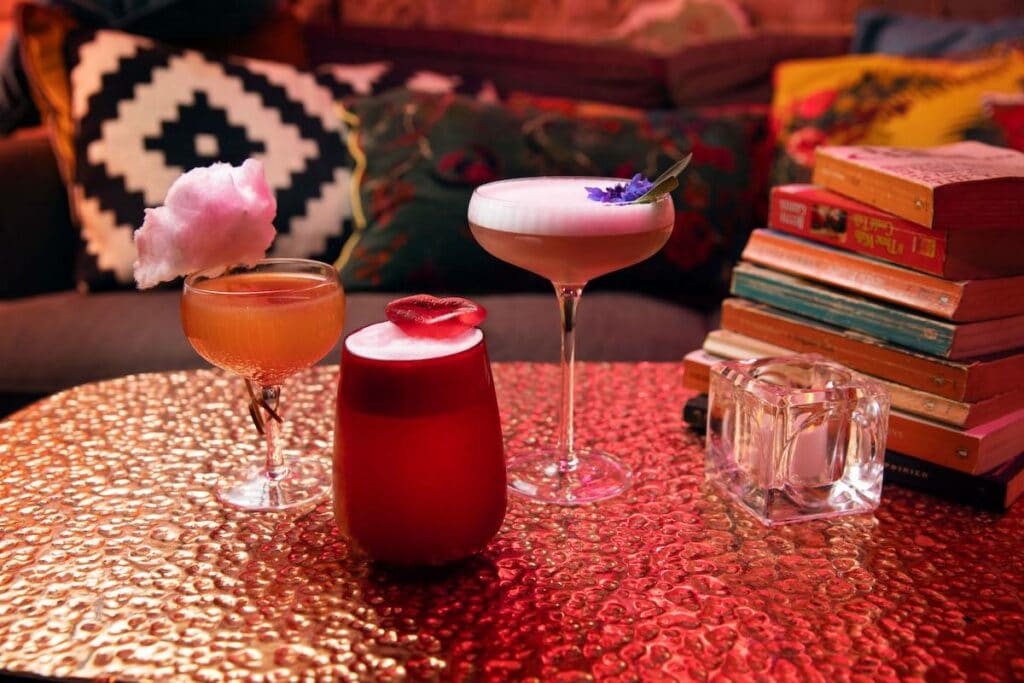 The Little Door's house parties have a reputation that precedes them, and they have finally brought the fun to Soho. Expect all the glitz, glamour, and raunch of their other locations and a bottomless brunch to die for.
With DJs and dancing from Wednesday to Saturday, and a huge cocktail menu spanning sweet, sour, savoury, and heady varieties of the good stuff, you're in for an incredible evening.
Our poison of choice? Crimes of Passion, a concoction made from strawberry and cream-infused Element 29 Vodka, Passoa, passion fruit, and fizz – served in a goblet with a flaming marshmallow, obvs.
The Little Scarlet Door is accepting bookings now – grab one while you can.
Wagtail
Opened May 2022
Hot off the press – rooftop bar Wagtail has literally just opened in London, offering drinkers 360-degree views of some of the top landmarks in the capital. We're talking about admiring St Pauls and the Shard whilst you quaff cocktails.
You'll find this spot on the 10th floor of a building on King William Street in Monument, serving up the likes of a rather delicious-looking matcha and rum cocktail, alongside some more classic options. There are also plenty of beers, spirits, and softs.
Palazzo
Crystal Palace
Opened May 2022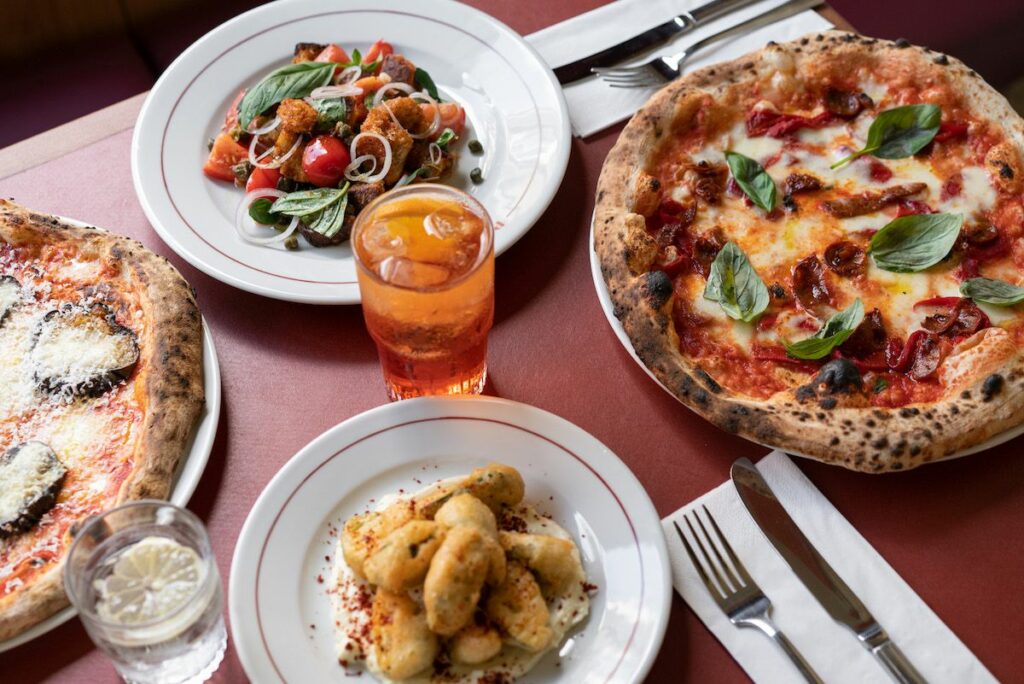 New Italian bar and diner Palazzo is one of the most exciting new bars in London this month. Situated in Crystal Palace, this spot will serve up delectable dishes, drinks, and live DJs – in other words, it's the perfect place to kick off a wild, boozy evening.
Boasting a hefty wine list (all Italian, of course), as well as classic cocktails such as Bicicletta and Amaro Spritz from across the country, the drink's list is stellar. Beer-drinkers will adore the draught beer options from Brick Brewery and the Drop Project, too.
Mayahuel
Opened May 2022
If you're all caught up on our guide to the best restaurants in London (well done you, give yourself a pat on the back), you'll already know that Cavita is one of the most exciting new spots in London.
What you might not know is that there's a downstairs bar called Mayahuel – and you need to visit ASAP. The secret bar is fully-stocked with Mezcal, and what's more, you can order food from the restaurant to enjoy as you sip.
Upcoming London Bar Openings
Lost Property Office
Opens 18th August
A brand new speakeasy is opening up this August in London – and you should be very excited.
Rich Woods (A.K.A The Cocktail Guy) is responsible for some of the best cocktail menus in London, and he's bringing his expertise to a new spot that's only accessible via a hidden door in Brewdog's new venue inside Waterloo Station.
Expect classic cocktails given a new lease of life, as well as a few surprises.
Fairgame
Opens October 2022
We're not quite sure you're ready for the opening of Fairgame in Canary Wharf. Dubbed to be a fairground for adults, this looks set to be one of the best bar openings in London 2022.
From wack-a-mole to roll-a-ball derby, games and booze make the best pairing since… well, wine and cheese. The best part? Smart tech will allow you to track your scores via a wristband, so when you're a few drinks in you can still see who's winning.
Practical Tips for Exploring London's New Bars
Us Londoners go gaga for a new bar opening and tables are often booked up months in advance – you'll want to snap up a reservation ASAP.
If all else fails and you don't manage to get into one of London's newest bars, we've got plenty of guides to London's best watering holes. The best bars in London, secret bars and speakeasies, and sophisticated wine bars, to name a few.
New Bars in London: Map