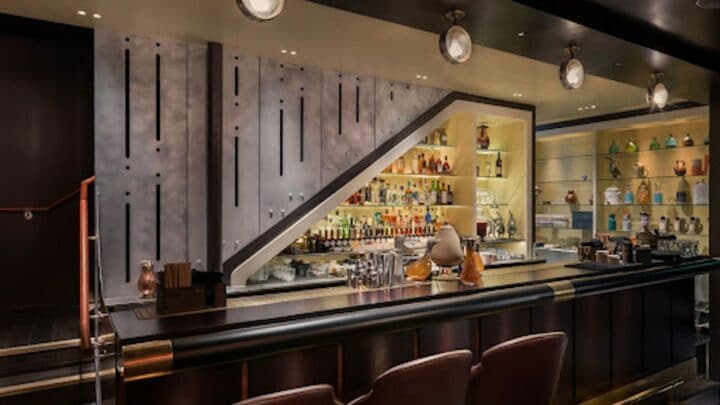 Looking for the best new bars in London? We've got you covered with this handy guide to the hottest new spots.
We can't quite believe how quickly this year is going. The capital has been blessed with an explosion of wonderful new drinking spots… and we're not mad about it.
From rooftop spots boasting magnificent views to a quirky Bowie-inspired spot, these are the places you need to visit this month.
Oh, and we've also included the hottest upcoming bar openings in the capital… you're welcome.
Ready?
New Bars in London You Have to Visit
Wagtail
Opened May 2022
Hot off the press – rooftop bar Wagtail has literally just opened in London, offering drinkers 360-degree views of some of the top landmarks in the capital. We're talking about admiring St Pauls and the Shard whilst you quaff cocktails.
You'll find this spot on the 10th floor of a building on King William Street in Monument, serving up the likes of a rather delicious-looking matcha and rum cocktail, alongside some more classic options. There are also plenty of beers, spirits, and softs.
Palazzo
Crystal Palace
Opened May 2022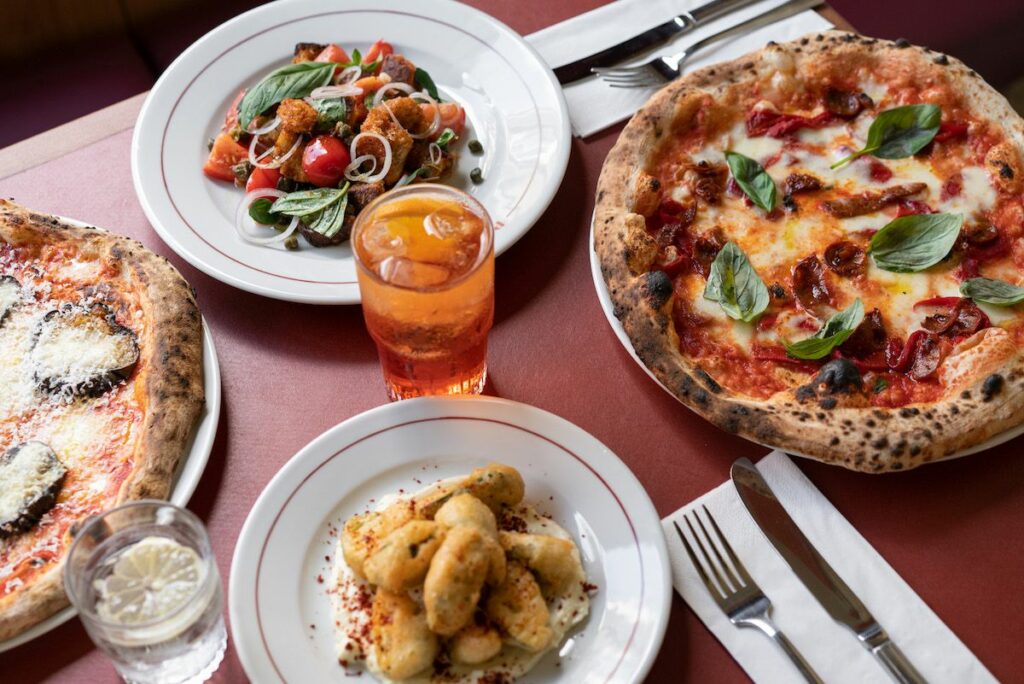 New Italian bar and diner Palazzo is one of the most exciting new bars in London this month. Situated in Crystal Palace, this spot will serve up delectable dishes, drinks, and live DJs – in other words, it's the perfect place to kick off a wild, boozy evening.
Boasting a hefty wine list (all Italian, of course), as well as classic cocktails such as Bicicletta and Amaro Spritz from across the country, the drink's list is stellar. Beer-drinkers will adore the draught beer options from Brick Brewery and the Drop Project, too.
Mayahuel
Opened May 2022
If you're all caught up on our guide to the best restaurants in London (well done you, give yourself a pat on the back), you'll already know that Cavita is one of the most exciting new spots in London.
What you might not know is that there's a downstairs bar called Mayahuel – and you need to visit ASAP. The secret bar is fully-stocked with Mezcal, and what's more, you can order food from the restaurant to enjoy as you sip.
Drake & Morgan Summer Pop-Up
Canary Wharf
Opened May 2022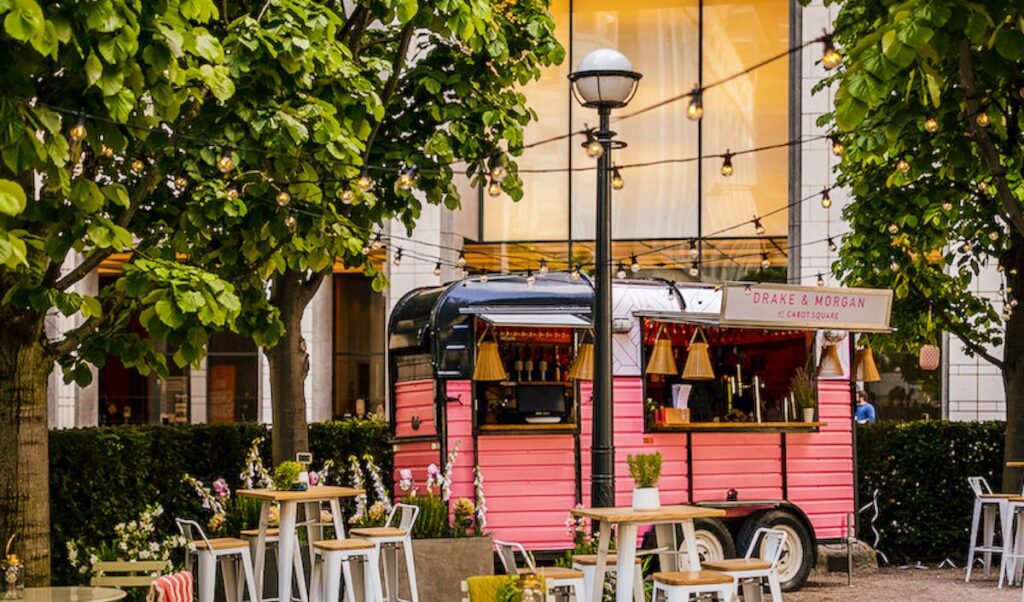 Situated in Cabot Square, Drake & Morgan's new summer pop-up looks set to be the hottest bar in London this month. Personally, we can't think of anywhere better to spend a warm summer evening – this colourful al-fresco offering is just the (Gin and) tonic we all need right now.
Whether you're in the mood for a crisp rosé, a glass of bubbly, or you're more into beer, the wide selection of drinks has got you more than covered.
Nightjar Carnaby
West End
Opened April 2022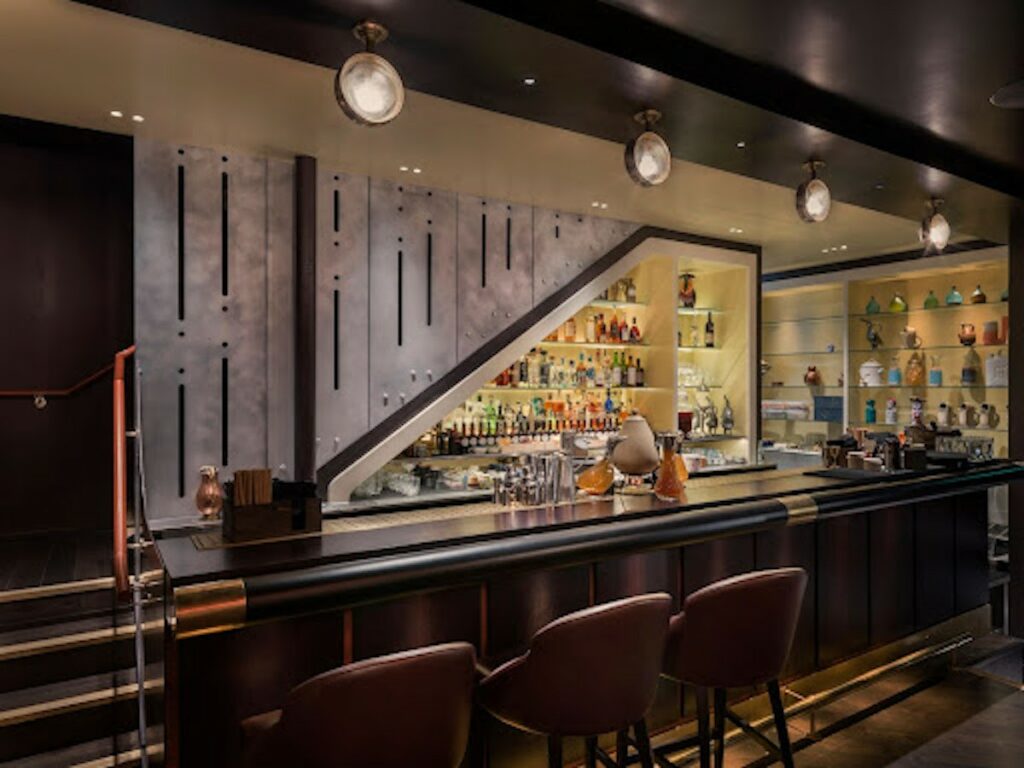 We're back firmly in bar territory with this one. Nightjar's even cooler, younger brother has opened in Kingsly Court. We know – we can't believe it either.
It was so hush-hush, in fact, that we struggled to find any details floating around on the interwebs – but it's just as weird and wonderful as the OG. The cocktails are innovative and the vibes are sultry AF.
Sadly, expect the same amount of difficulty when it comes to snagging a seat. It's well worth the hassle though.
The Princess Royal
Opened April 2022
If we're being picky, The Princess Royal is more of a pub. But, and it's a big but, it's an ultra-cool one emitting complete cocktail bar vibes, so we think you'll forgive us for including it in this guide to new bars in London.
From the same people behind The Coachmaker's Arms is a stunning new boozer serving up craft ales, cocktails, and food to boot. We're talking about a selection of small plates and mains, and there's even a raw bar! Can you tell that we're really excited about this new spot?
The Thin White Duke
Soho
Opened March 2022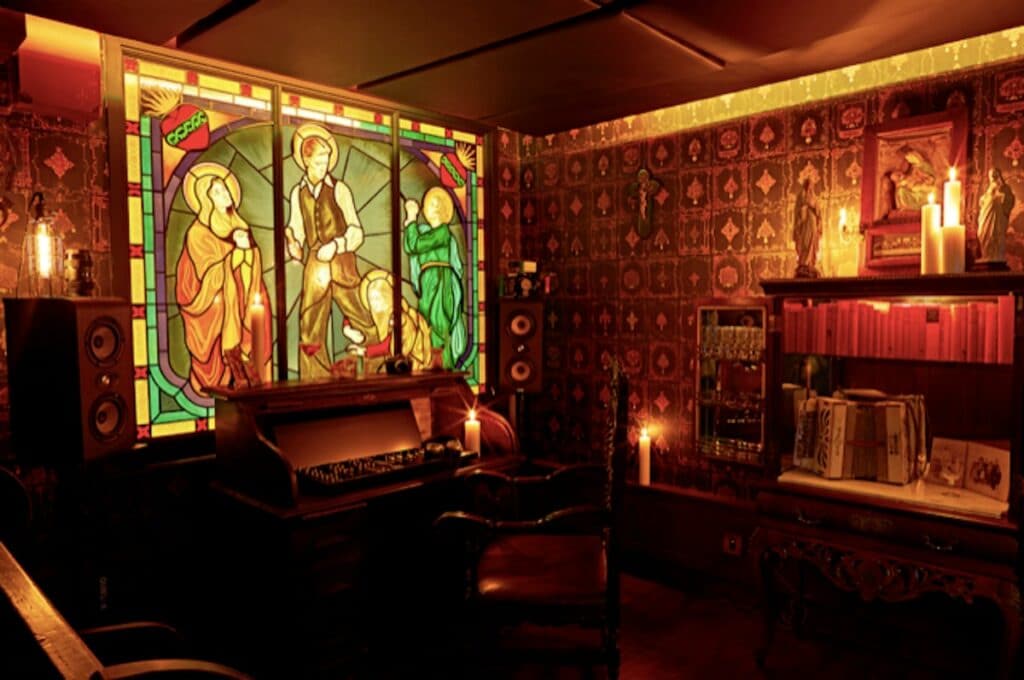 After plenty of um-ing and ahh-ing, The Thin White Duke has finally opened in central London – it's a Bowie-inspired joint that has nods to Berlin and Japan.
The inside is an eclectic mix of decor: one room is a Kyoto-inspired retreat, while the other has a church vibe to it – which is only enhanced by the stained glass mural of Bowie surrounded by adoring saints.
Having a drink here is a bizarre experience, but a pleasant one. Drinks have been created by the incredible Dav Eames, spanning from the classic to the downright weird and wonderful.
Soda & Friends
London City Island
Opened April 2022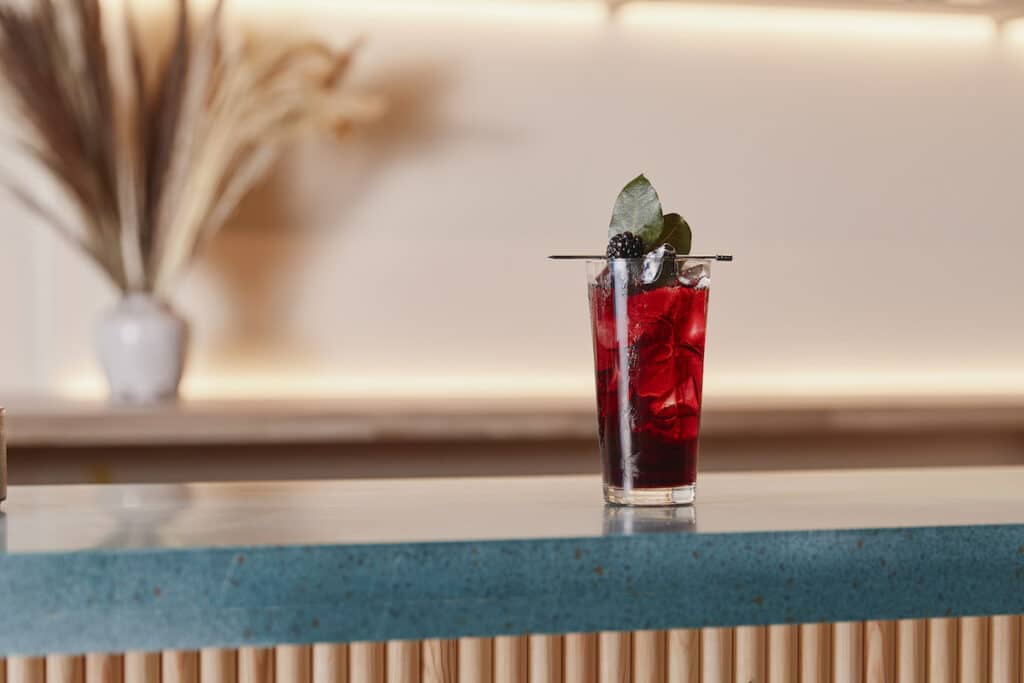 Soda & Friends is a brand-new chilled-out neighbourhood highball bar, focusing on the iconic highball serve and fine spirits. Inside the decor is minimalist, taking inspiration from Japandi styles. In other words, it's the perfect place to appreciate a great drink or two.
Each cocktail has a story to tell – a rare spirit mixed with house-made cordials and a range of soda and seltzer. Top picks include the Soda House Highball – a blend of pear, apple, and plum with whiskey and soda – and a rather fruity Blackberry Picking.
Amalfi
Soho
Opened April 2022
Set over two levels, restaurant and bar Amalfi is one of our top picks for where to drink in London right now.
Inspired heavily by the Amalfi coast, the space is akin to a leafy oasis with marbled floors, terracotta tiles, elegant wooden touches, and even a garden room.
The food menu features your classic pizza and pasta options, while the drinks range from Italian wines, beers, and cocktails – with aperitifs taking centre stage.
The Act
Opened March 2022
Theatre kids and musical fans alike will adore Notting Hill's totally camp, completely wonderful bar The Act.
Enjoy a delicious array of (musical-themed) cocktails as the bartending team gives live performances throughout the evening – seriously, you'll find it impossible to resist singing along.
Top picks include Jean Valjean (vodka, elderflower liqueur, and grapefruit) and the Grizabella (a purr-fect potion of Bacardi, coconut rum, yoghurt, and pineapple juice, blended).
Though opt for one of the non-alcoholic cocktails – named after musical children, of course – and you'll be equally pleased.
The bar also serves small Indian-inspired plates and plenty of high-quality wines.
Caia
Notting Hill
Opened March 2022
Notting Hill has been graced by not one, but two dazzling bars over the last few weeks. Caia is the Fiend team's latest venture and brings a cosy wine joint to this cool corner of London.
The concept is undeniably brilliant. Taking its name from the Roman goddess of fire, Caia features a chef's table which seats 10 and allows guests to watch their food be cooked over an open fire, while there's also a small wine room showcasing a floor-to-ceiling display of bottles.
Head down to the basement where a music nook awaits – an old-school-style record player spins everything from jazz to tropical house.
Seed Library
Shoreditch
Opened March 2022
Mr Lyan himself, Ryan Chetiyawardana, has brought his A-game with his brand new bar Seed Library. And, trust us, just like with Lyaness, the cocktails at this joint are sublime.
Situated in the basement of One Hundred Shoreditch, this cool spot has taken over what was previously Miranda – and you can expect sophisticated decor with a classy menu to match.
Come for the decently-priced cocktails – we love the Raspberry Leaf Bellini, or the Curry Leaf Stonefence if we're feeling particularly adventurous – and stay for the chilled-out vibes.
Sweeties
King's Cross
Opened February 2022
A 70's-esque bar, innovative cocktail menu crafted from feel-good nootropics and adaptogens, and all-out Hollywood glamour – that's what you can expect from Sweeties at The Standard Hotel.
Top picks include the hilariously titled Frothy Boi (a concoction of gin, rhubarb, and fluffed oats – don't knock it til you've tried it) and the classic Martini. Be warned though – the drinks are ridiculously expensive. We're talking just-shy of £20 each.
This bar slash discotheque boasts floor-to-ceiling views and an exciting array of guest DJs on its lineup.
Roxanne
Opened February 2022
Tucked away down a side street is an unassuming door that leads to a hip hop speakeasy – Roxanne in Shoreditch.
The team behind Dirty Bones has created a space where DJs and live performances perfectly encapsulate the soul and funk-inspired 80s New York to life.
But what about the drinks? The cocktail menu is exquisite, a harmonious balance of classics and new inventions. Opt for the Call Me Clementine, a blend of gin, Kumquat Liqueur, clementine, and rosemary, and you won't be disappointed.
Though if cocktails aren't your thing, the bar is fully stocked with an array of spirits and mixers, as well as craft beers.
Holy Bar
Opened February 2022
Wellness hub and vegan restaurant Holy Carrot has recently opened a nighttime spot in the form of Holy Bar and it's one of the hottest spots in London right now.
Step into a world inspired by the surrealism of Salvador Dali and Peter Pan's Neverland, and prepare for an evening of naughtiness – there's nothing holy here.
This new London bar will serve up botanical cocktails made without refined sugars and artificial colours (they're basically healthy AF) and Piper Heidsieck Champagne, while drinkers are treated to crystal therapy and tarot readings.
Silverleaf
Bishopsgate
Opened February 2022
Three of the country's top bartenders have joined forces at Silverleaf, London's new Japanese and Singaporean style bar.
Slink past the lobby and make your way up to the very top floor of Devonshire House, where you'll find a little slice of Tokyo in the form of this dark yet stylish watering hole.
So it looks the part… but what about the drinks? The cocktail menu has been created with naturalism in mind, with each offering made from around 3 ingredients.
Drinks are divided by elements, rather than style, making it easy-peasy to find your favourite tipple. While the edible garnishes add a touch of flair to the otherwise simple concoctions.
In this case, less is certainly more.
Dear Grace
White City
Opened February 2022
We've mentioned Dear Grace in our new restaurant guide, but this dreamy spot is also one of the best new bars in West London.
The cocktail menu is as pretty as it is impressive, filled with both trusted classics and some rather creative drinks courtesy of Dear Grace's talented bartending team.
You'll also find a healthy selection of wines, bubbles, beers, and softs for those who don't fancy something a little stronger.
La Goccia Bar
Covent Garden
Opened February 2022
Tucked away in Covent Garden, you'll no doubt have spotted Petersham Nurseries and its iconic garden tea room over Instagram in recent years. Their latest bar at La Goccia opened this month and has quickly established itself as one of the top places to quaff drinks in Central London.
Peel back the velvet curtain and you'll be greeted by an opulent bar made entirely from bronze-casted leaves. Sink into the plush sofas and settle down with a seasonal cocktail, a glass of fine Italian wine, or a beer.
Read More: The Best Cocktail Bars in London
Upcoming London Bar Openings
The Little Scarlet Door
Soho
Opening June 2022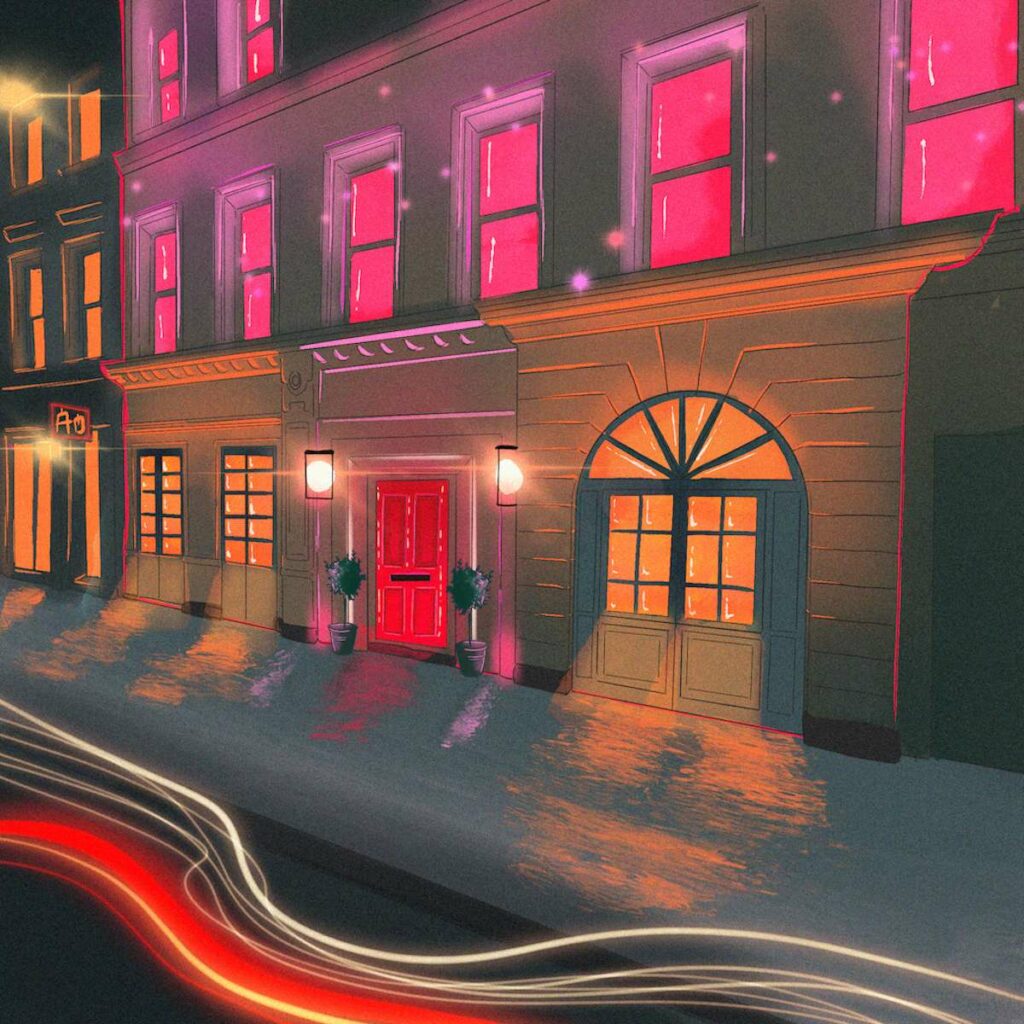 The Little Door's house parties have a reputation that precedes them, and they are finally bringing the fun to Soho… and we cannot wait.
Expect all the glitz, glamour, and raunch of their other locations, as well as a bottomless brunch to-die-for.
The Little Scarlet Door is accepting bookings now – grab one while you can.
Bar Daskal
Borough
Opening June 2022
The people that brought us Barrafina are blessing us with another venue: Bar Daskal. Details are being kept under wraps for now, but there looks to be a wide range of Spanish wines and tapas to enjoy nearby bustling Borough Market.
Mezcalito
Newington Green
Opening June 2022
Mexican joint Mezcalito is heading to Newington Green, bringing with it delicious Mexican plates and more Mezcal than you could dream of. Expect the same epic vibes found in the Chelsea bar, with even more Mexican flair.
The Sky Bar at The Gantry
Stratford
Opening tbc 2022
Perched atop the 18th floor of The Gantry Hotel – above Union Social – The Sky Bar looks set to be the best new rooftop bar London will boast in 2022.
They're keeping things under wraps for now, though we know to expect tempting cocktails and stunning views of East London.
Practical Tips for Exploring London's New Bars
Us Londoners go gaga for a new bar opening and tables are often booked up months in advance – you'll want to snap up a reservation ASAP.
If all else fails and you don't manage to get into one of London's newest bars, we've got plenty of guides to London's best watering holes. The best bars in London, secret bars and speakeasies, and sophisticated wine bars, to name a few.
New Bars in London: Map