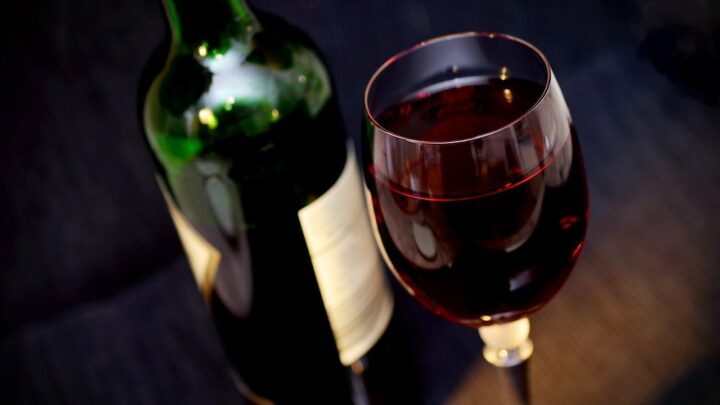 Looking for a classy wine bar to spend the night sipping away in? We've got you covered with this guide to the best.
On the hunt for the best wine bar in London? It's safe to say that London has acquired a fair few wine joints over the years. And it's also safe to say that we've been to most of them (for purposes of journalistic integrity, of course).
It feels like just a few years ago, wine's popularity had dwindled significantly. But the days of wine bars being tarnished as uncool are over – now the coolest kids in town are all drinking at them.
Whether you want to sip Merlot in the oldest wine bar in London, or try a trendy new glass of orange in a hip spot, wherever you are in the capital, you're never too far from a glass of vino – or two.
The Best Wine Bars in London
Wine Bars in Central London
Compagnies des Vins Surnaturels
From the group that bought us the Experimental Cocktail Club, Compagnies des Vins Surnaturels in Neal's Yard boasts over a staggering 400 wines, expertly selected. The charcuterie boards and small plates are nothing to sniff at either, with lobster rolls and cheesy aubergine fries the top picks.
With pages and pages dedicated to the finest champagnes, reds, and whites from across the world, this Parisian-inspired jaunt hits all the right notes.
There's only one question: Do you want it by glass or by bottle?
Address: 8-10 Neal's Yard, London WC2H 9DP
28-50°
The staff at 28-50° like to keep it simple, serving 15 red and 15 white wines that they genuinely love and are excited to share with guests. But don't worry, the selection changes often, so you'll be surprised each time you visit.
Oh, and they also have an unusual separate list, filled with exclusive wines that they have managed to pry from esteemed collector's personal cellars.
Wine tasting is also available at 28-50° for those who want to take it a step further, with Head Sommelier Jules Bensacq sharing his expertise from his time spent in Bordeaux and Burgundy.
Address: 15-17 Marylebone Ln, London W1U 2NE
Gordon's Wine Bar
Embankment
Despite taking the title of the oldest wine bar in London (established 1890, just in case you were wondering), Gordon's Wine Bar is a lively spot with a bit of a cult following.
Stepping into the wine bar is a little bit like stepping back in time; the Dickensian-style decor is accentuated by old oak barrels and newspaper clippings adorning the walls. Or, you can opt for al fresco drinks on the heated outdoor terrace all year round, if you prefer.
To pair with the abundance of wines, sherries, and ports, Gordon's serves delicious small plates and charcuterie boards – with some vegan options available too.
Address: 47 Villiers St, London WC2N 6NE
The Remedy
Fitzrovia
A self-described geeky spot for wine lovers, The Remedy focuses on the story behind the drink and chooses to work with smaller wineries. The result? No snobbery, just pure appreciation for great wine.
With a vast collection spanning champagnes, whites, rosés, reds, and an impressive selection of orange wines, the list is updated pretty much weekly as the sommeliers search for the latest and greatest.
The bar has an old-school feel, without being too gimmicky. Exposed brick walls, chalkboards, and dark leather seating creates the perfect intimate atmosphere, where you can share a cheeky bottle or two with a friend.
Address: 124 Cleveland St, London W1T 6PG
Noble Rot
Located in the heart of Soho, chic eatery Noble Rot has a wine list that would put even the finest of wine bars to shame – and the menu offers tidbits of history so you can really understand what you're drinking.
Small plates include a choux bun, duck liver parfait, and tokaji jelly, as well as a melon salad and mozzarella, figs, and parma ham. All are the perfect addition to a cold glass of vino.
Address: 2 Greek St, London W1D 4NB
10 Cases
Seven Dials
10 Cases is a tiny French bistro and wine bar located minutes from busy Covent Garden Market, though you may as well be in the back streets of Paris – the authenticity is off the scales.
If you're wondering why 10 Cases is named that, it's because they only ever order in 10 cases of a particular wine. Meaning when it's gone, it's gone – so push the boat out and try everything while you can!
10 Cases promises modern-European cuisine paired perfectly with delicate wines.
Address: 16 Endell St, London WC2H 9BD
Le Beaujolais
Seven Dials
Another French wine bar in Seven Dials? Hell to the yeah. Look, if something ain't broke, don't fix it.
It has to be said that Le Beaujolais feels significantly more French than the others (which is a feat, trust me), perhaps because it has been serving small dishes and excellent wine in central London for nearly 50 years.
Do as the French do and opt for a carafe – a.k.a a pitcher of wine – and make your way through this slowly throughout the evening, in between plates of bread and cheese. Or take your pick from the menu of exclusively French wines and find a new favourite.
Address: 25 Litchfield St, London WC2H 9NJ
Plume Wine Bar
Covent Garden
For something a little bit different, head to Plume Wine Bar's eccentric joint in Covent Garden. Long gone are the days of understated elegance, Plume is unapologetically garish and fabulous.
Based in a two-story' house of mischief', the bar specialises in English and sparkling wines, with 70 rotating bottles complimenting the locally-sourced menu of small plates. Seasonal dishes, wines, and events keep everyone on their toes.
Address: 26 Wellington St, London WC2E 7DD
The Wine Place
Covent Garden
Consider yourself lucky if you manage to snag a seat at The Wine Place.
This tiny spot is burrowed deep in Covent Garden Market, hoarding a delightful array of Italian wines, hot and cold plates, and Romano-style pizza. If you fancy a midday wine with lunch, you'll find the best of the best here in their underground cellar.
Address: 33, The Market Bldg, Piazza, London WC2E 8RE
Bar Rioja
King's Cross
Tucked down an unassuming alley in King's Cross you'll find a courtyard that's teeming with life. The main reason for that is that one half of the courtyard belongs to Bar Rioja. This tiny Spanish wine bar is a bit of a hidden gem.
They mostly serve wine, as you can probably guess, from the Rioja region but they don't let that pigeon hole them. The menu is vast and includes some seriously interesting bottles. We tried a biodynamic red that's on a vineyard that employs only women – it gets that niche.
They serve pretty much everything by the glass as the idea is you order small and try as much as you can. To top things off they do a really nice selection of pintxos and a menu of heavier tapas dishes to accompany.
Address: The, 3 Varnishers Yard, Regent Quarter, London N1 9FD
Bar 1790
The City of London
Bar 1790 is is the wine bar of The Sanerman Quater – a restaurant and bar combo on St Swithins Lane. The place has a pretty cool history. It was originally the storage place and offices of Sanderman Port back, founded in 1790.
They held on to the place until the 60's and have recently come back to re-open it as a a hotspot for food and wine in The City of London. They even store their vino in the cellars that used to house the barrels of port.
The place is nicely touched up to give it a modern, and slightly bouji feel. Drinking here you'll be treated to a menu of Portuguese wine that won't disappoint, served by staff with a good eye for recommendations. Ask nicely and they might even let you see the cellars.
Address: 21-23 St Swithin's Ln, London EC4N 8AD
Wine Bars in East London
Renegade Winery
Bethnal Green
Trust Bethnal Green to take a wine bar and make it uber-cool.
Renegade Winery is an urban winery and bar, home to an impressive selection of wines made in-house – in the barrels decorating the taproom, in fact. Whether you enjoy sweet, dry, fruity, or any other type of wine, Renegade has got it covered.
A word of warning: Don't be put off by the totally freaky photos of eyes on the bottles. Get past that and you're on your way to a cracking evening.
Address: Arch 12 Gales Gardens, London E2 0EJ
Sager + Wilde
Bethnal Green
Hip Hackney Road bar Sager + Wilde oozes coolness – from the open wine storage and exposed brick walls to the patio-style seating indoors.
Like with most bars in the capital, the wine list changes often, but expect plenty of fizz and the finest wines from around the globe. Snack-wise, you've got a couple of cracking charcuterie boards, marinated veggies, and what is essentially a posh cheese toastie to gobble on whilst you sip.
Address: 193 Hackney Rd, London E2 8JL
Furanxo
Dalston
At first glance, Furanxo looks like a quaint Spanish delicatessen, but perch at their limited seating and enter into their world of natural Spanish wines.
You'll be lucky to grab a seat at Furanxo's intimate wine bar, but it's so worth the effort – fizzy reds, oranges, sherries, and vermouths make up a large part of the wine menu, though you'll also find a couple of ciders and whites to enjoy.
As you can imagine, the selection of cheeses and Spanish-cured meats here is divine. Opt for charcuterie and you won't go wrong.
Address: 85 Dalston Ln, London E8 2NG
Bottles
Spitalfields
Located in Old Spitalfields Market, Bottles is an always-buzzing wine bar in East London. Featuring modern decor, Bottles has given your regular wine joint a total overhaul, from the large windows creating a light and airy feel to the light wood and greenery that feels oh-so-Scandi.
Many of the wines on the concise menu are newer, with French and Italian varieties taking the lead. And their small plate offering is an exciting smorgasbord of cheese, fish, and cold cuts.
Address: 67 Brushfield Street, London E1 6AA
Weino BIB
Dalston
Weino BIB is a great wine bar and deli in Dalston that we believe should be on everyone's radar. That's for the reason that they have a die-hard mission statement to only use sustainable packaging, and only sell wine made by vineyards that commit to being environmentally friendly.
You won't find anything but bottles from small, independant vineyards here – i.e. no big wine corporations allowed. You'll also only ever find natural wines. These wines come in the unconventional delivery system of a bag. Thats because it cuts around 90% of carbon outputs compared to using a bottle.
Don't worry, they'll transfer whatever wine you want from bag to glass when it comes time to sample their stock, and dish out some pretty excellent deli food to go with it should you be hungry.
Address: 39 Balls Pond Rd, London N1 4BW
Wine Bars in North London
Humble Grape
Islington
Let us tell you, there's nothing humble about this grape. This cheese and wine bar in London serves up sustainable dishes in an elegant setting – those looking for the perfect 'Gram shot need look no further than the copper lighting and emerald velvet seating.
The smaller plates are all created using locally-sourced ingredients, and butcher Donald Russell provides high-quality meat with as little impact on the land as possible.
Humble Grape boasts over 400 wines, and the sommeliers are always on hand to help you pair them perfectly with your bar snacks.
Address: 11-13 Theberton St, London N1 0QY
Wine Connection
Hornsey
Tucked away in Hornsey, Wine Connection describes itself as a wine-themed restaurant. And, admittedly, it's one of those jaunts that you don't give a second thought to, until you step inside and are wowed.
It's a more recent addition to the wine bar scene in London, but since opening in 2019 has established itself as one of the top places for an evening of drinking international wines in a comfortable setting.
Address: 79 Hazellville Road, London N19 3NB
OAK N4
Finsbury Park
OAK N4 keeps it simple and lets their wonderful selection of wines do the talking. The wine list is one of the most varied in North London, spanning everything from Rieslings, Cabernet Sauvignons, and Malbecs.
You probably wouldn't notice the wine bar during winter, but in the summer, the barrels are rolled out to the front where you can sit on a terrace of sorts and watch the world go by. OAK N4 is unfussy, but that's what makes it so brilliant.
Address: Unit 2, 5-7 Wells Terrace, Finsbury Park, London N4 3JU
The Wine Cellar
Highgate
With some wine bars in London, the small plates feel like an afterthought, but The Wine Cellar is the perfect example of a boozer that doesn't compromise on other aspects.
Tomato bruschetta, a three-cheese toastie, and the burrata are the standout dishes here, alongside hefty charcuterie and cheese boards sure to soak up some of the alcohol you will inevitably consume.
And the wines are pretty good too – a selection of the finest French, Italian, and South African vinos, and there's even a couple that are totally vegan (who knew wine wasn't vegan?).
Address: Unit 1, Sonny Heights West, 1 Swain's Ln, London N6 6AG
Authentique
Kentish Town
Authentique is the culmination of four French men's passion: delicious artisanal food and wine. And luckily for us, the result is an elegant wine bar in North London that picks a new area of France to explore each month.
With 700 wines and 75 beers, Authentique makes sure that every single region is celebrated. From the wine-rich Provence or iconic Champagne to the French-speaking region of Switzerland and far-flung territories like French Guiana.
The menu is curated by Head Chef Cathy Bonus, with the likes of Nicoise salad and slow-cooked lamb, alongside some lighter dishes making the cut.
Address: 116 Fortess Rd, London NW5 2HL
Wine Bars in South London
Diogenes the Dog
Elephant and Castle
Perched on the corner of Rodney Road, Diogenes the Dog sits proudly as one of the best wine bars in South London.
The interior is as gorgeous as the wines – yet another modern space breathing a fresh lease of life into your average wine bar. The wine menu changes regularly, and interestingly enough, they also serve a boozy cheese board featuring five alcohol-soaked cheeses.
In the neighbourhood? They offer a subscription service where you can get a selection of wine and bread goodies delivered straight to your door each month (or week, if you prefer).
Address: Diogenes The Dog, 96 Rodney Rd, London SE17 1BG
Unwined
Tooting
Nestled in Tooting Market, Unwined is a lovely little chill-out spot – you might remember that this wine bar used to be called A Grape Night In.
Puns aside, the menu has a handy key at the top which completely simplifies all the heavy jargon, as well as celebrating female winemakers by highlighting their wines. You'll also be able to enjoy vino from some more unusual destinations, like Holland and Essex.
If you want simple, quaffable wines, head to Unwined and you won't be disappointed.
Address: Unit 16A, Tooting Market, 21-23 Tooting High St, London SW17 0SN
OPS Wines
Forget France and Italy, OPS Wines champions Portugal, the underrated king of brilliant wines.
Why Portugal? With over 250 native grape species, the country produces unique and easily-sippable wines that challenge some of the more famous varieties. Pair this with around 4000 years of winemaking experience, and you're onto a winner.
Looking to go wine tasting in London? OPS Wines offers a tasting session for just £27.50 – which is unbelievably good value for money, considering you'll get to try six of their most popular wines from all across Portugal.
Address: 108 Druid St, London SE1 2HH
40 Maltby Street
Technically 40 Maltby Street is more of a bar, but it's owned and located in the warehouse of Gergovie Wines, so it's safe to say they know a thing or two about grapes.
The winery loves to avoid unnecessary additives in alcohol, so you can enjoy a guilt-free glass or two (yeah, more like the whole bottle). And you can buy a couple to take home, which is a bonus.
You can also order a charcuterie board, though it would be a shame not to give their mains a try, as they are absolutely divine.
Address: 40 Maltby St, London SE1 3PA
WC
Clapham
Fancy wine and charcuterie in London's coolest industrial bar? We thought so. You'll want to check out WC bar in Clapham.
Once you've got over the fact you're drinking in a 100-year-old water closet underneath Clapham station, feast your eyes on the menu – rabbit sliders, smoked trout pate, and an arrangement of cheese and cold cuts to accompany the oh-so-drinkable wines.
WC features a smaller wine menu than many of the others in this guide, but the bottles are carefully selected so that they pair perfectly with the delicate dishes on offer.
Address: Clapham Common South Side, London SW4 7AA
Peckham Cellars
Peckham
One of south London's trendier spots, Peckham Cellars, is a place any wine fanatic will want on their radar. Its what you might call a new-gen wine bar: run by young folk, eschewing any of the stiffness you might expect from an old-school wine bar, and a strong focus on natural wines.
All the staff seem to know the menu inside out – we imagine a love (not just a knowledge) of wine is a must-have job requirement to work here – and will be happy to recommend you something if you're in uncharted waters with the whole natural wine thing.
It's worth mentioning that they made it into the Michelin guide's Bib Gourmand section two years running. That's an award for great-quality cooking at an affordable price, and ordering a couple dishes along with your wine will show exactly why they boast the award. They're perhaps the best London wine bar that does food.
Address: 125 Queen's Rd, London SE15 2ND
Bar Douro
London Bridge
Bar Douro is another one of these London wine bars that are flaunting the best of Portuguese wine culture, excepet this isn't just any other wine bar. The interior, with its light, airy atmosphere and gorgeous tiled murals is a truly lovely place to sip on a glass or two of vino.
It also helps that the wine they serve here is all great. There's a palpable passion that runs through the offerings, and the team. That team is led by Max, whose family have been making wine in Portugal for two generations.
He started Bar Douro because he wasn't pleased with the lack of Portuguese wine drinking in London and wanted to see more of it . If it's all as good as it is here, we're sure his hopes will be realised.
Address: 35B, Arch, 85B Southwark Bridge Rd, London SE1 0NQ
Wine Bars in West London
Wine Not?
Chelsea
Have a drink in this family-run watering hole – Wine Not?
Wine and tapas-style platters are the specialties here, with a variety of meaty plates, as well as a sommelier-paired wine and cheese menu to dig into. Wines span France, Italy, and Australia, with some more unusual additions from Turkey and Hungary added into the mix.
All this is served in a charming bar fronted by floor-to-ceiling windows and warm lighting – the perfect spot for date night.
Address: 279 Fulham Rd, London SW10 9PZ
The Arches
South Hampstead
It doesn't get more homely than at The Arches. The owner, Harry, has spent decades crafting the perfect spot that feels quirky and cool, but still welcoming enough to spend an evening pouring over the decently-sized wine menu. Because trust me, that's what you'll be doing here.
The Arches serves a collection of international wines, small plates, and elegant main dishes, in what feels like part Irish boozer, part French cafe.
Address: 7 Fairhazel Gardens, London NW6 3QE
Best Wine Bars in London: Practical Tips
For some of the older, more established wine bars in our guide, you'll be best off making a booking. Some places, like Gordon's, don't take bookings but get super busy (you may have seen the queue when passing through Embankment) so also be prepared to stand in line. Check websites for information on this sort of thing.
If you're after natural wines, try Weino BIB or Peckham Cellars. These are two of our favourite spots for the natural stuff.
Wine bars make great date spots. If that's what you're after, Noble Rot or Sager + Wilde are great options. Obviously, take the taste of your date into consideration too though.