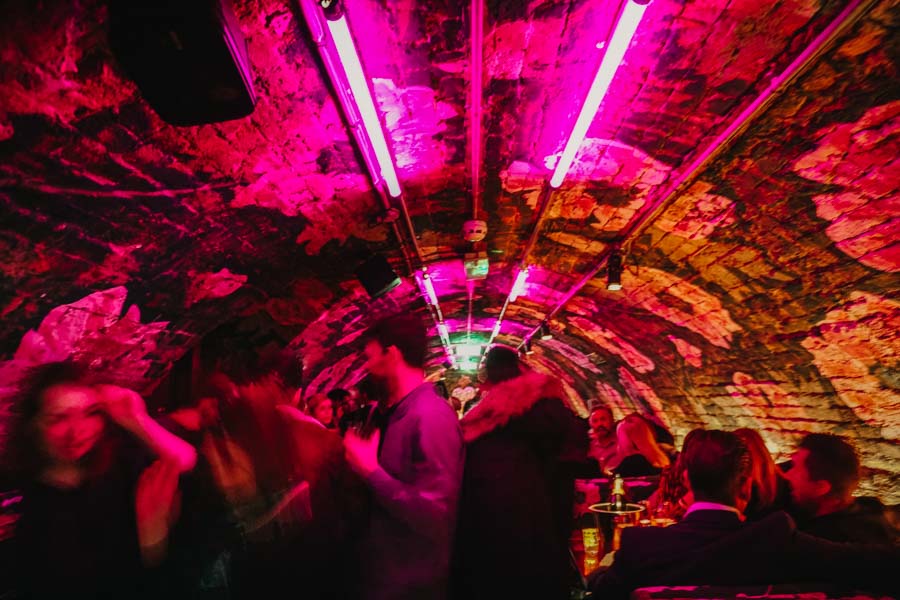 Covent Garden might be one of London's most touristy spots, but it's also home to some of the city's best bars. Don't miss these Covent Garden bars for your next fabulous drink.
Covent Garden might have more than its fair share of tacky souvenir shops… but there's a reason that it's one of London's best-known areas.
Let's face it- Covent Garden has no shortage of things to do… and that extends to drinking at some of London's coolest bars.
Looking for the best bars in Covent Garden? Start with these.
Best Bars in Covent Garden
Upstairs at Rules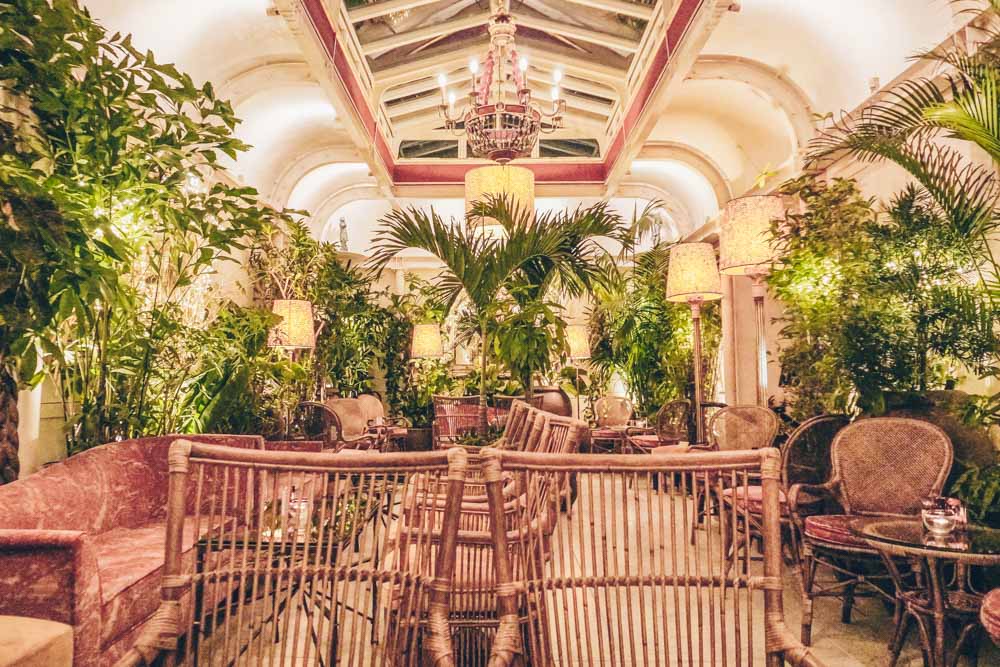 London has seen plenty of cocktail bars come and go, but there are a few stalwarts on the scene. You know, the places where you can always get an impeccably-made cocktail with minimum fuss.
Rules is such a place.
The downstairs restaurant has been serving up meals since 1798 (making it the oldest restaurant in London – not to mention one of Covent Garden's best places to eat). But what we're really interested in is the bar upstairs – which is hands-down one of the best cocktail bars in Covent Garden.
Plenty of bars try to achieve that old school glamour, but in Rules' case, it's all authentic. Edward VII even wined and dined his mistress, actress Lillie Langtry, amongst the rich hardwood and deep red accents back in the late 19th century.
Plump yourself down in the gorgeously decadent winter room and treat yourself to a stellar cocktail. Head bartender Brian Silva has created the cocktail list to end all cocktail lists.
There's a particular emphasis on classics (each given that special Silva twist) but in truth, I'm yet to come across a tipple that these guys don't excel at.
Read More: Upstairs at Rules: The Best Cocktails in London?
Mr Fogg's Tavern
Step inside Mr Fogg's Tavern for the cocktails, but stay for the enthusiastic tales – it's never quite clear what is fact and what is fiction.
Was this great venue for Covent Garden drinks really left to housekeeper Fanny McGee by the reclusive Aunt Gertrude? After a couple of their cocktails, I'll bet that you won't much care.
The whimsical and creative approach means Mr Fogg's blends perfect with its artsy surrounds and is a great stop-off before or after visiting the theatre.
Enjoy the charming and characterful decor, and indulge in the brilliant cocktail list.
Blame Gloria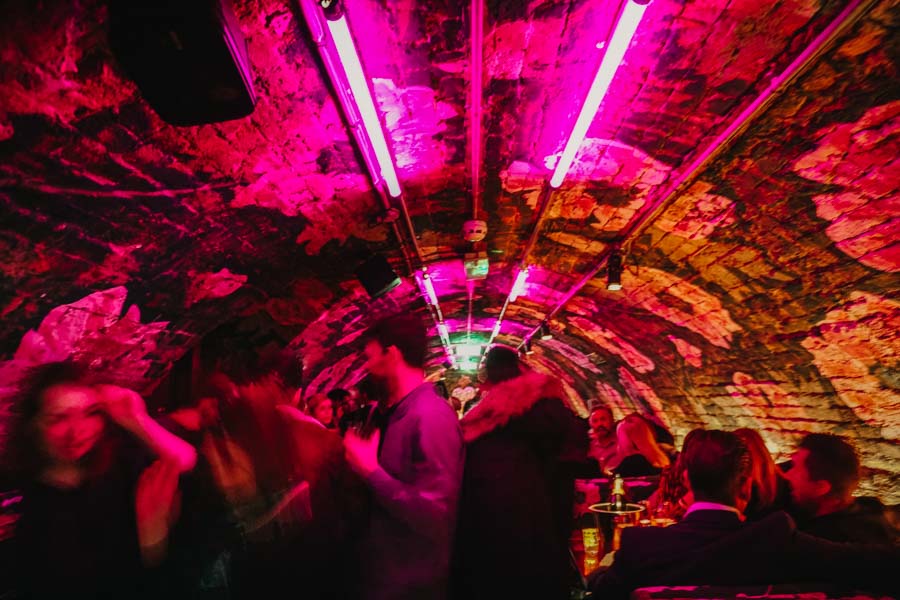 If you wake up with a headache, smudged eyeliner or missing one of your favourite heels, you can Blame Gloria, a new contender Covent Garden's bar scene.
Gloria has always loved to party – she taught Bowie how to do his makeup and got pretty up-close-and-personal with Hendrix, but this bar is her best effort yet.
The decor is unapologetically extravagant, the dance floor is always crowded and the drinks flow freely. No wonder that Blame Gloria has fixed itself firmly as one of the top bars in Covent Garden.
Music-wise, Gloria's a gal of eclectic tastes – you'll find yourself dancing to Whitney Houston one minute, Ice Cube the next… oh and singing along is encouraged. Forget jigging uncomfortably to the beat, this place is about really letting your hair down on the dancefloor.
Every great bar needs a great cocktail list, and Blame Gloria certainly doesn't disappoint. Plus, they offer one of the best happy hours in Covent Gardens. 2-4-1 cocktails between 4pm and 7pm every day? Yes, please.
The Ten Cases
With so much great wine available, it always seems like a shame when wine bars have a rusted-on wine list that never seems to change.
Not Ten Cases.
This Covent Garden bar gets its name from the fact that it only ever buys ten cases of a wine variety, meaning the wines on offer are constantly changing. You'll rarely try the same wine twice, but you'll always try something delicious and interesting.
While the emphasis is very much on wine, there are plenty of other drinks on offer as well. Take your pick from the cosy indoor bar, outdoor terrace or the rather enticing "Cave a Vin".
Frenchie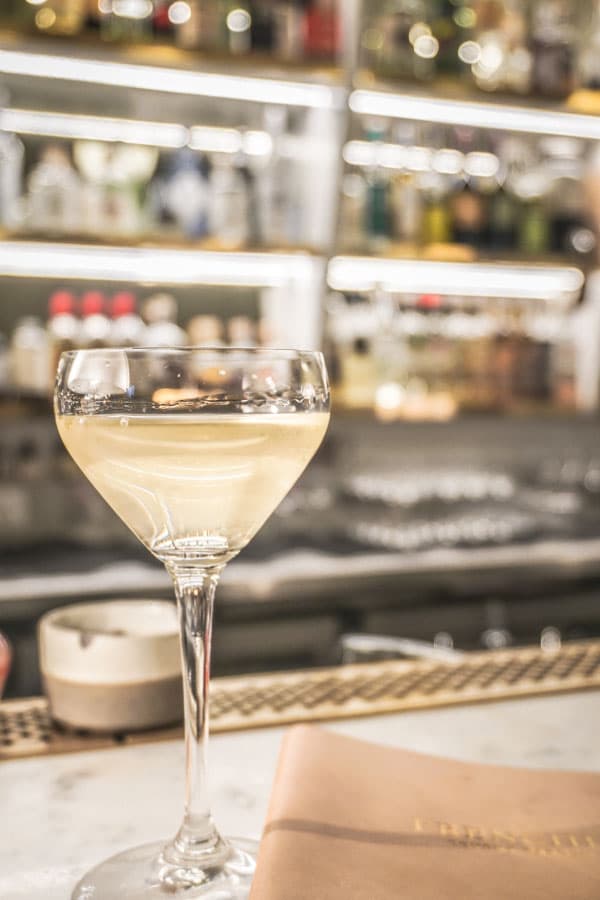 If there's any rivalry between Paris and London, owner Greg Marchand isn't fussed. His idea behind his Covent Garden bar, Frenchie, was to merge the two to create something great.
It's the London outpost of a Parisian favourite – that explains why Frenchie combines effortless Parisian style with a quirky London edge.
It's a great restaurant – but for me, the real action happens at the bar. Light and airy, it stands in contrast to the dark interiors so popular in London's bars.
Perch yourself on one of the beautiful bar stools, peruse the menu and get ready for some of the best cocktails in Covent Garden.
Each of the cocktails are unique to Frenchie and use unusual ingredients from small-batch producers – I'd wholeheartedly recommend the Late Harvest: a curious combination of Bonpland Rum Rouge, Sauternes Rousset-Peyraguey, rhubarb liqueur and rhubarb bitters.
Read More: Frenchie, Covent Garden – The Full Review
Cellar Door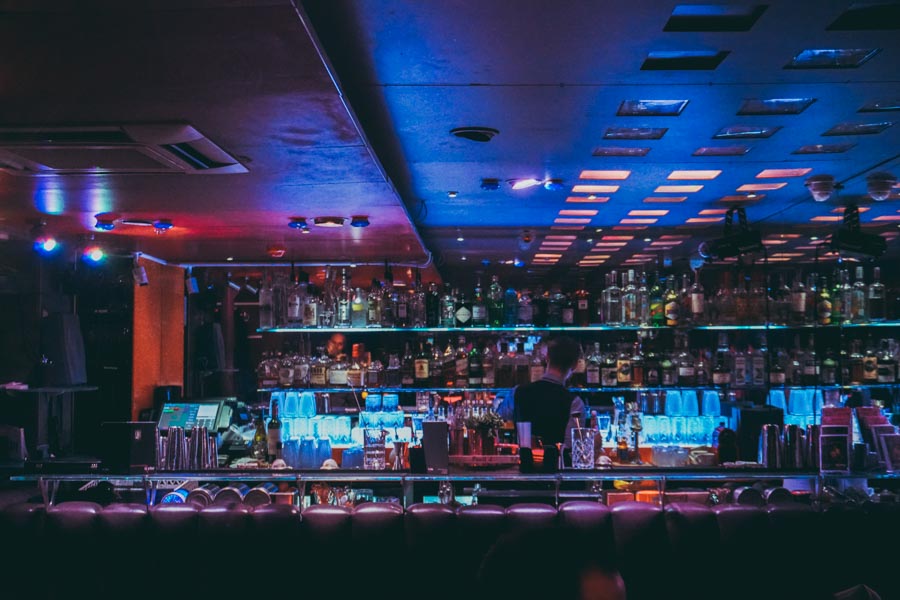 What should you expect from a place that describes itself as "30s Berlin meets New York basement dive"? Well, one thing's for sure, Cellar Door – set in what used to be an old public loo – is one hell of a quirky bar in Covent Garden.
There are many reasons to love the bar. It's tiny (no surprises there given its past life) and an intimate place for a nice drink. The cocktails aren't incredible, but tasty enough.
Another big draw is Cellar Door's nightly performances. Cabaret and burlesque pop up frequently, although they feature everything from stand-up comedy to rock on their calendar of events.
Get there early – the tiny bar fills up quickly, particularly once performances start later in the evening.
Read More: CellarDoor Review – The London Bar in a Converted Public Loo
Covent Garden Cocktail Club
There's always something loveable about an approachable and unpretentious bar – the kind of place you take your closest friends for a night of gossip and letting your hair down.
Covent Garden Cocktail Club is one of those places. Sure, it's a cool spot – but the lively bartenders and cool tunes elevate a good bar into a great one.
Now, much as I love CCCC, I should emphasise that this is not the Covent Garden cocktail bar for a quiet date.
Things start peacefully enough early in the evening, but don't be surprised if the punters start dancing on the table after a few of their rather well-priced cocktails.
Note: You need to sign up as a member of the Arts Theatre West End to get into CCCC. Membership is free.
Read More: Romantic Things to do in London
Le Beaujolais
Le Beaujolais might be in Covent Garden, but the moment that you step over the threshold, you're transported straight to Paris.
Not only are the drinks on offer decidedly French, but the entire menu is sourced from across the Channel.
The wine list is particularly exciting, with more than 20 "by the glass" options which are divided up according to region. Of course, they're all available by the bottle as well.
Kick back whilst sipping Champagne (you absolute baller) to ease you into the evening.
I'll be honest, I'm yet to visit and successfully resist one of the delicious fromages from the cheese trolley – there's usually at least 20 varieties to choose from.
Alternatively, go the full hog and order one of the excellent French dishes from the menu – the Boeuf Bourguignon is totally divine.
Radio Rooftop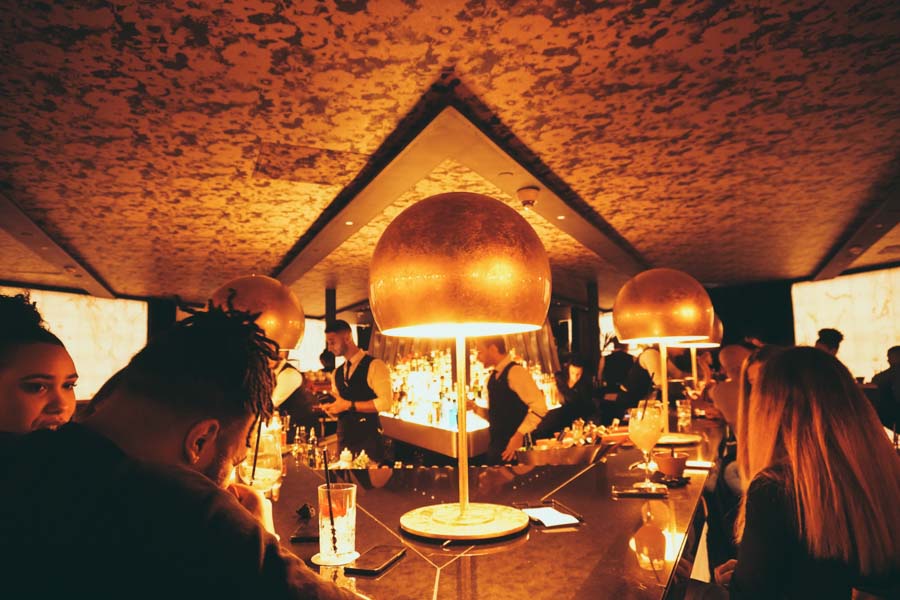 It's no secret that I'm not exactly the biggest fan of Radio Rooftop – but it is pretty much the only rooftop bar in Covent Garden and people really can't get enough of it, so it feels churlish not to include it on this list.
The panoramic rooftop views are the big thing here – located on the 10th floor of ME London, you can look out across London as you sip your cocktail. Any excursion to the Radio Rooftop is likely to include a game of "I Spy", spotting the most well-known icons of London such as the Shard.
Drinks-wise, expect to pay a lot. The drinks are OK, but definitely priced on the expensive side of things for what you get. Who doesn't want to buy a bottle of liquor for a few hundred pounds on a Friday night?
Understandably, it's a pretty popular spot, especially at the weekends. Not even chilly weather deters the crowds from flocking to enjoy the views at Radio Rooftop. Arrive early, or plan your visit for a weeknight or during the day when things are a little less hectic.
Read More: Radio Rooftop Bar – Rooftop Views in Covent Garden
Gordon's Wine Bar
Yet another wine bar in Covent Garden, Gordon's Wine Bar has been serving delicious varietals for over 120 years, so you could say they know a thing or two about wine.
In fact, the atmospheric bar is considered London's oldest wine bar, so if you're looking for a place to drink in Covent Garden that is simply dripping with history, Gordon's is a great choice.
Hidden away, the bar is a dimly lit hole-in-the-wall with antique furniture and a slightly devious streak. In fact, it describes itself as 'the adulterous barrister's bar'. Apparently, the decor and ask-no-questions attitude have worked for over a century – why change things up now?
Unique selling points aside, it's one of London's most historic bars and one of the most iconic places to drink in Covent Garden.
Read More: 150+ Brilliant Things to do in London
Blind Spot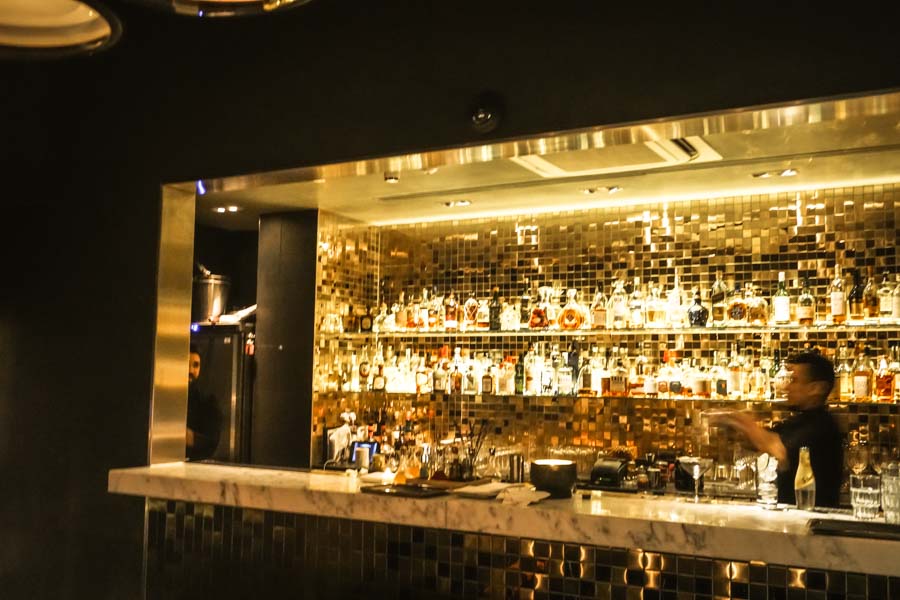 Remember the days before speakeasies? Me neither.
Everyone loves a good speakeasy, which is why Blind Spot is one of my favourite cool bars in Covent Garden.
Bypass the boutique tea counter (it's just a ruse!), push the wall adorned with a golden hand to find yourself inside this cool little drinking hole.
The rich leather and deep hardwood gives Blind Spot that oh-so-elegant appeal – but it's the drinks that are the real star of the show.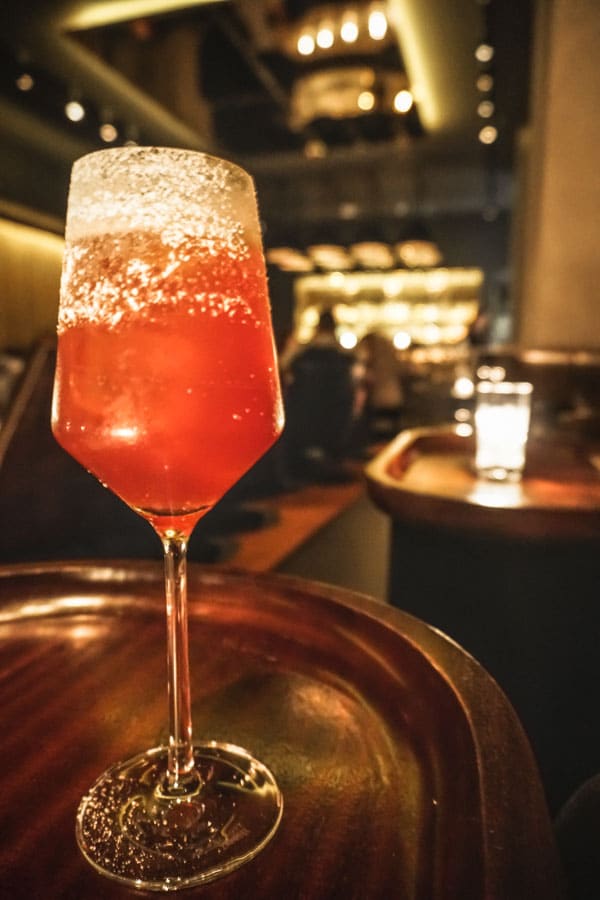 I particularly love the "round-the-world" theme of the cocktail menu, which features favourites from diverse destinations such as Sydney, Osaka and Mumbai.
I opted for the rather decadent Padua Negroni. It's an expert blend of aviation gin, luxardo bitter liqueur, cocchi americano and gentian bitters and, IMHO, one of the the best cocktails in Covent Garden.
Oh, and you can also eat cake with your cocktails. What's not to love?
Read More: Blind Spot Bar Review – The Swanky Speakeasy in St Martin's Lane
Terroirs
Unique Terroirs sets itself apart by only serving "natural wine".
What's that, you ask?
Natural wine is made with minimal human intervention, using mostly organic and sustainable ingredients. It's a hands-off approach to winemaking that is designed to showcase the fruit first and foremost.
This makes a visit to Terroirs not only a great place to drink in Covent Garden, but also the perfect place to brush up on your oenology.
Most of the wines are available by the glass so you can sample a range of different drops.
Balthazar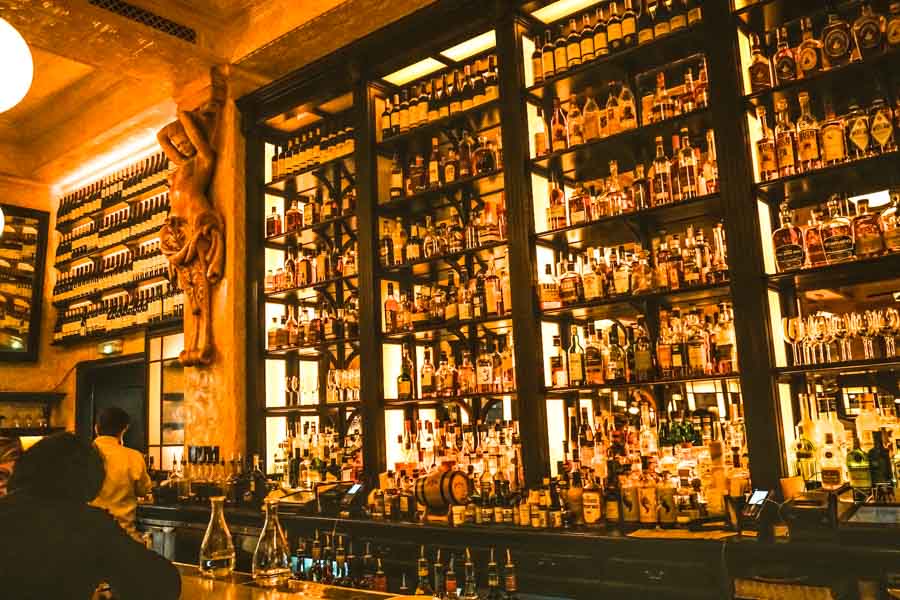 The Balthazar craze started off in New York before heading across the pond over here a few years ago.
While there are some bars around Covent Garden that are best enjoyed once the sun goes down, Balthazar prides itself on offering a great experience around the clock. So you can pop in for a champagne breakfast or set yourself up for a decadent evening all in the same grandiose setting.
It's more of a high-end bistro but you're more than welcome to hop up to the bar and drink a cocktail or two if you only want drinks.
I'd say it's the best option – there are better restaurants in the area (you can read my full restaurant review of Balthazar here – not impressed), but the cocktails are superb.

The Henrietta
Another option that draws inspiration from the brasseries across the pond, The Henrietta is a great option for a late night bar in Covent Garden that serves incredible food well into the night.
Every night until 1am, you can enjoy delicious cocktails as well as snacks from the late menu. The snacks are decidedly French-inspired, a nod to the homeland of the bar's head chef.
The wine list is a little broader, sourcing varietals from all over Europe as well as further afar. Each wine is carefully selected, with a few big names as well as a selection of up-and-coming micro-producers. As long as the wine is good, the Henrietta will feature it.
The bar is upstairs on the mezzanine level, which gives it a laidback and breezy feeling, perfect for those more relaxed nights when you don't want to compromise on quality.
The Eve Bar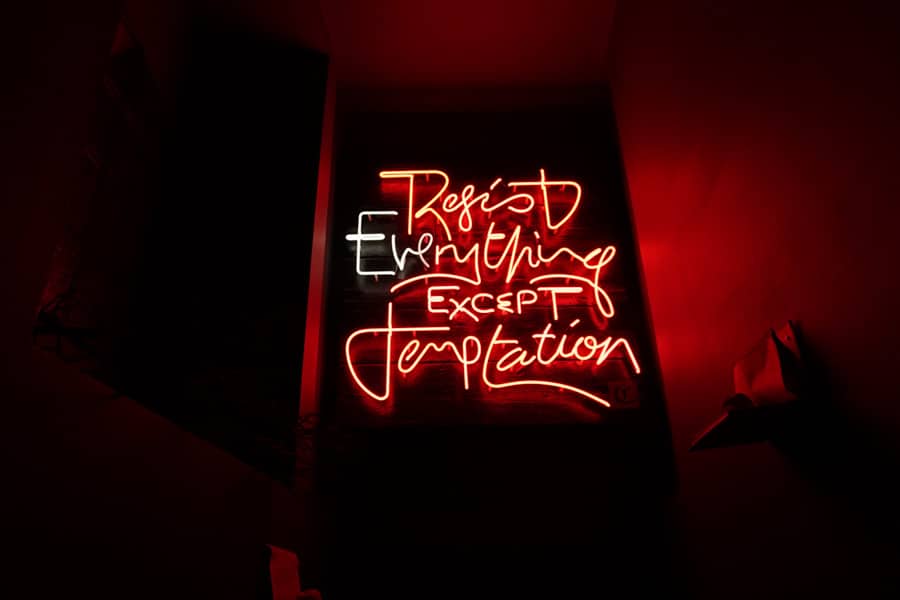 I wasn't sure whether to include Eve Bar on this list. It's a popular bar on the Covent Garden nightlife circuit, but to be honest, I think it totally prioritises style over substance.
Don't say that you haven't been warned.
The decor, like its name, is Biblically-inspired, with symbolic hints like apples and general foliage. There's even a stained glass window and neon writing thrown into the mix.
The problem is that Eve Bar looks so cool that it seems to have forgotten that it's supposed to serve good cocktails too.
The cocktails are overpriced at their best, pretty rubbish at their worst. At an average price of £15 per drink, Eve Bar should be punching alongside the likes of Upstairs at Rules and The Savoy. It's nowhere close.
The Escapologist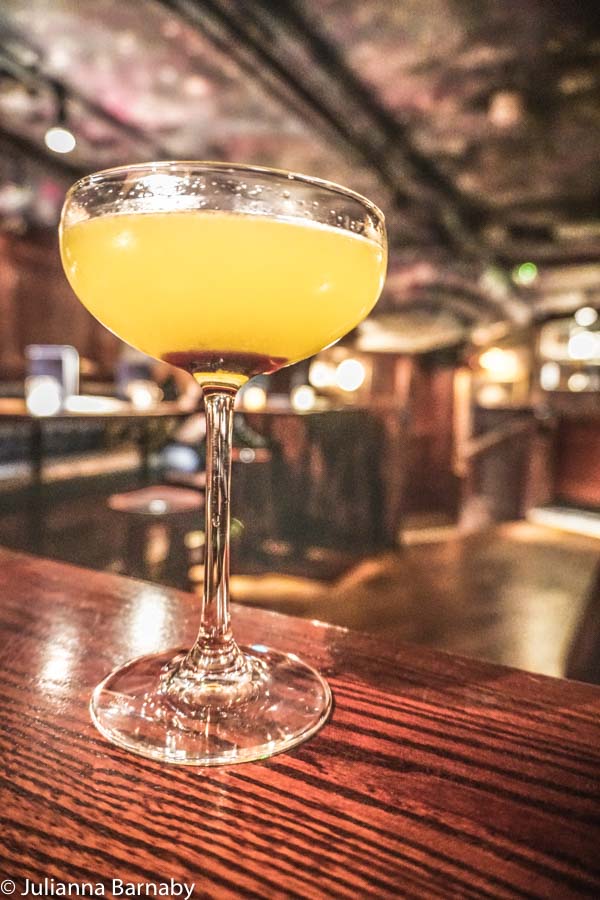 The Escapologist is an escapade into times past. You might think that you're simply walking into a cocktail bar, but in reality, you're plunging into the nefarious world of Victorian vagabond Baron Von Took.
Who is Von Took? Von Took earned himself the moniker of "The Escapologist" by staging a rather daring escape from a brew house in which he was supposed to be having his last drink before the gallows.
He went on to become one of the movers and shakers of Victorian society.
The bar recreates this world – complete with a collection of very drinkable cocktails over which you can plan to take over the world, Von Took-style.
Like its sister bar Blame Gloria, The Escapologist is a cool little location that you should always have in your little black book of go-to Covent Garden bars. Pop in for a cheeky cocktail. Stay for four.
Read More: The Escapologist Bar – Cocktails with a Side of Fun in Covent Garden
Companies de Vins Surnaturels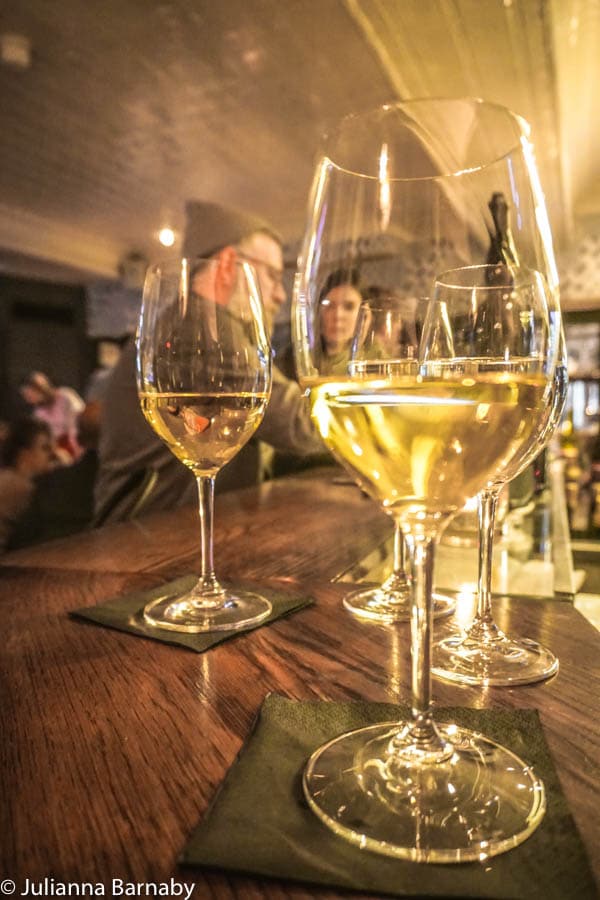 400 hand-picked wines is enough to impress any wine lover.
It's not just the expansive wine list that will catch your eye at Companies de Vins Surnaturels, however. The decor is both impeccable and eclectic – put together without being too put together, stylish without being overbearing.
With so many options available, you'd think the list could be overwhelming. Luckily, the ultra-knowledgeable staff are on hand to assist and seem to absolutely love finding you the perfect blend in this Neal's Yard gem.
Freud
Hardly an underrated bar, but Freud is well-deserving of its cult following.
Step inside and you'll be transported back in time to the early 20th century, where moody lighting and a random assortment of vintage trinkets help to create the immersive atmosphere.
The bar/cafe hybrid has been rustling up cracking cocktails since 1986, as well as hosting art exhibitions from local artists.
The ever-changing drinks menu is, of course, scrawled on a blackboard old-school style, so expect classic cocktails and rich whiskeys to take centre stage.
The Lost Alpaca
Tucked away downstairs underneath Floral by Lima London lies The Lost Alpaca, an unassuming joint that is actually bursting with character.
The speciality here is Pisco, the Peruvian liquor that packs a feisty punch – think of it as tequila's even sassier sister. You'll also find the aforementioned tequila and mezcal-based drinks on offer here.
The decor balances style and class, with modern lighting illuminating the old-school seating and bar situation.
Cocktail menu highlights include the iconic Pisco Sour, a sharp and citrusy concoction, as well as The Palo Santo Vibe made with smoked Pisco, tobacco liqueur, mint, chicha morada syrup, and ginger beer.
VyTA
Teal walls, pink seats, and Moroccan-style carpets… VyTA might just take the title for the most stunning bar in Covent Garden.
But beware, looks can be deceiving – not in this case though.
The restaurant's cocktail bar can be found on the first floor, boasting a whole host of special drinks courtesy of the talented bartenders who create bespoke concoctions just for you.
Favourites include the decadent Chocolate Espresso Martini (yes, you may lick the glass) and the Ly VtTA en Rose that pops up a couple of times throughout the years. Though each drink is so special it's impossible to be disappointed.
The Alchemist
Fun cocktails can often stray into a gimmicky mess, but The Alchemist ensures that their cocktails are creative without compromising on taste. Both style and substance are accounted for here.
There are a few locations across the UK, but the Covent Garden offering is one of the best – ultra stylish decor and a laid-back soundtrack creates the perfect ambience for a late night cocktail.
Theatrical servers and a fully-themed menu based around the elements sees you choosing between smoking cups, foliage-filled pint glasses, and popping candy-topped drinks.
If you want to go crazy, you can even get your face printed on your drinks. Although, the colour-changing drinks – where you get to live out your wildest mad scientist dreams – are also big winners.
Covent Garden Bars: Map
Cool Bars in Covent Garden: Practical Tips
Covent Garden might have a number of brilliant bars, but it also has some truly awful ones. Research ahead so that you don't end up wasting your money.
Not all of these bars are suited to all occasions – choose accordingly. Heaven forbid that you go on a rowdy hen party to The American Bar, but it's equally ridiculous to try and have a intimate date at The Covent Garden Cocktail Club.
Visiting London for the first time? Check out my guide to the best areas to stay in London and itinerary for a whirlwind escape to London.
Drink responsibly. But you already know that.
Looking for More Covent Garden Guides?
Check these out…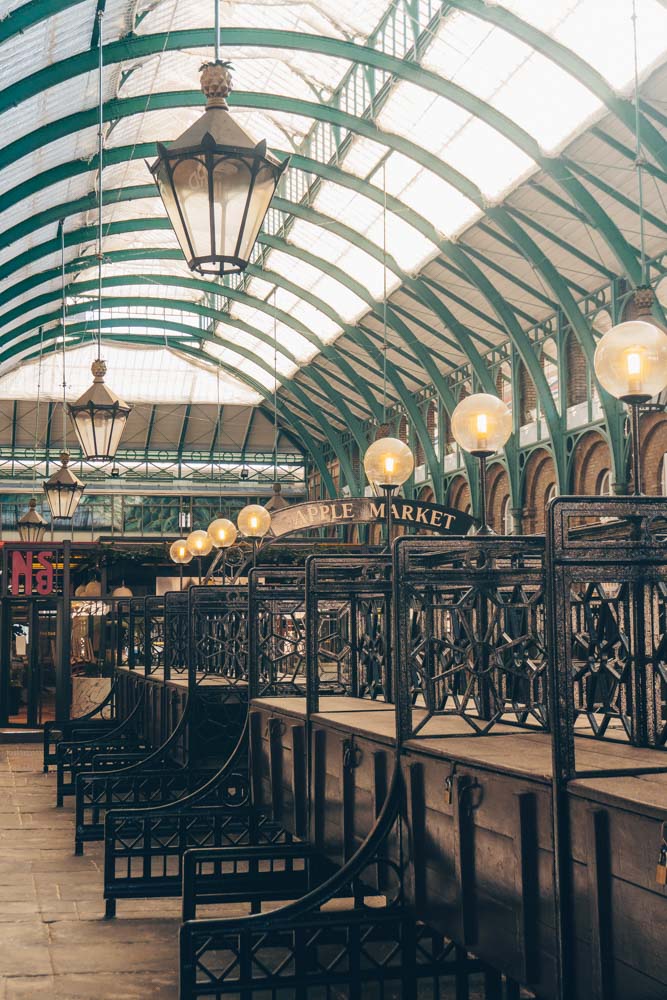 Covent Garden Area Guide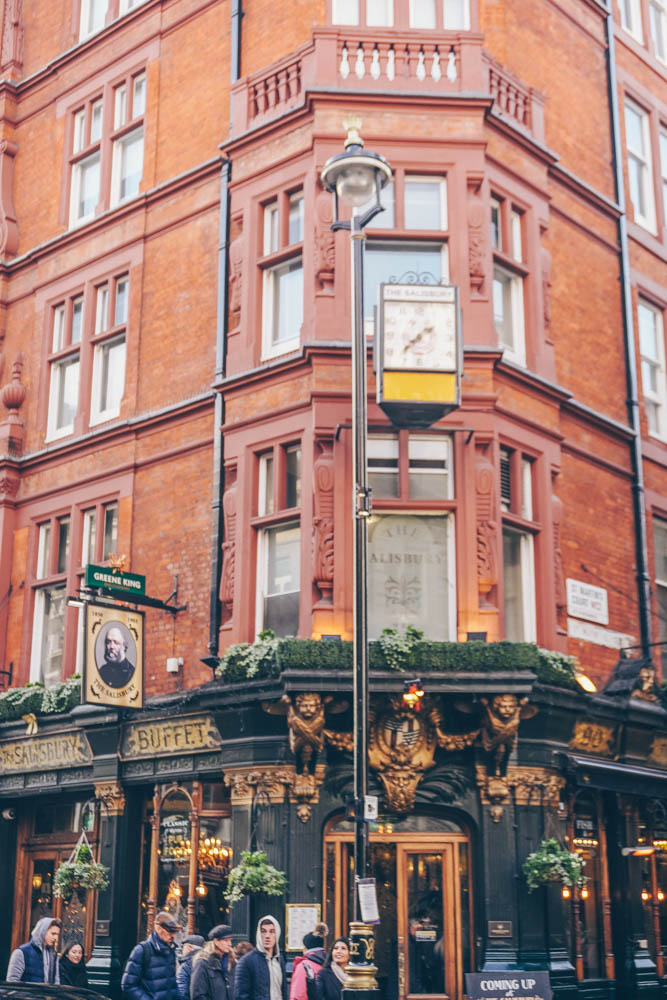 Best Pubs in Covent Garden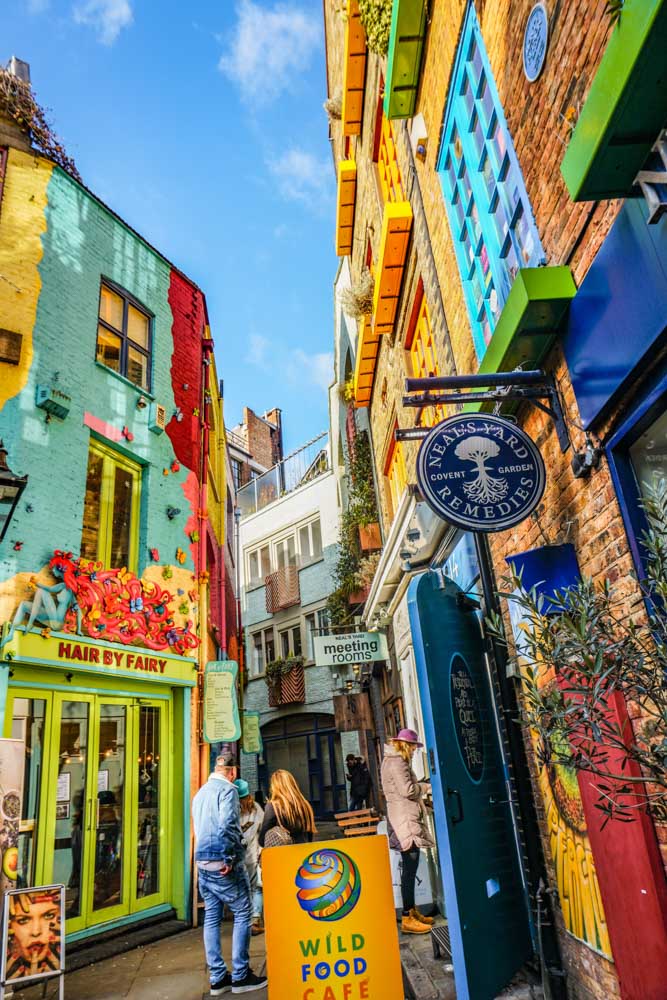 Time to Discover: Neal's Yard