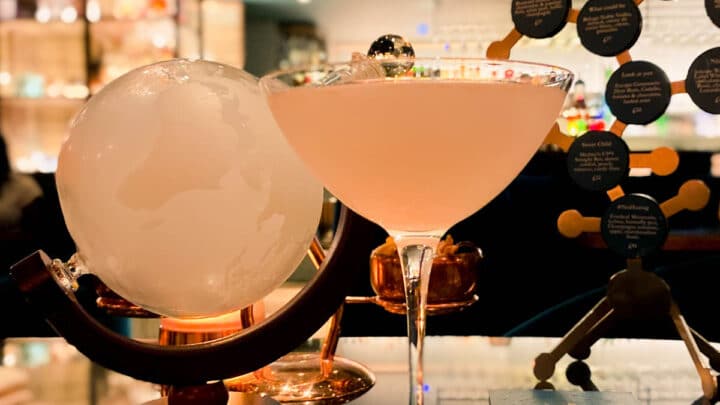 The St James Bar is one of central London's finest cocktail bars. Fact.
Let's get this out of the way. With a few select exceptions, hotel bars can be a bit of a snooze – the place where businessmen tapping on laptops and bog-standard cocktails meet… and often the place where atmosphere comes to die.
Think of the St James Bar as the antithesis of all that.
Yes, its location, tucked away inside the Sofitel St James makes it a hotel bar, but that is where the comparison ends. This is one of London's most exciting cocktail bars. Here's why.
St James Bar
The Drinks
It's no coincidence that the St James Bar's previous cocktail menu 'Passport' won awards: their new 'Imagination' menu shows the same blend of a playful attitude and serious skill that can't help but make you pay attention, particularly once you've tried any one of the 21 drinks on offer.
Imagination is an apt name: blending scientific techniques and an extensive knowledge of the flavour profiles of each of the constituent ingredients, the team has created a cocktail menu that's truly unique.
Take, for example, the E=m(t+6.71²). Bartender Stan Andruskevic explains that in creating this cocktail, the team wanted to play with the concept of what it means to go for a drink and do away with the assumptions that come with that.
That goes some way to explaining the three pert yellow pearls that land on the table, wobbling slightly before settling into place.
"The pearls are edible cocktails – the casing is made from cocoa butter and we garnish them with a zest of lime," he explains, before adding his recommendation that I bite then swallow in one swift go, "otherwise you might end up getting yourself into trouble," he finishes with a cheeky smile.
It's not difficult to see what he means. The pearl – slightly wobbly but firm to the touch explodes with liquid when I bite down. It's a whole different experience: rather than the sensory buildup of seeing and smelling your drink before you take a small sip, these edible cocktails choose to unleash the full force of their flavours in one go.
The 'cocktail' is made with Lakes Distillery's ONE Orange Wine Cask Whisky, verjus, osmanthus tea, pistachio, peach liquor, citrus stock and fino sherry – a few hurried swallows and it's gone, leaving me to repeat the process with the remaining two.
The evening's other drinks show that this level of mastery of the cocktail craft is no fluke. Another personal favourite, Dreaming Mexico, a heady blend of Casamigos Blanco Tequila, agave, aloe syrup, pear cordial, fortified wine, yuzu and Peychaud's bitters, arrives in a large balloon flask that's spun dramatically before being uncorked to pour the cocktail – complete with a haze of smoke – into my waiting glass.
It is a winner: encapsulating a delicate balance of sweet, tart and smoke – all with a lightness of touch you wouldn't think possible with anything birthed from tequila.
My companion was similarly enthusiastic about his Iron Man – named not after the Marvel hero as you might think – but rather the ferrous Baliva Ferro China within it.
The iron gives it the slightest tang and sits in good company with Macallan 12 year old whisky, pear liqueur, orchard, baliva China and a citrus flavour blaster.
Perhaps more than any of the other drinks on this menu, the Iron Man is an experience: thanks to a large mastic bubble that bursts into a puff of smoke the moment you touch it with your nose.
That alone makes it stand out on a menu that's no stranger to showmanship. The fact that it tastes like perfection? A rather hefty bonus.
The Look
Interiors-wise, the St James Bar is all about understated decadence with a few nods to Art Deco here and there.
Plush velvet banquettes in a jewel-like aquamarine contrast with a series of backlit panels emblazoned with large-scale botanical illustrations.
Look up and you'll see a cockerel – standing proud in a vintage military red coat, medal of honor hanging from his lapel, bound within the confines of a large gilt frame.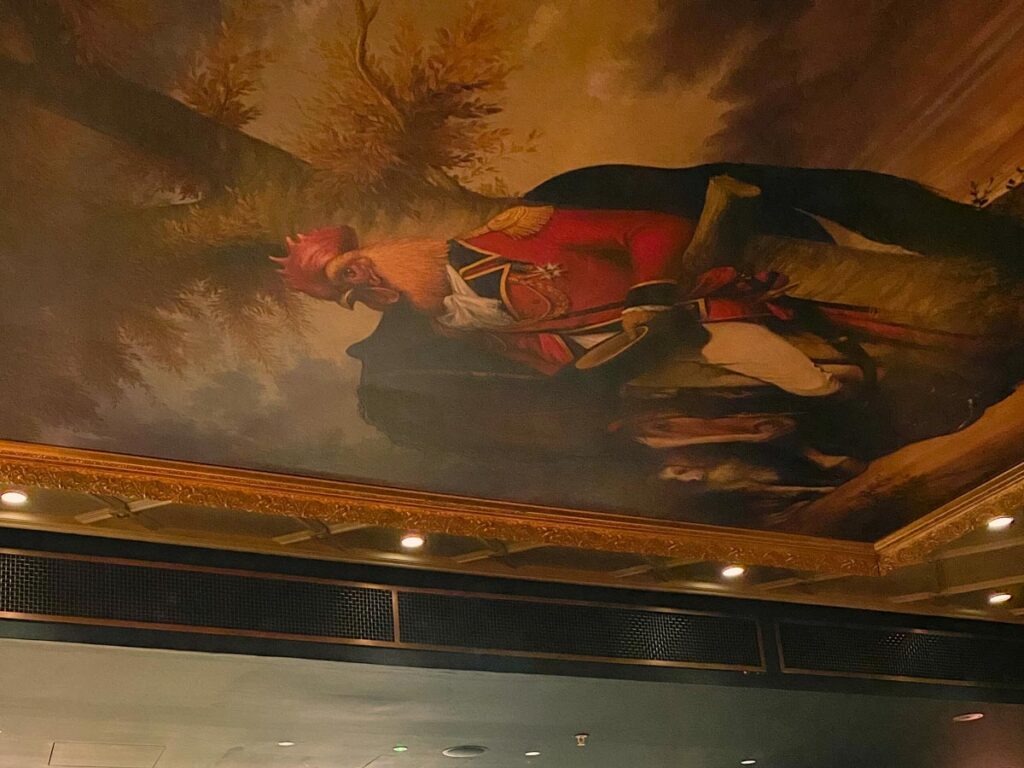 In the wrong hands, all of this could have turned out looking garish, but, with its signature panache, the St James Bar pulls it off with aplomb.
Final Thoughts
The St James Bar is an innovative drinking spot that matches the scope of its imagination with the skill to turn its dreams into reality. Go, go again, then go once more.
St James Bar – Practical Information and Map
Price: £££
Address: 6 Waterloo Pl, St. James's, London SW1Y 4AN
Looking for More Cocktail Bar Reviews?
Check these out…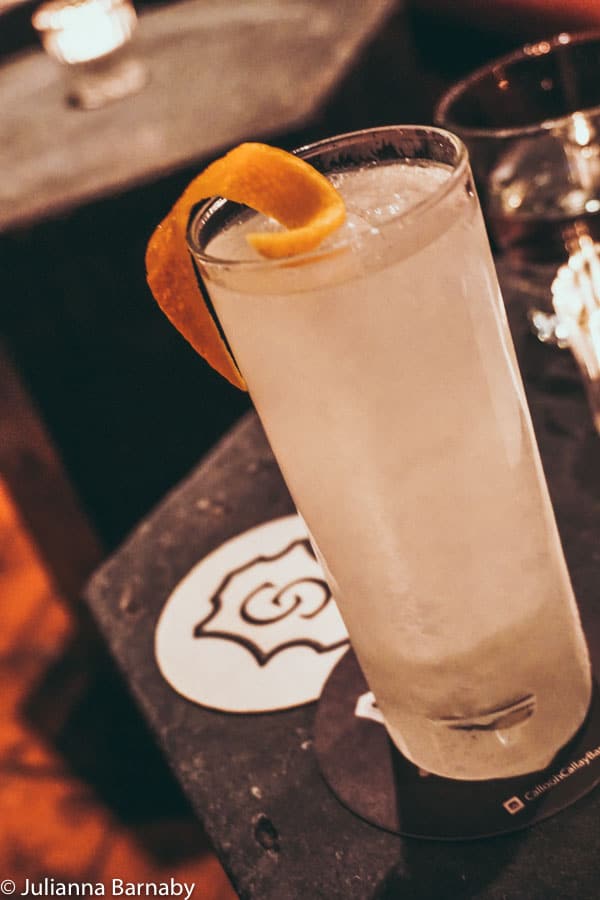 The Best Cocktail Bars in London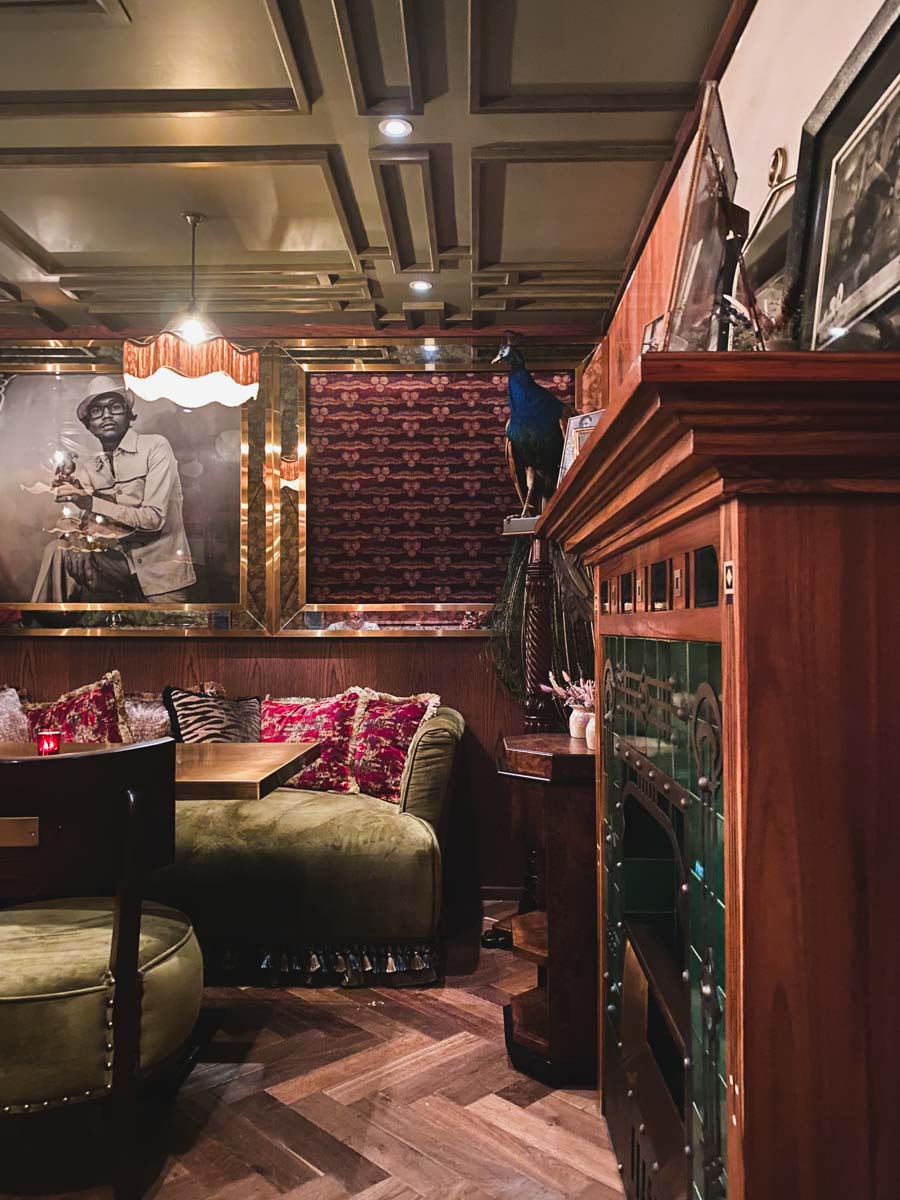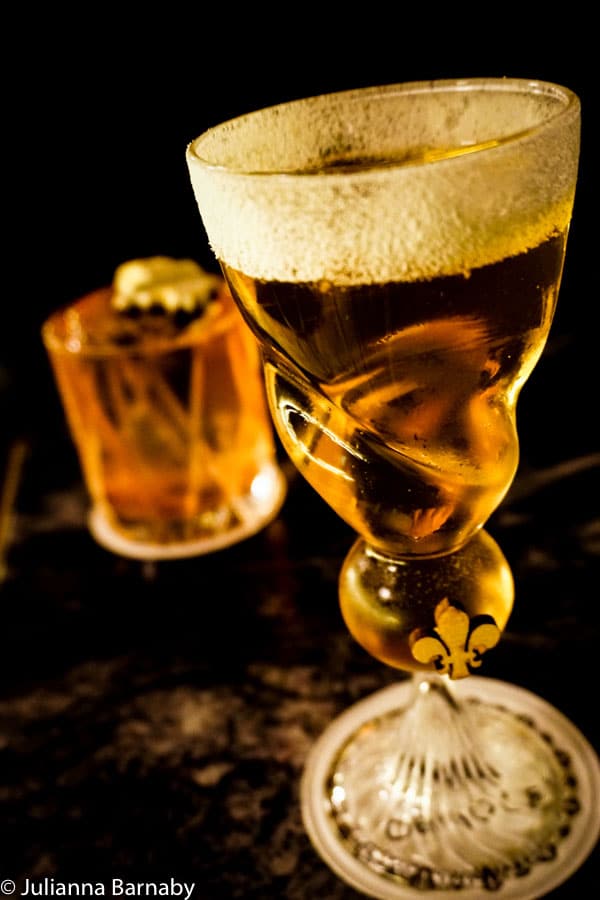 St James Bar, Mayfair
Summary
Central London's top spot for innovative and exciting cocktails in a plush setting.