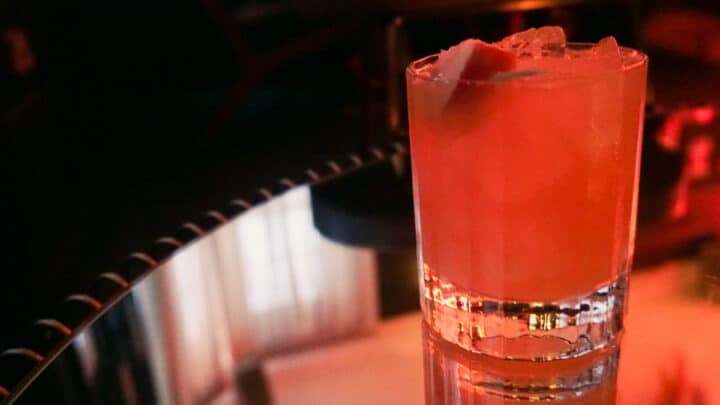 When it comes to bars, Chelsea could teach the rest of London a thing or two. This affluent area of London may forever be associated with that TV show but it's also home to dozens of great bars… if you know where to look.
Looking for a sports bar in Chelsea after a match or want some swanky cocktails? Rest assured, you won't have to go far.
Discover the best bars in Chelsea with our go-to guide.
Best Bars in Chelsea (and Sloane Square)
Jolie
Bringing its own unique brand of French glamour to London, Jolie stands out among Kings Road bars for its fabulous drinks (and dinners if you're in the mood). Tucked away in the Chelsea Funhouse (which is actually three bars and clubs), it's one of the area's coolest destinations.
Interiors-wise, think French-cafe inspired furnishings and table arrangements but dialled up to the max.
Straddling the line between cocktail bar and restaurant, the food menu focuses on classy French dishes, such as smoked duck breast and steak tartare.
Enough about that though – unsurprisingly it's the drinks that have earned this venue a spot in our guide to the top cocktail bars in Chelsea.
The cocktail list takes you on a jaunt around Paris. Don't miss the Paris: a perfume-like drink made with fortified wine, tequila, pepper, and marmalade.
The Jolie French salon is the ground-floor attraction at the Chelsea Funhouse, which is home to three separate Chelsea bars and clubs.
Chelsea Black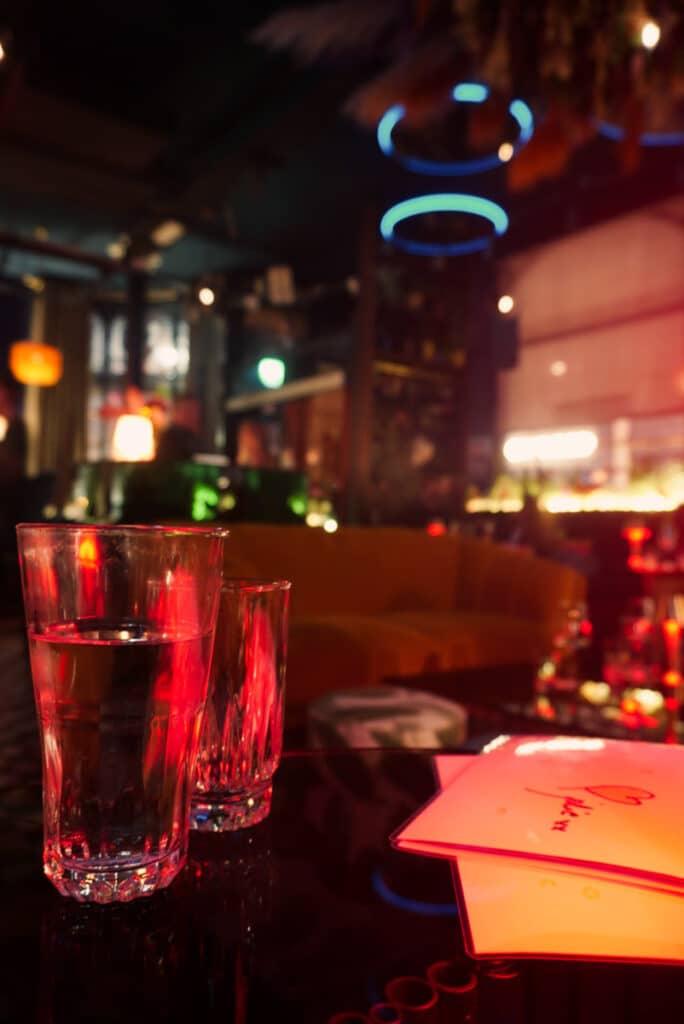 After checking out Jolie, go up a floor and try the drinks at Chelsea Black, which is frequently voted as the best bar in Chelsea.
Go to order drinks and enjoy the sights from the terrace or snuggle down in the indoor martini bar.
The cosy interior features early 20th-century furnishings that fit in with the rest of the Chelsea Funhouse atmosphere.
When it comes to drinks, Chelsea Black is all about their espresso martinis. Each martini contains one or two shots of espresso to help put a spring in your step before you move on to somewhere new.
The Bletchley
The Bletchley rounds off the trio of cool bars in Chelsea Funhouse. Inspired by Alan Turing and the code-breakers who broke the German Enigma code, it's a quirky spot – scratch that – an immersive experience you're bound to remember.
The 1940s-inspired décor is the perfect spot for cocktails in Chelsea – but that's not where the 40s vibes end. The mixologists create personalised cocktails based on your responses to various spy protocols. Intrigued? Of course you are.
Of course, you can simply order drinks from the bar or request a meal from the kitchen instead of playing along – but where would be the fun in that?
The Botanist
Venture to The Botanist most evenings and you're likely to see some of London's classy crowd congregated inside. It's one of many bars in Sloane Square London, but its prime location next to the Tube makes it a popular choice for after-work drinks.
They sport a cool little list of classic cocktails, but if you really want to impress, opt for one of their signature drinks. The Great Eastern – complete with Roku gin, enoki and chamomile syrup, Suze liqueur, lemon juice and salt – gets our vote everyday.
If the Botanist is too crowded, we suggest trying other London bars near Sloane Square, including the next recommendation…
Bart's Bar
Bart's Bar is a hidden gem among Sloane Square bars – one that you can easily overlook if you don't know what to look for.
Search for the concealed entrance (hint: it's tucked away inside the foyer of Chelsea Cloisters) to discover one of the coolest cocktail bars in Chelsea.
Entering Bart's Bar is like stepping back in time. From the bartender's attire to the furnishings, everything is modelled after prohibition-era speakeasies.
The interior is covered in kitschy décor, creating a unique backdrop for a fun Chelsea night out with friends or a date. It's also a stone's throw away from several other Chelsea Cloisters bars that nearly (but didn't quite) made our list, including Nam Long and The Cross Keys.
The Chelsea Cellar
In the mood for wine instead of cocktails? The Chelsea Cellar is our preferred Chelsea wine bar. As with Bart's Bar, it's another little-known location where you can generally escape the crowds.
Not sure what to expect? The Chelsea Cellar has a menu with fine dishes featuring Italian, Mediterranean, and European cuisine to pair with your favourite wines. You can also find gluten-free and vegetarian menu options with fresh seasonal ingredients.
Still, you're really here for the stellar wine list – which just so happens to boast an extensive range of wines by the glass (and the bottle of course).
Ted's Place
If you're looking for a gay bar in Chelsea, London (OK, West Kensington if we're splitting hairs), make a beeline for Ted's Place. The cornerstone of the gay scene in Chelsea and the rest of West London, it's a welcoming venue that's been going since 1990.
The bar is in the basement, below the street-level entrance. Hang your coat in the cloakroom, descend into the basement and discover one of the area's friendliest crowds.
Aqua Spirit
Rooftop bars in Chelsea aren't exactly ten a penny, so it's no surprise that Aqua Spirit has made a bit of a reputation for itself as one of the must-try spots for a drink.
It's technically two bars in one. Take your pick from Aqua Nueva or Aqua Kyoto, depending on your mood. Aqua Nueva serves Spanish snacks and drinks while Aqua Kyoto offers signature Japanese appetisers.
The terrace bars are open for brunch and stay open late into the night. Whether you want mid-day cocktails and meals with a view of the surrounding area or a late-night drink, Aqua Spirit has you covered.
Best Sloane Square and Chelsea Bars: Map
Looking for More Chelsea Guides?
Brilliant Things to do in Chelsea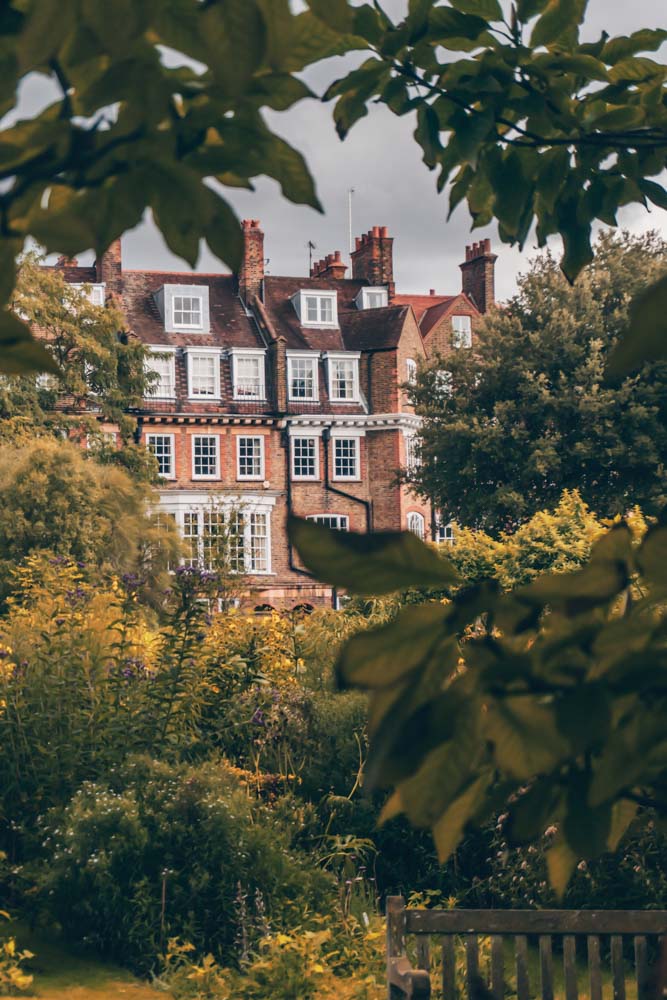 Have You Visited Chelsea's Hidden Garden?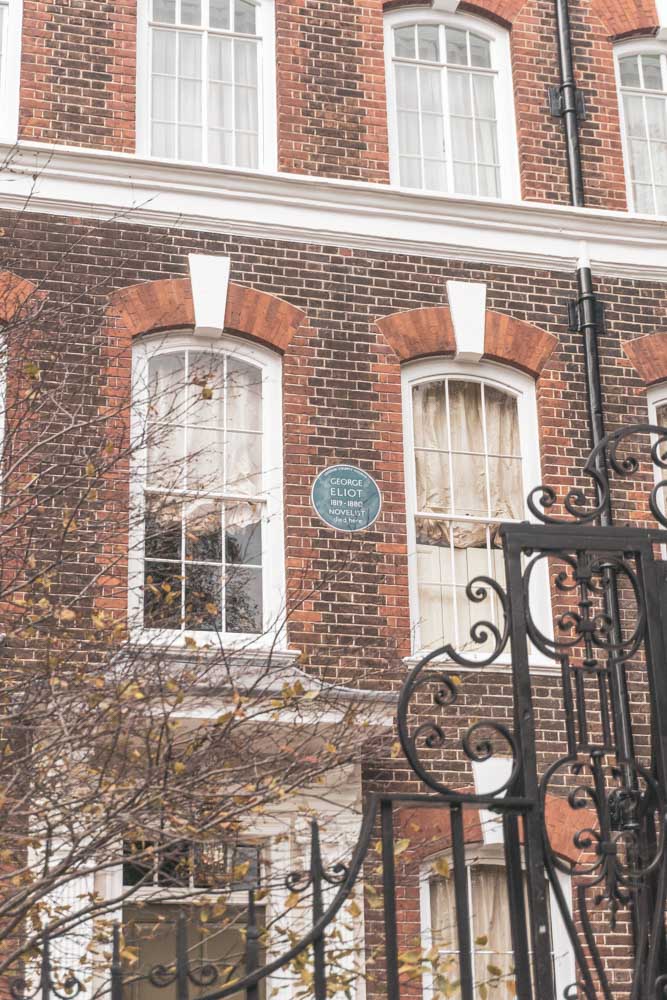 Discover the Secrets of Cheyne Walk