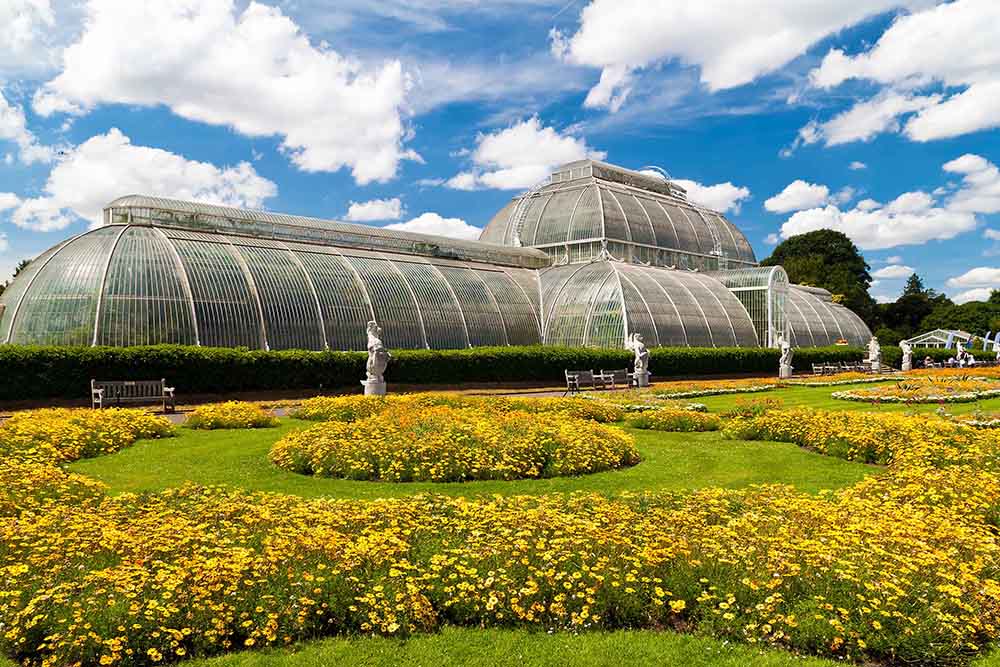 Looking to explore the beautiful botanic gardens in London? Lucky for you, the capital is full of 'em.
I challenge you to find a better way to spend a lazy weekend morning than traipsing around perfectly landscaped gardens with a coffee in hand… you can't.
From exotic rooftop wonders in Canary Wharf to the exciting Garden Museum dedicated to the father of gardening, there are plenty of brilliant spots in the capital that showcase the best of botany.
Ready? Here are my favourites that you definitely need to visit.
Best Botanical Gardens in London
Kew Gardens
Richmond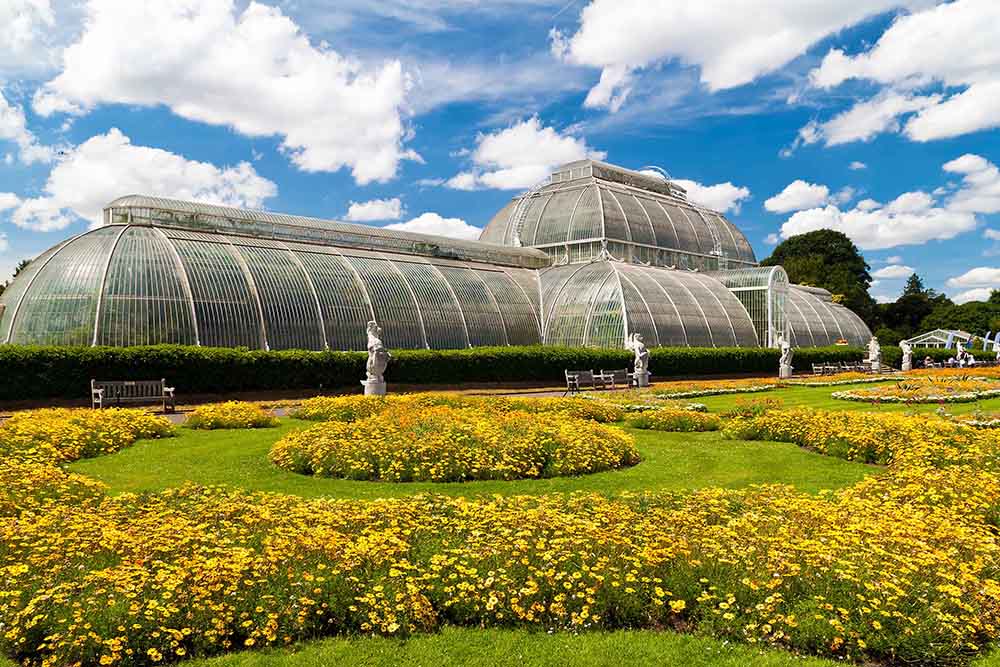 If you've only got time to visit one botanical garden in London, it just has to be the iconic Kew Gardens.
It's famous for a reason – Kew Gardens is actually the capital's largest UNESCO heritage site, home to 300 acres of land with over 30,000 species of plants for you to discover.
The site has so many different areas to explore: a dramatic rock and delicate rose garden, a bamboo garden and Minka House, as well as an impressive arboretum. Patches and patches of flowers line the garden, and you can even stroll along the decorated border.
The Princess of Wales Conservatory is one of the most popular parts of Kew. Where else can you travel all around the world under just one roof? Navigate your way through ten computer-controlled zones that replicate different climates, from the tropical Amazon to the dry deserts where cacti bloom.
Science is a real driving force behind Kew Gardens, and the institution hosts many talks and educational events throughout the year. If you're looking to get involved with conservation, make sure to check out their website for more details.
Address: Kew, Richmond, London, TW9 3AE
Tickets: General admission is £17.50, although many discounts are available so it's worth checking here.
Barbican Conservatory
Barbican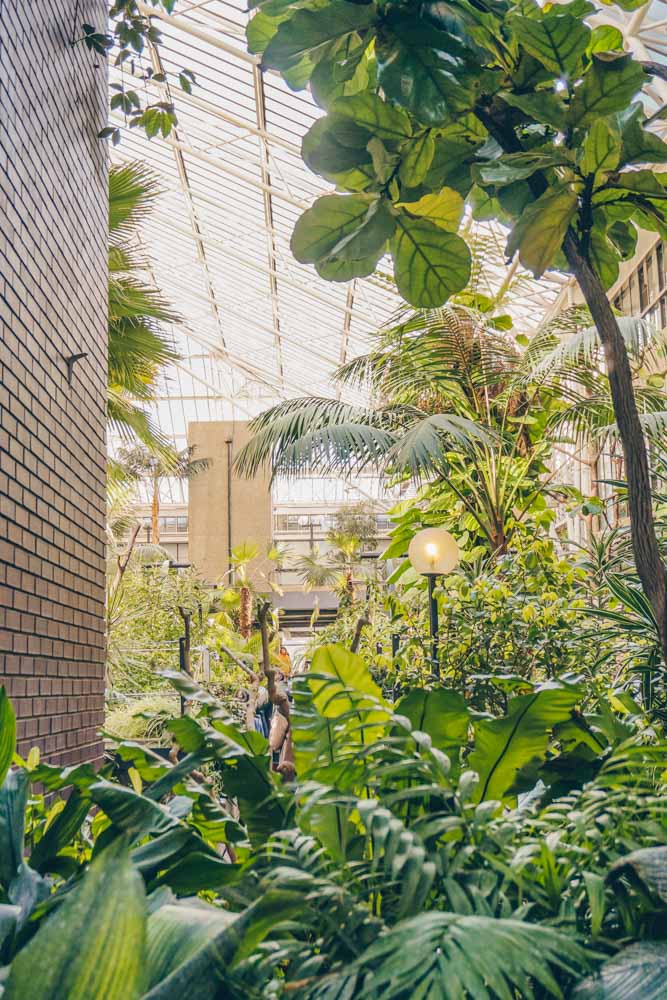 You'll find the Barbican Conservatory inside the Barbican Centre, among a number of brilliant things to do. It's bittersweet really, the place that was once voted 'London's Ugliest Building' actually boasts one of the prettiest botanical gardens in the capital.
As one of the top Brutalist spots in the capital, the conservatory sees the harsher exterior of the building swaddled in tropical greenery – quite literally taking the term 'concrete jungle' and running with it.
Considering its size, it's impressive that over 2,000 species can be found here. The glass-topped conservatory is home to multiple palm trees and banana plants, as well as plenty of other exotic delights that transport you far, far away from London.
Close your eyes and you might just believe you're beachside in the Caribbean.
Address: Silk St, London EC2Y 8DS
Tickets: Free, but you'll need to pre-book.
Sky Garden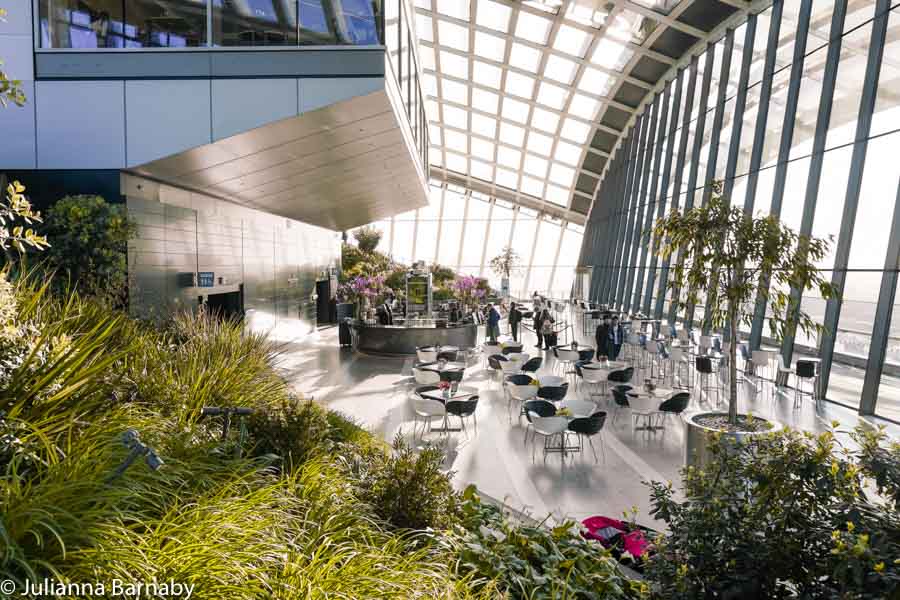 Oh Sky Garden. Does it technically count as a botanical garden? Probably not, but who cares – it's a beautiful floral spot in the capital that you need to visit ASAP.
Head up to the 34th-37th floor of the walkie-talkie building and you'll find yourself immersed in a sub-tropical garden with impressive views over the capital. Filled with mainly Mediterranean and South African species of plants, the colourful flowers are in bloom all year round, so no need to stress about timing your visit perfectly.
Once you've admired the plants, you can head downstairs to grab a coffee – or opt for something a little bit stronger – while you marvel at the panoramic view (and obvs snap a photo for the 'Gram).
If you want a complete low down on the Sky Garden, including how to nab tickets and the best places to eat and drink, check out our full guide here.
Address: 1 SKY GARDEN WALK, London EC3M 8AF
Tickets: Walk-ins are available, but free tickets can be booked here.
Chelsea Physic Garden
Chelsea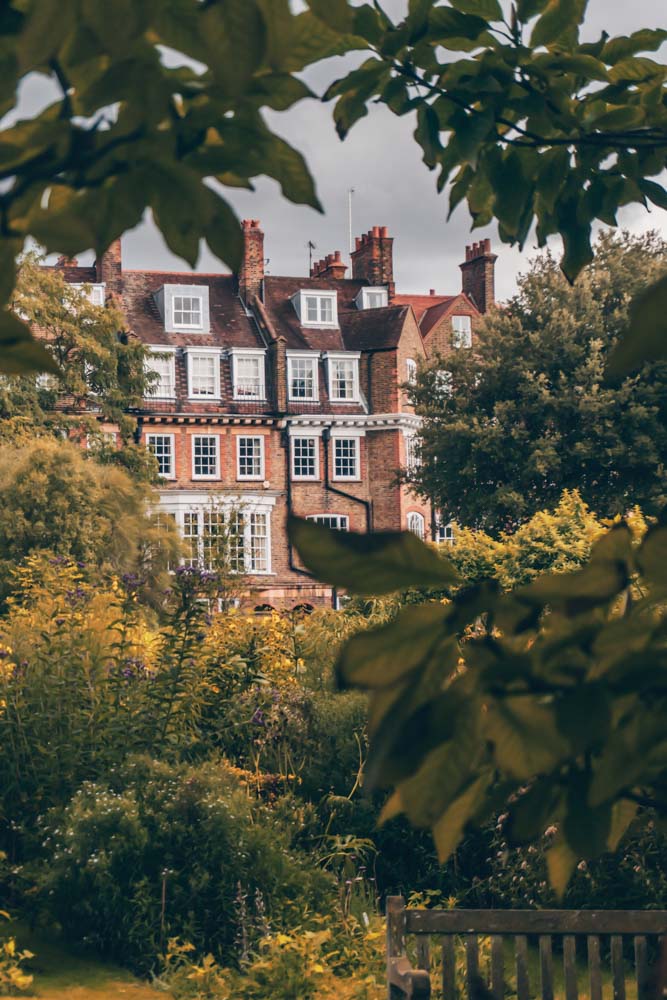 As one of the capital's best-kept secrets, Chelsea Physic Garden can be difficult to find – but it's so worth the struggle. Four acres of botanical goodness await behind an unsuspecting red brick wall.
Despite lurking in the shadows of Kew Gardens, Chelsea Physic Garden is almost a century older and is actually the second-oldest of the UK's botanical gardens. It was set up in 1673 by the Worshipful Society of Apothecaries in order to delve deeper into the plant's medicinal uses.
The UK's first rock garden (that just so happens to be Grade II listed) sits at the centre of the botanical garden, with plenty more areas of diverse species scattered around. More than 5,000 different types of plants are spread out across the garden, sectioned into edible, medicinal, herbal, and plants with other uses.
You'll also notice a couple of glasshouses cultivating some more exotic plants – if you're keen to know more about the plants, make sure you take a tour (the price is included in your ticket!).
Address: 66 Royal Hospital Road, Chelsea, SW3 4HS. The entrance is on Swan Walk.
Tickets: You can book your tickets in advance here.
Garden Museum
Lambeth
As the UK's only museum solely dedicated to the art and design of gardens, Lambeth's Garden Museum is a fun spot where you can explore the history of gardens and landscaping.
It might sound a bit dry, but the abandoned church-turned-museum's history is actually fascinating – in fact, 16th-century Gardener to the Royals, John Tradescant the Elder, is actually buried here.
What kind of Garden Museum doesn't have a mini botanical garden to explore? Not this one, anyway. Once you've exhausted the museum inside the church, head out to the knot garden and the herb patches and put your newly-found knowledge to use.
The Sackler Garden was designed by Dan Pearson to be an 'Eden of rare plants', and is completely inspired by John Tradescant's journeys to collect plants. The green haven completely contrasts the surrounding bronze and glass architecture, and the result is a small garden in which you'll want to take your time to appreciate.
Address: 5 Lambeth Palace Rd, London SE1 7LB
Tickets: Book your £12 tickets here.
Crossrail Place Roof Garden
Canary Wharf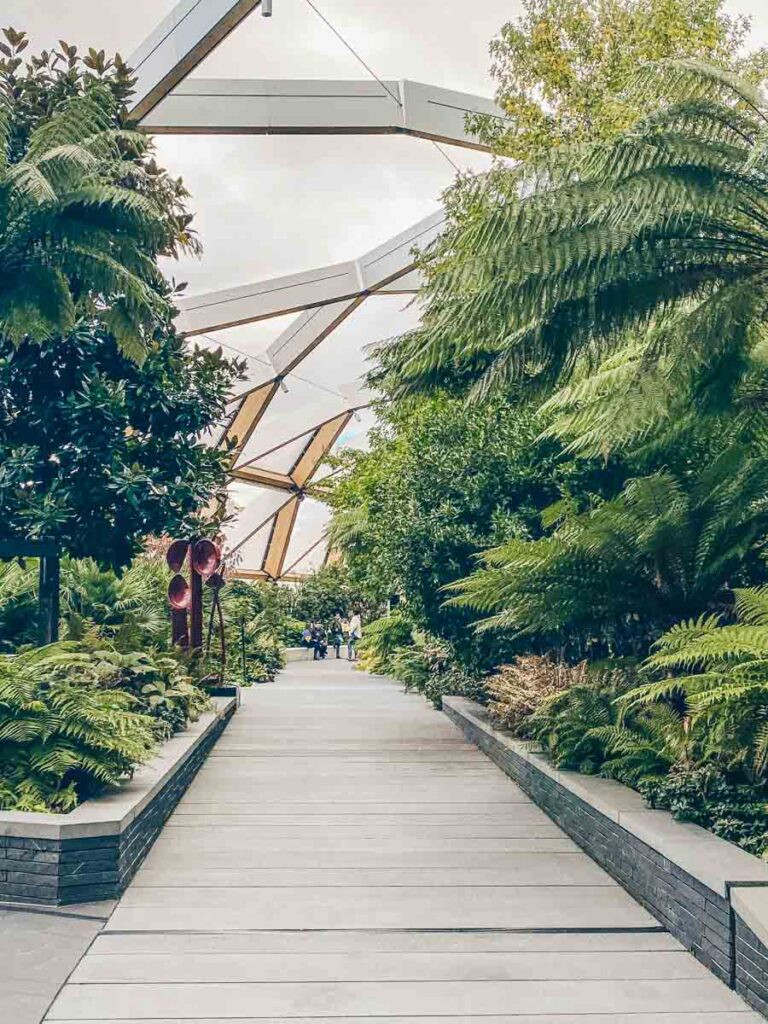 Despite being located in busy Canary Wharf, Crossrail Place Roof Garden never feels too crowded. It's no wonder really, as this glass-roofed oasis located atop Canary Wharf Shopping Centre is one of the capital's largest rooftop gardens.
Interestingly enough, the garden almost sits exactly on the Meridian line, and the plants are organised by hemisphere, in an homage to Canary Wharf's former life as a shipping port – you'll find bamboo to the east and American ferns to the West.
After gorgeous golden hour snaps, as well as dreamy views? Time your visit just before sunset and you'll be treated to both. It's a win-win.
Address: Crossrail Pl, London E14 5AB
Tickets: It's free to visit, just turn up!
Carmelite Monastery Gardens
Notting Hill
Notting Hill is notoriously charming, so you won't be surprised to hear that the area has a secret botanical escape that is as stunning as it is tranquil. Set on the grounds of a Monastery, the Carmelite Monastery Gardens offers 4 acres of peace and beauty.
The best bit? It's pretty undiscovered – in other words, you won't find rowdy groups of tourists here. Phew.
The nuns who reside in the Monastery are responsible for tending to the garden, which consists of rows of perfectly manicured flowers and shrubbery.
While some people might find the stillness here unsettling, if you like the idea of reflection in a spiritual garden, this is the perfect spot tucked just behind Kensington Memorial Park.
Address: 82A St Mark's Rd, London W10 6NW, UK, United Kingdom
Tickets: It's free to visit and you don't need to pre-book.
Golders Hill Park Pinetum
Hampstead
Who knew that just steps away from the ethereal Hampstead Heath Pergola and Hill Garden lies one of the coolest botanical gardens London has to offer? Not me… until I stumbled upon Golders Hill Park Pinetum by complete accident.
An assortment of pine tree species have been planted in the northern corner of the park, including the likes of Japanese Larch and Blue Spruce. It's an especially lovely botanic garden to visit in the winter, and even more so when it snows, as the Pinetum transforms into London's answer to Narnia.
There's also a small log garden here – basically, if you're looking for an alternative take on a typical floral botanical garden (there's not a flower in sight), you need to visit the Pinetum.
Address: N End Way, London NW3 7HE
Tickets: It's free to enter, just head to the north side of Golders Hill Park next to the Butterfly House.
Arlington Square Garden
Islington
Overlooked by charming Victorian terraces, Arlington Square Garden was first decorated throughout the 19th and early 20th centuries with tidy lawns and floral displays.
This lasted until WWII, when the square was used for trench shelters, and aesthetics soon fell to the wayside. Thankfully, Islington Council took hold of the square in the 50s and restored Arlington Square Garden back to its former glory.
Wander through the area today and you'll spot large trees, manicured lawns, and multiple flower beds. A local group of volunteers has managed to completely transform the square, planting more than 45,000 bulbs and cultivating new and exotic species.
The verdant square is also home to a tiny community garden growing herbs and fruits for the local residents – have fun resisting pinching a carrot or two for yourself. Hands off.
Address: 27 Arlington Square, London N1 7DP
Tickets: You don't need a ticket to enter.
Greenwich Park Herb Garden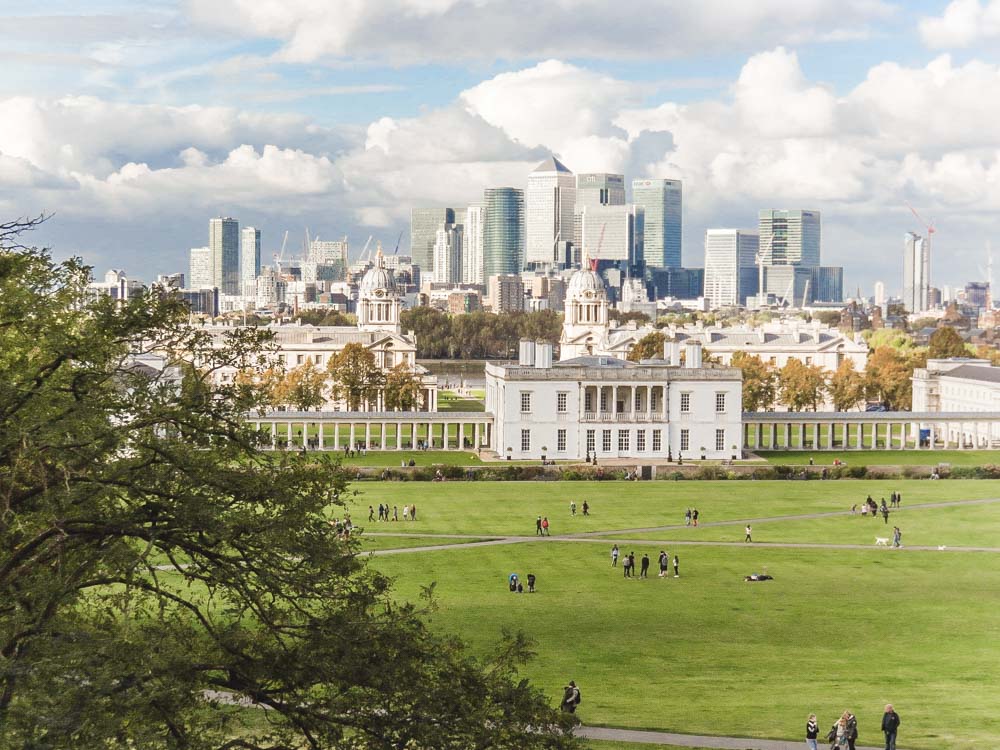 As one of the capital's many Royal Parks, it's no surprise that Greenwich Park features botanical areas galore – from a quaint area bursting with roses to a relaxed herb garden.
The rose garden can be found on the east side of the park, surrounding the striking Georgian villa that was once home to the Park Ranger. This is a popular part of Greenwich Park, which now also hosts The Wernher Collection.
Looking for somewhere quiet to explore? Head towards the St. Mary's Gate entrance next to St. Mary's Lodge and you'll find the formal herb garden. An ornate fountain sits at the centre, surrounded by patterned boxes of fragrant herbs.
Greenwich Park also boasts London's longest herbaceous border. Dating back to 1925, the border stretches for 200 metres around the park.
Address: Herb Garden, London SE10 8ER
Tickets: Free
Isabella Plantation
Richmond
Located in Richmond Park, the Isabella Plantation is one of the dreamiest botanical gardens in London. Seriously, just look at how jaw-dropping those bright blooms are.
This Victorian woodland has colourful plants in abundance, from Azaleas to Rhododendrons. As you meander through this 40-acre garden, each corner feels impossibly more beautiful than the last.
The plantation is managed with a strong drive towards biodiversity, the plants and ponds are there to support the birds, bats, and insects that live within the park. This means that plants and trees with berries and nectar are favoured over others, and exotic plants are grown next to natives.
Address: Richmond Park, Richmond TW10 5HS
Tickets: Can you believe this beauty is free to enter? No ticket needed.
Map of Botanical Gardens in London
Looking for More Outdoor London Guides?
Check these out…
Hampstead Pergola & Hill House