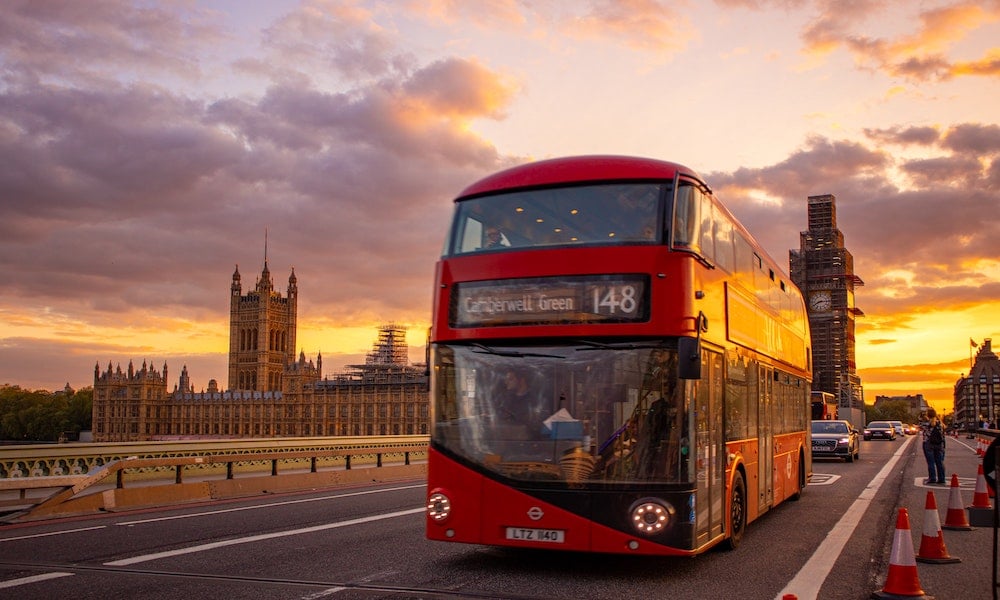 Looking for the best bus tours in London? Don't miss this insider's guide.
London is a historic city packed with legendary landmarks, monuments, and attractions. The only problem with that is there's almost too much to see and do!
That's why guided bus tours are by far the best way to see a city if you are just here for a whistle stop. And as cities go, London has some of the best.
Whilst there is a 'bus-load' of traditional tours that concentrate on simply exemplifying London's highlights, there are some that serve up the city with a twist.
Why not admire Buckingham Palace as you indulge in afternoon tea? Or drive through Leicester Square as a genuine West End performer serenades you?
Whether you want to see the historic side of the city or the futuristic side, you'll find the experience for you on this list of the best London sightseeing bus tours.
The Best London Bus Tours
Big Bus Tour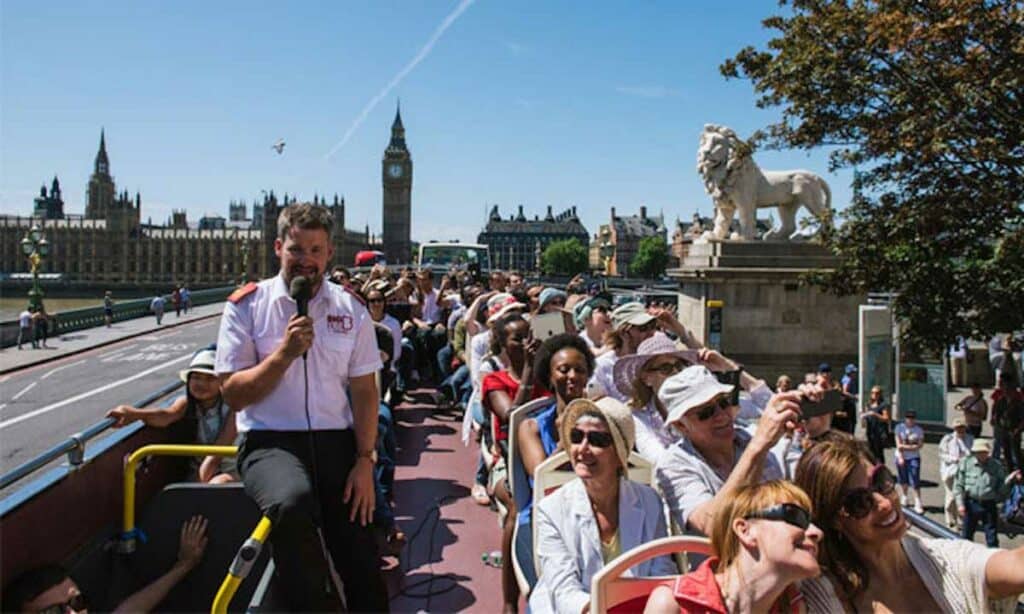 First up is the classic hop-on-hop-off London bus option. Almost every major city around the world has one of these, and we have to say, London's is undoubtedly one of the best. With your one or two-day ticket, the open-top Big Bus Tour takes you to all of the bucket-list landmarks throughout the city on a two-hour round trip.
Starting at Marble Arch, it transports you to Regent Street, Piccadilly Circus, Trafalgar Square, London Eye, Covent Garden, St. Paul's Cathedral, Tower of London, and finally Victoria where you can reach Buckingham Palace.
Along the way, expect quality commentary from your audio guide on the significance of the streets and buildings you pass.
By the end of your Big Bus Tour, you'll feel like London is your second home.
Best for: seeing the city's highlights at your own pace
Price: Classic ticket (one-day) £19.50 per adult and £14.50 per child
Premium ticket (two-day): £44.10 per adult and £35.10 per child
Ghost Bus Tour
Although London today is a fun and exciting place to be, that wasn't always the case. You see, it has a somewhat gruesome and gruelling history. Think torture, execution, and mass burials. Spooky, right?
With a dollop of horror mixed with a splash of comedy, The Ghost Bus Tour London takes you on a heart-racing loop of the city's top sights to reveal their tumultuous past.
Once you board the retro Routemaster bus, you'll be greeted by a costumed guide who tells theatrical horror stories throughout the 75-minute tour about the legends of the London landmarks.
Along the way, you will pass Trafalgar Square, Buckingham Palace, Westminster Abbey, Downing Street, St. Paul's Cathedral, Tower Bridge, the Shard, and the London Eye. There's nowhere else in the city that will let you into London's darkest secrets about the torture techniques used in the Tower of London, the mass burial in Cross Bones Graveyard, and much more.
Best for: a unique insight into mediaeval London
Price: £28 per adult and £19 per child
Afternoon Tea Bus Tour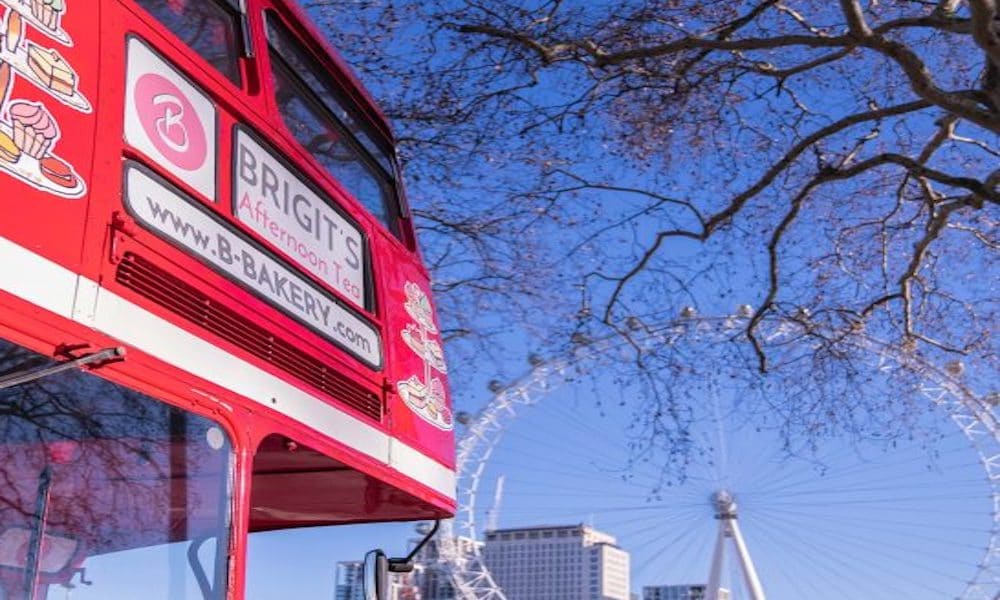 You haven't really experienced England without indulging in the ritual of afternoon tea – and what better way to do so than on a private afternoon tea tour bus around London?
Board the 1960s retro Routemaster bus, complete with stylish houndstooth seats, to join Brigit's Bakery Afternoon Tea Bus Tour.
On the 90 minute journey, you will get to see all of London's highlights including Big Ben, the London Eye, Houses of Parliament, Westminster Abbey, and much more. However, you may just be too busy sipping tea and devouring the delicious sandwiches, pastries, and cakes to notice!
After all, the cucumber and cream cheese sandwiches, freshly baked scones, and lemon tarts are to-die-for.
Luckily, an audio guide provides fascinating commentary on the sights you pass, making sure you don't miss a thing. You can even swap your tea for a glass of sparkly to see the city in style.
Best for: experiencing British culture
Price: £45 per adult and £35 per child
London Christmas Lights by Night Tour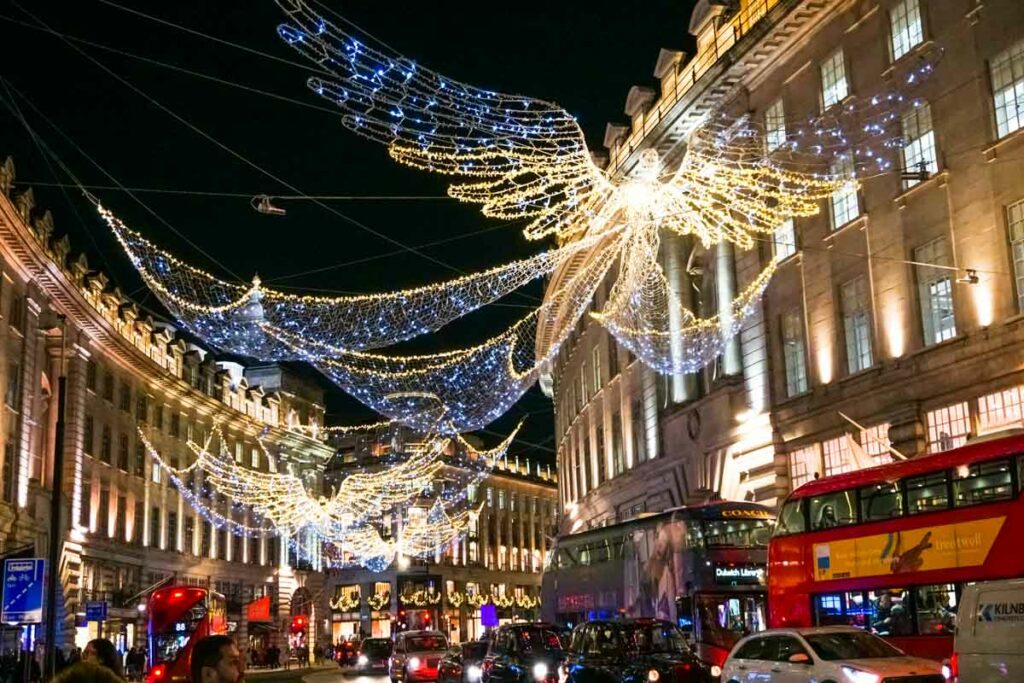 If you happen to be heading into town during the festive period, the London Christmas Lights by Night Tour should definitely be on your Christmas list. Why? Well, if there is one thing better than seeing London's biggest landmarks like Regent Street, Piccadilly Circus, and Hyde Park, it's seeing them illuminated by millions of alluring Christmas lights.
On this dazzling one hour and 45 mute tour, you are guaranteed to see the very best of the city's jolly light displays. You'll even pass by Trafalgar Square where London's official Christmas tree, dressed head to toe in glittering lights, reaches high into the night sky.
As you are entranced by the city's festive glow, a live guide will share their local insight into the must-see sights you'll pass along the way, including Tower Bridge, Marble Arch, Big Ben, London Eye, and much more.
Best for: getting in the Christmas spirit
Price: £29 per adult and £16 per child
Harry Potter Bus Tour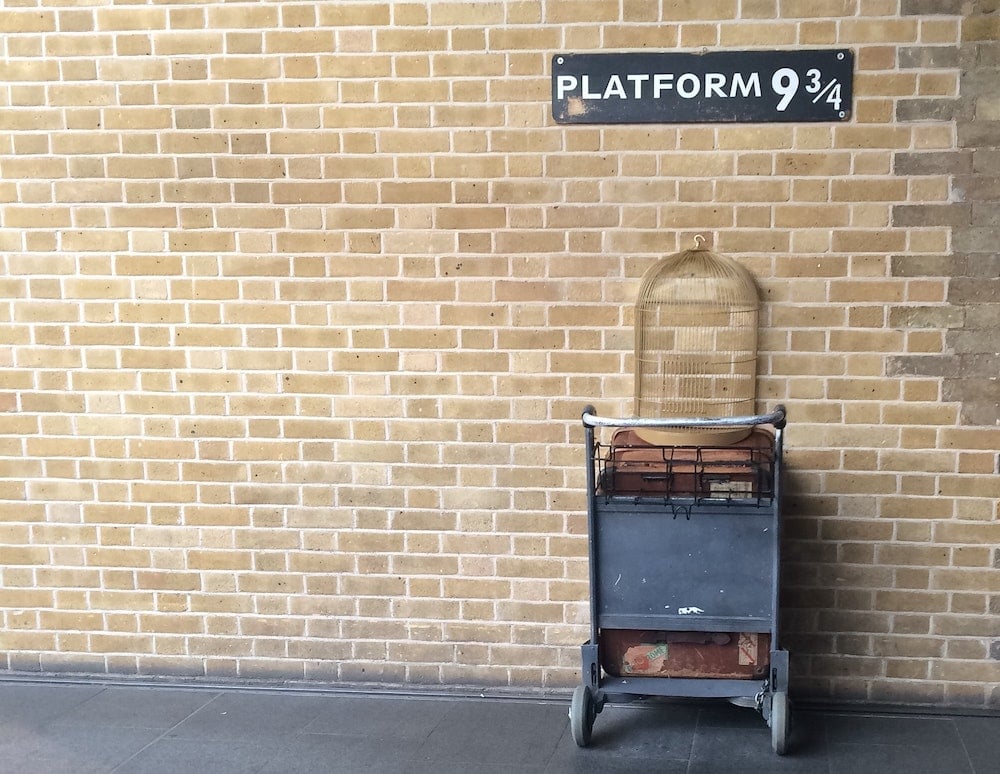 Board your very own Knight Bus (luxury coach) and prepare to see London as you've never seen it before — through the eyes of the chosen one, Harry Potter.
On this cinematic Wizards London Bus Tour tour, expect to see many of the places Harry himself saw on his adventures through the city as he fled from his enemies, fought with dementors, and boarded a train to Hogwarts School of Witchcraft and Wizardry.A guide, charged with insider info on the making of the movies, will take you to the very locations featured in the iconic Harry Potter films.
Hold onto your sorting hats because you'll undoubtedly be mind-blown as you stop for pictures by the legendary Number 12 Grimmauld Place, Diagon Alley, The Leaky Cauldron, Millenium Bridge, and of course, Platform 9 ¾ at Kings Cross Station.
Best for: a themed tour of London
Price: £32.50 per adult and £21 per child
London Time Tour Bus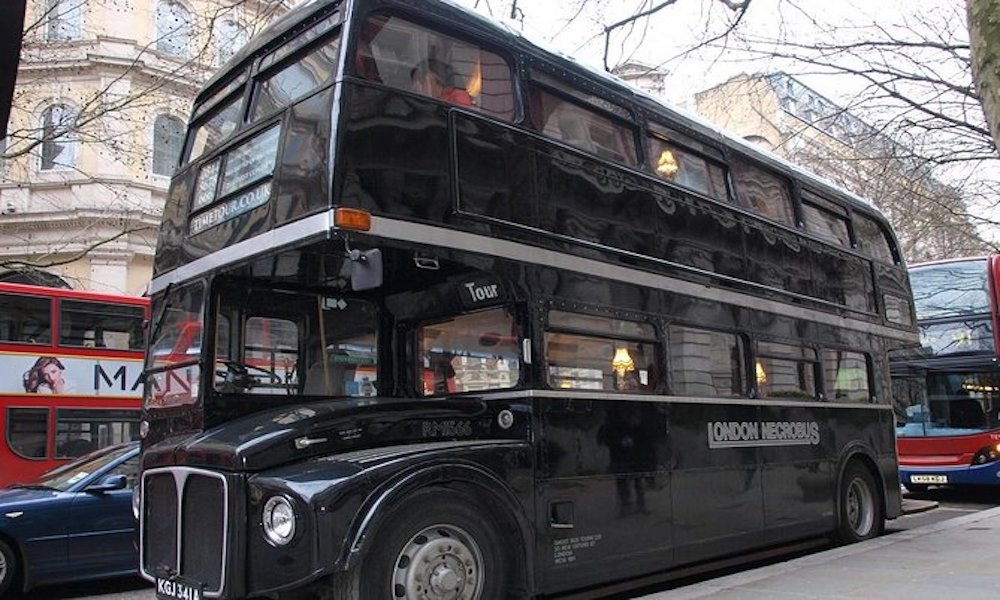 Travel through time with the genius Professor Quantum on this sensationally strange sci-fi city bus tour.
Inspired by Back to the Future, the London Time Tour Bus will take you on a fantastical one-hour journey from London's industrial past, to its modern present, and all the way into the future on an original Routemaster bus.
Professor Quantum will have you smiling, gasping, laughing, and listening intently as he tells you stories and anecdotes along the way that promise a unique insight into the city.
Of course, he will also point out all of London's best historic, modern, and futuristic sights including the houses of Parliament, Tower Bridge, Westminster Abbey, Trafalgar Square, Downing Street, and London Eye.
Best for: an entertaining tour of London for all the family
Price: £20 per adult and £14 per child
Bustronome Gastronomic Bus Tour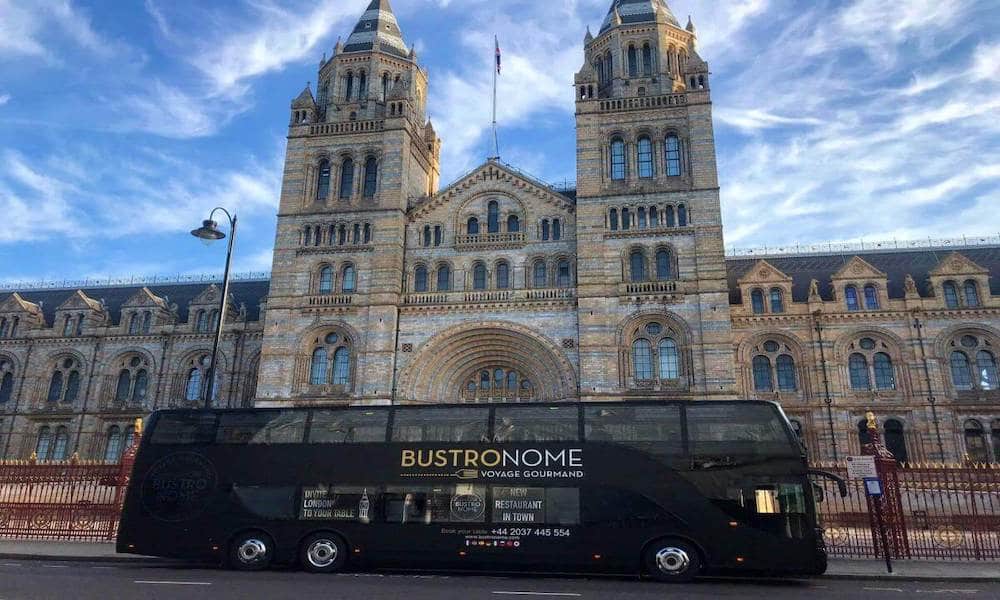 Discerning tourists with a penchant for the luxurious and a palette for the delicious will find the Bustronome Gastronomic Bus Tour to their taste. It is, after all, the most refined bus tour in London.
Board their high-end double decker bus complete with panoramic views and extra sumptuous seats, and let the wait staff wine and dine you as you are chauffeured for two hours around the city's famous sights.
While the lunch tour tempts you with its three or four-course menu featuring simmered beef shank red fruit and pistachio ganache macarons, the six-course dinner menu may just win you over. Plus, you can add a wine pairing to make your tour that bit more mouth-watering.
Best for: a luxury tour experience
Price: starting at £120 per adult and £50 per child
Wartime London Bus Tour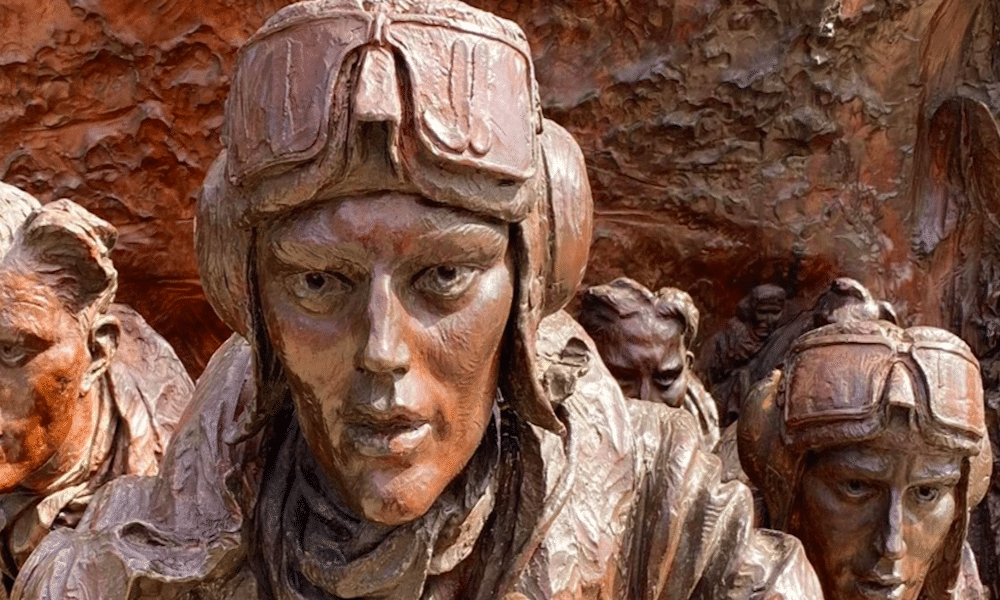 Having been almost completely destroyed by the Blitz, the scars of World War II can still be seen in London today — if only you know where to look. Fortunately, the Wartime London Bus Tour's guides have you covered.
Embark with them on a sobering three-hour journey back to this tumultuous time. Along the way, you will see buildings still damaged by shrapnel, original signs pointing to air-raid shelters, and monuments celebrating wartime heroes.
As you do, the guides will share both heart-breaking and heart-warming stories of events that unfolded in London during the Blitz. And if that doesn't choke you up enough, wait until you hear the old news broadcasts, sound effects, and period music that accompany them.
Best of all, you will get to visit the actual wartime headquarters where Allied forces tactfully planned the German defeat, and other monumental sites.
Best for: a true insight into London's modern history
Price: starting at £55 per adult
The Beatles Evening Bus Tour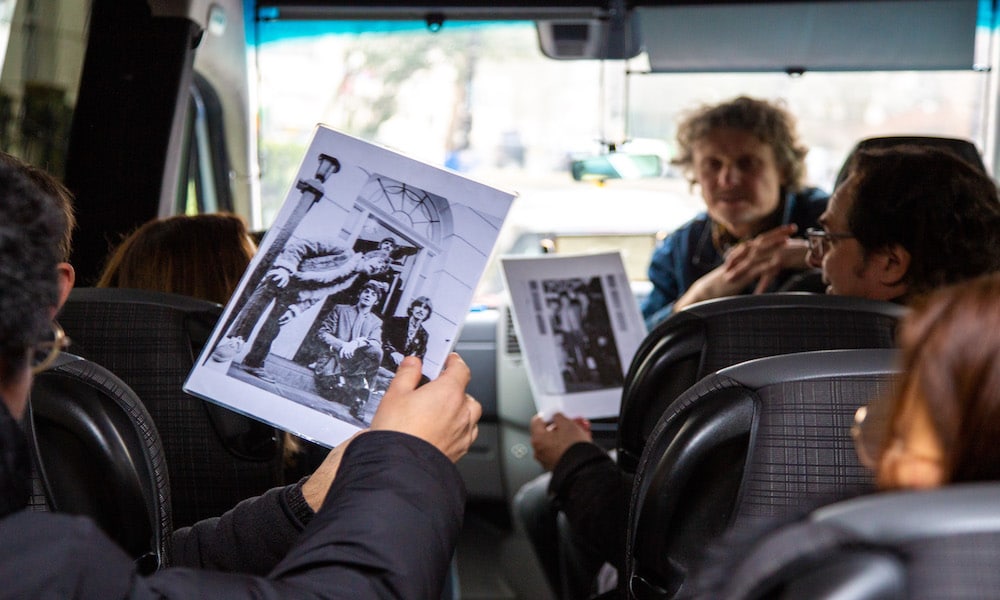 The A Ticket to Ride tour may not be on the Beatles' actual tour bus (we wish), but if you board it, you'll be taken to the very spots where the band lived, recorded, hung out, and played in London.
Photo stops include the iconic Abbey Road crossing, video filming locations, the Scotch of St James Club, and even the rooftop where the band played their parting gig. After seeing Paul McCartney's house, the Magical Mystery Tour set, and much more, it will be impossible to stop the Beatlesmania from resurfacing.
Throughout the tour, a guide will deliver fun facts, stories, and rare insights into the lives and legends of each Beatles member. And of course, what would a Beatles tour be without a few of their best songs and videos being played as you go?]
Best for: seeing the city's alternative sights
Price: starting from £64 per person
London Night Tour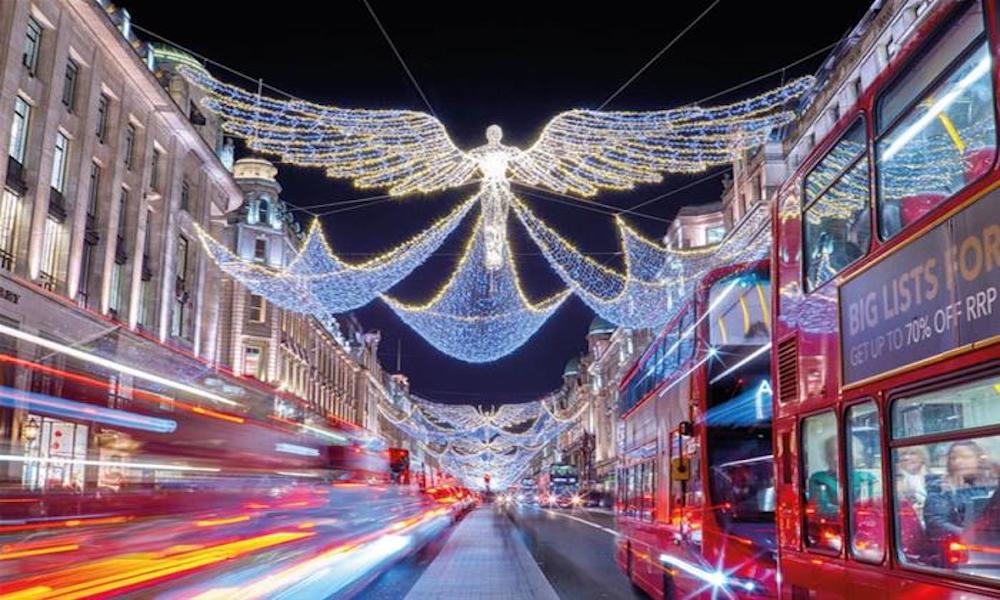 It'd be wrong to say that London comes to life at night (it's well and truly alive by day), but there's certainly a charm to seeing this city lit up in all its glory. This London Night Tour will take you around the glitzy city so you can soak it all in and snap away for the perfect pic to grace your Instagram photo dump.
This tour comes with an English-speaking guide and audio guides in eleven languages. Through the 90 minute ride you'll pass by Big Ben with its illuminated clockface, The Houses of Parliament and skirt the River Thames where you can see all sorts of folk living London life to its fullest.
Probably the highlight of the whole tour though: A run through the neon wonderland that is Piccadilly Circus – Never anything less than impressive by night.
Best for: Seeing London all lit up and looking pretty
Price: From £27 per person
Hop-On-Hop-Off Tour With the London Eye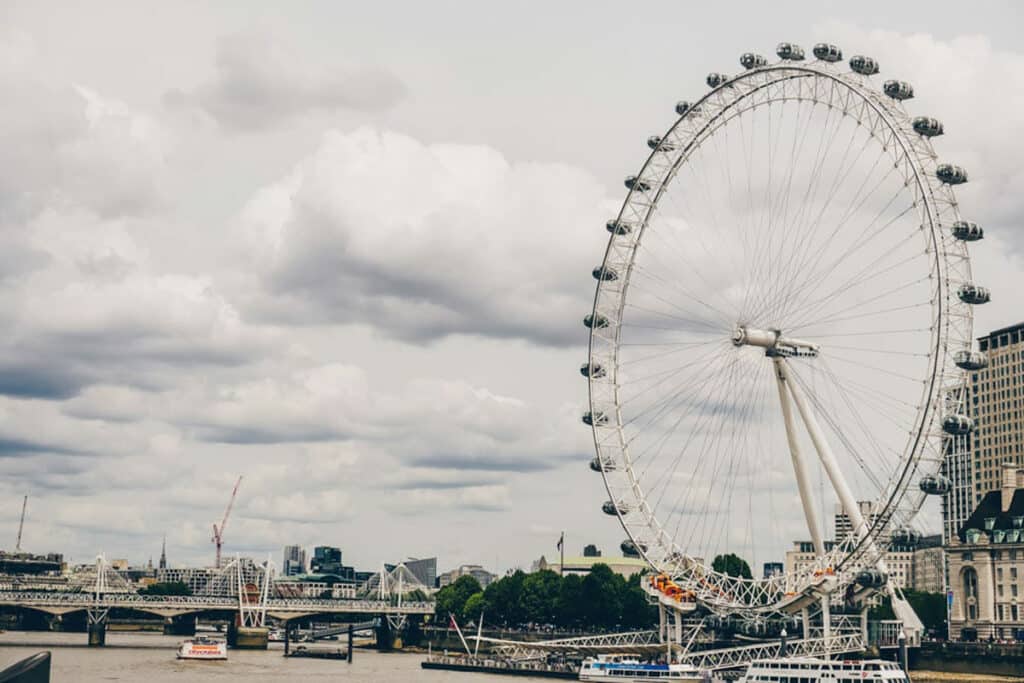 This great option combines two great London sightseeing attractions: a hop-on-hop-off bus tour and The London Eye.
You'll be able to jump on and off the bus tour at any point as it skirts along side the River Thames between Westminster and The Tower of London, taking in some of London's most historic buildings.
You'll then have the chance to hop off the bus and onto the London Eye to take a spin on what is arguably London's most iconic landmark (sorry Big Ben). Up there you'll catch the city from an angle that a tour bus just can't provide, before getting back on the bus and finishing your tour.
The tour itself comes with audio guides and can be taken in options of one, two, and three day tickets. A ride on The London Eye is included in the price of the tour ticket.
Best for: Truly seeing all of London
Price: From £69 per person
James Bond Bus Tour
Want to dive into the world of Britain's top secret agent? You can explore a hidden side of London on the James Bond Bus Tour. It'll scoot you around London showing you all the places (real and fictional) that James Bond is associated with in the capital.
That means you'll be taking in the real life filming locations, spotting spies at the MI6 HQ, touring the Whitehall locations that served as home for the secret agent's offices and checking out spots that inspired Ian Flemming to write the character into being.
All this comes with a side of trivia from your tour guide who'll be quizzing you on the films and their actors as you tour 007's London.
Price: From £37 per person
Practical Tips and Advice for booking a London Bus Tour
After you've toured the city bus, you will have a better idea of which places you want to take a closer look at on a London walking tour, which you can check out here.
If the bus tours don't take you to the places you want to go, why not try a DIY bus tour and simply board the public buses to your personal must-see destinations
Be sure to book ahead to guarantee a spot on the tour of your choice as they often fill up fast
Get a seat on the open deck for the best views of London's landmarks
Which London Bus Tour is Best?
It may be because we haven't had lunch yet, but our favourite has to be the Ghost Bus Tour – if only for the heady combination of lols and sleepless nights.