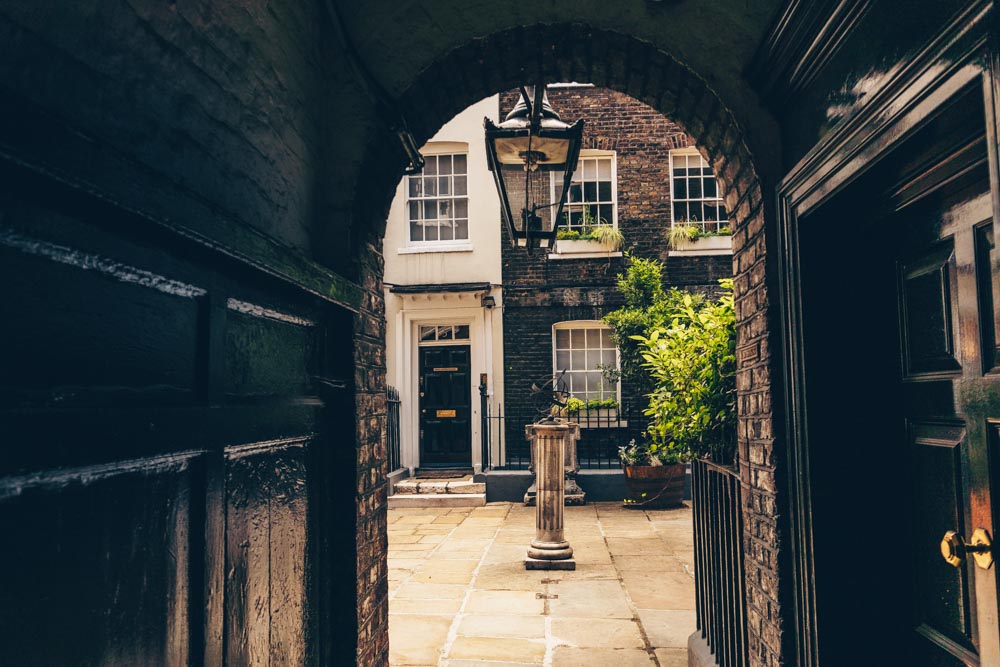 London's secret alleys are truly fascinating places. Want to find out why?
It's no secret to say that London has a long and storied history – but step away from the big landmarks and you'll discover traces of its tale in less obvious places – like the secret passageways and alleys dotted across the city.
Ready to explore London's secret alleyways and dig into the history of what makes each one special?

From the birthplace of the London Stock Exchange to the inspiration for Diagon Alley, read on for our guide to London's secret alleyways.
Secret Alleys in London
Wine Office Court
Fleet Street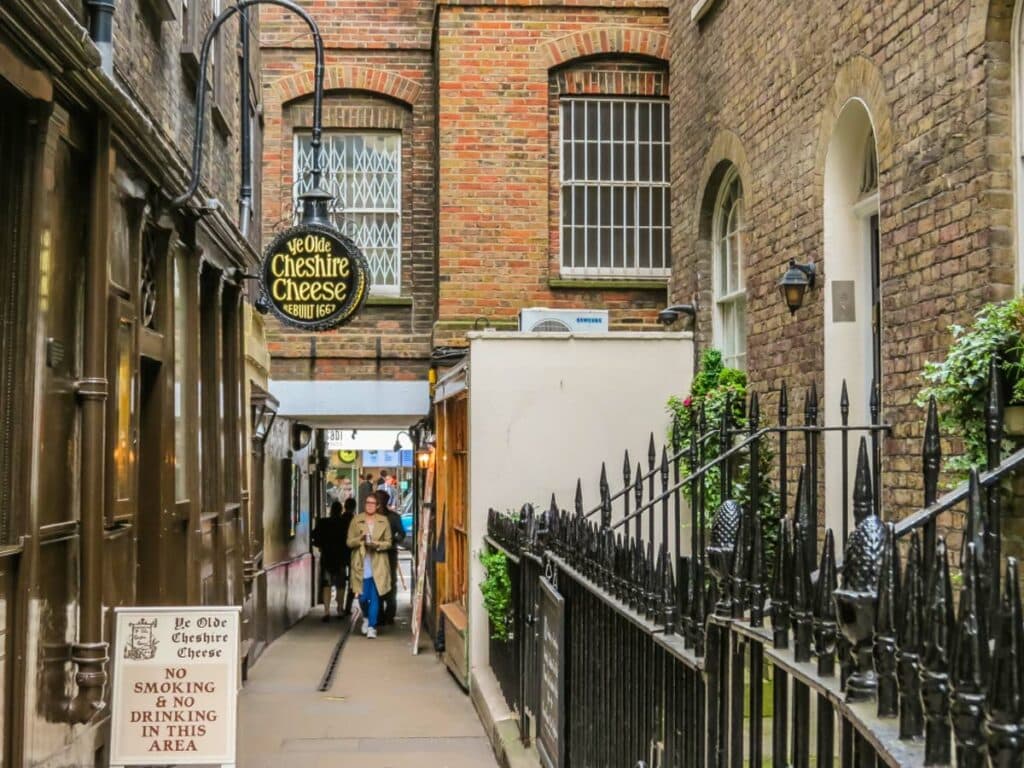 First up in our guide to London's secret passages and alleyways is Wine Office Court. You can find this winding lane off Fleet Street. The way marker? One of London's oldest pubs.
Just keep your eye out for Ye Olde Cheshire Cheese. You'll actually have to go up Wine Office Court to get to the pub – should you want a pint – but follow the dog's leg a little further and you'll end up outside the house of Dr. Johnson, a notable figure from London's past.
The alley gets its name from the fact that way back when (until 1665) it used to be home to an excise office – a sort of administrative body that regulated the alcohol trade.
Emerald Court
Bloomsbury
It's a toss up among those in the know which of London's alley's is narrowest. Many people would point to the fact you can barely fit down Brydges Place, but our money is on Emerald Court.
This Bloomsbury passage is only 26 inches across – so slim you could almost miss it if you didn't know what you were looking for. You can find it on Rugby Street – a road linked to the famous Rugby School – home of the game.
The alley dates back to the Georgian period when it would have been known as Green Court. The name was eventually changed to avoid confusion with other, similar-sounding street names in the area. We think Emerald Court has a much nicer ring to it.
Pickering Place
St. James'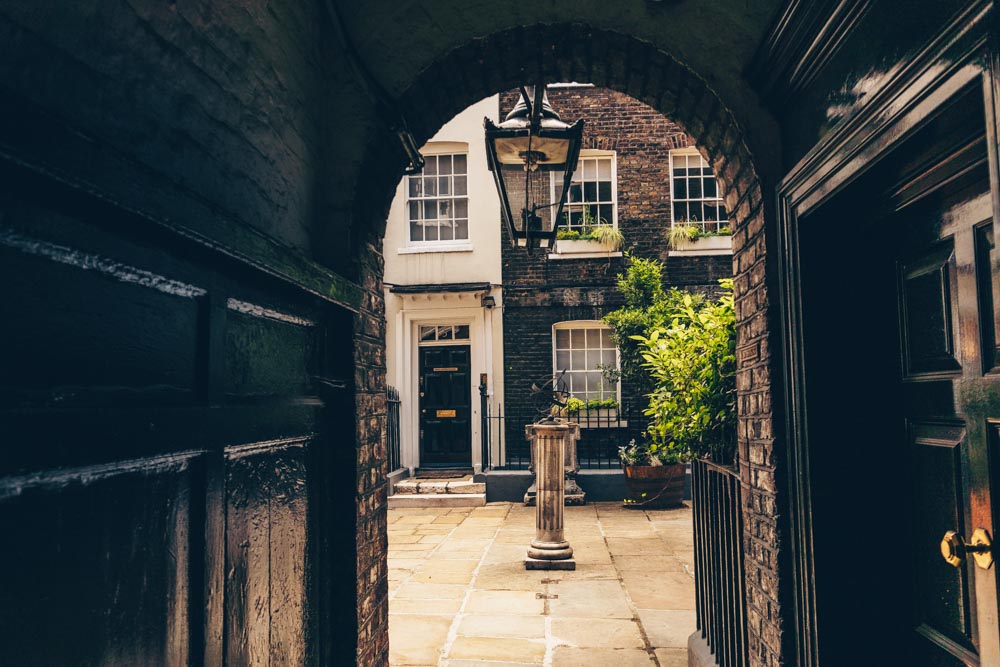 Pickering Place – another of London's pokey Georgian alleyways – has less of a charming history to it (at least in parts). That's because the square at the end of the alley was previously used as a spot for duels. Yes, actual duels – no doubt fatal in such a tiny space.
And as if that bloody sport wasn't enough, the locals also used it for bear baiting when the mood took them.
In later years the place's reputation has lifted a great deal. It's been home to the legation of Texas back before Texas was a state of the USA, and after that author Graham Greene chose the spot for his London residence.
Ely Court
Holborn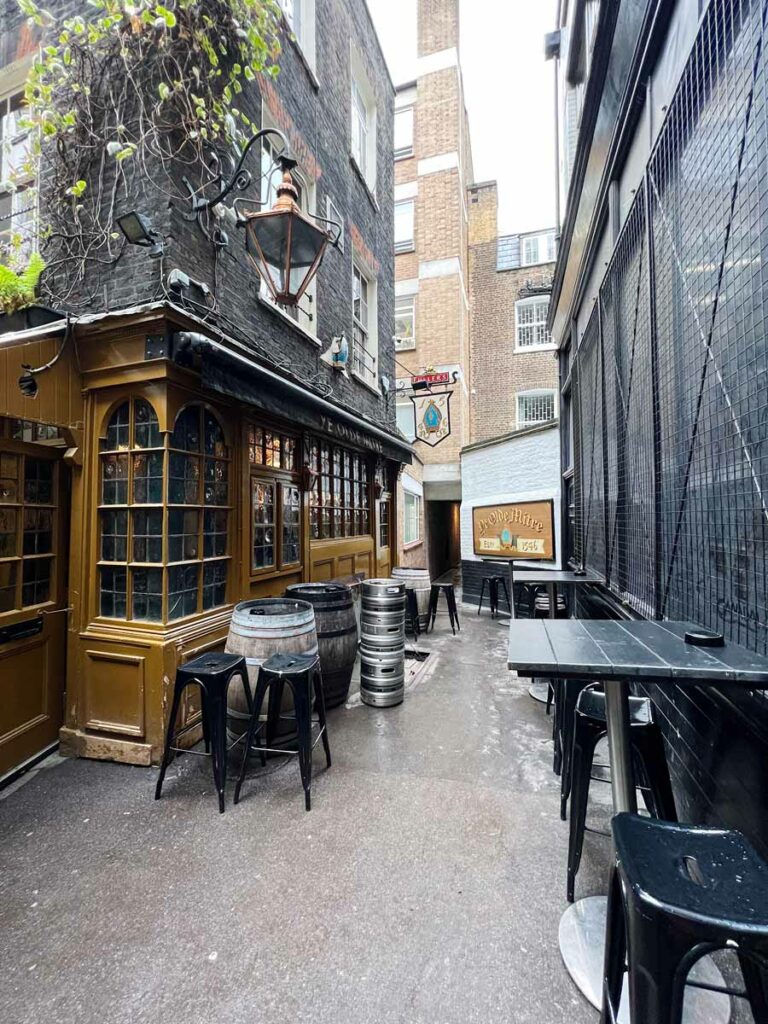 Ely Place is pretty well known in London for its hidden secrets, among them is Ely Court – an alleyway steeped in weird and wonderful London history. We're not kidding: the whole of Ely Place was, until very recently, not part of London at all.
Instead it belonged to the Bishops of Ely in Cambridgeshire. They had a church here in the middle ages (as well as some very handsome country houses). It's that church that's of interest to us today as one of Ely Court's walls runs along the line where the church's cloister would have stood.
Unfortunately the original wall has long been replaced, but head all the way through Ely Court and you'll pop out the other end in front of the Ye Olde Mitre, a pub with a history that dates back to ​​1546.
Angel Place
Borough
Angel place isn't much to look at, but it does have a pretty cool history. It runs on the edge of two of London's most notorious prisons: King's Bench and Marshalsea. Fans of Charles Dickens might recognise the names. They pop up in a couple of his novels, and in his life.
That's because Dickens' father was imprisoned in Marshalsea for being unable to pay back his debt – a fact that changed Dickens' life for good, read the semi autobiographical David Copperfield and you'll see. You'll also notice that one of the other characters, Mr. Micawber gets locked up in King's Bench for a stretch.
What does this have to do with the alley? Well the wall you'll be walking along is the very same wall that kept Dickens' dad locked in. Though these days there's only a flower garden on the other side.
Goodwin's Court
Covent Garden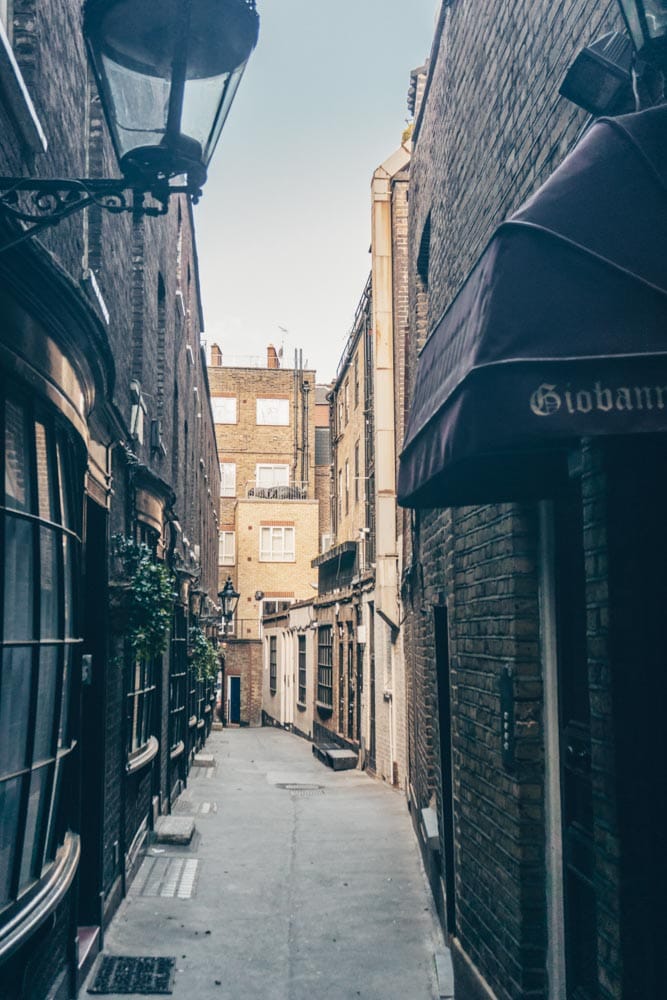 Goodwin's Court, much like the alley itself, has a long and winding history. It actually dates back to 1690 and was originally on land owned by The Church. Things change and that land has since ended up in the hands of the Bedford's, a semi-noble family of dukes and earls that still own much of the surrounding area.
What hasn't changed though are the buildings. The older ones – and you'll be able to spot which ones we mean when you visit – all date back to 1690 too.
It's probably going to be the alley's recent history that captivates you though. Goodwin's Court has been cited, along with Leadenhall Market, as the inspiration for Diagon Alley in Harry Potter. One look at the crooked buildings and ageing shop windows and you can totally see it.
Read More: The Ultimate Self-Guided Harry Potter Walking Tour of London
Artillery Passage
Spitalfields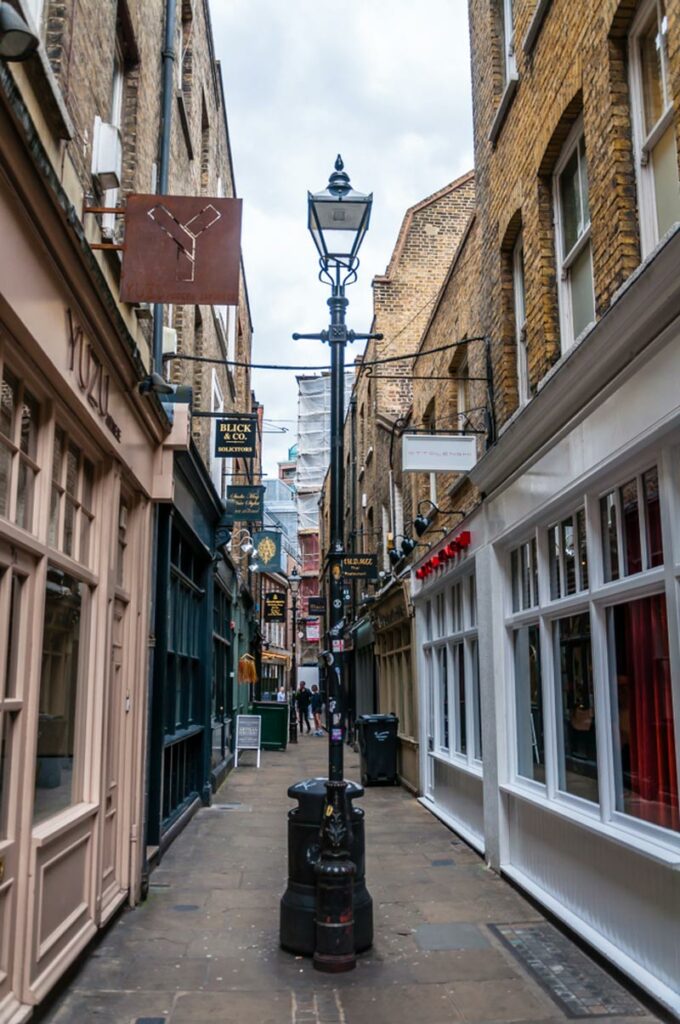 We're willing to bet you've been down Artillery Passage before. The alleyway is one of those popular restaurant-and-bar spots in Spitalfields – the type of place where people hang out late into the night outside wine bars and cramped little restaurants.
The place gets its name from the fact that back in the day it used to be an arsenal for storing cannons, gunpowder and suchlike. Even earlier than that – in the days of Henry VIII there was an archery range on the site.
In fact Henry VIII has stamped a lot of history on Artillery Passage. He actually seized it from the church during the dissolution of the monasteries.
Crawford Passage
Clerkenwell
You may have seen Crawford Passage in pictures before. While the alley itself isn't too pleasing on the eyes, it's the focus of attention for having a bizarre dogleg in it where two sets of double yellow lines are squeezed together, only inches apart.
This happens because Crawford Passage actually follows a path much older than most of the roads anywhere near and as such is a bit of an awkward shape.
Long ago it would have been an area made of warehouses and cheap housing. The bottom of the alley was actually the site of the UK's very first council houses. Unfortunately these were torn down in the 70s.
Change Alley
The City of London
Another one of London's achingly old alleyways is Change Alley, sometimes called Exchange Alley. It originally came about as a shortcut between Cornhill's Royal Exchange and the Post Office on Lombard street and eventually became home to Italian goldsmiths and merchants that dealt in shipping gear.
Its history gets far more significant in the 17th century though, when it becomes home to some of London's first traders in shares. The businesses that sprung up along Exchange Alley (see where the name comes from now) laid the groundwork for the modern London Stock Exchange.
Wapping Old Stairs
Wapping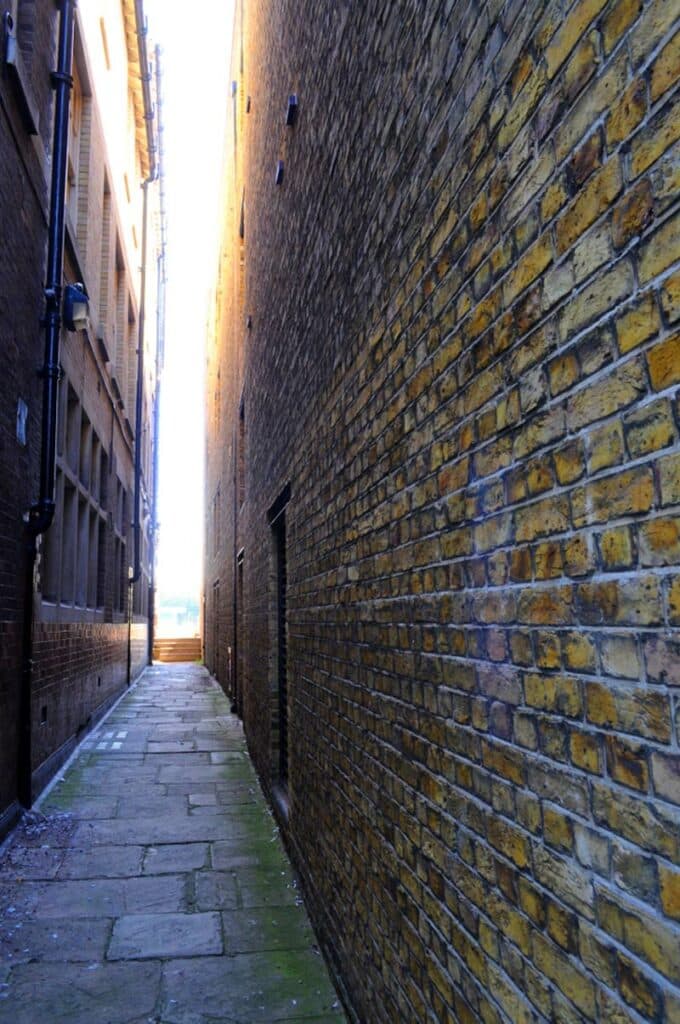 Tucked among the old lanes and buildings of Wapping's riverfront you can find the Wapping Old Stairs. This old passage was used to get to the river by the sailors and fisherman that used to work on its waters.
When the tide is low you can actually walk right the way down the steps at the end of the passage and onto the sand. It's not uncommon to find the bone pipes and relics of the past fishing trade down there too.
As cool as that is, we like the Wapping Old Stairs for the fact that one of its walls is the wall of The Town of Ramsgate pub – so named because fishermen used to sail up from Kent to land their haul here and dodge the hefty taxes of their home county.
A pub has stood on that site since the 1460s, and the cellar of the place you can drink in today was used to hold prisoners before they'd be shipped off to Australia.
Practical Tips for Exploring London's Secret Alleys
Many of these alleys can be combined with some nice side activities. Wapping Old stairs, for example, can be well worth making the trip for when combined with a pint at The Town of Ramsgate. Same for Ely Court and Ye Olde Mitre. And Goodwin's Court can be a great spot for exploring Harry Potter's London – especially Leadenhall Market.
If you plan to hit a few of these spots in one day we advise wearing comfortable shoes. While you're at it, check the weather. You know how England can be…
London's Secret Alleys: Map
Now You've Explored London's Secret Passages: Read More London History Guides