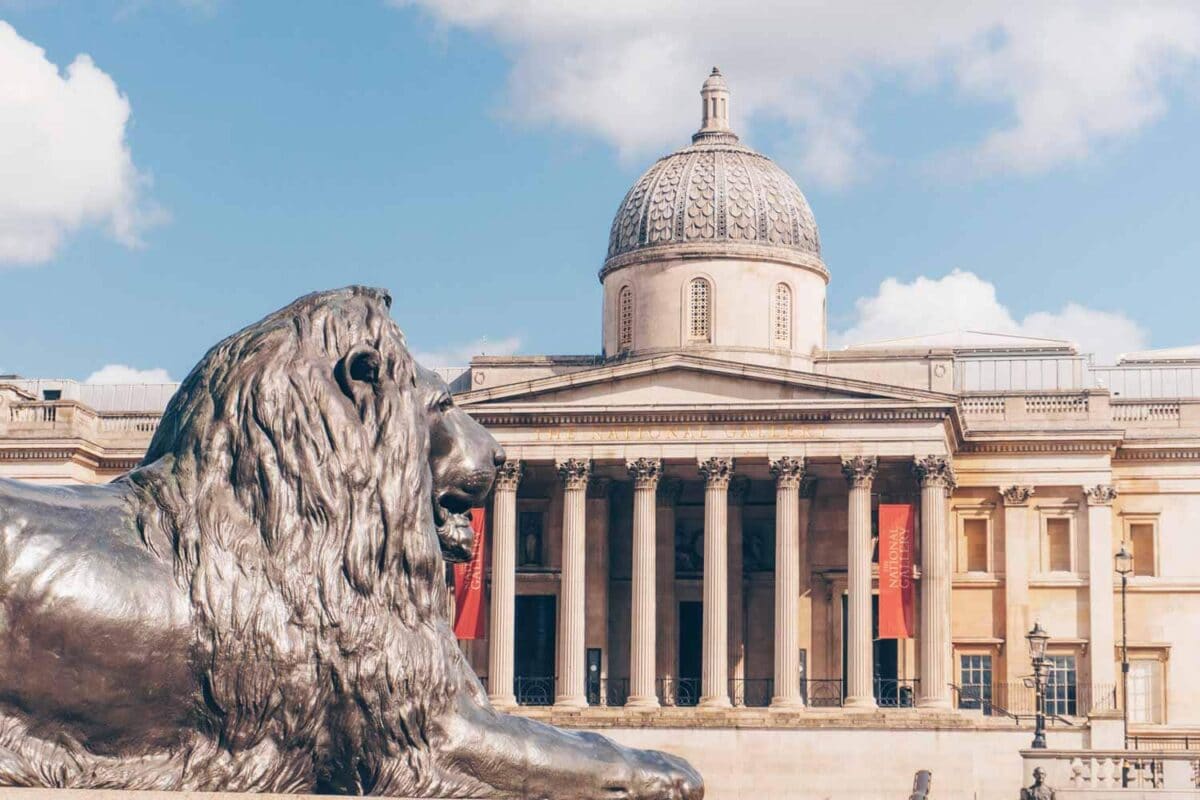 Planning a trip to the capital and wondering how to spend 5 days in London? We've got you covered.
If you're only in London for 2 days, it's tempting to cram everything in – but if you're visiting the capital for a longer period of time, consider adopting a slower pace. Don't tire yourself out trying to see absolutely everything – it's impossible and you won't enjoy it.
Whether you want to make a beeline straight for the tourist attractions or prefer to get off the beaten path, 5 days gives you plenty of time to see all the cool bits, which is exactly what this itinerary does.
With this five-day London itinerary, you get to see London's biggest sights, a few more offbeat local spots – and all without breaking a sweat while you do it.
Practical Tips for Making the Most of Your 5 Days in London
Grab a Pass From Go City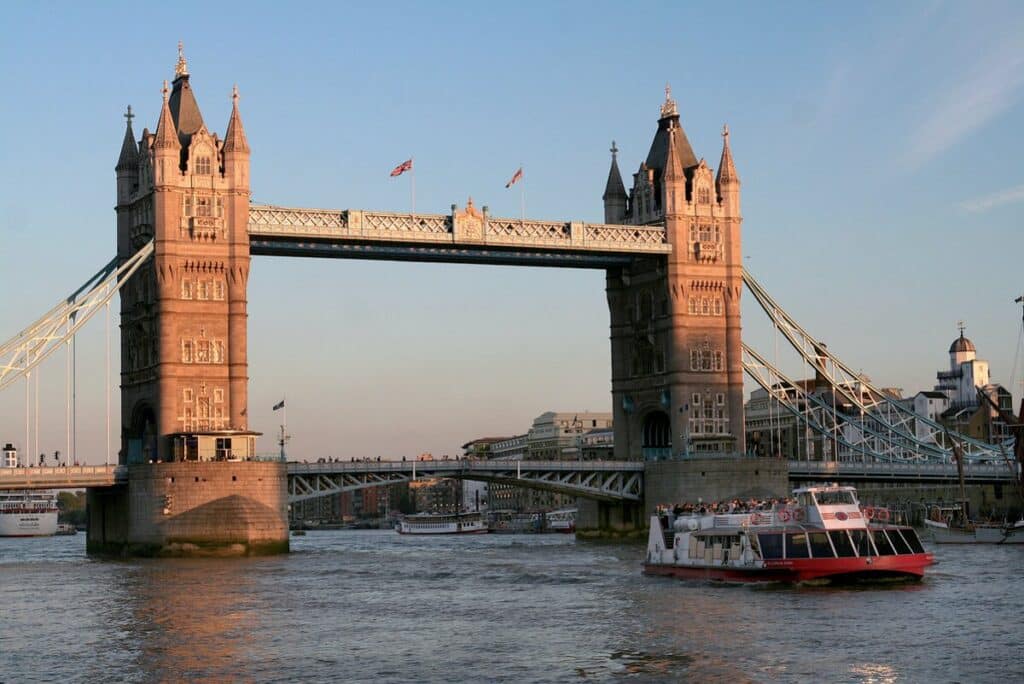 If you're visiting London on a time limit, you'll want to make sure you hit up all the best sights, squeeze in all the top experiences and get the most out of your trip.
The thing is… There's so much to do in London it can be hard to get it right.
That's where Go City come in. They offer London Passes that mean you can bundle 2 – 7 London activities together, and they cover everything from London Zoo to zipping around the city on a guided bus tour.
Best of all, combining all your experiences into one bundle means savings. And not meagre ones either – we're talking easily over £50.
Of course, all that extra cash can then be funnelled straight into exploring London's fantastic restaurants and traditional pubs…
If attempting the city alone seems too daunting, taking a tour is a great way to see all the hot spots with the help of a friendly guide. We recommend this classic bus tour, but we've compiled a complete guide to our favourite London walking tours here.
We've included our favourite hotels below, but it's a good idea to have a general idea of your budget before you book – and stick to it. London can be really spenny, but there are many hotels that offer brilliant value for little money. We've covered where to stay in a little more detail below.
If you're on a budget (or just love a bargain, like us), you'll be glad to know that the vast majority of London museums are free to enter. You can visit all the biggies like The National History Museum and The V&A without spending a penny.
Get to know the tube – whilst most of London is totally walkable, you'll probably need to take the tube at some point. It's worth saving an image on your phone/downloading google maps offline beforehand so you can figure out your route easily.
Where to Stay for 5 Days in London?
Whether you want to bed down in a cosy boutique offering or stay somewhere a little bit quirky, London has plenty of hotels to choose from. These are our favourites.
High End: Not only is The Henrietta located right in Covent Garden, but the swanky decor and personal touches make it well-worth splurging on a room here during your stay. The Mondrian is a stylish offering with a rooftop pool and a delicious rooftop restaurant, and you can't go wrong with the iconic Claridge's for a blow-out trip.
Mid Range: K West Hotel & Spa offers wonderful value for money as well as a lovely spa that's perfect for slinking around after a day of exploring (you can read our full review of the hotel here), and the Good Hotel totally undersells itself – should be renamed the excellent hotel. The Pilgrm combines vintage design with modern touches, resulting in a hotel that's as comfy as it is beautiful.
Budget: Safestay Holland Park is easily one of our favourite hostels in London – the rooms are clean and colourful, and the breakfast is top notch. Alternatively, Selina is an ultra-chic hotel that offers both private and shared dorm rooms and gives the more expensive options a serious run for their money.
5 Days in London Itinerary: Day One
9am – Hyde Park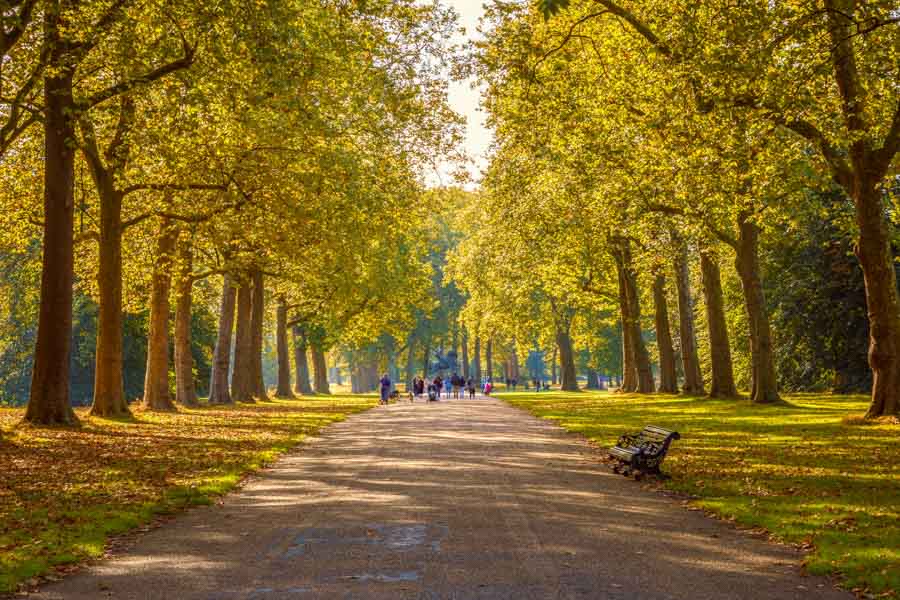 There's no better way to start your London trip than with an early morning wander through Hyde Park.
Grab yourself a coffee from GAIL's nearby and spend an hour or two meandering your way around, making sure to pass Serpentine Lake in the middle on the way.
This is arguably the most famous (and popular) London park, so expect to see joggers and dog walkers galore.
Once you've explored Hyde Park, cross over to walk through Green Park and over to Buckingham Palace.
10:30am – Changing of the Guards at Buckingham Palace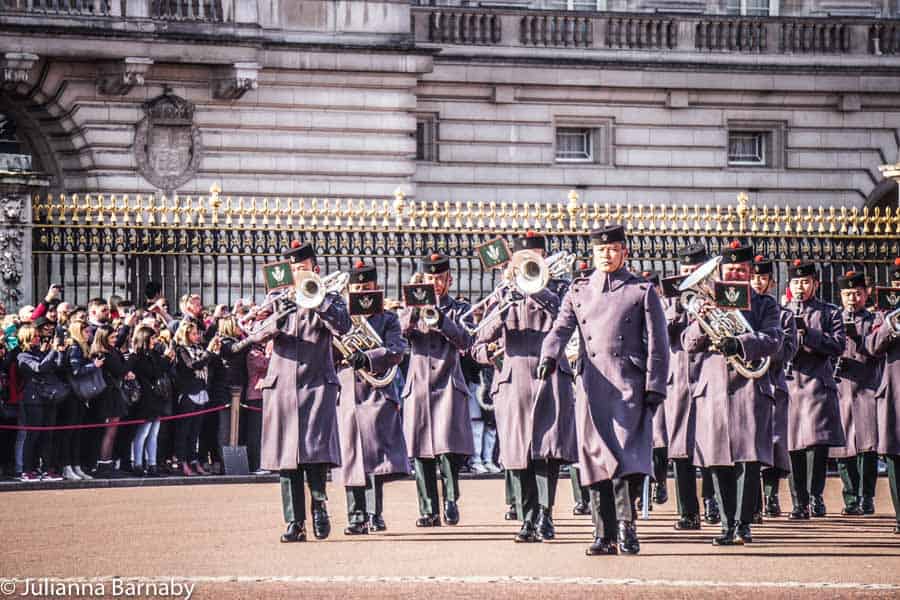 Buckingham Palace is, of course, a must do during your five days in London.
The palace is every bit as grand as you might imagine – with 775 rooms on the inside and more gold than you could shake a stick at on the outside.
Make sure you arrive at Buckingham Palace around 10:45am so you have plenty of time to snap photos before you watch The Changing of the Guard, which usually takes place at 11am.
If you're confused, The Changing of the Guard is officially when The Queen's Guard hands over responsibility for protecting Buckingham Palace and St. James's Palace to the New Guard.
You can read our complete guide to attending this event here.
12pm – Brunch at Timmy Green
Is there a meal better than brunch? We think not. Reward yourself for your walk thus far with a trip to Timmy Green for an Aussie take on bottomless brunch.
A banana bread sandwich, shakshuka, sweetcorn fritters, and a fancy bacon roll are all on the menu – or go all out with The Bondi: bacon, eggs, a chilli and fennel sausage, mushrooms, avocado, house chilli pesto, and cold fermented activated charcoal sourdough (whatever that means).
All washed down with copious amounts of fizz and mimosas. And then you're ready to continue with your first of five days in London.
You can also pop over to Number 10 Downing Street, a.k.a the official residence of Prime Minister Boris Johnson, on the way.
2pm – Westminster Abbey, Big Ben, and the Houses of Parliament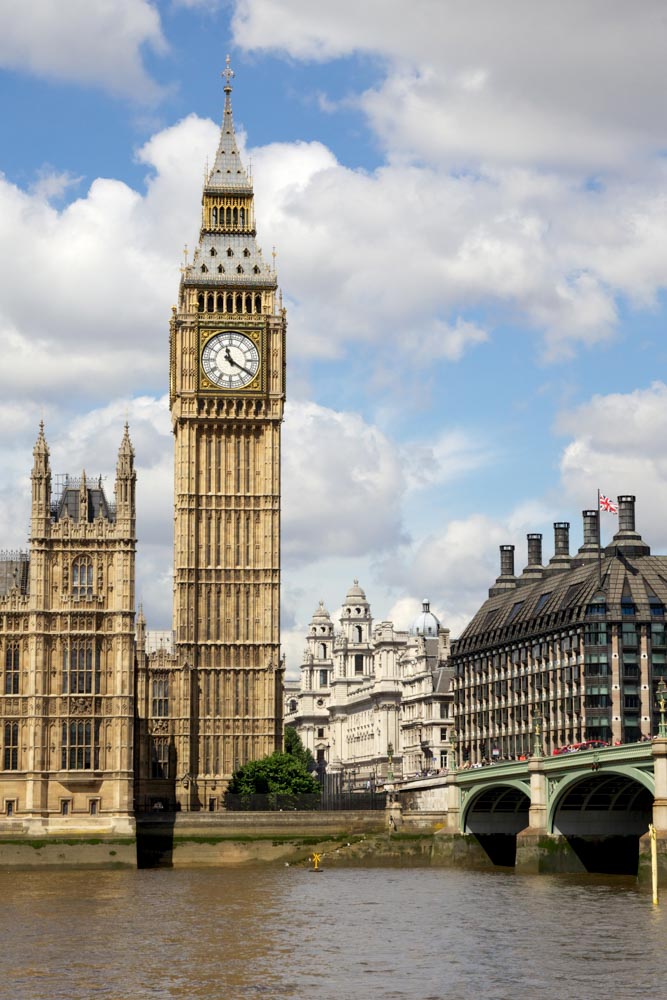 Next up: Westminster Abbey. This stunning gothic building has been the country's coronation church (where the monarch is officially crowned) since 1066.
Going inside isn't completely necessary – you can snap some impressive pictures from outside the abbey – though it is eerily beautiful. Amongst the graves of past monarchs you'll find Poet's Corner, where some of the nation's leading literary figures are buried or commemorated.
Pop across the road to see the equally impressive Houses of Parliament in the Palace of Westminster.
Famed for being the home of British politics and the subject of Guy Fawkes' notorious gunpowder plot, this is an important British building you must visit on your trip to London.
That said, if you want to go inside you'll need to book a tour – we've got you covered in our handy guide here.
Technically part of the Palace of Westminster, the iconic Big Ben is perched next door. But be warned – the giant clock tower is currently undergoing some serious renovations for the next couple of years… you can still see one of the clock faces, but it's not quite as pretty as it usually is.
Afterwards, cross over Westminster Bridge and make your way over to the London Eye.
4pm – London Eye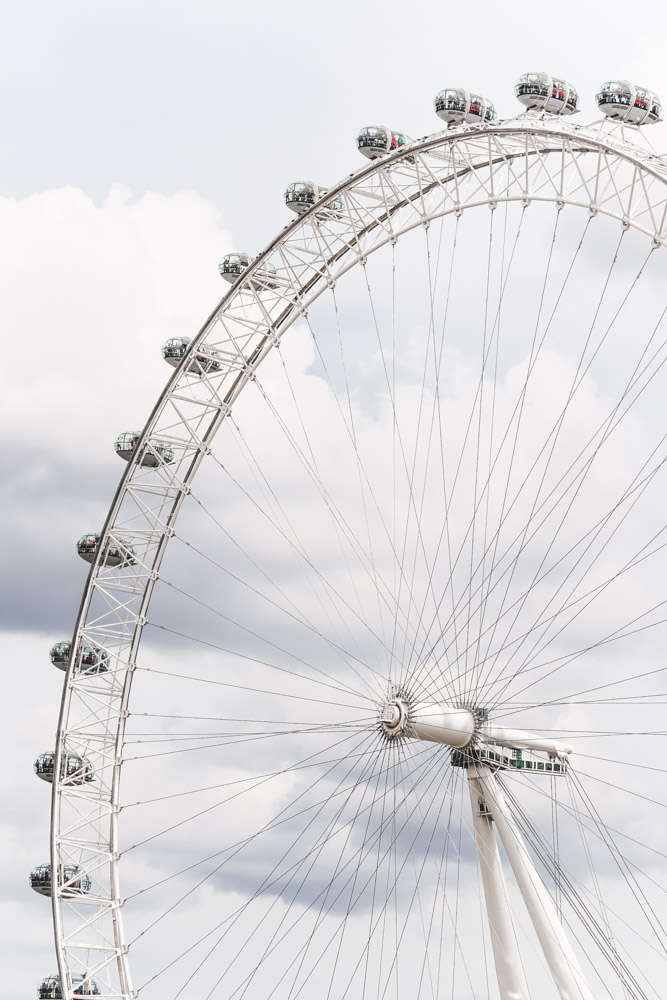 Time for a total guilty pleasure – and if you can time it around sunset then definitely do so.
The London Eye is a total gimmick, but it's magical (especially when rosy hues illuminate the capital) and a must do when you visit London for five days.
Tickets will set you back around £27 (with fast track entry) and include 365 degree views in a shared pod.
In addition to regular tickets, you can book yourself VIP tickets or even hire a private capsule to yourself. To be totally honest, we recommend saving your money and heading elsewhere for a cocktail or two.
You're right on the doorstep of Waterloo, so it would be rude not to venture there in the evening.
6pm – Dinner and Drinks in Waterloo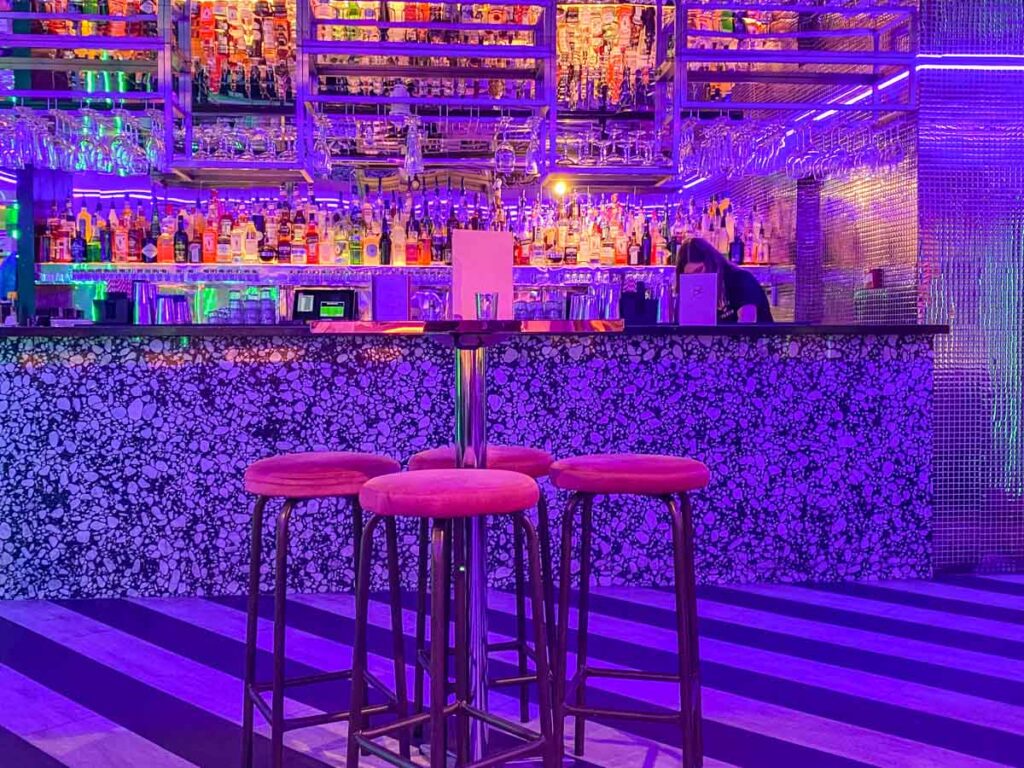 Waterloo is one of our favourite places in the capital to eat and drink – the area is bursting with cool restaurants, quirky bars, and gorgeous rooftop views.
Foodwise, Crust Bros casual eatery is a safe bet. Italian pizza done proper – with an impressive take on the humble margarita, as well as some more exotic options (not a pineapple in sight, though). For something more upmarket, Brasserie Blanc is a great date night spot.
If it's casual drinks you're after, look no further than Jack's Bar – or for dreamy views (and impressive cocktails), head to Bar Elba. If you want a bit of casual drama though, we love Tonight Josephine – which is all lit up in neon and plays danceable bangers all night.
You can find our complete guide to Waterloo here.
5 Days in London Itinerary: Day Two
10am – Oxford Street, Piccadilly Circus, and Leicester Square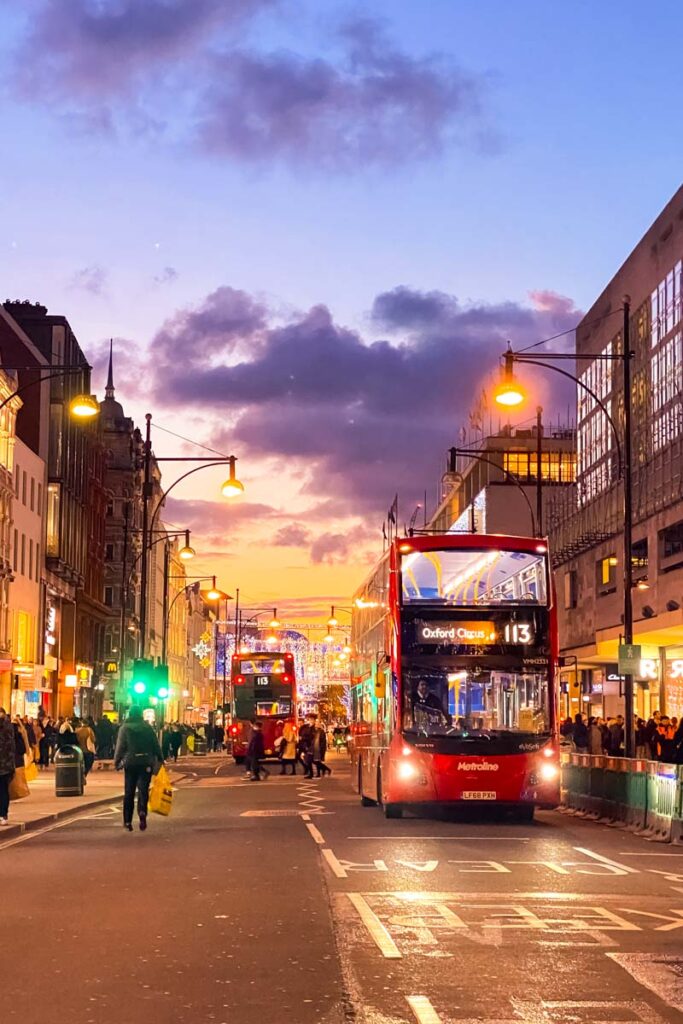 Day 2 is a day of total tourist indulgence. Usually we would say skip Oxford Street, but if you're visiting for the first time you'll totally want to go. Be warned – it's hectic (and not really anything special).
Once you've battled hordes of people and made your way up and down the famous shopping street, dip down Regent's Street and head towards Piccadilly Circus and snap yourself a few cool photos for the 'gram.
Leicester Square is up next, but don't bother drinking, buying, or eating anything here. You'll be faced with naff food and high prices – it's all a trap.
Instead, opt for a spot of lunch in nearby Soho before making your way to Trafalgar Square.
2pm – Trafalgar Square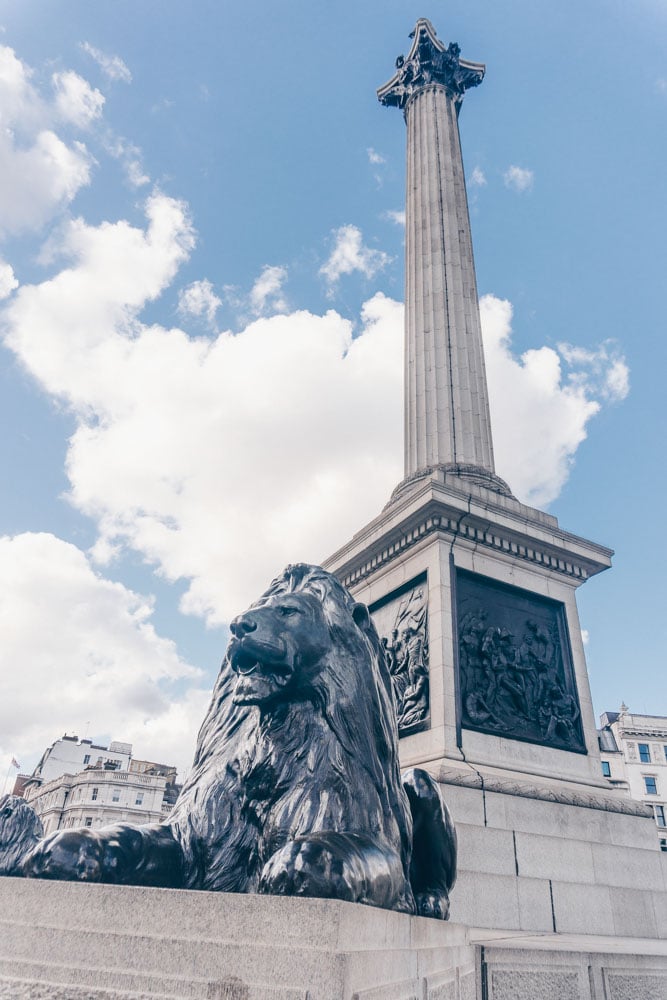 Famously home to Nelson's Column and the neoclassical National Gallery building, among a plethora of other interesting things to see, Trafalgar Square should be right at the very top of your London bucket list.
Admire the lions, snap a photo of the fountains, listen to the street performers that often gather there – you could spend hours people-watching here.
Don't though. Head on into the National Gallery for an afternoon of culture, dahling.
3pm – National Gallery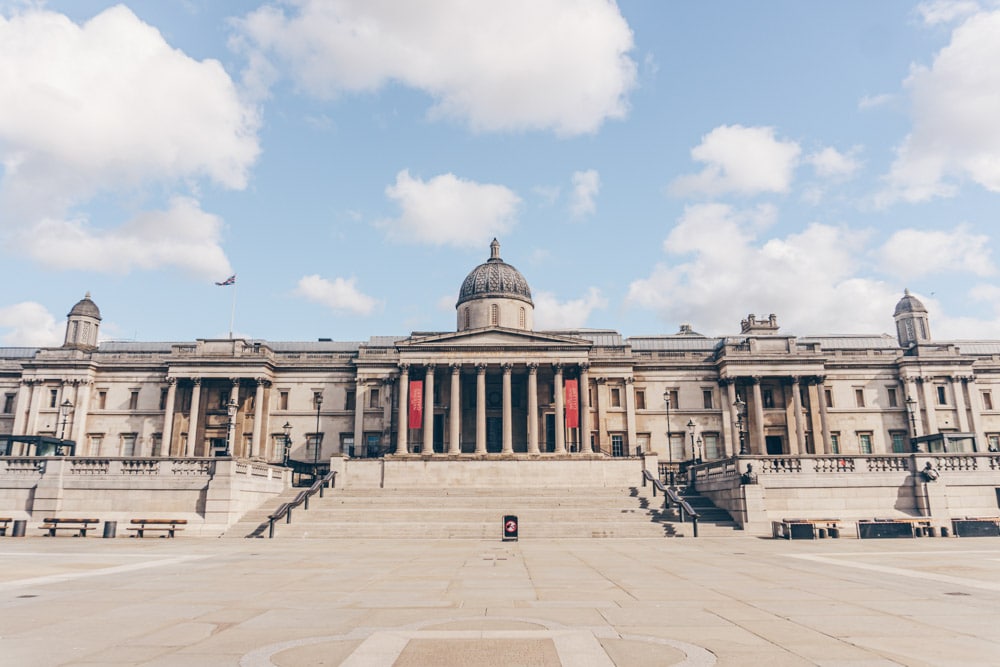 If you're an art enthusiast – or just want to say you've seen one of the world's best collections of art – you'll want to spend a few hours in the National Gallery.
Like many of the capital's museums and art galleries, entry is free but you'll need to book a ticket in advance.
This means you'll get to see work by the likes of Vermeer, Titian, Van Gogh, Rembrandt, and other famous names, without making so much as a dent in your wallet.
Take your time; there's lots to see. Afterwards, head back up through Soho towards the West End.
5pm – The West End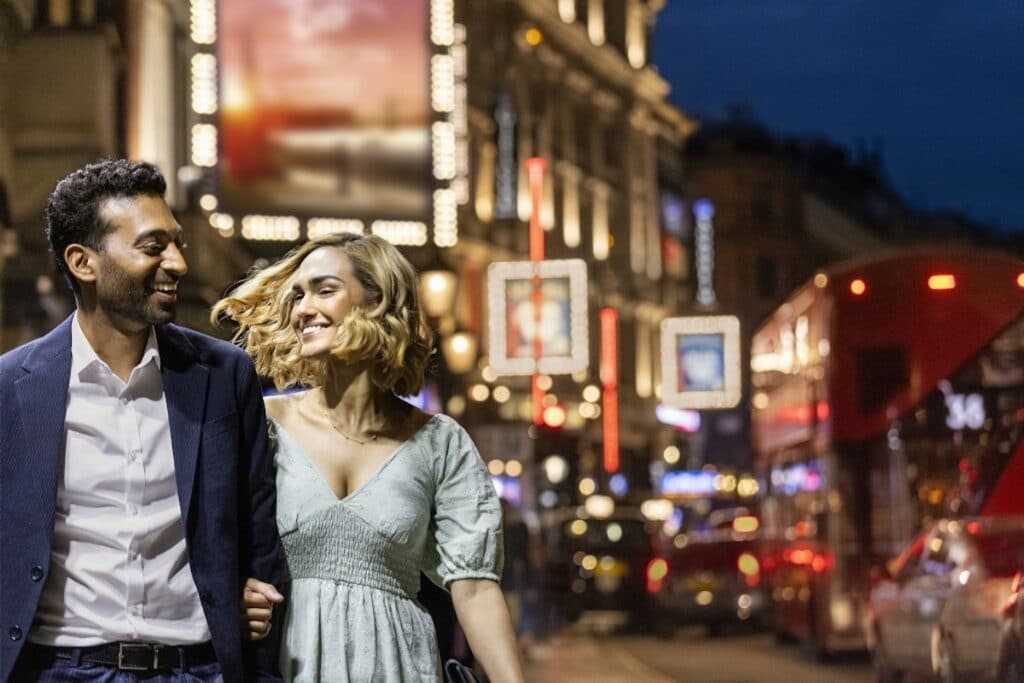 Famed for its theatres and magical productions, we highly recommend booking yourself a ticket to a West End show.
Some of our favourite productions over the years have been the long-running Les Miserables, the teenage-angst filled Heathers, and the ultimate girl-power cheesefest that is Six. Though, you can check what's on for yourself here.
If you don't fancy treating yourself to a show, it's still worth making a pit stop to admire the glitz and glamour of the area. Or, head straight for a pre-dinner cocktail.
7pm – Dinner and Cocktails in Soho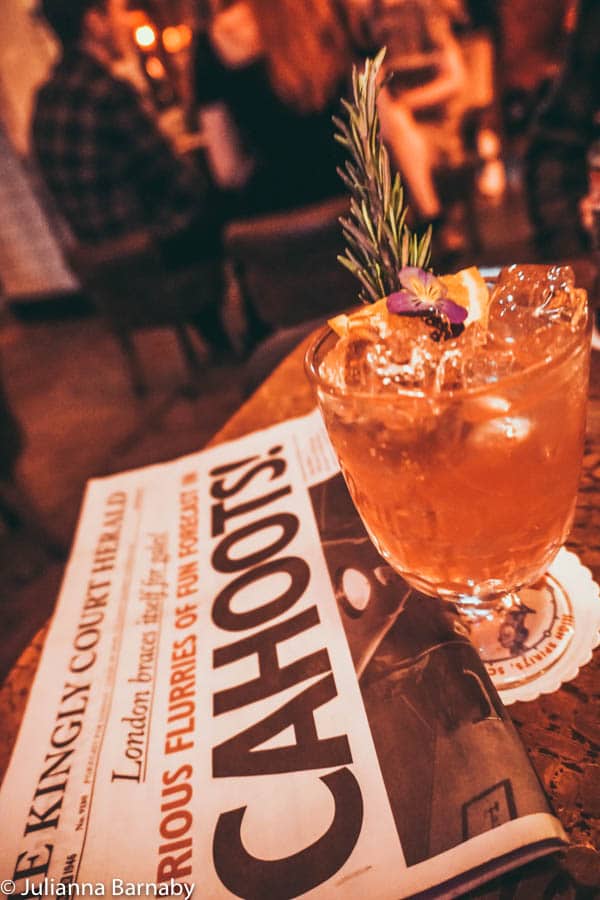 Soho is abundant with brilliant places to eat dinner or grab a cheeky evening cocktail.
There's paella heaven at Barrafina, steak and Champagne at Bob Bob Ricard (our personal favourite), or flavourful Vietnamese dishes at Cây Tre.
Head into Chinatown afterwards for drinks – order literally anything from Experimental Cocktail Club and you can't go wrong.
5 Days in London Itinerary: Day Three
9am – Tower of London and Tower Bridge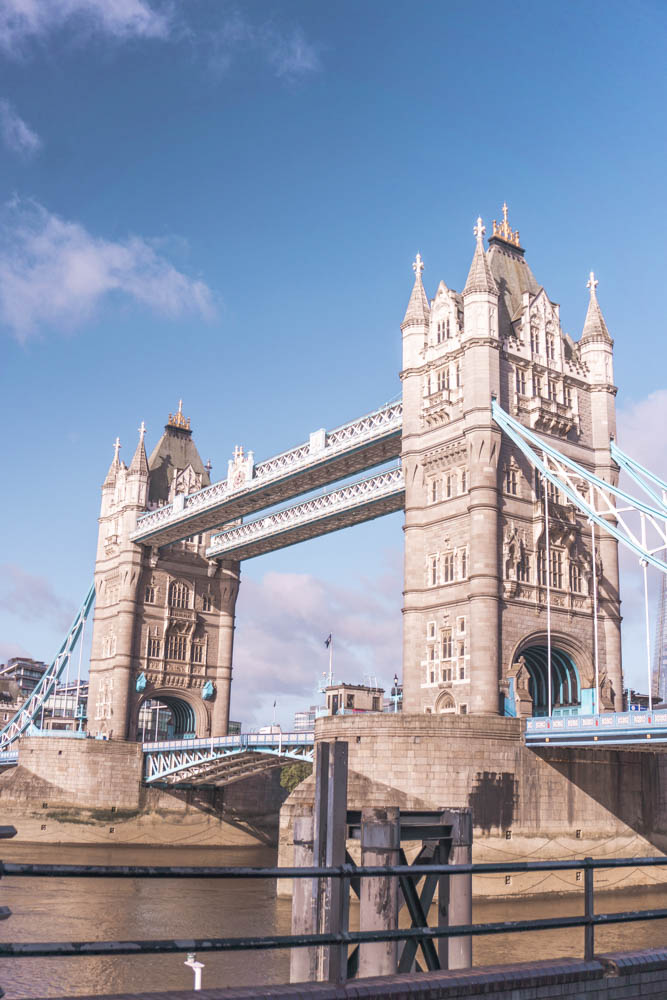 After a slower two days to ease you into the London lifestyle, today's itinerary is a little bit more hectic.
You'll want to visit the Tower of London early – if not to beat the crowds, to fit everything in.
The Tower of London has an interesting (albeit gruesome) past, with a seriously long list of people being executed there. Aside from that, the Tower of London is well-known for rather successfully holding onto the Crown Jewels and the Beefeaters who reside there.
Opposite the Tower of London, you'll come to another of London's icons: Tower Bridge. The neo-Gothic Bridge first opened in 1894, and you'll want to head to the Girl with a Dolphin Statue to snap the best shot. Thank us later.
10am – The Shard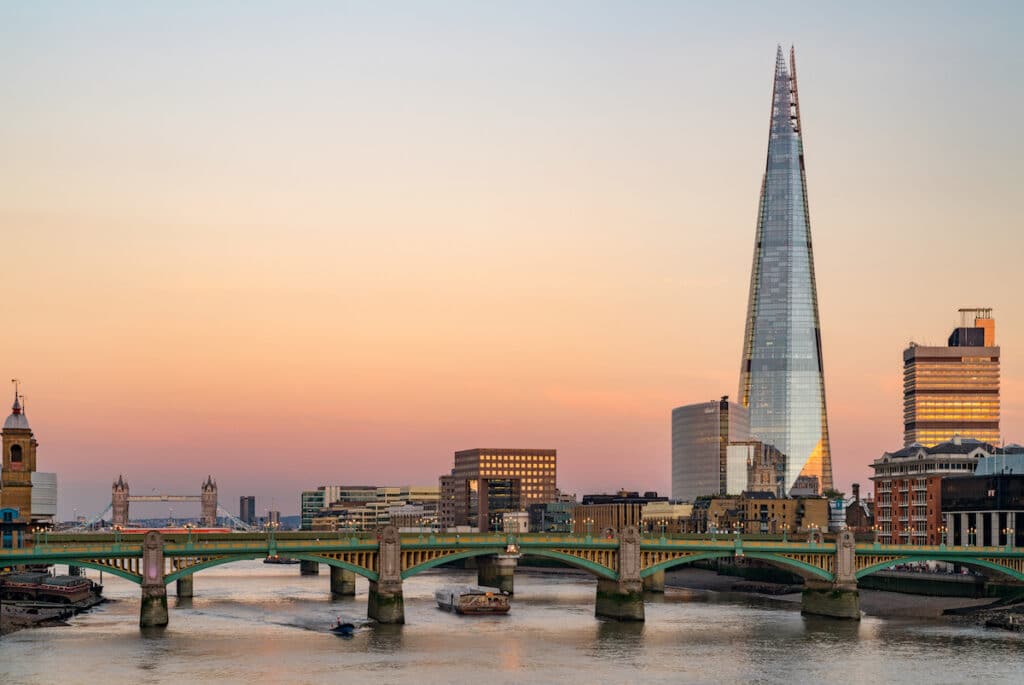 As London's tallest building, it's not surprising that so many people want to visit The Shard during a trip to London.
Head up to levels 69 – 72 for panoramic views of up to 40 miles at the View From The Shard.
11am – Borough Market for Lunch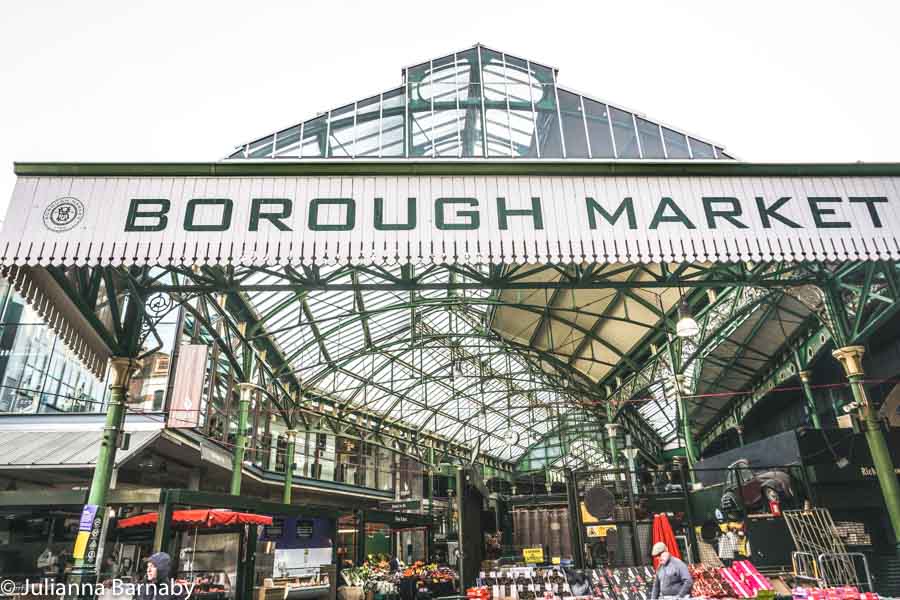 You could easily spend hours wandering Borough Market, gorging on samples and filling yourself up on sweet treats – and you totally should.
London has a pretty poppin' street food scene, but Borough Market tops the list in our humble opinion. Don't believe us? Go and try it for yourself – you'll love it.
From an indulgent cheese toastie at Kappacasein to pillowy bao buns at Bao Borough, there's something for everyone.
1pm – The Tate Modern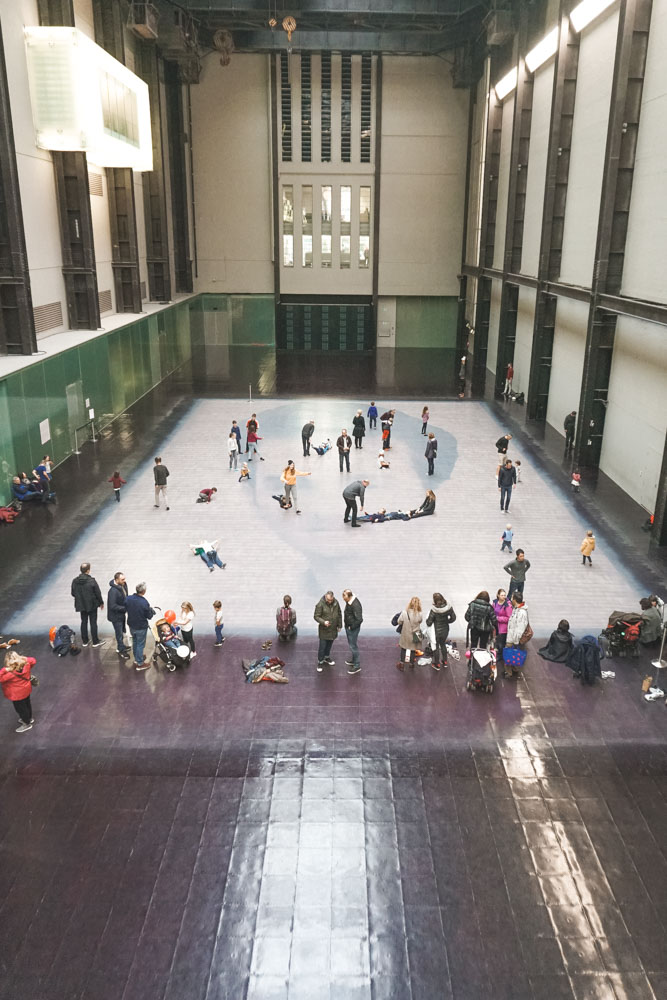 Tate actually boasts two brilliant museums in the capital: The Tate Modern, and the more traditional offering at Tate Britain. Both are equally wonderful, but we think the modern has a slight edge over the other one.
It's free entry, though you'll need to snag a timed ticket to get in. Not a problem usually, but worth booking well in advance.
Once inside, you'll be treated to innovative art and exhibitions by the world's top modern artists. The likes of Damien Hirst, Yayoi Kusama, and Tracey Emin are the big names here.
3pm – St Paul's Cathedral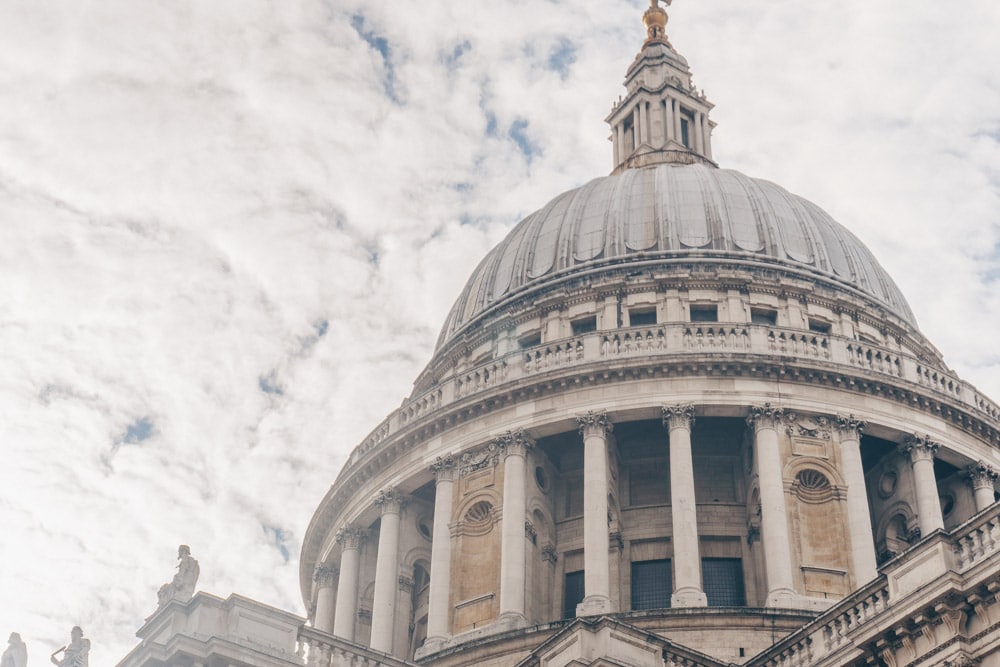 Next, head over the rather unusual – and very cool – Millennium Bridge towards St Paul's Cathedral.
St Paul's Cathedral has been built and rebuilt five times, most famously after the Great Fire of London that burned most of the city to the ground – and today it still stands as one of the most iconic buildings in the capital.
The current St Paul's was designed by Sir Christopher Wren (the genius behind most of London's striking landmarks) and, if you can believe it's possible, the inside is even more stunning. Well worth the small entry fee.
4pm – St Dunstan in the East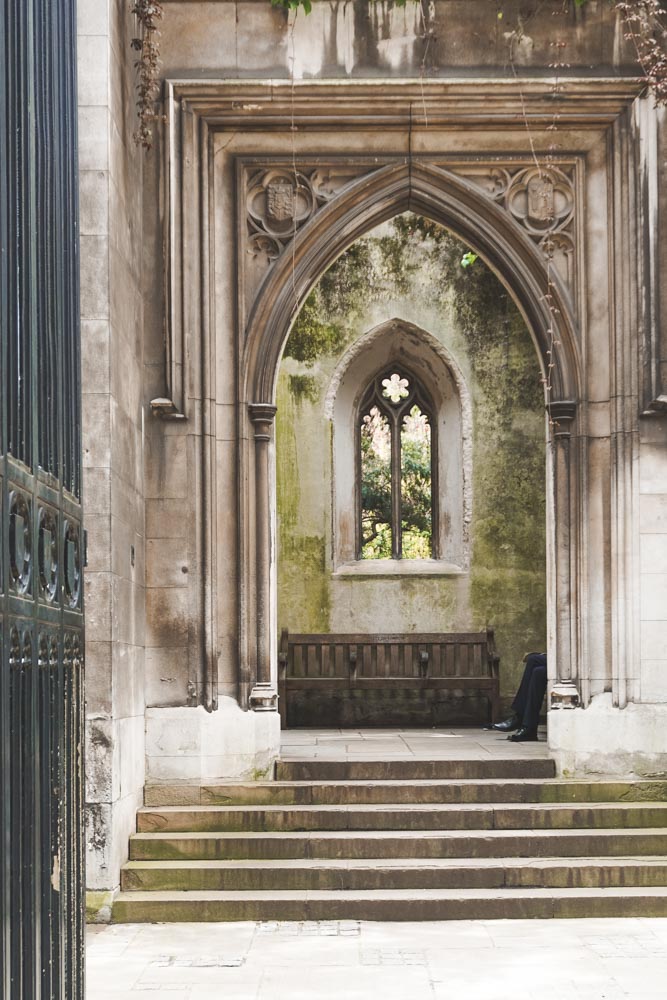 Head over to St Dunstan in the East, passing the Great Fire of London monument.
This very much comes under the category of hidden gem – most Londoners have never heard of it, yet alone been – but you should pay a visit while you're in the area.
So what is it? It's a tiny tropical haven in the grounds of an abandoned church – in other words, it's a very peaceful spot to drink a late afternoon coffee (or hot chocolate).
We won't spoil it for you, but it's a stunner.
5pm – Sky Garden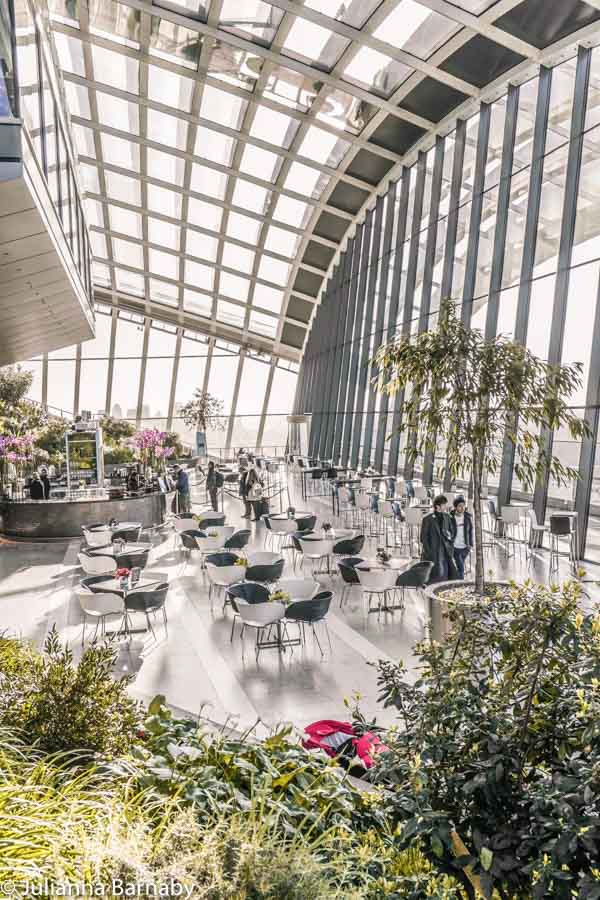 Just like with the London eye, timing a visit to Sky Garden during sunset is half the battle.
Swing by this leafy oasis that sits atop the Walkie Talkie building for sweeping views of the capital drenched in an orange glow and a tasty pre-dinner cocktail.
If you want to know more about how to visit the Sky Garden and how to beat queues, we've given you the complete rundown here.
7pm – Dinner at Leadenhall Market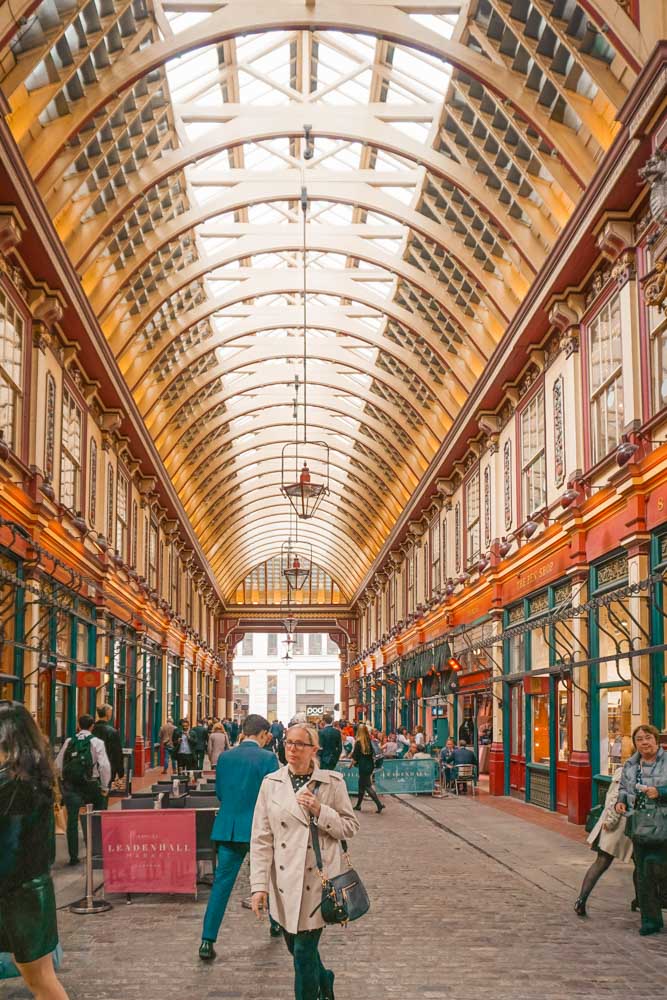 Ah, Leadenhall Market. The perfect dinner spot.
Tucked away in the heart of The City is a lovely market that looks like something straight out of Harry Potter (fun fact: it is).
Explore the market and experience over 700 years of history, before settling down for a mouthwatering meal at Giorgio – a sophisticated Italian joint serving up authentic subterranean food. Think fresh pasta and toothsome seafood.
If you're not quite ready to call it a night, head over to Broker's Wine Bar for a glass or two.
5 Days in London Itinerary: Day Four
10am – Portobello Road Market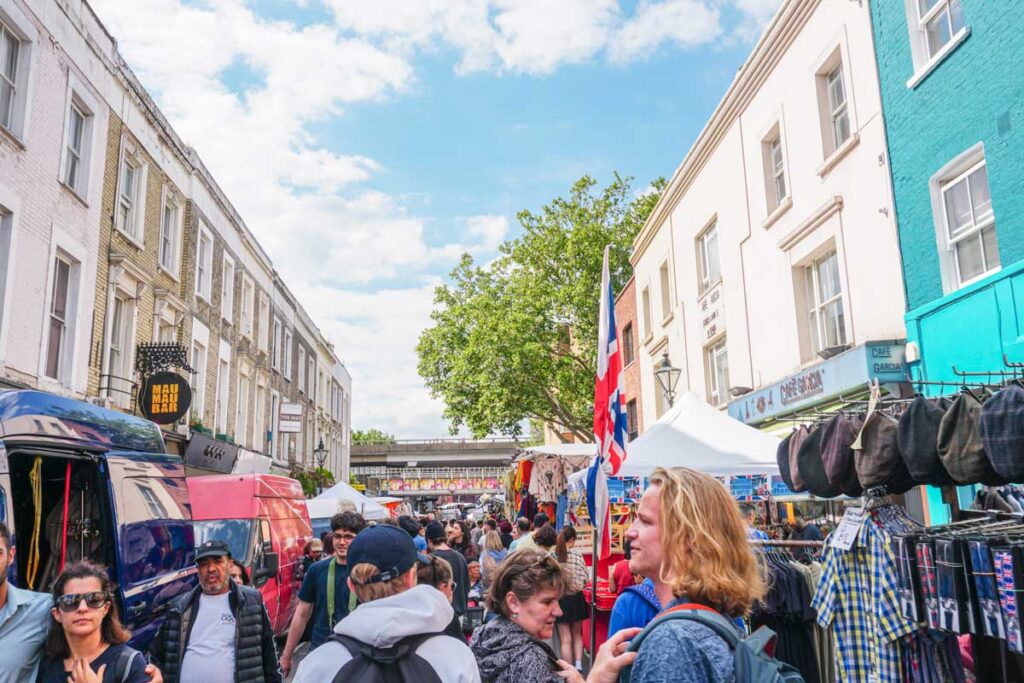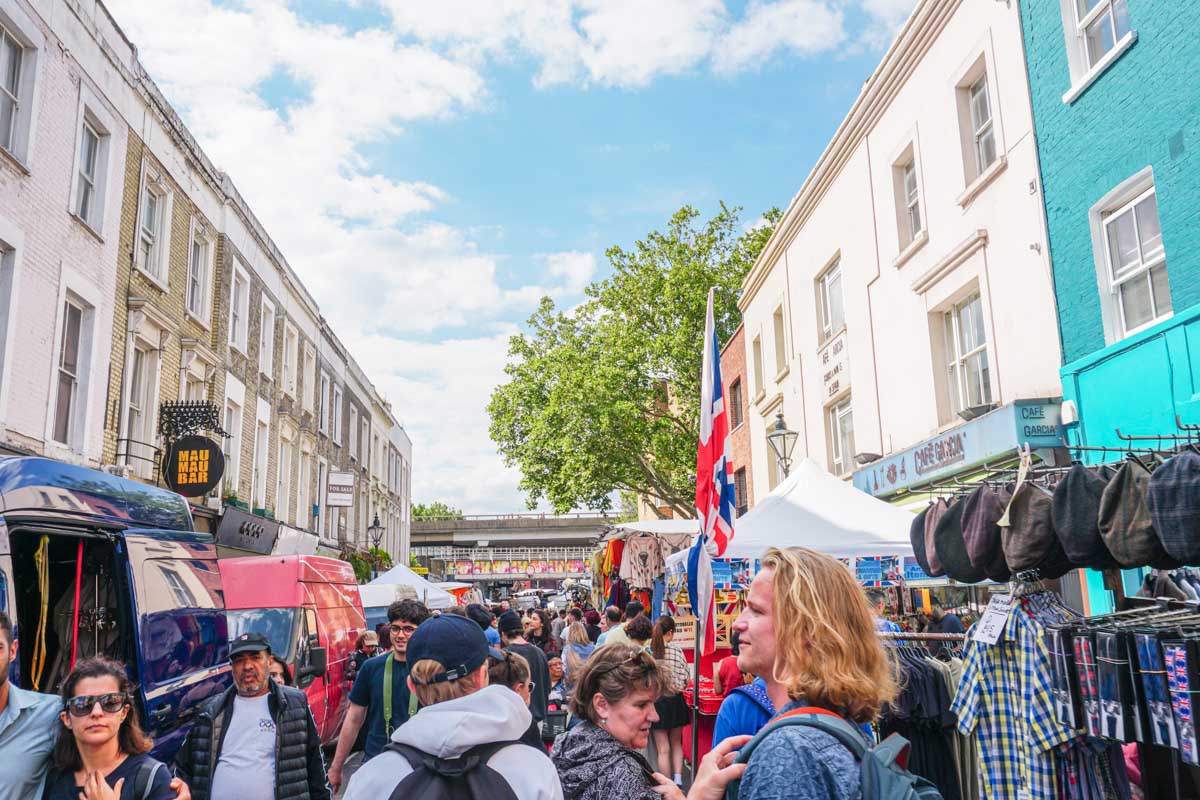 Day two was busy AF – treat yourself to a little bit of a lie in on day three of five in London.
Portobello Road Market is one of the most iconic markets in London: the world's largest antiques market runs everyday (bar Sunday) and is a great place to pick up a bargain or just spend the morning weaving through.
You can also opt to explore the Notting Hill area while you're here – you'll find plenty of cafes where you can grab a coffee and pastry/brunch before heading to the Natural History Museum.
12pm – Kensington Palace and Gardens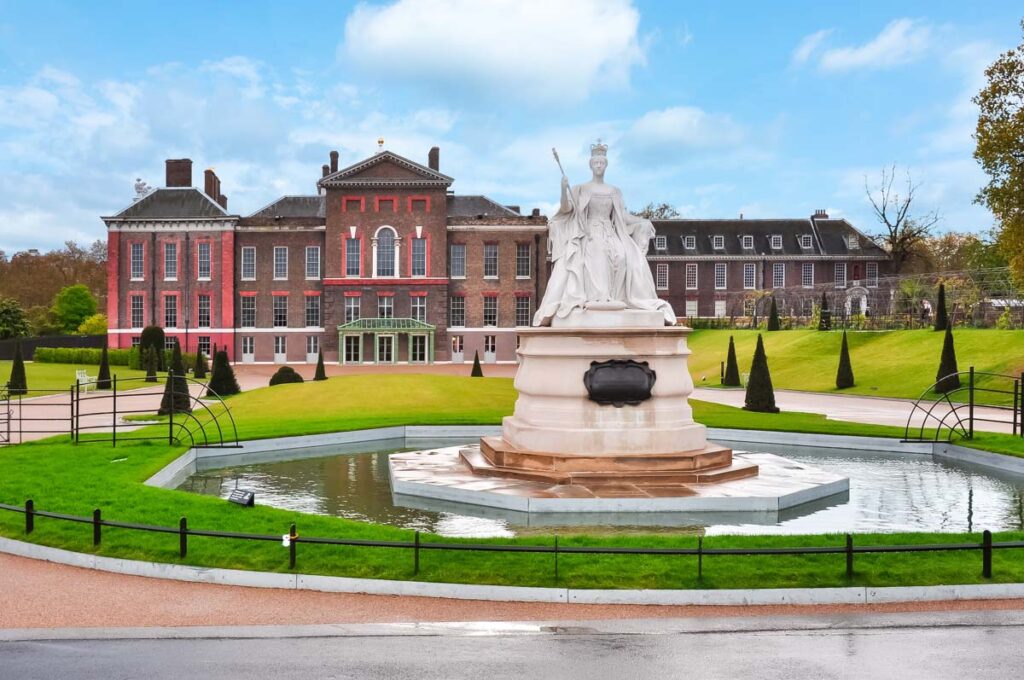 Leave Notting Hill for Kensington's museum mile – passing through Kensington Palace and Gardens on the way.
Kensington Palace is the official diggs of the Duke and Duchess of Cambridge and their children. As you can imagine, the gardens are rather breathtaking and attract plenty of visitors throughout the day.
Make sure to check out the recently-unveiled Princess Diana statue that sits in the Sunken Garden before you leave for the Natural History Museum.
1pm – Natural History Museum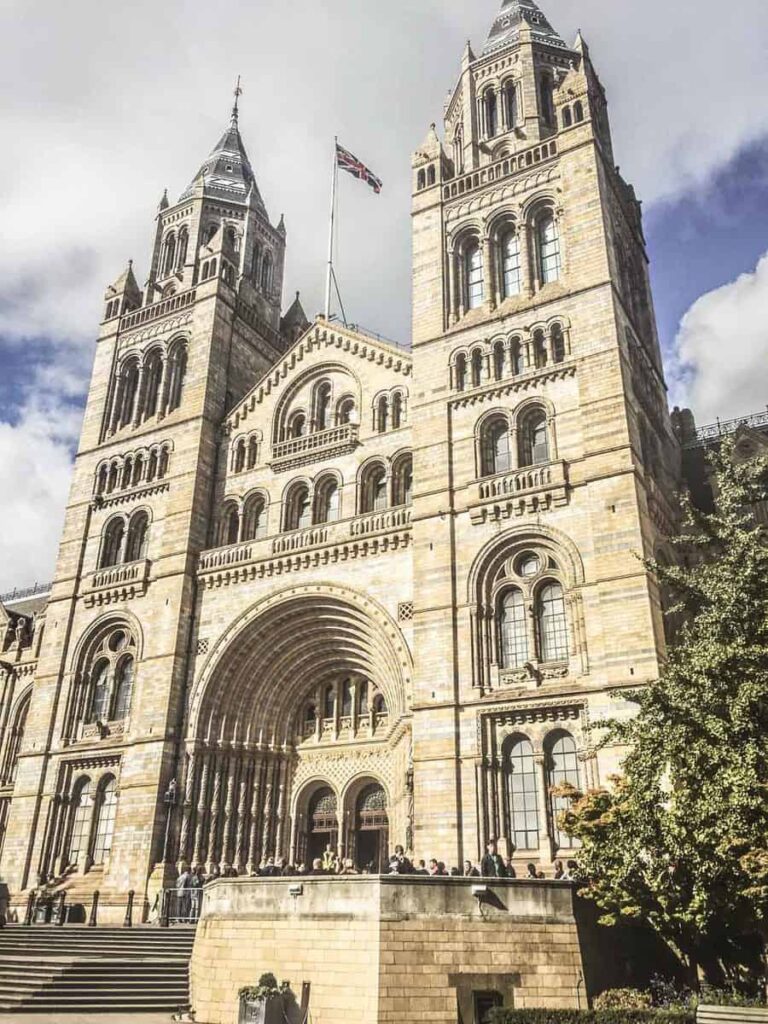 Book yourself a ticket to the Natural History Museum and relive those exciting school trips from the yesteryears.
You'll enter through Hintze Hall where Hope – a blue whale skeleton – will greet you. And the rest of the museum is just as cool.
Learn about the history of planet earth, walk in the footsteps of the dinosaurs, and explore outer space in a fun journey through our natural world.
3pm – The V&A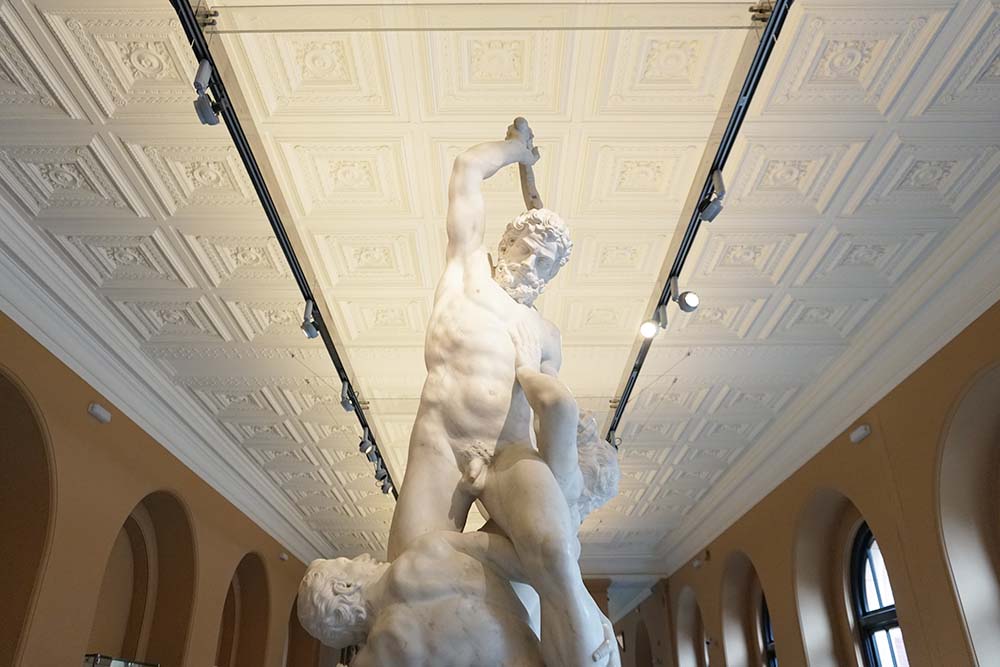 If you're geed up from the first museum, why not head into the V&A while you're in the area.
We LOVE the Victoria and Albert Museum. The first stone in this stunning Gothic building was actually laid by Queen V herself, and the museum boasts art and design pieces old and new, as well as plenty of interesting exhibitions to make your way around.
5pm – Covent Garden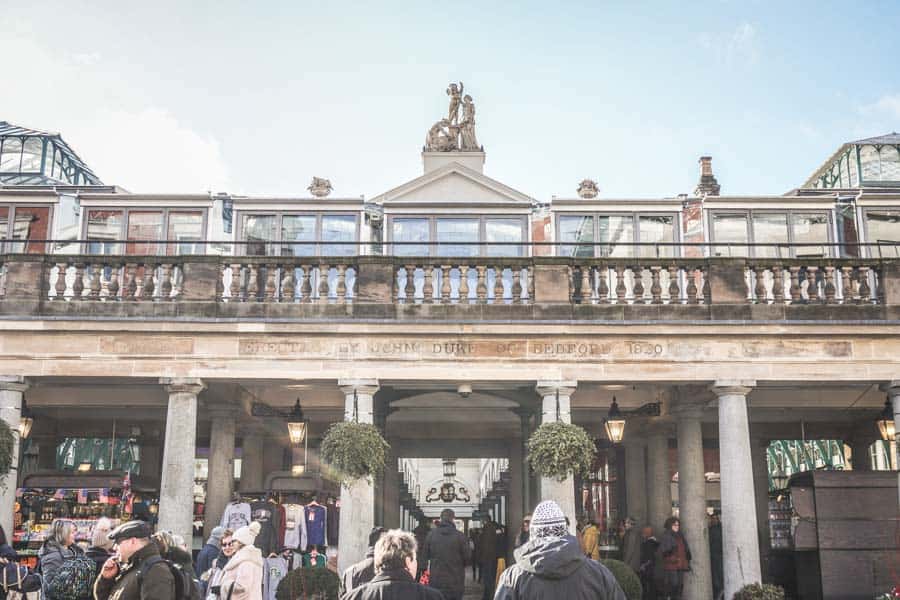 Covent Garden may be one of London's more famous area's, but it still boasts plenty of charm and wonderful things to do.
Take Neal's Yard, for example. Dreamy buildings and fairy-light laden trees contain a wealth of cafes, restaurants, and shops to explore.
And that's before you've even stepped foot in Covent Garden's Apple Market.
8pm – Dinner and Drinks at Clos Maggiore
Covent Garden is no stranger to a fantastic restaurant. When it comes to places to fill up, it's easily one of the best in London.
Clos Maggiore brings French glamour (and Paris prices) to Covent Garden, offering mouthwatering dishes that are created using local ingredients.The native lobster with fennel, tarragon, orange, and lobster sauce was always going to be a winner.
Though, if you're looking for somewhere a little more wallet-friendly, Cafe Murano fits the bill quite nicely.
Why stop there? Head for cocktails at Upstairs at Rules or Frenchie and end the day with a bang. You deserve it.
5 Days in London Itinerary: Day Five
10am – The Painted Hall and Greenwich Observatory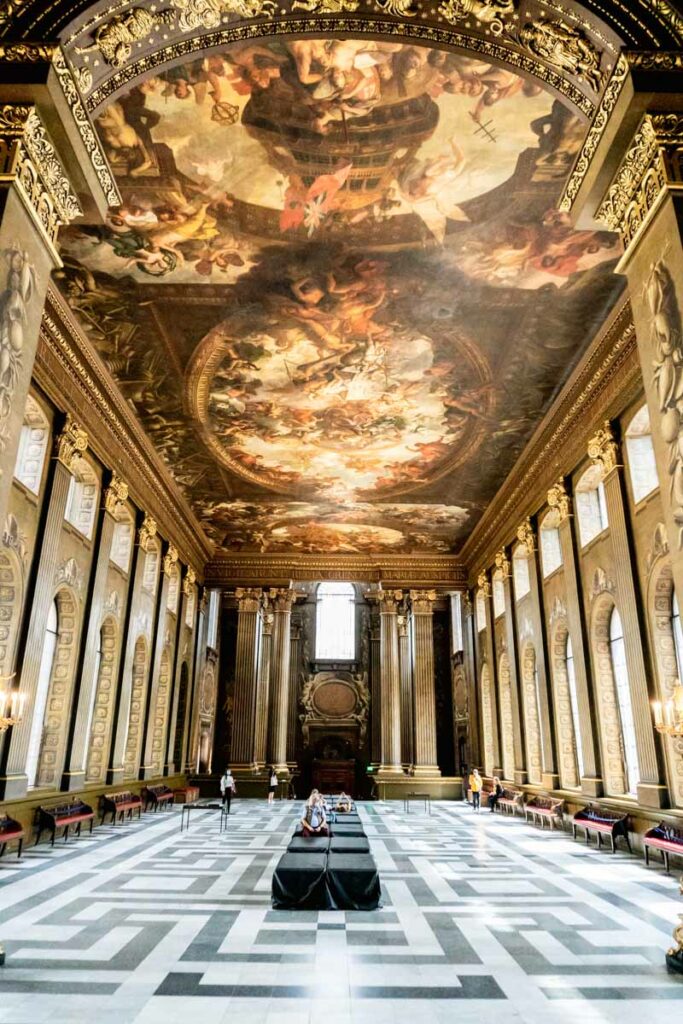 Final day in London? You may be tempted to fire through anything remaining on your list, but by now you've seen all the biggies and can spend the day exploring at a leisurely pace.
Head over to Greenwich and visit The Painted Hall inside the Royal Naval College, which is basically the UK version of the Sistine Chapel. Once you've ooh-ed and aah-ed yourself silly – and pretty much maxed out your camera roll – head over to the giant park where you'll find the Observatory and Planetarium.
12pm – Lunch at Greenwich Market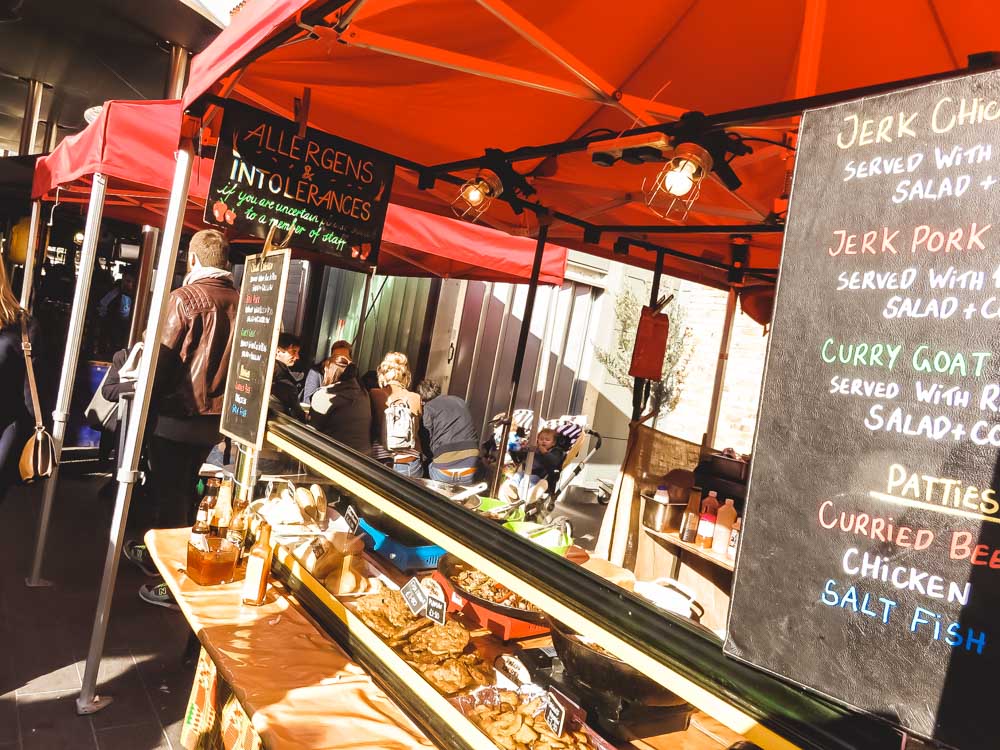 Dating back to the 18th century, Greenwich Market is one of the prettiest in the capital – and is also one of the best places to find street food.
Sometimes a hefty burger hits the spot – if that's the case then you'll want to head to Chuckling Wings. If you're after something a little bit lighter, opt for an empanada from The Andes. Followed by an indulgent Bad Brownies offering, of course.
After you've filled up here you'll want to take an Uber Boat to South Bank – get off at Bankside and head over to Shakespeare's Globe Theatre for an afternoon of drama.
2pm – Shakespeare's Globe Theatre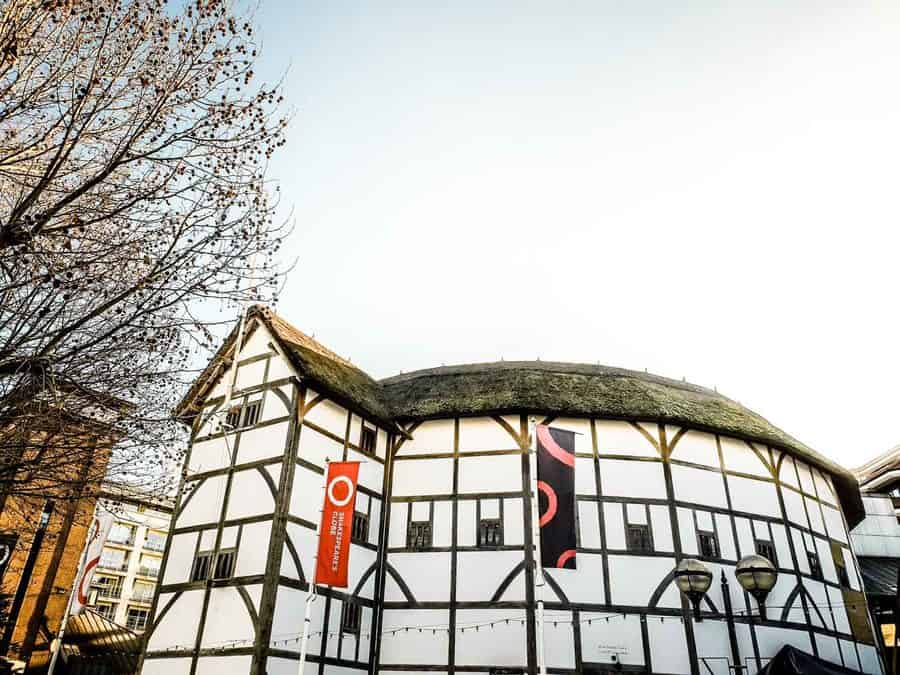 We challenge you to name a playwright more iconic than Mr William Shakespeare himself.
Spend your final afternoon in London watching a matinee performance of a literary classic, with some of the most talented actors in the world bringing the likes of Macbeth and Hamlet to life.
You can find out what's on and grab yourself tickets here.
6pm – Dinner and Drinks at Skylon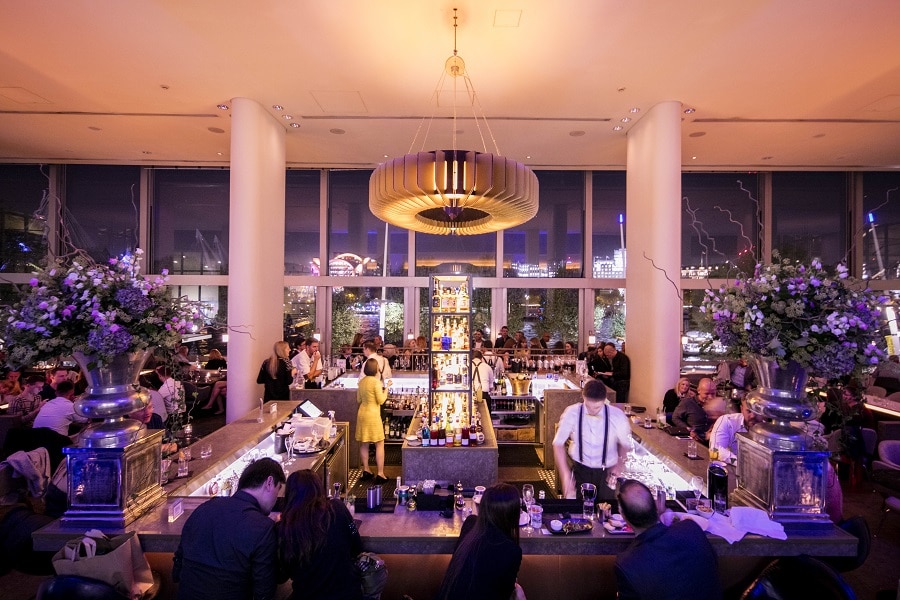 How does dinner with a view over the capital sound? Perched at the top of the Southbank Centre, Skylon offers just that.
Modern European dishes are served in an art deco style setting, with huge windows the star of the show here. Though the food is just as impressive.
It's a little bit expensive (i.e. nearing 20 quid for an – albeit delish – burger) but hey, it's your last night – you deserve it.
8pm – South Bank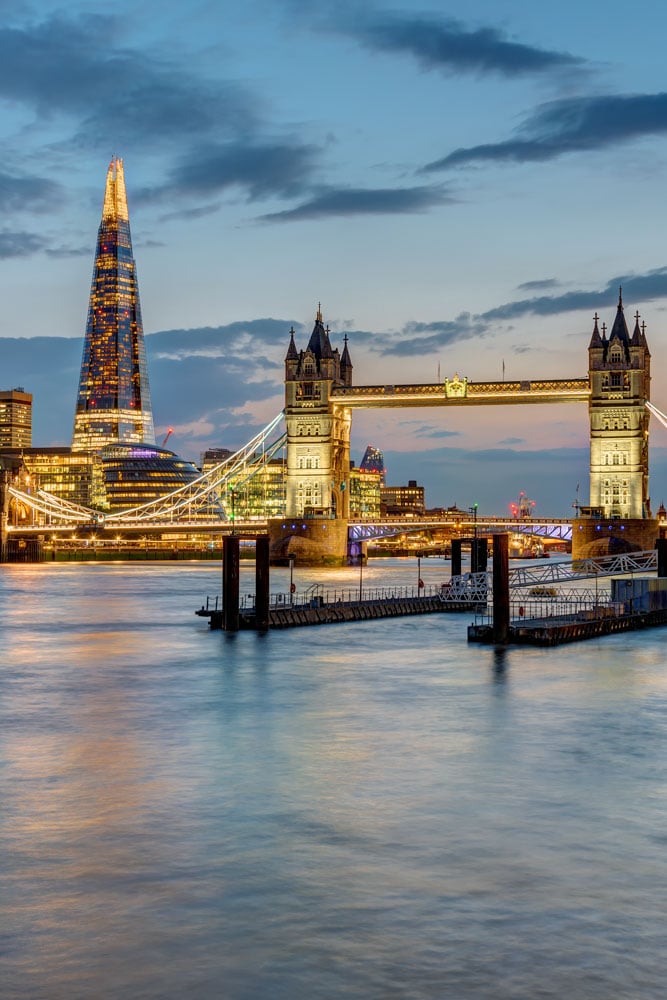 Can you believe it's the final evening? Take one last look at our beautiful city with an evening stroll across the water's edge on the South Bank.
Should your feet take you to one of these brilliant pubs, then so be it. You might just find us at The Beer Hawk. Or you can hang out at Spiritland to listen to some late night tunes with an excellent cocktail in hand.
---
There we have it: what to do in London for five days. The perfect itinerary for your trip in the capital, filled with the city's top eats, fun things to see and do, and totally 'grammable photo opportunities.
Five Days in London Itinerary: Map