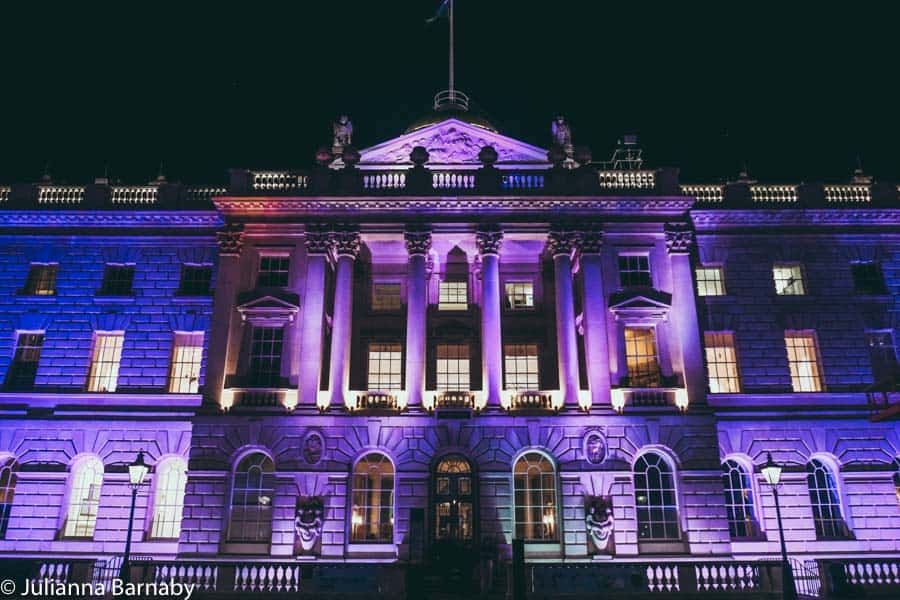 Somerset House sits on the banks of the Thames, one of London's former riverside palaces, now transformed into a cultural and arts hub. Planning a visit to Somerset House? Don't miss this go-to guide before you do.
Somerset House is one of my favourite places to visit in London – a beautiful palace on the outskirts of Covent Garden that has been turned into one of the city's coolest cultural hubs.
From the interesting and challenging temporary art exhibitions hosted in its gallery space to the outdoor music gigs and film screenings, there's always something new to explore. Here's where to start.
Things To Do in Somerset House
Take one of the Free Tours of Somerset House
Somerset House looks like pretty much any other Neoclassical Georgian building at first glance – albeit a rather impressive one (there's a reason I chose it as one of the most handsome spots in London). The buildings are striking, but wait until you hear the stories behind them.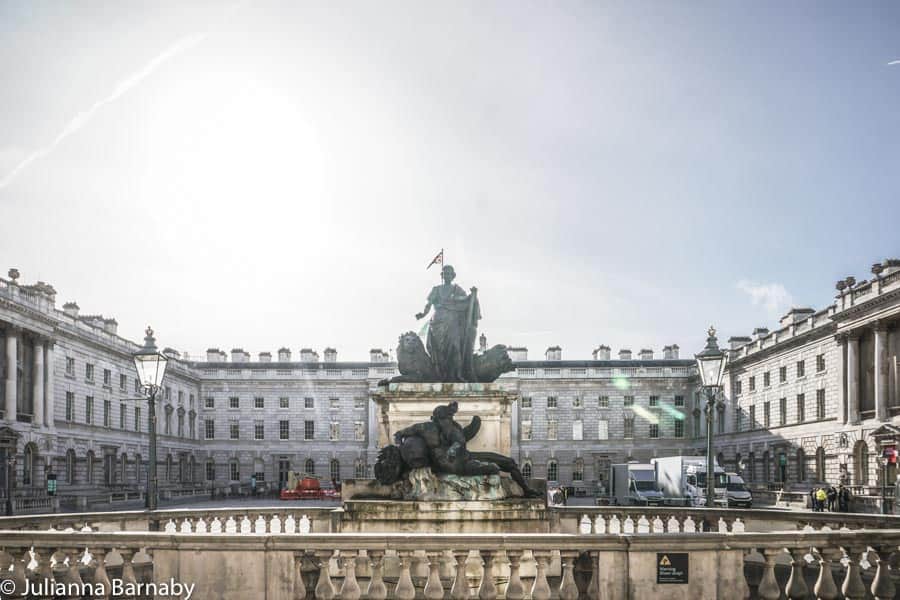 Luckily for all of us, Somerset House runs a rota of free tours to take you deep into its sombre and salacious past.
My favourite is the Old Palace Tour. By telling the story of the three Catholic queens who lived at Old Somerset House, the building takes on a new – and intriguing – life, in front of your very eyes.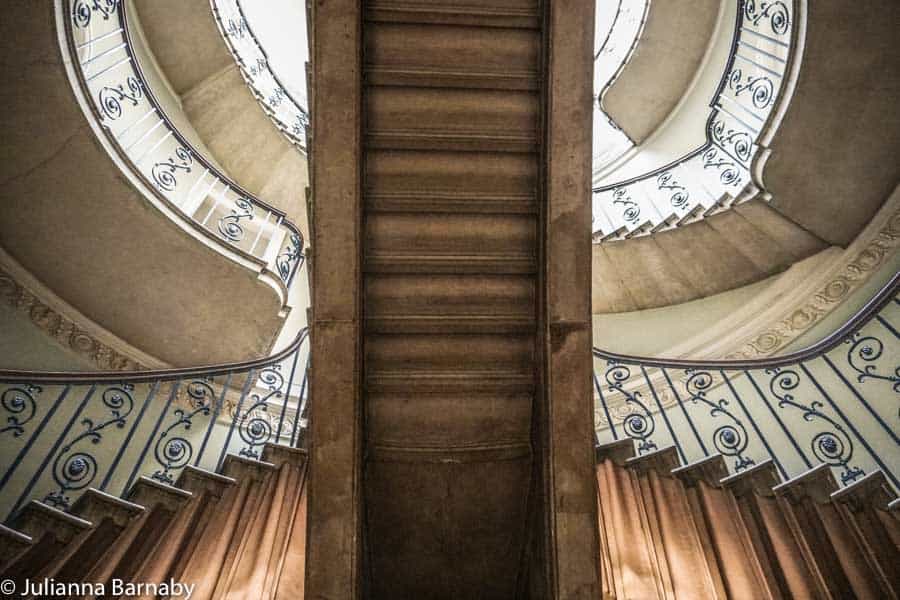 The tour lasts for about an hour and is held every Tuesday, at 12:45pm and 2:45pm. Don't arrive moments before thinking you'll be admitted – you'll need a ticket. They're available from 10:30am on the day – my advice is to pick one up as early as possible, and then return back for the tour.
The other tour is the Historical Highlights Tour, which is held every Thursday at 1:15pm and 2:45pm, and every Saturday at 12:15pm, 1:15pm, 2:15pm and 3:15pm.
Note that on the third Saturday of every month, they open up the creative studios for a special tour, instead of running the Historical Highlights ones.
Visit an Exhibition
Somerset House plays host to a revolving door of artistic exhibitions. These include visual art across mediums including sculpture, painting, photography as well as live performances.
It's refreshing to see such an important historical site showcasing such an eclectic range of contemporary arts. Never one to be put in a box, past exhibitions have ranged from a collection of Snoopy cartoons to shows as part of London Fashion Week and just about everything in between.
Check the calendar and you'll also find music gigs, seminars and lectures listed. What about a masterclass in photography for starters?
Take a look at the website to find out what's on during your visit. Some of the events are free (as is admission to Somerset House), but you'll have to cough up for others.
Read More: Cool Things to do in Covent Garden
Summer Series
Nothing says "summer in London" like open-air concerts. Bonus points if they're held around a stunning venue like Somerset House's Summer Series.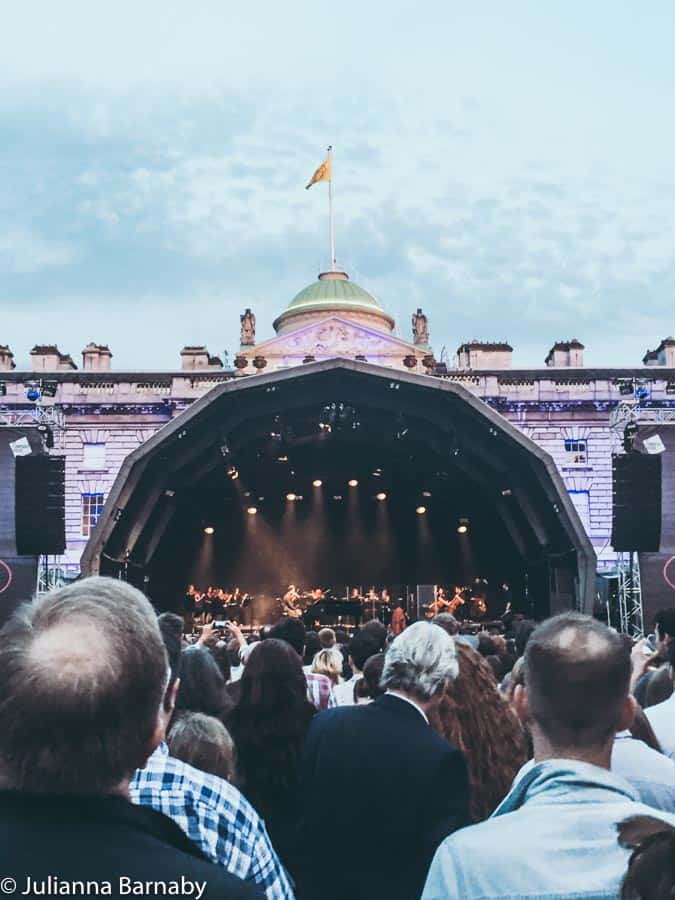 Each summer, Somerset House teams up with American Express to put on a calendar of raucous concerts across 11 action-packed evenings.
Although the 2019 lineup hasn't been announced yet, if 2018 is anything to go by – it's bound to be a banger. Last year the stage was graced by the likes of Jorja Smith, MGMT and The Roots.
The concerts are held in the expansive courtyard area of Somerset House. It's pretty amazing to revel to the sounds of your current faves while in the shadow of one of London's most historic buildings.
Tickets go on sale on March 11, and you'll want to get in quick to grab tickets to one (or more) of the concerts.
Summer Screen
Another of the most famous summer Somerset House events is Summer Screen, which sees the beautiful courtyard become London's premier outdoor cinema.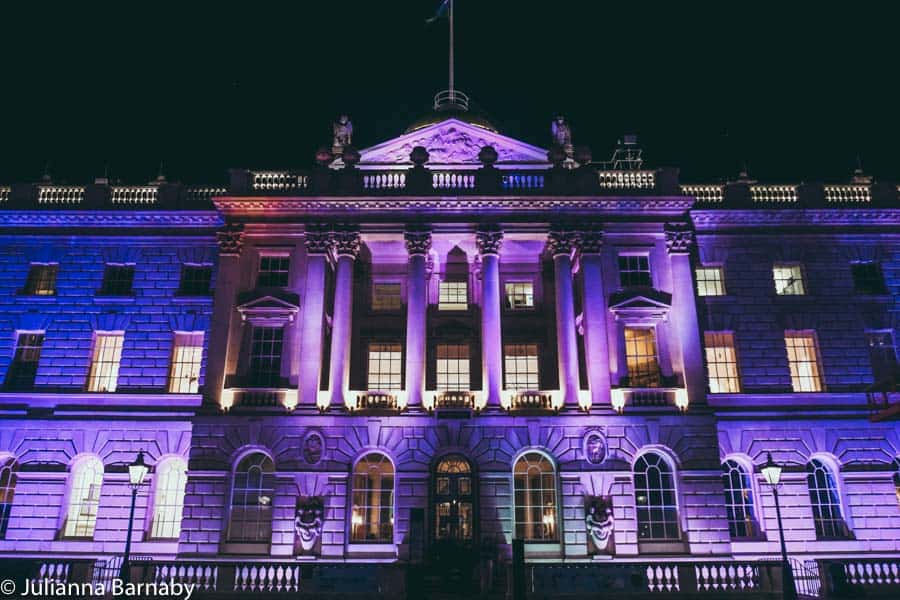 Running for two weeks, the event sees the courtyard brimming with movie lovers from everyday Londoners (and visitors) to even a few famous faces.
Last year, Oscar nominee Glenn Close even made an appearance, while Jodie Whittaker, star of Doctor Who, also shared some insider secrets about the entertainment industry.
The movies range from Oscar-worthy dramas through the feel-good children's classics, so there's something for everyone. The event is expected to run from August 8 – 21, with the calendar of movies released in May.

Skate at Somerset House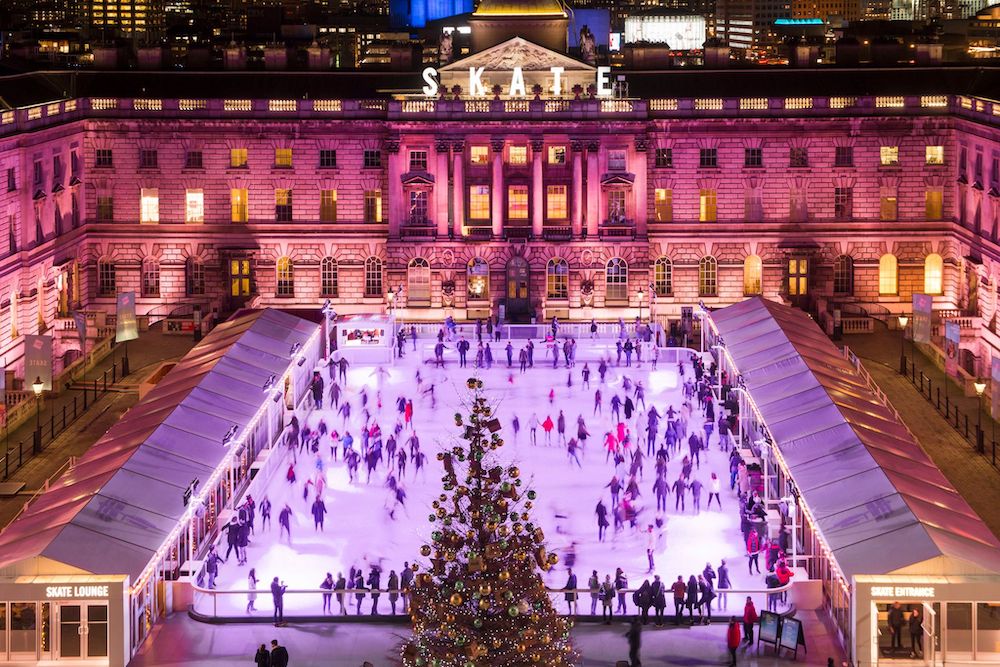 It's not only in the summertime when Somerset House's iconic courtyard is transformed into something spectacular. Each winter, the courtyard becomes a little slice of a winter wonderland, with its own skating rink.
Skate at Somerset House has become a winter "must do" in London, with anyone and everyone welcome to slide onto the ice. As soon as the huge Christmas tree arrives in the courtyard, Londoners know it's almost time for the great freeze!
As well as skating, there are also lessons and demonstrations available. Off the ice, you can grab a hot drink and do a spot of Christmas shopping at the nearby stalls.
While by day it's all very family-friendly, there are also "lates" where DJs spin some great tracks and the vibe becomes significantly more festive.
They don't call it the silly season for nothing.
Read More: The Best Things to do in London at Christmas
Courtauld Gallery
The Courtauld dates back to 1933 and has been busy amassing an impressive collection of artworks ever since. One of favourite galleries in London, there are more than 500 paintings and 26,000 other works, spanning from medieval times through to today.
After a recent renovation, the prestigious art gallery has reopened and features brand new exhibition spaces for their impressive collection.
The gallery boasts some very prestigious artwork: Manet's A Bar at the Folies-Bergère, Van Gogh's Self-Portrait with Bandaged Ear, as well as the largest collection of Cezanne's work in the UK, to name a few.
Beautiful as the pieces at the Courtauld are, its history also warrants a glance. The Institute that runs the Gallery (the Courtauld Institute of Art) and the Gallery itself were both founded by three men, Samuel Courtauld, Lord Lee of Fareham and Sir Robert Witt.
The men aimed to widen access to and an understanding of art. Ultimately, they wanted to create a foundation for the serious study of art – a project that was realised when the Institute opened its doors in 1932 – the first academic centre devoted to the history of art.
Book yourself a ticket here.
Read More: Free Museums and Galleries in London
Places to Eat and Drink in Somerset House
Hej Coffee
If you need a little caffeine to perk you up before exploring more of Somerset House, I suggest stopping by Hej Coffee.
It's no secret that I'm a bit of a snob when it comes to coffee – but Hej covers all the bases.
They serve great coffee, as well as a tasty selection of pastries and cakes to go with.
Coffees are roasted locally in Woolwich and prepared to the highest standard.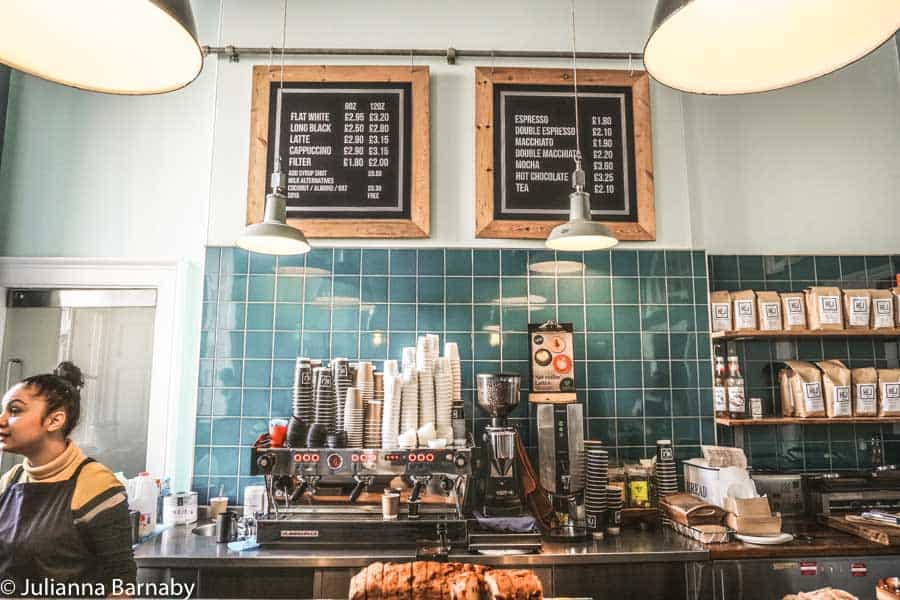 Interiors-wise, the cafe's team have done a great job of sympathetically redecorating so that there's plenty of charm on display, but with a light and airy modern feel. On a sunny day, grab your cup and head to one of Somerset House's gorgeous terraces to enjoy.
Read More: The Best Coffee Shops in Covent Garden
Fernandez + Wells
Another cafe in Somerset House, Fernandez + Wells brings bistro-style light bites, tasty breakfasts and coffees to Somerset House.
They also have a great wine list if you need something a little stronger.
Rooftop Terrace
A sleek-yet-approachable bar on the roof of one of London's most recognisable and impressive buildings? Sign me up.
Since it's on a rooftop and London is not exactly known for its balmy winter nights, the bar is only open during the summer months, so get in while the sun is shining.
During summer, Somerset House pairs up with beer legends San Miguel to offer a menu of beer (including a tasting menu), along with Iberian-inspired food platters.
With views like these, it's no surprise that it's often named as one of London's best rooftop bars (and, IMHO, a much better experience than Radio Rooftop across the road).
Not bad at all.
Read More: Must-Try Bars in Covent Garden
Bryn Williams at Somerset House
There are a few things that make the restaurant at Somerset House a fairly unique offering. There is, of course, the building itself – a very glamorous setting for a meal – but then there's also the menu.
Devised by acclaimed Welsh chef Bryn Williams, it's described as "veg-centric". It's kind of like a vegetarian restaurant, but with a few non-veggie options to choose from too.
The cuisine is distinctly British, not just in style but also in the source. Nearly all of the ingredients are sourced locally, meaning they are fresh and delicious, such as the Cornish mackerel. Rather than smothering them in sauces and herbs, the meals are delicately prepared to let the flavours speak for themselves.

The History of Somerset House
Somerset House is really an incredible sight to behold, but it's even more spectacular when you know the history behind it. The story of Somerset House reads much like an epic saga, filled with lords, princesses and dramatic battles.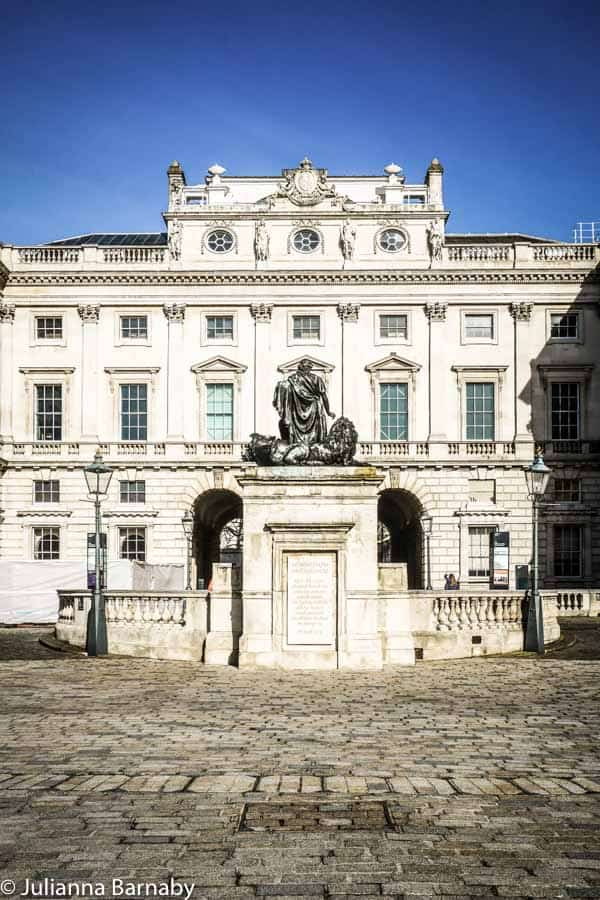 Construction of Somerset House
Its history began in in 1547, when Edward Seymour, Duke of Somerset, decided he wanted a palace on the banks of the Thames – fair enough really – who doesn't?
Construction began on the beautiful palace, which would be one of the most lavish in all of England.
Unfortunately for Edward, just three years later he was the victim of a dramatic coup which culminated in his execution in the Tower of London in 1552. His almost completed palace was claimed by the Crown.
The Three Princesses
Over the next 150 years, the Palace became a home for at least two princesses – Princess Elizabeth who moved in at age 20, staying until she became Queen Elizabeth I, and Princess Anne of Denmark, wife of James I.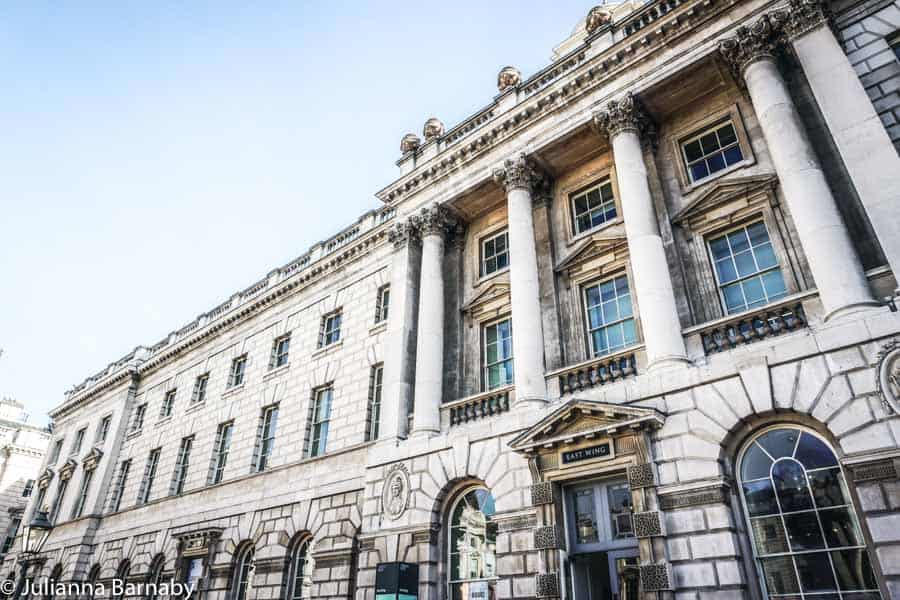 While resident, theatre-loving Anne commissioned some of the best architects in Europe to add onto Somerset House, then renamed "Denmark House" in her honour. Unfortunately, she never saw it completed as she died before it is finished.
For a time, it was then used by the wife of Charles I, Henrietta Maria of France, who was a Roman Catholic and had a chapel created within the buildings.
Around this time, England fell into a series of bitter civil wars and only after a few years in London, Henrietta fled for Oxford with Charles. Charles was executed as part of the English Civil Wars (I'm sensing a pattern here) and Henrietta Maria returned to Paris, almost destitute.
By this time, royal purses were also nearly exhausted by the constant expenses of war, and the decision was made to try to sell Somerset House.
Alas, no-one wanted it – wise, maybe, given all the executions of the former owners. However, someone did buy all the lavish furniture inside for the sum of £118,000 – or about £21 million in today's money.
Things did momentarily improve when Charles II, Henrietta Maria's son, was crowned King in 1660 and decided to move his mother back from her modest Paris digs to Somerset House.
Five years later, however, a plague descended on London and Henrietta decided to ditch it for good. She died in Paris several years later.
The End of the Palace
Catherine Braganza, wife of King Charles II, was the next – and last – royal resident, living at Somerset House until her death in 1693.
From this point on, it entered a period of rapid decline. While the Palace was undoubtedly beautiful, it was staggeringly expensive to maintain.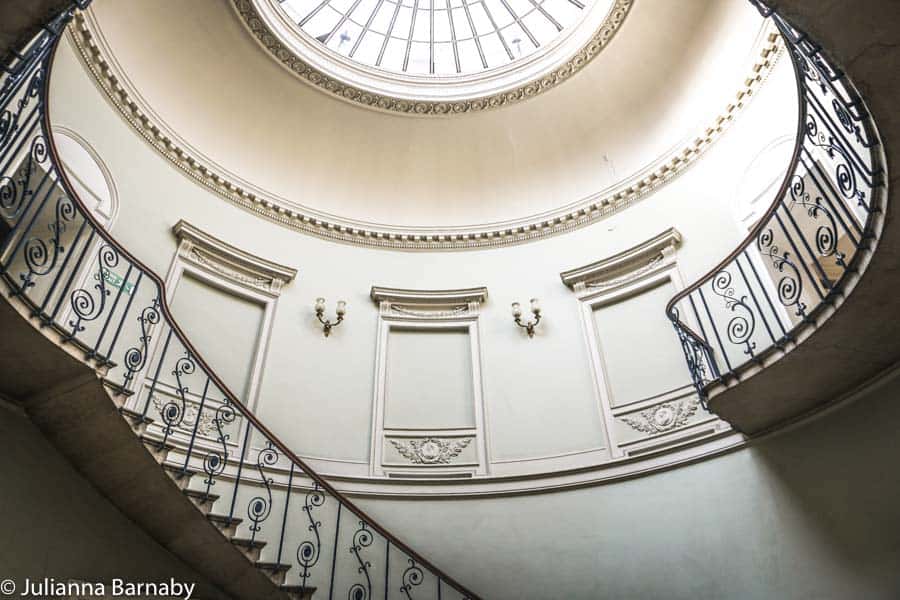 Considering the English monarchy had seen more deaths and overthrows than Game of Thrones by this time, they simply didn't have the money – or the enthusiasm – to save it.
By the mid-1770s, Old Somerset House was in such bad condition that much of it needed to be demolished. In its place, William Chamberlain designed a new building, which would be open, at least in part, to the public to enjoy (lest they get any more ideas about overthrowing the monarchy).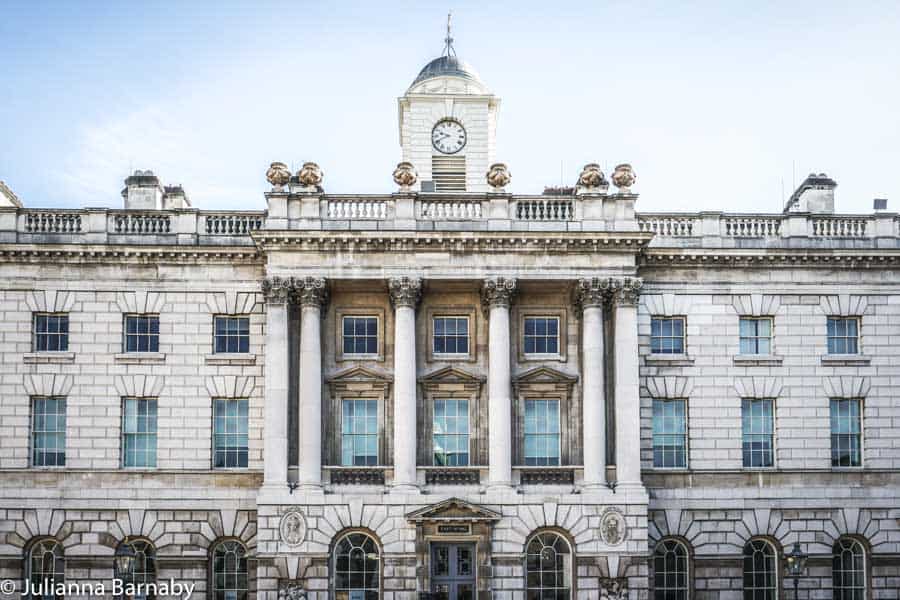 As such, New Somerset House remained full of public institutions such as the Royal Society and the Tax Office. In the mid-1800s, new societies including the Geology Society moved in, cementing Somerset's House as a place of public learning and good.
Since then, numerous extensions have been added onto Somerset House and it remains a residence with a very eclectic selection of tenants. From small tech start-ups to the British Fashion Council and King's College of London's Law School, it really is a vast array.
As it is such a well-known and loved icon of London, Somerset House has featured as a film location in many movies, from James Bond to Sherlock Holmes. Perhaps most fitting, given its history, though, was the 2008 film The Duchess starring Keira Knightley.
Practical Information for Visiting
Where is Somerset House?
Strand, London WC2R 1LA
If you're looking for where Somerset House is, it can be a little tricky as there are actually four entrances. However, each one will take you through to the exhibitions, cafe and restaurant.
Somerset House is located at the end of the Strand, on the bank of the Thames near Waterloo Bridge.
How to Get to Somerset House
If you're looking to get the tube, the closest stop is Temple. This will drop you off just metres from the riverside entrance to Somerset House.
Alternatively, it's less than 15 minutes walk from Charing Cross, City Thameslink (Ludgate Hill entrance) and Waterloo railway stations.

Somerset House Map
Click here for a map of Somerset House's location.

Read more cultural London guides and tips