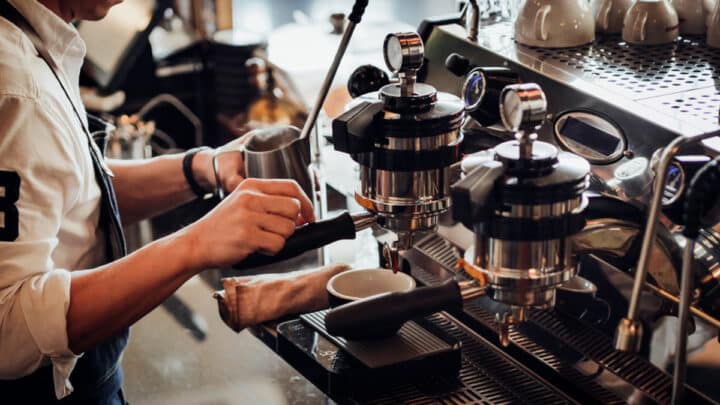 Our guide to the best cafes and spots for coffee in the buzzing neighbourhood of Camden.
The ever-popular, mega-cool area of Camden is mostly known for its music scene and its markets but here and there you'll find some excellent coffee shops too.
These spots are a great mix of independent coffee shops run by local enthusiasts, places that make for great hangouts and a few (dare we say it?) hipster roastery places. Whatever coffee vibe you're after choosing Camden as the location for it was a pretty wise move.
Wanna discover the good spots? Here they are…
Best Cafes and Coffee Shops in Camden
The Coffee Jar
If you're looking for straight-up simple cafe vibes you can't do much better than The Coffee Jar. The place is super laid back with affable staff and rustic decor. You'll find the place to be pretty cosy and best of all the coffee is excellent.
They get their beans from local Monmouth Roastery which is a brand we're always happy to see about. From those beans they make some high-quality brews that would please the pickiest of coffee aficionados or serve just fine as the basis for a catch up with old friends or a date with new ones.
Your eyes won't miss the piles of pastries at the counter – it's a sight to behold – and your belly shouldn't either. They're all excellent.
The Fields Beneath
Probably the best of Camden's vegan cafe options, The Fields Beneath is great spot to hit if you're looking for a bit of food with your coffee, and some healthy grub at that.
The food is pretty much all made from scratch with a big eye on using eco-friendly produce and ingredients. As for the coffee, these folks like to rotate the beans they use, meaning you can discover new types with each cup.
Alternatively, if it's one of those days where coffee just won't do, The Fields Beneath also has a great selection of natural wines – as good for your body as their vegan food (almost).
The Coffee Tree
Another lovely Camden town cafe is The Coffee Tree. They've got a spot on the high street with big windows that pour in the natural light and make for some absolutely top notch people watching.
As for the coffee, you'll find it a nice blend of Italian culture and Australian character. They use artisan roasters to prepare their beans and ensure that everything is responsibly sourced right from the get go. The result is joined by a spread of food that's all prepared daily and is pretty much irresistible.
One Shot Coffee
One Shot Coffee is one of those spots that has a really nice community buzz about it. If you come back on a regular basis you're bound to see some familiar faces, and most likely strike up a relationship with a few of the staff.
You'll notice One Shot Coffee from the range of pastries they keep in the window (they pretty much beckon you in). It also looks deceptively small from the outside, but actually has a spacious room at the back with plenty of extra room.
The coffee is great. It probably helps that the place is run by two absolute coffee lovers so they know what makes a good cup.
Camden Coffee Co.
This Camden coffee shop is part of the bustling food market at Camden Stables. You'll find it tucked in among traders selling what seems like every conceivable food under the sun in Unit 587.
They've got a lovely post-industrial aesthetic going on with all their exposed brick but sometimes it gets a bit gloomy inside. To counter that they do have a fair amount of outdoor seating for you to choose from too, though due to the nature of the location this can be hard to find space in.
Challenges aside, you'll find this place dishing out some excellent coffee and a selection of cakes that'll have you drooling over the counter. Don't try to resist.
Doppio Coffee Warehouse
One truly excellent spot if you're after cafes in Camden town is Doppio Coffee Warehouse. This place is a bit of a mecca for the neighbourhood's coffee enthusiasts and even draws in punters from across the city for its professional-grade coffee equipment and delicious beans.
You may have tasted the product of these beans elsewhere in London without knowing it – these guys wholesale across the city. Like most things though, they taste best at the source.
You can try the coffee at their espresso bar. Around it you'll find a small spread of seats and tables to relax at, and even some outdoor seating at the shop's front.
The Little One Coffee Shop
This coffee shop is little in name and little in nature, but it's got the backing of an entire roastery behind it. The Little One Coffee Shop is the cafe of the bean roasters of the same name.
There's not much space to hang out but it's probably not the kind of cafe you go to in order to while away a day with a book. More likely you're going to sample some of what they've got on offer or to have a quick coffee in the middle of a busy day.
Whatever your reason for hitting The Little One, the beans here have a very special flavour. They also bake their own muffins – a must order item if you ask us.
Other Places to Drink Coffee in Camden
Casa Tua
Though it might be a bit of a stretch to include Casa Tua in our guide of Camden cafes, we're going to sneak this Italian restaurant in here because they do some fantastic coffee and have some nice outdoor seating for you to enjoy it on during the hot weather.
That outdoor space isn't massive though, just a single large table for multiple groups to gather around so don't put all your money on being able to get a seat there. If you do find space, you'll have some excellent Italian coffee culture to sink into and as lovely a spot as any to enjoy it.
The Best Cafes in Camden: Practical Tips
Many of these coffee shops are just small and as such may not have loads of room if you're planning to meet as a group. If you're after a place with plenty of space try One Shot Coffee or The Fields Beneath.
For quiet places to read a book, head straight to The Coffee Jar. It's pretty much the perfect place for it.
The Best Cafes in Camden: Map