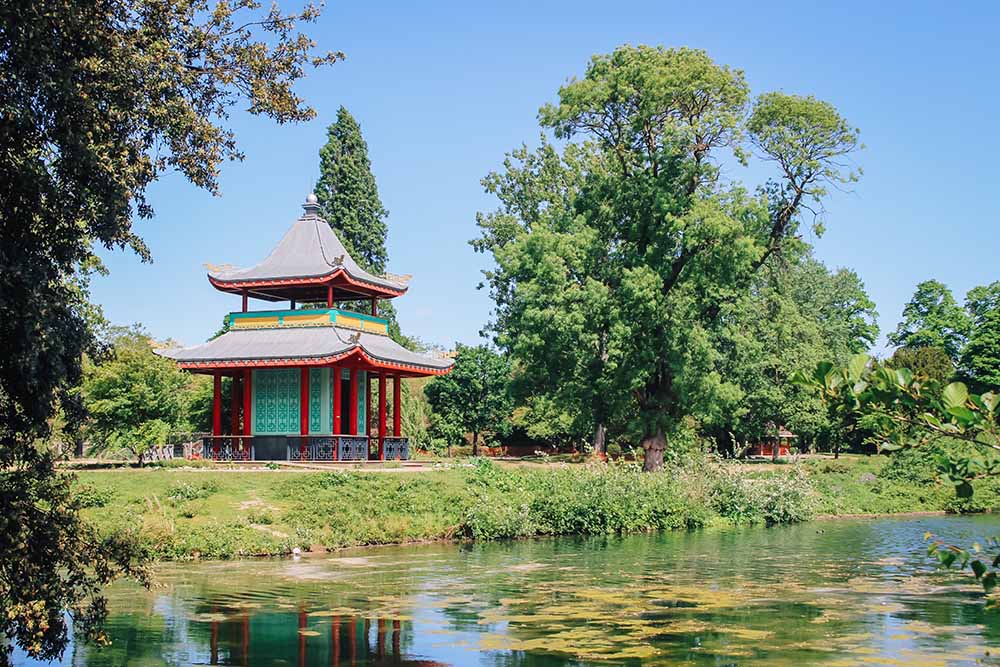 Looking for the best parks in East London? Look no further.
Whilst it's fun to explore the cultural melting pot that is East London, when the hot weather hits, you'll be ready to visit some of these impressive parks and spend a day in one of London's many green spaces.
Whether you'd like to splash about in a lido or embark on a dramatic walk through nature, these East London parks have all got something that makes them a little bit special.
Best Parks in East London
Victoria Park
Now, here at LondonxLondon, it's no secret that we love Victoria Park. But what makes this park so special? Let me tell you.
As London's third-largest – but often overshadowed – park, this is a seriously beautiful green space with its own market, cosy cafe (get a cake, trust me), and even an impressive Chinese Pagoda nestled in the centre of the west boating lake.
Also home to a number of concerts and festivals throughout the year, the sheer amount to do here easily earns Victoria Park its place as our favourite East London Park.
Address: Grove Rd, London E3 5TB
Epping Forest
Okay, so… technically Epping Forest isn't a park, nor is it solely in East London. But, it's a beautiful outdoor space, so I think you'll forgive us for including it.
With a number of walking routes spanning from easy wanders through the trees to a seasoned hiker's dream trail, there's no better place to take a forest walk whilst being treated to idyllic waterside views.
Walthamstow Marshes
Now a lovely open park, Walthamstow Marshes are a thousand miles away from the farmland that used to occupy the area. Nestled between Hackney and Waltham Forest, you'll find plenty of pretty walks and cycle paths to enjoy.
And the best part? Walthamstow Marshes are usually very quiet, with most people heading towards other parks in the area, which makes for a peaceful afternoon of exploration.
Address: Lea Bridge Rd, London E10 7QL
Mile End Park
Blending the best of stunning nature and city views, Mile End Park runs parallel to the canal just north of Limehouse basin. With cycle paths and peaceful walks spanning the length of the canal, there's plenty of ways to spend an afternoon here.
Stretching across 33 hectares, this park was created after World War II bombing devastated the area – but take a wander through this wonderful green space and you'll find it hard to believe that this area was ever anything but beautiful.
Address: Clinton Rd, London E3 4QY
Stepney Green Garden
Venture just east of Mile End Park, and you'll find a smaller, quieter patch of land known as Stepney Green Garden.
This is by no means the most exciting park in East London, but it is a great place to take kids – the couple of play areas and astro turf area should be more than enough to keep them busy.
If a long walk is just what you're after, there's a pretty route you can take starting at the nearby Limehouse basin, stretching all the way to Regent's Canal.
Address: Stepney Green, London E1 3LE
Queen Elizabeth Olympic Park
If you're looking for a massive park with lots to do, the Queen Elizabeth Olympic Park is your best bet. Alongside its lovely grassy space, the former Olympic venue boasts play areas, waterways, and some of the tastiest food in London.
Are you a thrill seeker? Take a ride on the Arcelormittal Orbit (I have absolutely no idea what that means, either) the world's longest tunnel slide.
Top tip: get to the park early and head to Timber Lodge Cafe for a delicious brunch, followed by a stroll through the park.
Bethnal Green Gardens
If it's peace and quiet you're after, you'll find it in this sleepy garden in the heart of the vibrant Bethnal Green area.
Conveniently located next to Bethnal Green tube station, Bethnal Green Gardens is home to the infamous Stairway to Heaven war memorial, and is a perfect spot if combining history with a relaxing walk sounds right up your street.
Address: 10 Witan St, Bethnal Green, London E2 6FG
Thames Barrier Park
Originally opening in 2000 and holding the prestigious title of London's largest riverside park for over 50 years, Thames Barrier Park was meticulously designed by landscape artist Alain provost.
The park is small but mighty and incredibly impressive. You won't be able to rack up too many steps wandering through Thames Barrier Park, but trust me when I say the sculpted grassy area is a feast for the eyes.
Address: N Woolwich Rd, London E16 2HP
Springfield Park
Boasting its very own green flag award, Springfield Park is one of the best kept parks in East London.
There's not too much to do here, but it's a lovely riverside picnic spot with gorgeous views over the Walthamstow Marshes (it's worth popping over there too, while you're in the area).
Address: 61 Ashtead Rd, London E5 9AX
East Ham Central Park
As well as being one of the oldest parks in East London, East Ham Central Park is one of the most picturesque. The park was seriously damaged in World War II, but the layout survived and the area was completely transformed – now open lawns, a charming walking trail, and tennis courts await.
Fancy a game of footie? You'll find the Flanders Playing Fields opposite, where you can book a slot and spend the afternoon getting involved with sports. Or, if you'd rather not, East Ham Central Park's grassy area is the perfect place to spend hours reading a book or listening to your favourite podcast.
Address: Central Park Rd, London E6 3HW
West Ham Park
Don't be fooled by the name, West Ham Park is one of the prettiest parks in East London, and earns the title of the largest park in the Borough of Newham.
With a beautiful ornamental garden, children's play area, and plenty of things to do nearby (you're only a 20 minute walk from Westfield shopping centre and the bustling area of Stratford) this is a must visit park if you're in the area.
Top tip: Take the tube to Plaistow and make your way back through the park, towards the shopping centre, for a day of fun.
Address: Upton Ln, London E7 9PU
London Fields
London Fields Park is hands down the best East London park to visit on a hot day. Their lido is one of our favourites in the capital, providing a place to cool off in the summer sun.
Not only does this park have a cracking pool, but it's pretty beautiful – leafy and tranquil, it's a haven within hackney. Oh, and the Pub on the Park also makes our guide to the best beer gardens in London – convinced yet?
Address: London Fields West Side, London E8 3EU
New Beckton Park
Got kids? New Beckton Park is a wonderful hidden gem in Newham, with football and rugby pitches, tennis courts, play equipment, and even a sandpit for the little ones.
Although it's less impressive than some of the other parks in this guide, it easily has the most to do, making it a great open space for families.
If you're keen, you can book a pitch at New Beckton Park here – so don your fanciest fitness gear and get ready for a kickabout.
Address: Savage Gardens, London E6 5NB
Allens Gardens
Located just behind the iconic Brick Lane, Allens Gardens is a hubbub of all things cool.
From the street art that adorns the brick work on the side of the park to the eclectic mix of people that gather here, it's the perfect place to chill – and there's also a play area and small zipline to keep the kids occupied whilst you relax.
The gardens are also home to the Nomadic Community Garden, an initiative originally set up to bring locals together and help them learn new skills – though, local or not, you're welcome to go and explore.
Address: 55 Buxton St, London E1 5EH
A Handy Map of Beautiful East London Parks:
Want to Discover More Parks and Outdoor Spaces in London?
Check these out…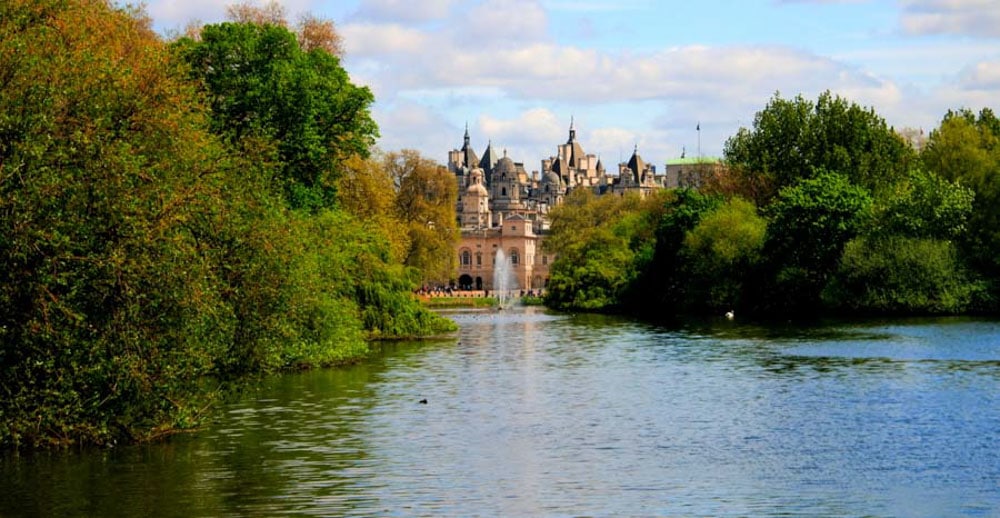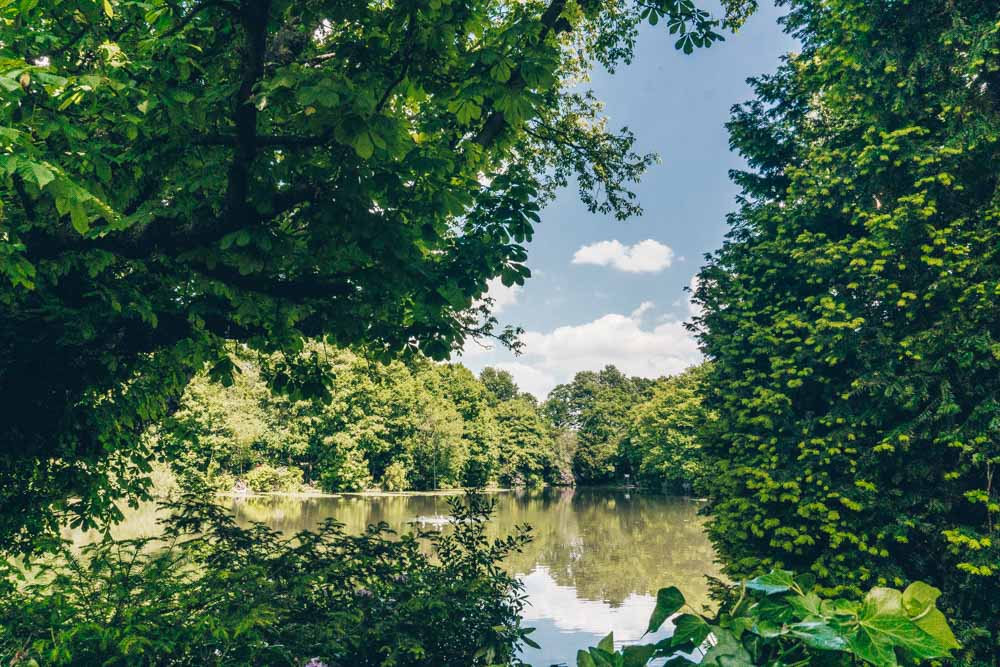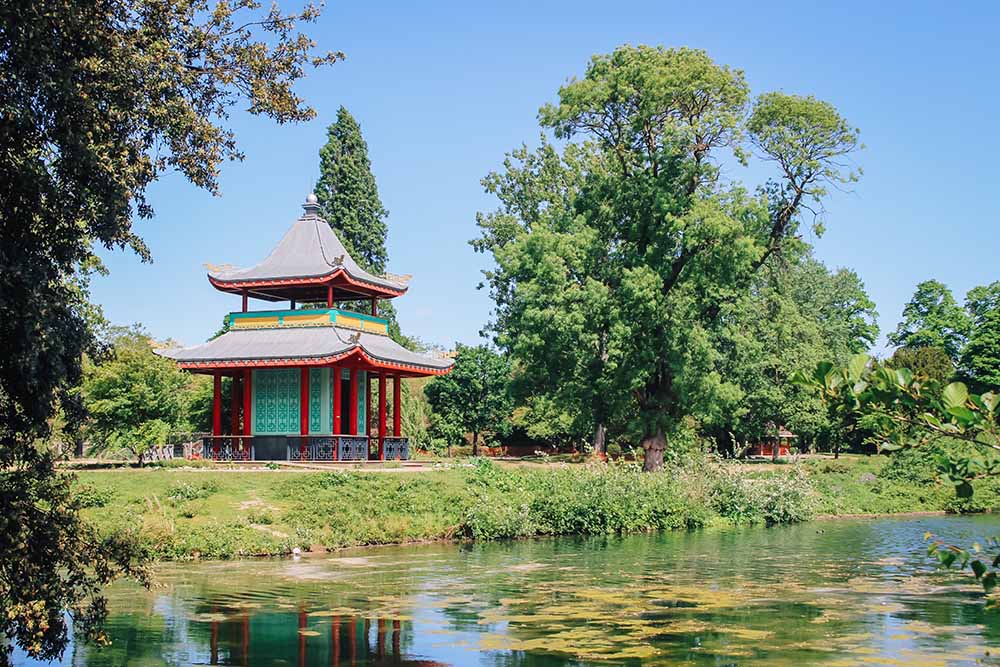 Time
to Discover:
Victoria Park