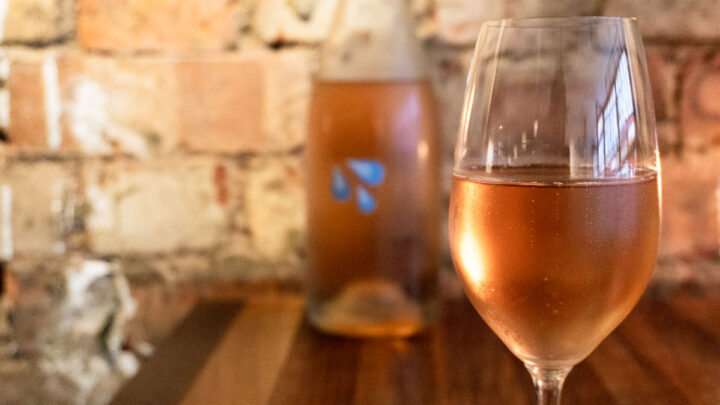 Looking for the best cocktail bars in London? Here's our guide to the best.
Trust us when we say that narrowing down the coolest spots in the capital was no easy task – central London alone has hundreds of incredible bars to choose from.
From Detective-themed speakeasies to ye olde faithful haunts, you're not short on places to drink in the big smoke. So whether you like your cocktails simple or indulgent, and the setting classy or lavish, we've covered all bases.
Without further ado, these are the best places for cocktails in London.
The Best Cocktail Bars in London
Cocktail Bars in Central London
Bandra Bhai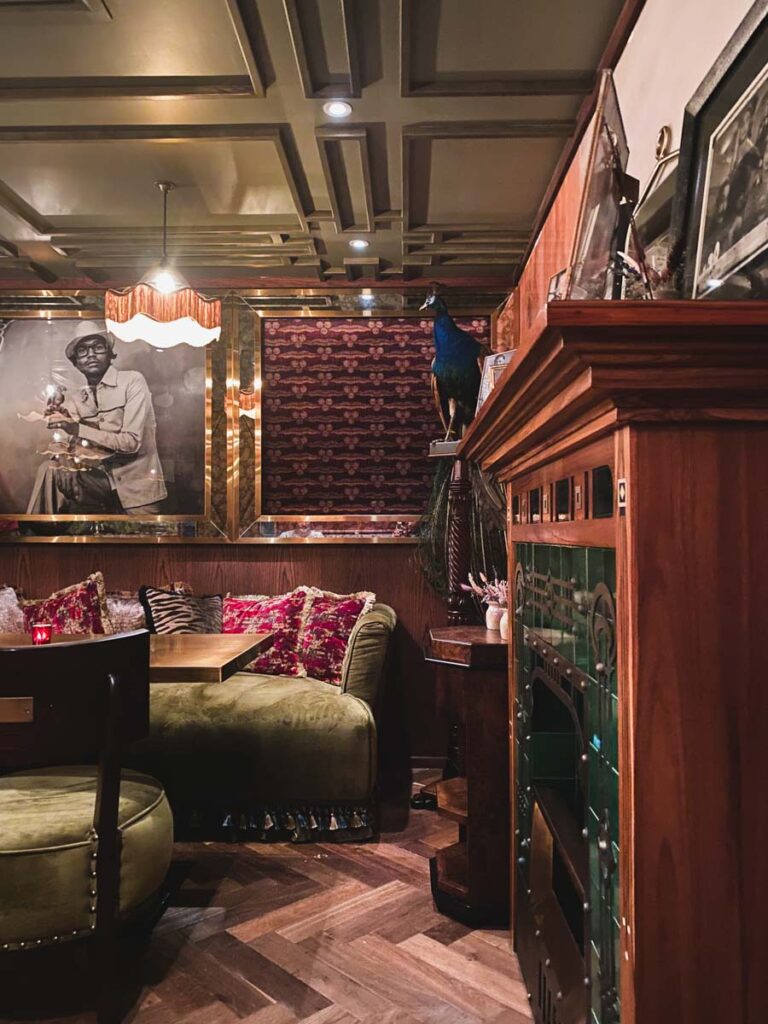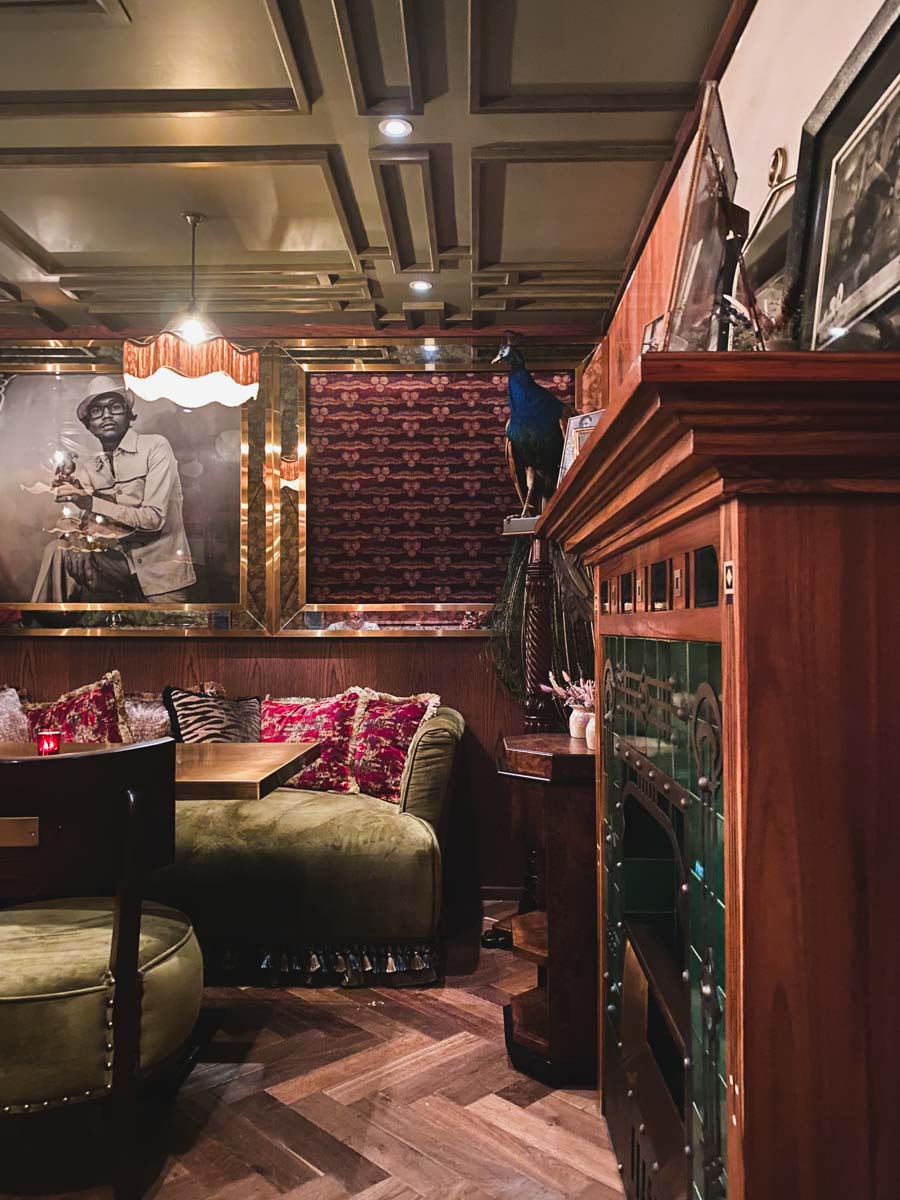 Bandra Bhai is a stalwart of the London cocktail bar scene, and has also quickly established itself as one of the coolest.
This retro-style bar is located underneath the popular Pali Hill restaurant, and as you descend it really does feel like you're being whisked away to 70s Mumbai.
The interior absolutely nails it, with massive portraits of ultra-cool men and women adorning garish wallpaper and dark wood panelling.
You'll be glad to know that the cocktails are just as fabulous. Classics like an Old Fashioned are given a slightly spicy makeover, and their signature drinks like the Gaba Singh Side-Hustle are perfect blends of sour and sweet – and this one's even served in a pineapple chalice.
Want to know more about this special spot? You can read our full rundown on Bandra Bhai here.
Address: 79-81 Mortimer St, London W1W 7SJ
Swift
Soho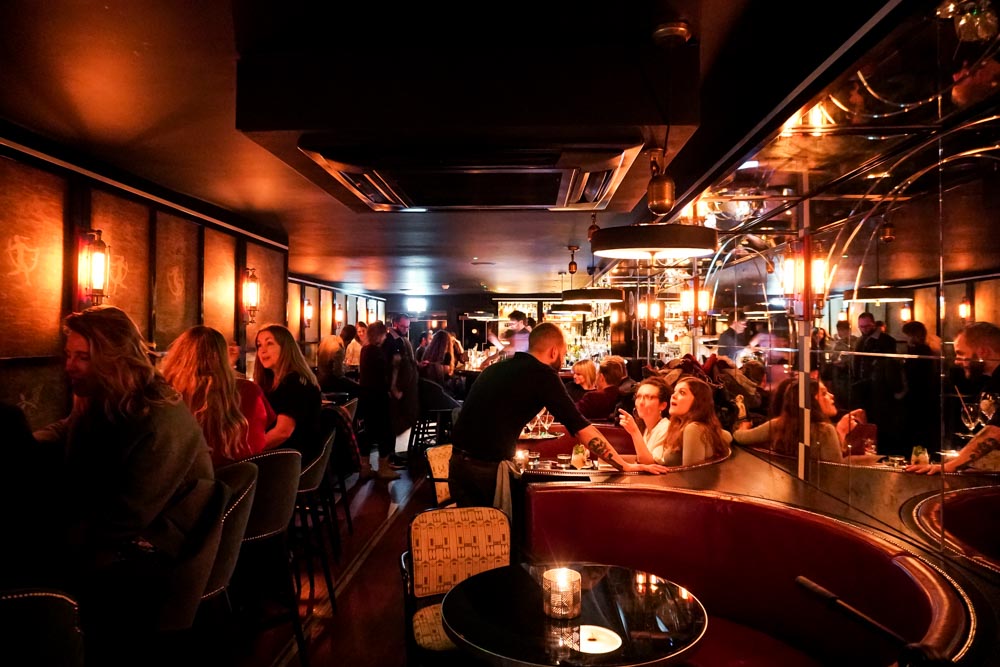 Fancy quick drinks after work? A Saturday evening all-out celebration? Swift is one of the capital's most versatile cocktail bars.
Set over two floors, you'll find that the upstairs has a more lively feel. It's also usually a lot busier, so prepare to be seated downstairs – the cocktail menu actually differs between the two floors.
Downstairs is far more relaxed. It's the perfect spot to let the hours creep past as you sip the likes of a deep and woody Goldfinch or a fruity Parakeet.
You can book a table here (you can't upstairs) which is perfect for Friday evenings, when live performers grace the stage.
Address: 12 Old Compton St, Soho, London W1D 4TQ
Disrepute
Soho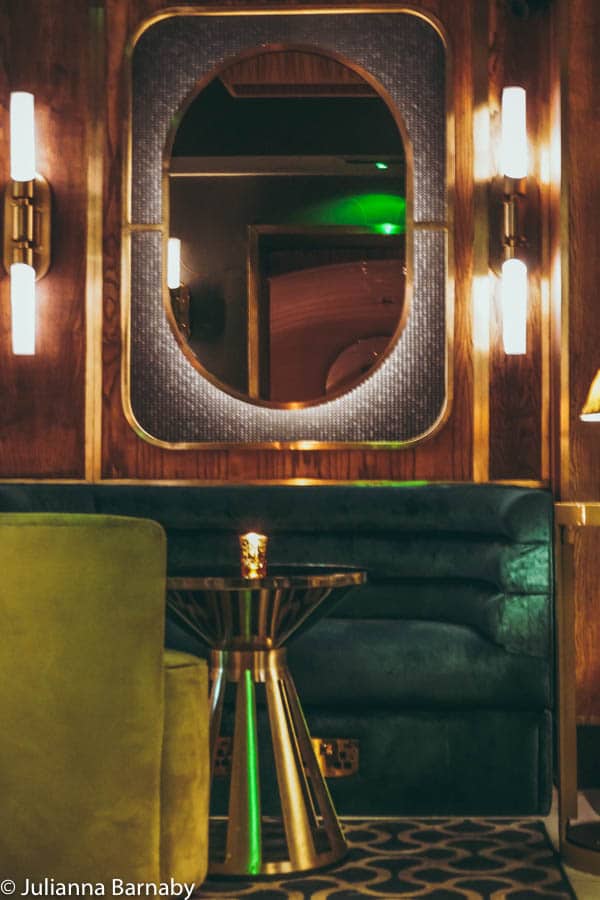 Pretty velvet interiors, friendly door staff (a real rarity), and impressive cocktails: Disrepute does not come to play.
The menu is elusive, without being too pretentious. Alongside the ingredients you'll find a story that gives each drink a certain character, but despite this, the cocktails arrive simple and without the faff that accompanies drinks in other spots.
You can opt to become a member here, although it's not necessary to visit. Make sure you book a table on the weekend though, or you'll struggle to find a place to sit.
Address: 4 Kingly Ct, Carnaby, London W1B 5PW
Read More: The Best Bars in Soho
Upstairs at Rules
Covent Garden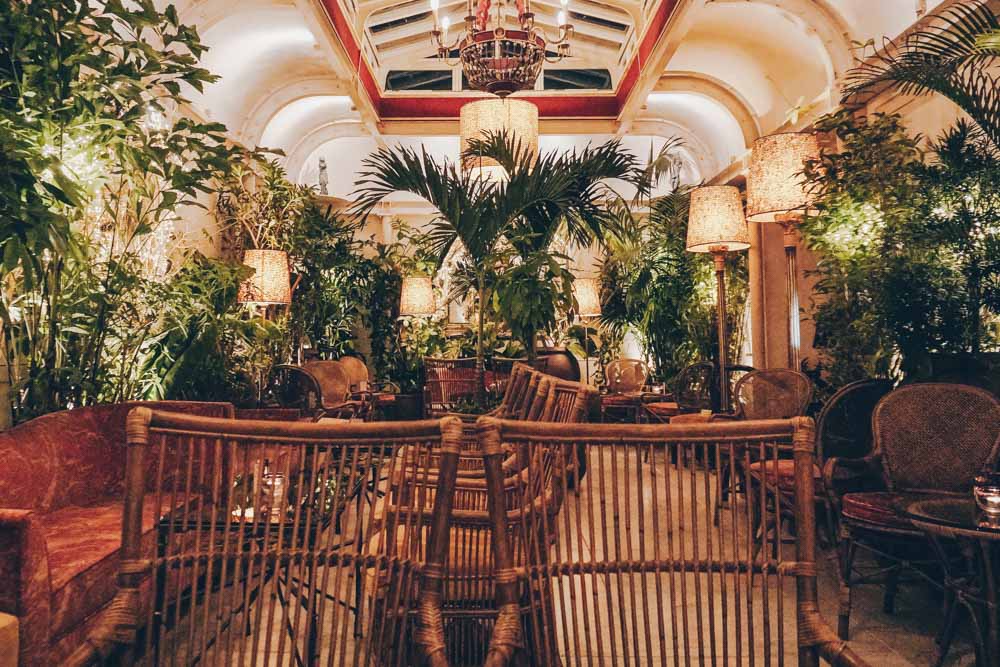 Despite being above one of the most popular restaurants in London, the cocktail bar that sits upstairs at Rules is still relatively undiscovered.
The bar is actually in the room that was used as the private dining room of King Edward VII and the decor, consisting of wood panelling, royal portraits, and warm metals, pays a classy homage to this.
The cocktails are just as regal. A curated list by head Mixologist Brian Silva simplifies classics, as they used to be made. No fuss and nothing show-offy, just delicious cocktails in a relaxed setting.
Address: 34-35 Maiden Ln, London WC2E 7LB
Oriole
Farringdon
Looking for something a little more low-key? Oriole is one of the best speakeasies in London, serving up a tantalising array of cocktails that take you on a journey around the globe.
Each drink is executed to perfection, though the Château de Saumur – Hennessy, cacao butter spirit, escubac, absinth, and Veuve Clicquot – is particularly special, served in a glass dusted with icing sugar.
There's live music every night and you do need to pay a cover charge Wednesday to Saturday after 8 or 9pm depending on the day. But don't let that put you off, this is a warm and intimate Farringdon spot worth visiting.
Address: Oriole, East Poultry Avenue, Smithfield Markets, London EC1A 9LH
Note: At the time of writing (September 2023) Oriole is temporarily closed, but will be opening at a new site before the end of the year. Check the website for more info.
Experimental Cocktail Club
Chinatown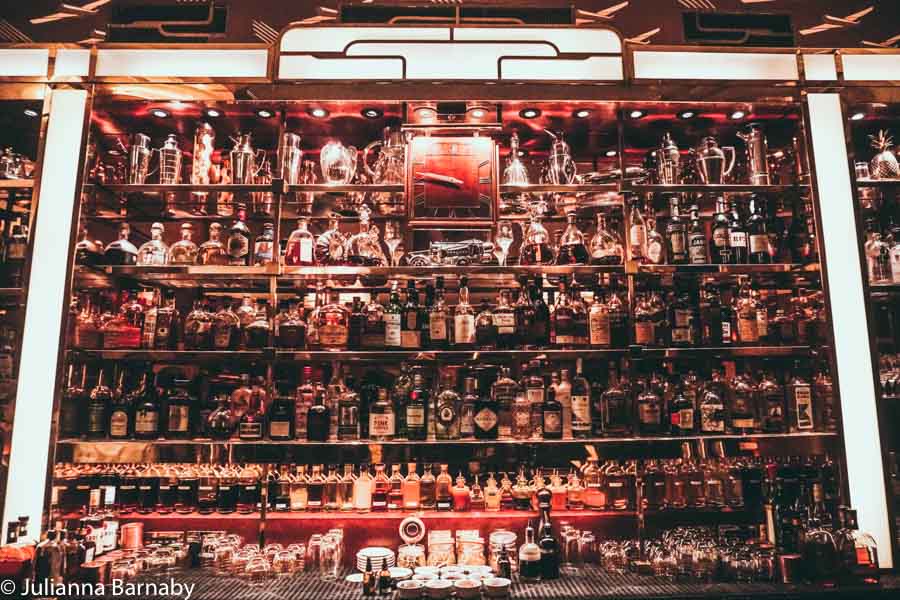 As staple of any night out in Chinatown, Experimental Cocktail Club is by no means under-the-radar, but the drinks here alone make it worth trying to spot the indistinguishable door that grants you entry.
The menu changes often but you're guaranteed a mix of elevated classics and unique concoctions – and the bartenders are always happy to make you something a little bit special.
Bear in mind that if you're looking for a quiet spot to enjoy drink after drink (or if you value personal space), this probably won't be the spot for you.
If buzzy atmospheres and a crowd that gets slightly more rowdy as the evening plays out is more your thing, book yourself a table at ECC and you won't be disappointed.
Address: ECC London, 13a Gerrard St, London W1D 5PS
Fitz's Bar
Bloomsbury
With an impressive drinks menu spanning 14 pages, Fitz's Bar is a little Bloomsbury gem.
You're greeted inside by an 18th-century stained glass window, in stark contrast to the modern mural from an Italian artist known as 2501. Classic cocktails and craft beers feature heavily on the menu here, with a delicate selection of small plates that pair perfectly.
If you're looking to go all out, request a seat in the mirrorball room – sheer opulence decorated with ostrich feathers, Victorian curios, crocodile-skin wallpaper, and of course, a garish mirrorball.
Drinks in this room are just as decadent, exploring colour theory and its impact on taste and feeling. It's a bit (read: very) over the top, but we all need that sometimes, right?
Address: Russell Square, London WC1B 5BE
Kol Mezcaleria
Marylebone
Like Bandra Bhai, The Mezcaleria is a fairly new addition to the capital, but it has fast become one of the best cocktail bars Central London has to offer.
The speciality here is mezcal and the interior reflects the tiny dive bars you'll find throughout Mexico though, of course, they've been given a bougie Marylebone makeover.
The small cocktail list includes a tempting sour cocktail, as well as a rejuvenated sling and a lowball. The Antojitos, or 'little cravings', menu is as delightful as the drinks – tiny Mexican plates to nibble on and cut through the acidity of the liquor.
Address: 9 Seymour St, London W1H 7BA
Cocktail Bars in South London
Skylight Peckham
Run by the same team as the Tobacco Dock original, Skylight Peckham is an impressive addition to the steadily growing roster of Skylight bars. Don't tell the others, but this one's our favourite.
The views alone make this cocktail bar well-worthy of a visit, though the oh-so-smooth drinks make the view even better.
The drinks list features all the usual suspects as well as some deliciously unique cocktails like the Cinco Picante – tequila and Cointreau mixed with homemade chilli liqueur infused with five different spices and sweetened with peach.
Feeling peckish? Smaller plates like burrata with Tropea onions, n'duja, and smoked aubergine and peppers on toasted sourdough pair perfectly with the cocktails on offer.
Address: 120 Peckham Hill Street Theatre Walk, London SE15 5JT
Lyaness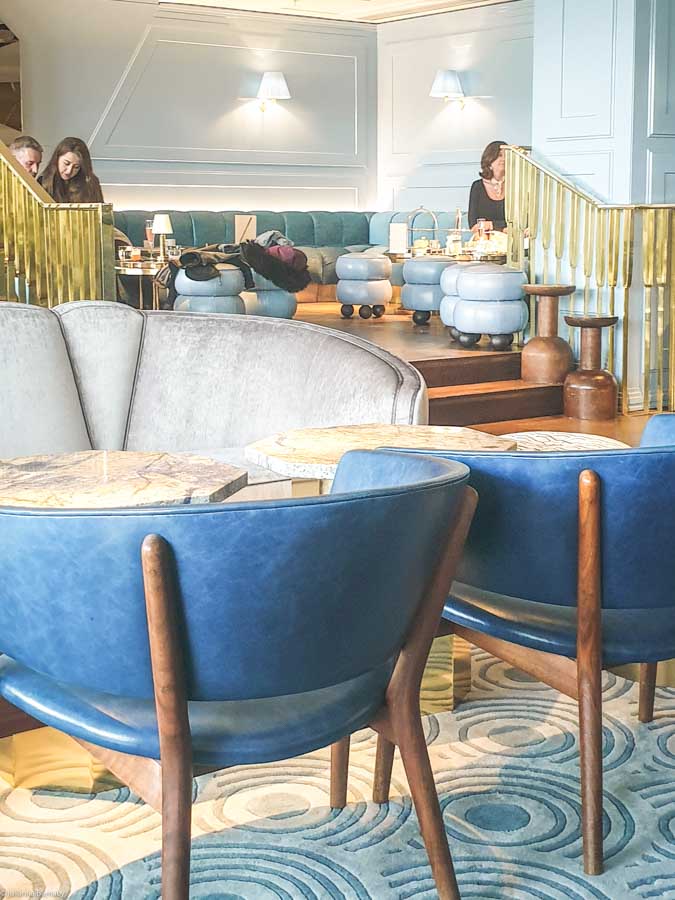 After Ryan Chetiyawardana closed the infamously successful Dandelyan and took a plunge with new bar Lyaness, London was a little shook. Though luckily, Lyaness is just as good (if not a little better).
Plush decor in duck egg and dove grey creates a high-end, though still comfortable, setting and the cocktail menu is concept without being too flouncy.
The 21 drinks are organised by seven key ingredients – King Monkey Nut, Purple Pineapple, Infinite Banana, ONYX, Aromatised Milk Wine, Old Fashioned Whisky, and Ultra Raspberry.
There's also a genius drinks map that helps you identify your perfect drink, plotting each drink from day to night and light to rich.
Address: Sea Containers, 20 Upper Ground, South Bank, London SE1 9PD
12th Knot
South Bank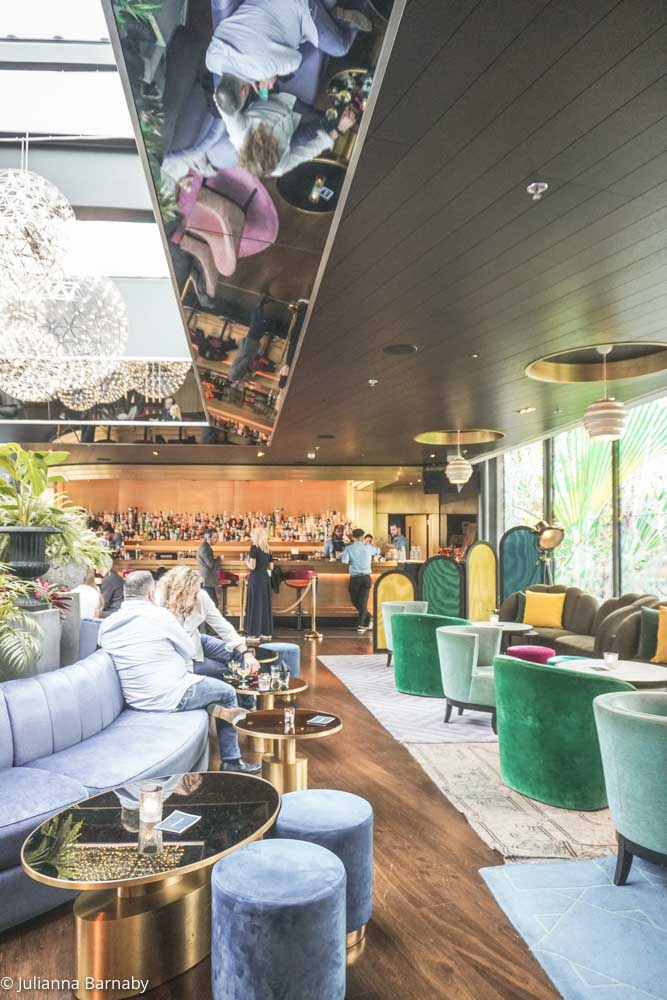 Another gem hidden away in the Sea Containers on the South Bank is 12th Knot. After a few drinks downstairs at Lyaness, make your way up to this dazzling rooftop bar and enjoy beautiful views of the Thames.
Not only are the decor and views top notch, but the drinks also impress. The zesty vodka-based Big Ben and the summery Harry's Legacy are standouts, though anything from the menu is a winner.
Non-alcohol drinkers can also enjoy the likes of The Innocent Pleasure – an aptly named mixture of raspberries, cherry nectar, seedlip, lime and egg white (trust us, it works), as well as a few other soft concoctions.
Address: 20 Upper Ground, South Bank, London SE1 9PD
Nine Lives
London Bridge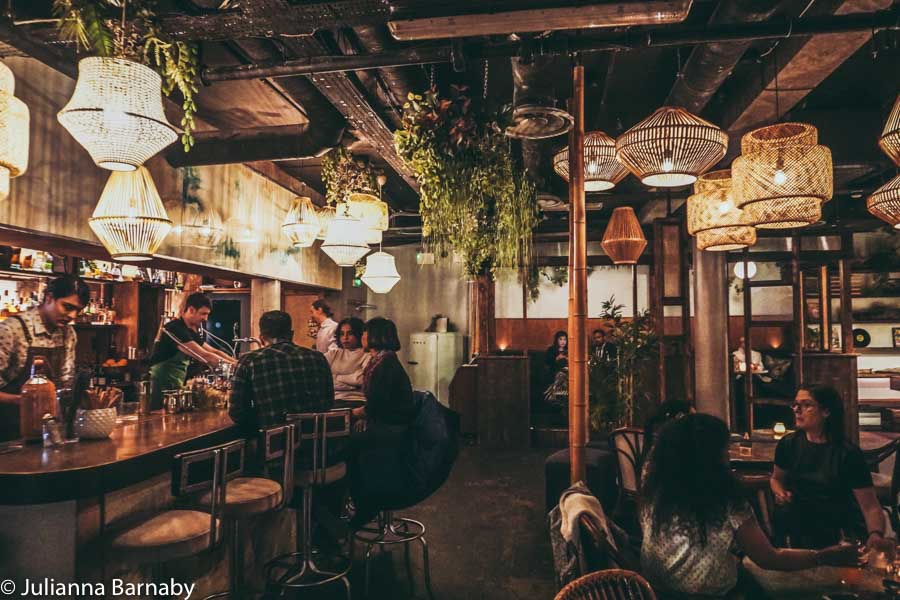 London Bridge jaunt Nine Lives is popular amongst locals – which is a feat, considering there are so many bars to choose from nearby.
Descend downstairs into a basement decorated with jungle palms, hanging plants, and warm lights and you'll instantly feel at home. This is aided by seventies funk and soul music and cosy rattan seating.
The cocktail menu is pretty large, but it's laid out perfectly so no need to feel overwhelmed – the first page showcases in-house creations, like the Aiko (elderflower liqueur, fino sherry, plum, grapefruit bitters, and prosecco).
Turn over and you'll find the rest organised by spirit, with multiple takes on classic cocktails: the classic, the bar's version, and a guest bartender's effort.
Address: 8 Holyrood Street, London SE1 2EL
Girlfriend
Clapham
As the name suggests, Girlfriend in Clapham is a vision of all things girly. Pink, gold, velvet, and more pink are the themes here. It's certainly not to everyone's taste, but it's pretty adorable.
With drinks named Resting Beach Face (a saucy take on a Pina Colada) and a Girlfriend Martini (pink, of course), the theming is executed to perfection.
The best part? Every day until 7pm is happy hour, so you can enjoy cocktails for £6 and prosecco for £5 – we'll take 10!
Address: 40 Battersea Rise, London SW11 1EE
Cocktail Bars in East London
Tayēr + Elementary
Shoreditch
Tayēr + Elementary is a two-in-one kind of bar; the spaces are simply separated by a divider.
Whereas Elementary is a light and airy bar (courtesy of floor-to-ceiling windows), Tayēr is the moodier sister. Both, however, serve a two-pronged attack of divine cocktails.
Elementary offers up a set menu of classic cocktails – don't snub them though, they're exceptionally done. The cedarwood is particularly interesting: a slushy frozen coffee made from rum, coffee liqueur, and coconut milk.
It has to be said that Tayēr is definitely the cooler spot of the two. The honeycomb-style bar acts as storage for bottles and ice, and the segments can be swapped out depending on what drink you order.
Address: 152 Old St, London EC1V 9BW
Happiness Forgets
Shoreditch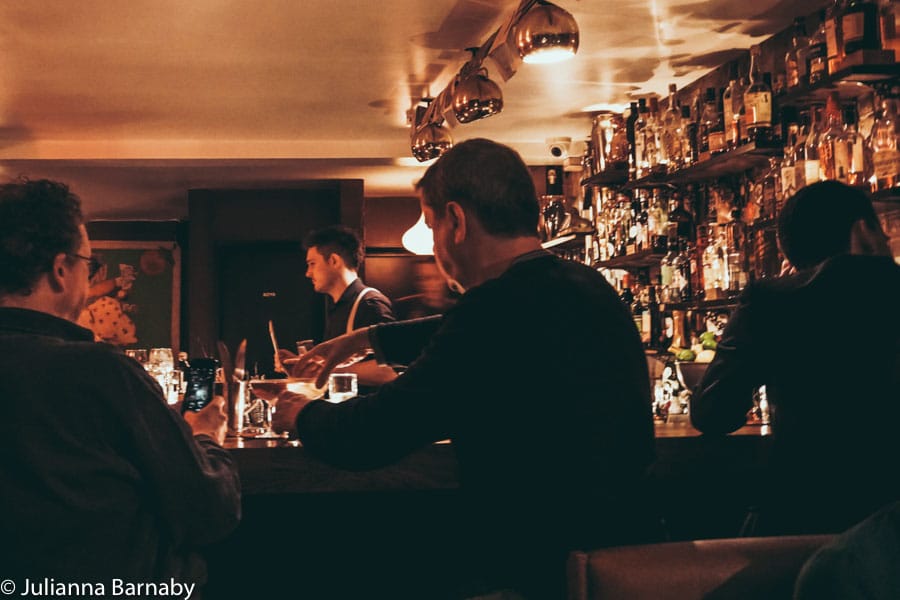 A bar in Shoreditch as brilliant as Happiness Forgets is both a blessing and a curse. On one hand, it's a lively place to sink a cocktail or two on the weekend, and on the other hand, you'll be lucky to nab a table.
Perseverance is key though, as the cocktail menu is small but perfectly formed. You've got just 12 to choose between, though it's a welcome relief from the pages and pages found at other bars.
Spruce & Root (gin, sherry, beetroot eau de vie, gentian and pine cordial) or the Underdog (cachaca, chestnut, Americano rosa, passion fruit and lime) are big winners – or they'll be happy to make you something else, should nothing take your fancy.
Address: 8-9 Hoxton Square, London N1 6NU
Callooh Callay
Shoreditch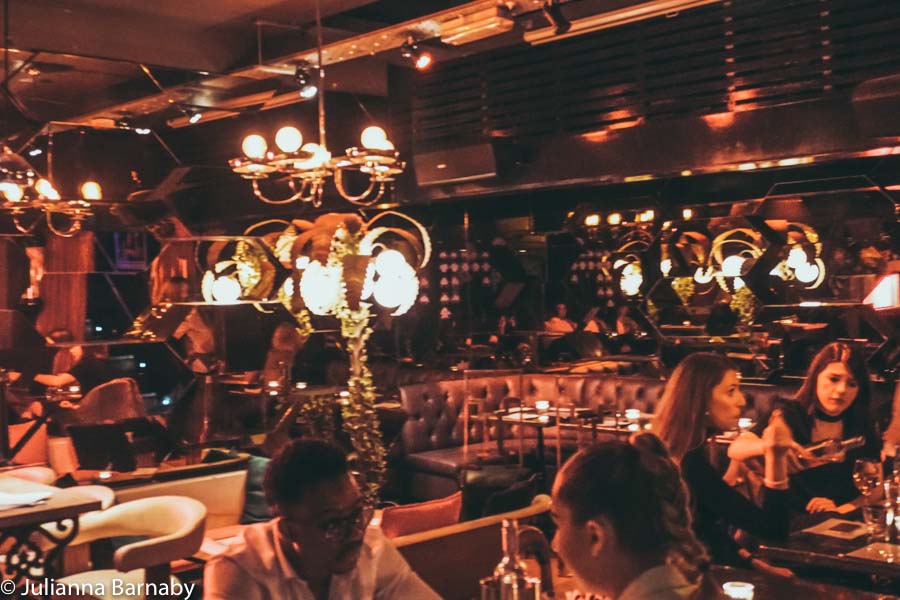 When it comes to themed cocktail bars, London certainly isn't lacking. Though the Alice in Wonderland-themed Callooh Callay comes out on top.
It's definitely quirky – which is to be expected as it's named after a phrase from the Jabberwocky poem in Alice Through the Looking Glass. The interior is a mish-mash of vintage furniture, dim lighting, and gilded mirrors.
Despite the wacky setting, the cocktails are far from gimmicky. Stray from the limited classics and opt for something like a Pisco Punch or the mezcal-based doth the cap to really indulge in the whimsical theme.
Address: 65 Rivington St, London EC2A 3AY
Read More: The Best Bars in Shoreditch
Coupette
Bethnal Green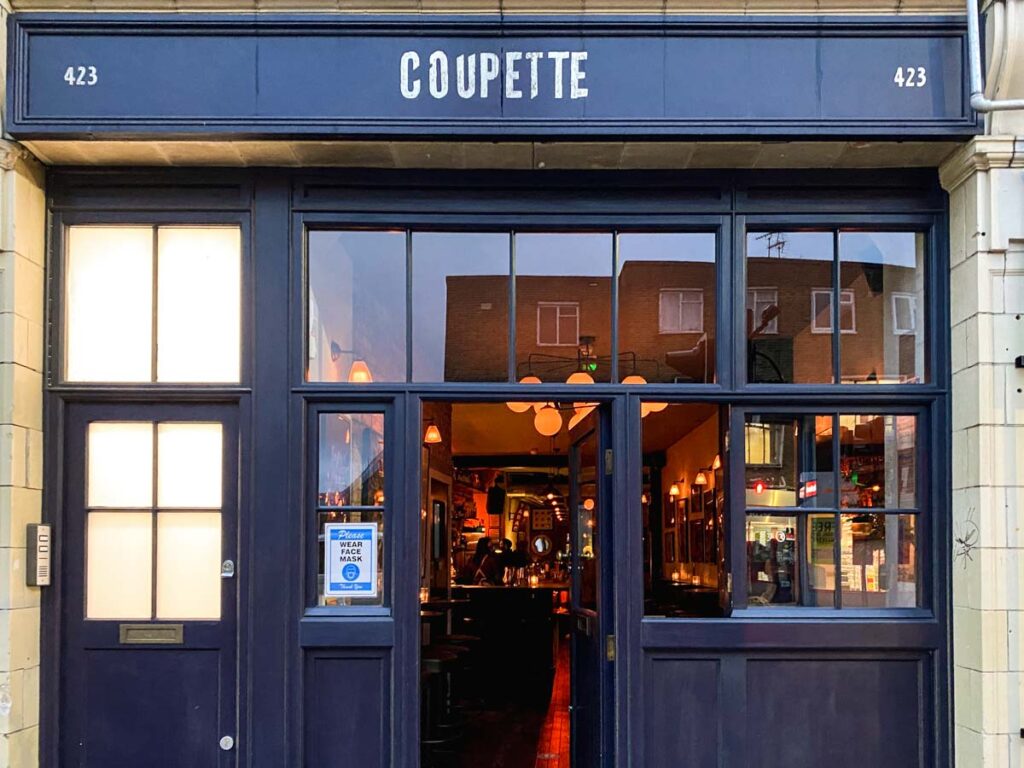 Bethnal Green is something of a hot spot for cocktail bars, but the French-inspired Coupette is one of the best.
Stylish interior and exposed brick walls transport you into a swanky Parisian cocktail bar, and the cocktails, mainly elevated classics, add to this theme further. If you order one thing, make it the Cosmopolitan Fling, a perfectly-balanced mix of a Cosmo and a Singapore Sling.
Oh, and if you head to Coupette on a Sunday you can try new cocktails for £6 in exchange for your opinion, as part of their Sunday development program. Well worth it.
Address: 423 Bethnal Green Rd, London E2 0AN
Satan's Whiskers
Bethnal Green
Satan's Whiskers is a bit of a weird one, but as one of Bethnal Green's brilliant cocktail spots, it deserves a mention.
Stepping into the bar feels like a fever dream – taxidermy on the walls and ceiling, exposed brick, and art deco posters combine with a modern hip hop soundtrack to create an unusual setting. But somehow, and it's a mystery why, it really works.
If you can stomach the decor, you're in for a treat. The drinks menu changes daily, so you'll find something new each time you visit.
If you happen to be there when a Banshee (creme de banane, cacao, cream, and chocolate) or a Satan's Garibaldi (Campari, orange, lime, orange soda) are on the menu, make sure to snap them up. Both are absolutely delicious.
Address: 343 Cambridge Heath Rd, London E2 9RA
Hacha
Dalston
It's basically a crime to visit Hacha and not try the award-winning Mirror Margarita – a crystal clear adaptation of the classic that really wows.
Although, any drink on the mezcal and agave-focused menu transports you straight to Cancun, with exquisite flavour combinations not found anywhere else. Take the Salted Pomegranate and Ginger Margarita, for example.
Interior-wise, light wood tones and greenery are complemented by South American art adorning the walls – in other words, it's the perfect place for a chilled drink.
Address: 378 Kingsland Rd, London E8 4AA
Cocktail Bars in North London
Booking Office 1869
King's Cross
In what might be one of the most impressive settings for a cocktail bar in London, Booking Office 1869 also mixes a mean drink. That setting? The old ticket office at St Pancras Station.
In its bar form the space retains staggeringly high ceilings and some absolutely gorgeous neo-gothic designs for you to stare up at when the conversation dries up. At ground level the bar is decked out with sleek potted palms and dimly lit booth seating, making for an atmospheric spot for a drink.
Drinks, being served so close to the St. Pancras Renaissance Hotel, are a touch on the pricey side, but probably not enough to make you think twice about ordering a couple.
Address: Euston Road, London NW1 2AR
BYOC
Camden
BYOC is a novel idea for a cocktail bar. The name stands for Bring Your Own Cocktails and to drink here, you'll have to supply the booze. The idea is that you bring a bottle of your favourite spirit and, for £35 per person, they'll turn into something you'll like even more.
The setting for this interesting concept is a basement in Camden that could easily double up as a gambling den. For real, the seating here is all organised around a set of vintage poker, blackjack and roulette tables.
We suppose the true gamble of them all is putting your favourite liquor in the hands of a stranger, but we assure you the team here are all more than talented enough to mix you something you'll enjoy.
Address: 11-13 Camden High St, London NW1 7JE
Little Mercies
Crouch End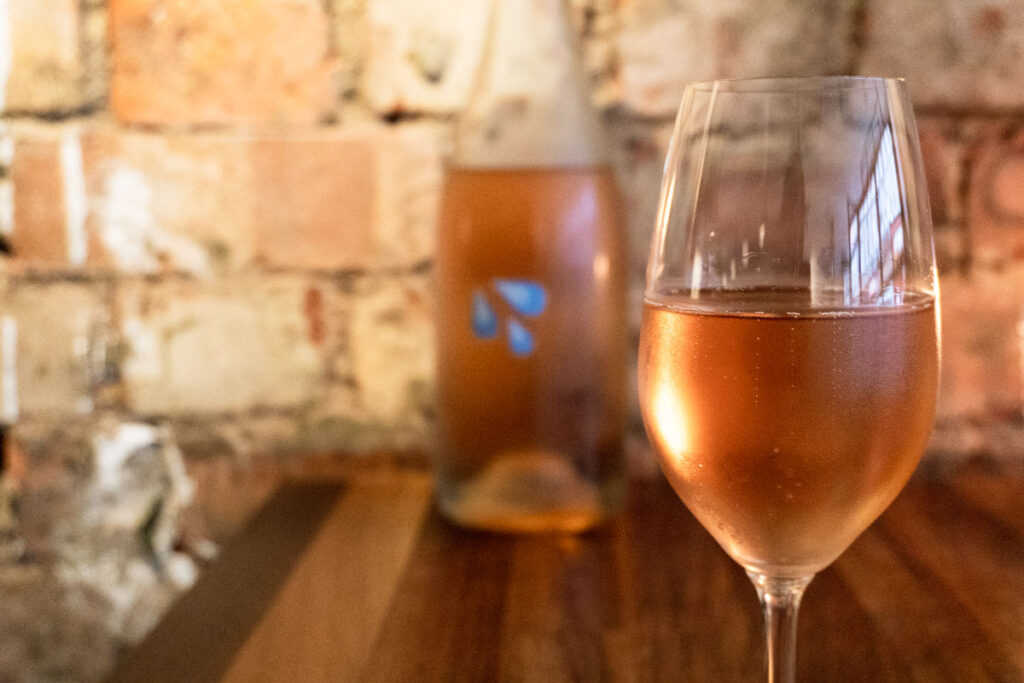 The sleek and stylish Little Mercies has taken Crouch End by storm since it opened in October 2018.
The decor isn't try-hard, like some other places in the capital, which is great because the cocktails and small plates really wow.
The Moro Margarita, made from distilled house preserved blood orange, Volcán Blanco tequila, and blood orange salt, and the Tequila & Watermelon are among the most impressive cocktails. Though if you opt for a classic drink and you won't be disappointed, either.
We're huge fans of Little Mercies – you can read a full review here.
Address: 20 Broadway Parade, London N8 9DE
Cocktail Bars in West London
Trailer Happiness
Notting Hill
If rum-based cocktails are your thing, Trailer Happiness needs to be in your little black book.
Not only is the owner, Sly Augustin, a huge champion of the Notting Hill area (Trailer Happiness is a space that welcomes everyone), but the cocktails here are tasty enough to convert even those who don't usually go for rum.
From Dia de Muertos, a smoky twist on a classic margarita, to a sweet and sour Myrtle Bank Punch, you'll find yourself totally immersed in the eclectic Caribbean theming – aided by palm leaves and low-lighting.
Address: 177 Portobello Rd, London W11 2DY
Portobello Star
Notting Hill
With an interesting history that has included the likes of Royals and criminals since 1740, Portobello Star has long claimed the title of best bar in West London.
The cocktail joint perfectly balances traditional with modern, seen throughout the decor and the drinks on offer.
Cocktails include classics such as a Negroni or a Whiskey Sour, as well as signatures like Pear-fect Cide Car (any guesses as to the star ingredient here?) and a Breakfast Margarita using orange tequila.
For great 2-4-1 deals, head to Portobello Star during Happy Hour in the week between 4pm – 7pm.
Address: 171 Portobello Rd, London W11 2DY
Note: at the time of writing (September 2023) The Portobello Star is temporarily closed, but promises to reopen its doors soon. Check back on their website for more info.
Read More: The Best Bars in Notting Hill
Smith's Cocktail Bar
Who knew that under a Hammersmith hotel lay one of West London's most impressive cocktail bars? Well… we did, actually.
Smith's Cocktail Bar has a passion for everything old fashioned, meaning that bourbons, whiskies, rums, and mezcals feature heavily on the menu. The last Friday of every month sees live DJ's take to the stage, playing everything from rock to the blues.
Head there from 5pm – midnight between Thursday and Saturday for a cocktail or two, surrounded by brick walls and vintage decor.
Psst… Smith's also does a cracking burger, just in case you were wondering.
Address: 170 Shepherds Bush Rd, London W6 7PB
Evans & Peel Detective Agency
Earls Court
Step through into Evans & Peel Detective Agency and enter a top-secret police HQ (to be fair, you'll need to be a detective to find this speakeasy).
Let's just throw down the gauntlet – this is the greatest themed spot for cocktails in West London. Everything from the heavily censored menu to the drinks named after some very famous faces (a Thomas Shelby, please) is absolutely perfect.
Speaking of drinks, order the I Need Investigating if you're feeling brave. You'll be subject to interrogation – tall or short? Sweet or Sour? What's your poison? But leave it with the head detectives and they'll soon bring you over a special concoction.
The verdict? GUILTY of being an amazing cocktail bar.
Address: 310c Earls Ct Rd, London SW5 9BA
Best Cocktail Bars In London: Practical Tips
You'll want to book a table if you're planning to visit any of these bars. They're the best in the business, and as such, are never short of custom. That's especially true if you're drinking on the weekend.
Though tipping in bars in the UK isn't usually common, you may be asked to pay a service charge at these locations. That's because you'll generally be ordering through table service (and because they're pretty fancy).
Most of these places will run their very own cocktail menus – lists of bespoke creations that are well worth trying – but should you fancy a classic cocktail, you can always go off-menu. All bartenders will know how to make drinks like manhattans and whisky sours.
Best Cocktail Bars in London: Mapped
WidthTopRightBottomLeft