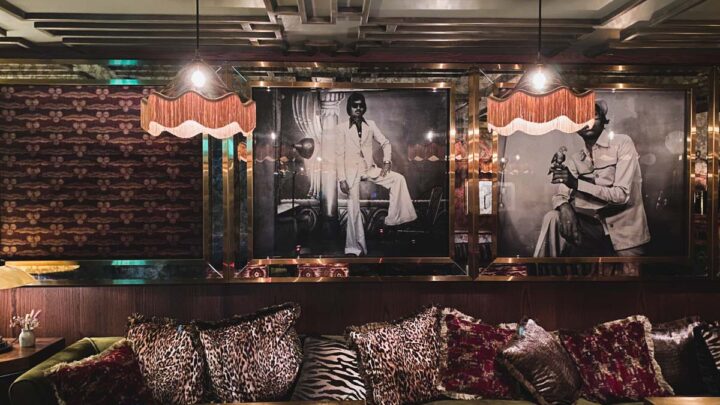 Bandra Bhai is the newest bar in Fitzrovia and about to become one of your favourite cocktail bars in London. Here's why.
Like all the best secret bars in London, drinks at Bandra Bhai start with an adventure. Upstairs looks innocent enough – I cut through the respectable Pali Hill restaurant, its tables buzzing and already fully booked night after night even though it only opened last year.
I'm ushered across, the host motioning for me to descend the stairs before discreetly signalling the presence of a hidden door, its frame concealed in a concrete wall next to a poster advertising the services of a rather jaunty-looking sexologist.
This is Bandra Bhai – a brand new London cocktail bar that opened in Fitzrovia last week.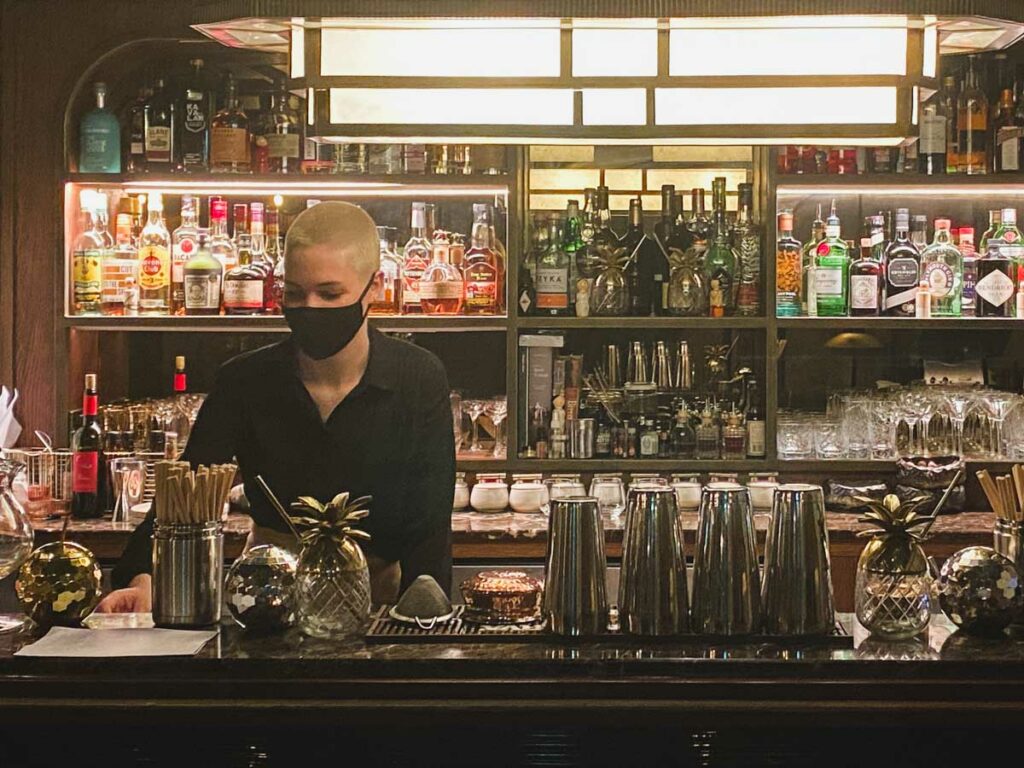 In it, you'll find a world of seventies India transplanted to a subterranean world underneath the Pali Hill – complete with inventive cocktails, striking decor and a burgeoning reputation as one of the coolest bars in town.
Bandra Bhai Fitzrovia
The Drinks
A quick glance at the menu is enough to tell me that head barman, Dav Eames, knows his way around a cocktail – a long conversation with the man himself confirms it.
Eames has worked no small magic with this list of 12 cocktails: gently reworking old favourites until they sing with his personal touch.
The ever-reliable Old Fashioned is transformed into a Spiced Jaggery Old Fashioned, the jaggery (unrefined sugar), chat masala and aromatic bitters giving it a distinctly Bhandra Bhai twist – fragrant without being overpoweringly so and oh so drinkable.
Next up is the Disco Inferno! – well deserving of its exclamation mark. Much as I love a mango cocktail, they're always dangerous ground: one false step and you've lost yourself to a world of gloopy syrup.
Nothing to worry about here. Eames set about finding the perfect mangos (Alfonso in case you wondered), double straining them then pairing with lime and chilli for a cocktail with a super-smooth feel that has a deceptive kick.
Don't overlook the Gaba Singh Side-Hustle either. At first glance it sounds a bit chaotic – cognac (as Eames says, "who makes cocktails with cognac?"), pineapple, celery, almond and lemon – but whatever inspired magic lay behind this thought process, the final product is so drinkable I slurp half of J's in the guise of 'tasting for review purposes' then order one for myself.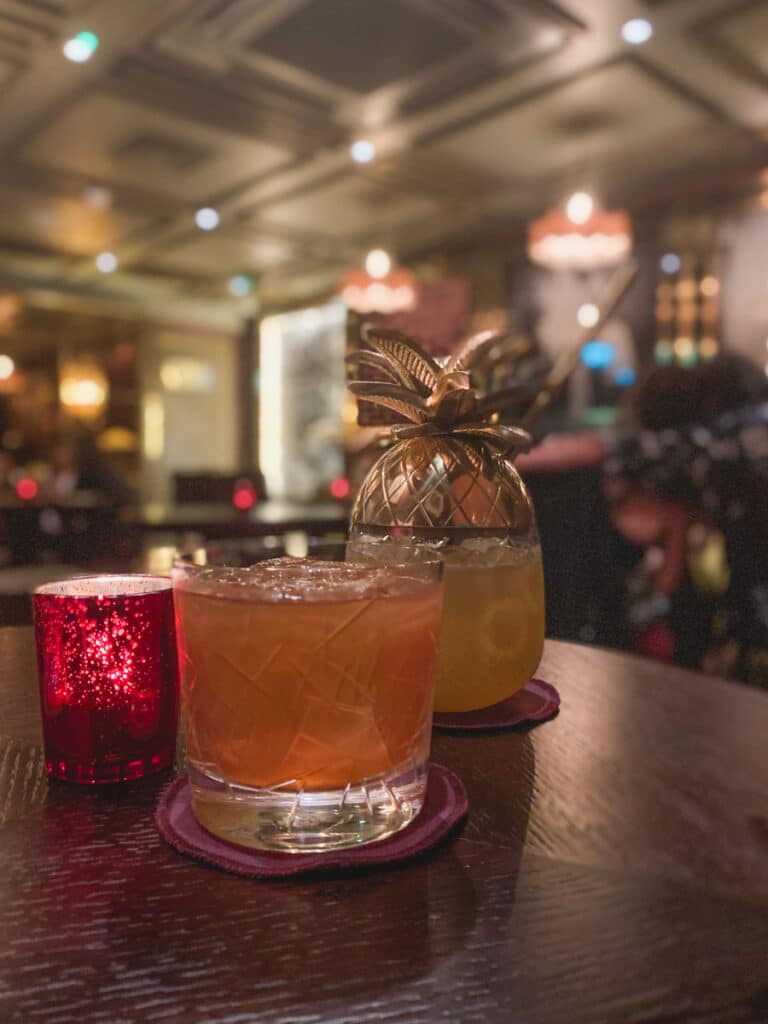 Doesn't hurt that it comes in a kitsch-cool pineapple drinking receptacle that's half glass, half chalice and all fabulous either.
The Look
Inspired by the old smuggling dens of 1970s India, the decor is a quirky combination of retro opulence that veers towards the kitsch.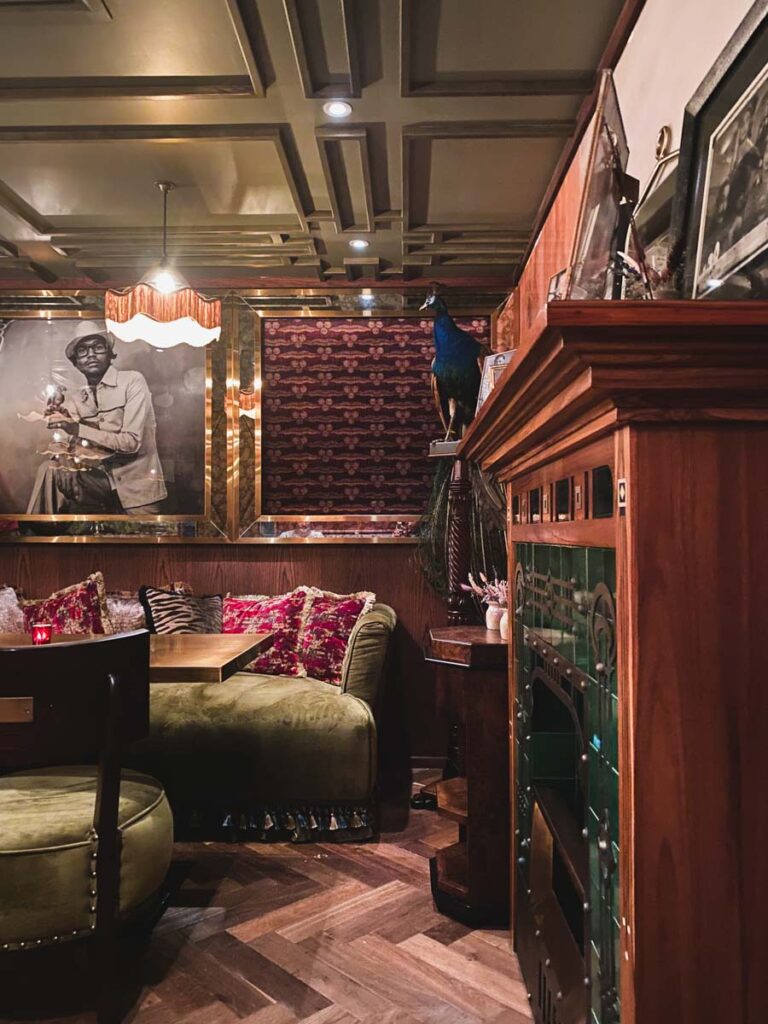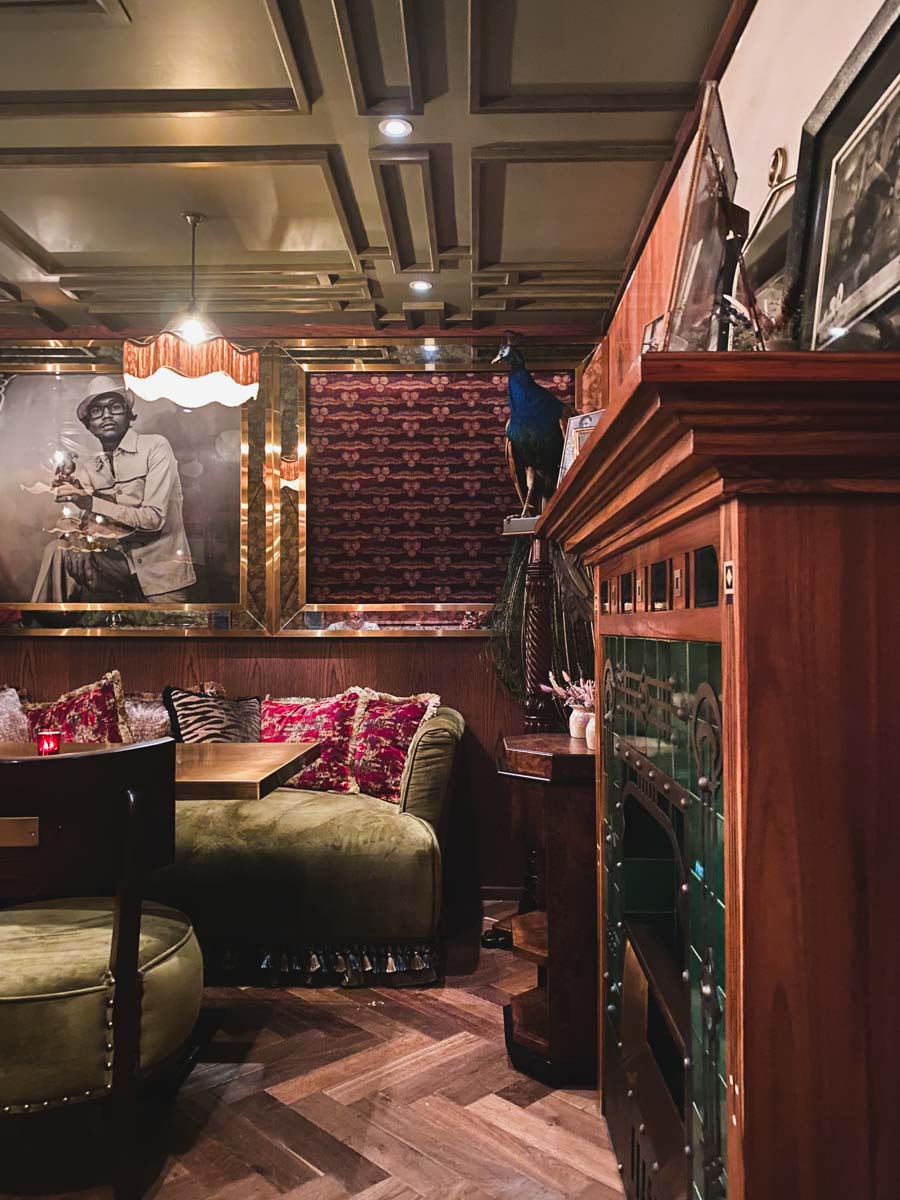 Large-scale photographs of achingly cool men and women adorn the walls, flanked by dark wood panelling and OTT wallpaper.
All sound a bit much? It works, setting the scene nicely for a laid-back night out that lasts until the early hours.
The Food
Remember the bit where I mentioned entering through the Pali Hill restaurant upstairs? That's not where the connection ends. The succinct bar snacks menu comes courtesy of the restaurant and proves to be so good that it would merit a trip on its own.
We opt for the Old Delhi Chicken Tikka with Mint Chutney – which proves to be tikka, but not as you know it, each morsel of chicken perfectly spiced and tender.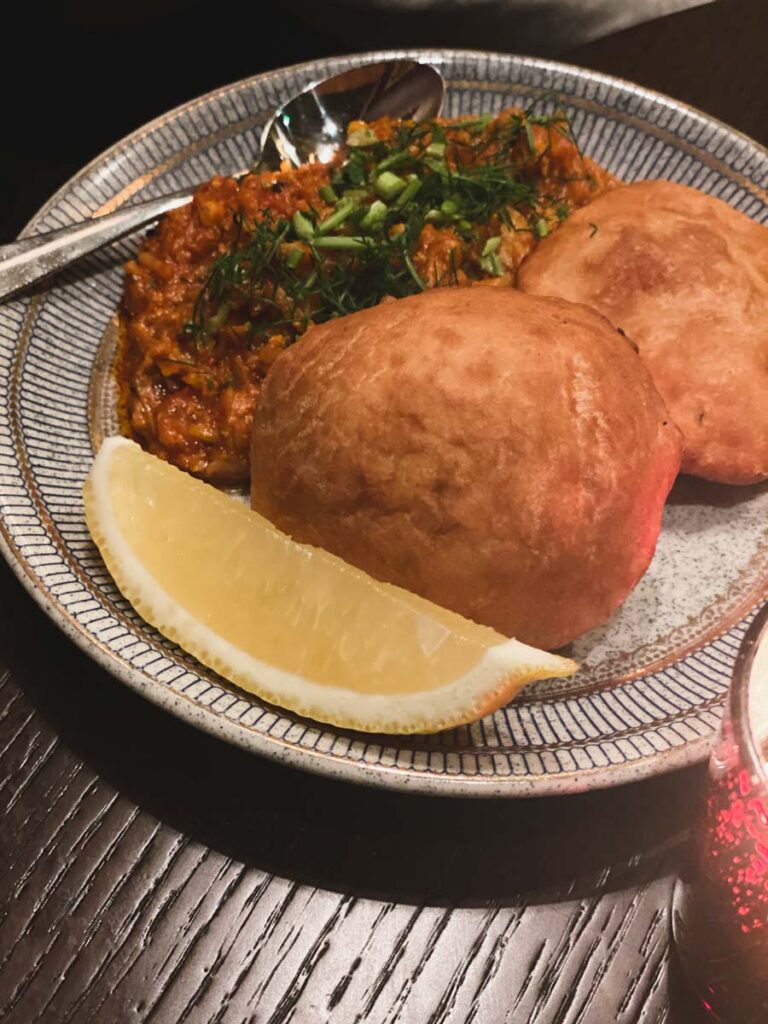 The grilled lamb cutlets with pepper, cumin, crispy curry leaves and mint raita manage to be simultaneously crispy and buttery-soft, the unctuous lamb perfectly charred on the outside, meltingly pink within.
Their Mangalore Buns and Crab Sukkah are similarly delightful – with fluffy buns that beg for you to spoon the crabby concoction onto and devour – then rinse and repeat.
Snacks finished – I make a note to book into the restaurant post-haste.
Final Thoughts
Bandra Bhai is an inspired cocktail bar bringing a much-needed sense of fun – not to mention excellent cocktails and perfectly-executed bar snacks – to Fitzrovia.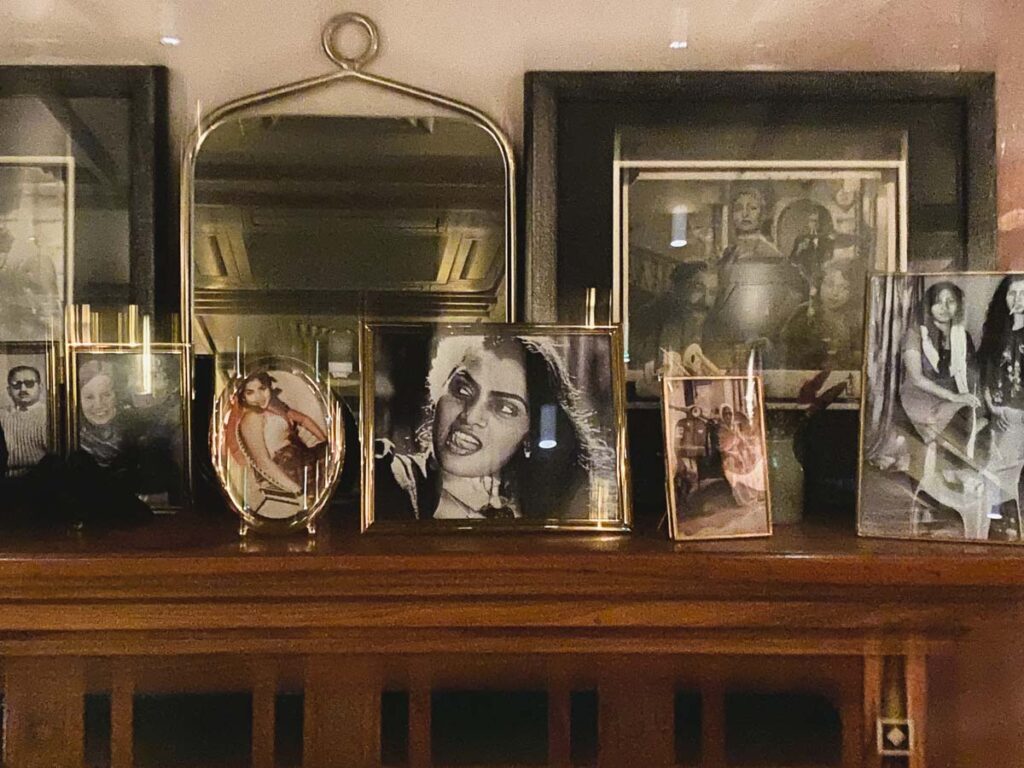 Go for one, just don't blame me if you end up staying 'till closing.
Bandra Bhai – Practical Information and Map
Price: ££
Address: 79-81 Mortimer St, London W1W 7SJ
Looking for More London Bar Guides?
Check these out…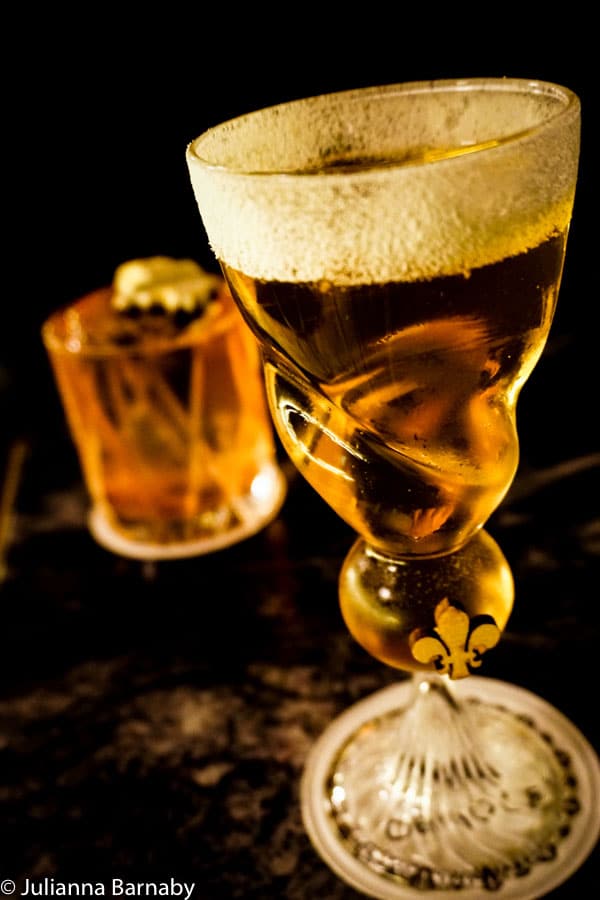 Secret Bars and Speakeasies in London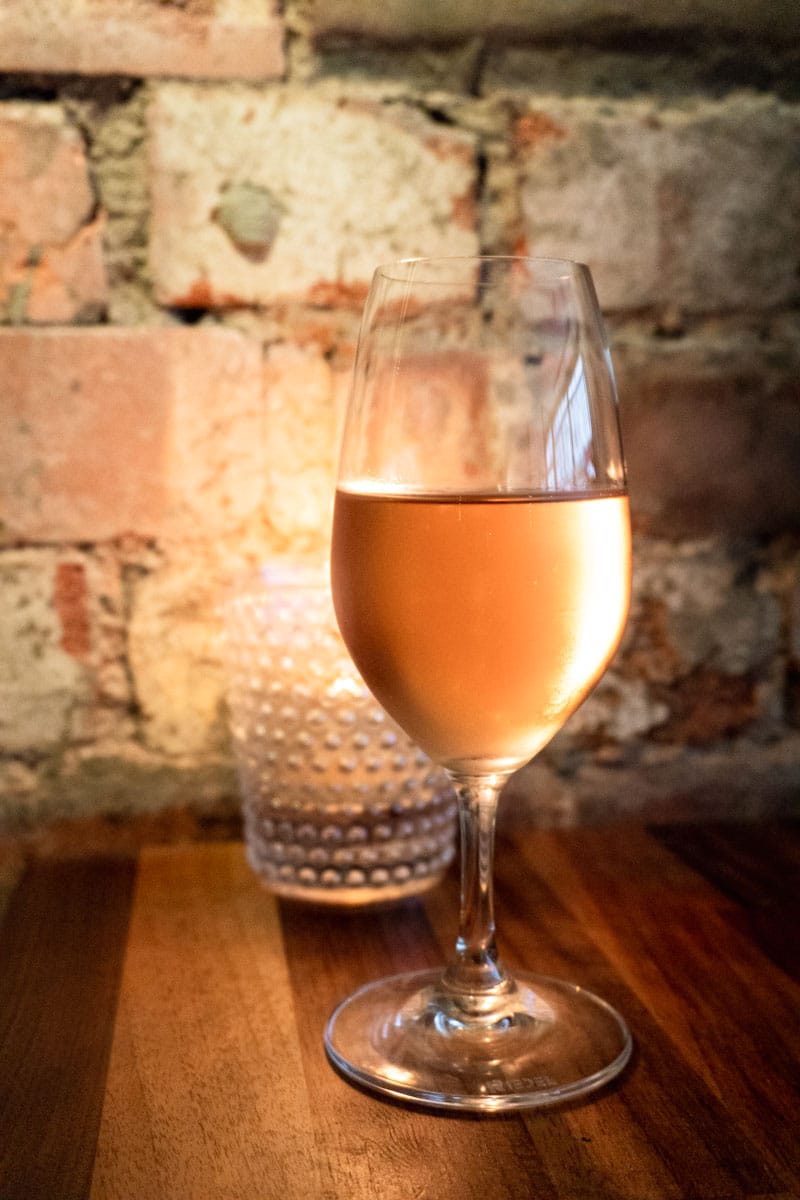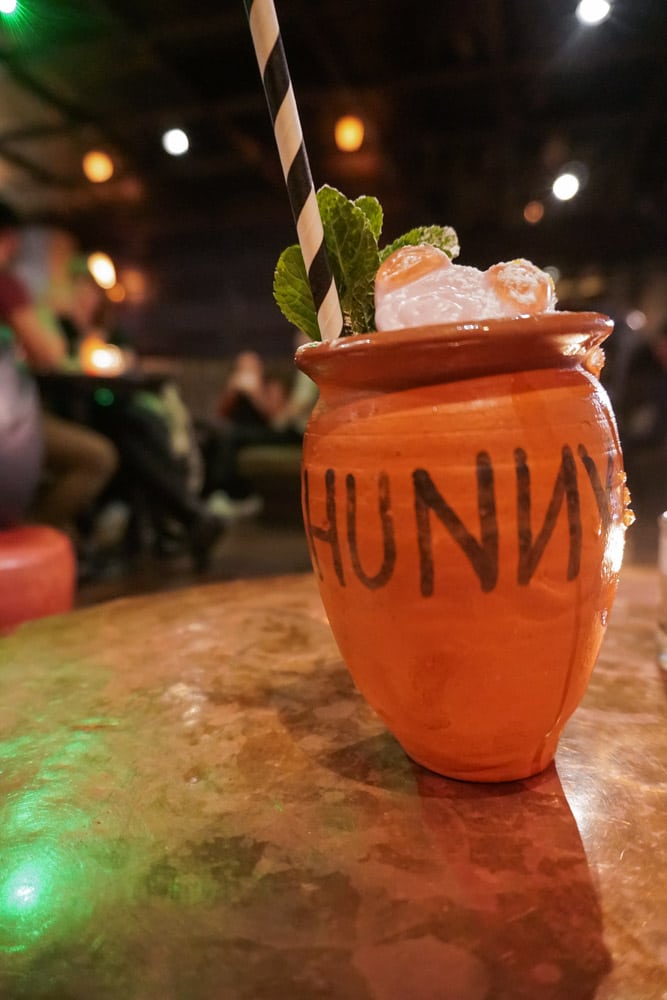 Bandra Bai, Fitzrovia
Summary
A retro-chic bar in Fitzrovia serving incredible cocktails and food. Prepare to be transported straight to Mumbai.