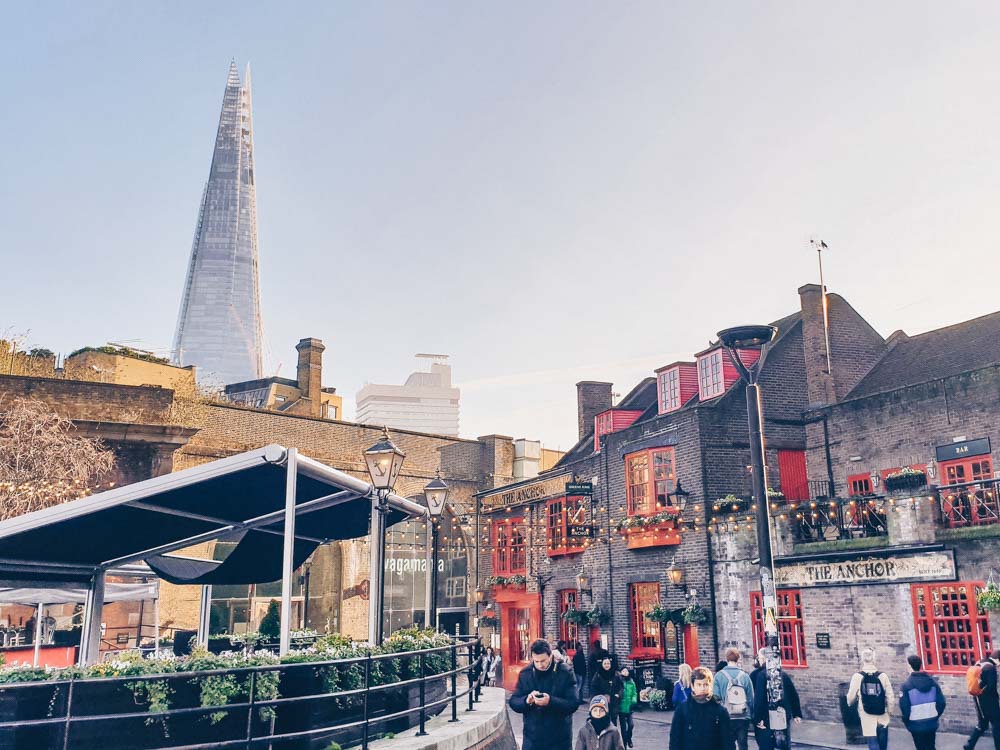 Looking for the best beer gardens London has to offer? No problem, the capital is full of them.
Whether you fancy trying a quirky craft beer or want to stick with a standard lager, these outdoor beer gardens serve up great drinks and even better vibes.
From traditional Victorian pubs to quirky beer gardens (there's even a circus-themed boozer on the list!), these are our favourite outdoor pubs in London.
What more excuse do you need to indulge in a classic British pastime this summer and enjoy a pint while you soak up the sun… just be sure to pack an extra layer 'cos we all know what British weather is like.
Best Beer Gardens in London
Beer Gardens in Central London
The Craft Beer Co.
Covent Garden
We're starting off with a good one. Boasting the UK's largest beer selection, the Craft Beer Co. is an undeniably cool place to grab a drink.
With over 200 beers from across the globe, even those who don't enjoy beer can find something to suit their palette.
Whilst their outdoor seating is technically not a beer garden, they offer plenty of roadside seating which gives off very European vibes. We highly recommend going crazy here, and picking something wild – their Electric Mayhem pineapple sour beer is a London X London favourite.
Address: 168 High Holborn, London WC1V 7AA
Flight Club
Victoria
Looking for an evening of fun? Flight Club Victoria is a swanky bar/pub hybrid where you can play the classic pub game of darts in an elevated setting.
With classic beers on tap, including Heineken and Amstel, as well as an extensive cocktail selection, this is the perfect spot to grab a beer and relax outdoors in the garden.
Address: 6 Sir Simon Milton Square, London SW1E 5DJ
Punch & Judy
Covent Garden
With its iconic location in the heart of Covent Garden, Punch & Judy has a charming pub garden that's right in the centre of the action.
Serving up classic British pub grub and a variety of traditional and craft beers, this is the perfect garden for enjoying the sun.
Football fan? They've even got a big screen where you can catch the exciting Euros matches this summer.
Address: 40 Henrietta St, London WC2E 8RF
The Market Porter
Borough Market
The Market Porter has all the charm you'd expect from a traditional Victorian boozer, and their outdoor seating nestled in Borough Market is as cosy as the inside.
With an array of local craft beers, ales, and wines, this is a cool hangout with some great food spots nearby, so when those post-beer munchies hit, take to the market and chow down on some of the best street food in London.
Address: 9 Stoney St, London SE1 9AA
Vinegar Yard
London Bridge
In a handy location next to London Bridge Station, Vinegar Yard is an eclectic outdoor venue featuring tasty food, local beer, and art installations. Their draught beer is on rotation from local breweries, so you have a chance to try something new each time you visit.
Their beer garden is hip and industrial, with tents erected in the winter (pack a jumper!) and an astro turf floor.
Top tip: The venue closes at 10pm, with last orders at 9pm – so head there straight after dinner for a couple of drinks with your friends.
Address: 72-82 St Thomas St, London SE1 3QX
Anchor
Bankside
Fancy a pint with a view? Anchor boasts another popular London beer garden, sitting pretty on the reaches of the Thames.
Whilst their drinks menu is smaller than others on this list, you're guaranteed all the main contenders in historic quarters overlooking the water.
If hunger strikes, Anchor also serves up some delicious dishes including fish and chips and steak skewers, far from the mediocre pub food you can find at some places.
Bonus points to this pub for their adorable Instagram page filled with dogs.
Address: 34 Park St, London SE1 9EF
Beer Gardens East London
Strongroom
Shoreditch
With their modern pub menu, Strongroom in Shoreditch has one of the coolest – and many would say the best – beer gardens in London.
Their drinks menu consists of local breweries, with unique ales and ciders making the cut – make sure to also grab some of their skin-on fries on the side, you can thank me later.
Their colourful outdoor seating offers the perfect escape from the bustling capital, and gives you the opportunity to quaff some beer in a fun setting.
Address: 120-124 Curtain Rd, London EC2A 3SQ
Ninety One Living Room
Brick Lane
Allow yourself to be transported to 1920's Paris at Ninety One Living Room, an old-school jazz club and bar with a cosy beer garden. With an extensive drinks menu including beers, wines, and a variety of cocktails, it's no surprise that this is one of the most popular spots on Brick Lane.
So enjoy a gig, order a meal, or just grab a beer and relax whilst you soak in the sweet, sweet sounds of the sax.
Address: 91 Brick Ln, London E1 6QL
The Birds
Leytonstone
Ready to party? Head on over to The Birds for delicious vegan food, craft beer, and all-around party vibes. With multiple events throughout the month, including a bring your baby quiz and live music, this is a pub garden in London like no other.
These guys really know their craft beer – they have all sorts of weird and wonderful flavours, including a salted caramel stout and a rhubarb ale. Which one are you downing?
Address: 692 High Rd Leytonstone, Bushwood, London E11 3AA
Night Tales
Hackney
Under the industrial archways of Hackney's central station, Night Tales takes the crown for the most secretive beer garden in London.
With over 4000 sq ft of terrace, there's plenty of space for you and your mates to spend an afternoon unwinding at this sun trap.
Whilst at night the vibe here edges towards that of a club, in the daytime Night Tales has a relaxed vibe enhanced by an incredible selection of beers, wines, cocktails (and shots, if you're feeling particularly wild at midday on a Saturday).
Address: 14 Bohemia Pl, London E8 1DU
Pub on the Park
London Fields
For a traditional, park-side beer garden in London, pay a visit to London Fields' Pub on the Park. With a classic selection of drinks, as well as some decent food, this is the perfect retreat after a wander through the local park or a swim in the nearby lido.
For sports lovers, you can catch important Grand Prix races, football, and rugby matches here, or for 20 quid, try your hand at a game of boules in the pub's own petanque area.
Address: Martello Street, London, E8 3PE
The Star
Hackney
A small but perfectly formed beer garden can be found at The Star by Hackney Downs. Or, if that's too restrictive, ask for a takeaway cup and head to the local park to relax with a bev.
If, like us, you get excited at the sight of a dog, you'll be glad to know that The Star is also dog friendly and even has their own doggy wall of fame – something I believe should be strongly considered when choosing a beer garden in London.
Coming with a group? Why not book their £99 drinks package and make a night of it.
Address: 35 Queensdown Rd, Lower Clapton, London E5 8JQ
The Prospect of Whitby
Wapping
There are many great pubs in Wapping but if you want a nice beer garden head to The Prospect of Whitby. The boozer itself has oodles of history that date way back into the hundreds of years.
Part of that history can be seen from the pub's riverside beer garden – a hanging noose that was once used to stretch the necks of pirates and privateers in the days of piracy.
The pub itself is a Green King establishment so you'll find many of their reliable beers behind the bar as well as their menu of pub classics should you get peckish.
Address: 57 Wapping Wall, London E1W 3SH
Beer Gardens South London
Oval Tavern
Croydon
With quiz nights, music, and live DJ's – not to mention several appearances in Peep Show – The Oval Tavern sits at the heart of the Croydon community.
Their beer garden is hidden behind the classic brick building and is filled with locals – that's how you can tell that it's a good pub.
A range of draught beers, wines, and soft drinks are all available alongside a pretty tasty menu (their Sunday roasts are top notch).
FYI, this is another pub garden where furry friends rule the roost.
Address: 131 Oval Rd, Croydon CR0 6BR
Duke of Edinburgh
Brixton
With possibly the cutest beer garden in London, The Duke of Edinburgh in Brixton knocks it out of the park. Proudly known as South London's biggest beer garden, the pub has some of the best local beers on tap.
Top tip: Make sure to visit when you're hungry, because White Men Can't Jerk (a hilariously titled independent kitchen) serve up the tastiest jerk chicken and Caribbean fusion food, whilst also bringing a party atmosphere to the otherwise chill pub.
Address: 204 Ferndale Rd, London SW9 8AG
The Avalon
Clapham South
Named after King Arthur's mythical island, The Avalon is a very real (but very magical) beer garden in London. Surrounded by greenery and twinkling evening lights, this is one of the best places to unwind with a pint in the capital.
Their drinks menu is full of classics: popular beers, wines, and an extensive selection of British whiskies.
Psst… If you happen to be in the area at Christmas, The Avalon serves the best Mulled Wine.
Address: 16 Balham Hill, Clapham South, London SW12 9EB
Northcote Records
Battersea
For live music in a relaxed setting, head over to the trendy Northcote Records.
Not your scene? Not to worry, feel free to grab a spot in their beer garden for ultimate chill vibes instead. A small, but carefully curated beer menu alongside an array of cocktails, including an interesting frozen lager-margarita (hey, don't knock it til you've tried it) and a small selection of handmade pizzas await.
Address: 8-10 Northcote Rd, London SW11 1NT
The Ship
Wandsworth
Hoping to sail off somewhere exotic this summer? Grab your crewmates and head to The Ship at Wandsworth instead.
The riverside beer garden makes you feel like you are literally floating on the water, and the gastropub serves up some of the tastiest food in the area – young's ale battered cod, pickled rhubarb and falafel burger, and fillet of beef with celeriac puree, to name a few of the standout dishes.
Top tip: Treat yourself to the Wye Valley rhubarb and ginger fool for dessert, you deserve it!
Address: 41 Jews Row, London SW18 1TB
The White Bear
Oval
For mouthwatering grub in a modern beer garden, The White Bear nails it. Attached to a theatre, this pub serves as the perfect place for a pre-theatre drink, or as a spot to unwind on the sundrenched terrace.
The food menu includes an array of British dishes, created using locally-sourced ingredients – their Sunday roast selection includes juicy Ox cheek and Striploin of beef, and is absolutely divine.
For an afternoon of ultimate fun, grab a beer bucket for £50 and dish out the 10 beers amongst you and your pals.
Address: 138 Kennington Park Rd, London SE11 4DJ
Beer Gardens North London
Owl and Hitchhiker
Islington
Previously known as The Edward Lear, the Owl and Hitchhiker in Islington has been transformed into the pub it is today, inspired by two very famous local writers: Edward Lear (The Owl and Pussycat) and Douglas Adams (The Hitchhiker's Guide to the Galaxy).
The decor is cool and very Islington – a hodgepodge of signs are littered throughout the inside of the pub, and the beer garden blends modern astroturf with a pretty blue facade. Whilst there's no shelter here, on a warm day this is the perfect place to grab a beer after exploring Islington.
Address: 471 Holloway Rd, Archway, London N7 6LE
Brewhouse and Kitchen
Islington
For exciting food and delicious craft beers, wander along towards Brewhouse and Kitchen in Islington. Located close to Regent's Canal, this is the perfect place for some well-deserved respite after exploring the area.
The outdoor tables are made from beer barrels! Convinced? Well, if not, keep your eyes peeled on their website as they advertise lots of special 25% off food deals, and believe me, their beer can chicken is not to be missed.
Address: Torrens St, London EC1V 1NQ
The Albion
Barnsbury
Another Islington gem is The Albion in Barnsbury, with its swoon-worthy exterior and rustic charm. Seriously, you will fall in love with this pub and its wisteria-draped beer garden. Open til 10 every day with an extensive drinks menu featuring fine wines and traditional British ales, this Georgian pub is our favourite pick in Islington.
Trust us, visit on a Sunday and order the Gloucester slow-cooked pork shoulder, crackling, and bramley apple sauce – you won't regret it.
Address: 10 Thornhill Rd, London N1 1HW
The Kingshead
Winchmore Hill
The Kingshead at Winchmore Hill is a sneaky illusion. From the outside, it looks like your average London pub, but step inside and you're greeted by an eclectic mix of colour and decor that highlight just how quirky this gastropub is.
The beer garden at The Kingshead is modern, with giant plant pots and a chalkboard full of specials on the wall. Be warned, the small patio is a suntrap during the summer and gets booked up pretty quickly – so book a table now to avoid being turned away.
Address: 1 The Green, London N21 1BB
The Colonel Fawcett
Camden
Consider yourself an ale aficionado? Gin and craft beer is the speciality at The Colonel Fawcett, with a number of under-the-radar beers and their own gin days, so you can really get involved in the boozing process.
Their beer garden is small but mighty, with ivy covered trellis and traditional bar stools decorating the patio. Feeling chilly? Don't fret, the British weather is predictably unpredictable and so the garden is heated and covered.
Address: 1 Randolph St, London NW1 0SS
Lockside
Camden
With an outdoor terrace overlooking the infamous Camden Lock Market and canal, Lockside Camden is heaven on a hot day. Providing the buzziest atmosphere and live music most days, this is a picturesque London beer garden in the coolest area in the capital.
Food is available all day, and includes a short rib cheeseburger, beer-battered haddock and, of course, all paired with an abundance of local craft beer to choose from.
Address: 75-89 Upper Walkway, Camden Lock Place, London NW1 8AF
The Faltering Fullback
Finsbury Park
The Faltering Fullback is a favourite among Finsbury Park/Crouch End locals for many reasons. They have live sport on for any occasion big or small. There's also plenty of space for everyone in their cavernous back room as well as pokey booths for more atmospheric drinking.
The main draw though, is their beer garden. It's not massive and getting a table can often mean having to be pretty ruthless with getting in there when one comes up, but secure a spot in this two-tiered hotspot and you won't look back.
Address: 19 Perth Rd, Finsbury Park, London N4 3HB
Beer Gardens West London
Kindred
Hammersmith
Kindred in Hammersmith's humble brag about being the best beer garden in west London is not totally unwarranted – we have to say we agree. But this isn't just any beer garden, set behind the Georgian manor, this terrace has an air of exclusivity (there's even a members-only area).
But, have no fear, they aren't snobbish at Kindred. This is a great spot to grab a pint, or enjoy some of their toothsome dishes on their modern terrace, with live music to soothe your soul.
Address: Bradmore House, Queen Caroline St, London W6 9BW
Aeronaut
Acton
Don your sunglasses, because Aeronaut in Acton is quite literally the brightest beer garden in London. With rainbow tables and matching bunting streaming across the garden, this is a quirky circus-themed pub.
And the fun doesn't stop there – the circus has come to town. With multiple live performances throughout the month, enjoy a drink as you watch circus and cabaret performers until late into the night.
Address: 264 High St, London W3 9BH
The Eagle
Hammersmith
Need to feel totally relaxed? Chill out on one of the bean bags at The Eagle in Hammersmith in their bright but cosy beer garden. With one of the most extensive beer, gin, and wine menus we've seen in London, there's quite a few types of alcohol to try.
Top tip: Get here for a late brunch and then drink your way through a lazy afternoon.
Address: 215 Askew Rd, London W12 9AZ
The Hawks Nest
Shepherds Bush
For an evening of laughs under twinkling lights, head to The Hawks Nest in Shepherds Bush. Not only do they have the prettiest beer garden in west London, but their drinks menu is packed full of exciting craft beers and innovative cocktails.
Oh, and while you're there, grab one of their artisan pizzas and chow down with your pals whilst you booze. And if you're trying to impress, this would make a great casual date night location.
Address: Goldhawk Rd, Shepherd's Bush Market, London W12 8DF
The Sun Inn
Barnes
In the small town of Barnes on the slopes of the Thames, The Sun Inn is an unassuming pub with buckets of character and a lovely beer garden. Set against the white building and palm trees, you'd be forgiven for thinking you're in a local Spanish pub on a blazing summer's day – although the classic pub grub served here will bring you straight back to London.
With real ales and a cracking Belgian beer menu, if you love beer, this is the spot for you.
Address: 7 Church Rd, London SW13 9HE
Distillers
Hammersmith
If you're all about the booze, Distillers in Hammersmith is your best bet on this list. This is a traditional pub in every sense, from the original tiled fireplace inside to the classic draught ales and lagers you'd expect from a British institution.
Not a fan of tradition? Head out to the beer garden, a modern and edgy remodel of a classic pub terrace, with astro turf and even a shed for you to hang out in if it rains.
Address: 64 Fulham Palace Rd, London W6 9PH
The Black Lion
Chiswick
If its space you're looking for you'll find it in spades at The Black Lion in Chiswick. Their beer garden has more than enough space to fit you and your pals, even on the busy sunny days when the spot fills up with drinkers looking for a splash of sun.
It's not uncommon to find the garden the set of a live music performance, but the thing we love about this spot is that when you're done you can take a nice half-cut stroll along the Thames. There's even a couple more pubs to hit on the route.
As for the beer, The Black Lion has a great selection of cask ales, lagers and ciders on tap that rotate regularly so you'll have a good spread to choose from should you return.
Address: 2 S Black Lion Ln, London W6 9TJ
Pubs with Beer Gardens in London: Practical Tips
Wear sun cream in the summer. It's easy to forget when you've got a few pints in you and you don't want to wake up with any more regrets than you ought to the next morning.
Some places may have the option of booking. If you're dead keen on a pub garden table give them a ring and see what they can do. It never hurts to ask.
Map of Pubs with Beer Gardens in London