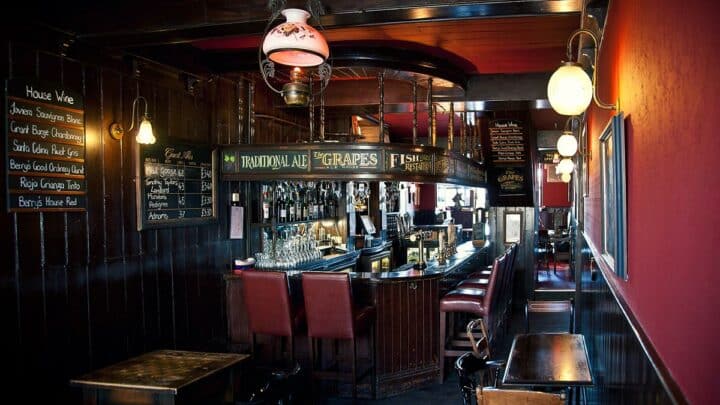 Our guide to the best London pubs owned by celebrities.
London is never short of two things: celebrities and pubs. It was only a matter of time, then, until some of these celebs started to get stuck into the pub trade. We're not guaranteeing you're going to spot the celebs behind the bar, but it is pretty interesting to know what Guy Ritchie's idea of a good pub looks like.
Having said that, he's a celeb you'd kind of expect to own a pub. Ian McKellen on the other hand? How about James Blunt?
Read on to find out more about these pubs owned by celebrities in London…
Best Celebrity-Owned Pubs in London
The Grapes
Limehouse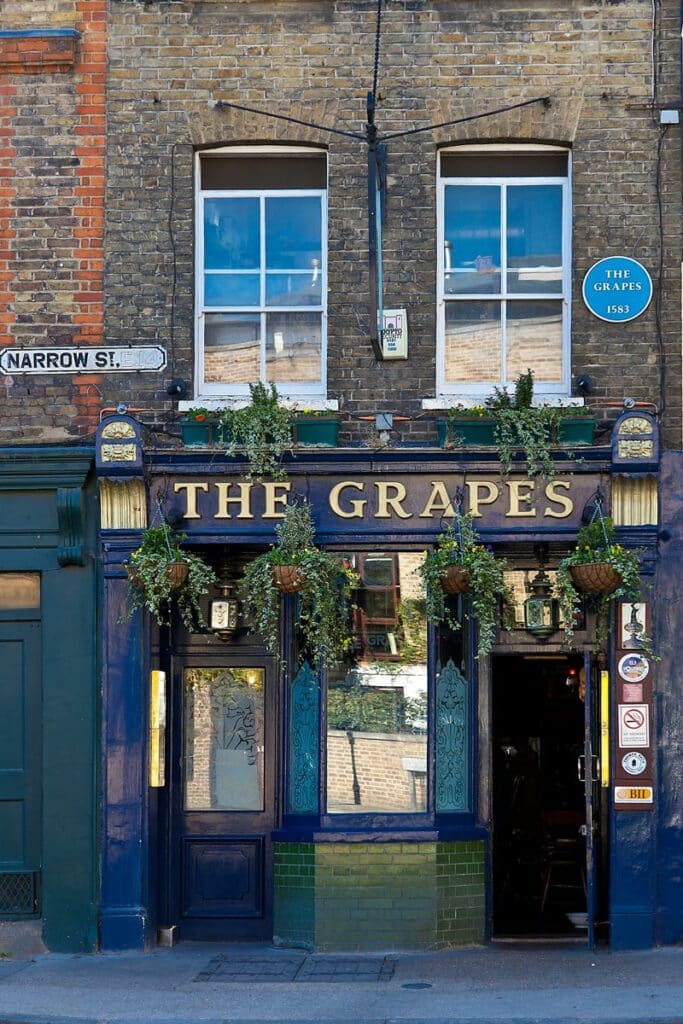 Probably the most well-known of London's celebrity-owned pubs has probably the most illustrious celebrity ownership of them all: Ian McKellen. He's held the lease on The Grapes since 2011 and used to run pub quizzes there on Mondays but has now taken a step back.
The pub is a really nice spot for a drink and its riverside location makes it ideally placed as a pitstop for anyone doing the Thames Path. Inside the place is small. Dark woods and deep reds make for a gloomy boozer with a very old feel.
And The Grapes truly is old. Its history runs right back 500 years beyond its current star-studded ownership. Dickens is even said to have frequented the place in his day. If anyone can spot the relation between these two famous folk, you're too smart for your own good.
Answer: Dickens is the author of David Copperfield, and McKellen played the lead role in a 1966 BBC adaptation.
The Fox and Pheasant
Chelsea
Landlord might not be the word that springs to mind when you think of James Blunt, but it's a title that fits him just fine at The Fox and Pheasant. When he's not busy in the studio he's keeping things steady at this Chelsea gastropub.
Funnily enough the place used to be a bit of a footballer's pub, sporting rowdy Chelsea fans on game days. Once Blunt took the place over it got a bit of a makeover, shifting its focus to the gastronomic and giving the interior a touch of rustic chic.
The food comes pretty highly recommended and it's said that the man himself doesn't shy away from getting behind the bar and pulling a pint or two.
The Lore of the Land
Fitzrovia
The Lore of the Land is one Guy Ritchie's many London ventures (Snatch's director has his fingers in many pies). This is one of our favourites though.
The decor has been worked on in recent years but the pub retains a nice rustic, traditional feel. A kitchen serving some pretty decent British food is also a big draw. Of the food, it's the Sunday roast you want to book in for – they use some good quality meats and slow cook them to near perfection.
If it's not already clear, just because Guy Ritchie owns The Lore doesn't mean it's going to be filled with cockney gangsters. This is a genuinely lovely spot for a drink.
Mikkeller Bar
Shoreditch
We're willing to bet you'll be a little surprised when you hear who co-owns this branch of the famed Danish brewery, Mikkeller Bar: None other than Mr. Never Gonna Give You Up,
Rick Astley himself.
As the story goes Astley was something of a childhood idol to the Mikkeller-founder, Mikkel Borg Bjergsø. It seems Rick was also a fan of beer (though not, we hope, in his childhood) as they eventually came together to brew a batch they named Astley's Northern Hop Lager.
It was then that they got talking about opening a London branch – a dream that came to fruition in 2018.
Bonus Round: Turner's Old Star
Sure Turner has been dead for over 150 years, and yes it might be blasphemy to refer to England's greatest painter as a celeb, but we love that he owned a pub in London that still bears his name, so we thought we'd throw Turner's Old Star in a bonus round.
J.M.W. Turner converted what was then just The Old Star out of two cottages just back from the Wapping waterfront. His motive? As a place to carry out his sordid affairs. Turner would eventually instate one of his mistresses, Sophia Booth, as the landlady.
The pub's undergone some serious revamps since Turner's day but has kept the name in his honour. These days it's a very working-class watering hole and a must-hit spot on any good crawl of the area's historic pubs.
Practical Tips for Exploring the Best Celebrity Pubs in London
Remember, just because a celebrity owns a place doesn't mean they work there. Do you think Guy Ritchie is really going to jump behind the bar on a busy shift or pick up a mop and bucket when somebody spills a pint? Probably not, so it's unwise to plan a whole trip to the pub around the fact you might see them.
That said, some of the pubs will host events like quiz nights and suchlike that the celeb owner might turn up to.
If you're really desperate to see the celebs, you could try asking the staff on the sly how often they usually come around their pubs.
Celebrity Pubs in London: Map