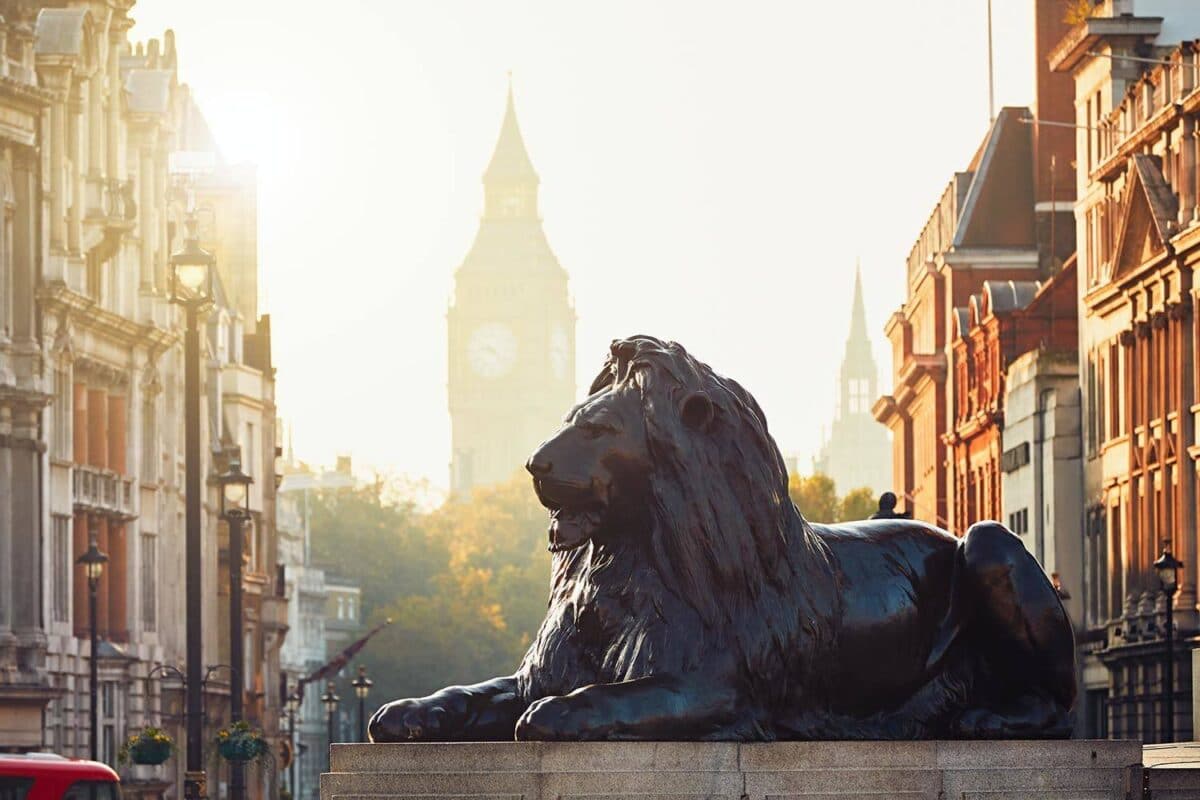 Whether you're looking for sunshine, festivals or just to explore the city's museums in peace, there are pros and cons of visiting London at different times of year. Wondering when the best time to visit London is? Don't miss this step by step guide.
Like any trip, planning your travels to London starts with a series of questions: when should you go, where should you stay, what do you want to do.
After all, tackling one of the world's busiest tourist destinations takes some thought.
Working out when to visit London is a tough one – much as I love my hometown, the weather is unpredictable and prices can be sky high depending on when you visit.
That's why I've created this handy guide – I'm a big believer in the saying "forewarned is forearmed" – so here are the things you need to consider when planning your London trip.
When's the Best Time to Visit London?: At A Glance
The best time to visit London overall is in spring, when the temperatures have warmed up, the sun has started to shine and London's gardens and parks are looking their best. You'll get better value hotel and Airbnb rooms at this time of year too.
However, the reality is that the best time to travel to London depends a lot on what you're looking for.
If you're all about taking a peek inside Queen Liz's palace, you'd better make it in summer, while if you're hoping to spend plenty of time exploring the galleries then winter is a good shout.
The Best Time to Visit London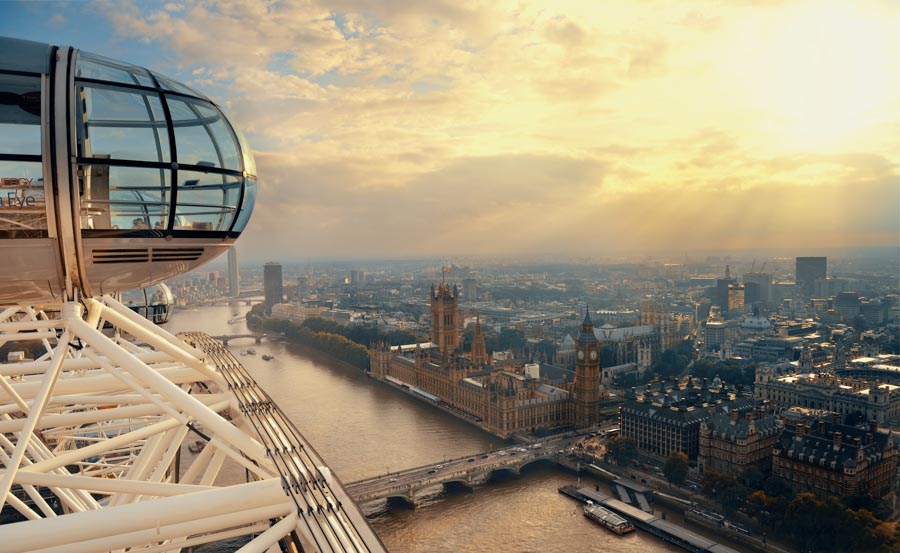 What is the Best Month to Travel to London?
May is the best month to travel to London but, as one of the world's great cities, London is pretty dazzling all year-round.
Having experienced every season in the capital (many times), I can assure there's plenty to do all through the year.
The best month to visit London depends a lot on your interests, and especially whether there are any special events you'd like to attend.
July and August see some of the warmest weather and many events. May also has nice weather and fun events including the Chelsea Flower Show.
Read on for more information about the best time to visit London, depending on what you're looking for.
When's High Season in London?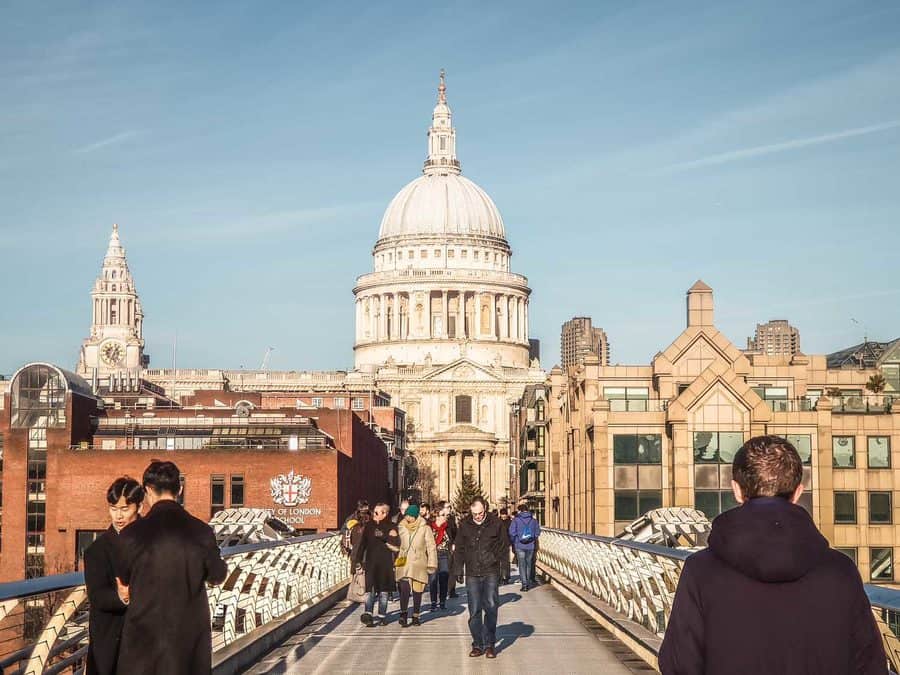 As summer brings a couple of glorious months of (intermittent) sunshine in the capital, visitors arrive in droves.
If you're planning to visit between late spring (May) and summer (to August), then I'd be prepared for the great British past-time of queuing.
Central London is particularly packed with both domestic and international visitors checking out the sights. As a result, you can expect to pay a premium for accommodation and the like.
That said, this is one of the most exciting times to be in the capital. It's not popular without reason.
The Cheapest Time to Visit London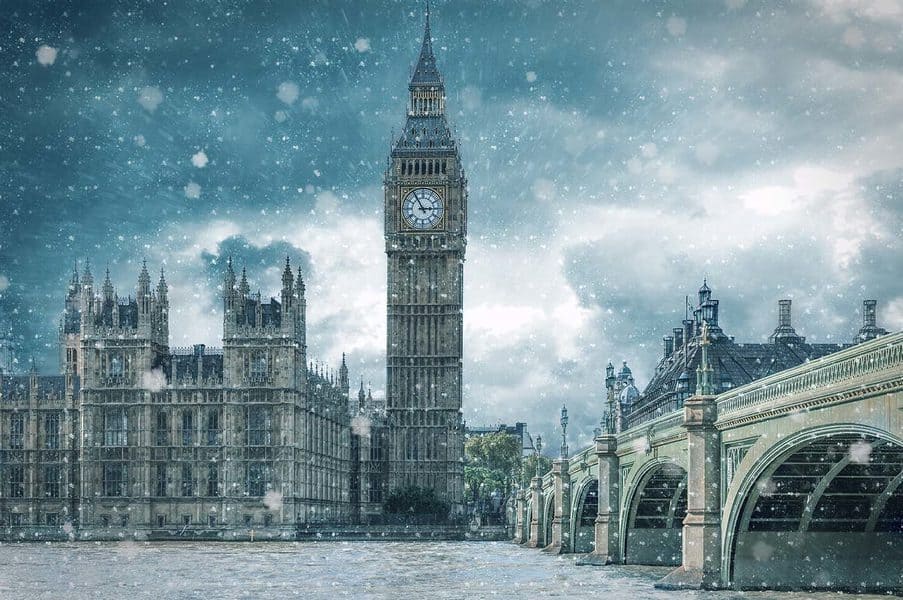 If you're looking to score some bargains for your trip to London, then the post-Christmas period (January and February) are a good bet.
The cold and (sometimes) drizzly weather scares off some of the crowds, as does the fact that many people have spent all their money on the festive season and are having a quieter time of it at home.
All of this translates to more hotel availability and some excellent value deals to be found.
Honestly, London is never really a budget paradise – however, you will certainly score some savings by travelling in the off-peak period.
Best Time to Visit London's Museums and Galleries
January and February are also the best times to check out London's dazzling selection of museums and galleries.
Forget shuffling from exhibit to exhibit in a crowd – during January and February, you'll have way more time and space to really enjoy the exhibits.
Think less jostling with visitors and their cameras, and more time taking in the amazing works of art and pieces of history in London's galleries.
Of course, the big names like the British Museum aren't totally abandoned – but things are noticeably quieter post-Christmas.
To See London's Attractions and Landmarks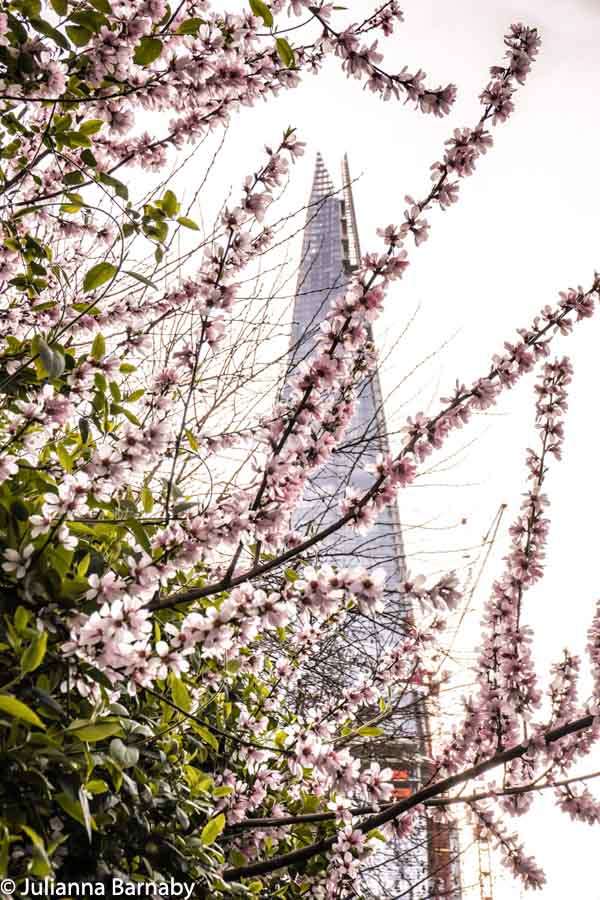 To see London's attractions and landmarks at the best, I recommend a visit in late spring or early summer (May to June).
This is London, so the weather is grumpy and rather unpredictable (aren't we all!) – but you've got a good chance of striking gold with some sun in these months.
This time of year is also less humid, which means that a long walk, taking in the sights is totally doable.
Plus, if you plan on dropping by any attractions like Buckingham Palace or Hampton Court, I reckon the gardens are at their most gorgeous in spring.
To See London's Royal Connections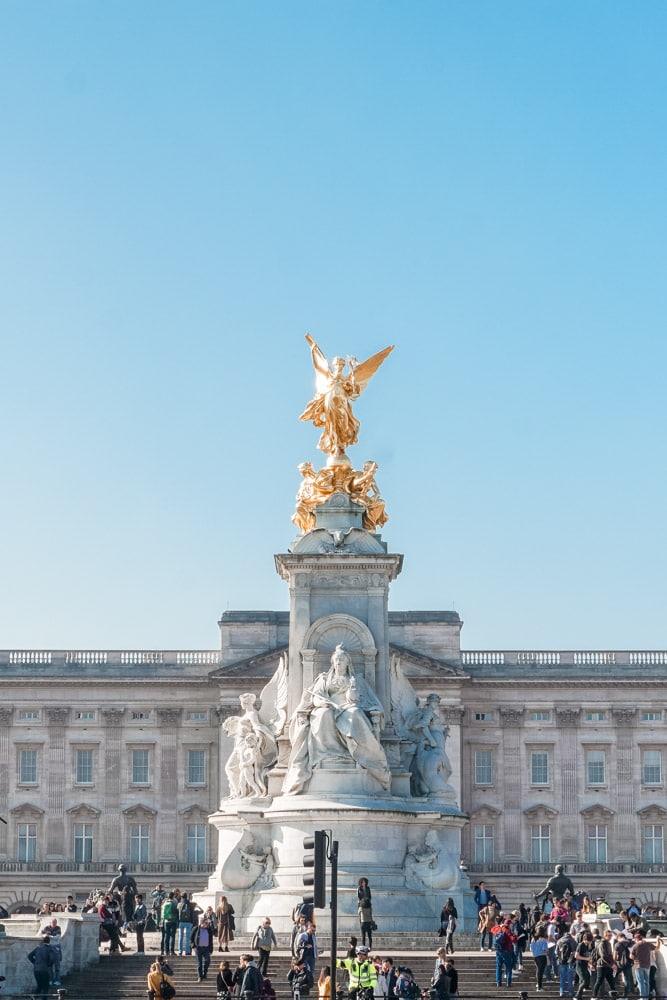 Have you been gripped by Royal Fever? Don't worry, it happens to the best of us. If you want the best chance of catching a glimpse of a Windsor, then I recommend visiting London in summer.
There are a few factors that make summer a uniquely fabulous time to check out the royal sites. You'll be able to see the Changing of the Guard in the summer colours, which is a great time to observe the pomp and pageantry.
If you can't get enough of it, you might even be able to score tickets to the Trooping of the Colour. This is one of the best chances to spot the royals in person, as they appear on the palace balcony to wave at their subjects.
Not long after the Trooping of the Colour, they head off for a break from their tough lives at Balmoral.
However, the good news is that the Palace then becomes open to the public. So, if you want to peek inside Buckingham Palace, you'll want to visit London between July and October.
Best Time for a Shopping Trip to London
Got some pounds that you're looking to swap for some of London's coolest threads?
Well, the shopping is pretty great all year, but if you want to make your money stretch then match your visit to the sales. There are plenty of bargains to be had.
The best sales are held after Christmas, with Boxing Day being particularly hectic. Just be warned – it's every person for themselves, and all is fair in love and sales.
If you can't make it to the Christmas sales, there are also pretty good ones at the end of every season including at the end of summer.
Is there a Rainy Season in London?
Yes. And it lasts from January to December. LMAO.
Okay, so I'm half joking here. Honestly, London isn't known for its endless summer – nope, drey and grizzly is kind of our thing. It would be plain weird if it went more than a month without raining in London.
Personally, I recommend making like a real Londoner and enjoying the capital no matter the weather.
If you are trying to maximise sun and minimise drizzle, then May, June, July and August are your best bet. However, some people would argue this is the worst time to visit London, due to the crowds. It's really up to you.
On the other hand, February is peak grumbly London weather. Grey skies and chilly temperatures abound, with a few dashes of rain for good measure. We don't let that stop us, though, and you shouldn't either.
In short: whenever you visit London, bring a brolly (umbrella).
Best Time to Visit London – by Season
Spring in London
Spring is one of the best times of year to visit London. As the season shifts and the weather begins to warm up, the capital gets a great buzz about it.
I'm a particular fan of spring as it's the 'shoulder season – arguably the best time of the year to go to London. While it can still be very chilly in early spring, by May the weather is usually pretty good but the crowds haven't quite ballooned yet.
Key Events and Things to Do in London in Spring
Virgin Money London Marathon – if you're one of those ultra-sporty types that make the rest of us feel bad (just kidding), there's the famous London Marathon in April every year.
London Coffee Festival – the coffee craze has swept through London, and it's not just brick-and-mortar cafes serving it up. Find out about the latest and greatest news and tastes in the coffee world at this festival in April.
Chelsea Flower Show – to see just how mad Britain is about flowers and gardens, you can visit the spectacle that is the Chelsea Flower Show in May. Queen Elizabeth II never misses it – so if it's good enough for the queen…
Pros to Travelling to London in Spring
The weather is generally pretty moderate, and the lower humidity of late Spring means it can be nicer than the height of summer.
Generally it's a good compromise between nice weather without the enormous crowds of the summer months.
The flowers are really freaking beautiful, and add so much amazing colour to the gardens like Hampton Court, St James' Park and Buckingham Palace gardens.
Cons to Travelling to London in Spring
Early spring can still be cold and rainy, while as the weather warms up, the crowds arrive.
Summer in London
June to August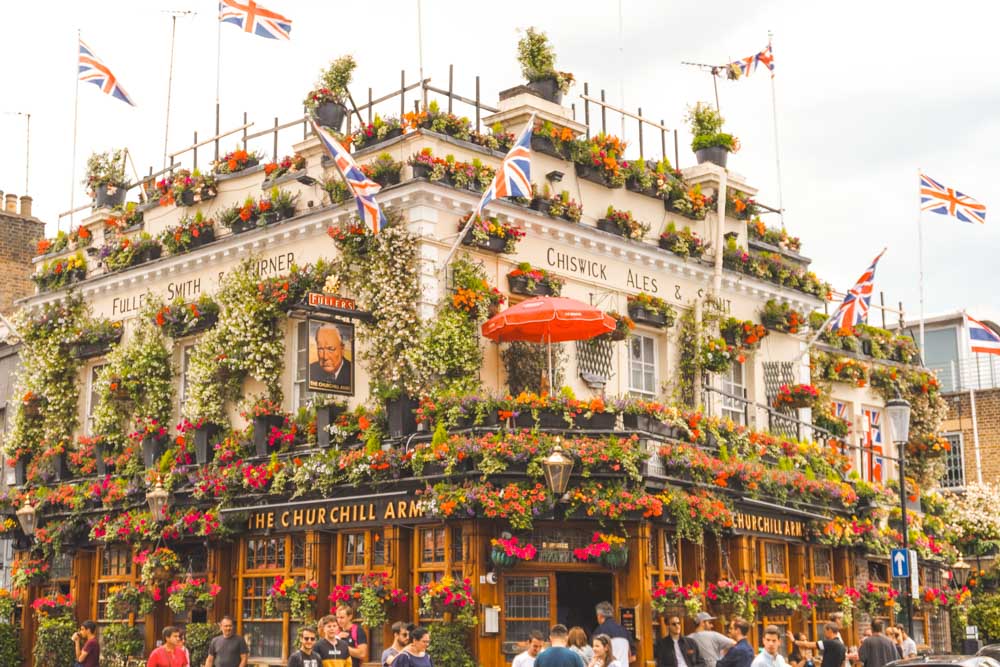 Summer arrives to great celebration in London. Tourists and locals alike grab their beers and head out to the closest beer garden, while any outside space is prime picnic and walking space.
Since its considered the best time to visit London weather-wise, you certainly will not be lonely in the capital in summer. This is one of the world's most popular tourist cities, and it really shows.
That said, there are always ways to escape the crowds.
Key Events and Things to Do in London in Summer
Wimbledon – the world's most famous tennis tournament arrives in London each summer, bringing both literal and tennis royalty to south-east London. It's one of the best times to go to London, not least because of your chances of bumping into Queen Serena.
Ashes – The Australia/England rivalry reaches a fever pitch in summer when the two cricket teams fight over an urn containing literal ashes (of cricket stumps). Cricket knowledge is not mandatory, good-natured patriotic banter, however, is.
Buckingham Palace State Rooms – Once the Royals have departed for their ultra-cool digs in Balmoral, they let us commoners have a peek into the Palace. No matter your thoughts on the royal family, it's a pretty cool experience.
Proms – celebrate the iconic British event that is the Proms, a series of classical concerts held throughout summer. They've been a thing since 1895, and only seem to grow in popularity every year.
British Summer Time at Hyde Park – We all know summer = music festivals, and there are a few great ones in the capital. British Summer Time is held over two weekends in summer, and attracts some big names like Florence and the Machine.
Field Day / Lovebox / All Points East – For more chances to experience some fab live music in London, check enduring favourites Field Day and Lovebox. A newer addition to the calendar is All Points East, organised by the same team as Coachella.
Notting Hill Carnival – one of the best events in London sees Notting Hill explode with bright costumes, loud music and an overall joyous atmosphere. This is the fabulous Notting Hill Carnival, and it's a banger.
Pros to Travelling to London in Summer
Let's be honest, it will probably still rain. But it will rain less than it would have at any other time of the year. And it's warm.
There are plenty of great events and festivals on during the summer months.
The days are l-o-o-o-ong giving you 15+ hours of daylight to explore.
Cons to Travelling to London in Summer
Crowds. Crowds everywhere.
Don't be fooled by London's relatively low average temperatures – it's the humidity that gets you. The height of summer in London can be pretty sticky and uncomfortable.
Autumn / Fall in London
September and October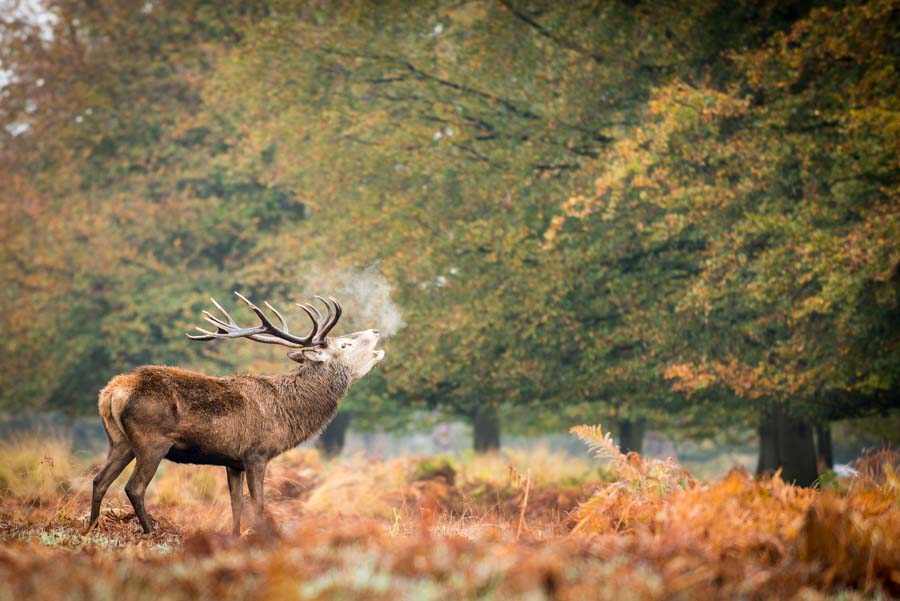 An underappreciated time to visit London is during autumn or fall. The weather can start to get chilly this time of year, but it's nothing a good coat and a positive attitude can't fix. Plus, things aren't quite as frosty as winter.
Plus, while London in autumn is far from deserted, the crowds have thinned a little – meaning more time to really explore the city.
Key Events and Things to Do in London in Fall
London Design Festival – London has long been at the forefront of art and design, so the city's design festival is pretty epic. If you have any interest in art, fashion or pop culture, this is a great event to explore.
Totally Thames – Celebrate London's most iconic river with a month-long festival. There is food, live music, art exhibitions, and general London pride in buckets.
Museums at Night – during autumn/fall, many of London's most iconic museums run fabulous late night events. From lectures to cocktail parties, there is plenty to give involved with.
Pros to Travelling to London in Fall
In early fall, temperatures remain moderate and the days are pretty long. This makes it a great time to visit London and see the attractions.
The crowds are thinner, meaning costs are down and you'll have more time to enjoy the attraction.
Cons to Travelling to London in Fall
The days start to get pretty short in fall/autumn, especially towards the end of the season.
Winter in London
November to February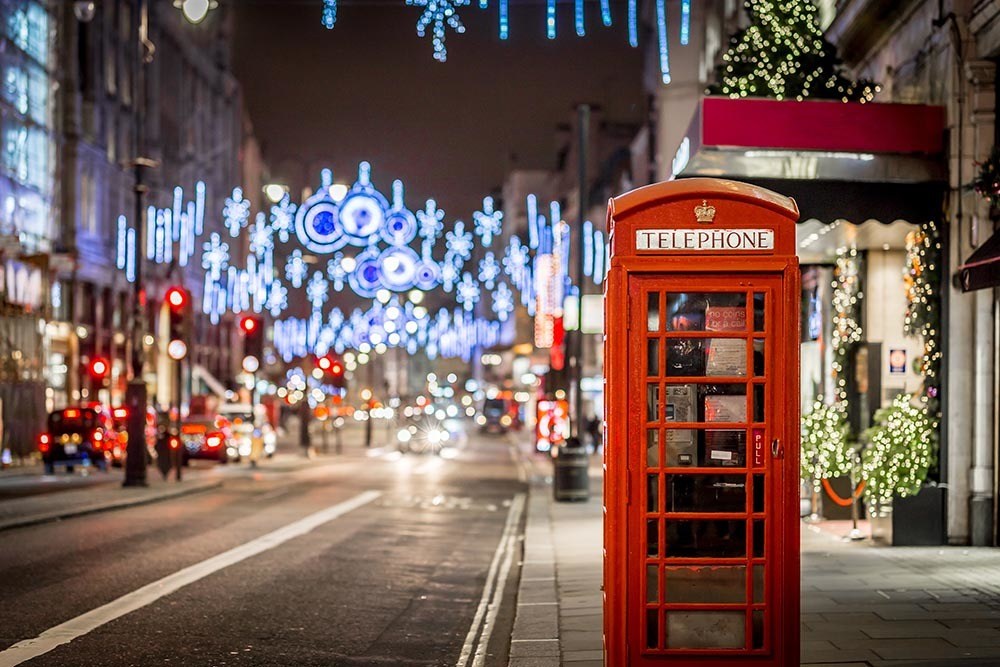 Winter sees the fewest tourists in London – apparently most people are scared off by a little (okay, a lot of) rain.
November to February sees things get pretty chilly in London, with average maximum temperatures around 9°C. Things get particularly frosty in January, where the average is 5°C. Brrr.
That said, it's nothing a woolly scarf and jacket can't fix, and an umbrella will keep the rain at bay. Plus, Christmas manages to keep the capital's spirits high.
Key Events and Things to Do in London in Winter
Bonfire Night – one of Britain's most unique and beloved events is Bonfire Night, which celebrates Guy Fawkes' foiled plot to blow up the Parliament. Fireworks, fire and general festivities abound.
Christmas Lights – I don't care how old you are, who doesn't get a thrill out of seeing the Christmas lights go up? The ones in London are amongst the best in the world (fact) and sure to get you feeling festive.
Winter Wonderland – If the Christmas lights don't do it, Winter Wonderland is sure to help your festive spirit reach new peaks. Held in Hyde Park, it's an extravaganza of food stalls, fun fair rides, and more.
Christmas Markets – I love shopping at Christmas markets – you can pick up some great, unique items for your loved ones and it's a lot of fun. London really delivers with the Christmas markets, with several held all over the capital. Read my guide to Christmas in London.
January Sales – London is pretty much paradise if you love to shop. From quirky up-and-coming designers to the world's best brands, it's all here. And it's all here ON SALE during January. Win.
Pros to Travelling to London in Winter
The crowds are way thinner in London, meaning queuing and exorbitant peak pricing is kept to a minimum. You'll have more time to really enjoy the attractions you visit in London in winter.
I personally love the capital's moody winter looks. Yep, London is grey and drizzly – and that's the city I know and love. You'll get to see London like a local.
Cons to Travelling to London in Winter
The daylight hours in winter are really short, so if you want to see London's attractions in the light you'll need to squeeze a lot in to a few hours.
It's cold, wet, windy and grey for a lot of the year. I think that London has plenty of charm when the weather is dreary, but you'll want to pack accordingly (brollies are non-negotiable).
When to Travel to London: Practical Tips
At the risk of sounding like a broken record, bring a brolly. Yes, even in summer.
If you're travelling to London for one of the bigger events (like Notting Hill Carnival or Wimbledon), then make sure you book your accommodation way ahead as it does fill up quickly.
If you are travelling in summer, then I suggest trying to buy as many tickets ahead of time as possible. While us Brits do love a good queue, you don't want to give up too much of your London sightseeing time to standing in line. Plus, it can save you money.
Travelling to London: Read Next
Love this? Save and Share on Pinterest