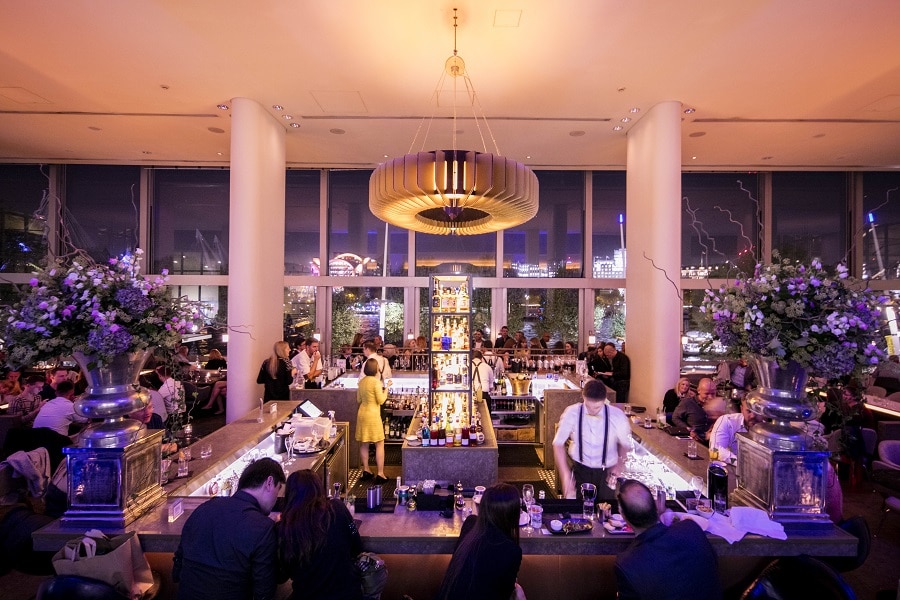 Don't even think of booking until you check out this insider's guide to the best Southbank restaurants.
One of the trendiest parts of central London, the South Bank is a real hub of artistic and cultural activity. Little wonder that this creativity is also funnelled into a string of vibrant and exciting restaurants dotted across the neighbourhood.
Whether you're all about swish and swanky establishments with a price tag to match, or prefer a greasy burger joint that is devoid of any glamour I guarantee there is something for you to enjoy on the South Bank.
Best Restaurants in South Bank
Skylon
Looking for a luxury dining experience on the South Bank? Skylon should be top of the list.
Its unusual name derives from the original iconic structure that was constructed for the 1951 Festival of Britain, and it very much keeps this historic feel alive.
Renowned for that killer Skylon Martini, unbeatable panoramic views of the Thames and its expansive menu of classic British dishes, there's a lot to love at Skylon. Dishes sit firmly on the British classics side of things – both the lamb rump and poached Cornish pollock make their presence known on the menu.
Limin
If it's good vibes you're after, Limin is the spot you want to hit on the Southbank. This Caribbean restaurant does some solid food backed to a soundtrack of classics. It then tops it all off with a beach of its own where you can sink your toes into some sand as you knock back rum punches in the sun.
Most of the food hits the spot but you want to make sure you've got some of the house jerk chicken in front of you, and probably a plate of their mac 'n' cheese too. Oh yeah and the crab and lobster dumplings – you can't forget those. Do we need to reiterate the necessity of a glass of rum punch? Probably not.
Gillray's Steakhouse & Bar
Is there anything truly better than a big, juicy, succulent steak? The folk behind Gillray's Steakhouse & Bar think not.
Gillray's is one of the most fantastic restaurants on the South Bank, and they have absolutely mastered the skills it takes to produce the best steak possible to suit each customer's tastes.
Using locally sourced ingredients and seasonal produce at its best, Gillray's kitchen is operated by Executive Chef, Jamie Welch, who has over two decades worth of experience, and has won a string of different awards.
Gillray's offer three prime cuts: Fillet Steak, a soft textured delight, prime rib, which comes from the 'primal' rib and is ever so slightly fatty, and the skirt steak, which is long, thin, and brimming with flavour.
OXO Tower Brasserie and Restaurant
Towering 200ft above the ground, the iconic OXO Tower on London's South Bank is an unmissable spot on the South Bank's restaurant scene and one of the best restaurants with a view in the city.
As the name suggests, there's the Brasserie, and there's the Restaurant, though both offer sweeping views of the city.
The OXO Tower Brasserie is fairly casual, with a spectacular contemporary menu featuring local and seasonal produce from Head Chef Keir Barry.
The OXO Tower Restaurant, on the other hand, is a little bit posher. Championing seasonal British produce alongside a dazzling wine list, hand-picked by Head Sommelier Diego Muntoni, this is one for when you really want to push the boat out.
Sea Containers at Mondrian London
Led by the innovative Tom Dixon, Sea Containers at Mondrian is a cool and contemporary South Bank restaurant that is heavily influenced by the vibrancy of Mediterranean cuisine.
With dishes led by which ingredients are available and what's in season, Sea Containers feels incredibly fresh, both in terms of its cuisine, and the light and airy interiors.
They've also teamed up with champagne house Laurent-Perrier to open up the restaurant's terrace during the summer months. A delicious seasonal menu alongside unparalleled views of the Southbank and quaffable champagne? What more could you want.
Swan Bar & Restaurant at Shakespeare's Globe
Calling all literature lovers – if exploring Shakespeare's iconic Globe Theatre wasn't enough, you can actually have a full-blown meal in it.
Founded by Diccon Wright, The Swan is a proud partner of the famous theatre, and is hugely passionate about delivering customers with a unique and memorable experience, alongside some gorgeous British cuisine.
The menu is simple but done well – with classics like the pan-fried cod and the chicken, leek and mushroom pie well deserving of your attention.
Even better, all of the revenue from the restaurant goes directly to Shakespeare's Globe Trust, which is a charitable organisation that strives to further the understanding of Shakespeare.
House Restaurant at the National Theatre
Set inside the iconic National Theatre House Restaurant is an under-championed gem of a restaurant on the South Bank.
The menu at House Restaurant takes classic dishes, and adds a real contemporary and innovative twist. For instance, rather than just having a plain old roasted cod, the creative chefs smother it in goat's cheese, cauliflower puree, and a spectacular squid and squash sauce… and it works.
Brasserie Blanc
We've got the culinary stalwart Raymond Blanc to thank for the Brasserie Blanc chain and thank him we do.
Brasserie Blanc is all about typical French food with a few deft touches inspired by Blanc's travels around the world. Obsessed with the provenance of his ingredients, Blanc brings his years of gastronomic prowess to the table to craft an irresistible menu.
Gunpowder
Nestled beside the iconic Tower Bridge, Gunpowder is a fabulous Indian restaurant on the South Bank that focuses primarily on home-style sharing plates.
The Head Chef here, Nirmal Save, is super innovative, and is always looking for ways to push culinary boundaries and bring a new flair to the table.
If you're heading here on a date or with a friend, I'd highly recommend indulging in the 'Feast Menu', which is a set menu for two people, and you can sample a range of delicious sweet and savoury treats such as Gunpowder aloo chaat, Sigree grilled mustard broccoli, and Old Monk rum pudding.
Sticky Mango
A short stroll away from Waterloo Station, Sticky Mango is one of the most charming restaurants on the South Bank.
Offering some of the finest and most contemporary South East Asian cuisine out there, Sticky Mango not only has a brilliant name, but has won a string of prestigious awards, including Best Fusion at the 2019 Golden Chopstick Awards.
The menu at Sticky Mango is primarily designed for sharing amongst friends, families, or even work colleagues over a business lunch. This results in a wonderful atmosphere, that is loud, vibrant and oh so enchanting.
The Ivy
Though The Ivy is a chain, it actually pulls off the authentic Parisian-style brasserie thing pretty damned well. The gorgeous views of the Thames and Tower Bridge at their South Bank outpost don't exactly hurt either.
Offering an all-day menu, from breakfast to dinner, light snacks, afternoon tea, as well as a pre-theatre menu, The Ivy is a good option at any time of day.
Top pick? The quinoa and watermelon salad – it sounds strange, but it works so well. If you're in the mood for something a little heavier, you can't go wrong with the roasted lamb rump. It's heavenly.

The Coal Shed
Steak and seafood – ah that good old-fashioned combo.
Stroll into The Coal Shed any evening (who am I kidding, you have to reserve of course) and prepare to be blown away by their punchy menu which is big, big, big on flavour.
If you're in the mood for a good old meat feast, The Coal Shed serves up some cracking steaks and other meat dishes straight from the grill. One of the best is the Smoked Lamb Shank, which comes alongside Puy lentils and green sauce.
If you're more of a chicken fan, you really can't go wrong with the Herb Fed Soanes Chicken, which is super succulent, and comes drizzled with juices from the pan. Delicious.
Honest Burgers
Ever wish you could eat a burger for every meal, every single day? Probably not. Still, we Brits do love a burger and we love an Honest Burger even more.
Honest Burger's South Bank outpost is another brilliant burger joint from the fast-expanding chain. They serve some of the most inventive burgers in the city, and the setting is super chill and trendy as well.
Championing the best of British produce, Honest Burgers are all about being homegrown and homemade. It's a simple formula, but they do it well.
For a real treat, opt for the California Burger, which is mustard-fried beef, topped with bacon, American cheese, burger sauce and all the standard trimmings. It is enormous, greasy, impossible to cram a bite in your mouth without dropping any, but absolutely divine.
Camino
Craving Spanish tapas in a fabulous setting? Look no further than Camino, nestled in the heart of London's South Bank.
The story goes that the founders were driving across Spain in the summer of 1984, and were struck by the beauty of the food and culture, and knew that they had to recreate this same feel back home in London.
There are so many brilliant dishes to choose from, but I would urge you to give the 'Presa Iberica' a try. It's the restaurant's signature shoulder of Iberico pig, that is cooked medium rare, and dished up with roasted sweet potato puree and gremolata
Wahaca
Celebrating the electrifying spirit of Mexico, Wahaca brings a slice of this brilliant cuisine to the South Bank.
The interior is fun, bold and vibrant, and makes for the perfect place to meet with friends on a Friday evening, and get stuck into some scrumptious nosh.
With bright, colourful and authentic dishes, there really is so much to choose from. Some of the best street food options at Wahaca are the Mushroom & Cheese Tacos, the Sweet Potato & Feta Taquito, and last but not least, the Chorizo Quesadilla.
Troia Southbank Charcoal Kebab Kitchen
Ever found yourself in the mood for a slightly more upmarket kebab than the one you might end up chomping down on a Friday night after a few too many tipples?
Troia Southbank Charcoal Kebab Kitchen offers gorgeous Turkish cuisine in the heart of London's South Bank district, for incredibly reasonable prices.
There are tonnes of vegetarian and vegan options, such as grilled halloumi, falafel, and mixed meze, as well as loads of dishes for meat and fish fanatics. I would really recommend giving the sautéed prawns a try, they are stir-fried with garlic and spring onions and are to die for.
In Horto
In Horto translates from Latin as: in the garden – a suitable name for a restaurant so rustic. Cooking here is done almost exclusively with wood-fired techniques giving the already very rustic fare of meats and seasonal vegetables a very outdoorsy vibe.
That's also suitable as In Horto boasts a large patio space under semi-cover where you can dine on all this al fresco. That food takes inspiration from various styles of mediterranean cooking which makes eating outdoors feel something like making an hour-long trip to the continent.
Expect to be sharing all these delicacies from serving skillets and leaving a few belt sizes larger.
Burger and Beyond
Talking of leaving a few belt sizes larger, another Southbank restaurant you need to have on your radar is Burger and Beyond. These guys first began life as a food truck in essex and went on to open a handful of brick-and-mortar locations around London.
We love them. As do many londoners. They dry age much of the beef that goes into their burgers and serve them up with sauces as decadent as marrownaise, blend of mayonnaise and bone marrow.
To top it all off you'll need a portion of pimped out tater tots – perhaps with truffle? – and a spiked ice tea. You won't regret it.
Bala Baya
Bala Baya has something of a cult following in London. It's partly to do with Chef Eran Tibi, the charismatic head of the operation and partly to do with the food he creates.
That food? Middle Eastern. More specifically Israeli. Tibi hails from Tel Aviv which is where he picked up the tools of his trade, in part watching his mother cook.
The food at Bala Baya has much of that hominess to it, in spite of being served up in highly 'grammable style. At risk of sounding very cheesy: You can sort of taste the homely love Tibi puts into his cooking.
Le Pont de la Tour
If you're looking to impress at a restaurant on the Southbank, you can't do much better than Le Pont de la Tour. This French-style brasserie is full of swagger. Beautifully plated portions of grilled meat and fish will be your feed for the night, and they will not disappoint.
The real piece de resistance though, is the view. You'll be treated to full sweeping views of the river from as near as you can get to the waterfront, peeling off on the far side: Tower Bridge, all lit up and twinkling as the waiter pops you a cork on a bottle of champagne .
Anchor & Hope
Founded by an ex-St. John chef, Anchor and Hope takes the famed Farringdon restaurant's nose-to-tail concept and runs with it. Expect to eat some funny cuts of meat, or meats you might not regularly see on a menu, but be prepared to love it.
The location makes a meal here convenient for anyone on the way to a show at either the Young or Old Vic. But if you fit that description, know that you can't book tables here. Instead you have to jump in the queue.
It may not be ideal if you've got to be at the theatre for curtains up, but we're sure you won't regret trying the food here – it might even steal the show.
Where to Eat in South Bank: Other Top Picks
Not in the mood for a restaurant? No fear – there are plenty of places to eat on the Southbank away from the restaurant scene. Don't miss these ones.
South Bank Centre Food Market
Long holding a reputation as one of the best street food markets in London, the South Bank Centre Food Market is, quite frankly, a gastronome's delight.
Let's cut to the chase. There is an enormous selection of international street food on offer here. You won't be able to sample even a fraction of it in one visit, so don't try. The line-up changes frequently but some classic faves are the duck confit from The Frenchie and the Korean BBQ burritos and rice bowls at Korrito.
Lantana
It's a short hop from the South Bank past London Bridge but Lantana is one of the best cafes in the area. For a colourful, scrumptious and informal all-day dining experience, I would really recommend checking out Lantana.
This well-known Aussie joint is a hotspot for keen Instagrammers, as the dishes served up here are truly photogenic. We're talking cute little portion sizes, lots of colourful ingredients and adorable presentation.
'Lantana' is an iconic Australian plant that was transported to the country by South American immigrants, and it has become a metaphor for the café, as they flourish upon foreign soil.
Queen Elizabeth Roof Garden Bar and Café
This award-winning rooftop garden truly feels like a haven away from the hustle and bustle of central London.
Free to visit, Queen Elizabeth Roof Garden Bar and Café is filled with wildflowers and fruit trees, and offers unbeatable views across the city.
Serving up light bites like sandwiches and salads, this is a brilliant spot for a lunch on London's South Bank
Best Places to Eat in South Bank: Practical Tips and Map
We would definitely recommend avoiding the chain restaurants on London's South Bank. There are so many generic spots offering bland and boring food that leaves you with a mild sense of disappointment. Instead, we would definitely opt for visiting one of the many independent or unique, concept restaurants, for a much more authentic and memorable experience.
If you are planning on visiting some of the more upmarket restaurants make sure to check whether there is a dress code or not, in order to avoid any disappointment.
In addition, be sure to book, as many of these restaurants will require a reservation. You can often book via the restaurant's website, or by just giving them a quick call.
Looking for More South Bank Guides?