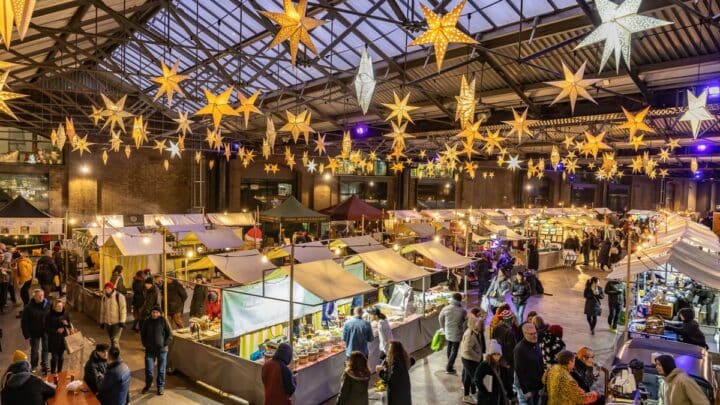 Looking for the best Christmas Markets in London? Don't miss these fabulously festive affairs – guaranteed to get you into the Christmas spirit.
Red alert. It's that time of the year folks. You know, when we crack out the mulled wine, tuck into the mince pies and start our transformation into our very best festive selves.
Visiting a good Christmas market is an integral part of this process. Luckily London just so happens to be packed with options for you to choose from – and this year the markets are back and better than ever.
We've been very quick to get into all the Christmassy feels this year (we might have already scoffed a pack of mince pies). The result? We're totally festive AF now. Yo ho ho ho!
Time for you to do the same? Here are the best Christmas markets in London for your festive calendar.
The Best Christmas Markets in London
Pexmas
2nd + 3rd December
Big up to the south London Christmas crew who will be sprinkling the Christmas vibes around like confetti at Pexmas, Copeland Park's Christmas market in Peckham.
They lay down a delightful weekend affair with stands selling all sorts of artisan trinkets made by people in the community.
Of course, no Christmas market would be complete without a spread of delicious grub and some warming drinks so they've got those too.
Not feeling like leaving the house in the December cold? Shop online from the comfort of your sofa and have the market come to you.
Unfortunately that option doesn't extend to the glühwein.
Borough Market
Open daily until 24th December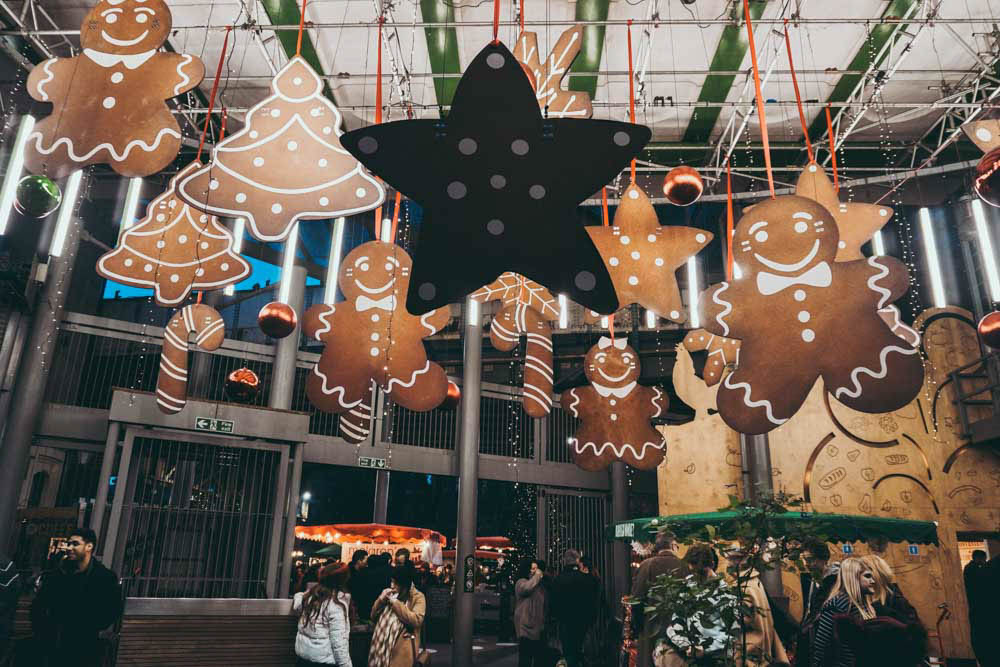 Sure, Borough Market is a year-round affair but they totally ramp up the pace at Christmas. The already beautiful setting of the market is decked out with Christmas lights and decorations – it's just gorgeous.
Food is the name of the game here (well, food and drink – even better), so we advise that you go with a hungry stomach, ready to fill it with delicious treats (and if you're anything like us, cup after cup of mulled wine to boot).
In charge of the festive table this year? The market is the perfect place to stock up on high-quality ingredients for your Christmas feast too.
Trafalgar Square Christmas Market
Still TBA, but usually late November – January
Another Central London tourist trap, but if you want your market to be both merry and major, this is perhaps the one for you.
They've got all the trappings when it comes to food, drink and little gifty trinkets, as well as prime views of the Trafalgar Square Christmas tree – the only object in the area that would ever try and be as tall as Nelson's Column. It hasn't managed yet.
That's also the tree that gets donated annually from Norway in a festive tradition that stretches right back to 1947.
Greenwich Christmas Market
Open daily until 25th December
Another year-round market that takes a decidedly festive turn in December, Greenwich Christmas Market turns the world heritage neighbourhood of Greenwich listed building into a Christmas treasure trove.
With more than 150 stalls touting pretty much every kind of Christmas gift imaginable it's the perfect place to pick up a few stocking fillers or that extra-special gift or two.
Want to avoid the weekend crowds? The Wednesday night lates are a much more laid-back and peaceful affair.
Winter by the River, London Bridge
14th November 2023 – 1st January 2023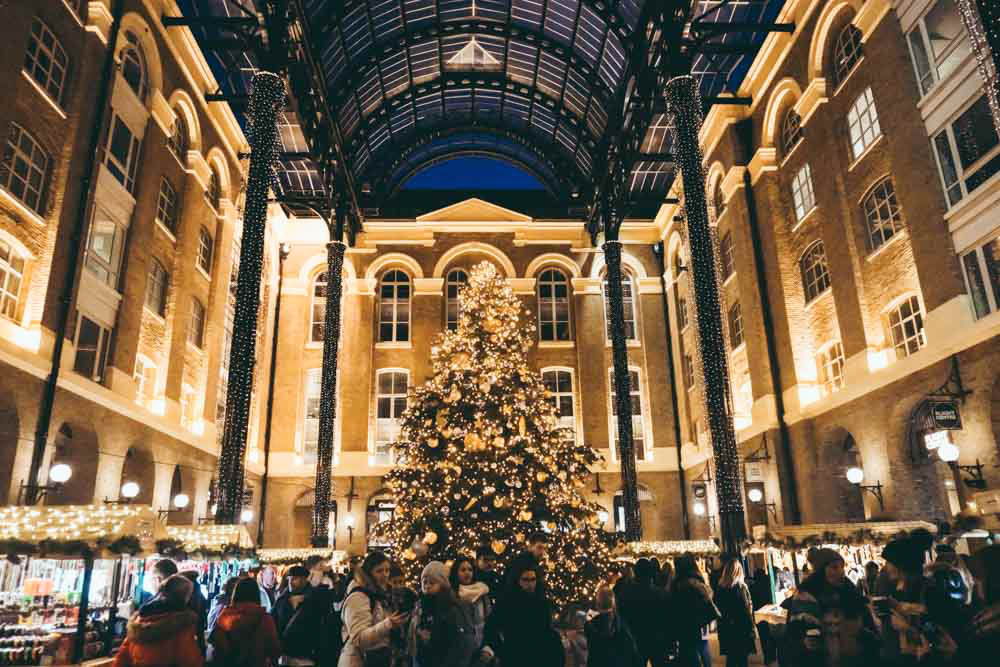 The twinkling fairy lights, wooden cabins and general feeling of festive cheer draw punters to London's fabulous Christmas by the River.
This is hands down one of the best Christmas markets in London when it comes to location – nestled near Tower Bridge, the Gherkin and with a view of the Tower of London, it's the perfect London backdrop to glug down the gluhwein and get into the festive season groove.
Pssst… You might also want to head to Hays Galleria nearby. Another ultra-dreamy market awaits.
Fulham Palace Christmas Fair
2nd + 3rd December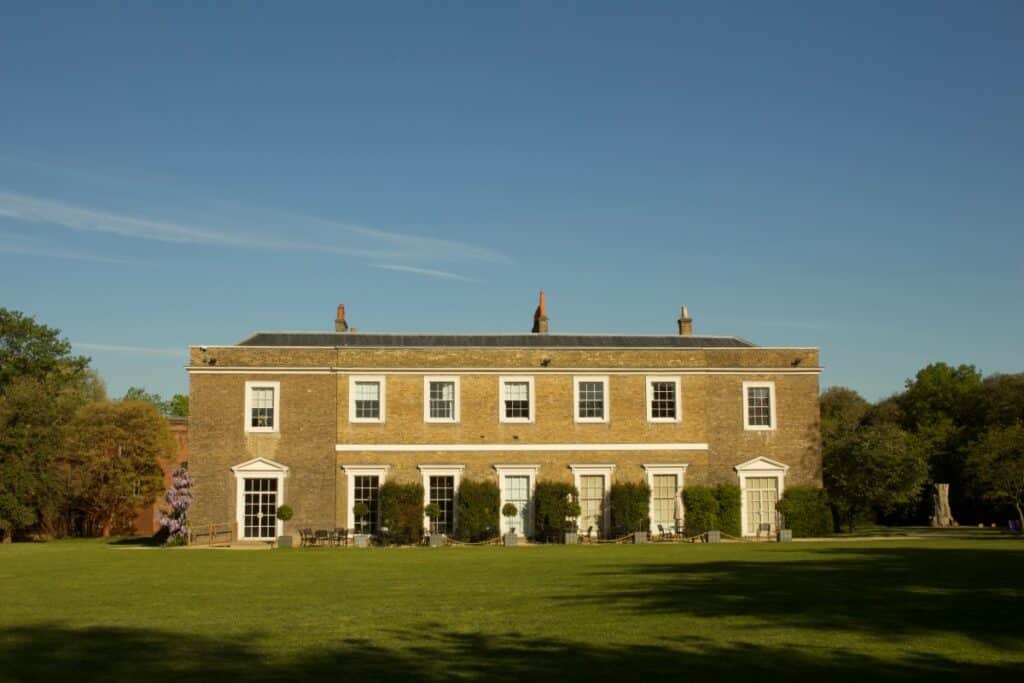 This Christmas market is a bit of a flash in the pan, but definitely worth hitting. They'll be squeezing a bit of everything into the short space of time with food, drinks and gift ideas.
What's different then? Well, they only get the carol singers in too. And some fair-ground rides. Oh yeah, and a bunch of stuff for the kids like festive storytelling and face painting.
Plus there's the fact that it's set in the grounds of a gorgeous inner-city palace with 1,300 years of history. Can't argue with that.
For more information and tickets, head to their website, here
Christmas Under the Canopy at King's Cross
Throughout November and December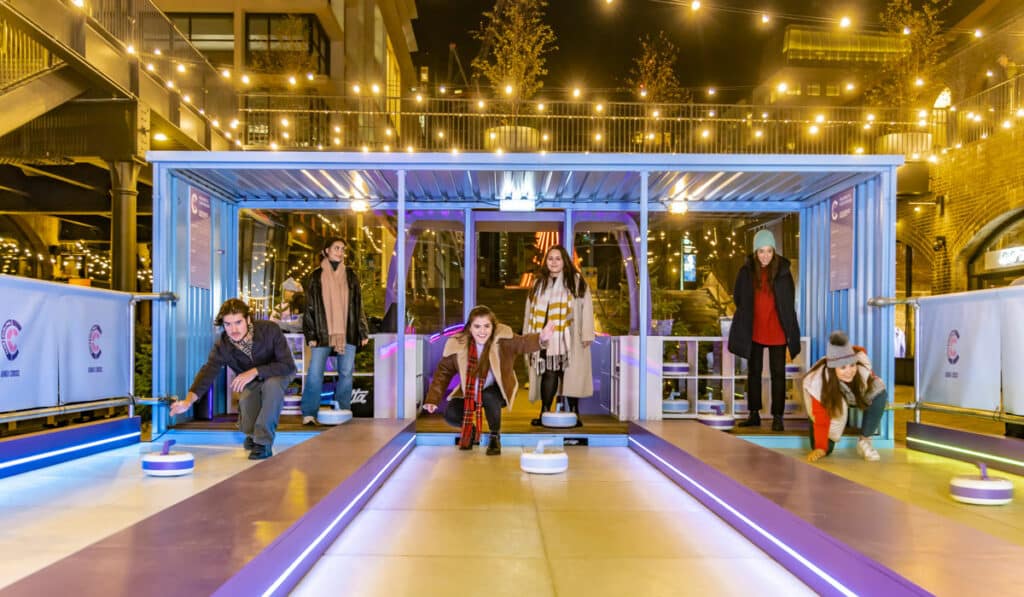 The Christmas Canopy Market only runs throughout November and December. If you're looking for a spot to mooch around, browsing items made by some of London's best independent designers and makers – this is your jam.
From specialty handmade chocolate bars to vinyl LPs, handmade jewellery and cool art: it's a collection of some of the funkiest Christmas gifts you will find in the capital.
This year, each weekend sees a different theme taking over the market, from vegan weekend to a Mexican fiesta. Deck the halls!
Hackney Christmas Market
Dates TBA
Bring lots of empty bags to stock up on the goodies at Hackney's stellar Bohemia Place Market.
It's a real all-rounder, with street food (including some brilliant vegan options), Christmas decorations, cool gifts and (just as importantly) lashings of mulled wine and festive cocktails. Wrap up warm and get festive.
They've not announced the dates for 2023
Covent Garden
Until the 25th December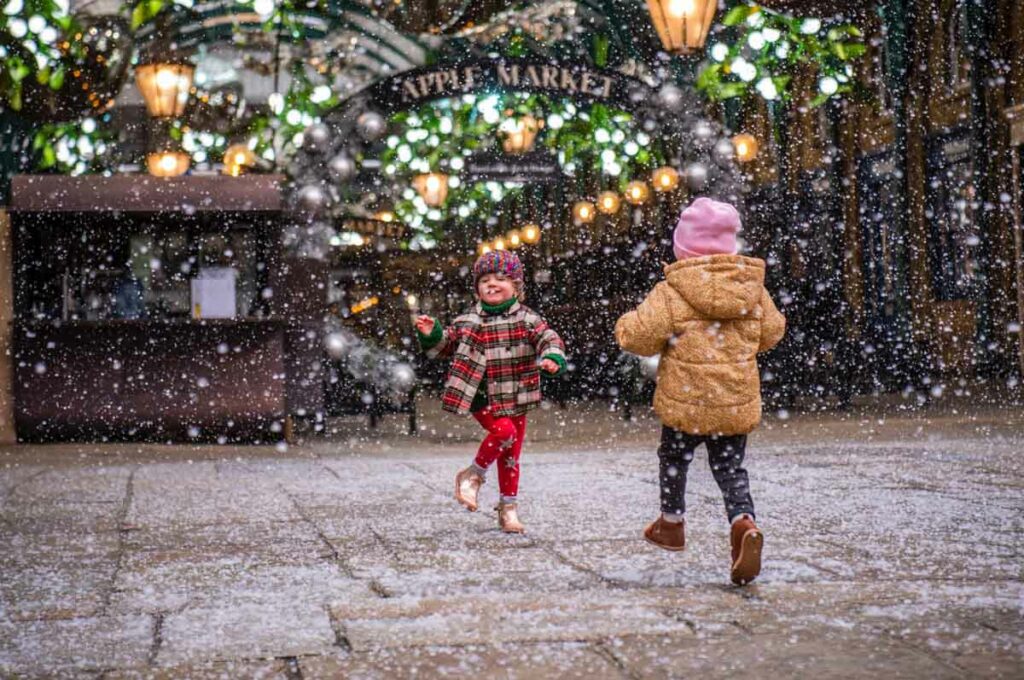 Covent Garden really ramps things up in the run-up to the big day. There'll be pop-up stands, lights, trees and all the usual goodies.
Their Winter Warmer Festival is also a lovely way to kick the festive period off. It runs from the 7th – 26th November and sees businesses in the area offering mulled wine and takes on other classic winter warming drinks.
They'll have all the traditional mulled stuff, plus creative twists on hot wines including mulled rosé, spiced punch, hot apple cider, sake and mocktails. Count us in.
Finnish Church Christmas Market
24th November – 11th December
What could be more festive than a Christmas Market in the theme of the nation that Santa calls home?
The folks at the Finnish Church probably know they've got a good thing going with their market. The food here leans in the direction of the Church's country. Expect plenty of spelt breads, smoked salmon and cinnamon buns alongside the usual classics.
The gifts section include beautiful hand-crafted Finnish toys and artisan goods that have found their way under our Christmas trees on more than one occasion.
All of the above, in our minds, makes this one of the best Christmas markets in London.
Southbank Centre Winter Festival
Until 7th January
Nothing says Christmas quite like taking a stroll along the Southbank and admiring Christmas lights, right?
You're not short of beautiful walks in London, but when the lights go up and the air turns icy, this spot becomes a winter utopia – and you won't have to spend your time elbowing your way through tourists.
Southbank Centre's highly anticipated Winter Festival returns in 2023 with a bang – complete with rustic food and drink stalls, magical performances, and an outdoor winter light show (our fav!).
If you fancy splurging, head to Jimmy's Lodge for a meal in a cosy snowglobe overlooking the water – or just scoff street food as you peruse. Either way, you're golden.
Winter Wonderland
17th November – 1st January
Winter Wonderland is a guilty pleasure – food prices are pretty high and the market is usually packed (pre-rona), and yet, it's still so wonderful. When it comes to London Christmas markets, it truly doesn't feel like Christmas without at least one trip here each year.
Things are a little different this year and you'll need to book a £5 slot to enter, but given that it's easily one of the most magical places in London at Christmas, we think it's well worth it.
If you're looking for tasty food, mulled wine to boot, market stalls, and even a ride or three, Winter Wonderland has got it all.
If you want an ultimate treat, book yourself a slot at the ice bar and sip cocktails inside a 70s-themed mini ice palace.
Read More: Everything You Need to Know About Hyde Park's Magical Winter Wonderland
Paternoster Square
Dates TBA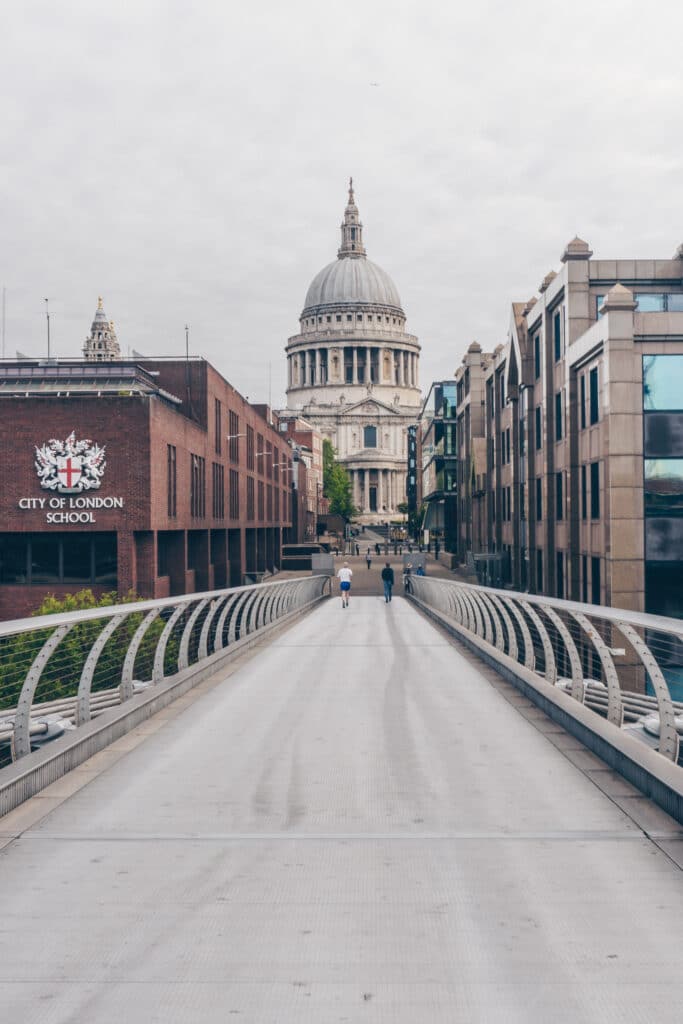 It may be on the smaller side, but Paternoster Square's Christmas market is mighty AF.
Set against the backdrop of the iconic St Pauls, expect tasty street food, plenty of warm bevvies, and views for days. This is a classic and cosy winter market not to be missed.
Kingston Christmas Market
16th November – 31st December
Hauling yourself around Central London doesn't sound too appealing? Head to Kingston Christmas Market and prepare to be transported straight to the heart of Bavaria with its traditional wooden chalet offering.
From hefty bratwurst and hog roast to Glühwein, come hungry – and thirsty – and prepare to chomp your way around the market.
You'll also be able to head to the Pyramid Stage (who needs Glastonbury?) for plenty of live music throughout the week.
Festive Flea at Vinegar Yard
Dates and times tbc
Another year-round market that gets a delightfully festive makeover in December.
Flea at Vinegar Yard is ridiculously popular with locals as it's filled with vintage treasures and curated items – FYI it's a great place to pick up some unique gifts.
Add to this takeaway mulled wine and sparkling lights and you've got yourself one of London's best Christmas markets sans repetitive stalls and ridiculous prices.
Christmas Independent Ceramics Market
10th December
If you fancy something a bit different for a market you could hit this little affair at Rich Mix, Shoreditch.
They've got over a hundred sellers flogging beautiful ceramic wares. The vendors vary from amateurs and small-business types to well-established ceramicists.
No doubt this bonanza will be filled to the brim with very personalised gift ideas. They've also got the usual array of winter-warmer food and drink. We're expecting it to be served in the most stylish of hand-made dishes and cups. Only one way to find out.
Leicester Square
8th November – 7th January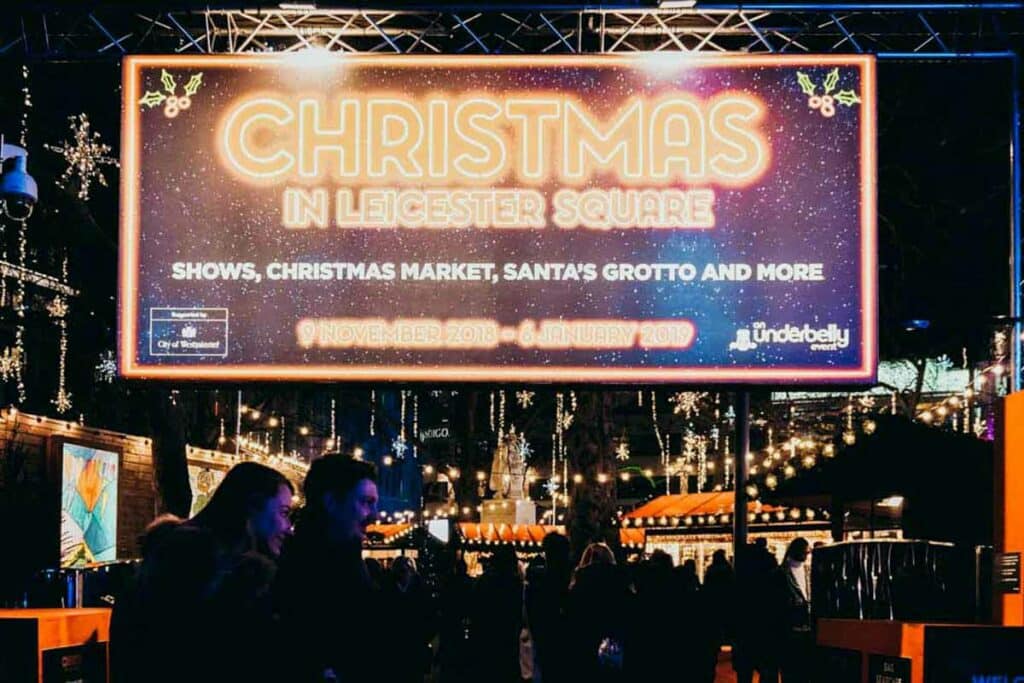 A word of warning: Visiting the Christmas market in Leicester Square is not for the faint-hearted.
That said, there's nothing quite like elbowing your way through a-bit-too-merry tourists and dodging last-minute shoppers during the festive season. It really is one of the best Christmas markets London has to offer.
You've got the usual lineup of winter chalets serving up tasty snacks and gifts, as well as the iconic Spiegeltent, where you'll be able to catch La Clique, an ultra-fun circus/cabaret bonanza that truly delights.
This London Christmas market is also surrounded by plenty of shops, so if you just so happen to need to pick up a last-minute gift yourself, you can do so before you head home.
Hampton Court Palace Festive Fayre
1st -3rd + 8th – 10th December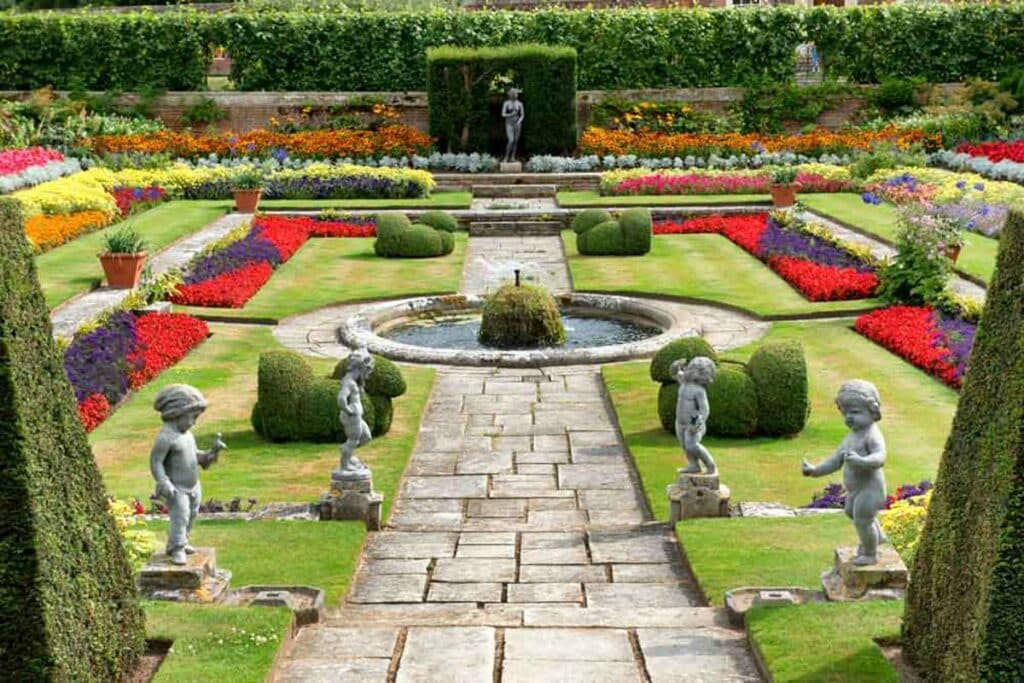 One of London's most iconic palaces holds a festive market that you'll want on your radar. Not only that but they also pull out all the stops in creating a winter wonderland that is as magical as it is bountiful. We're talking, of course, about Hampton Court Palace's Festive Fayre.
It's a feast of things to eat that's spread over two weekends in December. We always do our best to make it down and expand out beltlines by a few notches. You'll find an eclectic array of food coming from all around the world, plus all the classics you'd expect from a self-respecting Christmas fair: bratwurst and mulled wine in abundance.
The feasting takes on an even more special shade when you realise that Hampton Court Palace was once the home of Henry VIII – the fattest king of England.
Christmas at Kew
15th November – 7th January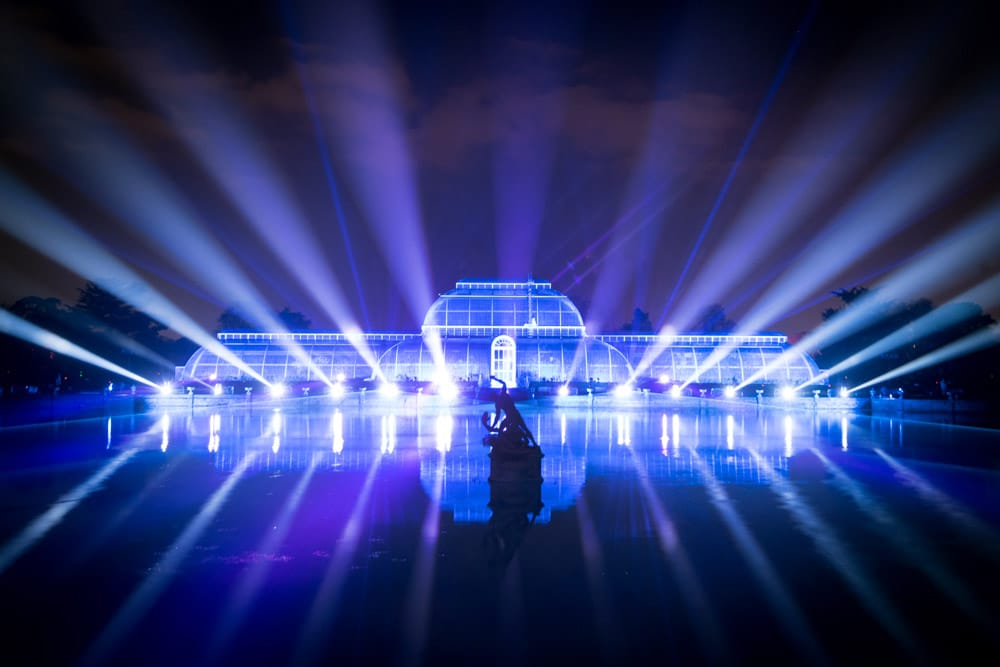 Another iconic London location to really pull out all the stops around Christmas time is Kew Gardens. They do a Christmas Market that's quite unlike anything else in London, and should absolutely be one for any eager marketgoer to consider.
Kew is already a pretty lovely place to walk around, but at this time of year they turn their stunning greenhouses into a winter trail, lighting up a pathway with an incredible display of Christmas lights. Their market is then built around this, so that while you wander the pathways of the botanical gardens, you'll stumble across christmas market stands.
You pick up your mulled wine at one, then wend your way on to another stand to pick up a bit of food, then another for some gifts, all under a gorgeous canopy of light.
More information can be found here
London Christmas Markets Map
Want to Read More Christmas in London Guides?