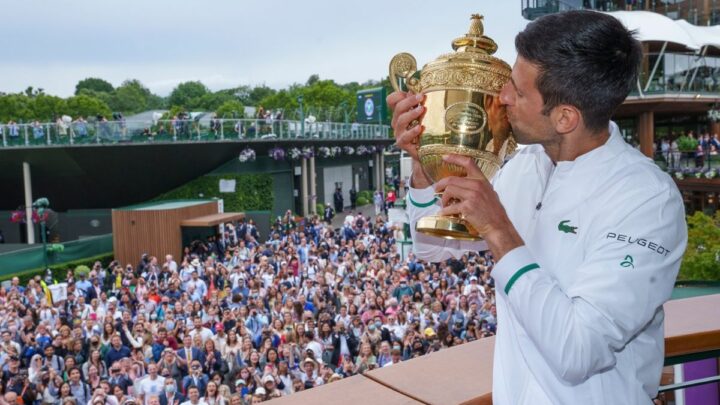 Wimbledon returns to Centre Court in June. Can't wait to watch tennis all day everyday for two weeks? Time to dive right in.
It's that time of year again when we all become tennis fanatics and argue over who the GOAT of tennis is (it's Federer by the way) and stuff our faces with sweet strawberries and cream – an age old British tradition that we welcome with open mouths.
Wimbledon has always been and will always be the most prestigious event in the British tennis calendar.
Here's everything you need to know about this year's event from players to where you can watch the action.
So, Wimbledon is Back… What's the Hot News?
There are a couple of big things going on at our favourite tennis championship in 2022.
This year's Wimbledon will make middle Sunday a permanent fixture of the event and it's the focal point for Wimbledon 2022's centenary celebrations (tennis arm cheers).
The All England Tennis Club is celebrating 135 stagings of Wimbledon and the centenary of Centre Court in its current home, now that's a lot of matches.
But do you remember pre-Centre Court roof days in rainy July, matches had to carry over to the next day? Let's just say that Centre Court has come a long way.
When's Wimbledon This Year?
Wimbledon runs for two weeks – from the 27th June to the 10th July. There's no better time to get your Wimbledon fix and cheer on your favourites in the singles, doubles and mixed matches.
Wimbledon 2022: Who To Watch
Women's Tennis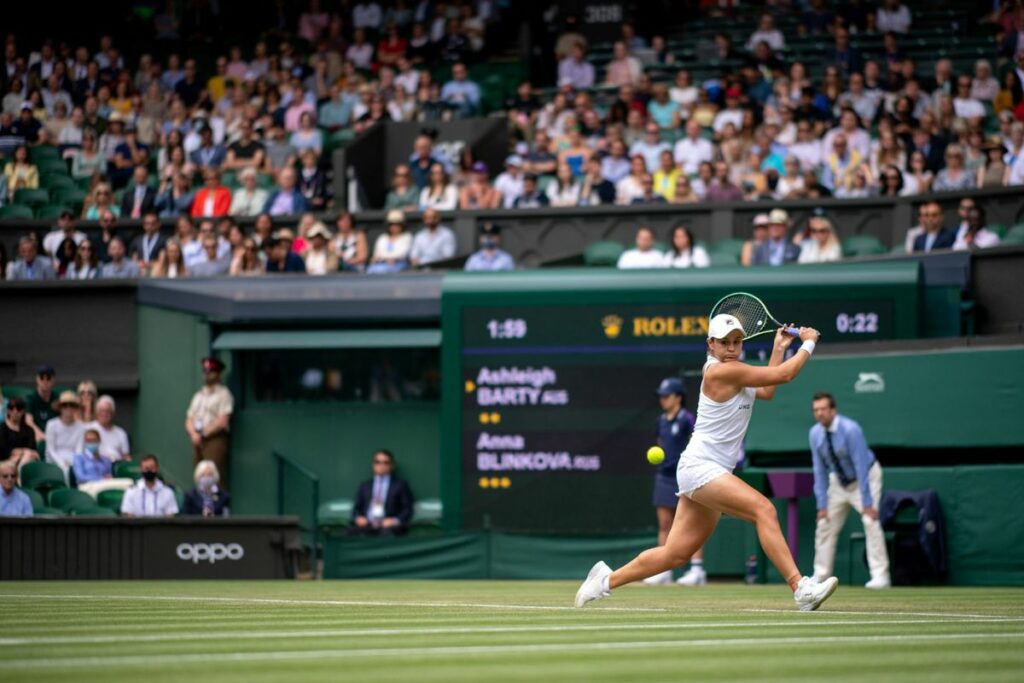 Long gone are the days that Serena and Venus Williams dominated women's tennis, but we can still reminisce about the good times (and look forward to more to come).
Ashleigh Barty retired last year, and twenty-year-old Iga Swiatek quickly filled her trainers as World Number 1. She won the French open in 2020 and if she plays her balls right Wimbledon 2022 title could be hers.
Nineteen-year-old British Emma Raducanu came crashing onto our scene as Wimbledon's wildcard in 2021 and then went onto win the US Open and was the first woman to do so without dropping a set in the final since Wiliams. In other words – she's the real deal and we're really excited to see what she will bring to the court this year.
Men's Tennis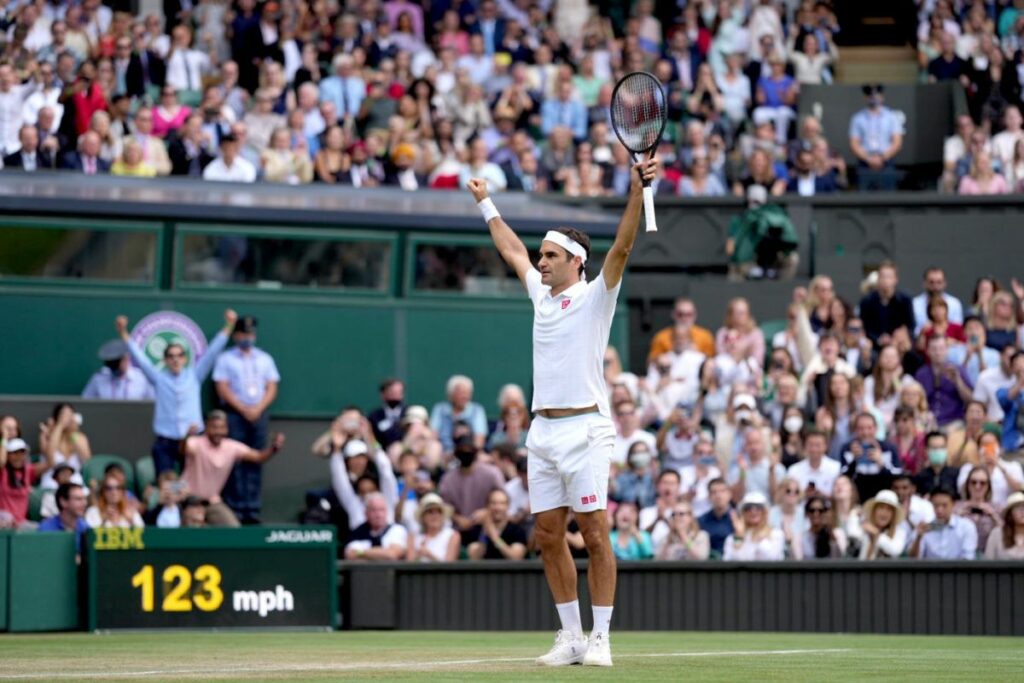 The men's singles court is starting to open up beyond the big four (Nadal, Djokovic, Federer, Murray). The likes of Danil Medevev, Dominic Theim, Alexander Zeverv and Stefanos Tsitsipas have been inching their way to the top in recent grand slam tournaments.
As much as we love the big four, the changing of the guard is like that pesky drop shot you just can't return – a thrill to watch.
With that being said, we're sure Djokovic isn't quite ready to give up his place as number 1 just yet and all bets are on that he will get to raise that glorious trophy on Centre Court this year.
Where Can You Get Tickets for Wimbledon?
This year ticketing for Wimbledon is a little different.
The tournament was cancelled in 2020, and there were no spectators for 2021's tournament, so ticket holders for 2020 will carry their tickets over to 2022.
But don't worry this doesn't mean there are no tickets. Luckily you can still buy resale tickets for on-day sales.
This means you'll have to be quite flexible and ready to go on that day without warning… we won't tell if you pull as sicky to watch Djokovic.
OK, You've Not Been So Lucky… Where Can You Watch Wimbledon Without Tickets?
Henman Hill/Murray Mound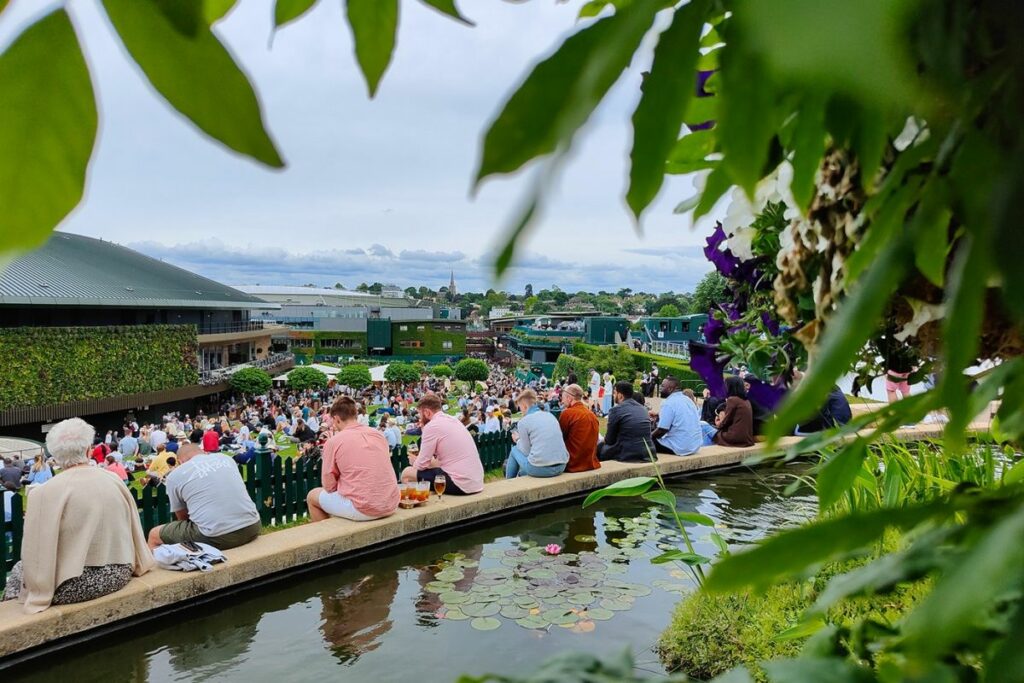 This is probably the most famous place to watch all the action on the courts and as close to Centre Court as you can get without tickets… so close you can hear the roar from the crowds inside.
The actual name for this iconic Wimbledon spot is Aorangi Terrace, later named Henman Hill. Some have also dubbed it Murray Mound after Andy Murray's triumphant win on Centre Court in 2013 against Novak Djokovic- no easy feat.
To secure your spot on the hill, it's £25 to enter the grounds up until the Tuesday of week 2, dropping to £20 and Men's final day is just £8.
Top tip: Also good to know, prices drop considerably after 5pm everyday at Wimbledon.
The Piazza's Big Screen
Ok, so you missed out on tickets and don't want to pay for admission to Murray Mound, but still want to watch Wimbledon in Wimbledon.
The Piazza is setting up its huge outdoor screen again complete with deckchairs- oh and did we mention it's free.
Canary Wharf's Summer Screens
Wimbledon matches are broadcast for free on a screen in Canary Wharf's Cabot Square as part of the Summer Screens series.
There are lots of bars and restaurants nearby to grab your favourite matchside snacks and drinks, or you could pack a picnic if you don't want to miss a point queueing.
Summer By The River
Summer by the River is back and this free festival is showing Wimbledon for free all tournament long.
The screenings will run from 12pm to 10pm on a large screen at The Scoop, the open-air amphitheatre by the Thames between London Bridge and Tower Bridge. It's set to be a totally British affair with riverside drinks.
St Katherine's Docks
Watch Wimbledon in style at St Katherine's floating pontoon, it's set to be a bumpy match. Everyone's invited to relax on deck chairs and watch Wimbeldon on the big screen.
You should pack a picnic for this one, there's no onsite refreshments and it's an alcohol free event.
Screenings are open daily during the tournament from midday to 6pm.
Read More Wimbledon Guides