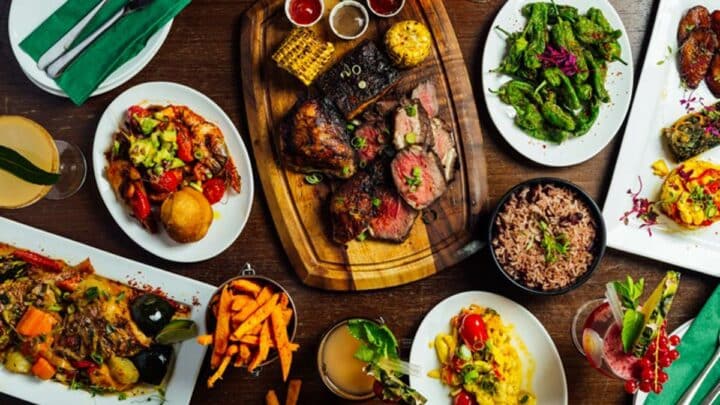 Looking for the best Caribbean restaurants in London? From bangin' Jamaican restaurants to stellar Bajan eats – and beyond – here's where you need to go.
There are plenty of Caribbean restaurants in London, but it takes some skill to find the really good ones – you know the ones that transport you into the sunshine with a single bite.
Whether you're looking for Caribbean comfort food or trendy beach bars where you can feel the sand in between your toes and pretend you've escaped the Big Smoke, these Caribbean restaurants will have your back.
Let's dive in.
Best Caribbean Restaurants in London
Antillean
Waterloo
You'll find the vibrant Antillean Caribbean restaurant just a few minutes walk from Waterloo and Southwark stations.
Rather than focusing on the food of one island alone, the dishes at Antillean are influenced by the diverse heritage and exquisite flavours of the West Indies.
What do they all have in common though? Each dish is big on flavour.
Antillean's signature menu is a feast – packed with small plates such as Grilled Octopus, Mackerel Escovitch and the Caribbean Barracuda, you can also opt to have it with paired rums.
If you've got room for dessert, opt for the delicious Plantain Tarte Tatin paired with Pyrat X.O Reserve – it's a choice you won't regret.
Limin
Limin is actually pronounced 'lime – in' which is slang for hanging out and having a good time. The name fits this spot like a glove then. That's mainly because of the quality tunes they pump in while you eat and the artificial beach they've got out front – the ideal spot to spend an afternoon drinking rum punch.
The food is on point – a menu that tours the Jamaican classics and digs a little deeper into the nation's (as well as the broader region's) food culture. The result is a feast of surprising, often spicy delights that make ideal sharing for a fun meal out with your friends.
Negril
Brixton
It takes a special something to stand out from the crowd of Caribbean restaurants in Brixton, but guess what? Negril is something special.
This intimate restaurant has a menu that doubles down on Jamaican comfort food done to perfection.
Go to feast on all the Jamaican classics like Jerk Chicken, Curry Goat and Ackee and Saltfish are on the menu as well as cocktails, rum punch and fresh coconuts.
If you're in the neighbourhood for breakfast, Negril fresh fruit platters, smoothies and award-winning jerk sausage are definite winners.
It's not just the food that brings the immaculate vibes though – a trip to Negril's is as close to the Caribbean as you're going to get. From the moment you step inside expect reggae music playing with colourful lights dotted around the outside terrace.
Rudie's
Several locations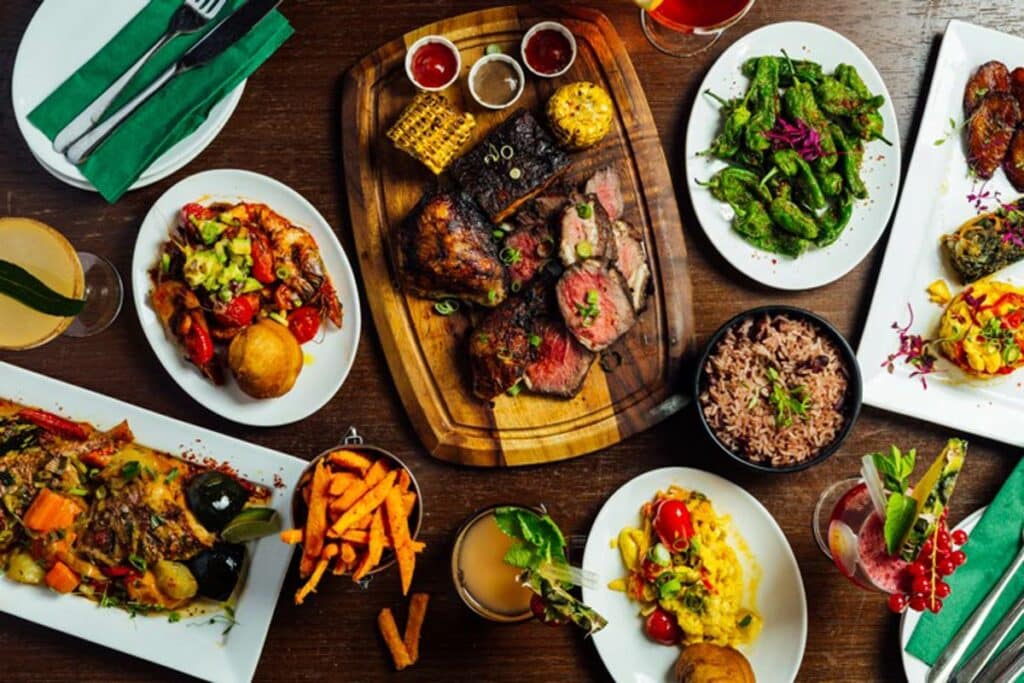 Rudie's Jerk Shack serves up some of the best Caribbean food in London… that's probably why it has so many locations dotted all over the city.
A trip to Rudie's is truly tropically tasty. The famous Real Jerk with meats marinated for 24 hours in a top secret blend of herbs and spices and then grilled and smoked over charcoal in a steel drum is a must.
Wash it all down with some rum from Rudie's specialist rum bar – the iron strong Rum Punch is *vibes*.
PandaBerry Caribbean Restaurant & Jerk Centre
North Finchley
This family-run restaurant in North Finchley is one of the best caribbean restaurants in London with a lively, yet friendly atmosphere.
PandaBerry is best known for its authentic Jamaican dishes and livelty island bar serving homemade juices and a variety of tropical cocktails.
Bringing the island's flavours to you, PandaBerry's menu has Jerk chicken with a mango dip, Oxtail and Butter Beans and Brown Stew Chicken dressed in Panda's special brown sauce.
Chaconia
Deptford
Chaconia in Deptford has served the best Trindadian food you'll taste in London for a decade and some.
In other words, it's the kind of place that once you know about it you'll keep on coming back.
It's a no-frills type of restaurant with minimal seating, but the food here is authentic and it's the best Caribbean restaurant in London for those in the know.
Chaconia's roti meals are legendary and you can choose from goat curry, chicken curry or channa and aloo.
A must try on your visit to Chaconia is the homemade sorrel, a traditional homemade drink made from the hibiscus plant that hails from the Caribbean.
Caribbean-Kitchen
Hackney
Hackney's Caribbean-Kitchen is always worth a mention when we're talking about the tastiest Caribbean restaurants in London.
This vibrant Caribbean restaurant has 48-hour marinated meats, tasty sides and flavourful dishes all homecooked.
You'll find all your favourite main dishes like Jerk chicken, Jerk Pork, Jerk Burritos and Curry Goat on the menu. There's also a lunchtime deal for only £4.50 a dish as well as vegan and veggie dishes.
Cotton's
Several locations
Cotton's has authentic Caribbean rum shacks in Camden, Notting Hill, Shoreditch and Vauxhall.
It's also London's longest running Carribean brand with an authentic, yet modern take on Caribbean cuisine.
We love Cotton's tropical dinner and bottomless rum punch deal, choose one of the delicious mains and enjoy two hours of free flowing rum to the soundtrack of reggae.
Popular Cotton's mains include Creole Grilled Mahi Mahi, Cotton curried Mutton and the Spiced Bean Burger.
Buster Mantis
Deptford
Buster Mantis is a trendy Jamaican restaurant housed in railway arches and the restaurant is named after Jamaica's first Prime Minister, Alexander Buster Mante.
The owners of Buster Mantis spend their time between Deptford and the tropical island, to keep their menu ideas fresh and authentic – your tastebuds will thank them for it.
You'll find Jamaican classics like saltfish fritters and jerk chicken on the menu, but Buster Mantis tends to put a modern spin on their cooking – so expect dishes with a little twist.
Fish, Wings and Tings
Brixton
This popular regional street food spot in Brixton village gets pretty busy, but that's just all good signs that the food is so good everyone wants a taste.
Fish, Wings and Tings has all your Carribean cravings sorted from small tings like Fried Plantain and Reggae Wings to big tings like Boneless Fish Roti and Stew Oxtail.
There's also plenty of Caribbean cocktails on Fish, Wings and Tings menu too with interesting names, The Duppys Share, Calypso Blues and My Uncle's Drink all sound tempting.
Ma Petite Jamaica
Camden, Shoreditch
If you haven't already, you must visit London's first Caribbean diner. With locations in Camden and Shoreditch, this Carribean restaurant knows how to party with a rum and reggae bar and authentic Jamaican cuisine.
Ma Petite's jerk pit menu features ackee & saltfish fried dumplings and Jamaican style fried chicken tenders, rice n peas and coleslaw.
Ma Petite is also a good place to go on a date, with a choice of three sharing platters including barbecued pork ribs, sweet potato and pumpkin fritters and chilli battered squid.
Danclair's Kitchen
This small, but lively Caribbean restaurant mixes bold flavours with mellow vibes. Danclair's Kitchen uses fresh and local produce to create refined sharing plates from the Caribbean.
Visit Danclair's Kitchen for brunch, lunch or dinner and enjoy a tapas style menu with offerings like the delicious stew vegetable, Brian's bbq wings with guava glaze or the famous cod fish fritters with ginger and lime aioli.
Guanabana Restaurant
Serving Latin Caribbean food since 2007, Guanabana Restaurant on Kentish Town Road isn't your typical Caribbean restaurant.
This well-loved spot specialises in South American and Caribbean cuisine, so you'll find a mixture of Jamaican, Colombian and Mexican food and everywhere in between.
But, you will find Jamaican favourites like oxtail butterbean stew and grilled jerk chicken on the menu.
Another perk of Guanabana Restaurant is that it's BYOB… just saying.
The Rum Kitchen
The Rum Kitchen takes carnival vibes to the restaurant scene in it's all day party concept, there's never a dull moment here that's for sure.
Taking guests on a journey rum cocktails, jerk bbq and lots of dancing to a carnival soundtrack, you'll be kept on your toes.
The menu features a nod to many of the islands and you'd be mad not to try the loaded jackfruit fries, jerk chicken bun and salt fish fritters.
Practical tips for Visiting London's Caribbean Restaurants
Venture beyond Jamaican food – yes it's incredibly tasty but there's a whole host of Caribbean cuisines to discover. Eat your way around the city to find your faves.
Some of these Caribbean restaurants can get pretty lively with DJ's and dancing, make sure that's the vibe you're looking for before dining
Don't forget to BYOB to Guanabana Restaurant
London Caribbean Restaurants: Map
Caribbean Food in London: Read Next