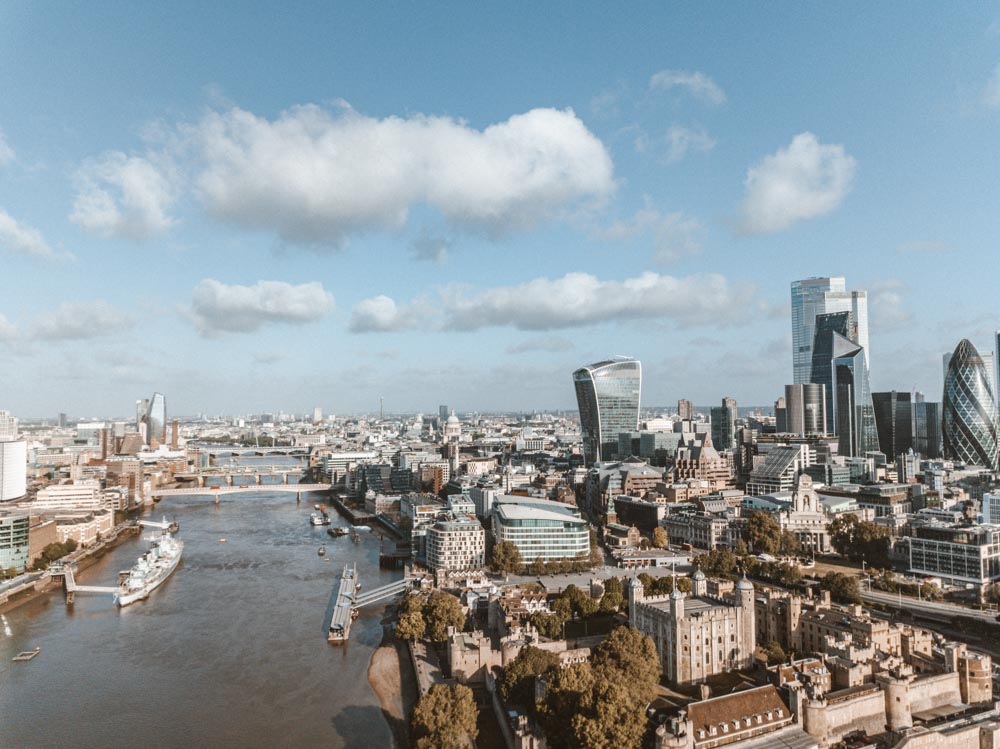 Ready to rock the city we love so well? Summer is here! Freedom beckons! Whilst hot weather can't be guaranteed, there is no shortage of brilliant things to do in London in summer 2021.
The sun is (hopefully!) shining, the parks are filled with families enjoying picnics, and the famously grumpy commuters may even crack the slightest of smiles.
London in the summer is unparalleled, from quirky art galleries and lively music festivals to avant-garde restaurants showcasing innovative dishes, the capital is filled with events – these are the ones you shouldn't miss.
Things to do in London this Summer
June
Catch Heather Phillipson's Mind-Blowing Work at the Tate Britain
May 17th 2020 – January 23rd 2022
Heather Phillipson's colourful exhibition runs through this summer, bringing the Tate Britain to life. Her art is wild, with eccentric concepts and materials transforming the space into a living, breathing ecosystem.
The free exhibition is an eclectic mix of multimedia including video, sculpture, music, and poetry, but the tickets need to be booked in advance.
Tigre Tacos New Permanent Residency at The Gunmakers
From May 17th 2021
Fans of Mexican cuisine will be incredibly happy to find out that Tigre Tacos are opening their first permanent restaurant at The Gunmakers in Clerkenwell.
Chef Ramon Ramos has been serving his delicious tacos at Nine Lives Alley since 2020 and will be bringing his famous Baja Fish and Camarones tacos, alongside a carefully curated menu to his new location.
Visit for tasty Mexican-Californian fusion cuisine in a stunning 19th-century building.
Electric City at Leadenhall
May 26th to July 31st 2021
Leadenhall Market transforms into a Neon Jungle in one of the most exciting events in London this summer. With a God's Own Junkyard takeover, as well as a neon film exhibition, the cobbled Victorian market will become electrified with installations and artwork from cult film classics throughout the summer months.
JR Exhibition at the Saatchi Gallery
June 4th – October 3rd 2021
French artist JR will be bringing his largest exhibition to the Saatchi Gallery this summer. Renowned for his public art projects and evocative subjects, he is easily one of today's most influential contemporary artists.
JR's work aims to take the public on a journey across the globe, from a maximum security prison in California to a picnic across the US-Mexico border.
Hyper Reality Opera at The Royal Opera House
Selected dates from Friday 21st May – Thursday 10th June 2021
After a year of disruption, The Royal Opera House finally opens its doors to an exciting VR experience. Current, Rising is an opera experience like no other; escape reality and step into what The Royal Opera House describes as an 'opera tardis' for a dreamy musical journey, all developed by a female-led team.
Four O Clock Bubbles in St Pancras
Open from May 17th 2021
Whether you're on your busy commute home from work or if you're in the city on a trip, there's something that feels rather naughty about drinking bubbles before your dinner. Searcy's Champagne Bar has brought out a new 4 O'Clocksies menu, filled with bubbles and tasty bites to eat between 4pm-6pm each day.
Pop into Fitzrovia's Newest Japanese Restaurant
Open from May 2021
Critically acclaimed cuisine comes to Fitzrovia in the form of Hot Stone. London's hottest new restaurant serves up innovative Japanese dishes in a light and airy setting. The interior looks like it's been taken straight from the streets of Tokyo, and their award-winning sushi and sashimi, alongside a variety of classic Japanese cocktails, completes the illusion.
Enjoy Low-Intervention Wines at A New Neighbourhood Wine Bar in King's Cross
Opened May
Name a better way to spend a summer in London than indulging in a liquid lunch and trying some of the best wines on the market? You can't.
The Cellar team cite their inspiration as the food and drink culture that is prominent in cities like Madrid, and if the warm atmosphere in their Cotswolds site is anything to go by, the King's Cross bar will soon be the coolest spot for drinks in London.
Travel to Hungary (Via Your Stomach)
From May
Book a table at the Turul Project and be instantly transported to a hip bar in Budapest. A traditional and concise selection of food makes the menu, inspired by classic Hungarian cuisine.
Unlike the food menu, the wine selection is vast, with Hungarian whites, reds, and sweet dessert wines all available alongside a variety of sparkling wines which are not available anywhere else in the UK.
Tuck into Delicious Eats at the Vegan Food Market in Croydon
May 30th, June 20th, and July 11th
A pop up every 3 weeks, the Vegan Food Market in Croydon offers some of the quirkiest food in London this summer. Alongside a selection of great eats, there's retail, craft beer, live music, and an exciting challenge room on the menu.
The event aims to spread joy and happiness, which I'm sure you'll agree, is much needed right now.
Quaff Champagne at The Savoy's Newest Pop Up
June 1st to July 31st 2021
In collaboration with Louis Roederer, The Savoy is hosting a cool pop-up boutique where you can enjoy a range of the finest champagnes.
Whether you enjoy a vintage Cristal Vinotheque 1999 or would prefer to quaff a brand new Coteaux Champenois 'Hommage à Camille', go along and get your hands on some of the poshest bubbly about.
Indulge in a Delicious Brunch at Arenella
From May 2021
Paying a visit to The Chapel Bar's recently launched outdoor restaurant, Arenella, is an unmissable activity in London this spring/summer.
Treat yourself to tantalizing bottomless drinks during the weekend, with an Italian-inspired luxury lunch.
Dishes include lemon and ricotta ravioli, lobster and crab tortellini, and steamed mussels with fregola and lemon, paired with unlimited champagne for just £55 per person.
Watch Some Magic at Tony Middleton's Magic Hour
Multiple dates available throughout summer
For a magical and immersive experience, venture into Tony Middleton's Magic Hour and prepare to be wowed.
Also known as Sonic, Middleton's magic has an old school feel, using classic tricks, a Victorian conjuring, and even a seance to spook and confuse you.
This show has been running for over 7 years at the Sheraton Grand on Park Lane and Sonic is a master of his trade, with first-class illusions that leave you wondering, how did he do that?
Yayoi Kusama's Infinity Rooms at the Tate Modern
14 June 2021 to 12 June 2022 (Tate Members from 18 May)
Who hasn't clocked one of Yayoi Kasuma's incredible exhibitions on Instagram?
Now it's time to see it up close and personal with a visit to Yayoi Kusama: Infinity Mirror Rooms at the Tate Modern.
Tokyo-born Kusama is known for her eccentric work that you can often find posted on Instagram. Mirrored rooms and tiny lights create an illusion of unlimited space.
The current infinity mirror room is one of the largest installations Kusama has produced, and wandering through this ethereal exhibition will leave you in awe.
Marvel at the Artworks in Sculpture in the City
From June 15th 2021
Weave your way through the cobbled London streets and spot the wonderful art on display at the 10th edition of Sculpture in the City. Artists include Jun T. Lai and Alice Channer, and there's even a handy app that's in place to help you navigate the 18 unique sculptures that make up the trail.
Catch Claudia Andujar: The Yanomami Struggle at The Barbican
June 17th – August 29 2021
One of the best things to do in London this summer is to pay a visit to The Barbican and discover the exhibition dedicated to the life and work of Claudia Andujar. Claudia has spent over 50 years with the Yanomami tribe, documenting and understanding their way of life, and this interesting project highlights her impressive findings.
With over 200 photographs, an audio-visual installation, and drawings relating to the tribe, this is an exhibition that wows.
Constellations at The Donmar Warehouse
From 18 June 2021
With the West End finally ready to draw back its curtains, The Donmar Warehouse returns with CONSTELLATIONS.
Nick Payne's powerful show explores romance, with four different couples navigating the possibility of a multiverse and the wonderful and wacky consequences this brings.
Grab a Spot at London City Island's Islander Festival
27 June – 18 July 2021
London City Island's Islander Festival promises to be one of the best things to do in London in Summer 2021. With the schedule compromising outdoor cinema screenings, alfresco musical performances, and an abundance of local markets, this is a fun event that the whole family can enjoy.
The festival also celebrates Wimbledon's return to our screens with an evening screening of the popular romcom Wimbledon, as well as showing each match on their big screens. These are free, though the final will be ticketed.
Go Greek at Smashing Plates
From June 2021
For authentic Greek food in a fun setting, Smashing Plates' London Bridge location is a must-visit this summer.
With classic gyros, filo rolls, and a variety of other Greek street food specialties, founder Neo carefully handpicks which food makes the cut, ensuring Smashing Plates only serves the tastiest dishes.
July
The Dartmouth Arms Gets a Meaty Makeover
From July 1st 2021
Popular meaty chain, MEATliquor, is taking over The Dartmouth Arms in Forest Hill.
The Victorian style pub is in the process of being transformed into a MEATliquor venue – and if their other restaurants are anything to go by, this is going to be an exciting, grungy boozer serving up incredibly heavy meals.
The Other Art Fair
July 1st-4th 2021
The Other Art Fair allows you to get up close and personal with your favourite artists and showcases the best up and coming talent.
The elusive schedule consists of interactive workshops, unique installations, and a range of virtual and in-person events. Think art exhibition, but way cooler than the norm.
Unleash your Inner Diva at a Beyonce Brunch
From July 3rd 2021
Fans of Beyonce will absolutely love this Beyonce themed brunch set in a secret location in the heart of London's West End.
Tickets start at £55, but for 5 hours of Queen Bey, an hour of unlimited cocktails, and a two course brunch, it's pretty great value.
Just like the location, the exact menu is very secretive, but usually consists of sliders and fries, pastries, and granola, alongside a selection of drinks.
Elevate your Style at Glassworks
Glassworks are a London-based fashion brand, balancing luxury and the cool edge of East London.
Dropping small batches of limited-edition collections each week in their three boutiques dotted throughout the centre of the city (Shoreditch, Soho, and Dalston), they offer a free personal shopping service in their East London stores.
Their velvet styling suites provide the perfect escape from the hustle and bustle of the city, allowing you to give yourself some TLC and play with your style, all with the helpful guidance of the stylists.
Watch Dirty Dancing in an Immersive Outdoor Cinema
Selected dates from July 14th 2021
Have the time of your life as you enjoy a cinema experience at a secret London location. Relax and watch the ultimate guilty pleasure, Dirty Dancing, on the big screen whilst sipping on a cocktail and resisting the urge to get up and dance with your friends.
Choose to blend in with the crowd, or don your fanciest 80's gear, it's up to you!
Attend DODGE at Somerset House
15 July – 22 August 2021
With an abundance of activities being hosted at Somerset House, it really looks set to be a summer of fun in London.
Whether you want to seek thrills on dodgems, wander around installations by artist Yinka Ilori, or enjoy a weekend waffle brunch and live DJ set, there's almost too much to do here.
There's also lots of incredible street food, so come hungry. Entry is free, though there is a charge for most of the activities.
Relax at The Candlelight Club
July 16th – 17th 2021
With the location only revealed to ticket holders 2 days before the event, The Candlelight Club is a secret 1920's prohibition party nestled somewhere in London.
The location transforms into a speakeasy, illuminated by candlelight and with jazz music humming in the background.
Guests are strongly encouraged to dress up, so crack out your best flapper dress.
Bruncherton & The Pleasure Gardens
July 24th-25th 2021
Whilst I can't promise a visit from Regé Jean-Page, this Bridgerton themed brunch revives the Georgian pleasure garden at Winchester House in the spirit of the popular Netflix series. With a theatrical experience full of circus acts, classical music, and age-old poets, this will be a sophisticated soiree to remember.
Tickets start at £39 and a masquerade mask is highly recommended for the ultimate experience.
Discover Japan at Marugame Udon in Spitalfields
From July 2021
Famed Japanese Udon restaurant, Marugame Udon, opens their first London location later this summer.
Their standout dish is the Sanuki Udon, a tasty noodle bowl from the Kagawa prefecture of Japan. With meals starting at around £4, their low prices are even more tempting than the menu.
Pair noodles with refreshing Asahi beer, and this restaurant looks set to be a popular spot in Spitalfields.
August
Rebel Bingo in Hackney
From August 6th 2021
Prepare for a dramatic game of bingo in a party atmosphere at Rebel Bingo. The organisers claim to have risen from the underworld in order to change bingo forever with their emotionally-charged rendition of the game.
This is hipster bingo, a dabbing revolution with an aim to overthrow bingo bigotry.
Mary Poppins at Prince Edward Theatre
From August 7th 2021
Mary Poppins returns to the Prince Edward Theatre to continue its West End run this summer in London.
In an event perfect for the whole family, the Disney classic is revived and brings its well-loved musical numbers back to the stage. Get ready to laugh, sing, and relive your favourite childhood memories during the show.
Hampton Court Palace Festival
August 13th – 21st 2021
With the striking palace illuminated as the backdrop for this London event, Hampton Court Palace Festival returns in 2021 with a killer lineup.
With Nile Rogers, Keane, and Tom Jones all on the schedule, this is a festival that spans many genres and ages.
What better way is there to spend an evening in London than partying in front of a grade I palace?
Celebrate Culture at Yam Carnival
August 28th 2021
Pa Salieu, Ari Lennox, and Kehlani are all on Yam Carnival's incredible lineup.
Set on Clapham Common, this is an unapologetic celebration of the African diaspora in the form of an afrobeat music festival.
With 3 stages and an abundance of delicious street food serving up the best Caribbean, Latin-America, and Creole delicacies, this is an event for the mind, body, and soul.
Party at Notting Hill Carnival
August 29th-30th 2021
If you're in London in the last week of August, it is absolutely criminal not to attend the iconic Notting Hill Carnival. As a massive celebration of Caribbean heritage in London, this is an event with incredible food, funky music, and exciting arts and culture.
Expect a charged crowd and a weekend filled with laughter.
Drink Gin on a River Cruise
August 28th 2021
Starting at the Olympic stadium, embark on a cruise around London's canal network whilst sampling some of the finest gin the UK has to offer.
Catch a glimpse of famous London sights whilst relaxing on this 3 hour cruise.
Snacks aren't provided, but you're more than welcome to bring your own to complete the experience.
Get a taste of Italy at Trattoria Brutto
From August 2021
Popular chef Russell Norman's latest adventure is the new restaurant Trattoria Brutto. Flavour is king in this restaurant, and the Tuscany region influences the hospitality and ingredients used in each dish. Expect hearty and wholesome Italian meals with an extensive wine list at Trattoria Brutto.
Cocktails in the City
Selected dates between June-August 2021
Nestled in Bedford Gardens, London's largest Georgian garden, Cocktails in the City offers an idyllic escape away from the busy capital.London's most celebrated bars return in pop-up form, alongside street food and live music. Tickets are £20 and a percentage of all sales will go towards helping to support the industry at this difficult time.