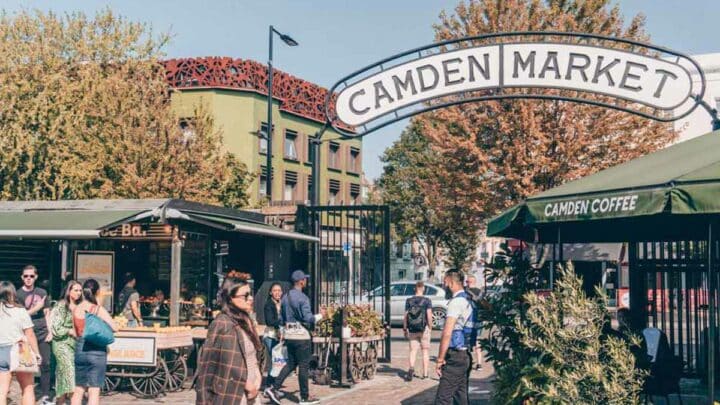 London is one of the world's shopping capitals. If you want it, you can probably buy it here. But where are the best places to shop in London? Don't worry, we've got you covered.
Designer clothes or vintage, mega malls or century-old market traditions, diamonds, suits, and groceries. London really does have more than its fair share of places to shop.
But deciding where to shop in London can be tricky with all that choice.
That's where we come in. We've put together a guide of all the best places to go shopping in London.
Whatever you're looking for, you'll be able to find it here.
Where to Go Shopping in London
Portobello Road
Notting Hill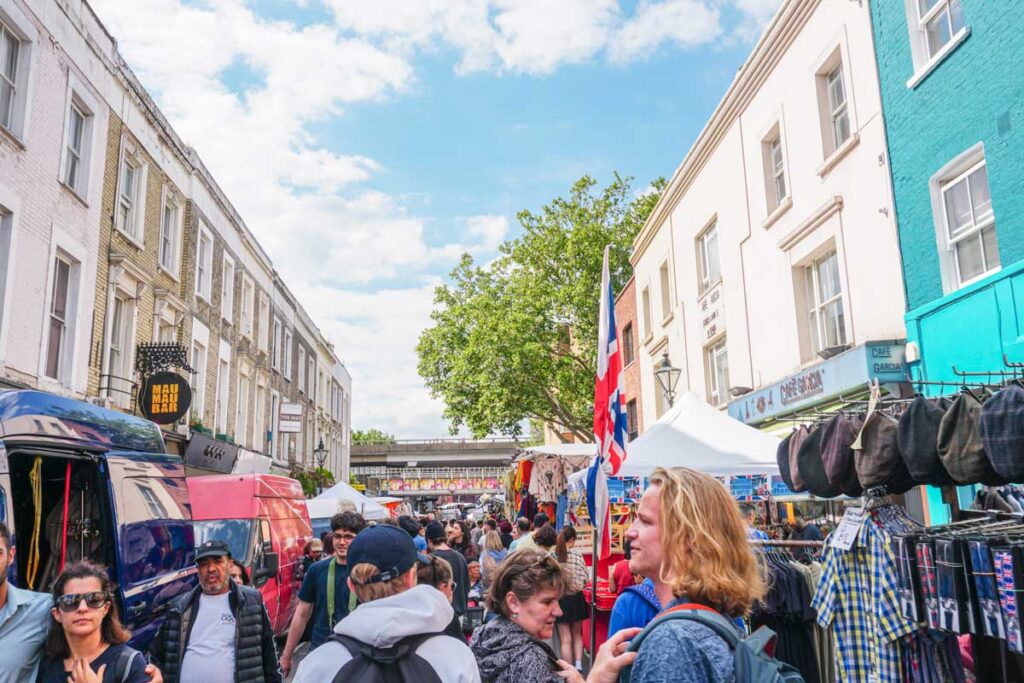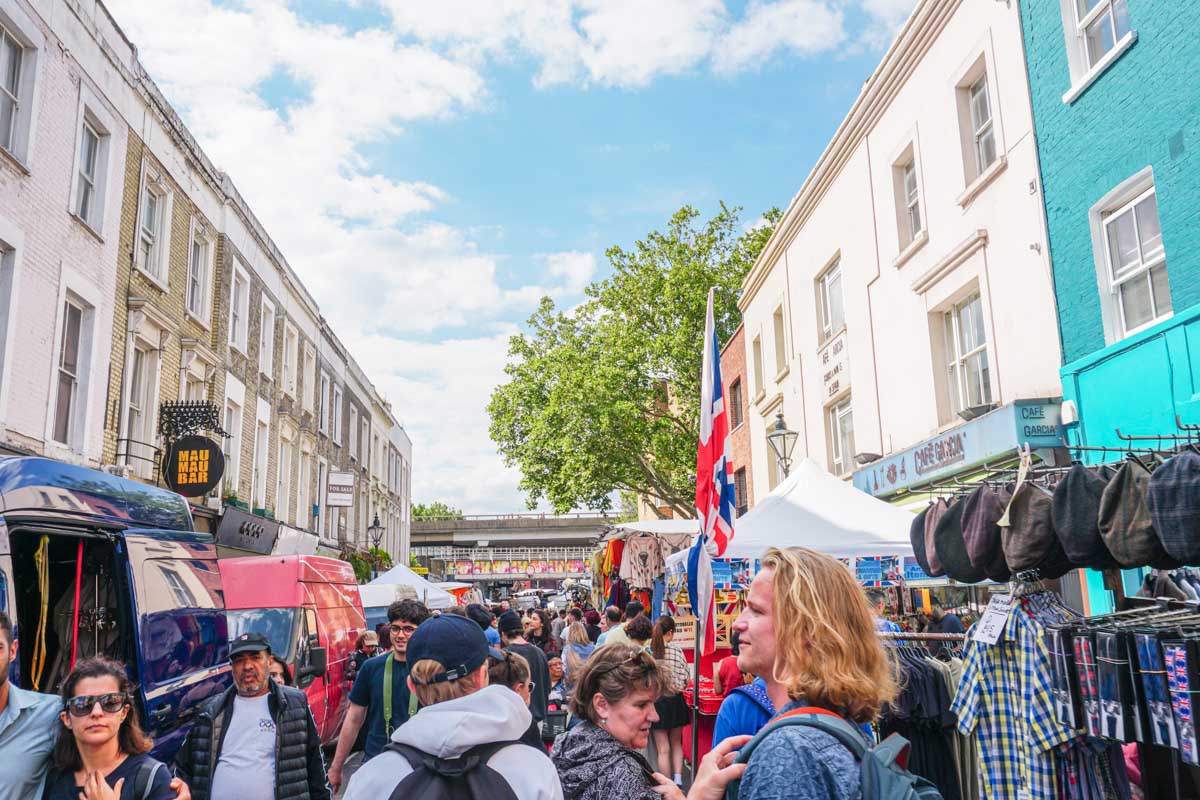 Portobello Road is an all-singing, all-dancing bazaar, and probably the most well known market in London.
The focus here is definitely on antiques and vintage clothing, but turning up any day of the week produces a variety of results.
Monday to Wednesday is dedicated to fruit and veg. Thursday and Friday – antiques. Saturday sees a mix of everything, with Sunday being the much-loved vintage clothing market.
The thing about Portobello road is that there's so much going on there that even when one day is supposed to be earmarked for a specialist focus, there's still plenty of everything going on.
King's Road
Chelsea
A hive of swanky boutique stores and classy restaurants that regularly draws the big spenders, if you've got money to blow and an eye for brands that fly a little low under the radar, King's road is probably for you.
You'll be able to find everything from clothes, shoes and opticians, to home improvements and haircuts – all of them designer, and all adding up to some of the best shopping in London.
Fancy a slap-up meal after decking yourself out in all that swag? You won't have any trouble finding somewhere fancy for King's Road, and the same goes for the bars.
Oxford Street
Westminster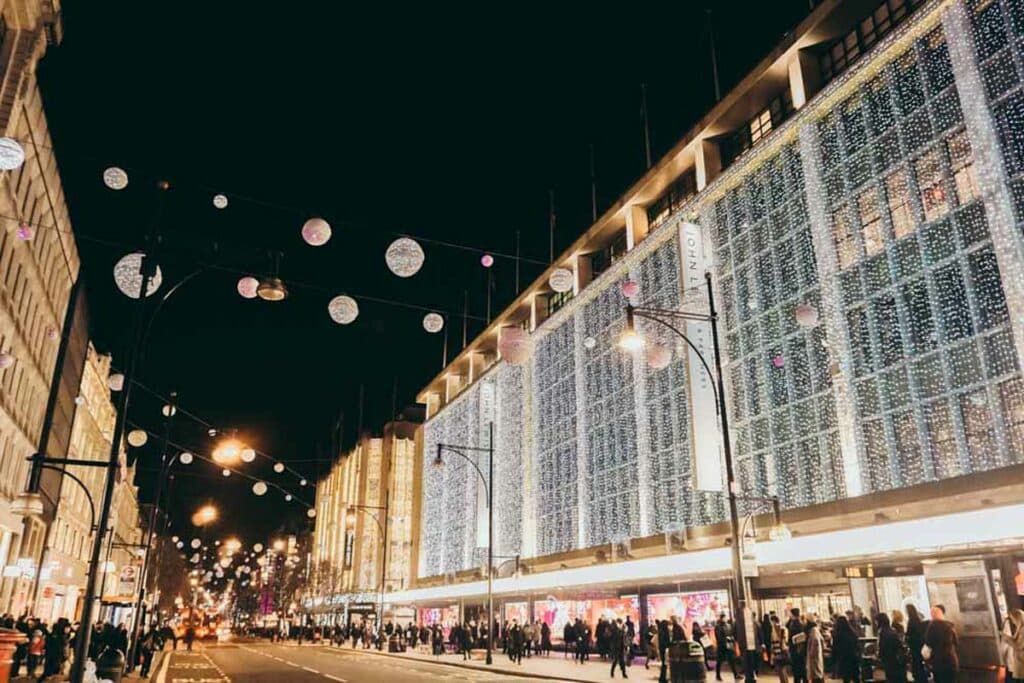 Home of highstreet fashion in London, and infamous London shopping street, Oxford street is your go-to for the big brands. Adidas, Zara, Accessorize, Sunglasses Hut, they're all there, and many make Oxford Street the home of their flagship stores.
Selfridges and John Lewis are just two of the places who do so. And also perfect for a bit of one-stop shopping, with places to recharge and reboot before you go charging back into the fray.
With all the competition on Oxford Street, stores here often lay on sizable discounts to get customers through the door.
If this is where you come to shop, prepare to leave with bags in both hands, dangling from your arms, and swamping the poor boyfriend who didn't know what he was getting himself into.
Brick Lane
Aldgate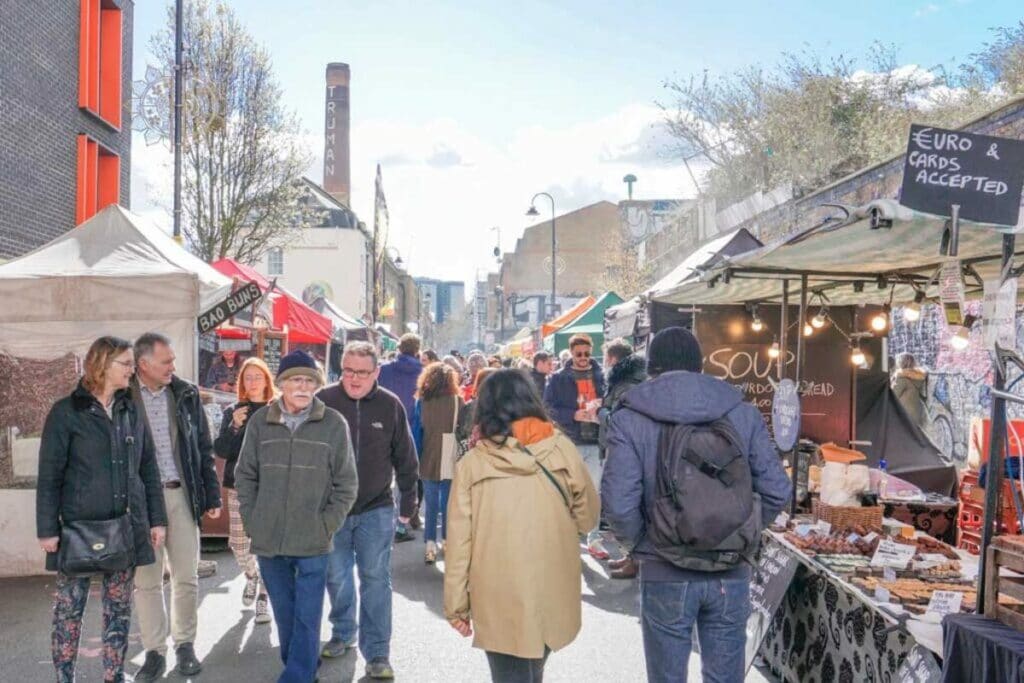 Brick lane is one of the best areas for vintage shopping in London. The streets that crisscross this section of East London are so awash with vintage stores that you could easily pass a day picking through the rails and not have seen everything the area has to offer.
There's so much to shop for here that we put together a whole guide of places. A few of our favs? Vintage basement for its very attractive prices – and its playlist of 90's bangers, Rokit for being the OG vintage store in London, and Serotonin for the gems we always find there.
All that shopping working up an appetite? If Brick Lane's not known for shopping, it's known for curry, oh and a very delectable bagel spot. With all that
Bond Street
Mayfair
Destination for elegance-obsessed shoppers for hundreds of years of London's history as a shopping capital of the world, if you need something with a touch of the classy, Bond Street is the place to head.
Home to Tiffany's and Fenwicks as well as Sotheby's the 800m stretch of real estate that makes Bond Street is some of the most expensive in the world. Naturally the shopping here comes with a high price tag.
You'll find stores like Cartier, Louis V, and Hermès plus most other swanky names you can think of, and a mix of local highest-of-the-high-end bespoke tailors, cobblers and galleries.
It's quite something to see, and worth a little poke around even if your pockets aren't deep enough. Oxford Street is just round the corner after all.
Hatton Garden
Holborn
Sometimes you just gotta get your bling on, and when that time comes there are few better places to visit than Hatton Garden – London's home of the diamond.
This little stretch of Holborn is home to more than 300 jewellery stores so if you're looking to find that ring for a special someone, or just trying to shine a little brighter, this is probably the place to come looking.
Leather Lane food market on Hatton Cross hums with all sorts of global cuisines for you to chow down on while you consider just how much you're willing to drop on that diamond encrusted dollar-sign necklace you always wanted.
Westfield Shepherd's Bush
Shepherd's Bush
We are almost loath to include Westfield when London has so many quirky, niche places to shop, but you've got to give Westfield its dues. It really does have everything.
From groceries to new shoes and clothes in brands that you'd need to walk a mile for to find together elsewhere, you could shop for everything you need here under the convenience of one roof.
And you could do so with the prospect of three delicious meals, coffee breaks and a movie to shake up your shopping trip – all without ever leaving that very same roof.
It's mammoth American mega-mall consumerism at its finest, for good or for evil. We'll let you decide which.
Camden Market
Camden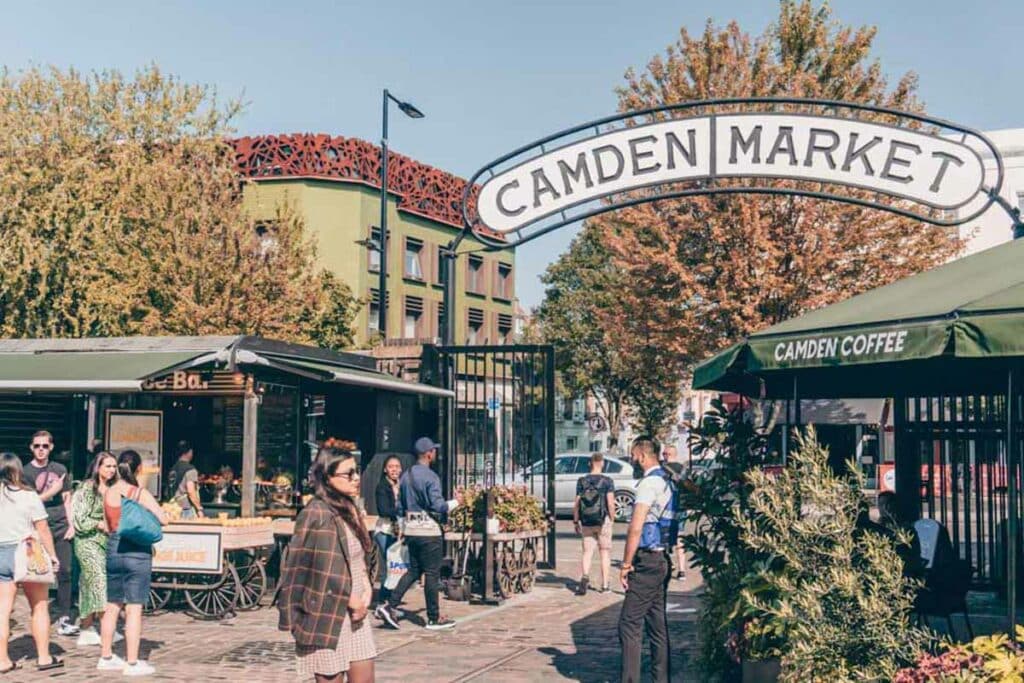 A popular spot for both food and clothing, Camden Market has a good bit of everything. For the range on offer, the food, and the activities, this is one of the best places for shopping in London.
You'll find all sorts of clothing options here, from the vintage to the hand-made artisanal stuff. Poke around a little further and you can pick up some bargains in the nearby charity shops.
But to be honest, the secret reason you're here is to sample the insane decadence of Chin Chin Lab's hot chocolate. That, enjoyed while dangling your feet over the canalside is the perfect way to unwind after a hard day's shopping.
Bloomsbury
Bloomsbury
The big one for books, Bloomsbury has a slew of excellent bookshops ranging from the esoteric to the enormous.
Judd Books is one of our favs. They focus on arts and the social sciences but have a decent literature section that's all priced very reasonably. Don't forget to scope out their easy-to-miss basement section.
A stone's throw from Judd Books you've got Gay's the Word – an independent store specialising in LGBTQ+ fiction and non-fiction that also host regular launch events, readings, and panel discussions.
An hour or two strolling through Bloomsbury's streets will turn up heaps more places to fill your shelves from. And if you're really struggling to find what you're looking for, chances are it'll be at Waterstones on Gower Street – the largest bookstore in Europe.
Maltby Street
Bermondsey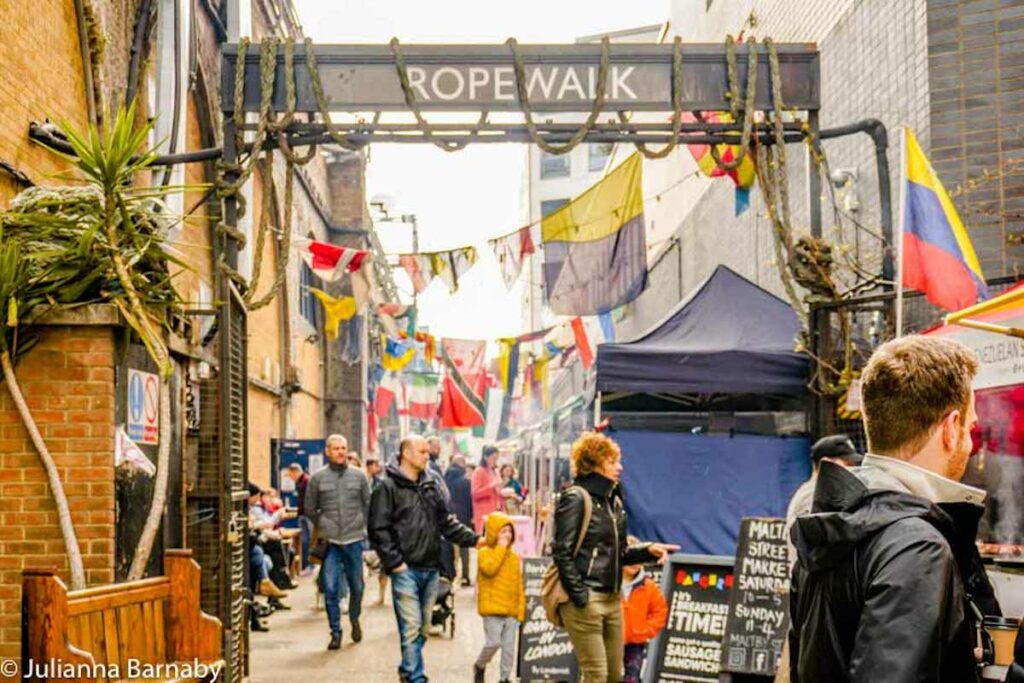 Maltby Street only opened in 2010 but quickly became a popular London shopping street for food and groceries. Probably because of its dazzling array of excellent produce.
Most of what you buy here will be at least organic, if not locally/sustainably sourced. The traders at the stands know what they're selling and are happy to answer any questions you have for them.
And then there are the restaurants and food stands for you to browse when you're ready to eat – many of them using produce fresh off from the market itself.
If you consider yourself a foodie, or just like to know where your food comes from, then Maltby Street will be one of the best shopping areas in London for you.
Carnaby Street
Soho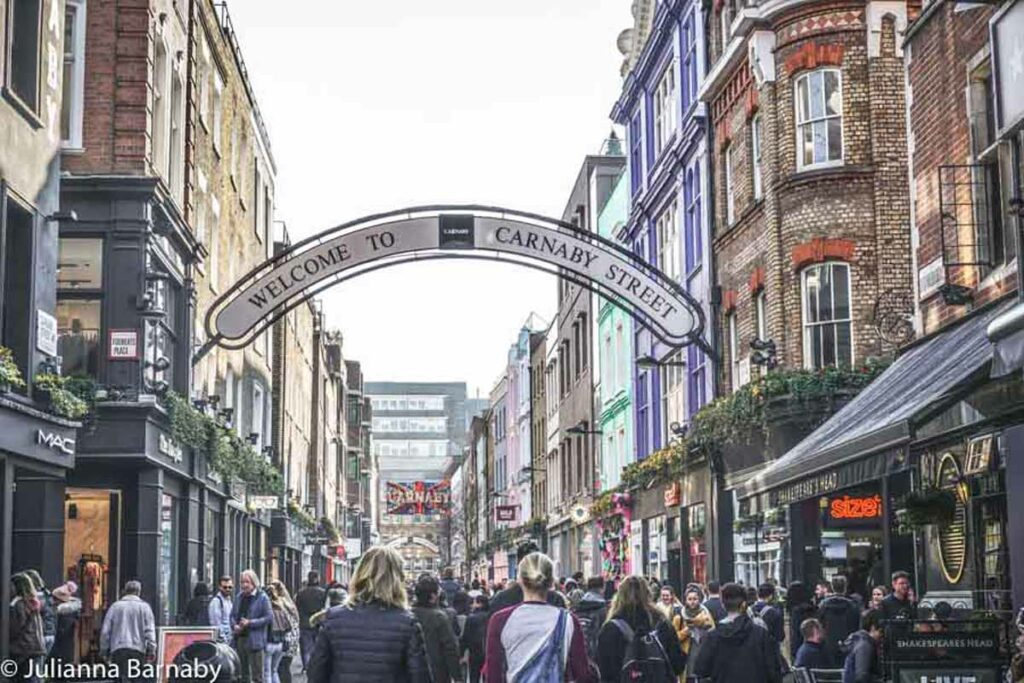 We couldn't write an article about shopping in London and not mention Carnaby Street. It's one of the most popular places to shop in London for a reason.
You'll find a mix of fashion brands here, with a leaning towards a more street-style vibe. There'll be brand stores from big names you'll recognise, and smaller boutiques selling a mix of everything that's cool right now.
Carnaby Street isn't just popular for its shops though. The pubs and restaurants around are worth visiting even if you aren't trying to shop.
Housed in a gorgeous 30's Art Deco building, the White Horse is a prime example of this.
Savile Row
Mayfair
Gents, listen up. At one point in our lives we should all own a suit tailored precisely for us. The suit that fits no one else better than it fits ourselves.
Putting it on will bring us about as close to being James Bond as we might get in real life (assuming you don't already work for the secret services). And when that time comes I think we all hope the suit will have come from Savile Row.
It's basically the holy land of suit makers, with stores from both designer and bespoke brands. A few of the shops branch tentatively out into the realms of cashmere sweatshirts and casual wear.
As you can expect for the finest tailors the city has to offer, it's not cheap. It's not a bad place to aspire to shop either.
Seven Dials
Covent Garden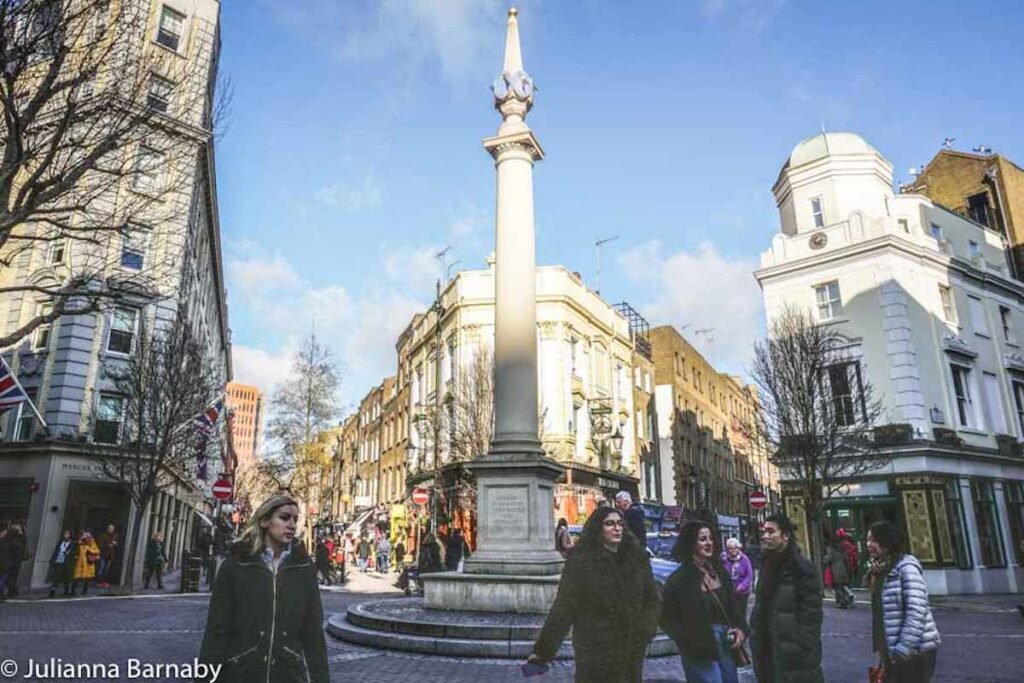 The layout of the streets, all converging at centre point was actually a clever trick by city planners to maximise shop front space (rent was charged per foot of frontage, rather than square metre back in the 1700s).
At one point Seven dials was one of the most disreputable and dangerous parts of London, and became the inspiration for Hogarth's famous picture of Gin Lane.
Things have moved on quite a bit since then. Now you can find everything from boutique clothing, to flagship fashion stores, excellent pubs and restaurants, and a variety of beauticians
No less than a full shopping experience then – and one of the best places to shop in London.
Spitalfields
Tower Hamlets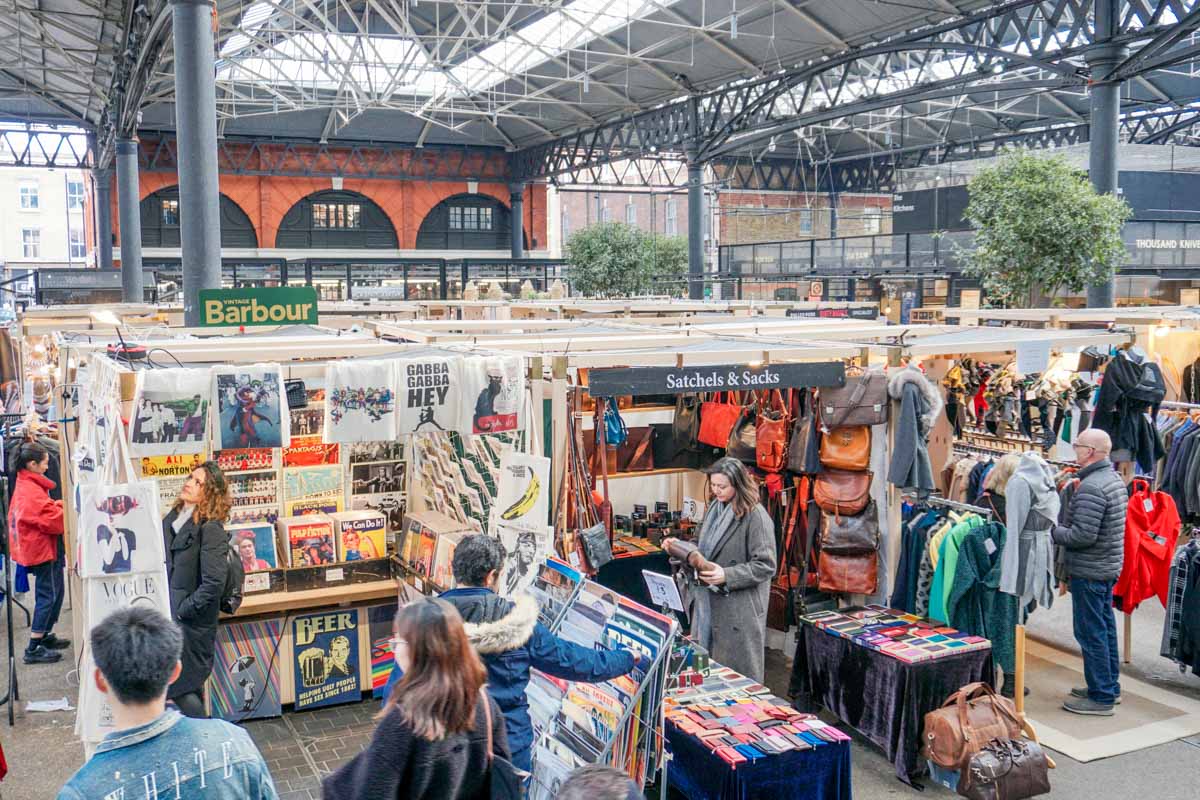 People have been coming to Spitalfields for shopping since the 1600s. How's that for London shopping history?
A present-day walk in their footsteps is a tour of clothing markets and stalls selling artisanal trinkets and hand-crafted bits and bobs – jewellery or things to decorate a mantle piece with.
Most of the clothing is vintage or from small brands that don't yet have a store to call their own. The people at the stalls will be happy to explain the history of the brand, their concepts and visions.
If you, like us, like to know where the things you buy come from, or have a connection to a piece of clothing deeper than "I got it at [insert random high-street fashion brand here])" then Spitalfields market is the one for you.
We doubt you'll be disappointed with the food options either.
Practical Tips for Where to Shop in London
Pick a location and stick to it. There's little point trying to hit more than one or two of these places in a day unless they are close together, you'll just tire yourself out.
Timing can be everything. For the more market-based locations especially. Make sure you get there as early as you can to snag all the best items.
Shopping Areas in London: Map
Shopping in London: More Markets and Shopping Streets