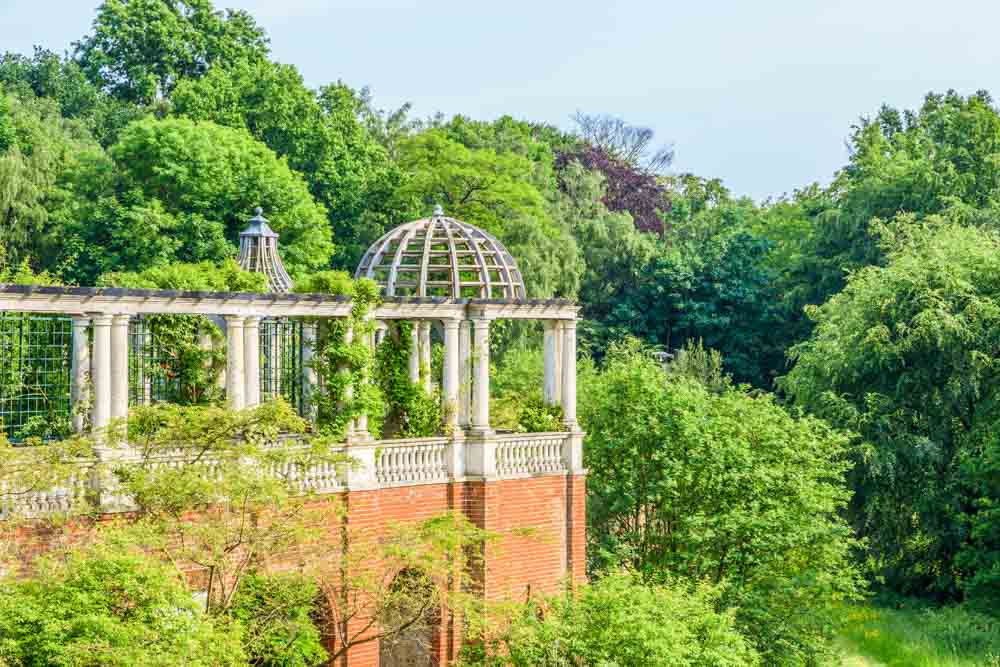 Looking for the best gardens in London? These are the gorgeous spots you shouldn't miss.
There's something so nice about escaping to one of London's green spaces – particularly on those (seemingly rare) days when the sun is on full blast and even the dourest Londoner starts smiling.
While at first glance London might seem like a concrete jungle, there are actually plenty of green spaces dotted all around the city.
Now, London has plenty of parks for you to explore but sometimes you're looking for something a little more intimate – or you just want to find a new outdoors spot.
Luckily for you, London has a wealth of gardens, large and small for you to discover. These are the best London gardens – perfect for picnics, basking in the sun and escaping from the hustle and bustle of the city.
Best Gardens in London
Sky Garden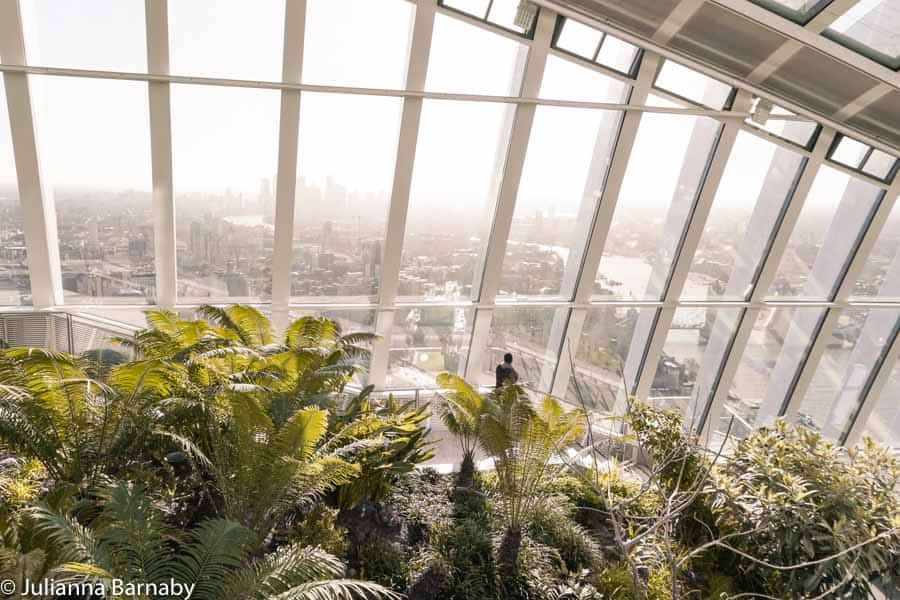 It doesn't get much more spectacular than the Sky Garden, the highest roof garden in London.
The difficulty is knowing where to look – will it be at the many gorgeous plants or flowers, or out at the dazzling view?
I say grab a glass of prosecco from the bar and give yourself plenty of time to do both.
Kew Gardens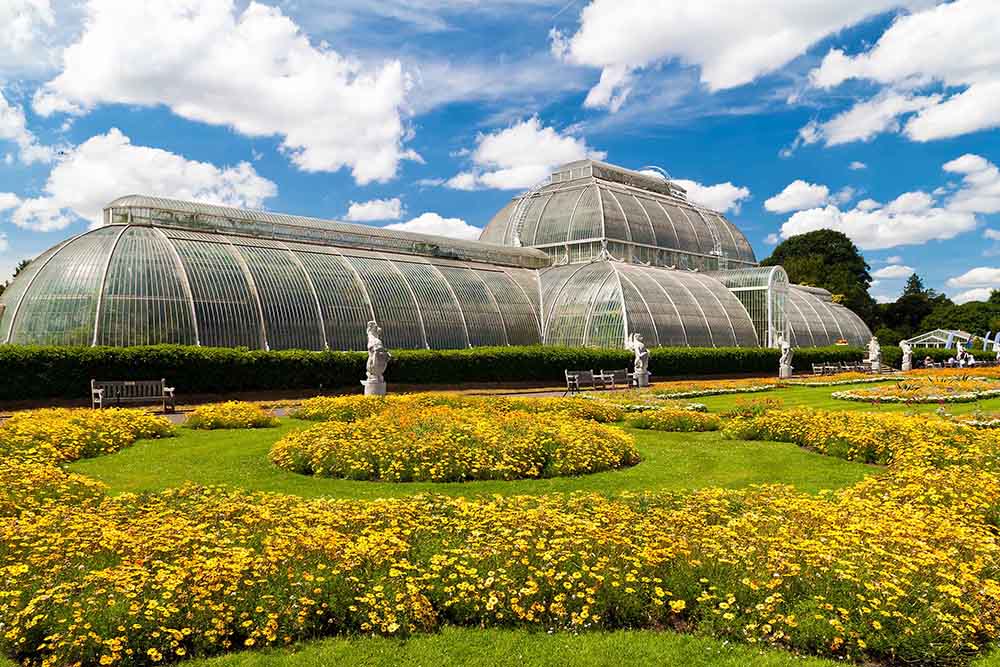 There's no two ways about it: Kew Gardens is the most famous flower patch in England, and quite possibly the world.
In fact, calling in a "flower patch" is quite the understatement. Laid out over 300 acres with over 30,000 species of plants, this botanical garden in London is really something.
If you're looking to visit the most famous London garden – this is probably your best bet.
Kyoto Garden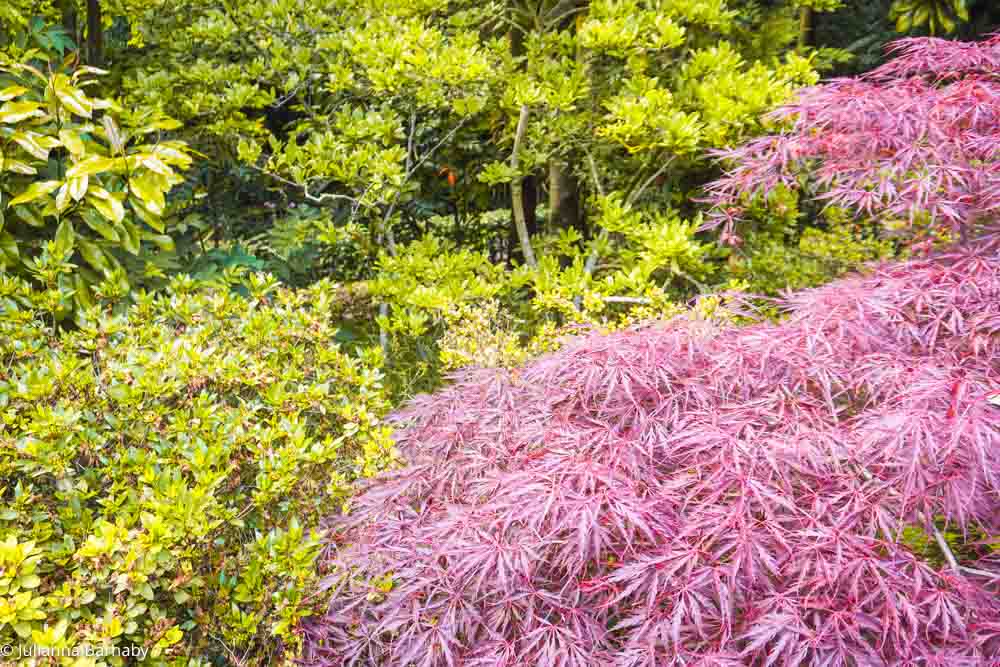 I love the traffic and hustle and bustle of downtown London, but it's not exactly a zen kind of place to do some reflection.
Luckily, London's Kyoto Garden certainly is. Donated by the city of Kyoto in the 90s, it's a peaceful oasis inspired by traditional Japanese gardens and one of the most romantic places in the city.
While it's not enormous, there's plenty to see and it's best explored slowly – so I recommend leaving an afternoon to see it.
Read Next: What to See in Kensington: The Insider's London Guide
Chelsea Physic Garden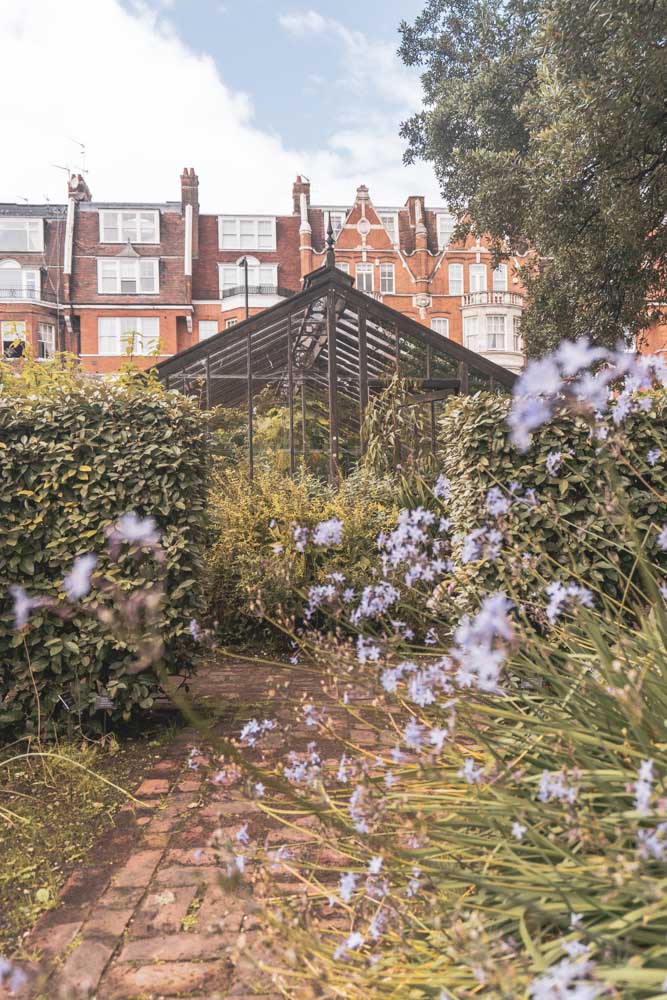 The Chelsea Physic Garden was established by the "Worshipful Society of Apothecaries" (has there ever been a cooler name for an organisation?) way back in 1673.
Today, it remains popular and is one of the more unique gardens to visit in London. There's a focus on the scientific side of the plants, including their medicinal uses.
Perfect if you're a secret (or out and proud) flower geek.
Isabella Plantation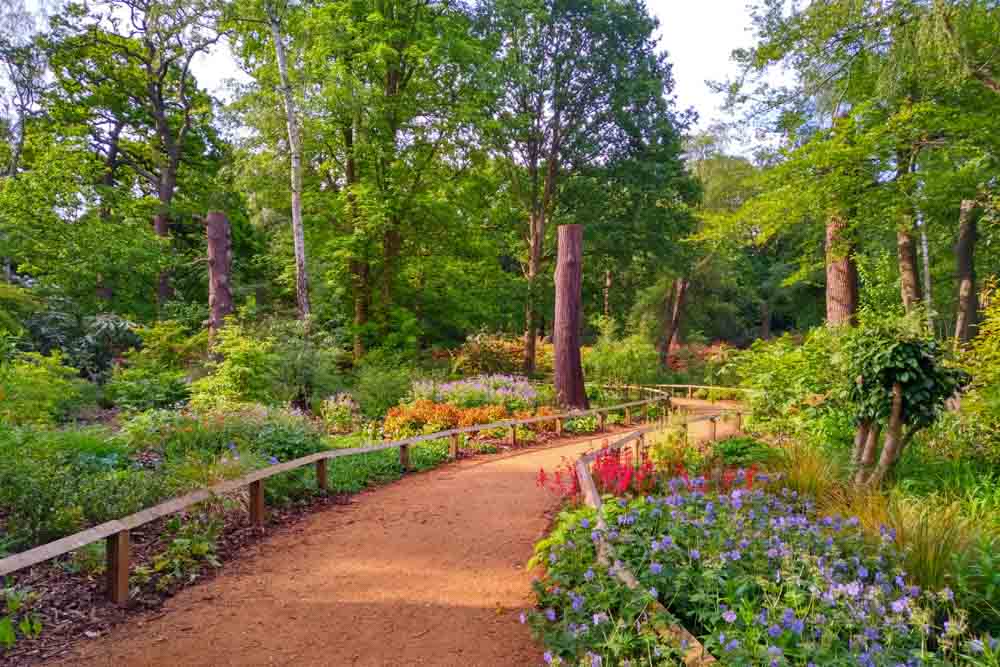 If there was ever a garden to inspire you to become a budding (get it?) flower enthusiast, it's the Isabella Plantation.
Located in Richmond Park, this flower garden in London is packed full of dreamy flowers like colourful azaleas.
Perfect for inspiration for your own garden – or just as an Insta backdrop.
Read Next: Everything You Need to Know About Visiting Richmond Park
Queen Mary's Garden
If it's rose garden in London that you seek, then I present to you – Queen Mary's Garden in Regent's Park.
Apparently Queen Mary (wife of King George V) really loved roses. I certainly don't blame her – the sight of over 12,000 of them is seriously gorgeous.
In fact, there are more than 85 different types of roses in the garden. You're sure to leave with more rose knowledge than you ever thought possible.
Read Next: Unmissable Places to Visit in Camden
Secret Gardens in London
Looking to discover some hidden gems in London? Luckily, there are plenty.
Barbican Conservatory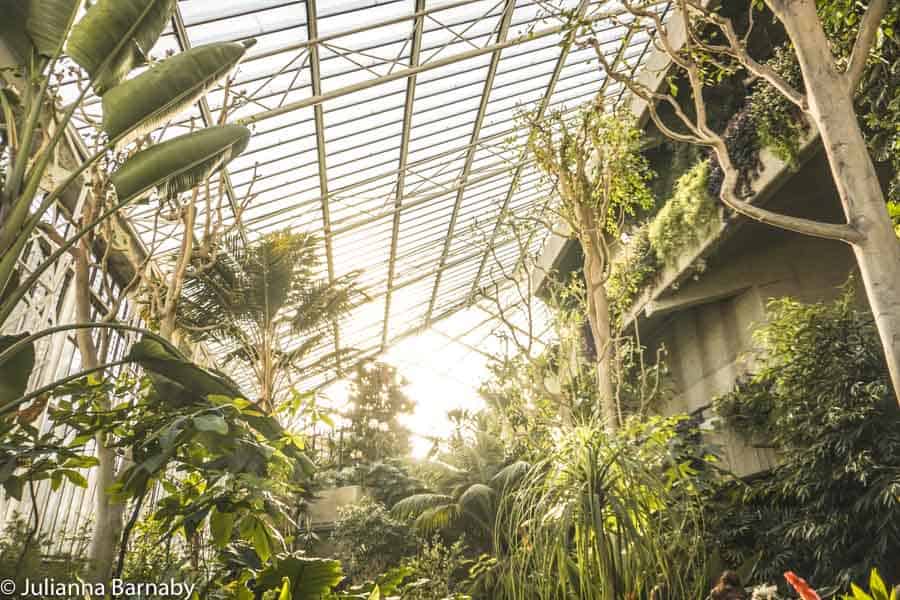 Even many Londoners are surprised to hear that the Barbican Conservatory is the city's largest conservatory after Kew Gardens.
That said, the fact that it only opens up on some Sundays does mean this tropical garden in London has a little less hype around it.
It also only adds to the intrigue if you ask me – and it's well worth checking out.

Read Next: Why You Need to Spend Some Time in The Barbican's Secret Gem
Streatham Rookery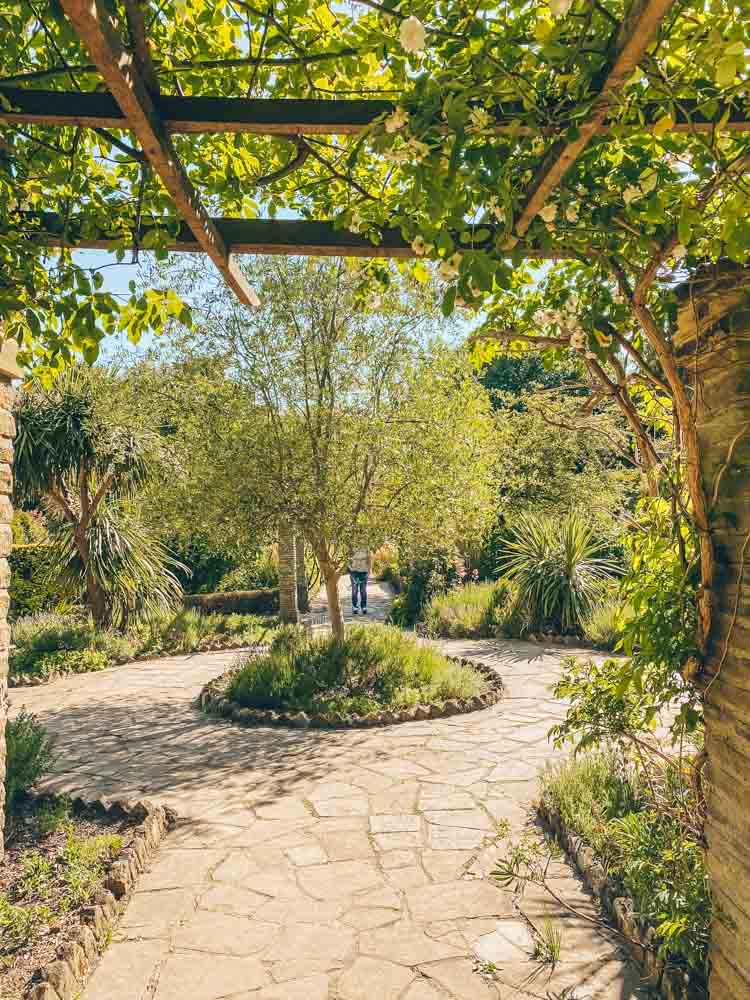 This pretty and petite London garden is one of my favourite places to escape the city crowds. My parents always used to take me here as a child and I'm glad to say that it's just as beautiful decades later.
The Streatham Rookery been perfectly landscaped, with impressive hedges and a beautiful pond nestled right on the edge of Streatham Common. Even better? Very few people know about this secret spot – perfect for grabbing a bit of peace and quiet.
Postman's Park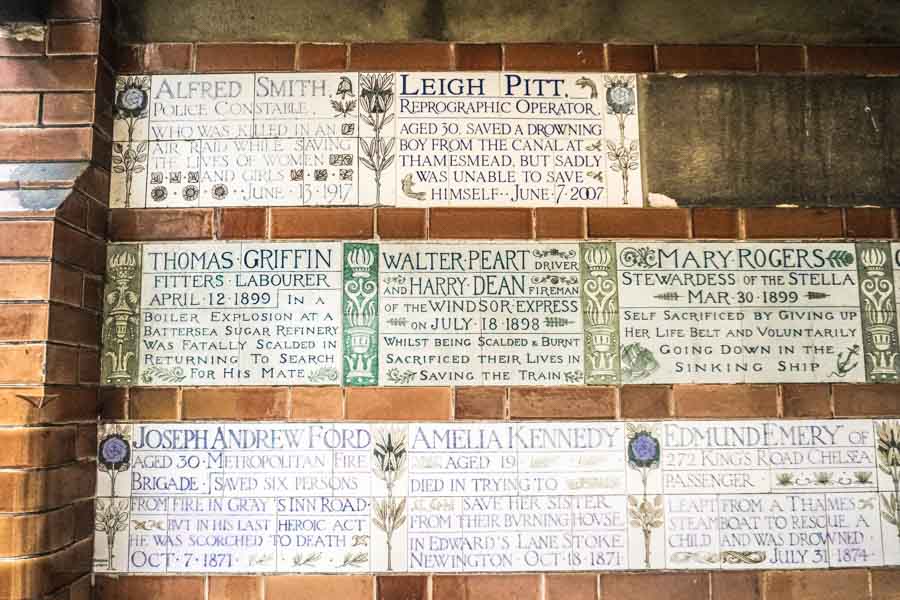 A picturesque garden north of St Paul's Cathedral, Postman's Park is more than just a pretty face.
My favourite part of this space is the moving 'Memorial to Heroic Self-Sacrifice' in the midst of it.
Here, you'll find dozens of plaques dedicated to people who lost their lives trying to save others (it even popped up in the film Closer starring Jude Law, Julia Roberts, Natalie Portman and Clive Owen).
Not hard to see why it's one of my favourite free gardens to visit in London.
Read Next: Finding Postman's Park – The Secret Treasure Buried in the City of London
St Dunstan in the East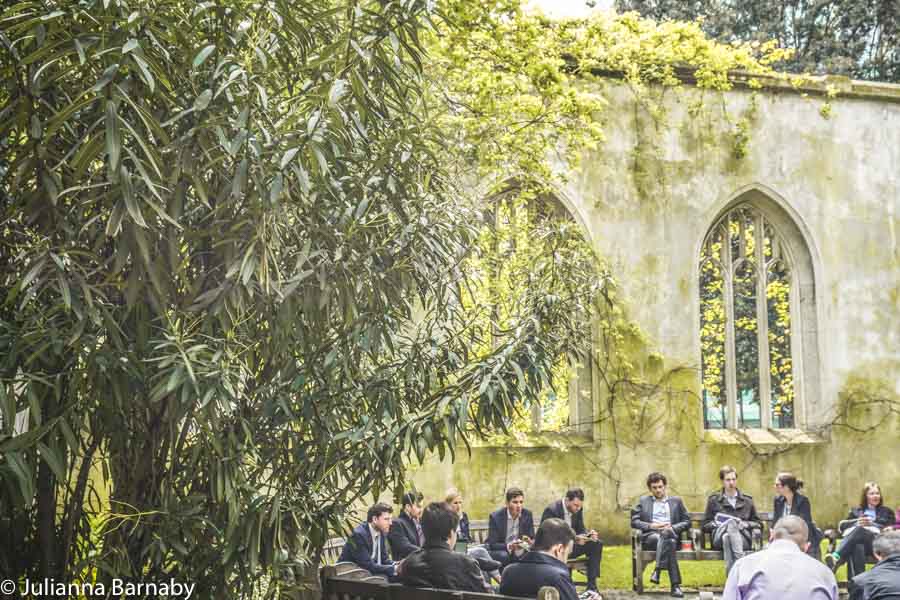 This is a bit of a loose interpretation of 'garden', but it's so unique that I couldn't leave St Dunstan in the East off the list.
This site was once the home to a beautiful old church, however it was largely destroyed during The Blitz.
Instead of restoring it, it has been left to be slowly reclaimed by the plants and flowers around it.
The result is exceptionally beautiful and interesting. It's a real favourite with local workers as a lunch spot, but visit outside of the peak hours and St Dunstan's is an oasis of quiet.

Read Next: St Dunstan in the East: The City's Curious Hideaway
Eltham Palace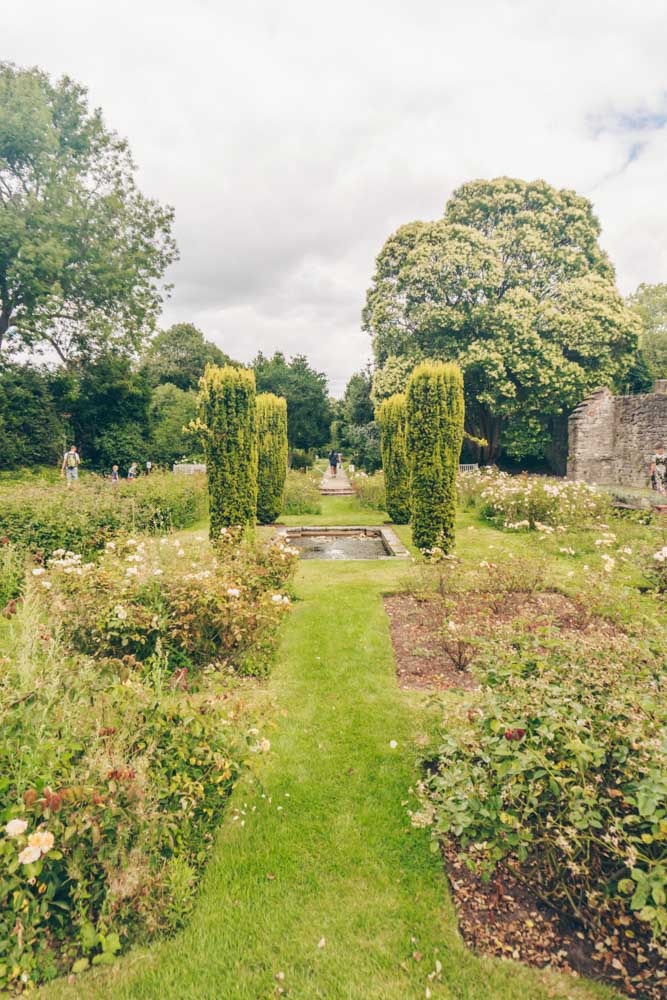 Once a royal residence, Eltham Palace is today managed by English Heritage and open to all us commoners.
There's 19 acres of beautiful gardens to enjoy. The rock garden, water pools and historic bridge are particularly unique features.
A more recent addition that's great for kids is a play area inspired by the travels of former owners Stephen and Virginia Courtauld.

Read Next: London's Hidden Spots – 55 Unusual Places to Visit
Coombe Wood, Croydon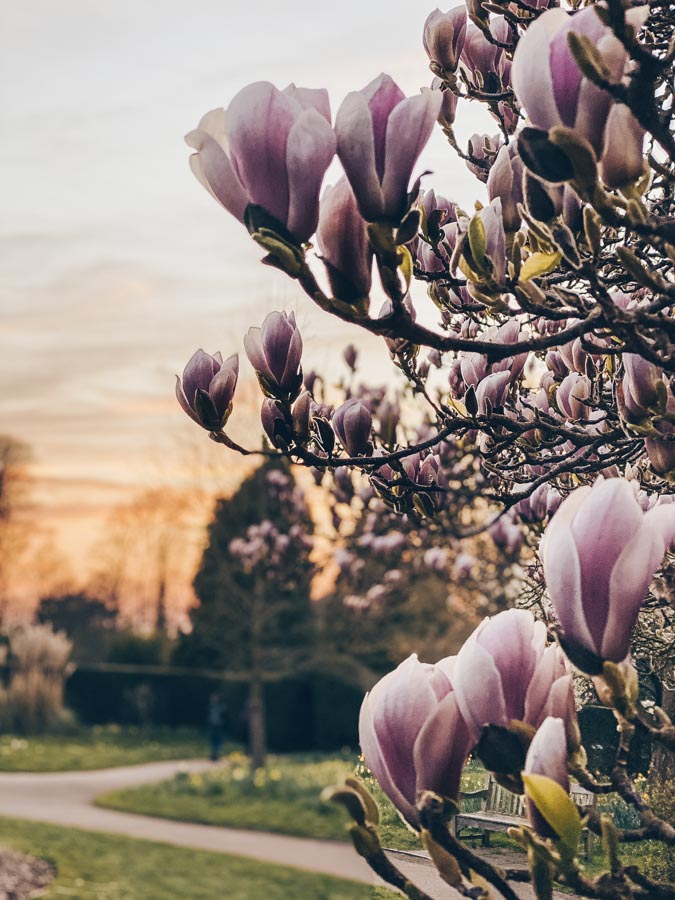 If you ask me, Coombe Wood in Croydon (shout out to my hometown) is worthy of far more acclaim than it gets. That said, I'm not complaining about it never being overrun with crowds…
This picturesque garden is inspired by the woodlands and opened back in 1948.
It's beautiful all year round, but it's one of the most delightful spring gardens in London thanks to its abundance of flowers and pretty stream.
The Secret Garden in Brockwell Park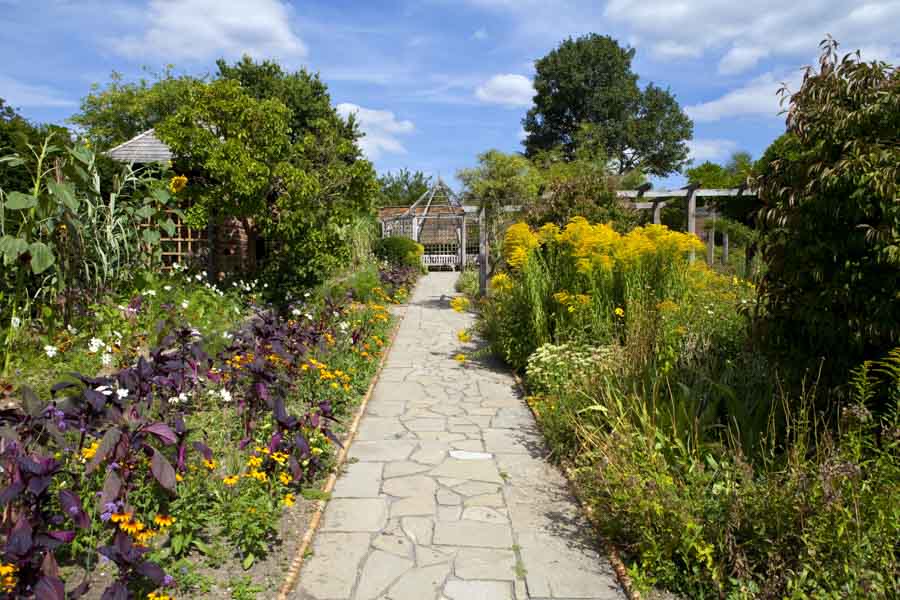 If you've ever seen the movie The Secret Garden and dreamed of finding your own secluded spot, have I got a treat for you.
Nestled in Brockwell Park, you'll find a beautiful old walled English garden in this south London park.
How this gem has remained hidden, I don't know – but do check it out before the secret gets out!
The garden was once the kitchen garden for the (now demolished) mansion on site. Today, however, it's all about the looks – with roses and other plants galore.
Read Next: Brixton Area Guide: Discovering One of My Favourite Parts of London
Hampstead Hill Garden + Pergola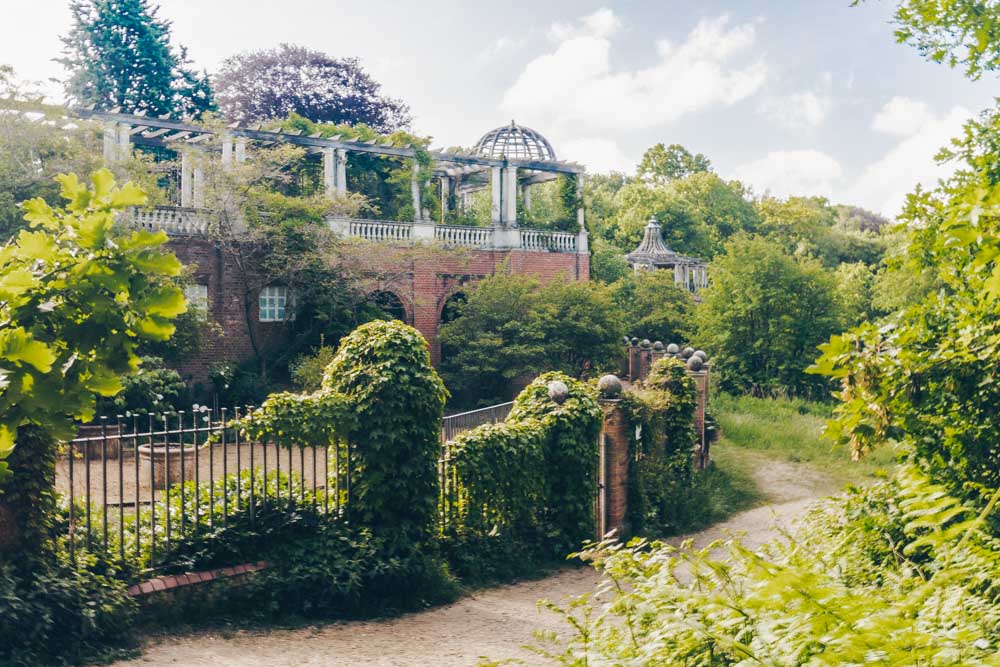 One London garden that's well known to locals but strangely hidden from the pages of most guidebooks is Hampstead Hill Garden and Pergola.
The charming, overgrown pergola overlooks West Heath.
In spring, wisteria snakes its way around the pergola's columns, making it even more beautiful.
As well as enjoying the relaxing vibes and beautiful plants, this garden also gets a lovely view out over London.
Rembrandt Gardens in Little Venice
Located in the heart of charming Little Venice, the Rembrandt Gardens are a lovely place for a stroll or a lazy picnic (sounds good to me.)
The name of the gardens comes from the fact that tulips were donated to the garden by the City of Amsterdam in the 1970s.
As well as the tulips, there's also plenty of inviting green lawn as well as other plants and flowers to enjoy.
Read Next: Little Venice: Exploring London Off the Beaten Track
Queen Elizabeth Hall Roof Garden
A garden that is free and on a rooftop? Yep, that's what's on offer at the Queen Elizabeth Hall Roof Garden at the Southbank centre.
This a beautiful spot to enjoy a drink, admire the flowers and take in the view of London.
Plus, the garden is maintained by a group of volunteers recovering from issues like homelessness and mental illness – so it's a place that's more than worthy of your support.
Myddelton House Gardens
Beautiful Myddelton House was once home to Edward Bowles, who was a definite gardening addict.
He spent years teaching himself everything he could about botany and landscaping. He then put his knowledge to work and designed the amazing eight-acre gardens at Myddelton House.
To this day they are one of the most popular gardens in London and well worth a visit.
Phoenix Gardens
It's not the grandest of the gardens in London, but it is certainly one of the most loved.
Even in the big city, Phoenix Garden proves that everyone loves a community garden.
This modest sized garden is nestled between Soho and Covent Garden. It gives the area a much-needed injection of green space, and community spirit.
It's a not-for-profit that relies on donations, so if you have any spare pounds – consider handing them over.
Read Next: Cool Things to do in Soho
Embankment Gardens
The strip of lawns and lush flower beds along Embankment are on the radar of almost anyone trying to sneak a bit of sunshine on a lunch break in that part of town but are still ones to have in mind if you're looking for a little green space in central.
They're easy to get to from pretty much anywhere in London's centre and some of the flowers on display are truly beautiful. Throw in some curious statues and fountains and you're on for a winner.
Vauxhall Pleasure Gardens
Straddling the line between park and gardens comes the intriguing Vauxhall Pleasure Gardens (it is in the title after all). They're a sprawling run of lawns and more secluded spots where you can discover some curious flora among the flowerbeds.
What's more curious though is the history of this space. The Vauxhall pleasure gardens were once a place of extreme debauchery, where Victorians would go to visit prostitutes, watch lewd theatre and get into fights.
None of that goes on any more. These days the gardens are really rather peaceful. They even have a city farm. Can you get more wholesome than that?
Gardens in London: Palaces + Stately Homes
London's wealthy elite have historically had some pretty amazing gardens – and nowadays, many are open to the public (but only if we're on our best behaviour).
Hampton Court Palace Gardens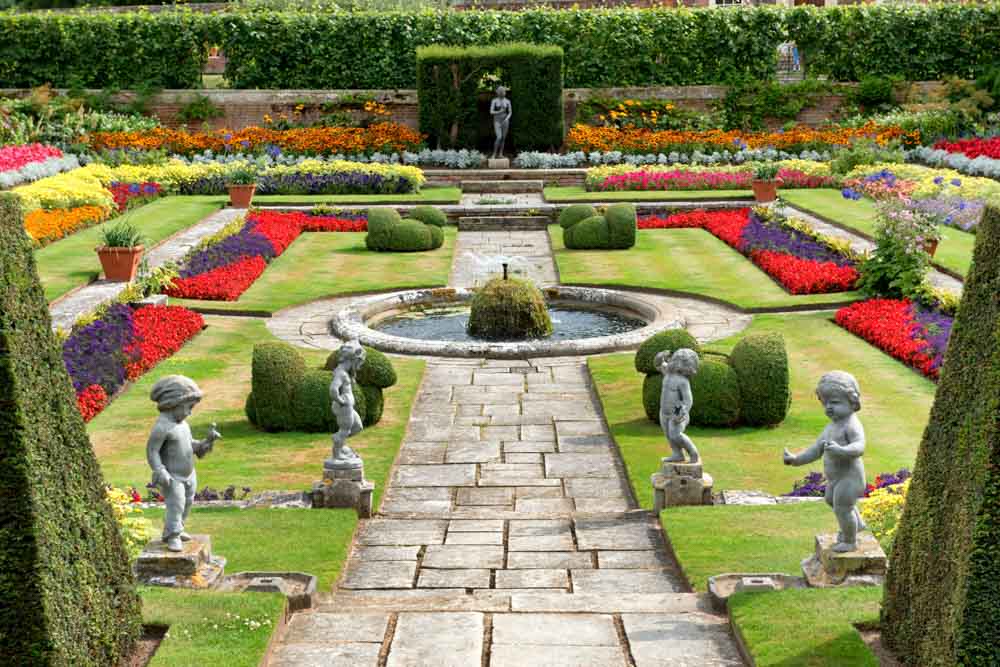 Henry VIII may not have been a stellar husband, but he did have great choice in gardens. You can see for yourself at his old stomping ground, Hampton Court.
Here, you'll find over 60 acres of perfectly manicured garden. It's all very aristocratic, with perfectly polished hedgerows and imposing statues.
It's not all serious though – there's also a huge maze, which is great fun for kids (and kids-at-heart).
Fenton House
Not far from Hampstead Heath, Fenton House was built by a wealthy merchant back in the 1600s.
As was all the rage back then (and to this day), the house is surrounded by a gorgeous garden.
Not only is it beautiful, but it's also quite practical. There's a huge apple orchard as well as a bee habitat – you can even buy the honey from the gift shop.
Ham House Garden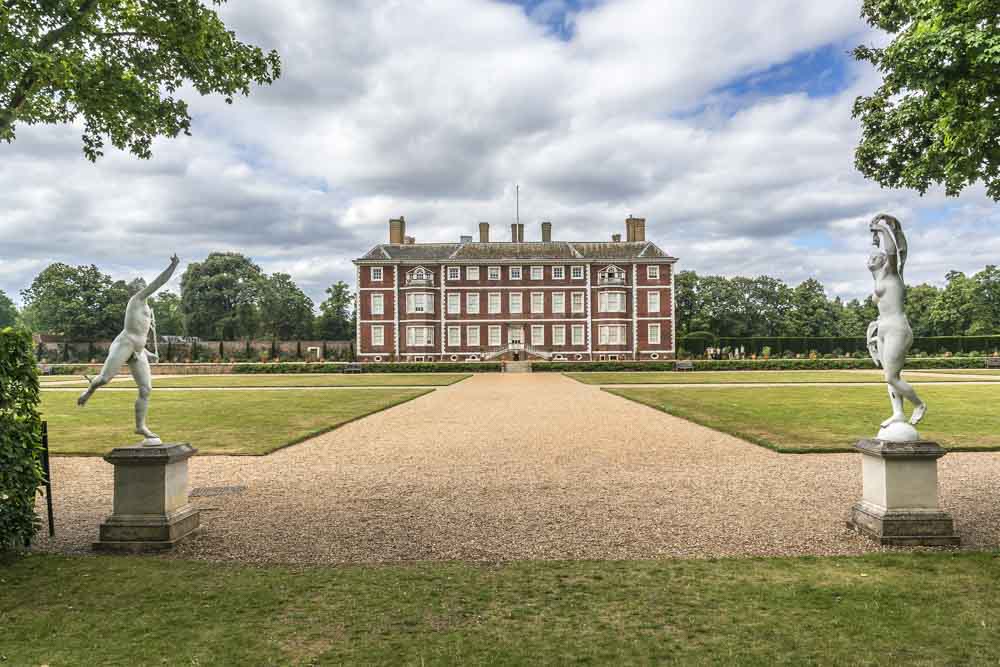 If you were fabulously wealthy in the 17th century then an impressive house and spectacular garden were definite non-negotiables.
To have a peek at how the other half lived, you can pay a visit to Ham House with its gorgeous garden.
Flowers abound in this garden – if you want to know more, you can even join a free tour of them.
St. John's Lodge Gardens
Hidden in plain sight just off the Inner Circle in Regent's Park the St John's Lodge Gardens date back over 200 years. They've served as gardens to a private residence that has in its time been a hospital for officers wounded in the first world war and the HQ of the Institute of Archaeology.
The mansion is now a private residence again but you can still go and visit the gardens. They are home to a Grade II listed bronze statue of a young woman holding a goat, a donation from the National Council for Animal Welfare in the thirties.
The statue is in honour of Gertrude Baillie Weaver, a suffragette who co-founded the aforementioned National Council. It is inscribed "To all the Protectors of the Defenceless".
Kensington Palace Gardens
If you're intrigued by the young royals (let's admit it, aren't we all?) then you should definitely swing by the Kensington Palace Gardens.
Not only is the palace impressive, but it's surrounded by one of the most beautiful gardens in London. The summer garden is especially impressive and colourful.
Best of all there is no entrance fee if you don't mind skipping the house, making it one of the best free gardens in London.
Buckingham Palace Gardens
What could be more British than checking out the garden at Buckingham Palace? You can even stop in at the tea shop afterwards.
As you'd expect from the home of the royal family, the garden is gobsmackingly pretty. In particular, it's home to one of the most beautiful rose gardens in London.
Just note that it's only open in summer; the rest of the time it's just for Queen Liz and her corgis.
Syon House Gardens
If you arrive at Syon House and Gardens and feel a sense of deja vu – don't be alarmed. You've probably just seen it in a show like Downton Abbey, Killing Eve or Poirot.
The spectacular house and garden are quite the favourite of film-makers.
The gardens here are really something, as you'd expect from Greater London's last remaining ducal estate. Prepare to be impressed (and really jealous.)
Fulham Palace Gardens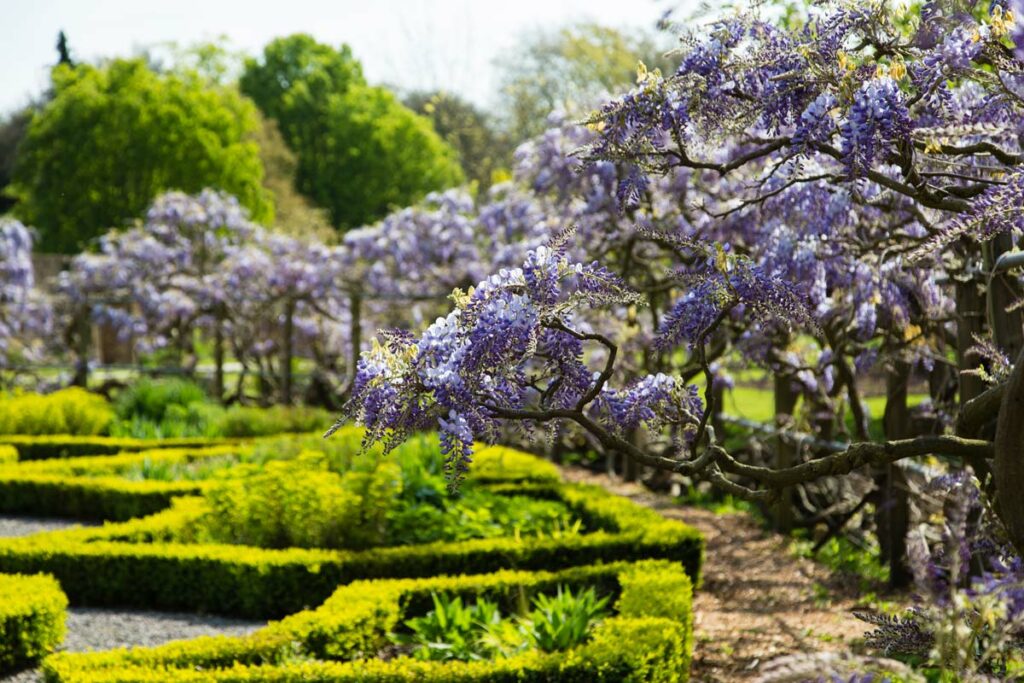 Once the home of the Bishops of London, Fulham Palace Gardens is today open for everyone to enjoy and admire.
It's a combination of beautiful, flower-filled "pleasure gardens" as well as "kitchen gardens" where herbs and spices would have been grown.
Dating back from the 17th century but with modern changes, it's one of the most historic and beautiful gardens in London. Best of all, entrance is free.
Tips for Visiting London's Gardens
A number of these gardens are managed by the National Trust or English Heritage. Members are entitled to free entry. Overseas visitors can also sign up for a temporary overseas membership.
For those gardens with an entry fee, it is usually cheaper (and easier) to book your tickets online. It avoids the crowds and usually saves a few pounds.
Don't be afraid to join a garden tour which are on offer at many of these sites. They're a fun walk and you can pick up some tips to apply to your own garden (or houseplant).
Best Gardens in London: Map
Click here for a map of the gardens featured
Looking for More London Tips and Guides? Read Next