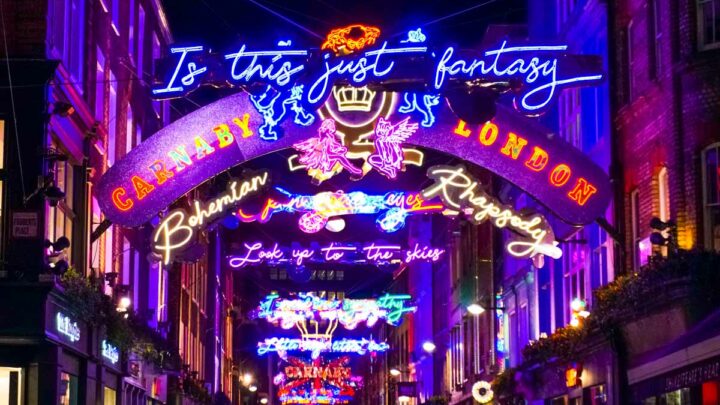 It's the most wonderful time of the year – isn't that what they say?
Thankfully, Christmas in London looks like it's going to be a bit more normal this year. Most of the capital's lights have gone up / are about to go up and are doing more than their fair share to bolster the festive spirit.
From designer shopping under glimmering lights to illuminated festive trails, you can always rely on the capital to be filled to the brim with brilliant places to get your sparkle fix.
Looking for the best Christmas lights in London? These are the places you shouldn't miss.
PS – some of these photos are from previous years – we wouldn't want to spoil the surprise!
Where to See the Best Christmas Lights in London
Oxford Street
Switch On: tbc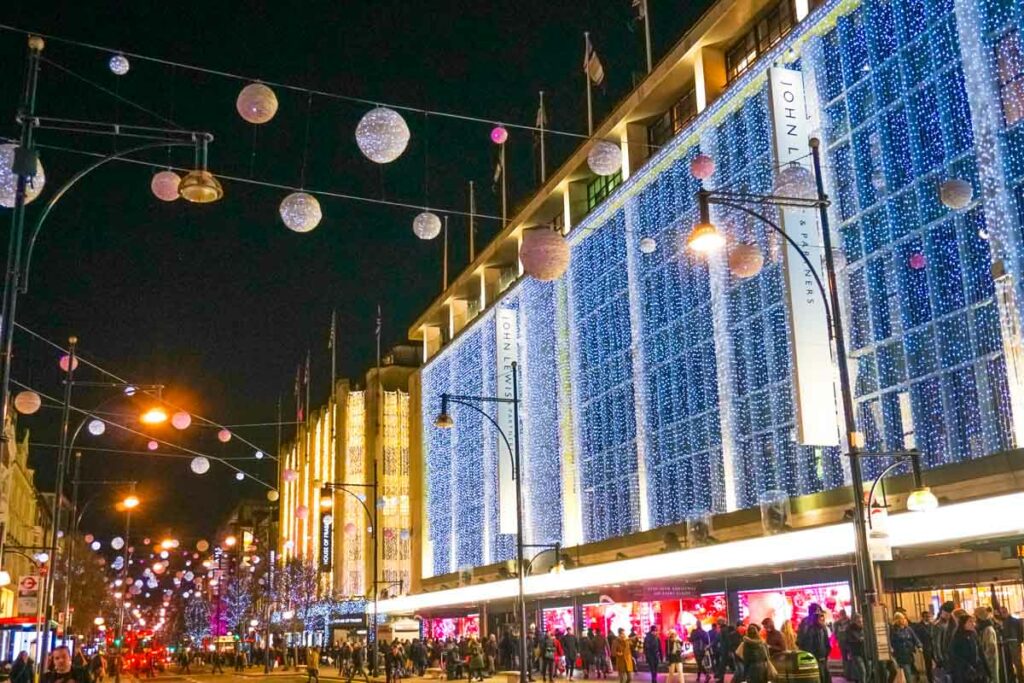 Let's kick things off with a classic. If you're coming to London and want to see Christmas lights, nowhere is as iconic as Oxford Street and its array of suspended decorations.
Last year saw heroes get a much-welcomed shout out amongst the twinkling lights, and although exactly what the lights will look like this year is being kept under wraps, we're sure that it will be just as impressive as previous offerings.
Regent Street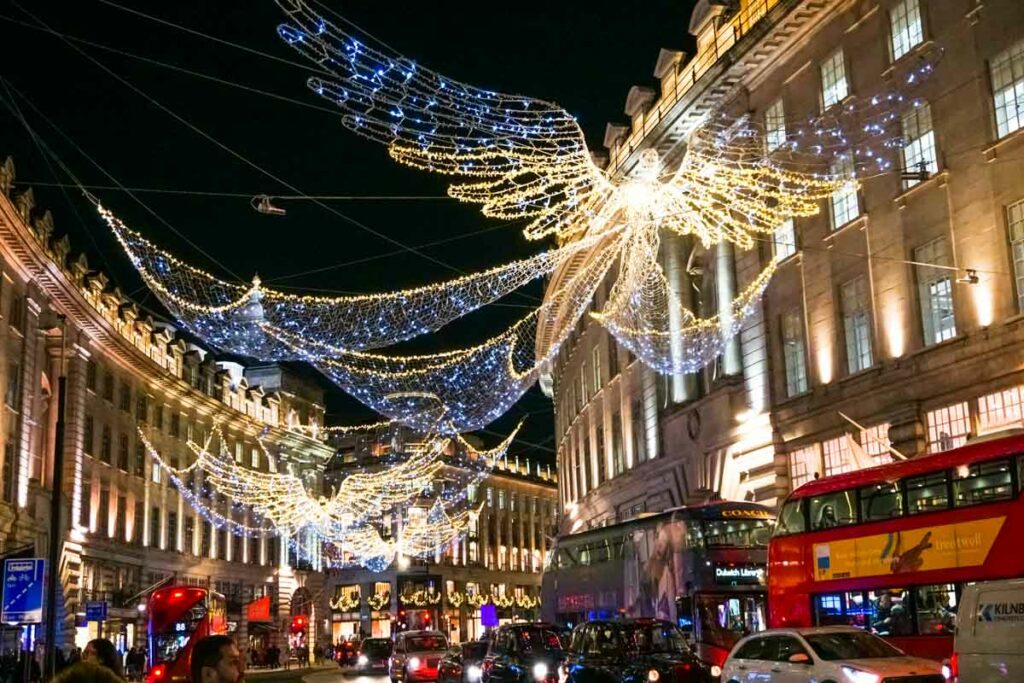 Regent Street's lights are pretty much always our favourites in the city and this year is no exception.
The street's 'Spirit of Christmas' lights went on late last month and, as usual, the sparkling canopy is made up of trumpeting angels beckoning you along the iconic street.
Grab yourself a hot chocolate (or a mulled wine) and take a stroll underneath the lights one evening – it's a gorgeous way to end a date night – or a lovely hangout with friends. Thank us later.
Carnaby Street
Switch On: November 4th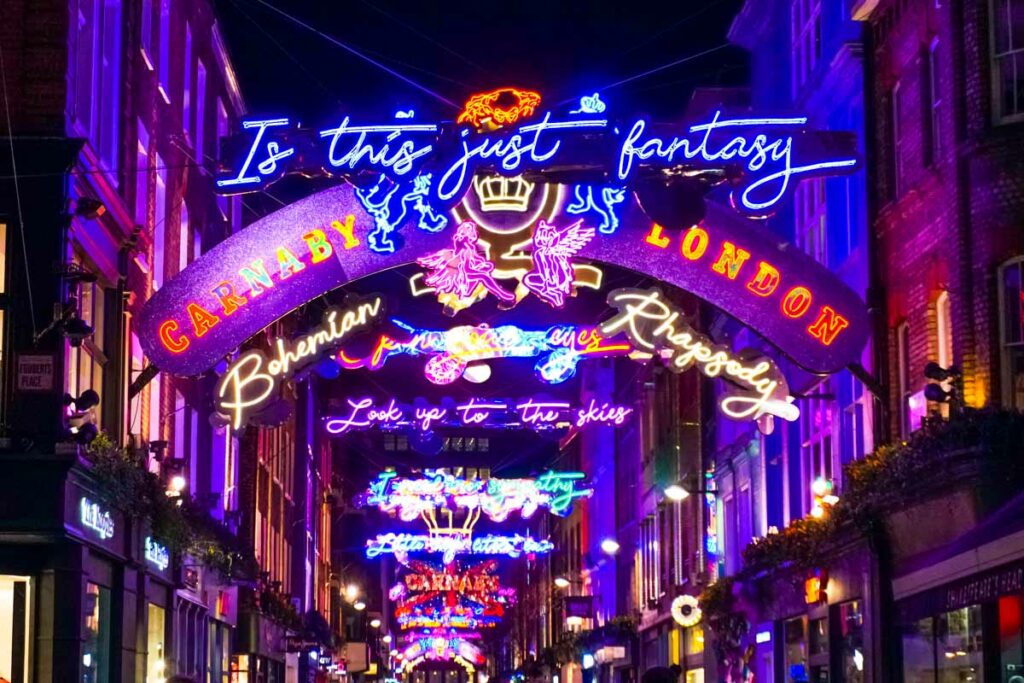 Carnaby Street will be bringing the warm and fuzzies to the capital from November 4th, teaming up with refugee charity Choose Love to spread Christmas cheer.
The charity actually has a pop up store on the famous street, and the collaboration includes over 600 glittering butterflies which will be displayed in a dazzling kaleidoscope overhead.
The design will symbolise hope and life, and a huge christmas party will be taking place after the unveiling – make sure to head there for mega discounts and free samples.
Bond Street
Switch On: tbc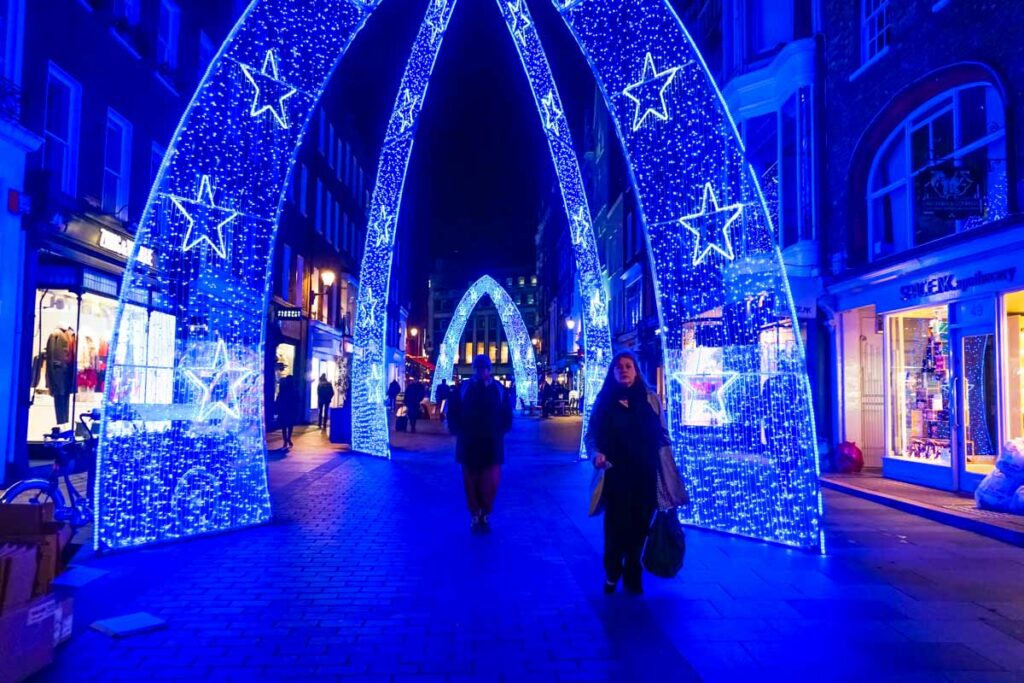 Designer lovers will want to make sure they head to Bond Street this jolly season for a spot of high-end shopping under gleaming decorations. After all, 'tis the season to splurge on presents for oneself, right?
The designs change often, but a firm favourite throughout the years has been the peacock feathers that represent the 18th century men who strutted along the street in their fancy gear.
Covent Garden
Switch On: November 9th
Covent Garden is easily one of the most magical Christmas spots in London… and the 115,000 lights that decorate the neighbourhood each year play a hefty role.
Covent Garden will be illuminated for the 2021 festive season from 9th November – as well as sparkling mirror balls, giant sprigs of mistletoe to smooch under, and a 55ft British Christmas tree. It's basically one giant 'grammable opportunity.
There'll also be plenty of markets, outdoor festive dining, and pop ups across the jolly season. Oh… and you might just catch some snow while you're there.
Head over to Covent Garden in the afternoon for a spot of shopping before the sun sets and the lights begin to glitter.
Seven Dials
Switch On: tbc
Seven Dials is another popular spot for Christmas lights in London.
Located just around the corner from the main area in Covent Garden, why not combine the two for a magical evening under pretty lights?
Although this year's display details are yet to be released, previous years have seen trees draped in impressive lights and local shops and restaurants often take part in a festive bonanza complete with late night shopping hours, free drinks, and heavy discounts.
Winter Wonderland at Hyde Park
18th November – 3 January 2022
Winter Wonderland returns this year and we can't wait – though unlike other years, you'll need a ticket to enter.
If you've been living under a rock for the past few years, Winter Wonderland is basically a giant Christmas playground complete with an ice bar, fairground rides, and Bavarian-style beer huts (and much, much more).
In other words, it's a haven for all things Christmas and, as you would expect, has some of the most impressive Christmas lights in the capital.
From the colourful arch entrance to the lit up ferris wheel, there's plenty of Christmas lights here to admire.
Leicester Square
Switch On: 12th November
If you're from London, heading into Leicester Square at Christmas time sounds like the opposite of a treat…
… But if you're looking for the ultimate Christmas experience in the capital, diving into busy central London is a must-do. Nothing says Christmas like elbowing past last-minute gift buyers and stressed Santas.
From November 12th, the Christmas lights will be on and snowflakes will dangle from the trees above the market. It's hectic but it's oh so fun.
Duke of York Square
Switch On: 20th November
Chelsea's Duke of York Square is quite a late bloomer this year, not turning its lights on until Saturday 20th November. Though it's worth the wait, we promise.
The light switch-on follows a day of festive fun throughout the borough: Sloane Square, Duke of York Square, Pavilion Road, and King's Road will all be filled with food stalls and plenty of family fun to get involved with throughout the day.
Marylebone Village
Switch On: 10th November
Celebrate Merry Marylebone from Wednesday 10th November as the village will host a Christmas light switch on and shopping evening to rival some of the bigger spots in the capital.
The village's famous overhead wreaths will once again line the streets in 2021, so grab your favourite festive drink and spend the evening dipping in and out of local shops.
Kew Gardens
17th November – 9th January 2022
Unlike the other spots in this guide, you'll need to part with some cash to view Kew Gardens' impressive display. From mid-November until the new year, the country's favourite botanical garden will transform each evening into a shimmering winter wonderland.
Not only will you be able to admire the pretty lights on display, but Kew Gardens will also become home to sparkling tunnels, reflections on the water, and trees lit up in jewel tones.
Keep your eyes peeled from special visits from Father Christmas himself, as well as plenty of sweet treats to scoff – this is the perfect event to bring the whole family to.
Coal Drops Yard
Switch On: tbc
Situated a stone's throw from King's Cross, ultra-cool destination Coal Drops Yard transforms into a cosy nook over the Christmas period.
Decorated with lights, trees, and festive installations, this is the perfect place to shop for seasonal gifts in central London. Not to mention the insane amount of independent stores to peruse.
Top tip: Head to one of the restaurants nearby (we love the cheesy goodness over at Morty & Bob's) and opt for a window seat for dinner with a pretty view.
Northbank
Switch On: tbc
Although Northbank's Christmas lights are often outshone by the nearby Trafalgar Square, it's a criminally underrated place to enjoy the festive season in London.
The lights illuminate the Strand and Villiers Street, and the best bit? You'll be able to nab plenty of photos without hordes of people ruining your story for the 'gram.
The popular spots are great, but sometimes it's a good idea to ditch them for the more low-key places, especially as the capital can get very busy at this time of year.
Southbank
Switch On: tbc
Also home to a cracking Christmas market bursting with brilliant stalls guaranteed to put you in a joyful mood, Southbank puts on a rather impressive festive show with its lights and installations each year.
If you're looking for the ultimate winter walk, this part of London is unbeatable. Wrap up warm and make a pit stop at the market before continuing along the rest of Southbank with a hot chocolate in hand.
Details haven't been released yet as to when festivities will return to Southbank this year, but keep checking back here for more updates.
Belgravia
Switch On: 10th November
Appropriately entitled 'With Bells On', Belgravia's charming streets will yet again be lit up from 10th November – the likes of Motcomb Street, Elizabeth Street, Pimlico Road, Eccleston Yards, and Halkin Arcade will be adorned with white lights.
Make sure to check out Eccleston Yards Christmas Market while you're in the area, which will be open from 11am until 5pm each day. It's the perfect place to refuel with a mince pie and a hot drink.
Map for Self-Guided London Christmas Lights Tour
If you'd rather take a guided tour around London's twinkling lights, we recommend you opt for this one. Board a vintage open-top bus and spend an evening zipping around the capital past Oxford Street and other gorgeous spots with a friendly guide who will help bring the city to life.
Looking for More London Christmas Guides?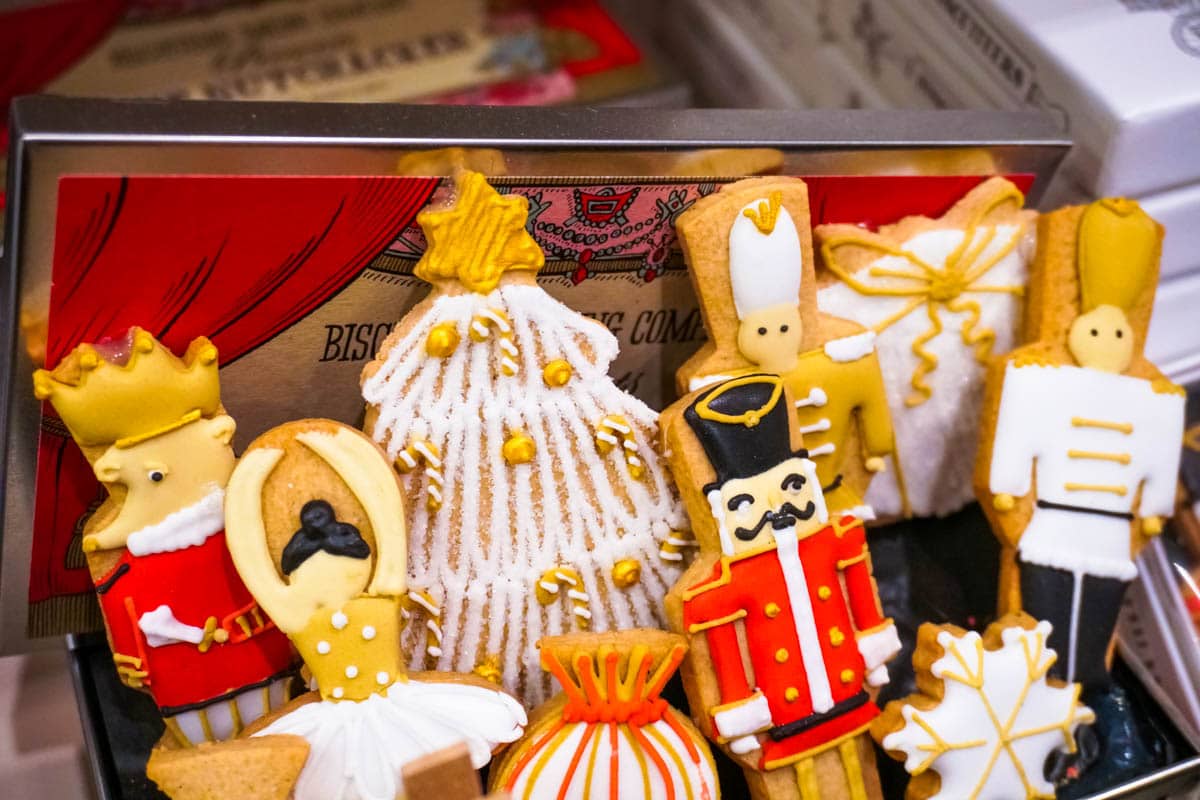 London at Christmas: The 2021 Guide
The Best Christmas Markets in London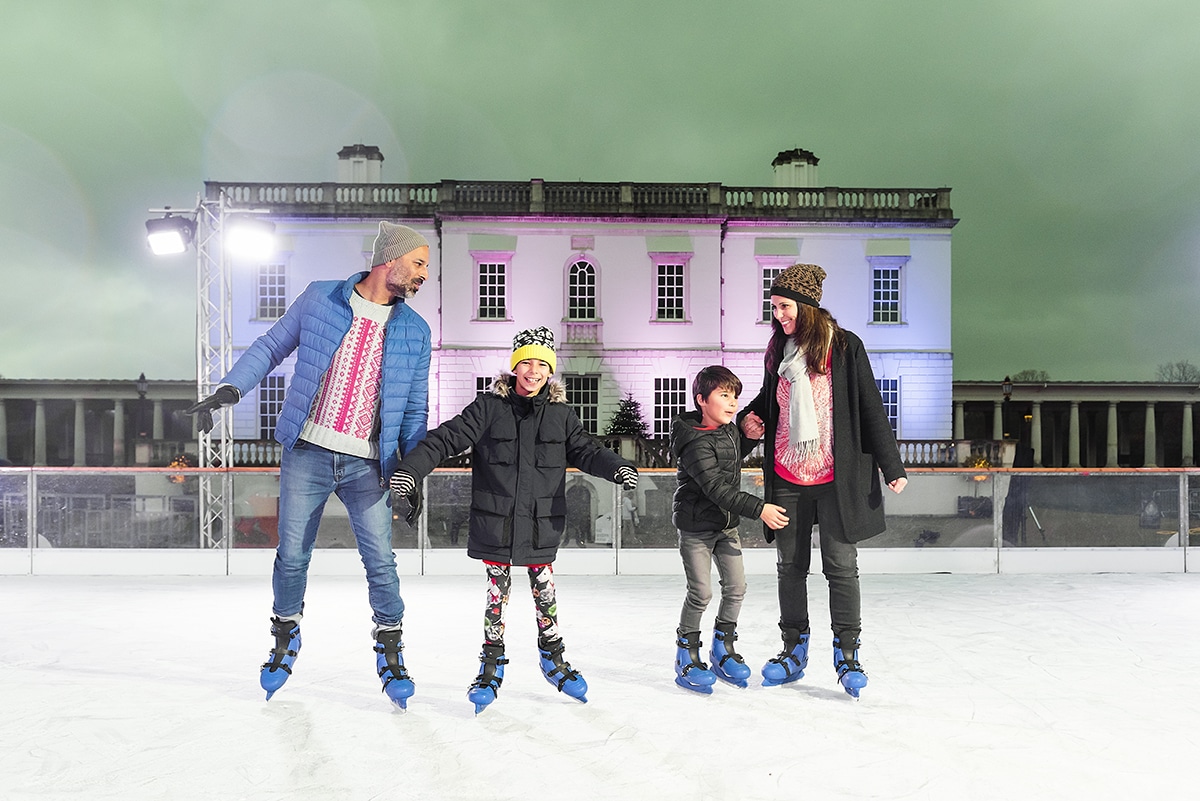 Cool Ice Rinks for Showing Off Your Skating Skills