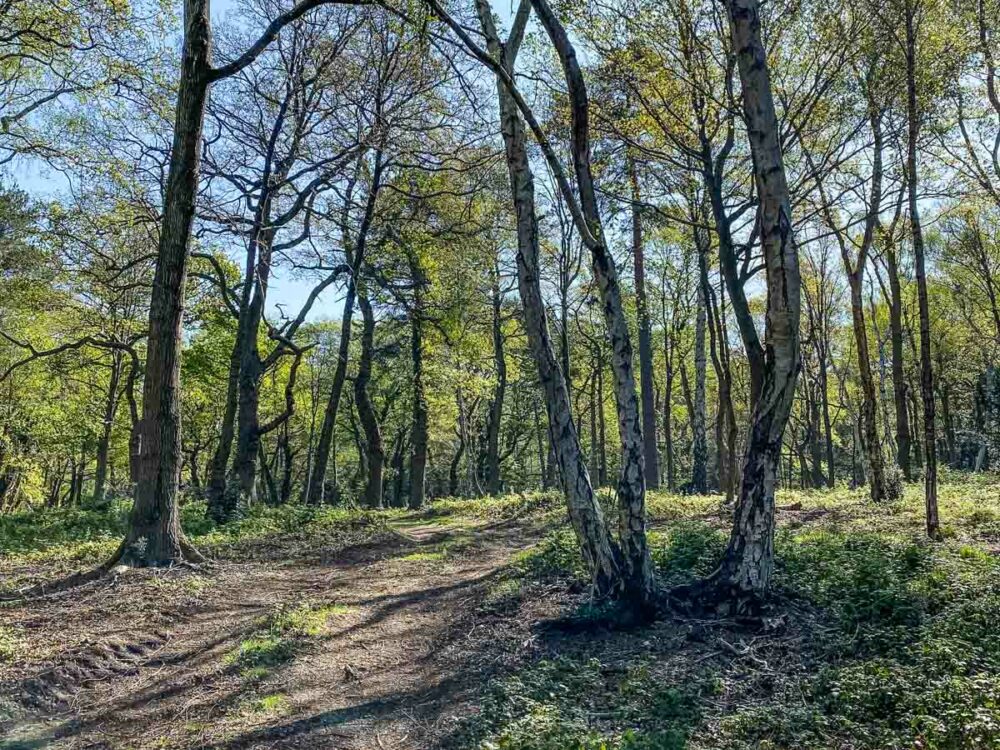 Sometimes we all need to stretch our legs in nature. Here's where you can do just that – the best woodlands and forests in and near London.
Lush as London is, sometimes you need something grand – a gigantic green space to explore at your leisure. These fantastic forests in and around London are perfect for your next outdoors adventure.
For maximum practicality, we've split this guide into two sections: woods and forests actually in London and those outside but in day-trippable distance with information about how to get to each spot and a handy map at the end.
Woods and Forests in London
Highgate Wood
Although nearby Hampstead Heath dominates talk of outdoor spaces in North London, 28-hectare Highgate Wood is worthy of your attention.
Tucked away between Highgate, Finchley and Muswell Hill, the woods were originally a part of the much-larger ancient Forest of Middlesex – a place so old it was mentioned in the Domesday Book.
These days, it's one of the nicest spots for a woodland walk in London. There's a wildlife information hut to help you identify the nature you spot in the woods and, despite its relatively small size, a variety of areas and habitats to keep things interesting.
In true London style, there's also a cafe to make sure you're never too far away from sustenance.
Getting There: Highgate Underground Station

Selsdon Wood Nature Reserve
Croydon is (rather unfairly I might say) known for many things – the unfortunate Croydon facelift among them, but did you know the borough boasts a plethora of green spaces including the stunning Selsdon Wood Nature Reserve.
These woods in London feature 200 acres of countryside – divided between woodland and open fields. It's a wonderful destination in every season: in spring carpets of bluebells and anemones, and the London autumn colours come hand in hand with plump blackberries and acorns.
Walking-wise, you've got plenty of options: two long-distance paths, The Vanguard Way and London Loop both pass through Selsdon Wood, and there are two official shorter routes of 1.6km and 3km respectively, along with plenty of footpaths for you to create your own route.
Getting There: East Croydon / South Croydon train stations and bus 433
Queen's Wood
Next to Highgate Wood, the Queen's Wood is another surviving part of the Forest of Middlesex – this time in the area of Muswell Hill.
There's been a wood in this location since at least AD 1600 – filled with Oak and Hornbeam, it's a habitat for some of the widest variety of wildlife you'll find in easy reach of the city centre.
Birdlife includes greater spotted woodpeckers, blue tits, robins, wrens, sparrow hawks, good old London pigeons and much, much more.
Getting There: Highgate underground station
Sydenham Hill Wood
Sydenham Hill Wood is the largest remaining section of the Great North Wood – a vast woodland that used to stretch from Deptford in the north all the way down to Selhurst and South Norwood in the south.
It's one of South London's prettiest spots – complete with an old Victorian folly nestled amidst the trees and the 18th-century Cox's Walk – a tree-lined path created by publican Francis Cox in 1742 and widely regarded as one of the nicest forest walks in London.
Getting There: Sydenham Hill or Forest Hill train stations
Oxleas Wood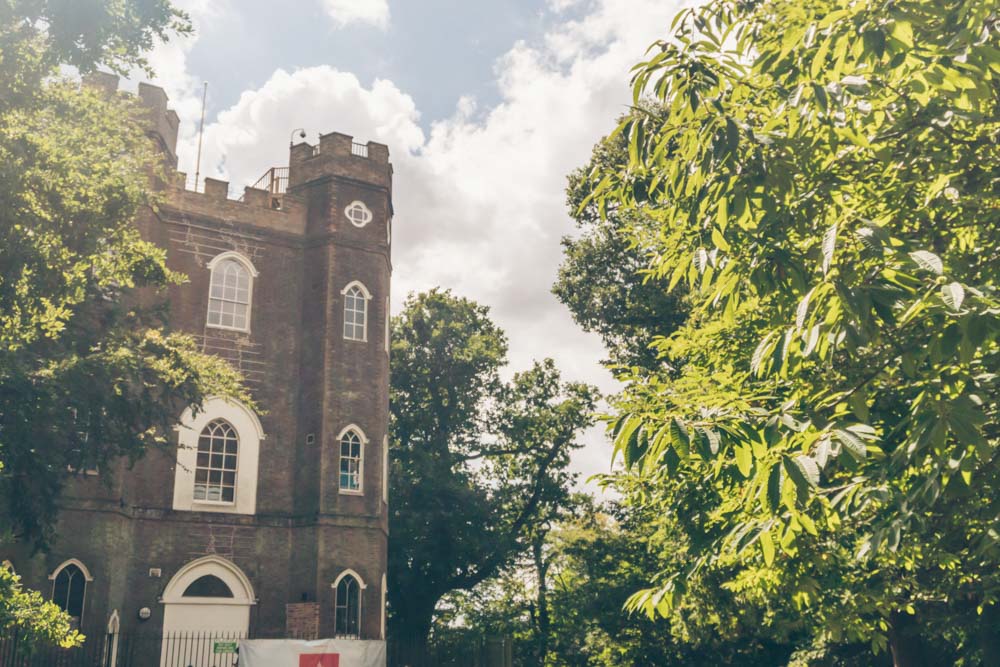 The ancient woodlands atop Shooter's Hill are a delightful place to explore during any season.
First up, there's the woodland itself – some parts of it are over 8,000 years old and it's blessed with meandering paths darting between the ancient trees.
Then there's the gloriously bizarre Severndroog Castle poking up at the top of the woods – a folly transformed into a cafe. Be sure to go upstairs to grab one of the best views of London.
Getting There: Falconwood train station and 20 minute walk
Richmond Park
OK, it's technically not a forest but hear me out before you dismiss Richmond Park out of hand. This jaw-dropping Royal Park has over 1,200 ancient trees spread out throughout its confines.
The Isabella Plantation doubles up as a large botanical garden filled with blooming azaleas and other colourful plants. That's all before you get to the park's best-known feature too – herds of fallow and red deer roaming freely that make for plenty of nature-spotting opportunities.
Getting There: Richmond Station by train or underground.
Wendover Woods
Out in gorgeous Buckinghamshire, a few hours from central London you can hike through the idyllic Wendover Woods.
We love this spot because there's plenty of things to do if hiking or exploring forests isn't totally your thing. They've got orienteering sessions, assault course, picnic spots and even a Go Ape so you can swing through the trees instead of walking it.
They've recently finished upgrading some of the paths so that people that need a little extra help getting around can enjoy the woodlands. The upgrade comes with some off-road bike paths that are great fun to zip along if you're brave enough.
Best of all: It's a straight shot on the train.
Getting There: take the train from Marylebone Station to Wendover
Woods and Forests Near London
Epping Forest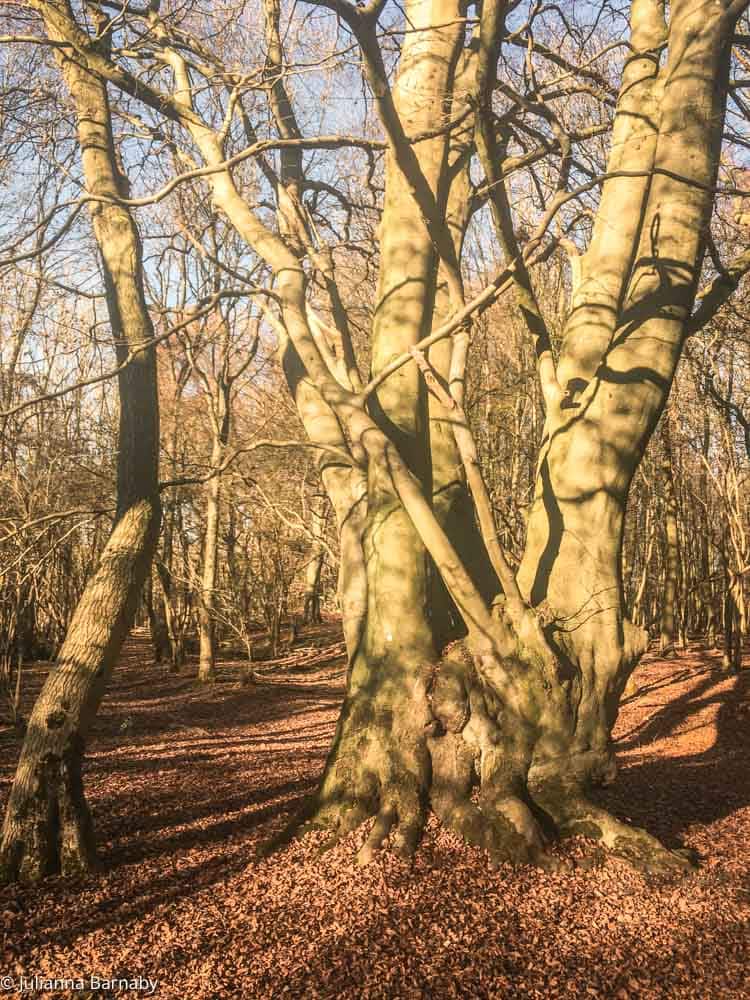 Probably the best-known forest near London, Epping Forest is an expansive forest that starts in the north-east reaches of the city. If you're looking for somewhere to grab a few lungfuls of fresh air, the largest outdoor space in the London area feels like a good place to start.
Hop on the Central Line – 2,400 hectares of ancient woodland await, complete with walks that range from short jaunts of a mile or two to all-dayers that showcase the diversity of the forest. Wanna know more? Check out my guide to the best Epping Forest walks.
Getting There: Central Line stations Chigwell, Roding Valley, Buckhurst Hill, Loughton, Debden, Theydon Bois and Epping provide access to the forest. Overground station at Chingford.
Hainault Forest
One of the last remaining sections of the ancient Forest of Essex, Hainault Forest is a beautiful stretch of woodland near London that stretches over a sizable 336-acres. With more than 1,000 bird and animal species and near-endless footpaths, there's plenty of reason to return again and again.
How to get there: Hainault Station then bus 247 or 150, Grange Hill Underground Station (2.4 miles) then bus 362 or 247 or Chadwell Heath Station (10 miles) and bus 362.
Banstead Woods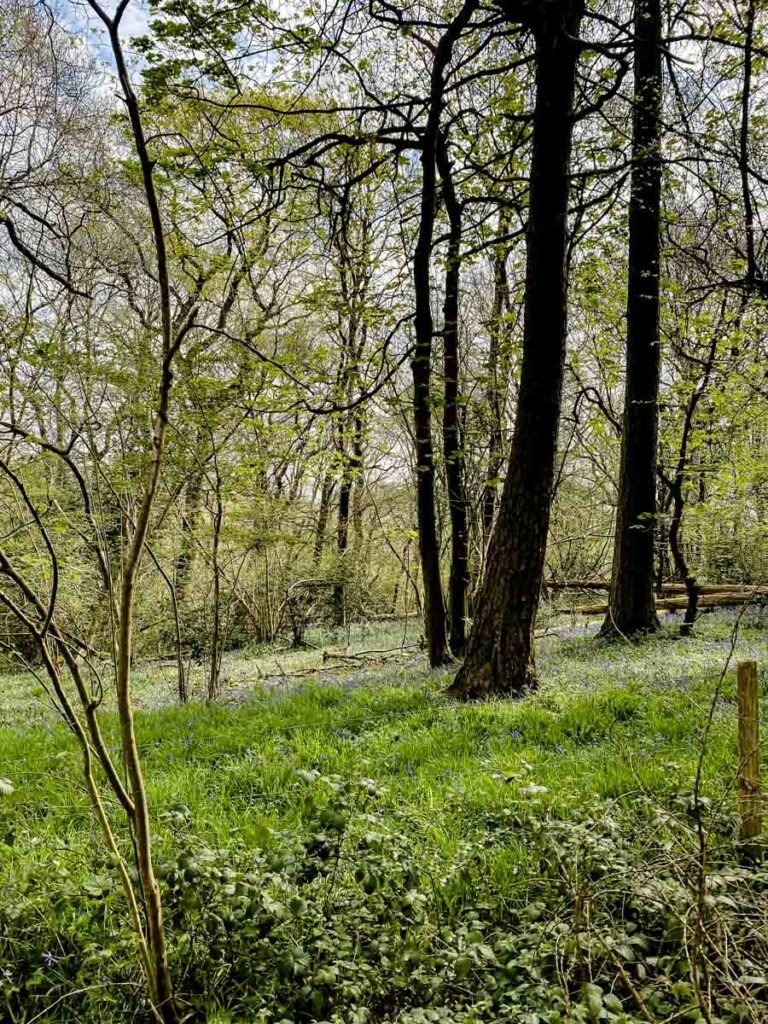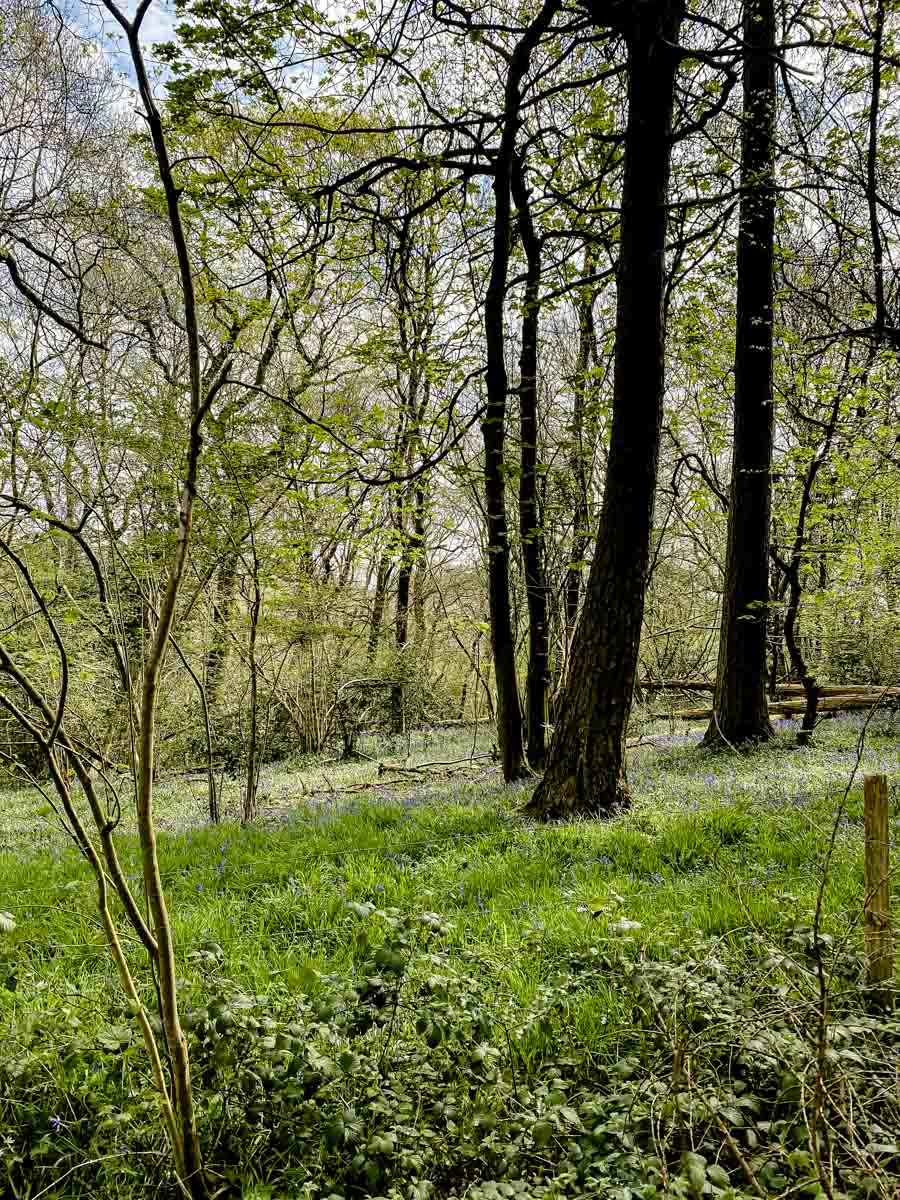 A medieval deer park thought to once have been owned by Anne Boleyn turned public woodland, Banstead Woods are something of a local secret. Spread out over 93 hectares, the woods are situated on chalk, clay and gravel formations, with each type providing different habitats for flora and fauna.
This variety sets the woods as a fantastic setting for a woodland walk as you're able to see a lot, even in a relatively short period of time.
Kids will love the Narnia Trail – a nature trail set within Banstead Woods and neighbouring Chipstead Downs with famous characters and objects from C.S Lewis' books, inviting you to pop through the wardrobe door or see Lucy waiting beside the famous lamppost.
Getting There: Train to Chipstead station and 25 minute walk.
Ashdown Forest
The Ashdown Forest is one of my personal favourite forests around London – not only does this pretty forest stretch to over 2,500 hectares of public land, it was also the inspiration and setting for A.A Milne's Winnie the Pooh.
You'll find plenty of Pooh-related spots dotted across the forest. Poohsticks Bridge pretty much demands you play a game or two before moving on to Eeyore's Sad, Gloomy Place and Galleon's Lap – places from the book you can see in real life.
Away from Pooh, the heathlands of the Ashdown Forest are a Special Area of Conservation – protecting the diverse range of flora and fauna you can find within. There are hikes and walks aplenty too: both the long-distance Vanguard Way and Wealdway pass through the forest, alongside a much larger number of smaller footpaths.
Stop at 15th century The Hatch Inn for a tasty pub meal – in the winter the roaring fire is a beaut and there's outdoor seating for the warmer months.
Getting There: Get the train to Eridge, Uckfield, Tunbridge Wells or East Grinstead and catch a local bus to the forest (buses vary depending on the station: full info here)
Abinger Roughs
If you're willing to undertake a bit of a mission to get to them (around 2 hours from central London) Abinger Roughs are an excellent place to get away from the city.
The trees that make up Abinger Roughs comprises mostly oaks, birches and the occasional pine and are said to be over three centuries old. There's even a couple star-studded claims to fame.
The first comes with the fact that Darwin is said to have enjoyed strolling in these woods back in the late 1800s. The second comes in the more tangible, real-life wonder of a beech tree with a 15 ft girth.
Getting There: Get a train to Gomshall, Dorking West, or Dorking and take a local bus. More information on getting there can be found here.
King's Wood
Kent's delightful King's Wood is a one-and-a-half-thousand acre stretch of trees, meadows and, in the spring time, sprawling seas of bluebells.
What also makes King's Wood special is its wildlife. There are enough varieties of birds to keep any avid twitcher entertained for hours, but best of all are the wild herds of fallow deer that still roam the woods.
On top of the regular walking trails that cut through the woods, cycle paths can be found in varying degrees of difficulty from the casual cycle to more full-on mounting bike tracks.
Getting There: Take a train from St. Pancras to London Bridge to Ashford station and then hop on a local bus to the woods. More information and walks can be found here.
Practical Information and Map for Exploring Forests Near London
Wear practical (waterproof) shoes to explore these forest walks in London, they can be muddy at the best of times and soggy feet are grim.
Check ahead for opening times – though some of these spots are open 24 hours throughout the year, others like Selsdon Wood Nature Reserve and Richmond Park have restricted access after dark.
Practical Information and Map for Exploring Forests Near London
Wear practical (waterproof) shoes to explore these forest walks in London, they can be muddy at the best of times and soggy feet are grim.
Check ahead for opening times – though some of these spots are open 24 hours throughout the year, others like Selsdon Wood Nature Reserve and Richmond Park have restricted access after dark.
Looking for More Outdoors London Guides?