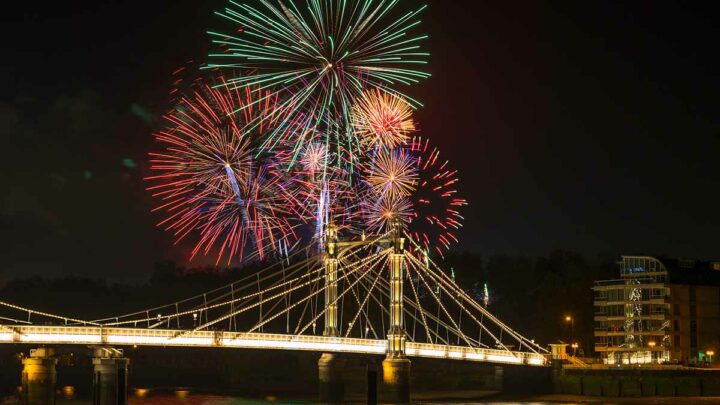 Having had to resort to a couple of underwhelming sparklers in the back garden last year, we are pleased to reveal that bonfire night is back with a bang! Wondering where to see firework displays in London this year? Read on for our 2021 guide.
Despite some of the old favourites still not going ahead this year, there are still plenty of fabulous fireworks displays popping up around the city. Just be sure to book tickets early and double check for any last minute changes.
Time to don your cosiest jumper and listen out for the familiar sounds of crackle, pop, boom!
Best London Fireworks for 2021
Alexandra Palace Fireworks Festival
6th November
Not just fireworks but a full blown festival. This event at Alexandra Palace is set to be one of the best bonfire nights in London.
As a thrilling fireworks display lights up the London skyline, you can also expect a bonfire, fire juggling, light shows and DJ sets with Trevor Nelson. There's a German Bier Fest, an ice skating disco and performances from a Spice Girls Tribute act.
Book tickets ahead – Adult 16+ £13.50 / Child under 10 yrs £3.50 / Child 11-15 yrs £10.50 Family bundle tickets available (tickets for Bier Fest and Ice Skating sold separately).
N.B. COVID-19 rules apply. Read more here.
Battersea Park Fireworks
6th and 7th November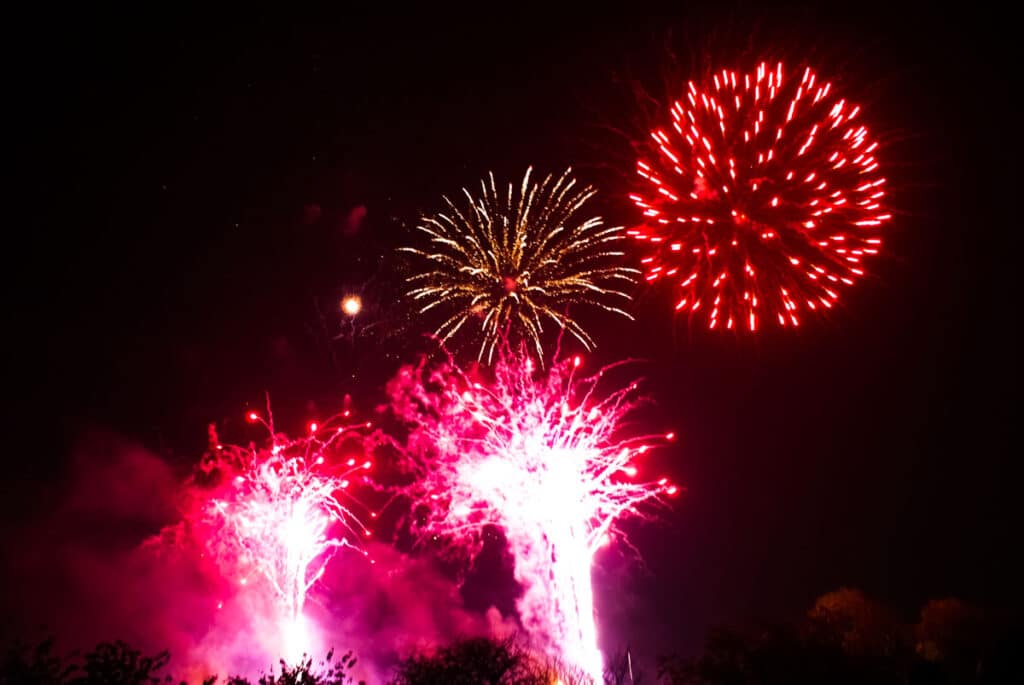 The people behind the Mayor of London's New Year's Eve celebrations and Edinburgh's Hogmanay are in charge of the fireworks at Battersea Park. Safe to say, this 2-day event is set to be pretty spectacular.
Saturday night kicks off at 7.30pm with a traditional bonfire and fireworks starting at 8pm.
There is an afterparty for ticket holders over 18 at Evolution London.
Expect a live band, a German beer hall and bumper cars.
Sunday night is geared towards families, with the fireworks display starting an hour earlier at 7pm. Instead of a bonfire there will be a lighting installation by Squid Soup whose work has been featured at Burning Man Festival and Sydney Opera House.
Book tickets ahead Standard ticket £12.10
Musical Fireworks Displays at Wimbledon Park
5th November
This is one of the few '5th November' fireworks displays and is actually a twin event with Morden Park (see below) with two shows per venue.
The family-friendly earlier showing features Disney soundtracks whereas the later show has music from James Bond.
Book tickets ahead Adult 16+ £9 / Junior 5-15 yrs £7
N.B. COVID-19 rules apply, read more here.
Musical Fireworks Displays at Morden Park
Saturday 6th November
The fireworks at Wimbledon Park will also take place at Morden Park for Saturday night.
Book tickets online until 3pm on the day. Adult 16+ £9 / Junior 5-15 yrs £7 + booking fee. There will be a limited number of tickets at the gate.
N.B. COVID-19 rules apply, read more here.
Fireworks Extravaganza at Chiswick Park
Thursday 4th November
The Chiswick Park celebration takes place on the 4th November From 5pm – one of the few places you'll find free fireworks in London.
The event at Chiswick Park also promises a live band and fire performers, not to mention a chance to practice walking barefoot on hot embers…
Yes, you heard that right. If you're feeling brave, book your firewalking experience here and support the local Hounslow Action for Youth charity (HAY).
Book tickets ahead FREE
Barnes Bonfire Night
Sat 6th November
Get down to Barnes Sports Club and there'll be a toasty bonfire to gather round; glass of mulled wine in one hand, hot dog in the other. In addition to fireworks, there will be a 'Best Guy' competition, where the winner gets to light the bonfire.
Book tickets ahead Adult £15 / Child 4-16 yrs £5 / Family (2 adults + 2 children) £30
Beckenham Fireworks
Sat 6th November
There'll be fun at the fair at Croydon Road Recreation Ground for the Beckenham Fireworks display which has been running since 1946. Food stalls and funfair open at 5pm.
There are quieter 'small bangs' at 6pm for younger children and the main display will kick off at 7.45pm.
Buy tickets on the gate – both cash and card accepted.
Harrow Fireworks Display
Sat 6th November
Harrow Fireworks is celebrating its 10 year anniversary and it's an epic double celebration – a Diwali and Bonfire Night bonanza in Byron Park. The event opens at 12pm and is free up until 3pm, tickets required thereafter.
There will be a 20-minute musical fireworks display (pre show at 7.30pm and fireworks straight after), face painting and henna tattoos, world foods, Diwali dancers, a full size funfair and plenty more.
Booking tickets ahead is recommended although some tickets will be sold on the night – cash only.
Book tickets Adult 16+ £8 / 3-15 yrs £5 / Family bundle tickets available
Dulwich Firework Display
Sat 6th November
Dulwich Firework Display is a family friendly affair being held at Dulwich Sports Club.
Most intriguing will be their 'eco-friendly bonfire' which is being displayed on a big screen. Expect mulled wine, real ale, BBQ, pizza and an array of food and beverage stalls. Fireworks will start at 7pm.
Book tickets ahead Adults £10 / Under 16 yrs £1
Danson Park Fireworks
Sat 6th November
Fireworks will be soaring over the lakes of Danson Park in Bexleyheath for an unmissable charity event.
Danson Park Fireworks promises live music from Amelia Street and Paisley Park before the 25-minute fireworks display starts at 8pm.
Book tickets ahead Adult £7 / Child £5 + booking fee. Tickets are also being sold at local shops.
Richmond Family Fireworks Night
Sun 7th November
Richmond Athletics Ground will be hosting this South London fireworks event with a funfair opening at 4.30pm. You'll see performances by local dance studio Studio K and fireworks will be choreographed to music at 7pm.
Book tickets ahead Adults £10 / 5-15 yrs £6 / £15 grandstand tickets + booking fee
Eton Manor Fireworks 2021
Sun 7th November
With many of the fireworks in east London now cancelled, you may wish to head further out to Eton Manor RFC who will be lighting up the skies with Jubilee Fireworks for a fun family evening out. Display starts at 8pm.
Book Tickets Adult £8 / Under 5s FREE / Child 6-12 yrs £5 + booking fee. Some tickets will be available on the gate.
Halloween Fireworks and Bonfire Night at London's Herne Hill Velodrome
Sat 30th October
If you really want to get some fireworks in early (the more fireworks the merrier, we say) there's a fireworks event happening over the Halloween weekend at the iconic Herne Hill Velodrome. A bonfire will be lit at 6.15pm and the fireworks display will start at 7pm.
Bromley High School Fireworks Display
Sat 6th November
South-east Londoners might find their nearest fireworks display is at Bromley High School. There will be a funfair, face painting and games before bonfire lighting at 7pm, followed by fireworks at 7.30pm.
Fireworks Displays in London: Map