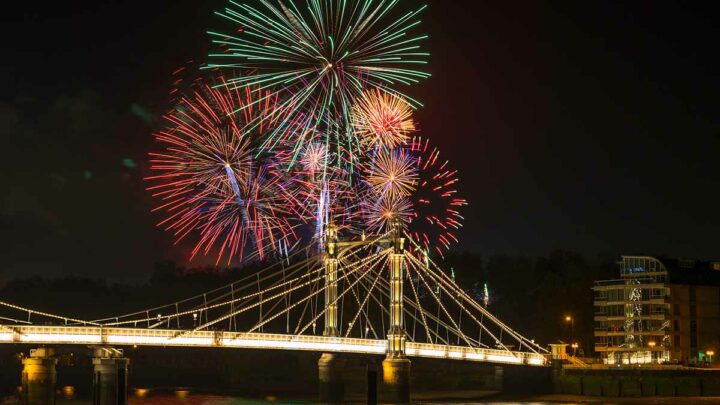 The best places to catch fireworks displays in London for 2022.
Time to don your cosiest jumper and listen out for the familiar sounds of crackle, pop, boom!
Yep, bonfire night is on the horizon. And of course, London has so many events to choose from.
Are you willing to travel across the city for the perfect show? Or do you just go to your usual spot? If you're like us, that hog roast will be just as important as the display itself.
With all this to consider, you must be wondering where to see firework displays in London this year. Read on for our 2022 guide.
Best London Fireworks for 2022
Alexandra Palace Fireworks Festival
Saturday the 5th November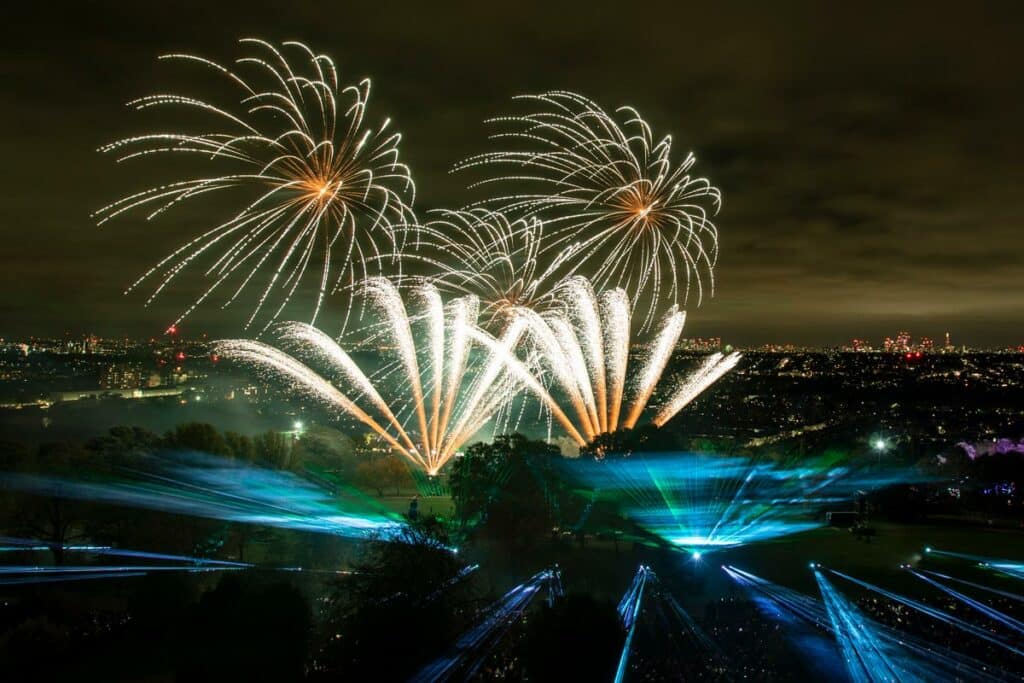 Not just fireworks but a full blown festival. This event at Alexandra Palace is set to be one of the best bonfire nights in London.
As a thrilling fireworks display lights up the London skyline, you can also expect a bonfire, fire juggling, light shows and DJ sets with Gok Wan (yep, that Gok Wan).
There's a German Bier Fest with a Bavarian oompah band, ice skating, and performances from an Elvis Presley tribute act.
With so much to do you'll wanna book ahead. Tickets for the ice rink and beer fest are sold separately. It's all in the link.
Battersea Park Fireworks 2022
Saturday the 5th and Sunday the 7th November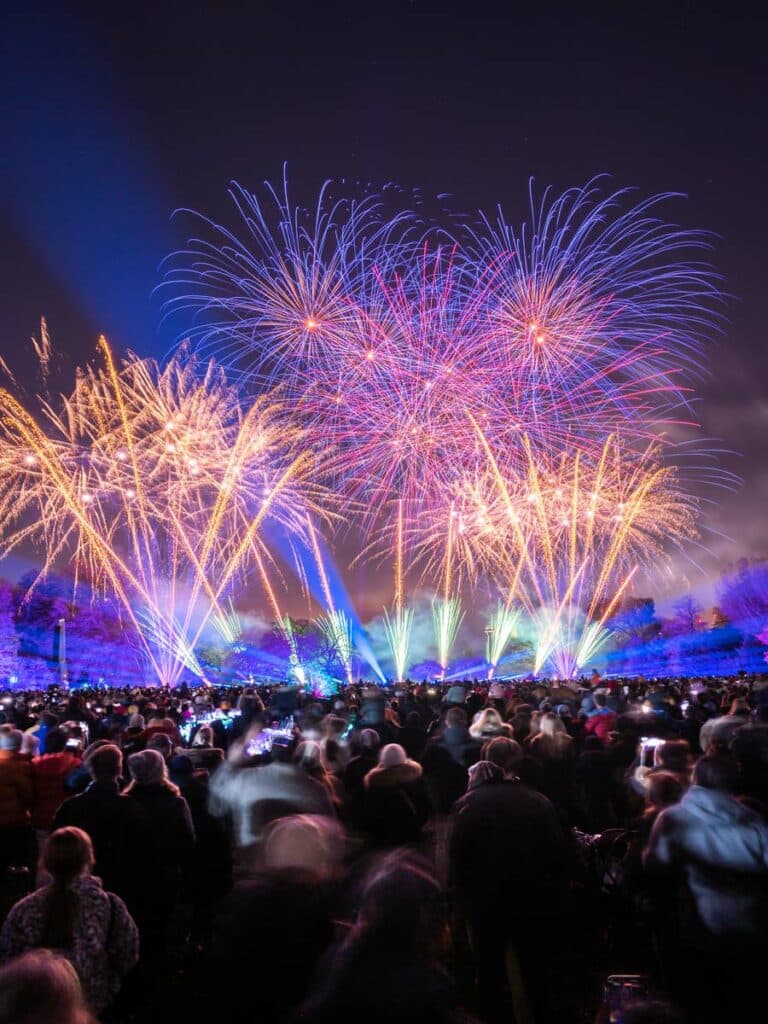 Regularly the go-to event in the Bonfire Night calendar, this one's a guaranteed good time.
Saturday night kicks off at 7.30pm with a bonfire, a good bit of warming comfort-food and the fireworks starting at 8pm.
There's an afterparty for the adults at Evolution London.
Expect a live band, a German beer hall (noticing a theme here?).
Sunday night is for the families, with the fireworks display starting an hour earlier at 7pm.
And while the adults put away the mulled wine, the kids will be indulging themselves in a veritable river of sugar and Sweetieland.
Being such a hit, you'll need to grab your ticket asap.
Musical Fireworks Displays at Wimbledon and Morden Parks
Friday the 4th and Saturday the 5th November
This one splits the action between two locations: Wimbledon Park on Friday and Morden park on Saturday.
They combine a good bit of the whole vibe of Guy Fawkes: fireworks, music, good out-door eating, and festive vibes.
There are two shows per day. The 5:15pm show is aimed at families, with a good bit of feel-good and pop.
The next show, kings and queens themed, kicks off at 7:15 and leans more toward the adult crowd (read: over indulgence in mulled wine expected)
Musical Fireworks Displays tickets are on sale here.
Fireworks Extravaganza at Chiswick Park
Thursday 4th November
The Chiswick Park celebration takes place on the 4th November From 5pm – one of the few places you'll find free fireworks in London, though you need a ticket.
The event at Chiswick Park also promises a live band and fire performers, not to mention a chance to practise walking barefoot on hot embers…
Yep, you heard that right. If you're feeling brave, you can give the firewalking experience a go. It also helps support the local Hounslow Action for Youth charity (HAY, for short).
Barnes Bonfire Night
Saturday the 5th November
Get down to Barnes Sports Club and there'll be a toasty bonfire to gather round, glass of mulled wine in one hand, hot dog in the other.
In addition to fireworks, there will be a 'Best Guy' competition. The winner gets to put the first flame to the bonfire.
As usual, grab that ticket in advance.
Beckenham Fireworks
Saturday the 5th November
Beckenham Fireworks has been running since 1946. Understandably it's something of a time-honoured tradition.
Just imagine the mountain of candy floss that must have been consumed over the years….
It's held at Croydon Road Recreation Ground. Food stalls and funfair open at 5pm.
There are quieter 'small bangs' at 6pm for younger children and the main display will kick off at 7.45pm.
Buy tickets on the gate – both cash and card accepted.
Harrow Fireworks Display
Saturday the 5th November
Harrow Fireworks is celebrating its 11 year anniversary at Byron Recreation Ground. With its impressive display, it's always a popular one.
The event opens at 12pm and is free up until 3pm, tickets required thereafter.
Fireworks kick off at 7:45, but you'll wanna get there early to ensure a good view.
They tie it in with a good bit of Diwali fun too, so expect more than just your average fireworks night.
Dulwich Firework Display
Saturday the 5th November
Dulwich Firework Display is always a great shoulder for a family-friendly bonfire night in London.
It's held at Dulwich Sports Club and is planned out with safety taken into top consideration.
The food is also great. Expect mulled wine, real ale, BBQ, pizza, Indian and a delectable array of other food and beverage stalls.
Fireworks will start at 7pm, and kids' tickets are only a quid. Can't go wrong with that.
No tickets on the day, folks. Grab 'em in advance.
Danson Park Fireworks
Saturday the 5th November
Known for its musical edge, 2022 marks the 60th anniversary of Danson Parks' Guy Fawkes night extravaganza.
There's live music from Tom Monks and a bunch of support acts before the fireworks kick off at 8pm.
The display is set to last a full 25 mins. It's also choreographed to music.
You'll need to grab a ticket online before the event. You can also pick them up at shops in the local area.
Richmond Family Fireworks Night
Sunday the 6th November
Richmond Athletics Ground hosts one that should be on your radar.
They've got an award winning fireworks display choreographer, Phoenix Fireworks, to put on the show.
Of course there's all the usual delights too. Good ol' fairground grub, candy floss, live music and fairground rides. Oh, and an afterparty in the members bar.
Your tickets can be purchased right here.
Stow Firework Spectacular
Saturday the 5th of November
Another one with the younguns in mind. Walthamstow Cricket Tennis and Squash Club's event does two shows.
The first, at 6pm is for the little ones – less bang and more fizzle.
Then at 8pm is the main show – more bang, and more booze.
It's not just focussed on stuff going pop in the sky. There'll be fire breathers as well as other ground-level entertainment at both shows.
And obviously, all the fairground viands.
Eton Manor Fireworks 2022
Sunday the 6th November
East Londoners may want to hit up Eton Manor RFC for your bonfire night celebrations. Their annual display never fails to light up the skies (and strike fear into the poor dogs of the east end).
The gates here open at 4pm for a full spread of hearty food, mulled wine and entertainment, with the full display starting at 7pm.
Halloween Fireworks and Bonfire Night at London's Herne Hill Velodrome
Saturday the 29th October
For those of you who really can't wait till bonfire night, Herne Hill Velodrome throws a fireworks display on october 29th.
Why? We're not sure, but we like it.
It's got everything we love about a good Guy Fawkes celebration. The greasy burgers, the copious drinks stands.
But best of all the velodrome's tiered seating means you're never battling for a good view of the action.
And being so early in the calendar, you can always squeeze in a second bonfire night on the 5th. Win win.
Tickets available online here.
Bromley High School Fireworks Display
Saturday the 5th November
Last year sold out and Bromley High School (is this, like, America bro?) are proud to announce it's return for 2022.
What made it such a hit last year? Only their killer rides, roaring bonfire and the Cockpit bar serving up a spread of real ales, cider, prosecco and mulled wine.
Grab a ticket and get down there early to make the most of it all.
And the Wild Card… A Bonfire Night Party
Saturday the 5th November
Wanna celebrate but don't want to spend all night standing around in the cold? Or is it that you'd just like to see them allllll?
Well here's a middle ground. There's an event in the Dockland's where you can get down to hip hop, afrobeats, RnB and bashment tracks.
What's that got to do with anything? Well the venue has views of the city and from there you should be able to catch the best of whatever people are shooting up into the night sky.
Not a bad backdrop for a party.
You gotta be 21 or older to get in (this ain't no family event, kids) and of course… book that ticket in advance.
Fireworks Displays in London: Map
Fireworks Displays London: Read Next