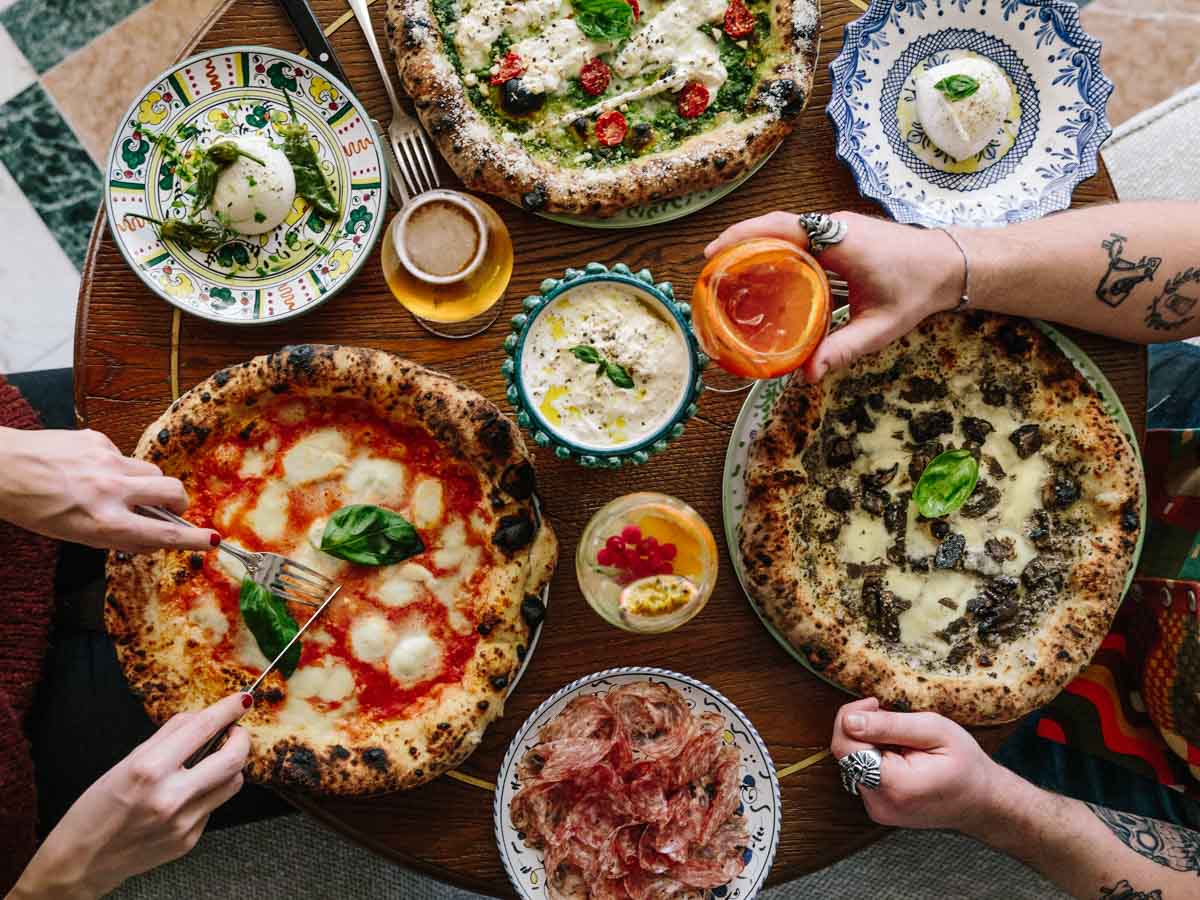 ​​Looking for the best restaurants in London? Check out this food-lovers guide – where to eat in London, area by area.
London is brimming with restaurants – some fabulous, others… not so much.
We've been steadily eating our way around London as long as we can remember – there have been highs, there have definitely been lows (we for one are thankful that the miniscule portions of nouvelle cuisine have faded to a bitter memory), but these are the spots that we're recommending right now in 2022.
This guide to the best restaurants in London features a mix of old favourites and brand spanking new, each deserving of a special place in your little black book of great eats.
Best Restaurants in London
Restaurants in Central London
Frenchie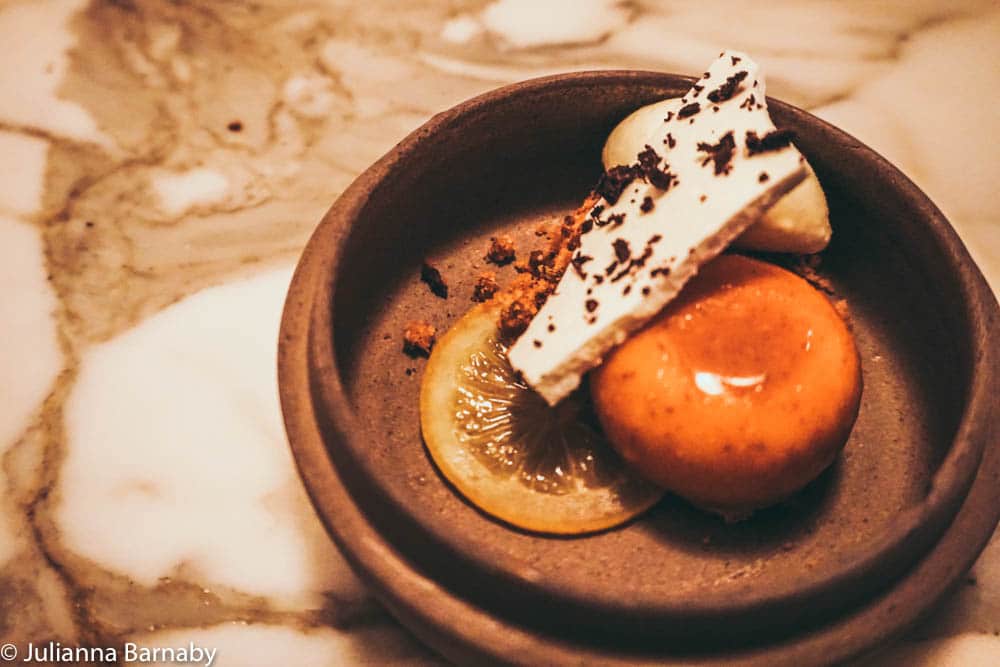 If you want to flex your serious foodie credentials, then you'd best drop by Frenchie. This is the place to go when you're looking to impress (or chow down on some amazing food).
The first Frenchie, fittingly, debuted in Paris and soon found itself with a six-month waiting list for a table.
This one is in the heart of Covent Garden and has received much the same acclaim, although the wait is not quite as horrendous. Bookings are still strongly advised, though.
Address: 16 Henrietta St, Covent Garden, London WC2E 8QH
Bob Bob Ricard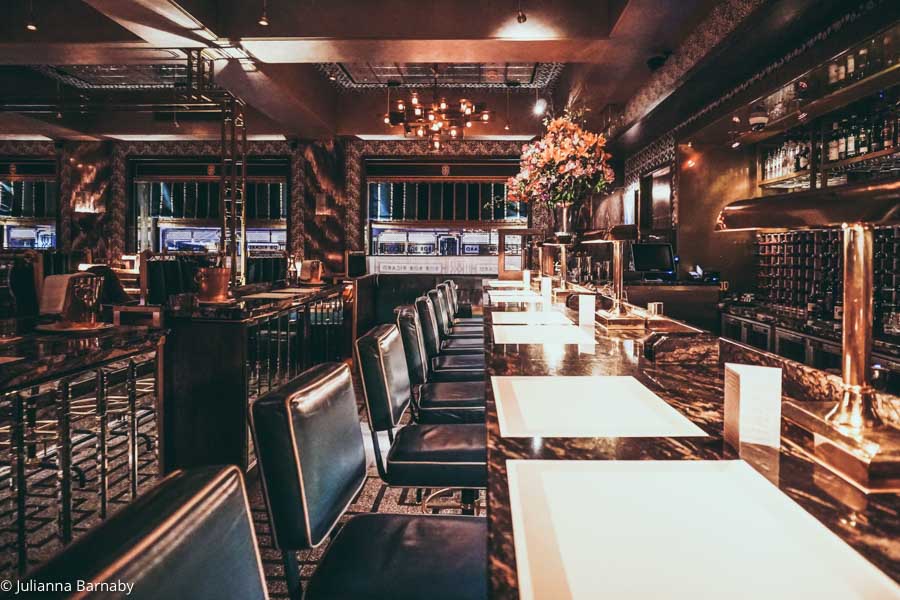 First things first, there's a button at Bob Bob Ricard that says 'press for champagne' – and does exactly as suggested.
It's a great way to start, but it's the food that really brings things home. A menu of British/Russian fusion may sound interesting, and it is.
It's also absolutely delicious.
The interior decor is suitably lavish with just a hint of kitsch. If you ask us, Bob Bob Ricard is one of the restaurants to go to in London.
Address:1 Upper James St, Soho, London W1F 9DF
Hutong at The Shard
We love Hutong at The Shard because it delivers both food and some of the best restaurant views in London.
Halfway up the Shard and inspired by the scrumptious food of Northern China, this place is sure to impress.
The presentation is on-point and there are a few dishes that are just ideal for those who prefer things on the spicy side. Don't worry, though, there are options for all palates.
Address: 33/The Shard, 31 St Thomas St, London SE1 9RY
Hawksmoor Seven Dials
There's a time and place for a dainty salad, but let's be honest – sometimes you just want to bite into a delicious, hearty steak.
For those times, Hawksmoor Seven Dials is one of those must-try restaurants in London. The menu is a carnivore's delight, with incredible steaks that are cooked to utter perfection.
Hot tip: if you're going for dinner, have a light lunch beforehand. The portion sizes are seriously generous.
Address: 11 Langley St, Covent Garden, London WC2H 9JG
Barrafina
Probably the hottest tapas bar in London of late, you really can't miss a meal at Barrafina if you're looking for London's best restaurants. Pretty much everything they serve up is worth ordering, but you won't be able to squeeze it all in with just one sitting.
Not surprisingly then, people seem to return to this place, or their numerous other London locations, time and time again. Not surprising either then that their Covent Garden branch has Michelin Star.
Address: 43 Drury Ln, London WC2B 5AJ
Padella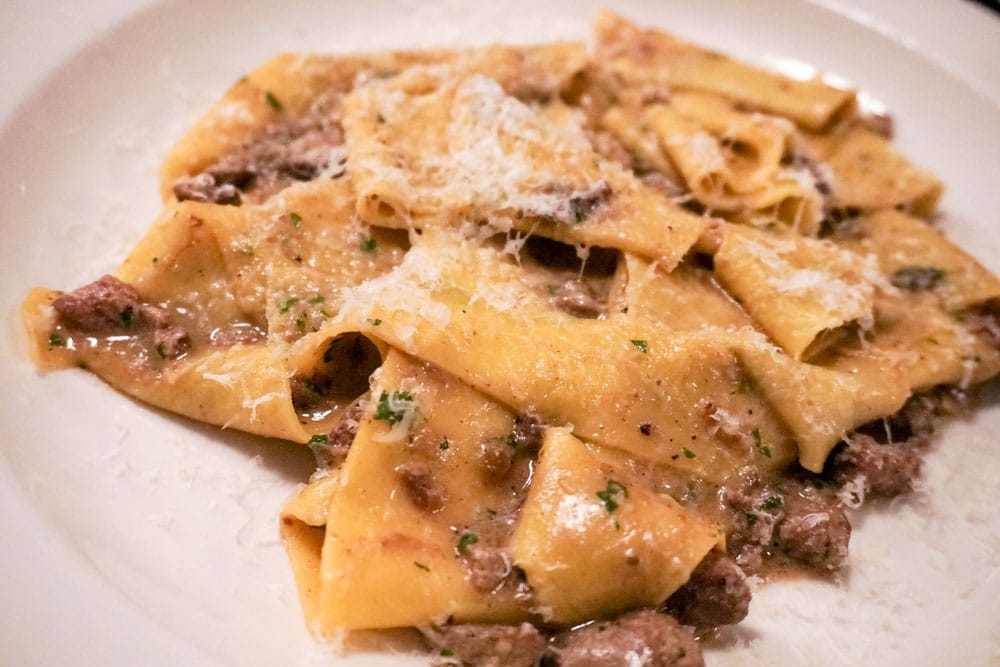 Fancy food is great and all, however, you've got to admit that pasta is a seriously enduring classic.
No matter how many top restaurants in London we try, we still can't go past a perfectly prepared pasta dish.
Padella – a restaurant tucked just outside of Borough Market – does pasta just how we like it – nothing too fancy, just absolutely delicious. And with generous doses of parmesan on top. Yum.
Address: Borough Market, 6 Southwark St, London SE1 1TQ
Sessions Art Club
Farringdon
The restaurant that's been taking London by storm over the past few years is Sessions Arts Club.
Known for its warm and classy interior with peeling plaster walls as well as its menu of delicious food, getting a table here has been a constant thorn in the side of Londoners since it opened.
Florence Knight is behind the food that focuses on quality ingredients with a simple delivery. One bite of the famous crab croquette and you'll know what we mean.
Address: Old Sessions House, 24 Clerkenwell Grn, London EC1R 0NA
Bao Soho
Soho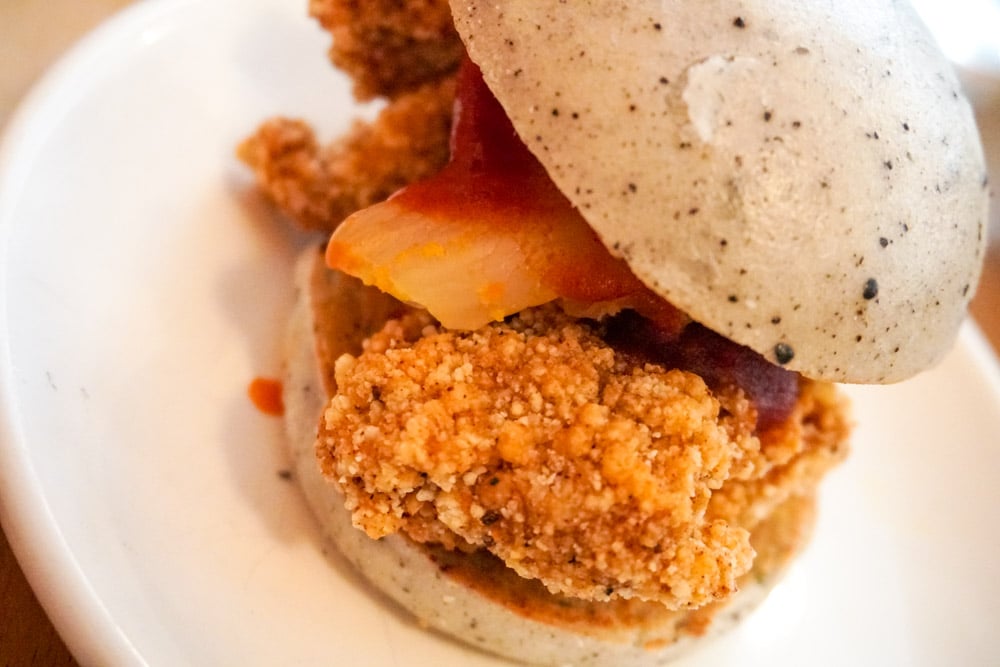 It took a little while, but Taiwanese street food arrived in Soho with a bang – in the form of Bao Soho.
This popular restaurant in London (of course) does a mean bao, or steamed bun, but the menu boasts even more deliciousness.
Dining here is pretty laid back, so it's the perfect place to pop in with friends.
Address: 53 Lexington St, Soho, London W1F 9AS
Blacklock Soho
Soho
For an experience that's lavish in all the right ways, you'd best check out Blacklock Soho, one of the top-rated restaurants in London.
The location is one of the main unique points of this London restaurant – it's set within what used to be a Soho brothel.
Today, things are a little better behaved and instead it's one of the city's best steak restaurants. It's a great place to drop in before or after catching a show.
Address: 24 Great Windmill St, Soho, London W1D 7LG
Pollen Street Social
This great restaurant in London promises 'unformalised formal dining', and we are so there for it. Who doesn't want to eat ah-may-zing food, without any of the snobbery?
At Pollen Street Social, you'll find amazing dishes which rely heavily on locally sourced ingredients. It's all amazing, but if it's on offer – the Cornish sea bass is a revelation.
Address: 8-10 Pollen Street, Mayfair W1S 1NQ
Galvin at Windows
Delicious French cuisine and divine London views are what's on offer at Galvin at Windows.
It's one of the best posh restaurants in London, so you'd best book a table if you're looking to splurge on a very memorable experience.
It's not just us who think this restaurant is seriously epic – it's managed to earn itself a Michelin star as well. Pretty amazing.
Address: 22 Park Ln, Mayfair, London W1K 1BE
Holborn Dining Room
Holborn
Don't ever let anyone tell you that British cuisine is no good – if they try, send them to Holborn Dining Room for an education.
This ever-popular brasserie serves up amazing British fare (the pies are to die for) in an elegant yet vibrant atmosphere.
It's a favourite amongst both locals and visitors, so you'd best book a table and find out what the fuss is about.
Address: 252 High Holborn, Holborn, London WC1V 7EN
Bocca di Lupo
Soho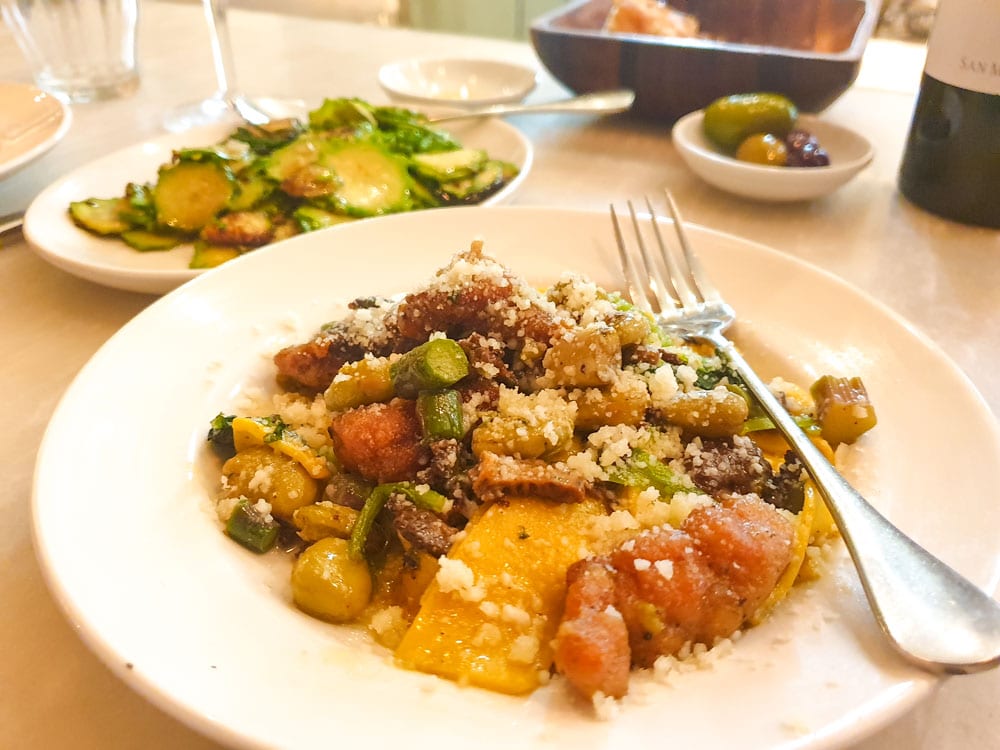 This Soho haunt is a fave not just with me, but also plenty of celebs as well. If those with oodles of money choose to spend it here, it must be good – right?
It sure is. The Italian dishes at Bocca di Lupo are quite traditional, relying on fresh produce and exceptional cooking skills to really make them tick. Don't miss it.
Address: 12 Archer St, Soho, London W1D 7BB
Nopi
Soho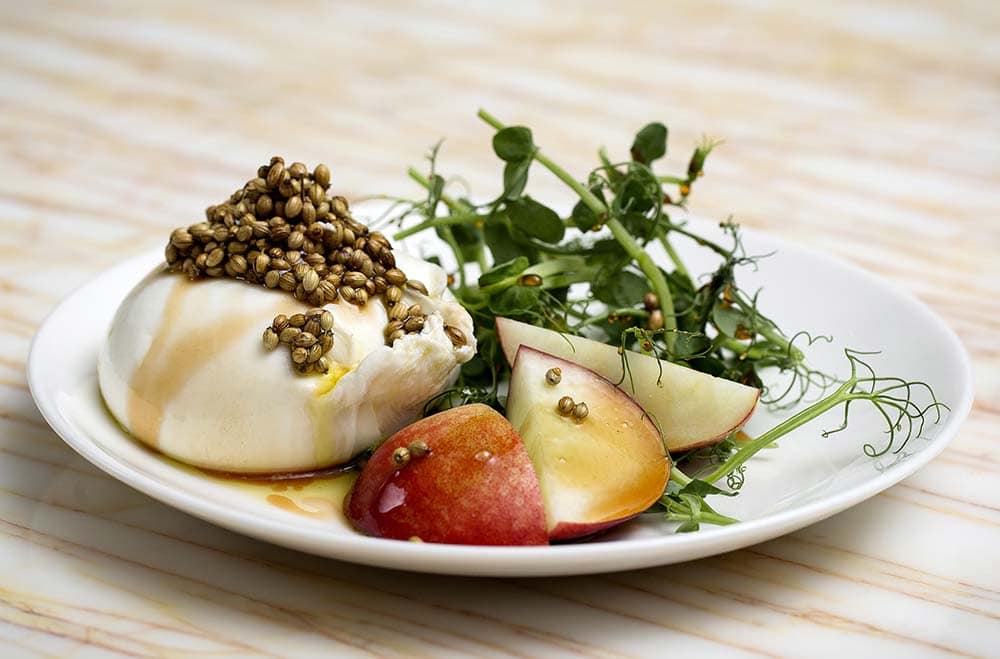 What started as a humble deli by Jerusalem-born chef Yotam Ottolenghi has eventually turned into a seriously incredible London restaurant.
Nopi opened almost ten years after the deli, but it offers the same amazing serving platters, perfectly balanced spices and fresh ingredients that made Ottolenghi a legend.
The decor is beautiful, the service is great and the food is spectacular – what's not to love?
Address: 21-22 Warwick St, Soho, London W1B 5NE
Hoppers
Soho
Never had a hopper? You are in for a treat. They are delicious Sri Lankan pancakes, topped off with a fried egg – and no one does them better than here.
You'd hope so, given the name and this restaurant's penchant for cooking up amazing Sri Lankan dishes.
With fresh produce paired with just the right amount of amazing spices – get ready for your tastebuds to be totally delighted at Hoppers.
Address: 49 Frith St, Soho, London W1D 4SG
The Wolseley
Piccadilly
They say breakfast is the most important meal of the day, and breakfasts don't come much better than those on offer at the Wolseley.
Luckily they serve them up late, so even if you had a few cocktails the night before, you can still enjoy the famous brunch. That is, if you can get a table – it's best to book.
Address: 160 Piccadilly, St. James's, London W1J 9EB
Kerridge's
Westminster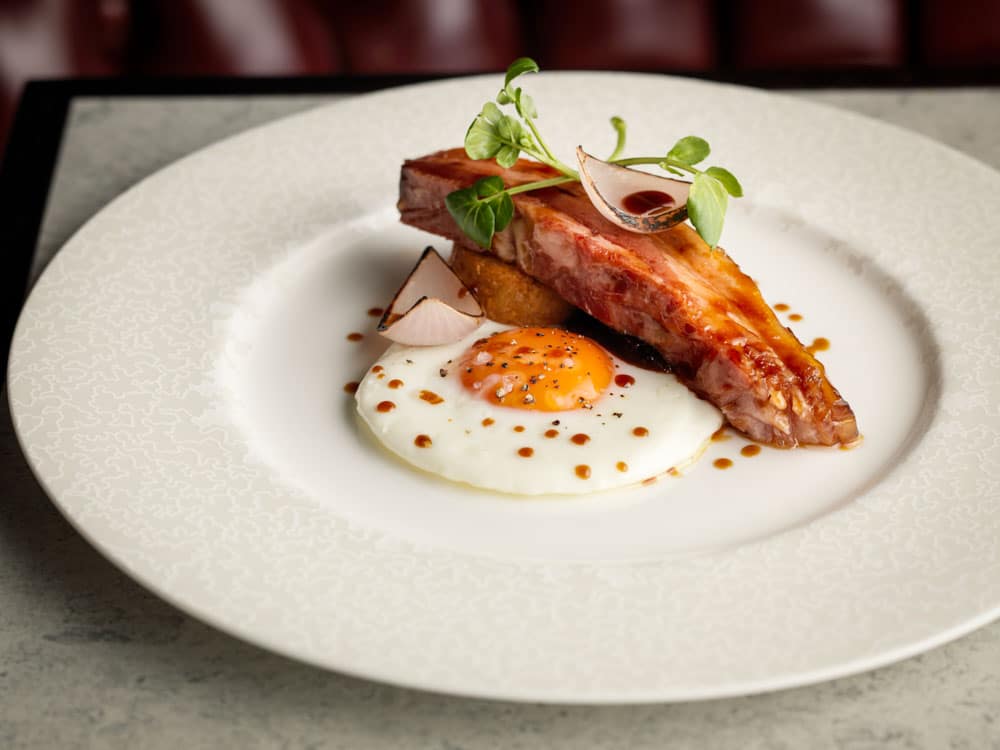 Proving that luxury dining does not need to mean a frosty atmosphere, Kerridge's Bar and Grill has a warm and inviting vibe.
Be greeted with a smile and then take a seat at the elegant restaurant inside the Corinthia Hotel.
The menu is proudly British and totally divine, using in-season ingredients and innovative approaches on classics. It's seriously good stuff.
Address: 10 Northumberland Ave, Westminster, London WC2N 5AE
Gymkhana
London loves a good Indian curry, but if you want to try the gobsmackingly good high end version, you'd best head for Gymkhana.
You're sure to be totally smitten by the amazing dishes. It's traditional Indian cuisine with a high-end, inventive twist – and it's scrumptious. In fact, it's even got its own shiny Michelin star.
Address: 2 Albemarle St, Mayfair, London W1S 4JH
Fallow
Mayfair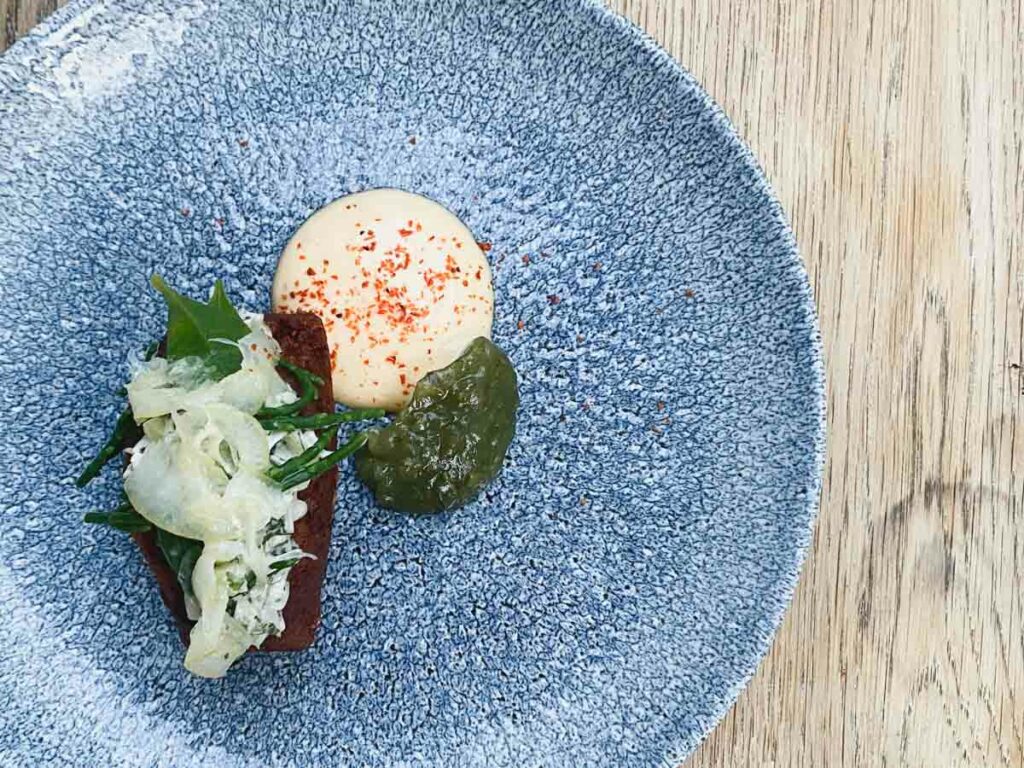 We've given you a full rundown of Fallow here, but *spoiler alert* we absolutely adore this restaurant.
From the tasty menu crafted from sustainably sourced ingredients to the cool restaurant itself, it's safe to say that we're a little bit smitten. The dish names are simple, but that's ok with us – everything is bloomin' delicious.
Address: 10 Heddon St, London W1B 4BX
The Drunken Butler
Clerkenwell
Drawing inspiration from around the globe, though heavy influences come from France and Persia, The Drunken Butler is the brainchild of Yuma Hashemi.
Seasonal produce and an ever-changing menu make this restaurant so special, not to mention the stunning modern Iranian interior that creates the perfect atmosphere for a cosy meal with friends.
Head there on Sundays for 'Persian Sundays', where Yuma's kitchen serves up comforting and authentic dishes as would be served at home.
Address: 20 Rosebery Ave, London EC1R 4SX
Best Restaurants in East London
St John
Farringdon and Smithfield
For over twenty years, St John's has been on a mission to revolutionise British food.
Offering up amazing takes on old classics, St John's has all the dishes you recognise – with exceptional twists that you don't.
There's a reason this has been a must-go restaurant in London for more than two decades – this food is seriously ace. Plus, there's a fab wine list to match.
Address: 26 John Street, London EC1M 4AY
Gloria
Hackney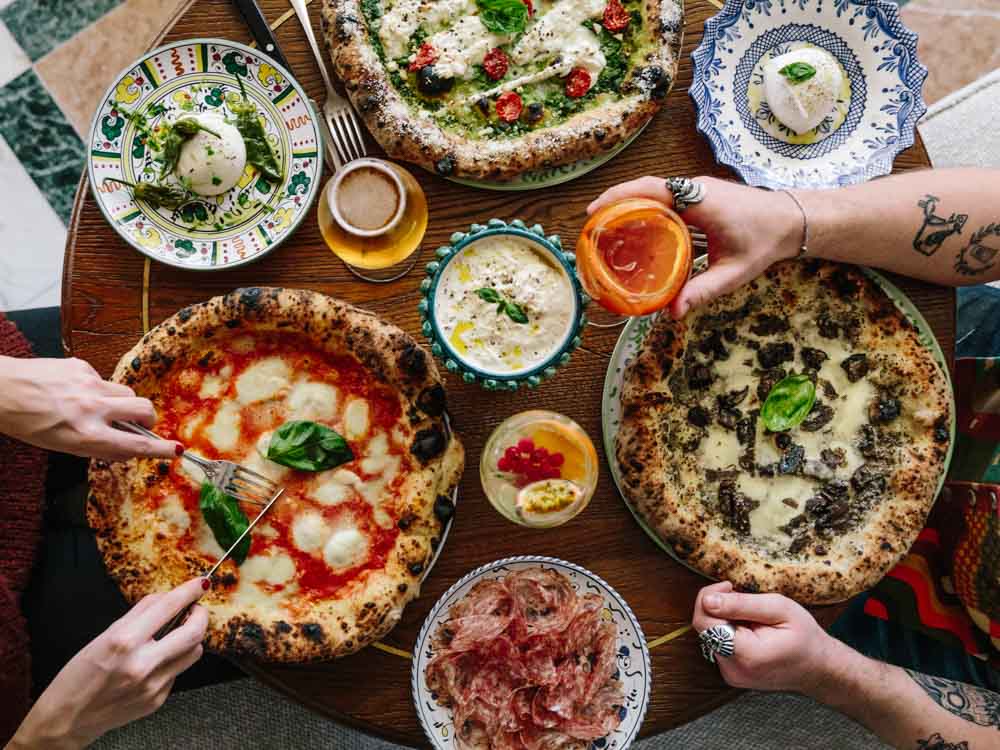 Any restaurant that's described as 'vivacious' is one we have to check out – and Gloria certainly did not disappoint. It tops the list of our must try restaurants in London.
Amongst a sea of good restaurants in London, Gloria stands out for its fun approach to creating delicious food.
Everything about this place is a little 'extra' – from the decor to the portion sizes. And we are so here for it.
Address: 54-56 Great Eastern St, Hackney, London EC2A 3QR
Manteca
Shoreditch
King of the London pasta world, Manteca offers a nose-to-tail menu of small plates and pasta dishes. They fit very much into that category of restaurants like Padella and Bancone that sell pasta closer to cost value rather than trying to extort their clientele.
The open kitchen and paired-back interior make this one of the more stylish places to eat in London at the moment. So much so you've probably seen a few of their dishes in your Instagram feed, probably sat next to something from their well-curated wine list.
Address: 49-51 Curtain Rd, London EC2A 3PT
Duck & Waffle
If you ever want to have some delicious European cuisine, 40 storeys into the air at any time of day or night, there's the Duck & Waffle.
With a fun approach to British cuisine, with elements borrowed from our European neighbours, the food at the Duck & Waffle is seriously good.
Best of all, it's open 24/7 so literally any time you get a craving for it, she's open.
Address: Level 40 of the Heron Tower, 110 Bishopsgate, London EC2N 4AY
SushiSamba
City of London (also Covent Garden)
At first glance, Japanese, Peruvian and Brazilian may seem like an interesting choice for fusion cuisine. But trust us, you'll be totally convinced from the first mouthful at SushiSamba.
Located in the heart of London, the menu is innovative and exciting, bringing together amazing flavours and super fresh ingredients.
Equally impressive is the amazing views – it's located on the 38th floor of the Heron Tower and they're staggeringly good.
Address: 110 Bishopsgate, London EC2N 4AY
Tayyabs
Whitechapel
Proving that you don't need to rely on a flashy interior to succeed in London town, there's Tayyabs.
The decor of this long standing favourite may be humble, but the Punjabi-inspired dishes are astronomically good.
We mean, it must be, since this Whitechapel stalwart has had its doors open since way back in 1972.
Address: 83-89 Fieldgate St, Whitechapel, London E1 1JU, UK
Gunpowder
Spitalfields
For some of the best Indian in London (yes that's a big call, and yes it's well deserved), you've got to try Gunpowder.
Located not far from Brick Lane, head chef Nirmal Save has used wonderfully authentic recipes and a dash of creativity to create a stunning menu.
The result is one of our favourite London must-try restaurants, with a welcoming vibe.
Address: 11 White's Row, Spitalfields, London E1 7NF, UK
The Smoking Goat
Shoreditch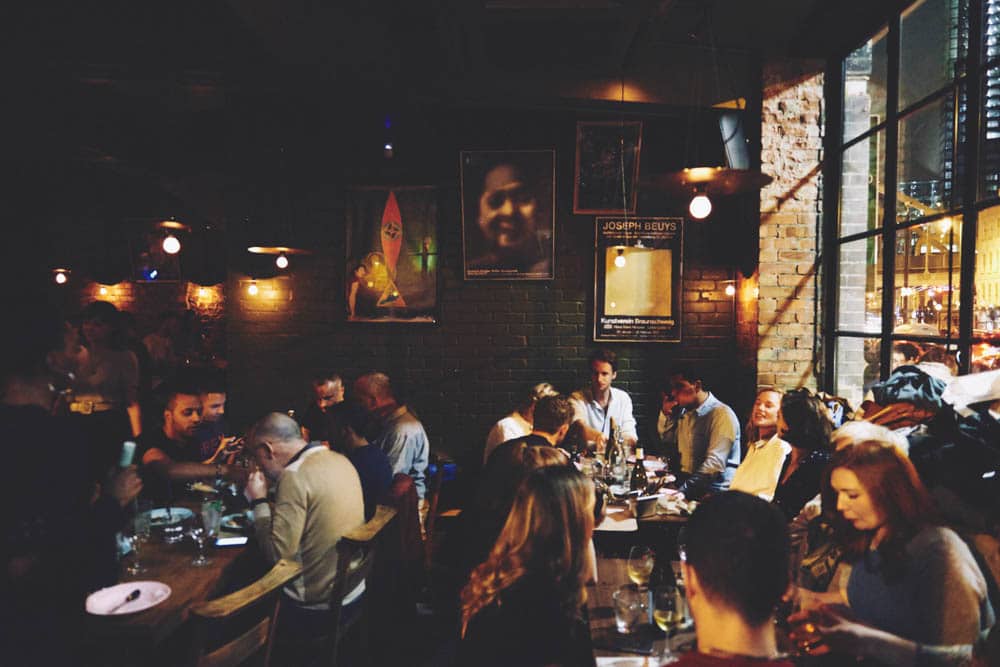 Some restaurants are all about subtlety of flavour. Then there's the Smoking Goat, an unashamedly in-your-face Thai barbecue/bar that we seriously love.
The combination of delicious flavours, laidback vibes and friendly service makes one of our top recommended restaurants in London.
It's all good here, but we especially love the deep-fried prawns – eaten shell and all.
Address: 64 Shoreditch High St, Hackney, London E1 6JJ
Best Restaurants in West London
Dinner by Heston
Knightsbridge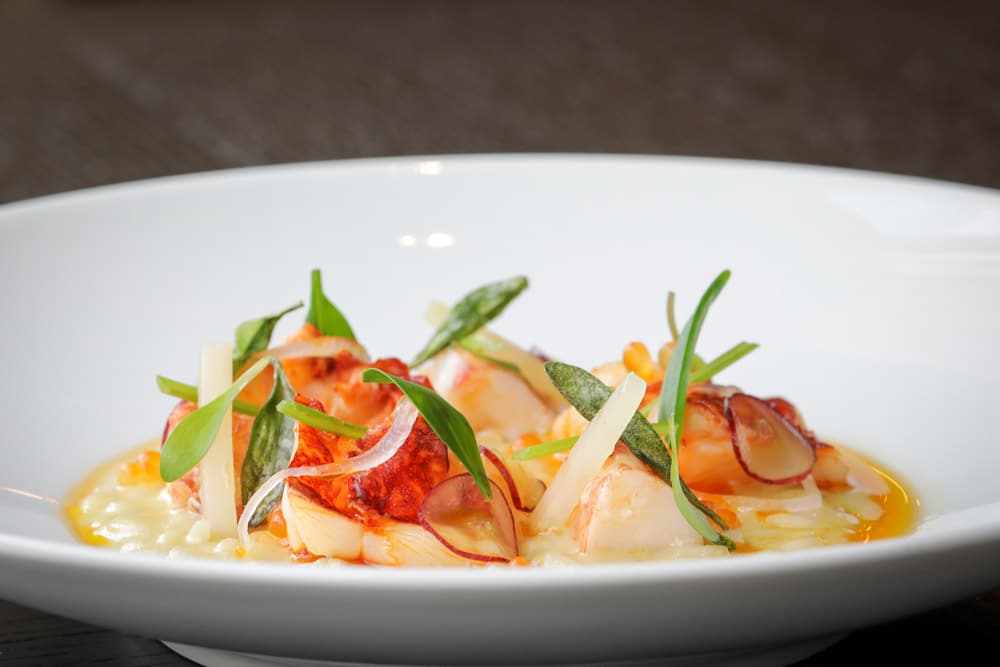 Heston Blumenthal is undoubtedly one of the country's most famous chefs, so it makes sense his fabulous restaurant would make its way onto our list.
While Heston is known for his innovative and forward-thinking approach, he's been proudly inspired by the past with Dinner.
Weaving together elements from Victorian-era cooking as well as creative new approaches, it's an amazing take on British cuisine.
Address: Within the Mandarin Oriental Hyde Park, 66 Knightsbridge, London SW1X 7LA
River Cafe
Hammersmith
Fabulous food in an absolutely gorgeous location? Sounds like a winner to us.
We're talking about River Cafe, an Italian cafe which has been open since 1987. Surely one of the reasons for its ongoing success is its beautiful riverside location.
Another is its penchant for hiring celebrity chefs in-the-making, such as Jamie Oliver and Ben O'Donoghue. Not too bad for a laidback haunt.
Address: Thames Wharf, Rainville Rd, Hammersmith, London W6 9HA
Le Vacherin
Chiswick
While the rest of London isn't short of French bistros, Le Vacherin in West London really impresses. Let the dishes transport you straight to an intimate Parisian cafe, where the food on offer is as outstanding as the wine.
Fresh, seasonal ingredients make up the menu, which features dishes such as red leg Partridge, truffled swede purée, hispi cabbage, and wild mushrooms, all drizzled in a tantalizing game jus.
Address: 76-77 S Parade, London W4 5LF
Best Restaurants in North London
The Quality Chop House
Farringdon
Although the Quality Chop House has only been satiating our cravings since 2012, the building it occupies has been a restaurant since 1869.
Things are far fancier nowadays, though – it started off as a seriously gritty place for the local workmen.
While the current iteration has kept some of the cool factor, the food (steaks and more) has been turned way up – much to the delight of visitors, Londoners and critics alike.
Address: 88-94 Farringdon Rd, Farringdon, London EC1R 3EA
Dishoom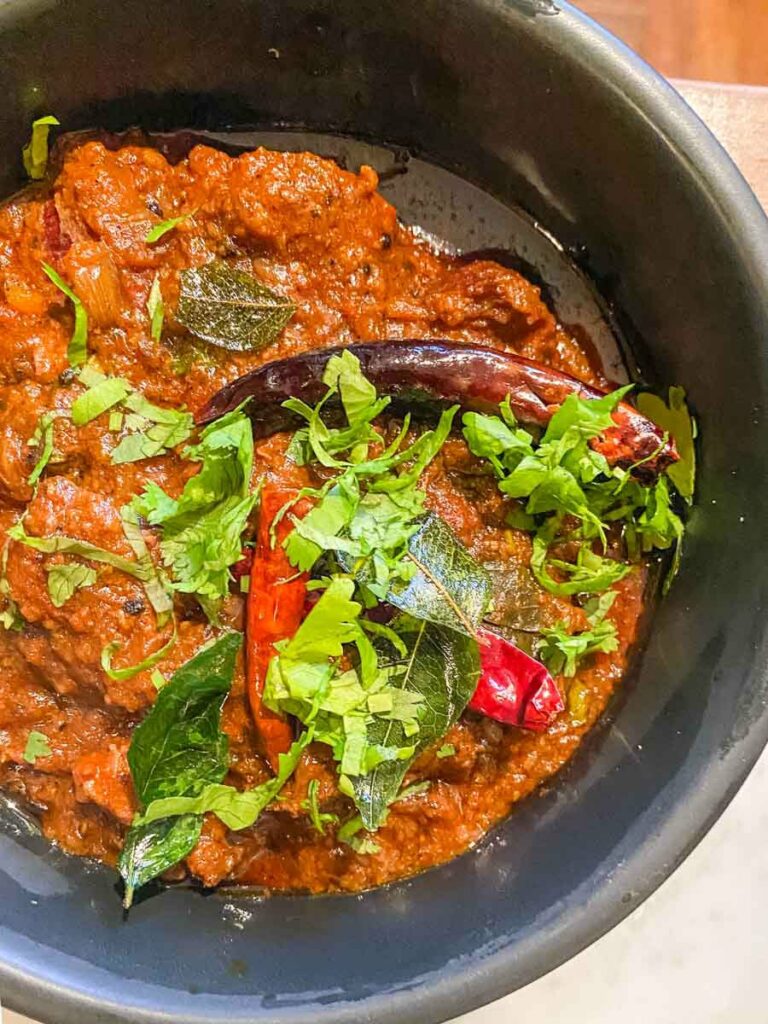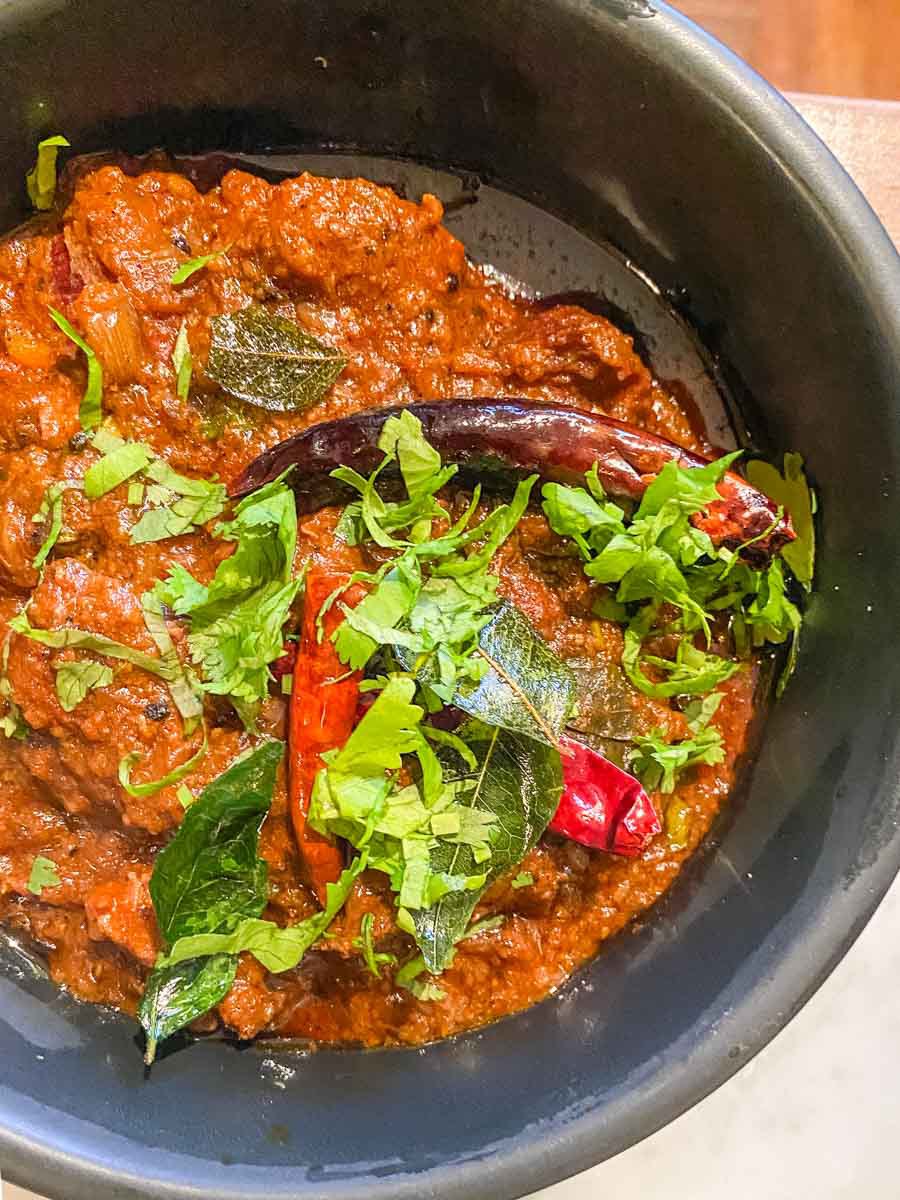 Various locations – Kensington, Shoreditch, King's Cross, Carnaby and Covent Garden (Shoreditch pictured)
A chain restaurant wouldn't normally seem like the place to go for an amazing meal, but Dishoom is no ordinary chain. No matter where you are, there's no need to wonder where to eat in London; a Dishoom won't be too far away.
Inspired by the many Iranian cafes once located in Bombay, Dishoom offers up amazing food in a warm setting.
The result is seriously exceptional, with Dishoom consistently ranked among the best restaurants in London.
Address: Various
Hot Stone
Angel
Courtesy of the incredibly talented Chef Padam Raj Rai (who has recently opened up his latest restaurant, RAI), Hot Stone is a Japanese restaurant serving up tender beef – cooked on hot stone, of course – sushi, and high quality seafood.
If you're after an authentic experience that's a little bit unique, guests can opt for ishiyaki (which means "cooking by hot stone") and can cook their meat themselves.
The drinks menu is just as impressive, and the abundance of sake on offer will leave even the most seasoned of drinkers a little bit red in the cheeks, to say the least.
Address: 9 Chapel Market, The Angel, London, N1 9EZ
Best Restaurants in South London
40 Maltby Street
Bermondsey
Tucked under the railway arches along Maltby street, 40 Maltby Street serves up fresh, ingredient-led cooking that we love. As much of the food as possible is bought from the nearby produce market on Maltby Street on the day.
They don't take bookings so you might find it hard to get a table, but there's plenty of food options at Maltby Street Food Market if you get tired of waiting.
The fact they're actually in the warehouse of a wine merchant also means that you won't be disappointed with the drinks on offer.
Address: 40 Maltby St, London SE1 3PG
Flour & Grape
Bermondsey
They say never to trust a restaurant that has too many things on its menu – so the Flour & Grape is keeping things pretty simple.
As the name suggests, the emphasis here is on delicious Italian pasta, paired perfectly with delicious Italian wine.
A seriously winning combination if you ask us.
Address: 214 Bermondsey St, Bermondsey, London SE1 3TQ
Nandine
Camberwell
The best food doesn't just have great flavours and ingredients, but real heart. That's certainly the case with Nandine.
This warm and inviting Kurdish cafe was opened by a family displaced by war back in the 1990s.
Offering amazing food including scrumptious baklava and to-die-for mezze platters, it's grown to be a favourite of many a Londoner.
Address: 82 Vestry Rd, Camberwell, London SE5 8PQ
Levan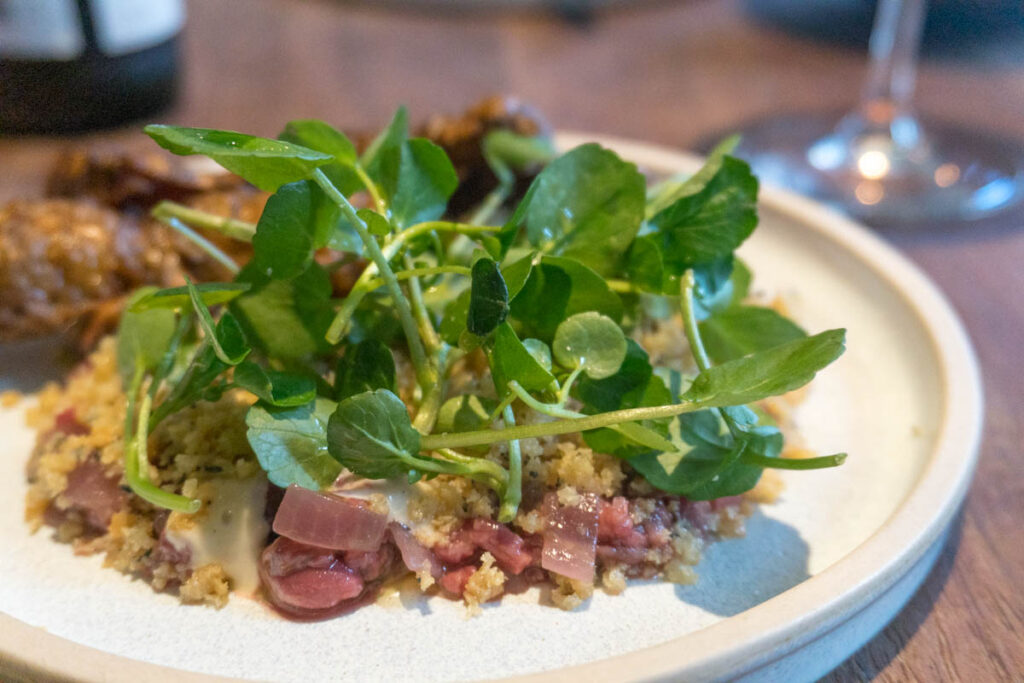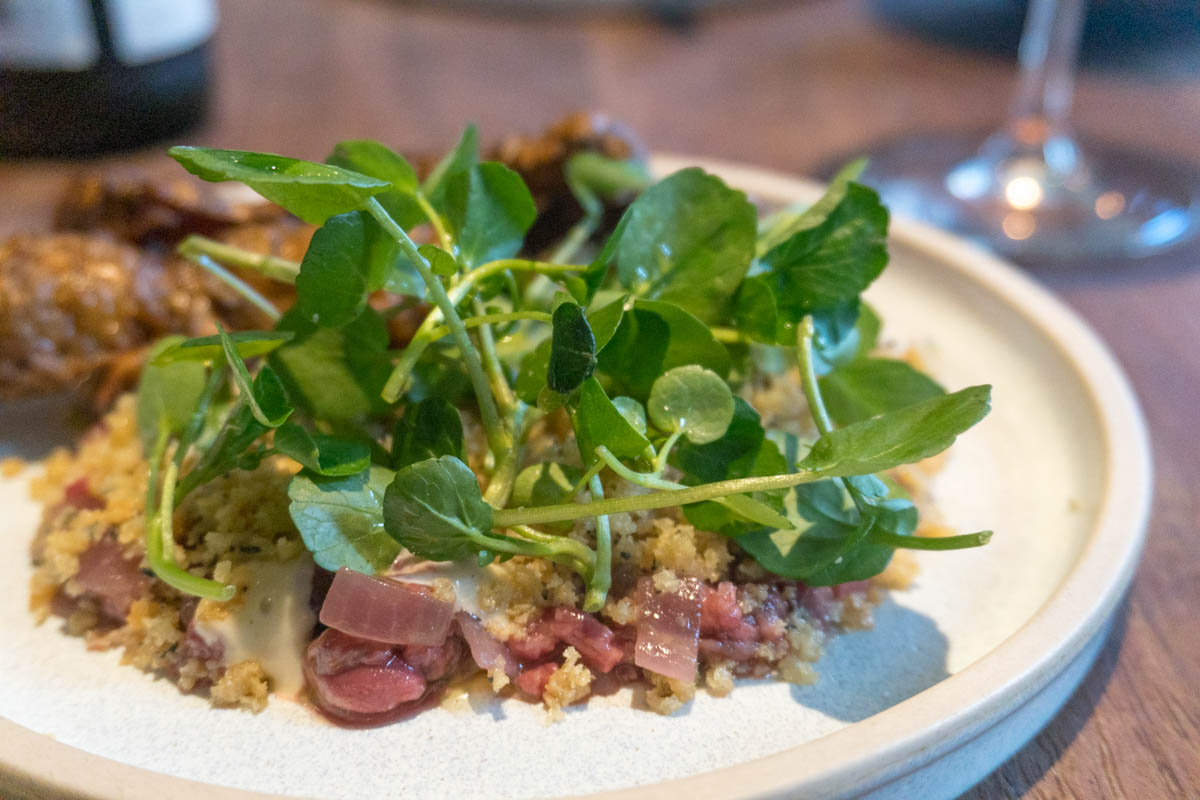 A newer addition to the London restaurant scene, Levan restaurant in Peckham has wasted no time in garnering itself quite the reputation.
Of course, it's willingness to encourage day drinking probably helps as well.
There's a focus here on organic wine paired with cuisine that's inspired by the great cities of the world – Paris, Berlin, Barcelona and, of course, London itself.
Address: 28 Basil St, Knightsbridge, London SW3 1AS
Jose
Head chef Jose Pizarro has created an amazing Spanish-style tapas bar that's worthy of carrying his name.
Jump into this little Bermondsey hole-of-the-wall and you might just think you've ended up down the alleyways of Madrid.
The best thing about the tapas at Jose is sharing a bunch of small plates – so you can discover plenty of amazing flavours. It's one of the top must try restaurants London boasts.
Address: 9-11 Cross St, Wakefield WF1 3BW
Kricket
Brixton
Coming from humble beginnings in Brixton, this Indian place has established itself as one of the most amazing restaurants in London (there are several branches).
It does things a little bit differently, offering up small plates so that you can sample even more of the deliciousness. After all, who wants to have to choose between so many good things?
We recommend making sure the butter crab makes it onto your shortlist at Kricket.
Address: 41-43 Atlantic Rd, Brixton, London SW9 8JL
Where to Find Great Restaurants in London: Map