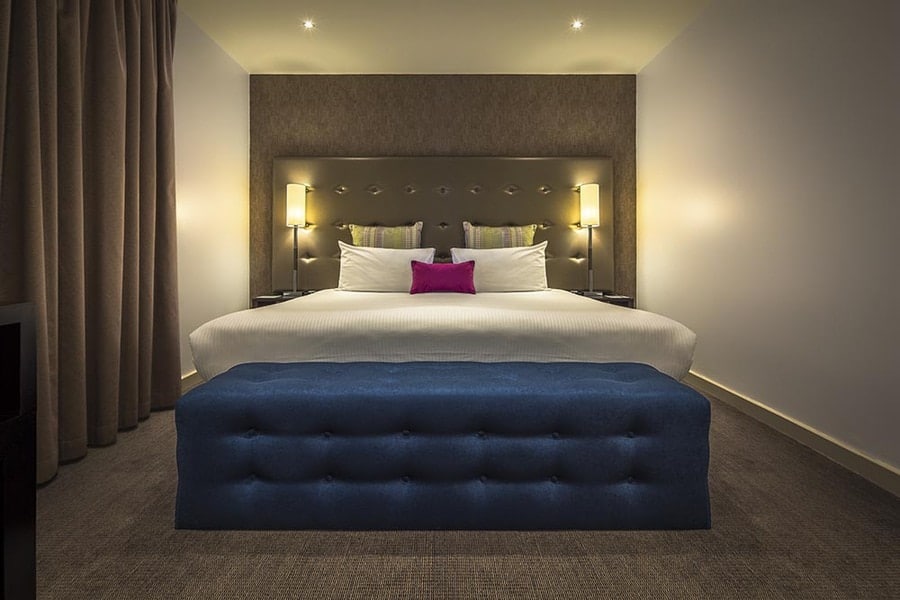 If you're looking to really indulge on your city break, then a London spa hotel is a must. Why? Because the capital is home to some of the best spas in the country, of course.
In our list of the best spa hotels in London, you'll find everything from classic British elegance to thoroughly modern, boutique designer hotels with spas to match. There's even a 'snow paradise' experience at one of our picks! Whether your break is all about being pampered, or a spa day is just a stop on a longer UK trip, you're bound to find a spa that suits your needs.
So relax, and let us talk you through some of the best hotels with spas in London.
Best Spa Hotels in London: At a Glance
The Best Luxury Spa Hotels in London
The Four Seasons
Park Lane
Rooms from £580 a night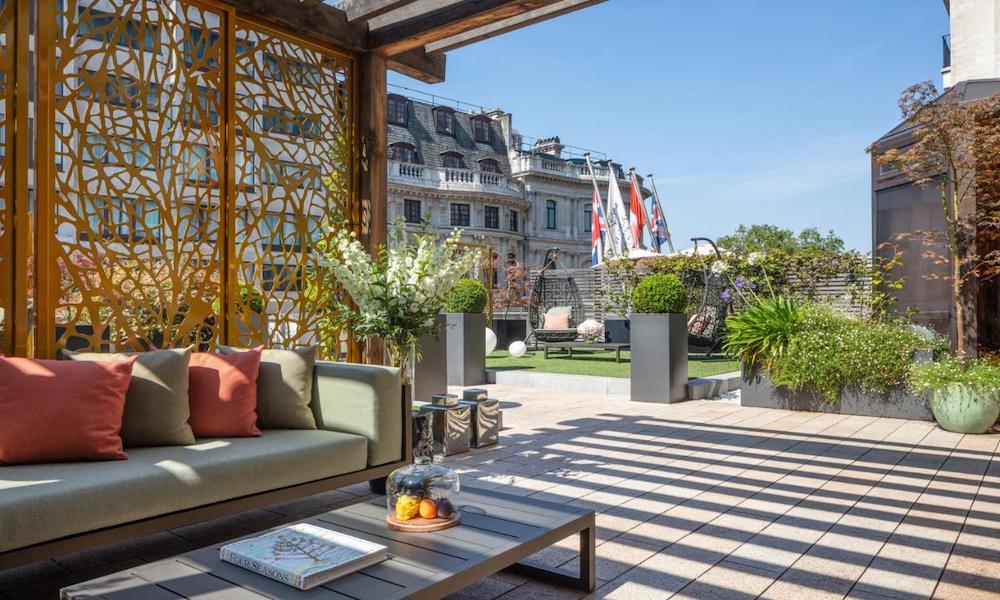 When you think of spa hotels in London, you probably think of The Four Seasons… and for good reason.

The fully equipped spa at the Park Lane outpost of this internationally renowned luxury hotel is on the top floor of the building rather than tucked away in a basement. Floor to ceiling windows and panoramic views of the capital help you relax into your deep tissue massage, and a recent collaboration with The Organic Pharmacy means that you have the option to take a little of that spa magic home with you after your stay.

Rooms vary in size from cozy to palatial, and many have either a view over the city or over neighbouring Hyde Park. If you want to be pampered in the very heart of London, book your spa getaway at The Four Seasons Park Lane ASAP.
Bulgari Hotel
Knightsbridge
Rooms from £760 a night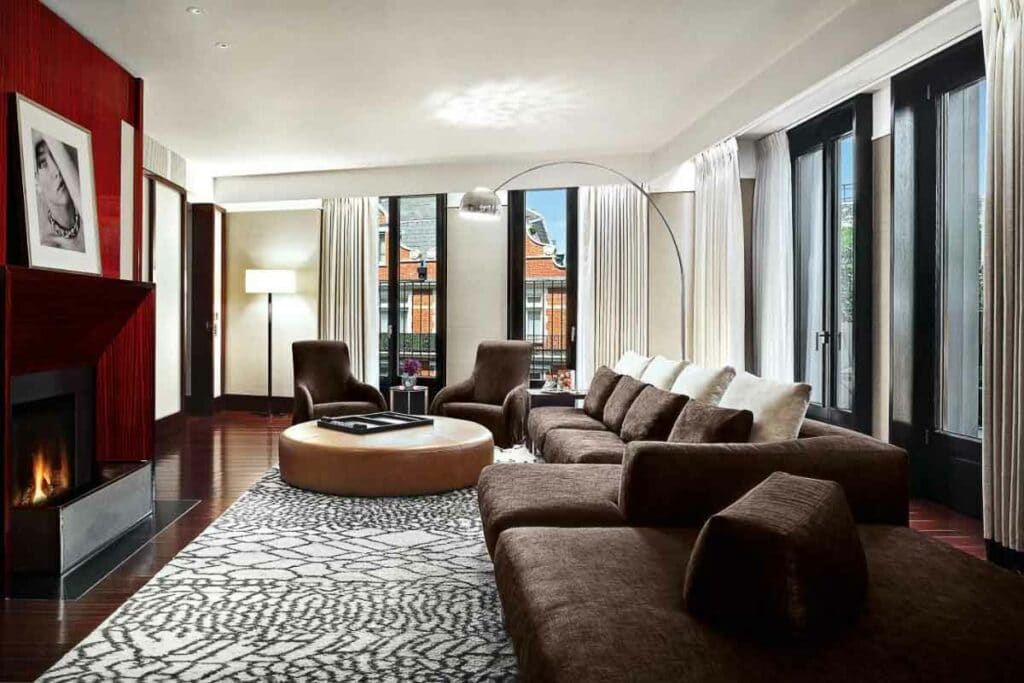 The Bulgari isn't just a London hotel with a spa, it's the London spa hotel. The huge spa itself includes a 25 metre pool, 11 treatment rooms, a steam room, and a tranquility pool tiled in gold leaf. The whole two-storey spa area is built from onyx, oak and Vicenza stone, so there's not an inch that lacks luxury.

As well as catering to hotel guests, the spa at the Bulgari offers 'daycation' deals. That's all the relaxation of a vacation packed into a spa day. If you're looking for five star spa hotel luxury in London, look no further than the Bulgari.
Hotel Cafe Royal
Mayfair
Rooms from £450 a night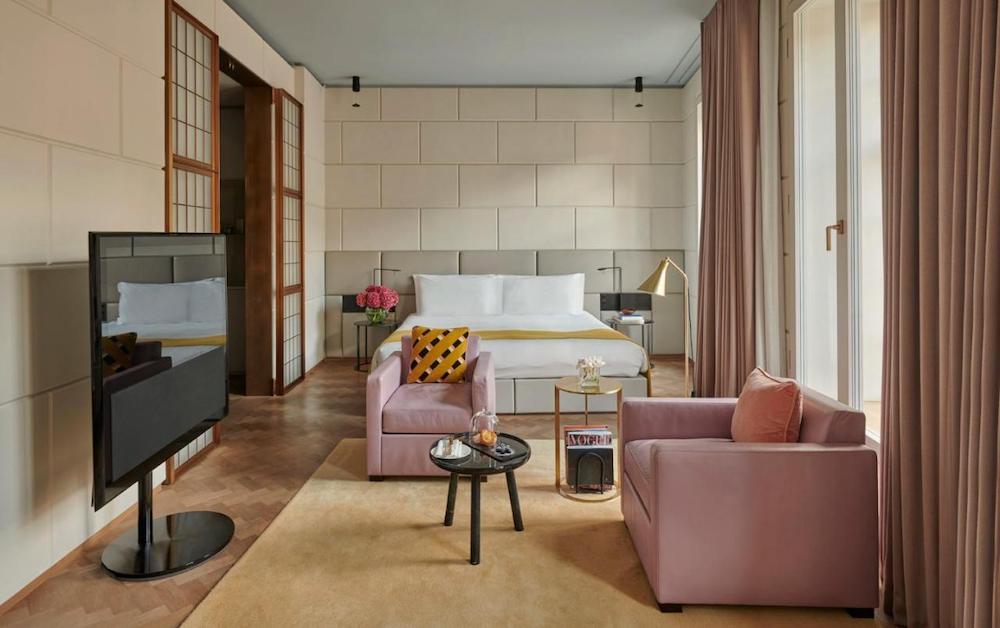 Easily the most literary London spa hotel on this list, the Hotel Cafe Royal was a favourite with HG Wells, Oscar Wilde and Arthur Conan Doyle. Admittedly, it was a drinking den back then so those literary heavyweights never got to enjoy hydrotherapy in the capital's only Watsu pool or an Aromatherapy Associates facial. I'm not sure either would be up Conan Doyle's street, but I can imagine Oscar Wilde enjoying a bit of luxury at one of the best spa hotels in London!
The Berkeley
Knightsbridge
Rooms from £420 a night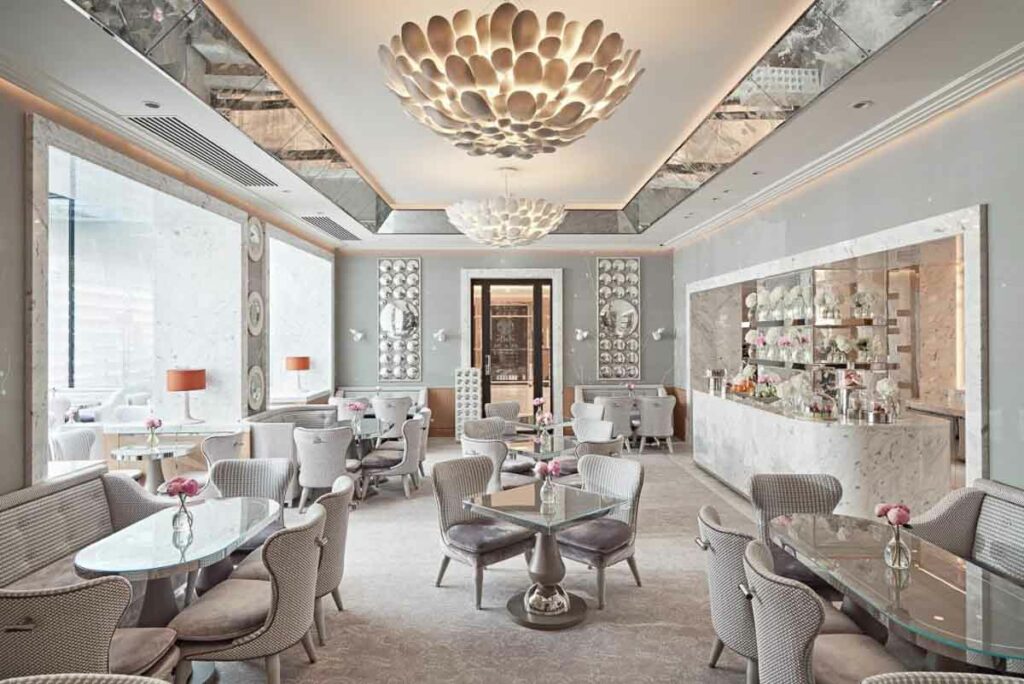 Tucked between Knightsbridge and Belgravia, this London luxury spa hotel started its life as a 1700s coffee house. The spa is on the seventh floor of the period building, and includes an English country garden and a pool that offers views over Hyde Park (it should be noted that the pool is closed for refurbishments until Summer 2021).

The Berkeley is an old-fashioned hotel with a modern heart. Service is impeccable and spa treatments range from body wraps to facials to yoga sessions, but in the summer you might find hula-hoop classes or synchronised swimming on offer too! Book a relaxing break at The Berkeley now to discover all its secret garden of a spa has to offer.
The Lanesborough
Hyde Park
Rooms from £600 a night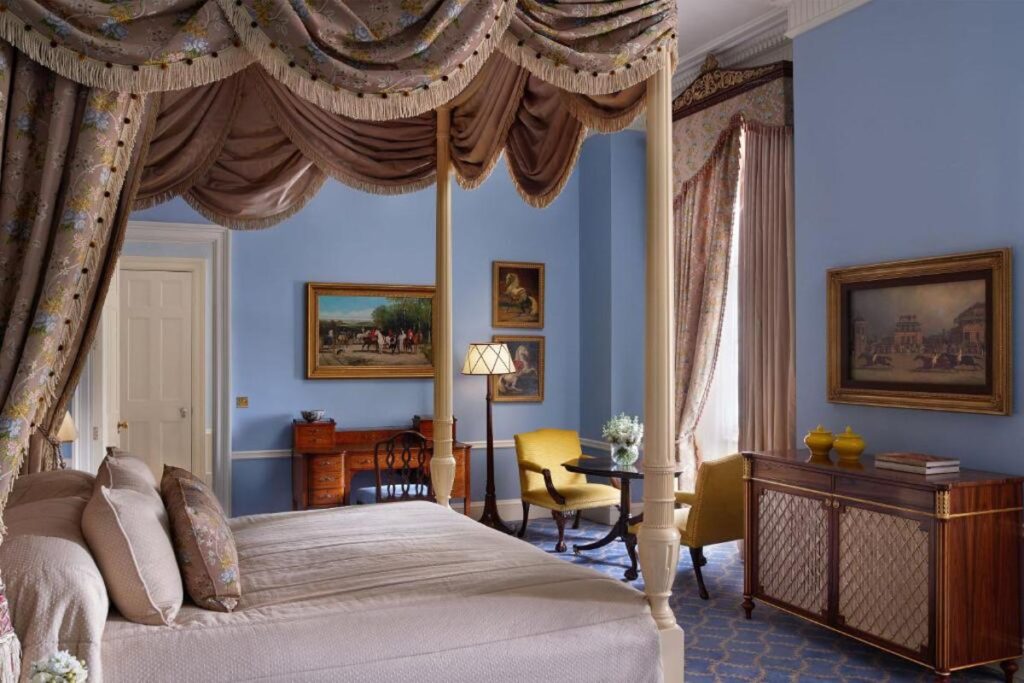 Winner of London's Best Hotel Spa at the 2019 World Spa Awards, The Lanesborough houses a full service spa, steam room and sauna. The spa offers massages, salt scrubs, green beauty treatments, and day experiences for both hotel guests and Lanesborough club members. The fitness centre and spa even boast their own restaurant, offering healthy meals, snacks and juices to relaxed guests in a grand dining room setting. If you're looking for a classic spa experience with all mod cons and incredible attention to detail, book a weekend at the Lanesborough now.
The Ned
Bank
Rooms from £260 a night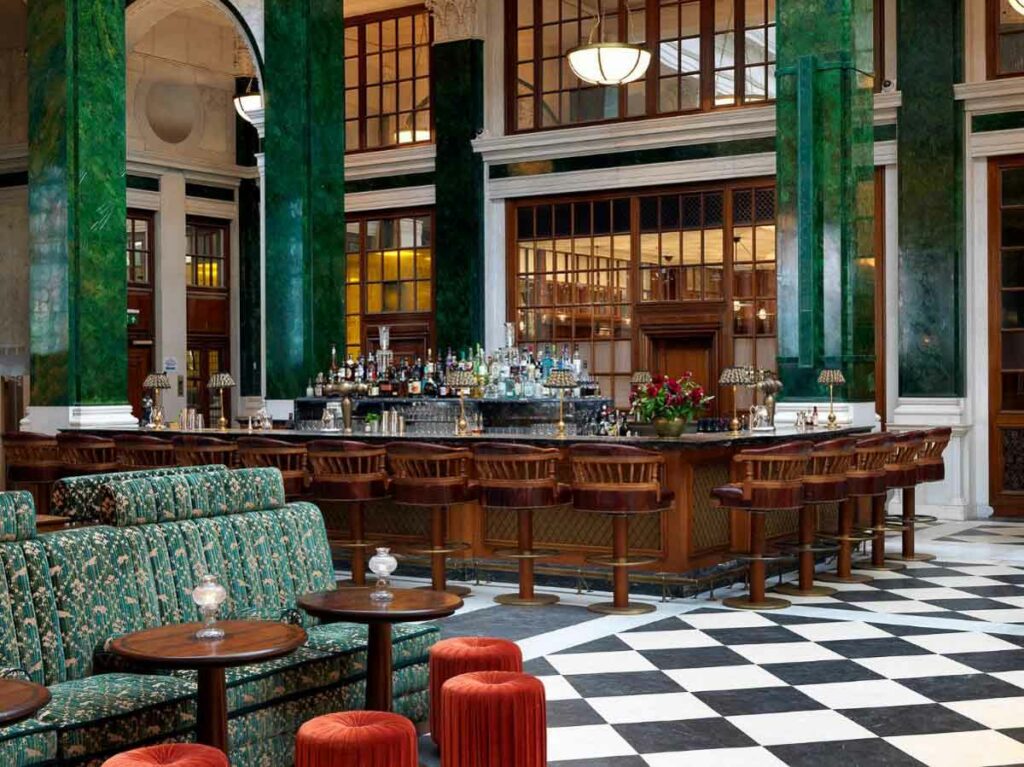 The Ned is a central London spa hotel with a difference. It offers a huge range of spa and grooming treatments, from the massages, manicures and facials you would expect in any spa hotel to haircuts, wet shaves and more at Ned's Barbershop and Ned's Parlour. There's even a resident osteopath and sports masseuse on staff.

Accomodation at The Ned varies from cozy rooms for two with art deco features, to the dramatic, sumptuously decorated Lutyens Suite on the seventh floor of the hotel. As well as being a luxurious spa hotel, The Ned is a modern private members' club that includes access to multiple restaurants, a rooftop pool and another indoors in what was once a bank's bullion vault, and a nightclub. Book a room or a The Ned experience now to enjoy all that this inner-city hotel has to offer.
St Pancras Renaissance Hotel
King's Cross
Rooms from £263 a night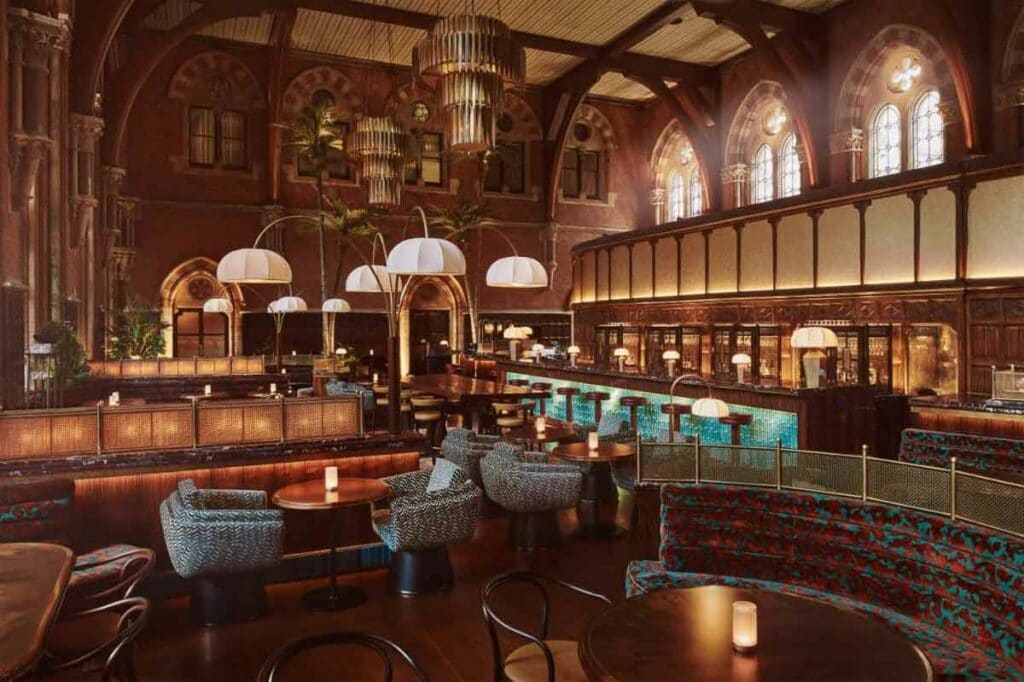 Although it is now owned by Marriot, this incredible London spa hotel is an iconic part of the landscape of King's Cross. The St Pancras Renaissance Hotel originally opened in 1873, and from its upstairs rooms to its beautifully tiled spa it retains tons of original neo-gothic features.

The spa isn't huge, but it includes a hammam and steam room, pool and relaxation area. There are plenty of spa packages aimed at tired travellers because the hotel is so close to two major rail stations. The best part about that? It means that this is one of the best value luxury hotels with a spa in London.

If you're looking for a spa weekend in beautiful surroundings, but don't want it to cost the Earth, then book your room at the St Pancras Renaissance Hotel now.
The Best Affordable Spa Hotels in London
Sea Containers London
South Bank
Rooms from £175 a night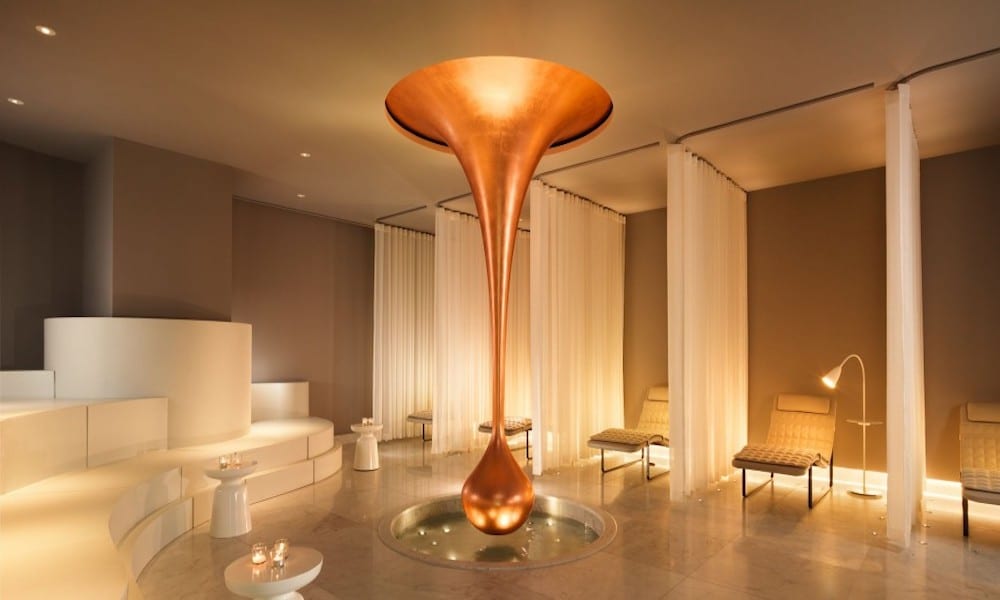 Sea Containers London is a London spa hotel with a difference. The spa itself, Agua, focuses on spirituality and wellbeing, making sure you feel great in both body and soul.

Treatments are available for both guests and day visitors, so you can enjoy Agua as a one off treat or part of a getaway. The spa is complemented by a modern, produce-forward small plates restaurant with terrace, and an intimate 56 seater Curzon cinema. All rooms at the boutique hotel feature rainfall showers and marble bathroom fittings, designed to emulate a 1920s cruise liner and to carry the relaxation on throughout your stay. Book now to experience one of the best boutique spa hotels in London.
K West Hotel & Spa
Shepherd's Bush
Rooms from £99 per night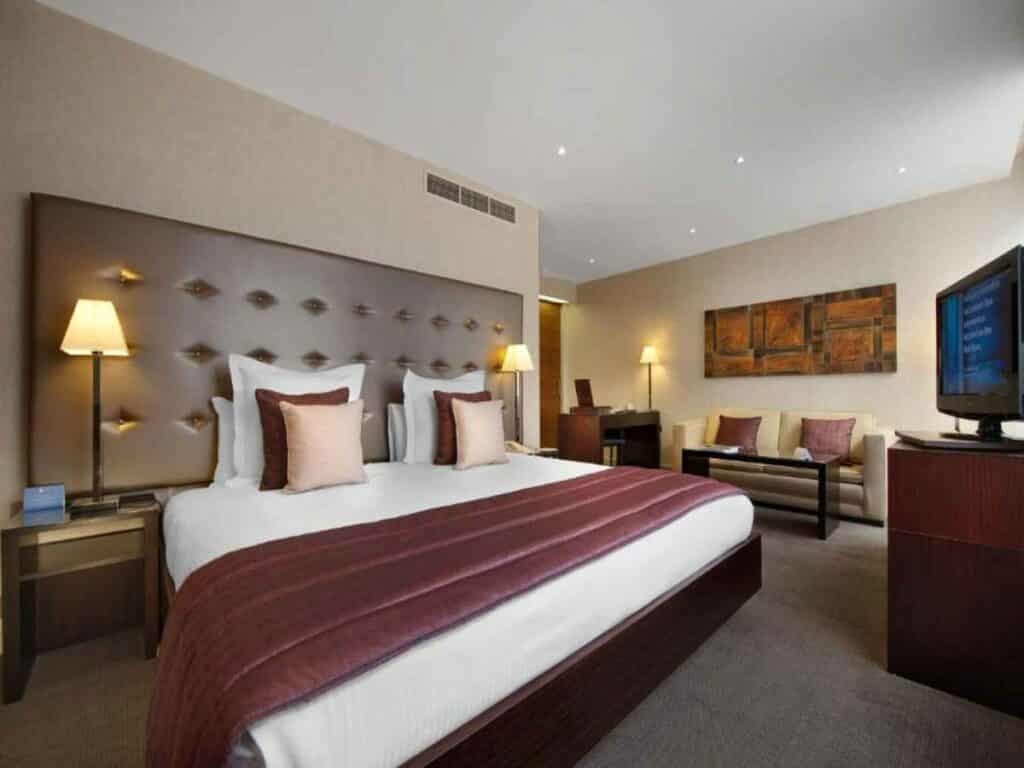 With rooms available for under 100 pounds a night, and a spa open to day visitors as well as hotel guests, K West might just be the best value spa hotel in London.

You get a lot for your money at K West, in fact, with facilities including a steam room, sauna sanarium, a hydrotherapy pool, and most intriguingly, a snow paradise, and an experience shower. Videos of all their extremely tempting looking facilities are available on the hotel's website. It's hard to watch without wishing you were chilling out beneath the icicles of the snow experience, so you'll probably want to book a spa visit (at just 25 quid) or a weekend at K West as soon as you can.
Practical Tips to Consider Before Booking A Spa Hotel in London
Choose your location carefully. London is a big city. If you are coming to the capital for more than just a relaxing spa experience, what do you want to be near? If you're going to be sightseeing or shopping, you'll appreciate being central but if you want pure relaxation then choose a quieter area.
Think about a price range that suits you. I'm sure this one has already occurred to you, but there's no point in saunas and massages if the price of them is making you tense. Pick a realistic budget and stick within it, and you'll be able to relax.
What other facilities do you want at your hotel? There are hotels on this list with award-winning restaurants, gyms, even nightclubs. What do you want from your hotel apart from the spa? This can extend to the sort of decor you will find most soothing, and whether you want a view of Hyde Park or of the River Thames.
Check for spa packages and hotel deals. Even five-star spa hotels in London often have deals and packages available, especially during the offseason. Take a look around before you book your hotel to make sure you're getting the best possible deal, and check the hotel's own website for spa package deals as they're often cheapest when purchased ahead of arrival.
Read More London Hotel Guides
Hotels with Hot Tubs in London
Where to Stay in London
Quirky Hotels in London