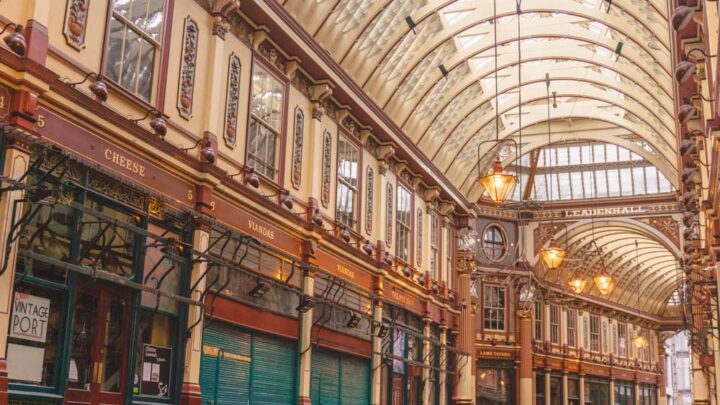 Leadenhall Market is London's most beautiful market – tucked away in the heart of The City. Discover the fascinating history of the market as well as the bars, restaurants, shops and Harry Potter filming locations you shouldn't miss when you're visiting the market.
Leadenhall Market is a beautiful covered marketplace in the City of London. These days, it's a contemporary shopping precinct with trendy bars and cute cafes (and was used as a Harry Potter filming location – more on that anon), but did you know that it's currently celebrating its 700th anniversary?
Even if you didn't, the fact that it's housed in a historic Victorian-era covered building still makes you feel a little like you've stepped back in time a century or two.
Discover more about Leadenhall Market in this video – featuring Leadenhall trader Sue Cloke from Cheese at Leadenhall
The site has a long history – dating all the way back to Roman times when it started as a bazaar on the very same spot you find it today.
Still, the market's formal existence is a little later than that: the entrance sign declares that the market was established in 1321.
It's certainly come a long way from those days when it was just for butchers and fishmongers. Instead, you'll find cheese and wine bars, pubs and shops dotted around its cobbled lanes.
The 700+ Year History of Leadenhall Market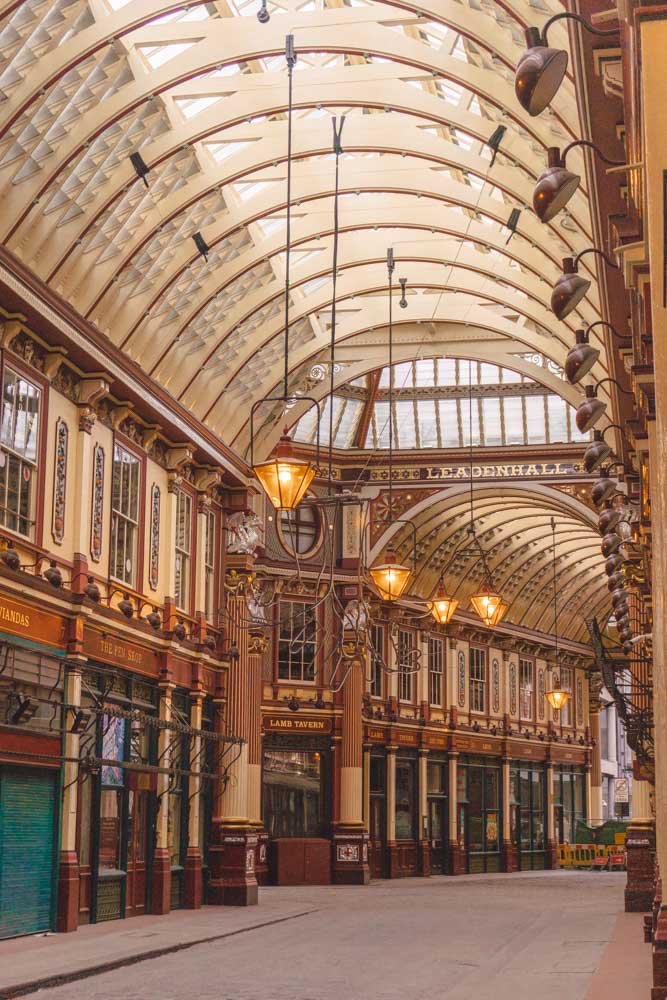 As we referenced earlier, Leadenhall dates back to 1321 – so is currently celebrating its 700th anniversary!
The market has always been about food – particularly meat, poultry and game and it's thought that there's been a bazaar area here since it was the centre of Roman London in the 1st century.
Leadenhall Market's Medieval History
Back in the 14th century, Hugh Neville owned the Manor of Leadenhall – so named because the hall had a leaden roof. Poulterers and fishmongers began meeting on the site to trade their meats. The market became quite a boisterous centre of commerce in the City of London – messy, crowded and lively – so quite a change from the quaint cobbled environs we see today.
Then, in 1408 the former Lord Mayor, Dick Whittington (yes – that Dick Whittington!) acquired the market's lease and began turning it into a more commercial space. The site was given to the City of London Corporation in 1411 by Dick Whittington and they're still looking after it to this day.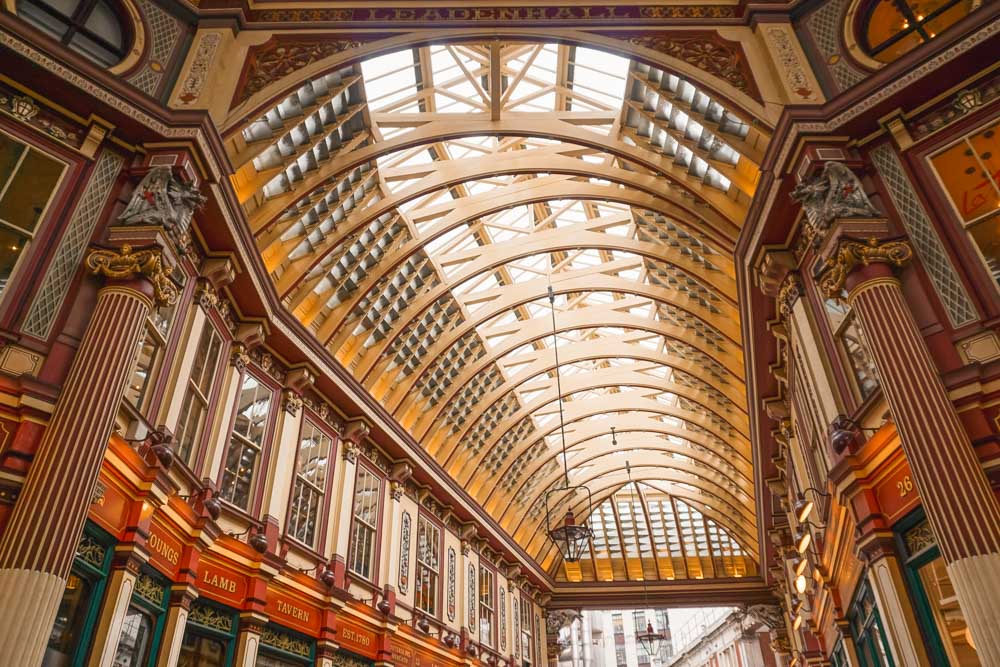 By the end of the 15th century, the market had introduced a granary, a weighing mechanism for wool, a chapel for the site's vendors and a monopoly on the leather trade in the city.
Leadenhall had very much become a well-established centre for commerce in London but was then partially destroyed in the city's Great Fire in 1666. When it was rebuilt it was decided that it would be covered rather than open air, and it remains like that today.
Leadenhall Market in the Victorian Times: Redesigned by Horace Jones
In 1881, the city architect, Horace Jones (who also designed Tower Bridge and Smithfield Market in Farringdon), redesigned the market and it was redeveloped to include wrought iron and glass rather than stone.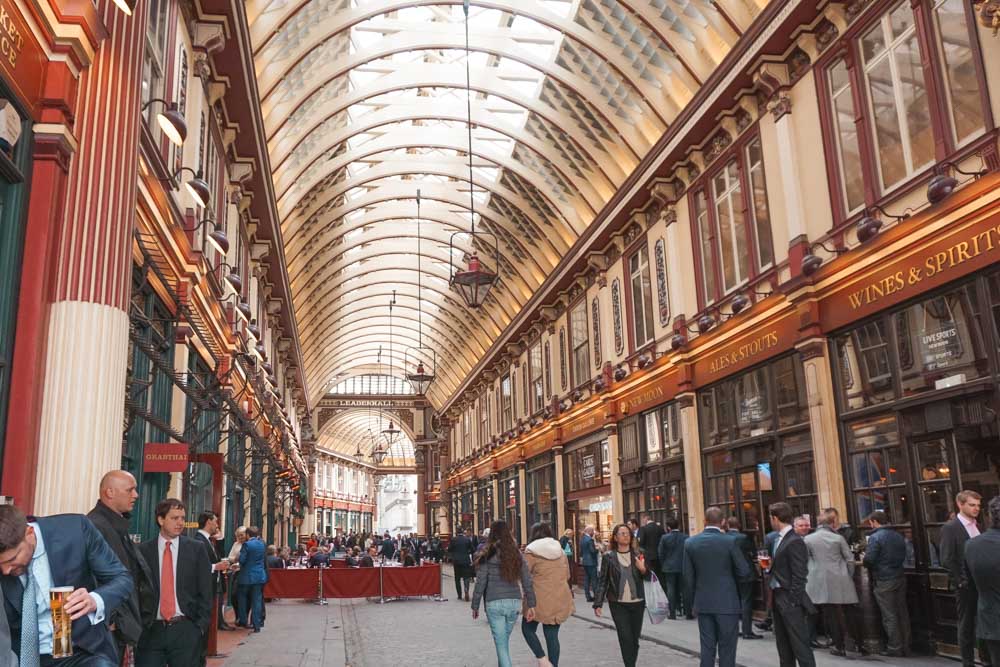 Much of the ornately decorated interior and cobbled laneways that you see preserved today is from this very redesign – it's hands down one of London's most gorgeous places.
Old Tom
Of all the characters Leadenhall Market has seen over the years, there's one in particular that stands out – a curious goose who went by the nickname of Old Tom at the beginning of the 19th century.
It should come as no surprise that many of the geese that came to the poultry market met their end, but Old Tom escaped the chop and went on to live to 37 years old, which is pretty impressive whichever way you look at it.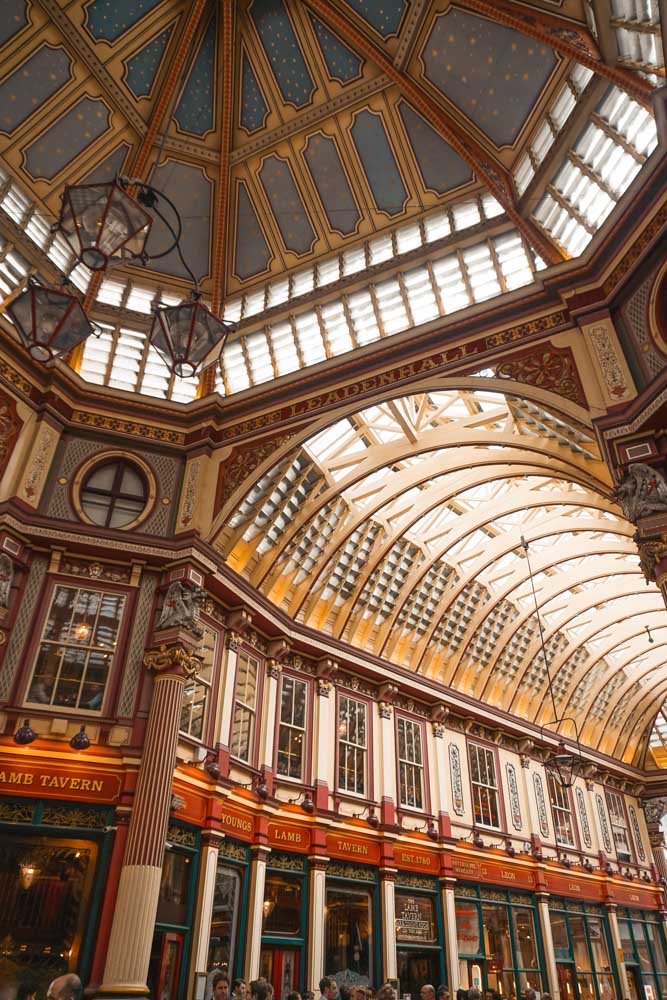 Old Tom particularly liked hanging around The Lamb Tavern (one of the market's long standing spots) but he was fed by many of the market traders and became something of a market mascot – so much so in fact that you'll still find references to him in the market today.
Leadenhall Market Today
By the mid-20th century the market had also become a more general retail shopping and leisure centre as well as still selling the original food and natural products. By the end of the 1990s, it had emerged as one of the main shopping centres in the City of London.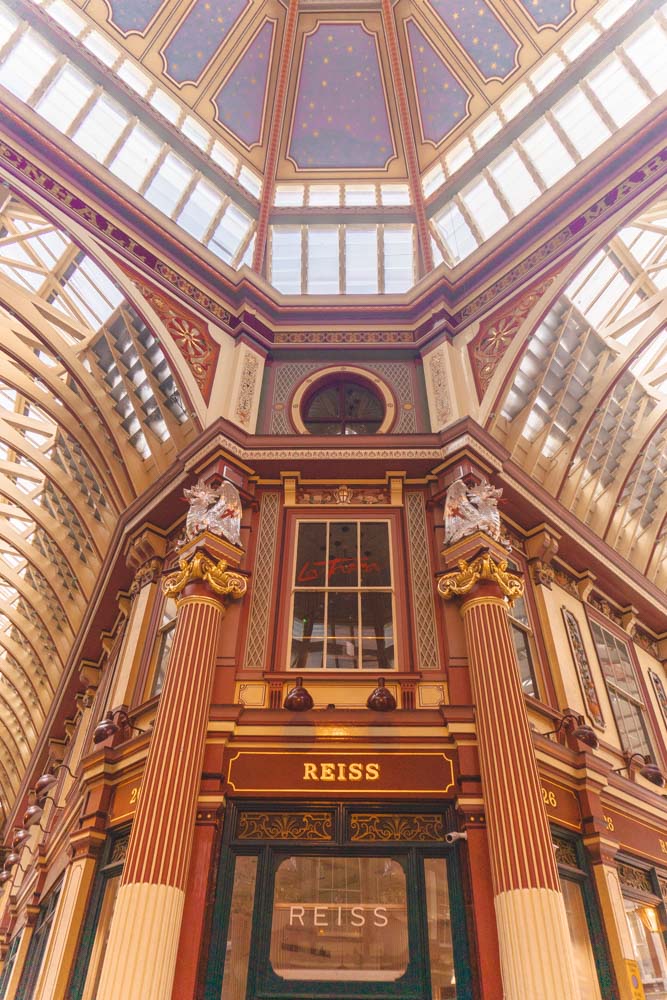 Today, it includes boutique retailers, restaurants, wine bars and pubs and is one of the more popular places for shopping and eating in the City.
It's even added another feature to its name, as a popular film set – most recognisably in Harry Potter.
Leadenhall Market – A Harry Potter Filming Location
Take a close look at Leadenhall Market. Can you picture it as Diagon Alley?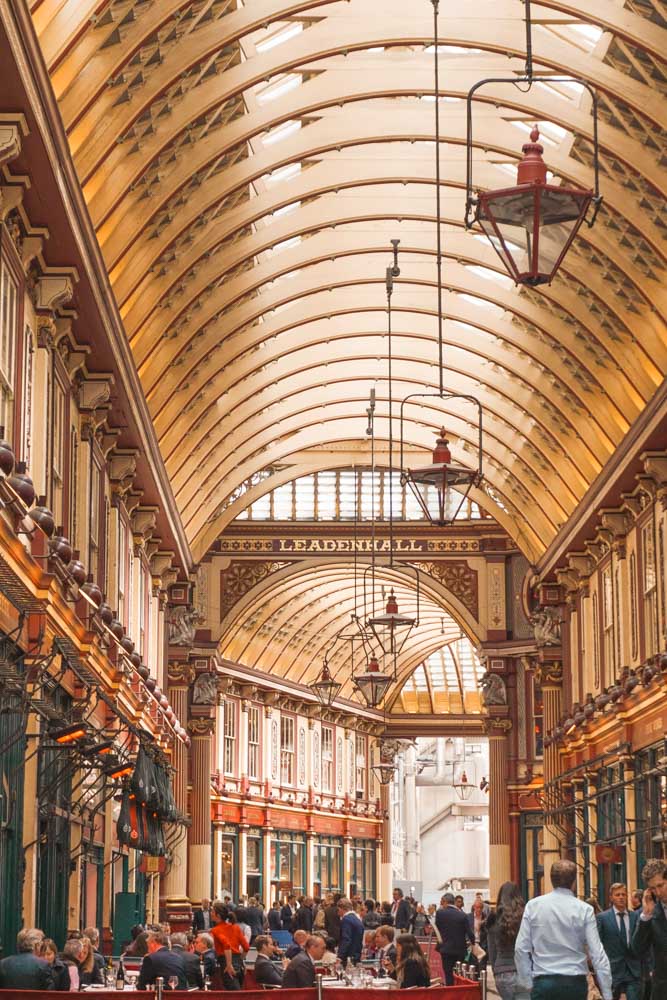 Leadenhall Market played a starring role in the Harry Potter films when it was used as a filming location early in the series.
It was used as the exterior to Diagon Alley, the wizarding worlds shopping hub for Hogwarts' students, as well as The Leaky Cauldron, the popular wizarding pub.
With the picturesque Victorian-era laneways in Leadenhall Market Harry Potter is not the only movie to have been filmed there either.
Tinker, Tailor, Soldier Spy, Hereafter and Lara Croft: Tomb Raider, have also used it as a filming location.
Best Restaurants in Leadenhall Market
Cheese at Leadenhall
Monday – Friday from 9am – 8pm
With over one hundred artisan cheeses on offer to try and incredibly good quality wines, Cheese is the best place to sit with friends for a relatively casual yet delicious lunch.
With laneway seating, you can sit and watch the world go by as you graze over a platter of cheese, olives and charcuterie.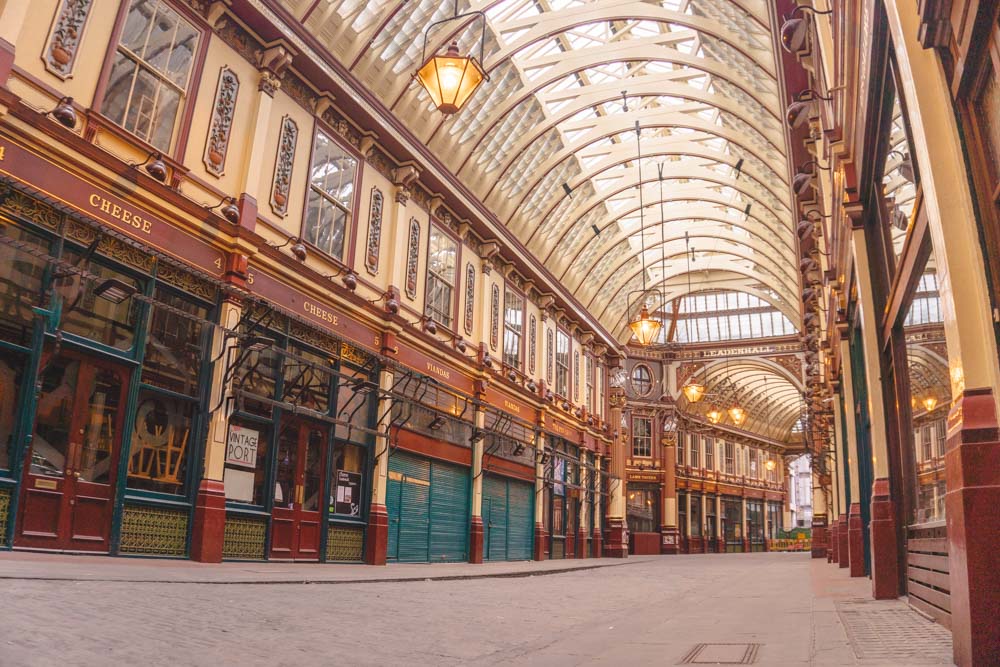 Broker's Wine Bar and Restaurant
Monday – Friday from 10am – late
If you want a perfect people watching lookout then Broker's Wine Bar is your spot. It's situated above the crossroads inside the market, and offers a bird's eye view over the bustling market lanes below.
It specialises in international wines and the restaurant also holds a number of events throughout the year from art exhibitions to wine tastings.
Giorgio at Leadenhall
Monday – Friday from 11.30am – 3.30pm and then 6pm – 9.30pm
One of the best Leadenhall Market restaurants, Giorgio is a sophisticated Italian restaurant that prides itself on authentic subterranean food. Their freshly made pasta and seafood dishes usually steal the show, and they have an extensive wine list to match
Best Shops in Leadenhall Market
Waterstones Bookstore
Monday – Friday from 8am – 6.30pm
One of the last remaining specialist bookstore chains in inner London, Waterstones prides themselves on outstanding service and exciting bookshop events.
It's a refuge from the crowded market, where you can sit and ponder some of the latest titles in store. It also has a number of events and book signings throughout the year.
Windsor Flowers
Monday from 6.30am – 5pm and then Tuesday – Friday from 8.30am – 5.30pm
Windsor Flowers is a family-run florist that was established in 1982 and is now the preferred supplier for some of the most respected businesses in the area such as The London Guildhall, Mansion House and St Paul's Cathedral. It's a nice store to poke your head into for vibrant colours and beautiful aromas.
Barbour Clothing
Monday – Friday from 9.30am – 6.30pm
This classic British brand founded in 1894 is right at home in the Victorian-era Leadenhall Market.
With a brand history going back generations, their iconic and original wax cotton jackets are still top sellers. It's the epitome of traditional British style.
London City Shoe Shine
Monday – Friday from 10am – 4pm
For something a little different, head to this historic institution, where the guys from this shoeshine shop have been shining shoes since 1991 in Leadenhall Market.
For an authentic Leadenhall experience, brush up any of your leather or suede by dropping it off to the guys here.
Bars + Pubs in Leadenhall Market
The Lamb Tavern
Monday – Friday from 11am -11pm and Saturday from 10am – 6pm
Serving a variety of meals from traditional British pub favourites to light lunches with a pint of classic real ale. This tavern is a bar and restaurant stretching across three levels with stunning old interior and has been operating as a bar since 1790.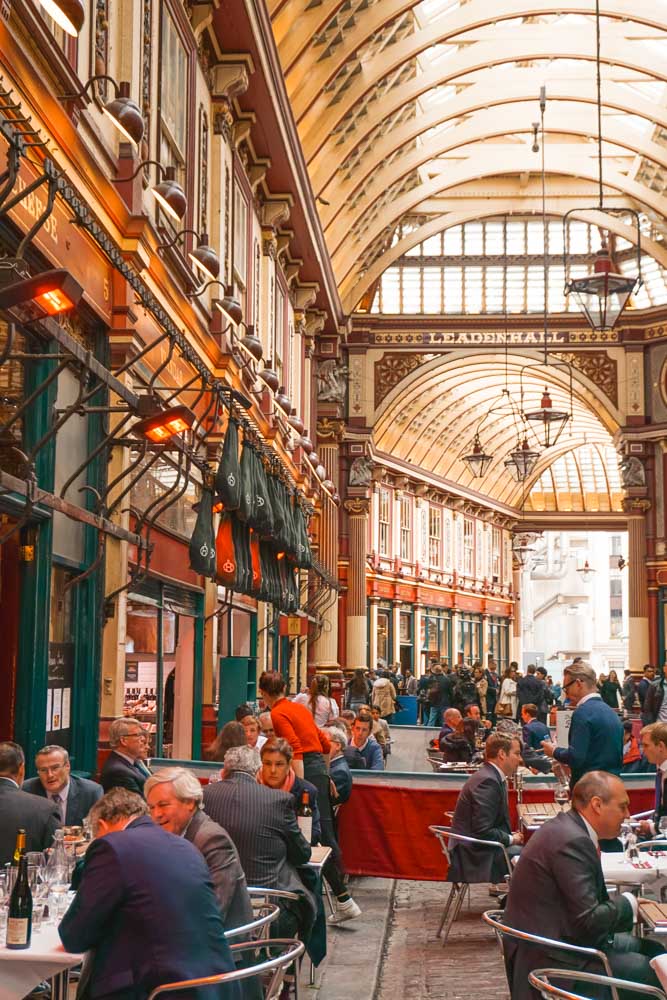 Old Tom's Bar
Monday – Friday from 11am – 11pm
Down the stairs from the cobblestone lanes of the market you'll find a fully preserved old bar in antique décor.
The extensive drinks menu includes gin, craft beer and cocktails, as well as old English favourite snacks and light meals. It's one of the trendier and more boutique Leadenhall Market bars.
New Moon Pub
Monday – Friday from 11am – 11pm, from Saturday 12pm – 7.30 and Sunday from 12pm – 5pm
One of the more traditional Leadenhall Market pubs, New Moon is an old dark wood bar on the edge of the covered market.
The place is overwhelmingly popular with some patrons preferring to stand outside on a summer evening with their pint rather than battle with the crowds indoors.
Map
Looking for More Finds in the City of London?
Check these out…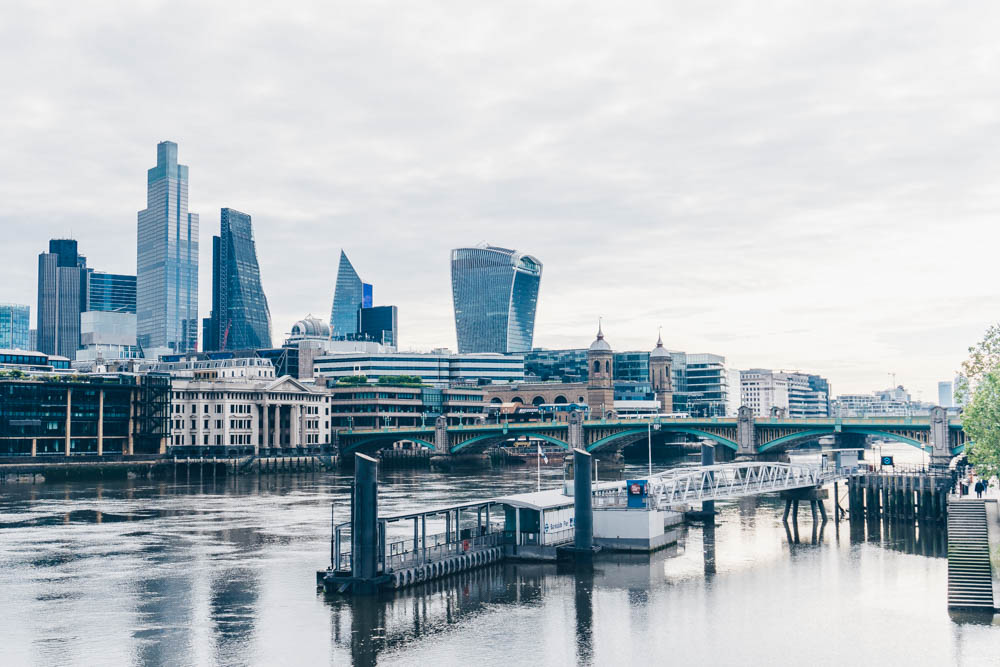 City of London Area Guide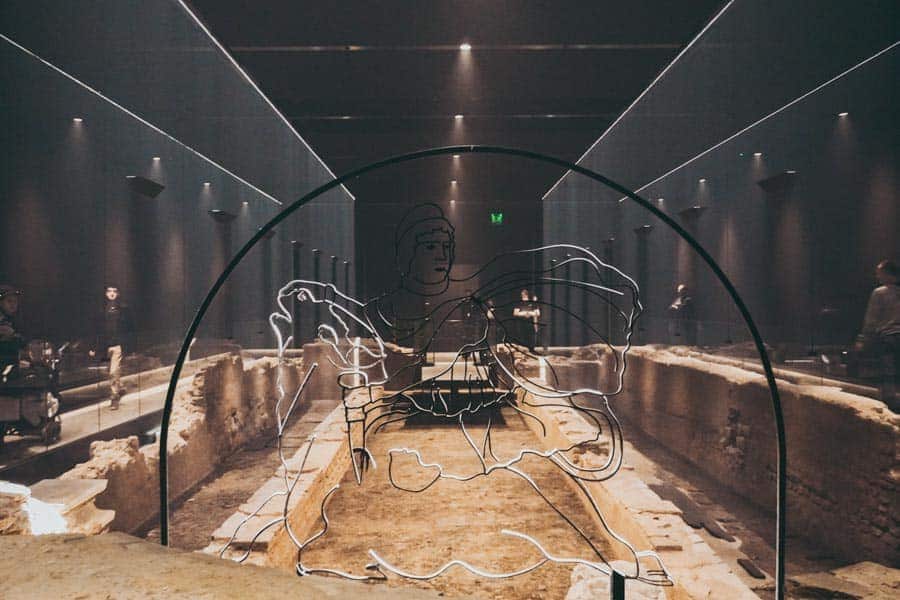 The Ancient Roman Temple at London Mithraeum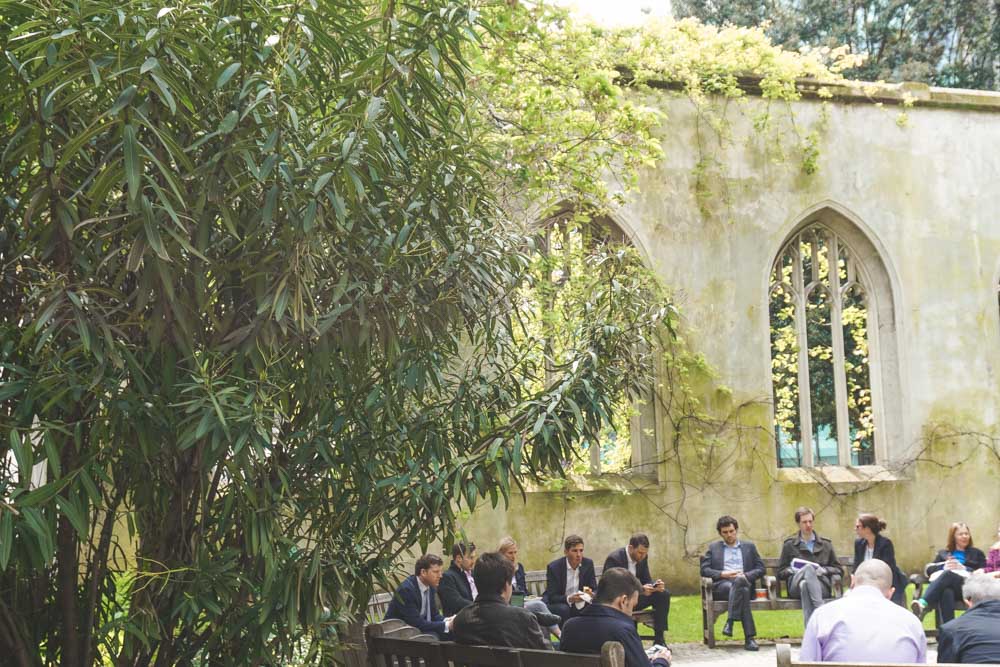 Love this? Save and Share on Pinterest!