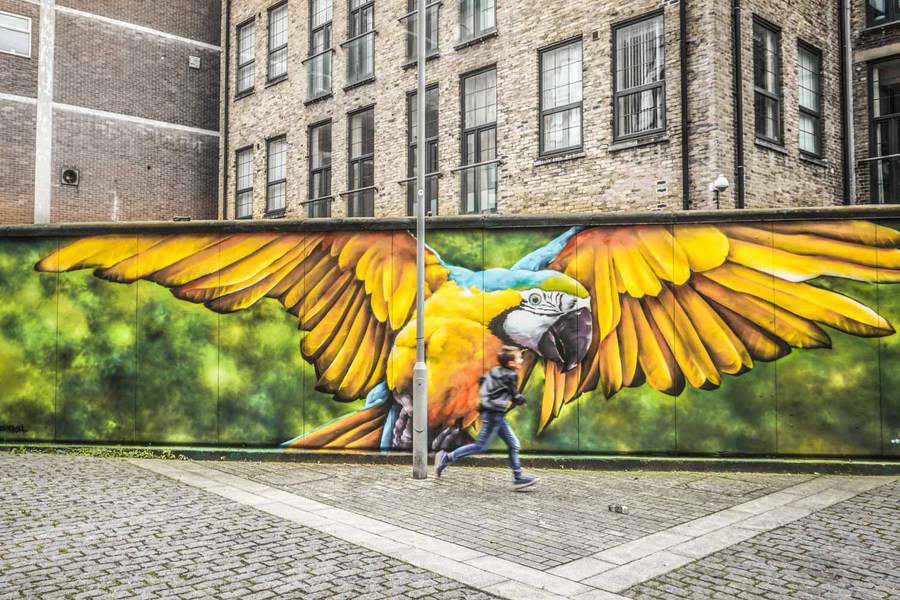 The street art in London is on another level.
In the past two decades, street art has gone from tagging walls in the middle of the night to a form of celebrated public art and We. Are. Here. For. It.
Delve into the subterranean tunnel that's always buzzing with artists spraying new pieces, walk around the East End neighbourhood where there's something exciting around every corner, take a jaunt around the south London concrete monolithic skyline brightened by large-scale murals.
Not sure what to expect? We'll give you a spoiler: London's graffiti scene is diverse and a joy to discover.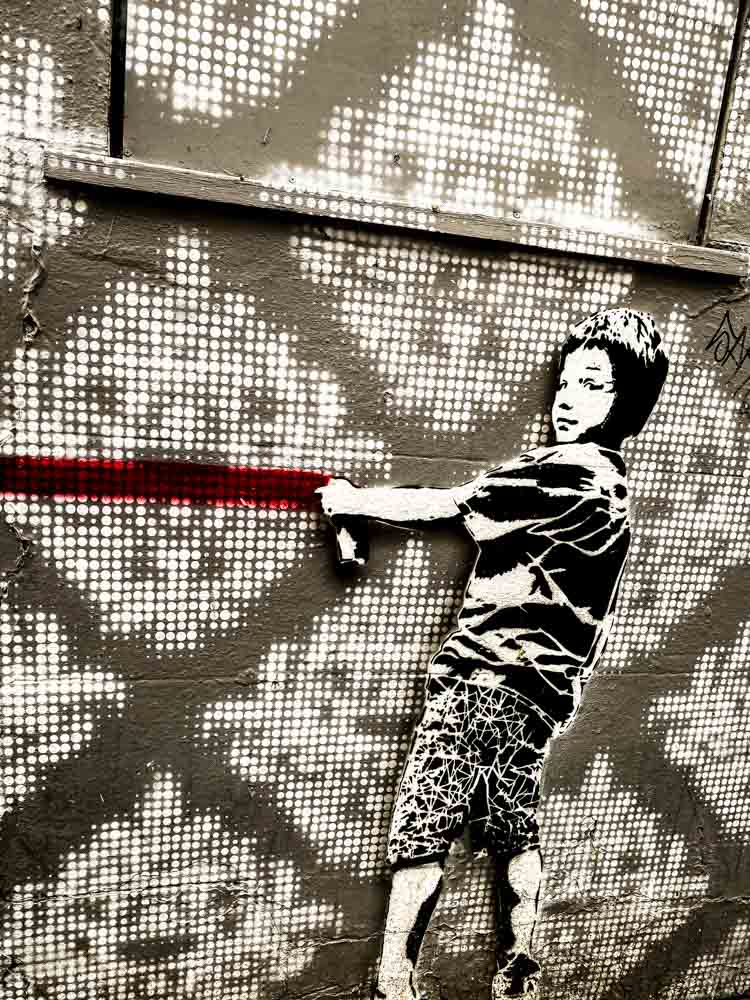 We've been writing about London's street scene for a couple of years, charting its move into the mainstream as pieces have blossomed all over the city.
In September 2020, we're welcomed the first London Mural Festival, which is filling up the city with lots of new works from the world's leading artists. Check out the London Mural Festival map and guide here.
Even away from the festival, there's plenty to explore…. Anyway, enough talk, lets get on with it – these are the London graffiti spots you shouldn't miss.
Where to Find the Best Street Art in London
Shoreditch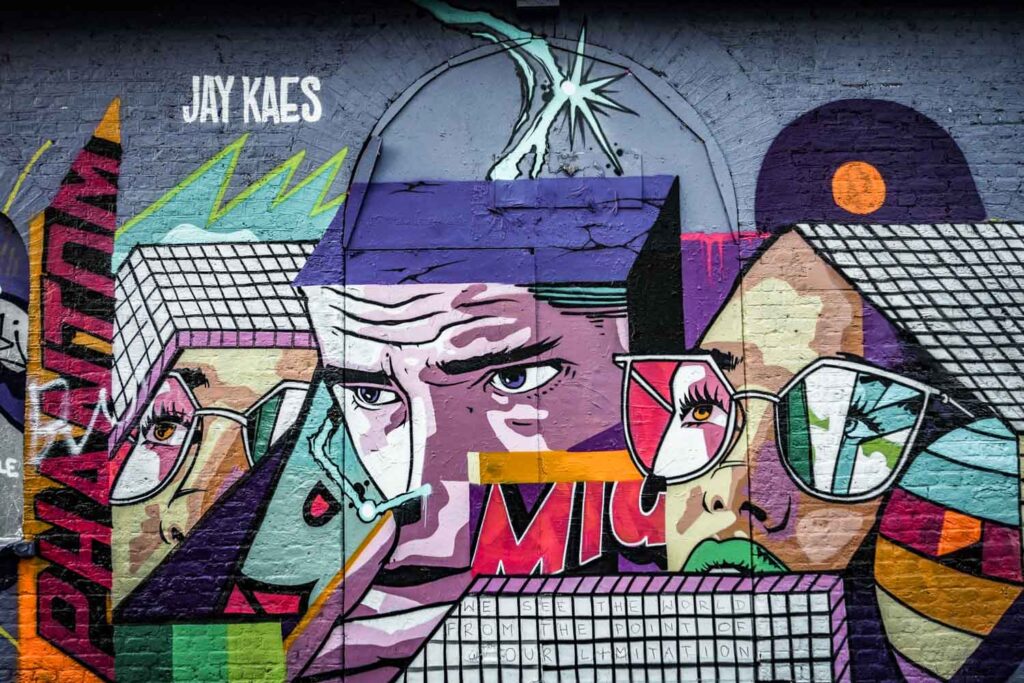 The street art scene in Shoreditch is always poppin'. If you want to see a deluge of jaw-dropping pieces by international artists as well as local talent, Shoreditch is the place to go.
We'll be honest, it's the best-known street art hub in London for a reason.
Spend any amount of time and you'll find works by artists like Mr Cenz, Dreph, Dale Grimshaw, Oko and Zabou. You could spend days (we're not exaggerating) traversing Shoreditch's streets in search of murals and we'll bet you still wouldn't find them all.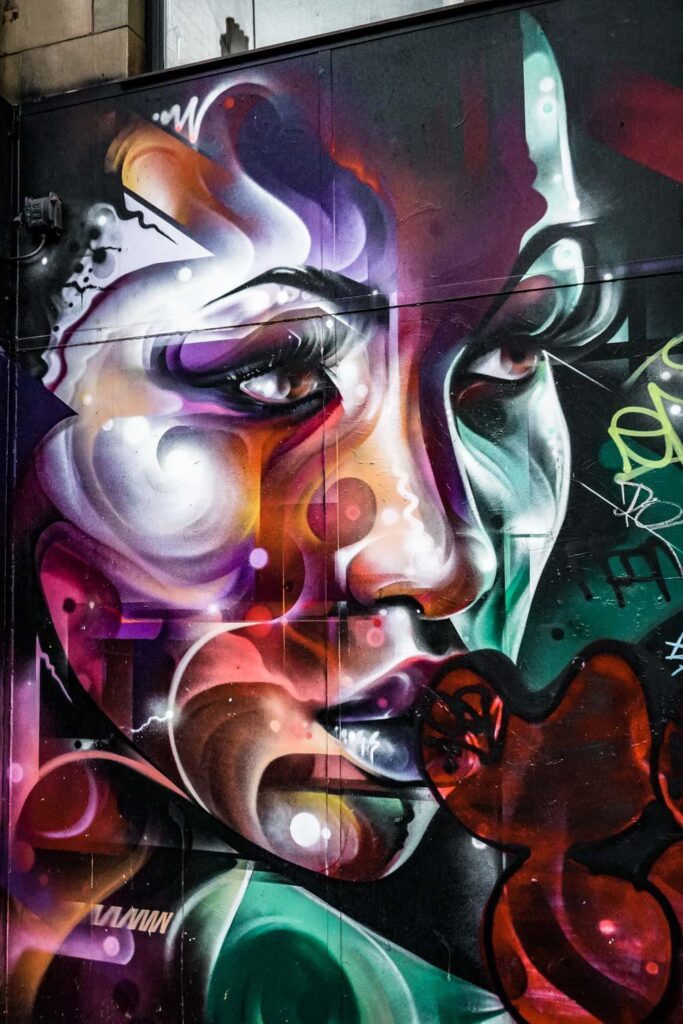 Not sure where to start? I've written this step-by-step Shoreditch street art tour complete with a map to help you discover the best spots in the area.
Leake Street Tunnel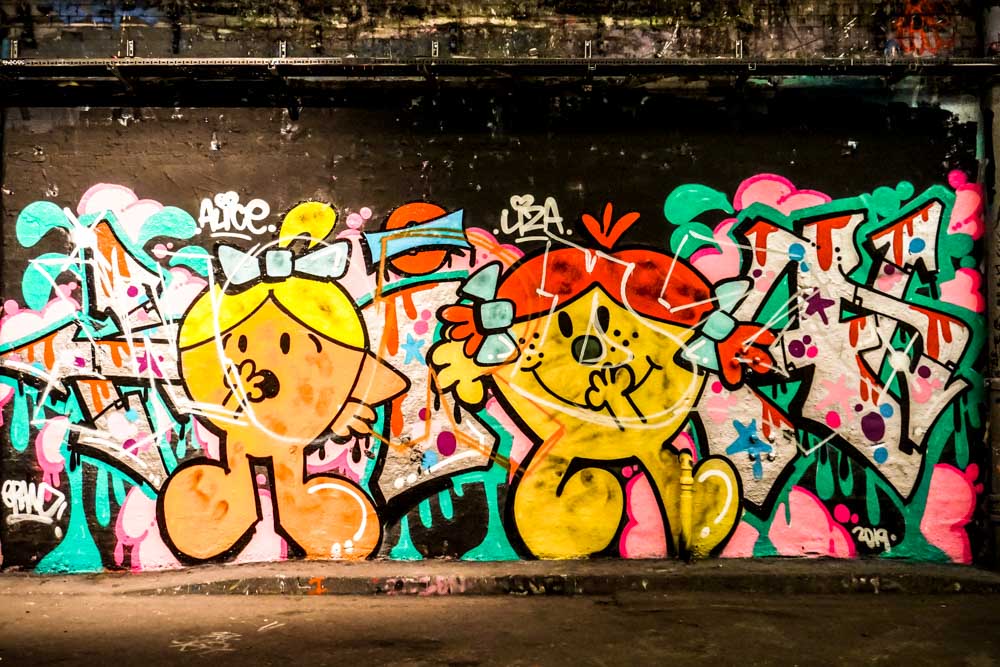 Leake Street Tunnel was one of the early spotlights for London's burgeoning graffiti scene and it's still one of the best places to scope out street art today.
The fun all started way back in 2007 when Banksy held a graffiti festival down in the tunnel and invited all his super-talented street artist mates to come and adorn what had been a grim thoroughfare.
It's now London's largest legal wall, meaning anyone can rock up with their sprays and ideas and turn them into a reality.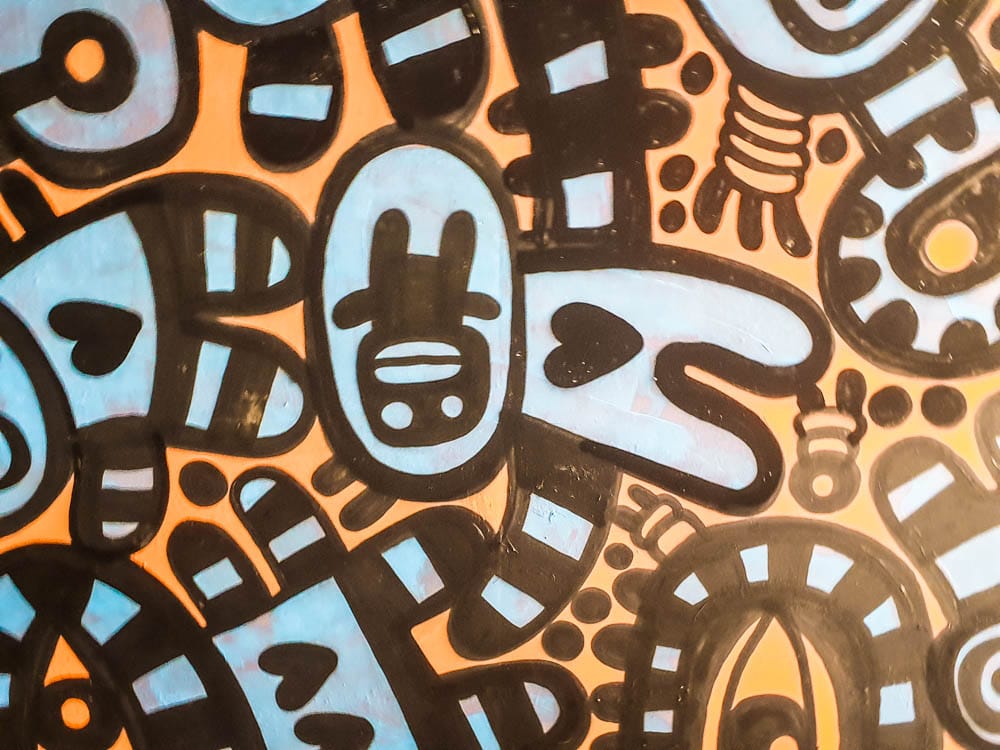 The unregulated nature means that the quality of the final pieces varies but also pretty much guarantees that you will get to see a new piece (or ten) going up during your visit.
Read more about how to plan your visit to Leake Street Tunnel
Camden
Camden's reputation as one of the London neighbourhoods not afraid to do things differently extends to the wealth of street art you find dotted around the area.
Things are a little more spread out than in Shoreditch but it's there if you know where to look.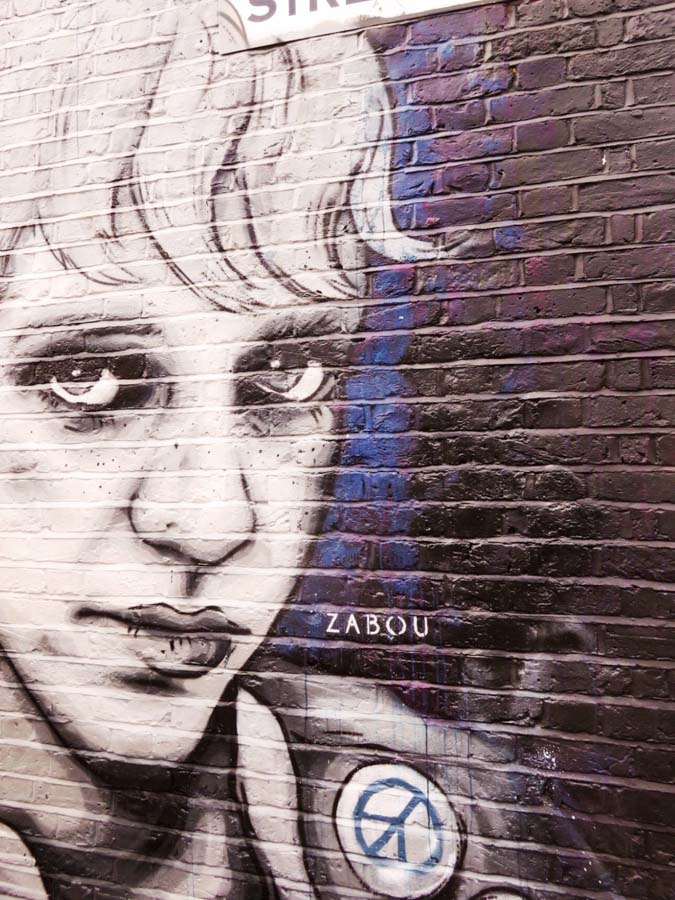 Hawley Mews, Castlehaven Road, Miller Street and the back of Electric Ballroom are good places to start.
Check out my Camden Street Art Guide for more tips and info
Croydon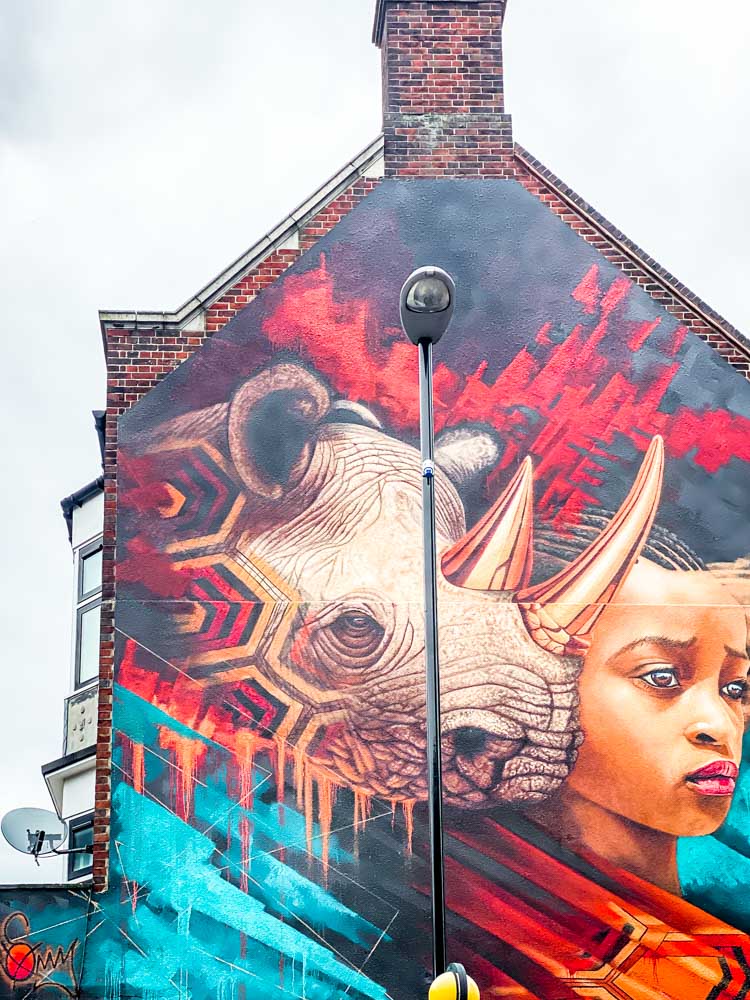 The Cronx has come out hitting hard as one of the hubs of London's graffiti scene. Fifteen years ago, the idea that Croydon would be one of the champions for the best street art in London would have felt preposterous.
Well, the joke's on everyone because that is exactly what it has done, in no small part thanks to the work of Kevin Zuchowski-Morrison whose former Rise Gallery and KZM Studios firmly put Croydon on the street art map. You'll currently find works by Dotmasters, Glaucomo Run, Dan Kitchener, David Hollier, Otto Shade and Phlegm, and you get to appreciate them without the crowds of Insta-posing masses you encounter in other areas (*cough* Shoreditch *cough*).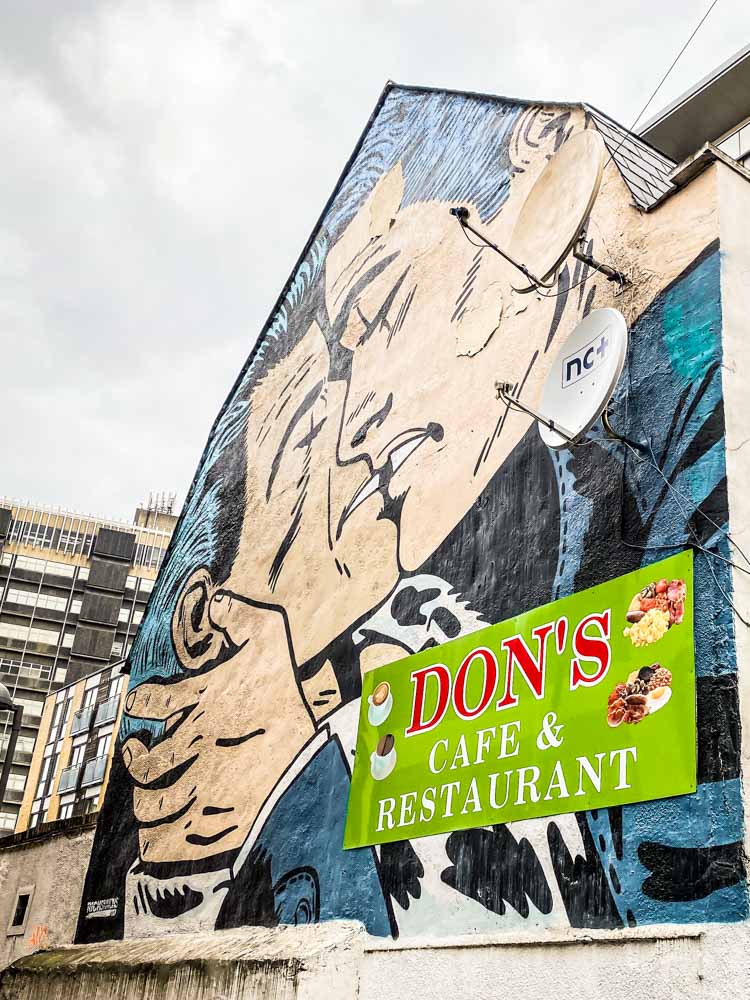 Last year, Croydon's street art scene culminated in a Banksy pop up that saw wannabe viewers forming a queue around the block to grab a look. Who knows what the rest of this year will promise.
Brixton
Chances are you've seen that mural of David Bowie (looking slightly startled) as Ziggy Stardust. You know – this one…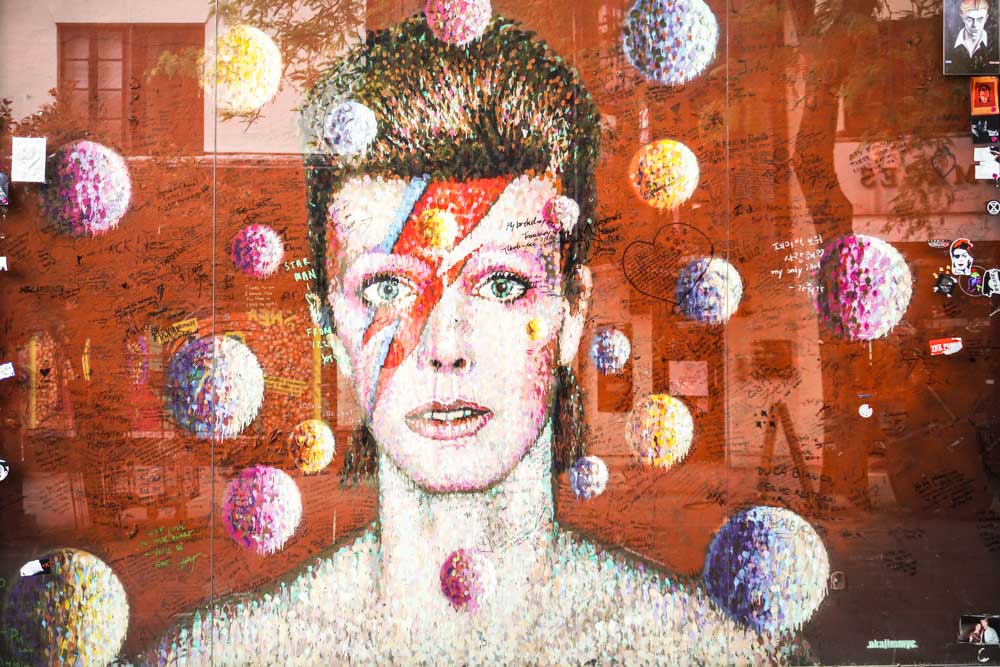 Much as that might be the mural that people most associate with Brixton, rest assured, the area's graffiti offering goes far beyond Bowie.
Where some of London's street art areas feel more like an exclusive stomping ground for well-known artists, Brixton's is a bit more varied. Sure, there are some cool-AF pieces by Mr Cenz and Dreph, but you're also guaranteed to come across pieces by artists you've never heard of too.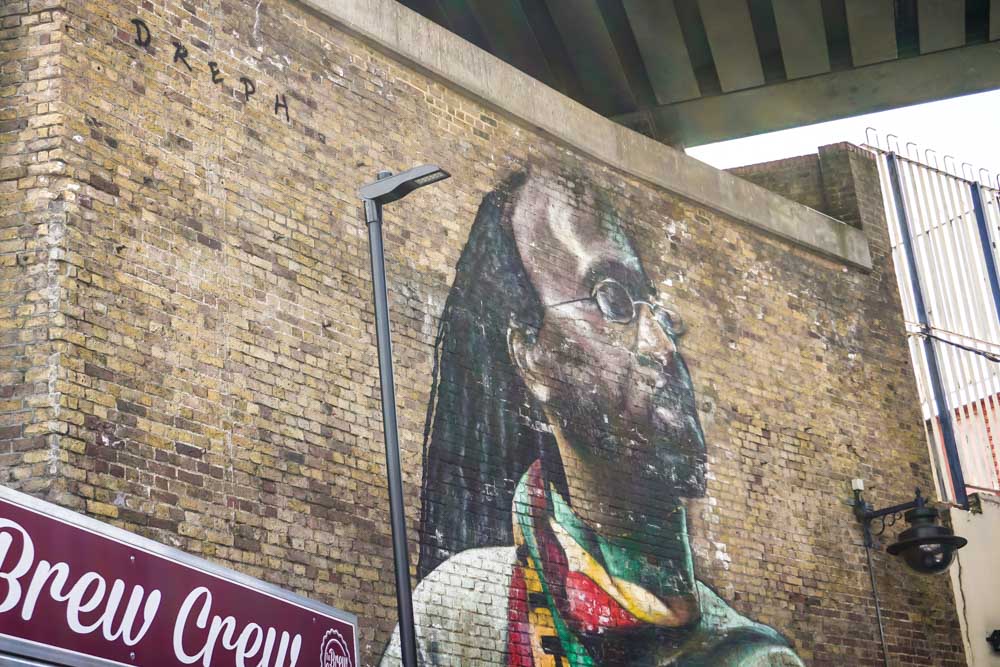 Looking for Brixton's murals? Don't just stick to the centre – they're scattered down residential roads, on railway bridges, on hidden walls and finding them is half of the adventure.
Walthamstow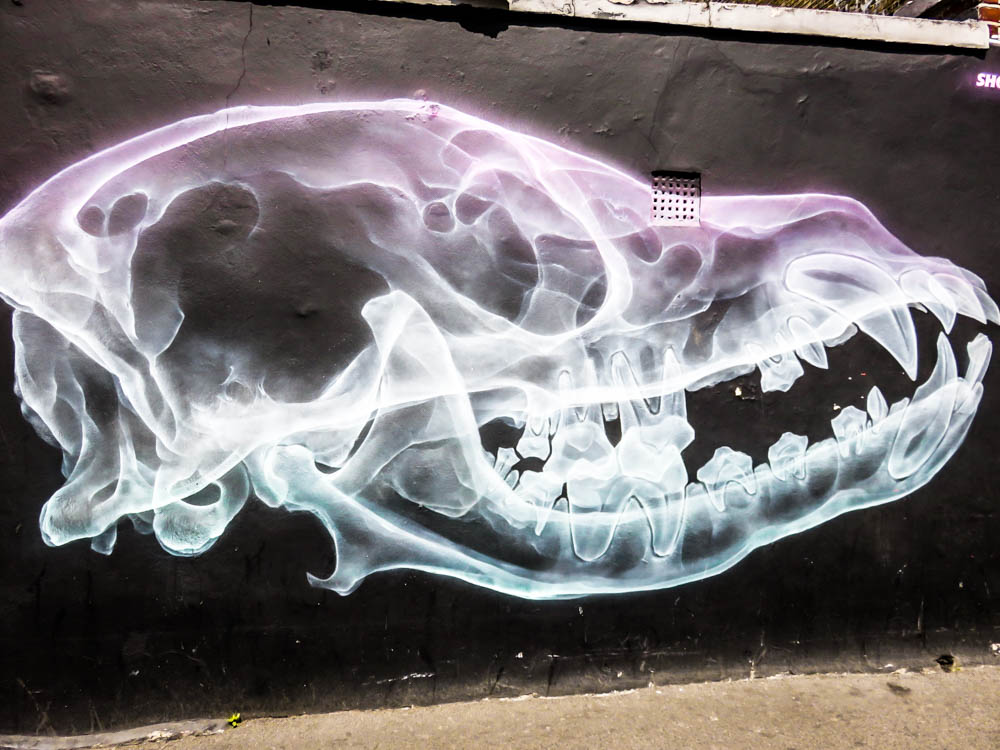 Ten years ago, I didn't know anyone who wasn't from Walthamstow who'd ever been to Walthamstow.
Then boom, it was there being all cool and making everyone travel out to the northern reaches of the Victoria Line and feeling like Sam in LOTR when he's all like "If I take one more step Mr Baggins, this will be the farthest I've ever been from home".
The fact that Walthamstow has developed quite the street art world has had a lot to do with that allure. Where other neighbourhoods have boring advertising boards, Walthamstow has murals by ATM, Roa and Phlegm – much, much better.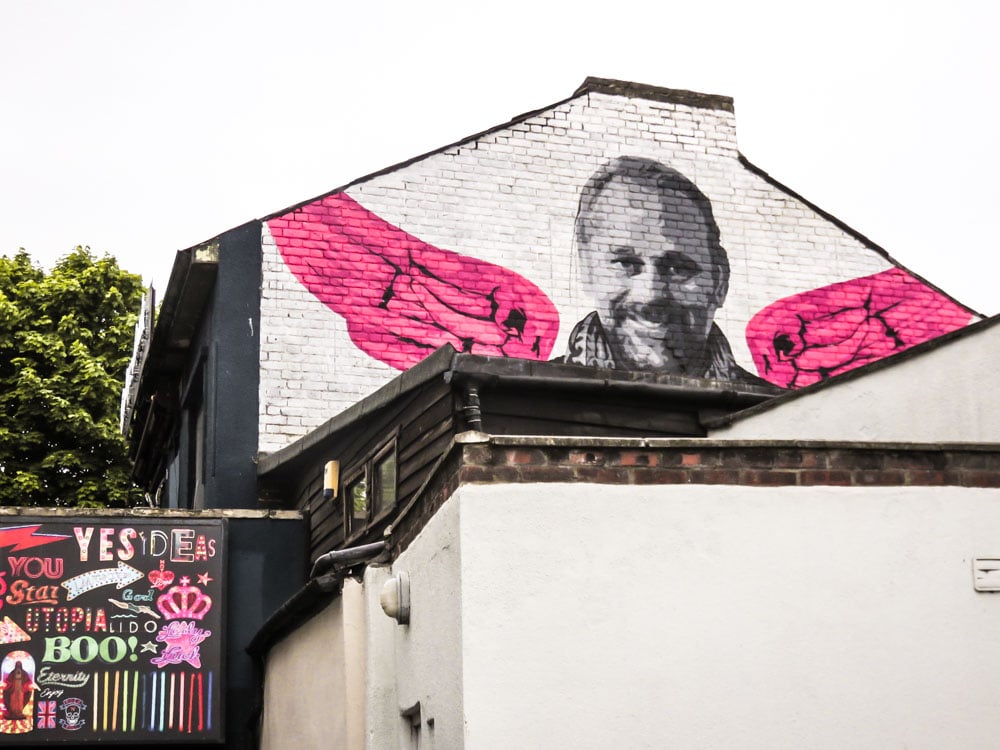 It's another one where the pieces are quite spread out (though there are hubs on St James Street and Wood Street) so get on some comfy walking shoes to explore.
Hackney Wick
As one of the arbiters of all things hipster with a definite smell of eau de gentrification, of course Hackney Wick would have a banging street art thing going on.
Of course.
Snark aside, Hackney Wick was one of the beacons of London's street art scene for decades – that Banksy used to live there says everything you need to know.
These days, the developers (and the ensuing debate around gentrification) have muffled that creativity but there are still great pieces to be found, particularly on Bream Street, Old Ford Lock and Hertford Union Lock.
Brick Lane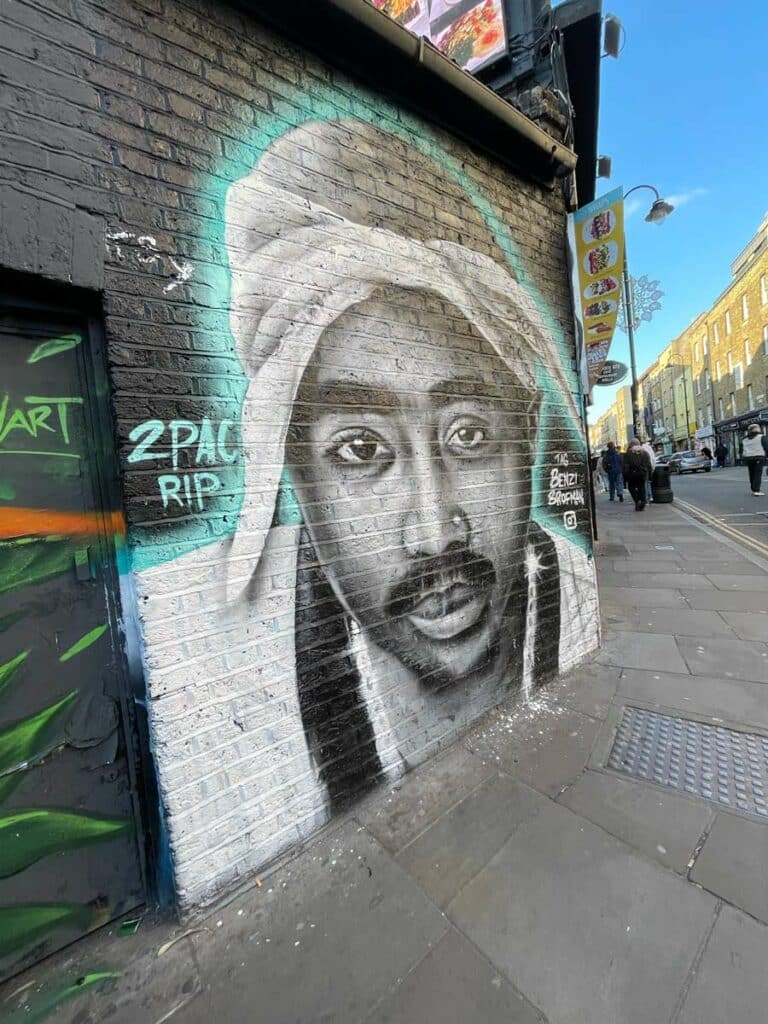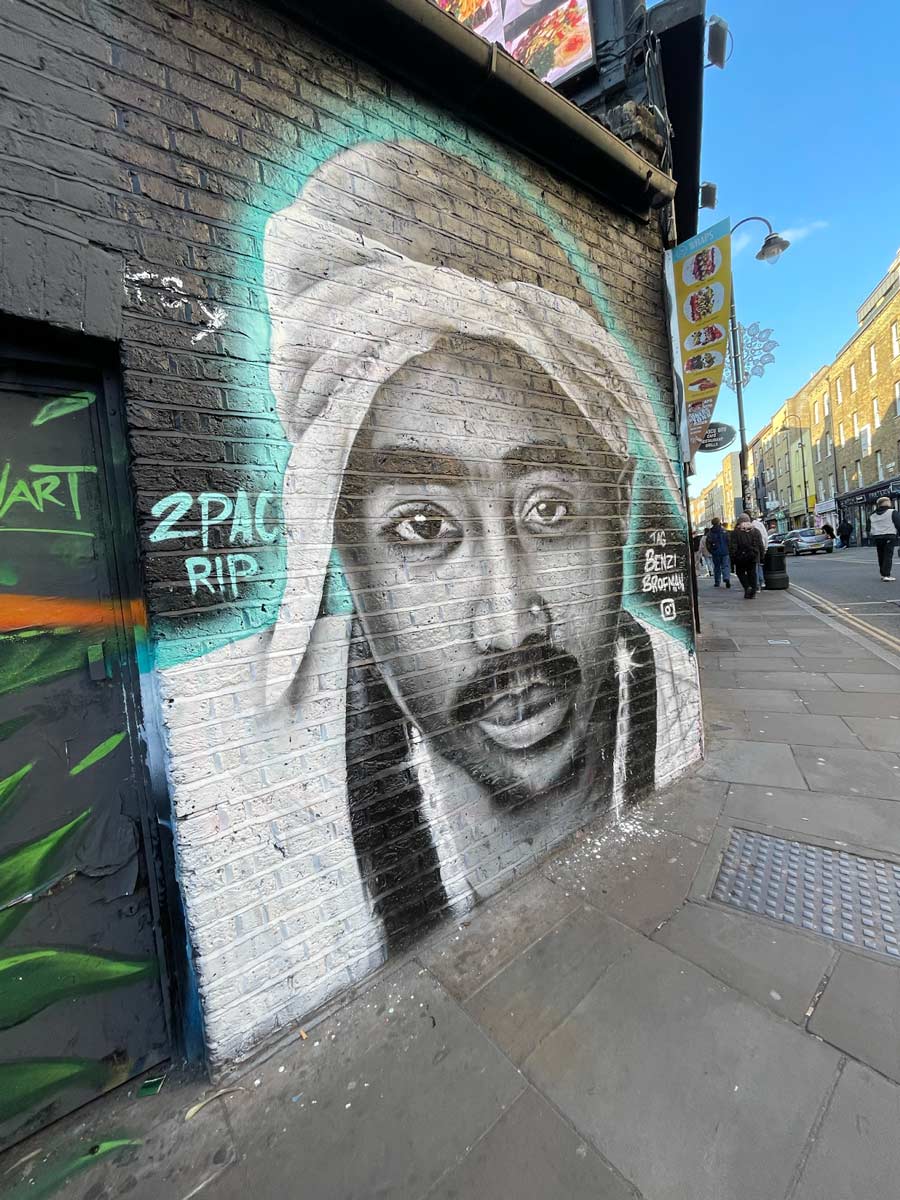 Brick Lane isn't all just about curry and vintage shops. Even a quick stroll down this busy road turns out some great pieces.
You'll be spotting a lot of stuff from the artists that are big on the Shoreditch scene (it is only a stone's throw away after all), as well as some other smaller names and other pieces that are just the work of up-and-comers playing around.
Be sure to check out what's going on around the Old Truman Brewery. It's a spot that pulls in a lot of more experienced artists and the ever-changing range of murals that go up there are never anything but interesting.
Allen Gardens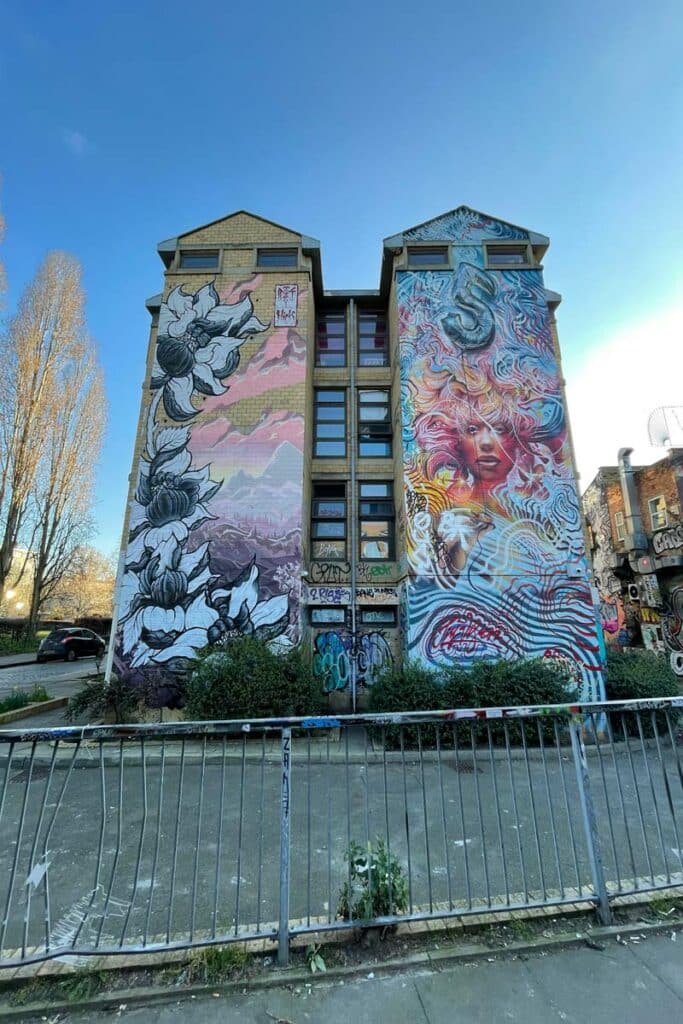 Throw a left if you're walking down Brick Lane to stumble into Allen Gardens. This is another London graffiti hotspot and although it's basically a part of the Brick Lane graffiti scene (which is itself basically part of the larger Shoreditch scene) both the spots are big and important enough to warrant a section of their own.
You'll spot the works basically as soon as you step foot in Allen Garden – almost every bit of spare concrete has been used up in the name of street art. The main stretch though is on the long wall on the north side of the gardens.
It's also worth looking around under the bridge you'll find breaking that wall in two. You can often catch some cool bits around there too.
The Best Street Art Tours of London
Street Art London Map
Read More London Street Art Guides