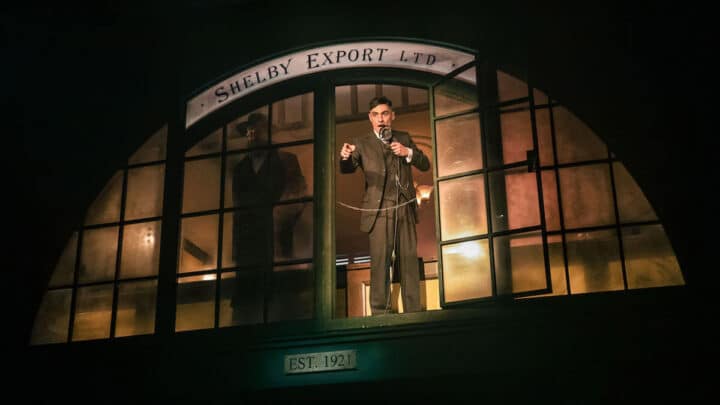 Looking to head to the theatre? Discover the best London theatre set to hit the stage in 2022 and beyond.
Whether you enjoy dazzling performances from household names, cheesy musical numbers, or gritty indie plays, London's West End and off West End stages are always abuzz with brilliant productions.
Not sure what you should be booking tickets for? We've picked the best shows currently in the diary for London in 2022 and 2023 – and some future ones to add to your radar. You're welcome.
Must See London Theatre Shows 2022 and 2023
Peaky Blinders: The Rise
The Camden Garrison
Until the 12th of February 2023
More interactive performance than classic in-your-seat-show, Peaky Blinders: The Rise puts you right in the middle of intrigue surrounding Birmingham's most dapper gang.
In this one the driver's seat is all yours. You'll walk the performance as it happens around you and interact with the actors (who we're assuming are experts at improv).
Play your cards right and Tommy might even enlist you into the gang, by order of the Peaky Blinders….
The Crucible
National Theatre
Until the 5th November 2022
Arthur Miller classic throws you right back to Salem during the witch hunts.
The play was of course an allegory for the hunting down of communist spies in the McCarthy era, and the writing of it got Miller in some serious hot water.
The National Theatre's rendition is nothing short of excellent thanks, in part, to some tip-top directorial work by Lyndsey Turner (Under Milk Wood, Top Girls).
Their work makes this one of the best plays in London right now. But it's not around for too much longer.
Good
Harold Pinter Theatre
Until the 24th December 2022
David Tennant takes to the stage under the direction of Oliver-award-winner Dominic Cooke for this restaging of one of Britain's most powerful political plays.
Good tells the story, and descent, of John Halder, a fairly well-intentioned professor who gets swept up with the ideology of Fascist Germany.
How will his relationship with his jewish best friend Maurice hold up as he gradually succumbs to the political currents of the Third Reich
Sounds like a lot. No wonder people are saying this is one of the best plays in London right now.
The Band's Visit
Donmar Warehouse
Until the 3rd of December 2023
Based on the 2007 Israeli film of the same name, The Band's Visit opened on Broadway and swept up ten Tony awards including Best Musical.
The story revolves around a small mistake with big consequences
It all begins when someone in the Alexandria Ceremonial Police Orchestra mistakes a B for a P on their map and they all end up in the middle of nowhere.
Chaos (and much comedy) ensues as the band have to navigate relationships with the confused locals and try to make their big performance on time.
Orlando
Garrick Theatre
25th of November – 25th February
One of the best London shows of the year, Neil Bartletts's stage adaptation of Virginia Woolf's classic features up-and-coming non-binary star of The Crown Emma Corrin.
If you know the novel you'll see why that's a bit of a genius casting, not least for Corrin's superb skills as an actor.
The book follows the life of an immortal being named Orlando, born male, but able to change genders.
Young (and then old) Orlando goes on for 300 years swapping genders and living it up. What a life!
Hamilton
Victoria Palace
Until March 2023
Widely agreed to be one of the best musicals in London. Hamilton came from Broadway and took the West End by storm.
Such a storm in fact, that they decided to extend it until March.
The big-hitter retells the life of founding father Alexander Hamilton through rap, R&B, jazz, and blues.
We're pretty into Hamilton's story-of-then, music-of-now vibe. And after all, sell out seats don't lie.
The Doctor
The Duke of York's Theatre
Until the 11th of December 2022
Adapted from Arthur Schnitzler's Professor Bernhardi, The Doctor is an intense drama about moral dilemmas.
It's an average day in a normal private hospital and a woman is fighting for her life. When a priest arrives to read her the last rights, a doctor refuses to let him in
Lead role here goes to Juliet Stevenson who puts on an absolutely stellar performance.
The Doctor was previously on at the Almeida and completely sold out. If you missed it then, make sure you catch it now.
Othello
National Theatre
23rd November 2022 – 21st of January 2023
Clint Dyer, director of the Bob Marley musical you theatre lovers may have seen – Get Up Stand Up! – puts his talent to work at the National Theatre at the end of the year.
Othello, is a Moorish military commander that falls for the daughter of a wealthy Venetian merchant, Desdemona.
The tragedy that befalls their love, doomed as it is by racial barriers, jealousy and passion, makes this play as important and relevant today as it was when the Bard wrote it.
Shakespeare? The National Theatre? You just can't go wrong.
August in England
Bush Theatre
Until the 10th of June 2023
August Henderson is a charming, flawed and all round decent guy of Jamaican origin who has built himself a life in West Bromwich.
His wife-to-be, his three kids, the fruit and veg shop he part owns, it's all on the line when he faces deportation to a country he can barely remember.
This tale of the evils of the windrush scandal is a good mix of touching and hilarious.
Oh, and it's also the playwriting debut of national treasure Lenny Henry. He wrote it himself, and he's performing it himself – a one man show. Bold.
The Canterville Ghost
Southwark Playhouse
Until the 5th November 2022
Oscar Wilde fans will get a kick out of this currently-running adaption of The Canterville Ghost.
It's the tale of the ever mysterious Simon de Canterville who goes missing shortly after being accused of murder.
As the Otis family moves into his former residence they are forewarned about the house's ghostly presence.
But maybe it's the ghost that should have been warned about them….
This full-on vaudevillian romp is never short of a laugh and doesn't shy away from a good show piece.
A Single Man
Park Theatre
Until the 26th of November 2022
George is grieving the death of his long-term partner Jim. And as a gay Englishmen in America he's nothing but an outsider.
A single man follows this lonely college professor through what should be a normal day in 60's California.
The story that unfolds is both dark and delightful – a study of grief and love and a touch of loneliness.
The book comes highly recommended. As does the film. The play only maintains that trajectory. We can't recommend it enough.
Best of Enemies
Noël Coward Theatre
Until the 2nd of February 2023
After sell-out shows at the Young Vic this hit, politically-charged play is returning to London via the Noël Coward Theatre.
The scene: it's 1968 and America is divided. Conservative William F. Buckly (David Harewood) faces up against the liberal Gore Vidal (Zachary Quinto), as America is about to choose their next president.
What ensues is as these two hurl insults at each other on a new format of political discussion, the TV debate, revolutionises politics.
The play captures it all. It's tense. It's heated. It's cleaning up awards.
Ghost Story 2:22
Criterion Theatre
Until the 8th of March 2023
Back in the West End due to its near-hysteric popularity, if you didn't see Ghost Story 2:22 the first time round you shouldn't miss it now.
After moving into a new house, Jenny comes to think it's haunted. Her husband and the evening's dinner guests think otherwise.
As the play unfolds we get a look at what drives people's beliefs in the supernatural, and a range of answers to the question: do you believe in Ghosts?
The atmosphere is tense, and something unsettling is afoot. Ultimately, the answer will be revealed at 2:22.
Mandela
Young Vic
28th November – 4th February
Ok, so we didn't want to put too many musicals in an article about plays, but how could we resist including this all-singing show about the life of Nelson Mandela?
Yep, that's right. All singing, even through (we assume) the tough bits. Half a lifetime in prison? A whole lifetime spent battling apartheid?
Not a problem, sing it out.
It's been tried out State-side to very good reception and their casting of broadway-star Michael Luwoye as Mandela means this is most likely going to be a hit.
Upstart Crow
Apollo Theatre
Until the 10th December 2022
Ben Elton's comedy hit starring David Mitchell as the most famous playwright of them all, William Shakespeare, and whacking on a balding wig to take to do the job.
The story picks up as ol' Bill, desperate to cement his legacy as England's greatest playwright, and with only two plays under his belt, begins scheming.
He'll go to comic (and at points pretty tragic) lengths to get there. Needless to say the whole thing is a barrel of laughs.
No wonder it's picked up those Oliver nominations.
A Streetcar Named Desire
Almeida Theatre
10th December – 4th February
Without a doubt one of the most critically acclaimed plays of last century, A Streetcar Named Desire hits the Almeida with red-hot Paul Mescal (Normal People) in the lead.
Tennesse Williams' masterpiece tells the story of Southern belle Blanche DuBois as a series of losses lead her to some unusual situations.
It's not just a classic script. Rebecca Franknall's production is nothing if not excellent, and is set to make this one of the best theatre shows in the city.
The Unfriend
Criterion Theatre
15th January – 16th of April
Stephen Moffat (you saw him in Dr. Who and Sherlock) makes his stage debut in the Unfriend early next year.
This deeply dark satire about British manners revolves around a middle class family that unwittingly takes in a Trump-loving American as a house guest.
As you can imagine, hilarity ensues.
But what unfolds is a close look at the dangers of Britain's obsession with appearances, and the lengths we'll go to in order to just appear nice.
Tammy Faye
Almeida Theatre
13th October – 3rd of December 2022
Another musical we couldn't resist adding, Tammy Faye is about the trials and tribulations of the preacher that revolutionised religion.
Tammy F preached on TV and wanted to put a bit of fun into religion, which is exactly what happens when her story gets the musical makeover.
Songs by Elton John and Jake Shears of the Scissor Sisters. Need we say more?
Well, if pushed we'd add the star studded cast of award winning actors Katie Brayben (Beautiful) and Andrew Rannells (The Book of Mormon) to name a few.
Oh and a script by (yet another) award winning writer James Graham (Ink, and the BBC's Sherwood).
Life of Pi
Wyndham Theatre
Until October 2022
The dazzling story of Life of Pi is a classic, brought to life by Lolita Chakrabarti and Max Webster. Puppetry and a beautiful soundtrack has been used to transform this story to the stage, and it's really one of the best London shows 2022 had graced us with.
Hiran Abeysekera takes on the title role of Pi, who finds himself stuck on a cargo boat in the middle of the Pacific Ocean alongside a hyena, a zebra, an orangutan, and, more worryingly, a Royal Bengal tiger.
The story is an inspiring one that will leave you gobsmacked long after you've left the theatre.
To Kill a Mockingbird
Gielgud Theatre
Until November 2022
Located on the iconic Shaftesbury Avenue, the Gielgud Theatre is home to The National Theatre's Production of To Kill a Mockingbird until November 2022.
Aaron Sorkin has moulded the story into dazzling production for the stage – and it's every bit as heartbreaking as the famous book by Harper Lee.
Rafe Spall is taking on one of the leading roles as Atticus Finch, a lawyer who's working on a racially motivated case involving a black man falsely accused of sexually assaulting a white woman.
The story follows Atticus' children Jem and Scout as they watch their father defend the innocent man.
Les Misérables
Sondheim Theatre
Ongoing
If you're visiting London for the very first time and watching a West End musical is high on your bucket list (as it should be), there's simply none better than the classic Les Mis.
Not only is it one of the best musicals in London 2022, but of all time.
Located on Shaftesbury Avenue, the Sondheim Theatre is named after the late king of musicals, Stephen Sondheim.
It will be instantly recognisable thanks to the huge Les Mis posters that flank the outside of the building.
Buckle up: Cameron Mackintosh's production will take you on a rollercoaster of emotions as the story of the French Revolution plays out in front of you.
Not to mention an actual barricade is built before your eyes on stage in the lead up to an explosive finale.
My Neighbour Totoro
Barbican Theatre
8th October 2022 – 21st January 2023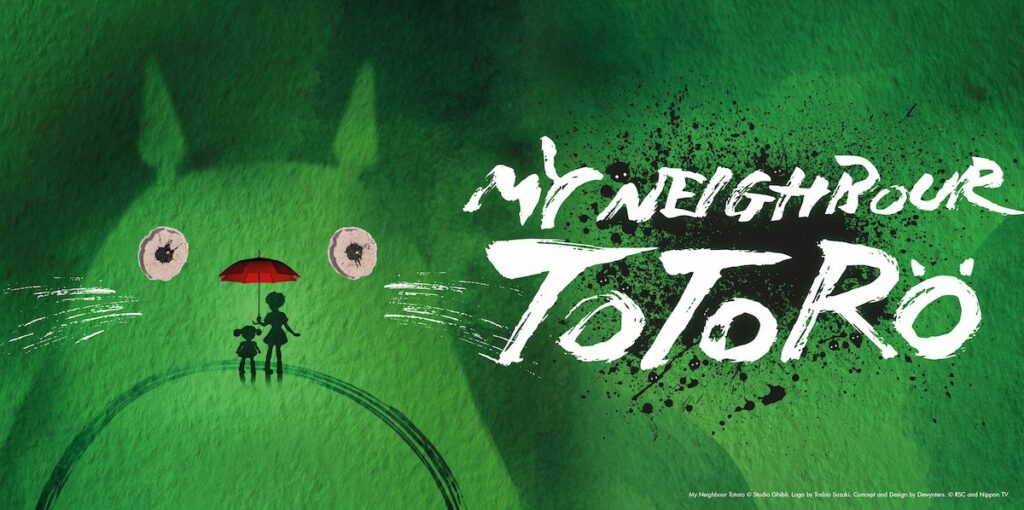 My Neighbour Totoro © Studio Ghibli, RSC, and Nippon TV
We have to admit, when we heard that the adorable Studio Ghibli film My Neighbour Totoro was to be transformed into a play, we were very unsure.
But, as details have been released, we're buzzed to see how the tale of sisters Satsuki and Mei is adapted for the stage. We think it might just be one of the best London plays 2022 has to offer.
The film's original composer Joe Hisaishi will help to bring the 1988 animated film by Hayao Miyazaki (Spirited Away) to life, alongside Tom Morton-Smith who has worked his magic on the script.
Expect puppetry, magic, and plenty of surrealism to feature heavily.
Newsies
Troubadour Wembley Park Theatre
29th November – 31st December 2022
Directed and choreographed by Olivier Award nominee Matt Cole, Newsies is coming to the UK for the very first time at the very end of 2022.
The musical follows a group of New York newspaper salesmen who go on strike to fight back against oppression.
Why should you be excited?
Well, the original production of Newsies opened on Broadway in 2012 and was only scheduled for 100 performances – though it soon went on to play more than 1,000.
Oh, and win two Tony Awards. No biggie, then.
The Ocean at the End of the Lane
Citywide
24th January – 15th April 2023
Based on the incredible book by Neil Gaiman, (the genius behind Coraline and The Sandman), The Ocean at the End of The Lane is returning to London very briefly in early 2023.
It sold out as a National Theatre Production, and it's now bouncing around theatres across the city for 3-4 day stints.
The story is one filled with fantasy and myth as a man returns to his childhood home and is transported back to his 12th birthday.
He is then plunged into a fantastical world, where friendship and teamwork are key to overcoming the ancient forces wreaking havoc.
The cast is yet to be announced, but the production looks set to be an explosive tale that both kids and adults will love alike.
How to Buy London Theatre Tickets
Hit those links, but there are also plenty of online sites selling official London Theatre Tickets, though these are the ones we recommend:
The theatre's official website
Practical Tips for Seeing the Best London Theatre
For last minute tickets, heading to TKTS booth on Leicester Square could save you a pretty penny – the booth sells any leftover tickets for up to half price for same-day shows.
Alternatively, heading directly to the theatre's box office for standby tickets is another option, though popular shows will sell out well in advance.
If you're visiting the city to see a show, the majority of London theatres are in the capital's West End area. Hotels in this area are often a little bit more expensive, but it can be worth the splurge if you're attending an evening performance. Otherwise, staying in a hotel near a tube station on the Central or Piccadilly line is generally a good idea.
London Theatre: Map
Best Plays & Shows in London 2022 – 2023: Read Next