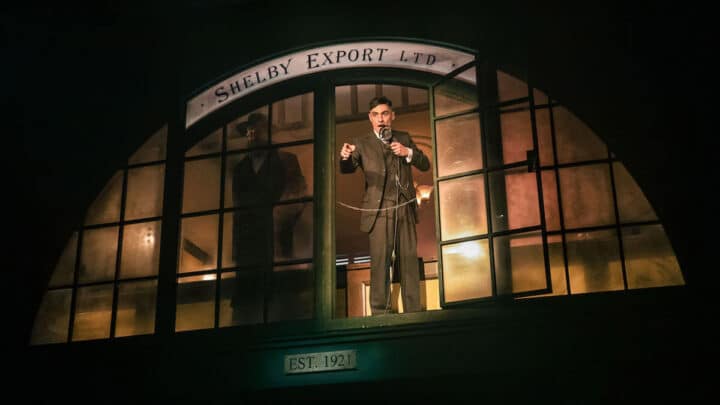 Looking to head to the theatre? Discover the best London theatre set to hit the stage in 2023 and beyond.
Whether you enjoy dazzling performances from household names, cheesy musical numbers, or gritty indie plays, London's West End and off West End stages are always abuzz with brilliant productions.
Not sure what you should be booking tickets for? We've picked the best shows currently in the diary for London in 2023 – and some future ones to add to your radar. You're welcome.
Must See London Theatre Shows 2023
Medea
@sohoplace
11th February – 22nd April 2023
The first of a couple Euripedes plays in our guide comes in the form of Medea, the tale of a woman who's abandoned by her husband and driven to despair, eventually seeking revenge for his leaving her in the most brutal way. We'll give you a clue. It involves her children.
Sophie Okonedo takes the lead with Ben Daniels playing Jason, Medea's husband in a staging lifted from Robinson Jeffers' 1946 adaptation.
It's not for nothing that this several thousand year old play is still getting stagings. And with a cast like that it's going to be special.
Shirley Valentine
Duke of York's Theatre
17th February – 3rd June
Willy Russell's classic about a bored housewife who drops everything to run away on holiday in Greece and rediscover herself brings Sheridan Smith back to the stage at long last.
Three-time Olivier Award nominated Matthew Dunster is directing the play that takes the form of a monologue from its star and namesake Shirley Valentine. If you need a laugh (or some inspiration on how to burst out of a dreary rut) a trip to see this play will surely do the job.
It's a life-affirming story of the chance to dream, and a daring opportunity for a woman forced into housewifery to break free of her constraints.
Best of Enemies
Noël Coward Theatre
Until the 18th of February 2023
After sell-out shows at the Young Vic, Best of Enemies, a politically-charged play, is returning to London via the Noël Coward Theatre.
The scene: it's 1968 and America is divided. Conservative William F. Buckly (David Harewood) faces up against the liberal Gore Vidal (Zachary Quinto), as America is about to choose their next president.
What ensues is as these two hurl insults at each other on a new format of political discussion, the TV debate, revolutionises politics.
The play captures it all. It's tense. It's heated. It's cleaning up awards. You've got a few days left to catch it.
Orlando
Garrick Theatre
25th of November – 25th February
One of the best London shows of the year, Neil Bartletts's stage adaptation of Virginia Woolf's classic features up-and-coming non-binary star of The Crown Emma Corrin.
If you know the novel you'll see why that's a bit of a genius casting, not least for Corrin's superb skills as an actor.
The book follows the life of an immortal being named Orlando, born male, but able to change genders.
Young (and then old) Orlando goes on for 300 years swapping genders and living it up. What a life!
Ghost Story 2:22
Criterion Theatre
Until the 8th of March 2023
Back in the West End due to its near-hysteric popularity, if you didn't see Ghost Story 2:22 the first time round you shouldn't miss it now.
After moving into a new house, Jenny comes to think it's haunted. Her husband and the evening's dinner guests think otherwise.
As the play unfolds we get a look at what drives people's beliefs in the supernatural, and a range of answers to the question: do you believe in Ghosts?
The atmosphere is tense, and something unsettling is afoot. Ultimately, the answer will be revealed at 2:22.
Lemons Lemons Lemons Lemons Lemons
Harold Pinter Theatre
Until 18th March 2023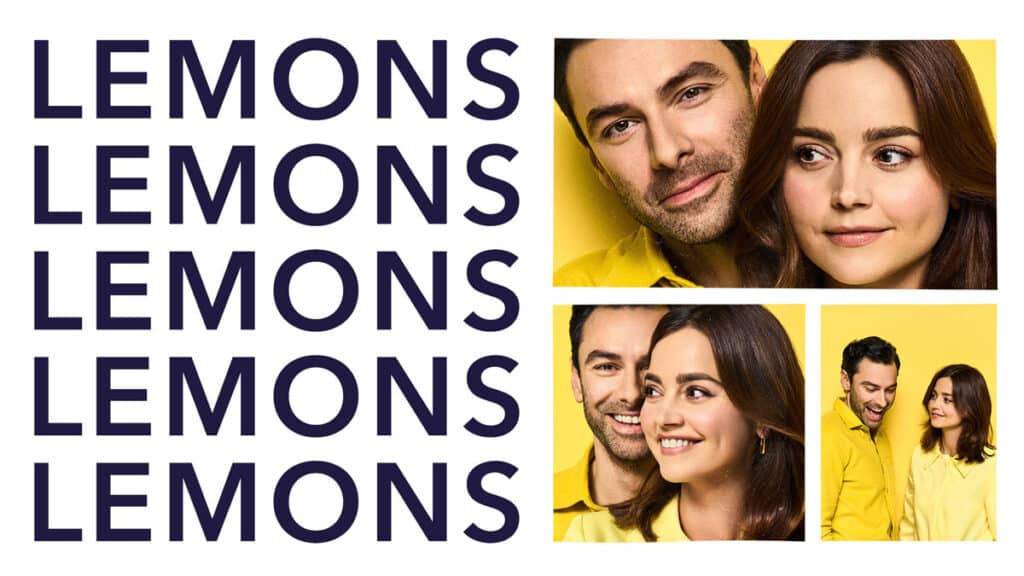 Lemons is a tender rom-com taking the stage at the Harold Pinter Theatre follows the blossoming but unlikely romance of a young couple. They're getting along swimmingly when they have the ability to speak taken away from them.
How do you communicate with someone you're falling in love with without words? Josie Rourke (Mary Queen of Scots, As You Like It) is on direction for this sweet, easy-to-watch staging of a play from Sam Steiner (Fingernails, You Stupid Darkness!).
A Little Life
Harold Pinter Theatre
From the 25th of March – 18th of June
The Booker Prize shortlisted novel A Little Life by Hanya Yanagihara is so long and complicated we're not surprised that it's put a few people off reading it.
Perhaps then an adaptation for the stage is a more manageable way of hearing a story that is also arguably worth all the trouble reading it presents. Perhaps.
This adaptation by Ivo van Hove – a Belgian legend of the contemporary stage – pulls together a star-studded cast to tell the story of four broke, vagabond classmates as they move to New York in search of a better life.
Beware the 3 and a half hour run time.
Standing at the Sky's Edge
National Theatre
Until 25th March
The long-awaited London staging of this musical number from Richard Hawley and Chris Bush that took the north by storm back in 2019 is finally happening.
Standing at the Sky's Edge follows life on a Sheffield housing estate through the eyes of several generations of the people that live there. Some people want to escape to the big city, others want to make the estate home .
The six decades of life that follow make up a heartwarming play that looks at themes of community, and asks the question: what makes a home?
Operation Mincemeat
The Fortune Theatre
29th March – 8th July
Making its West End debut is this small-but-mighty satirical musical about a real-life operation to throw the Germans off the scent of the Allies' plans to invade Europe. It's also been made into a feature length film with Colin Firth.
Though the real life subject matter is little to laugh about, this staging is full of comic relief and mickey-taking at the tropes of the era. This is all made even more hilarious when you realise the near-ridiculous plan depicted in the play is actually the way Operation Mincemeat went down.
We're excited for this one, even though it signals goodbye for one of London's longest running shows – Woman in Black.
Drive Your Plough Over the Bones of the Dead
Barbican Centre
From 15th March – 3rd April
Adapted from the novel of the same name by Nobel Prize winning author Olga Tokarczuk, the play follows a lonely woman in a Polish border-town. Her sleepy hamlet becomes a hotbed for murder and intrigue when dead bodies mysteriously start appearing.
Our protagonist thinks she knows what's going on and sets out to confirm her suspicions.
The show is the first stage return of the Complicite Theatre Company after their smash hit The Encounter – which we loved – and naturally we're all pretty excited about that.
Phaedra
National Theatre
Until 8th April 2023
This Greek myth getting a staging at the national theatre has been directed by some of the most iconic names in theatre. Euripides, Seneca and Racine have all had a shot at putting Phaedra on the stage.
Following in their lofty footsteps is Australian film and theatre director Simon Stone with his National Theatre debut. Janet McTeer plays the lead in this tragedy about a Cretian queen who begins to lust after her stepson, and in doing so incurs the wrath of the gods.
Titus Andronicus
Shakespeare's Globe
​​12th February – 15th April 2023
The bard's nearest play to what would nowadays be called a slasher is getting a staging at the Globe Theatre under the direction of Jude Christian.
Telling the story of Roman General Titus Andronicus who returns from a ten-year long campaign against the Goths (tribe, not subculture of black-clad rockers) with their queen and her sons as captive and promptly begins to take revenge on a nation that betrayed him.
The play is a brutal look at the dark edges of man's inhumanity to man.
Newsies
Troubadour Wembley Park Theatre
29th November – 31st December 2022
Directed and choreographed by Olivier Award nominee Matt Cole, Newsies is coming to the UK for the very first time at the very end of 2022.
The musical follows a group of New York newspaper salesmen who go on strike to fight back against oppression.
Why should you be excited?
Well, the original production of Newsies opened on Broadway in 2012 and was only scheduled for 100 performances – though it soon went on to play more than 1,000.
Oh, and win two Tony Awards. No biggie, then.
The Ocean at the End of the Lane
Citywide
24th January – 15th April 2023
Based on the incredible book by Neil Gaiman, (the genius behind Coraline and The Sandman), The Ocean at the End of The Lane is returning to London very briefly in early 2023.
It sold out as a National Theatre Production, and it's now bouncing around theatres across the city for 3-4 day stints.
The story is one filled with fantasy and myth as a man returns to his childhood home and is transported back to his 12th birthday.
He is then plunged into a fantastical world, where friendship and teamwork are key to overcoming the ancient forces wreaking havoc.
The cast is yet to be announced, but the production looks set to be an explosive tale that both kids and adults will love alike.
The Unfriend
Criterion Theatre
15th January – 16th of April
Stephen Moffat (you saw him in Dr. Who and Sherlock) makes his stage debut in the Unfriend early next year.
This deeply dark satire about British manners revolves around a middle class family that unwittingly takes in a Trump-loving American as a house guest.
As you can imagine, hilarity ensues.
But what unfolds is a close look at the dangers of Britain's obsession with appearances, and the lengths we'll go to in order to just appear nice.
The Lehman Trilogy
National Theatre
Until the 20th of May
Film director Sam Mendes takes another shot at the world of theatre with the return of hyper-popular The Lehman Trilogy after it took Broadway by storm in 2022.
The play follows the lives and stories of three Jewish immigrants to the US that would change the way the country, and arguably the world, runs.
The Lehman brothers' empire is then given a full treatment on stage in this play that holds the lens up to the firm that is largely responsible for the largest financial crash in history.
To Kill a Mockingbird
Gielgud Theatre
Until November 2022
Located on the iconic Shaftesbury Avenue, the Gielgud Theatre is home to The National Theatre's Production of To Kill a Mockingbird until November 2022.
Aaron Sorkin has moulded the story into dazzling production for the stage – and it's every bit as heartbreaking as the famous book by Harper Lee.
Rafe Spall is taking on one of the leading roles as Atticus Finch, a lawyer who's working on a racially motivated case involving a black man falsely accused of sexually assaulting a white woman.
The story follows Atticus' children Jem and Scout as they watch their father defend the innocent man.
Peaky Blinders: The Rise
The Camden Garrison
Until the 12th of February 2023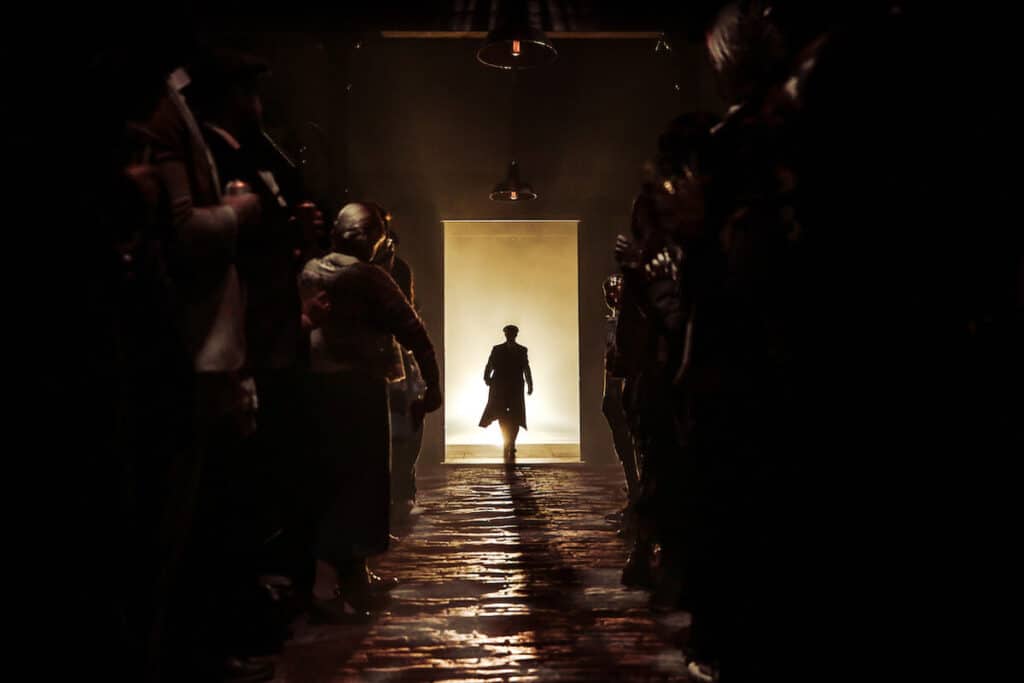 More interactive performance than classic in-your-seat-show, Peaky Blinders: The Rise puts you right in the middle of intrigue surrounding Birmingham's most dapper gang.
In this one the driver's seat is all yours. You'll walk the performance as it happens around you and interact with the actors (who we're assuming are experts at improv).
Play your cards right and Tommy might even enlist you into the gang, by order of the Peaky Blinders….
August in England
Bush Theatre
Until the 10th of June 2023
August Henderson is a charming, flawed and all round decent guy of Jamaican origin who has built himself a life in West Bromwich.
His wife-to-be, his three kids, the fruit and veg shop he part owns, it's all on the line when he faces deportation to a country he can barely remember.
This tale of the evils of the windrush scandal is a good mix of touching and hilarious.
Oh, and it's also the playwriting debut of national treasure Lenny Henry. He wrote it himself, and he's performing it himself – a one man show. Bold.
The Pillowman
Duke of York's Theatre
10th June – 2nd September 2023
The Pillowman is an old London favourite that originally took to the National Theatre with David Tennent at its casting helm, and the hearts of London's theatre goers with it.
It's since been stateside with Jeff Goldblum acting a major role, and has now made its way back to London – this time to the West End.
None other than Lily Allen will be starring in this play about a writer in an authoritarian state who is brought under suspicion when a slew of nasty murders begin to occur – and they are all too similar to the ones in her stories.
Hamilton
Victoria Palace
Until March 2023
Widely agreed to be one of the best musicals in London. Hamilton came from Broadway and took the West End by storm.
Such a storm in fact, that they decided to extend it until March.
The big-hitter retells the life of founding father Alexander Hamilton through rap, R&B, jazz, and blues.
We're pretty into Hamilton's story-of-then, music-of-now vibe. And after all, sell out seats don't lie.
Les Misérables
Sondheim Theatre
Ongoing
If you're visiting London for the very first time and watching a West End musical is high on your bucket list (as it should be), there's simply none better than the classic Les Mis.
Not only is it one of the best musicals in London 2022, but of all time.
Located on Shaftesbury Avenue, the Sondheim Theatre is named after the late king of musicals, Stephen Sondheim.
It will be instantly recognisable thanks to the huge Les Mis posters that flank the outside of the building.
Buckle up: Cameron Mackintosh's production will take you on a rollercoaster of emotions as the story of the French Revolution plays out in front of you.
Not to mention an actual barricade is built before your eyes on stage in the lead up to an explosive finale.
How to Buy London Theatre Tickets
Hit those links, but there are also plenty of online sites selling official London Theatre Tickets, though these are the ones we recommend:
The theatre's official website
Practical Tips for Seeing the Best London Theatre
For last minute tickets, heading to TKTS booth on Leicester Square could save you a pretty penny – the booth sells any leftover tickets for up to half price for same-day shows.
Alternatively, heading directly to the theatre's box office for standby tickets is another option, though popular shows will sell out well in advance.
If you're visiting the city to see a show, the majority of London theatres are in the capital's West End area. Hotels in this area are often a little bit more expensive, but it can be worth the splurge if you're attending an evening performance. Otherwise, staying in a hotel near a tube station on the Central or Piccadilly line is generally a good idea.
London Theatre: Map
Best Plays & Shows in London 2023: Read Next