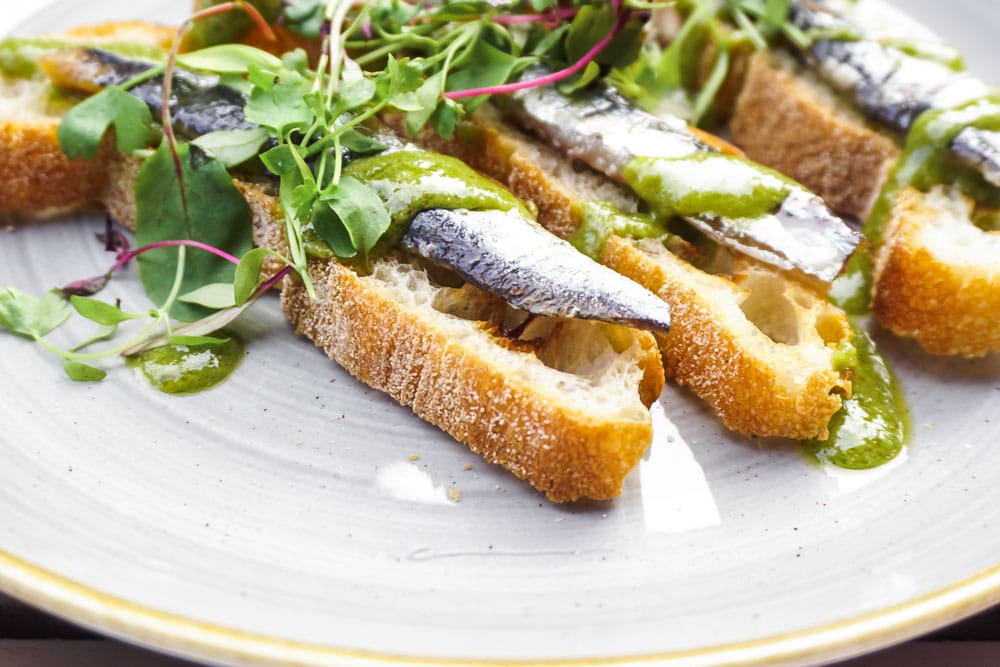 Looking for the best Spanish restaurants in London? The flexible, eclectic nature of Spanish cuisine meets London – one of the most diverse cities in the world. It's a match made in culinary heaven.
Words by Sam Jean
If you're searching for world-class Spanish restaurants, London gives generously, with a fantastic mixture of authentic tapas bars to restaurants representing Spain's many culinary traditions.
There's something about tapas that fits the cosmopolitan spirit of the capital, which is probably why Spanish food is some of London's best-loved cuisine.
Hungry? Here are some of the very best Spanish restaurants in London.
Best Spanish Restaurants in London
Barrafina
Multiple Locations
££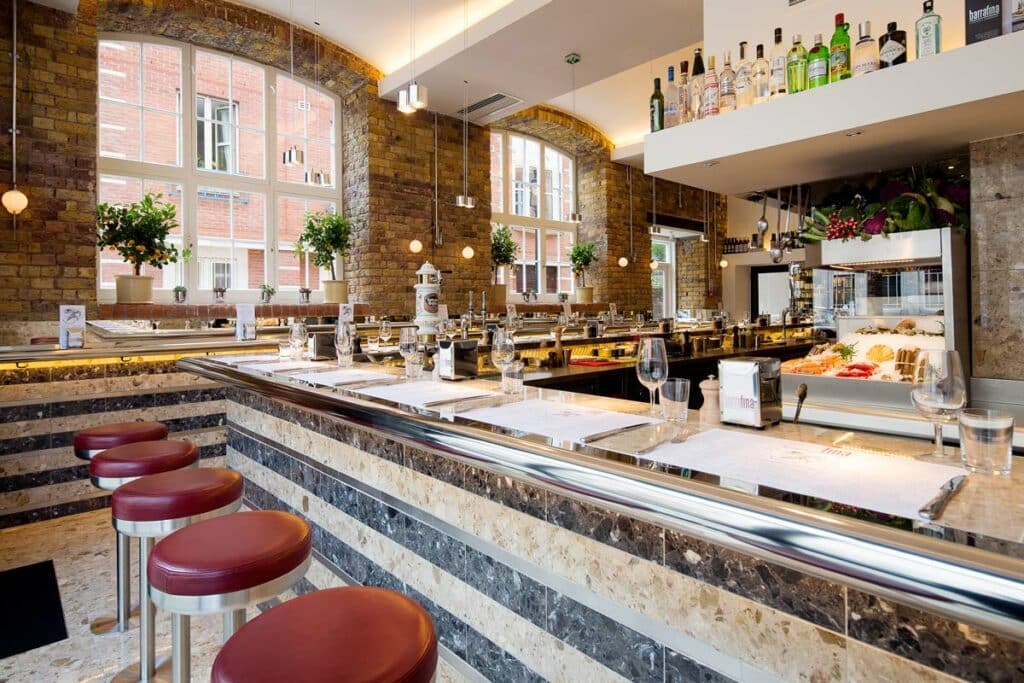 Barrafina is an exceptional small chain of Spanish tapas bars in the capital, with restaurants in the likes of Soho and Covent Garden.
The menu features a delicious range of traditional tapas dishes such as tortilla, Iberico pork cheek, gambas al ajillo and pan con tomate. Don't worry, veggies, you're also covered – the vegetable dishes are excellent, with sophisticated choices like queso fresco and romesco-based dishes on the menu.
Seafood is really where Barrafina stands out, though – in particular, the scallops and grilled octopus are delish, and the wine list is extensive, with prices on premium bottles going pretty much as high as you want (the most expensive is over £600).
The menus are relatively similar across each bar and restaurant, but there is some variation, and the specials change often. The perfect date-night location, we think.
Galicia
££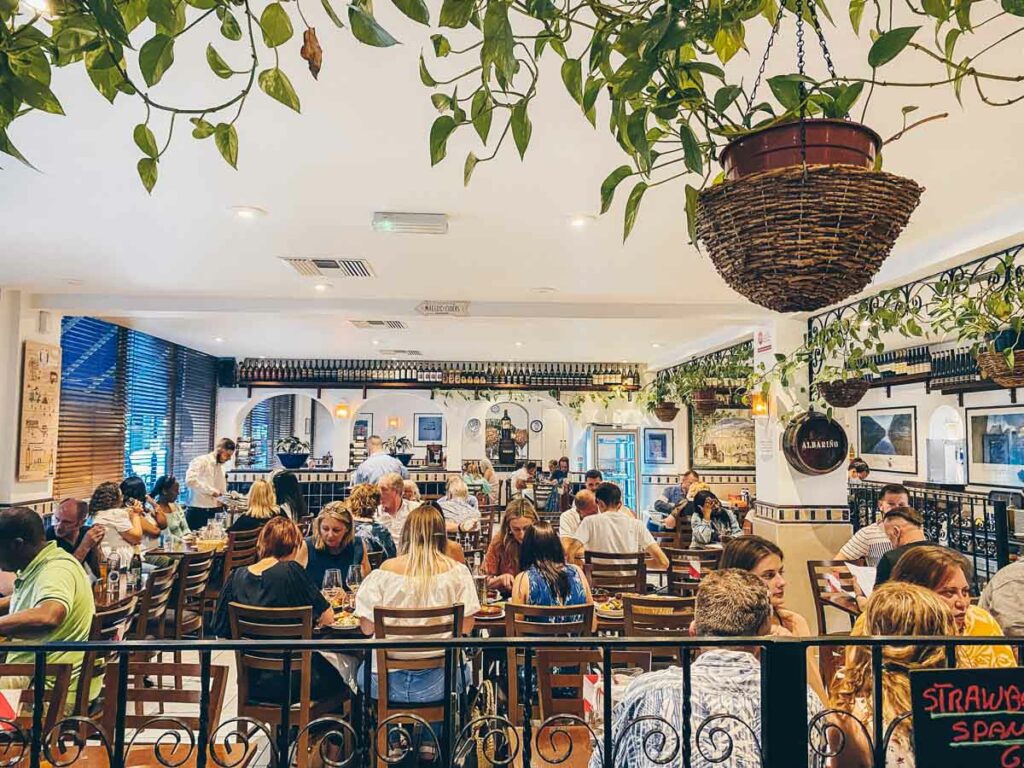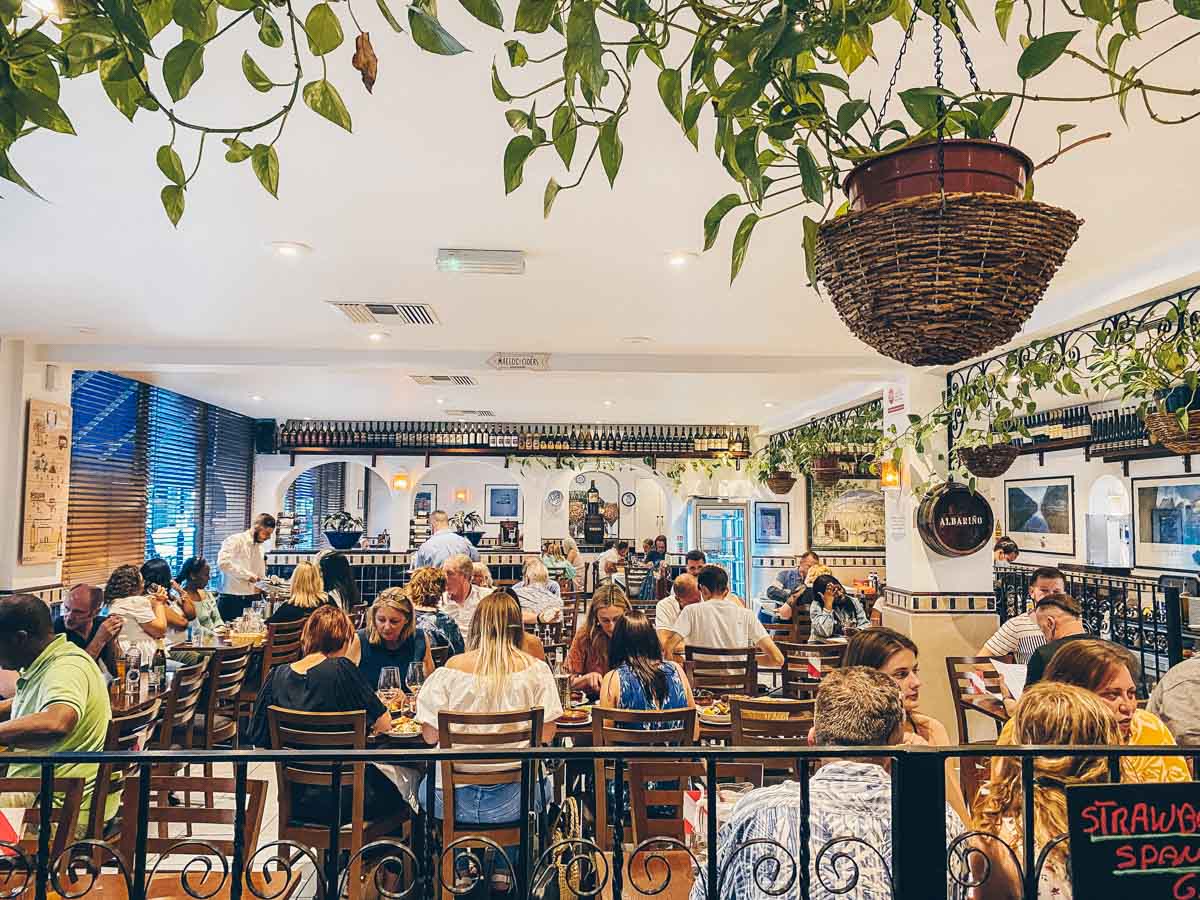 Situated on Croydon high street, Galicia has been around since 1996 and has established a superb reputation for tapas and an extensive main menu which contains everything from paella to steaks and fish dishes.
So, if you're not a massive tapas fan but still love Spanish cuisine, this will suit you perfectly.
But the tapas menu is what we adore about Galicia, with fresh favourites like marinated artichokes with jamón, gambas al ajllo, monkfish kebabs and fabada, among many others.
Boasting relaxed and informal vibes, Galicia is suitable for all-comers, from singles to couples, families and friends.
Tapas Brindisa
Multiple Locations
££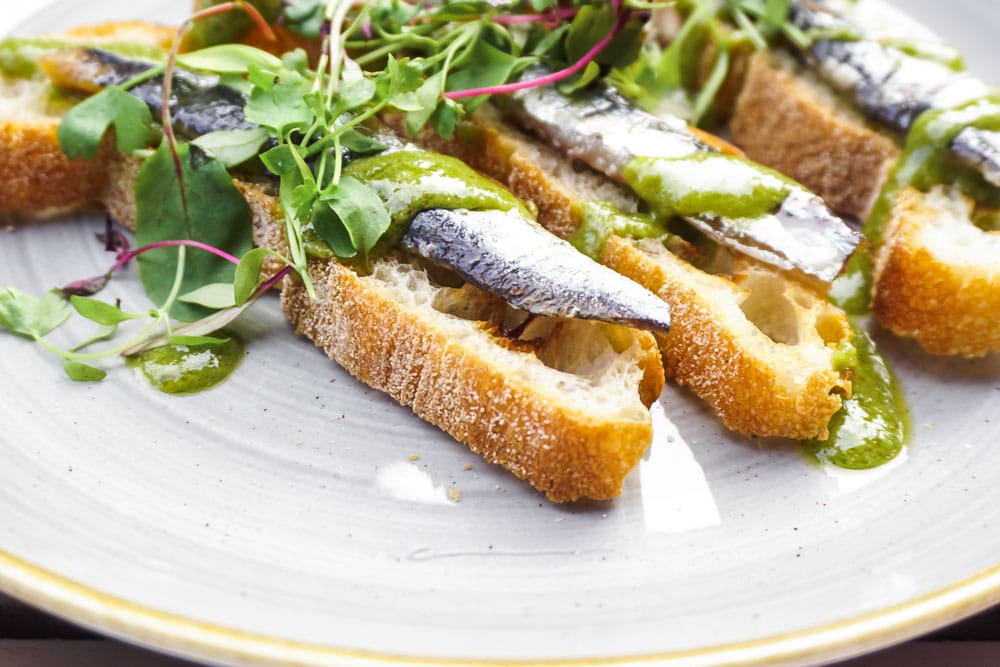 Tapas Brindisa is another small group of coveted Spanish restaurants with multiple locations across London.
The menu varies depending on whether you're at one of their restaurants in South Kensington, Battersea or Richmond, or one of the tapas bars at Soho and London Bridge.
The tapas menu features sublime dishes such as cider-cooked chorizo, grilled asparagus with Romesco sauce, chipirones, Padron peppers, various grilled meats and seafood and fresh vegetable dishes.
If you're looking for something that really impresses, order along the lines of the Paella del Dia, braised Iberico pork cheeks and classics like Arroz Negro.
The extensive wine list is selected to complement the food (which it does, perfectly), and the atmosphere is lively but relaxed — resulting in authentic Spanish restaurants with a characterful social buzz.
Parillan Borough Yards
££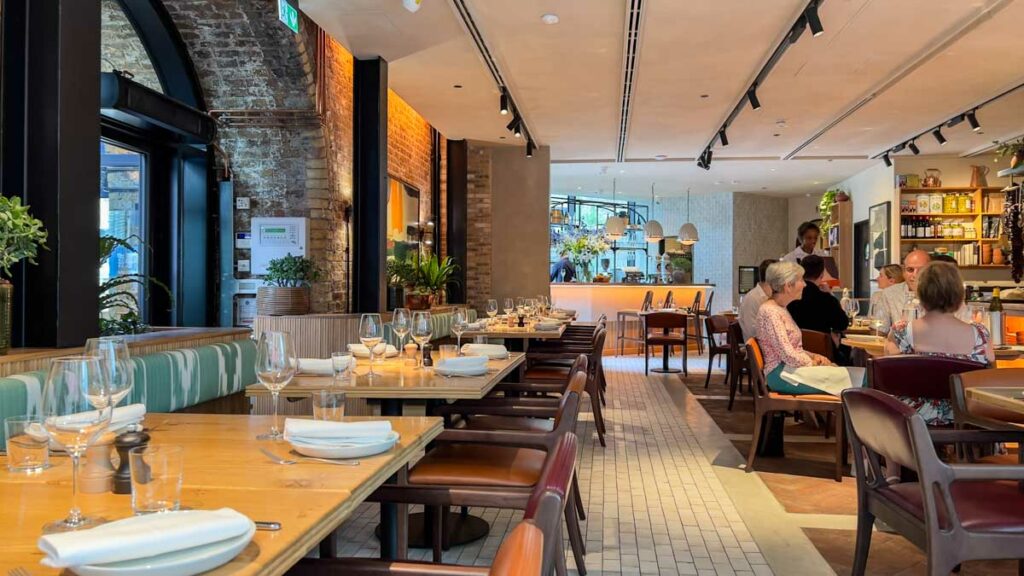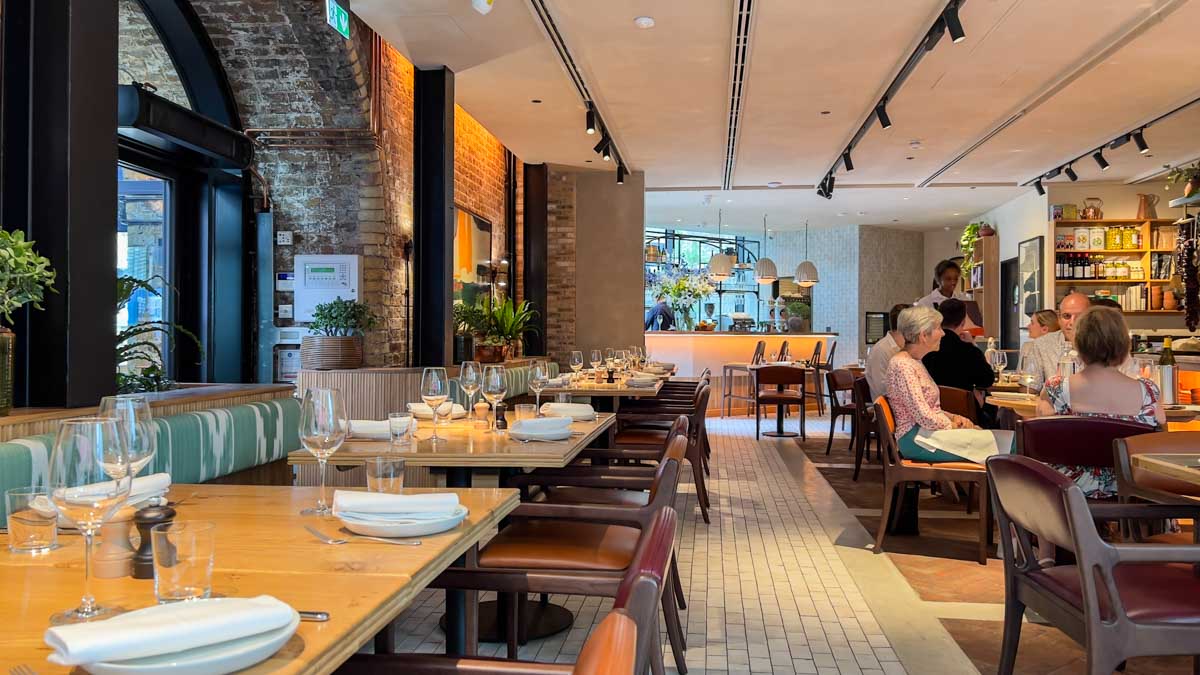 Parillan Borough Yards is a Spanish restaurant located in the heart of Borough Market and offers a range of grilled meats and seafood cooked over an open flame.
Chefs cook super-fresh dishes the traditional way, over open wood fires, with dishes like grilled fish, Galician steaks and plenty of seasonal vegetables featuring heavily on the menu.
On the terrace, guests can cook their own dishes over mini parillas (grills) – a really unique tapas experience for spring and summer.
The atmosphere here is really laid back, especially on warm days when you can enjoy the terrace to its fullest. Head here for a quality Galician restaurant London with robust flavours and rustic vibes.
Maresco
Soho
££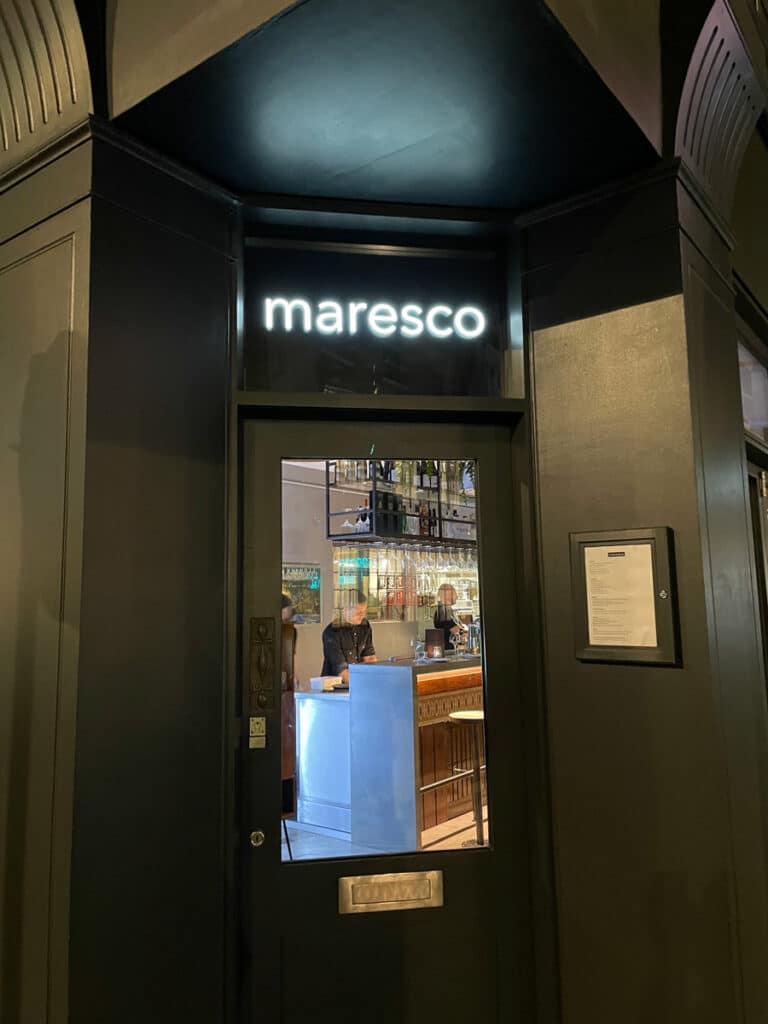 Maresco is a gem among the Spanish restaurant scene in London. It might be a newcomer, but it has quickly become known for serving authentic Spanish cuisine with locally sourced ingredients from across the UK.
The seafood here is sublime (it's Scottish – no wonder), so if that's your thing, then this tapas bar offers some exquisite dishes that marry authenticity and creativity with top ingredients. The menu changes often, but if the Fiduea with Langoustine just so happens to be on when you visit, drop everything and order a portion to share.
The bar is compact with a relaxed buzz to it, just what a traditional tapas bar should be. There are plenty of wines, beers and Spanish spirits for a tipple or two.
Read Next: Our Review of Maresco, Soho
Pizarro
Bermondsey
££
Pizarro is a Spanish restaurant in London that needs no introduction. Helmed by Mr Jose Pizarro himself, this Bermondsey restaurant serves a range of traditional Spanish mains. We're talking about the likes of suckling lamb, cuttlefish and pork shoulder.
The pica dishes (meaning bite) include croquettes and Padron peppers. And the wine list is absolutely colossal, spanning eight pages of stunning cava, reds, whites and roses, sherry and authentic Spanish liqueurs and spirits.
A high-quality tapas joint with a great mixture of authentic dishes and modern twists on all your favourites. The roomy rustic environment has plenty of space for singles, couples and groups of any size.
The best Spanish restaurant London? Pizarro is certainly up there.
Camino
Multiple Locations
£££
Heading to King's Cross, Monument or Shoreditch? You need to hit up Camino.
The menu features a massive selection of meat, seafood and vegetables, as well as tapas dishes such as Spanish omelette, patatas bravas and chorizo al vino. Add to this larger dishes like exquisite grilled steak, Arroz Negro and seafood paella, and it's no wonder we rave about this restaurant so much.
The meat and cheeses here are incredible, and the steaks are tremendously indulgent – though a little bit pricey. The desserts are also excellent, like the indulgent Galician chocolate al'orujo.
Iberica
Multiple Locations
£££
Iberica is a group of Spanish restaurants with multiple locations across London, including Canary Wharf, Marylebone, and Victoria.
Iberica's flagship restaurant in Marylebone has a superb reputation with a stunning interior designed by Spanish architect Lázaro Rosa Violán.
The Michelin-starred chef's lovingly crafted menu is a real treat for tapas fans, with classic dishes like patatas bravas and croquettas mixed with more creative dishes like marinated monkfish and wild boar fideua (pasta paella).
A wonderful array of cheeses and cured meats completes this epic menu, not to mention a gorgeous wine list.
Sabor
£££
Sabor is a Michelin-star Spanish restaurant in Mayfair that offers a stunning range of regional dishes from across Spain. There are three distinct areas in this two-storey building – the counter and bar on the ground floor and the El Asador restaurant on the first floor.
The upstairs menu features a range of sharing tapas dishes such as cuttlefish, Pulpo a Feira (boiled octopus) and tuna empanadilla, as well as larger dishes, including suckling pig, Galician ribs and calf's liver.
The counter menu is tapas-centric, with daily changing dishes and a communal atmosphere.
A refined but rustic restaurant environment, Sabor has earned a tremendous reputation. The best Spanish restaurant in London? It's undoubtedly in contention.
El Pirata
Mayfair
££
El Pirata celebrates the tapas way, with flexible and delicious small plates that can be enjoyed with any number of people. The menu features a glorious selection of tapas dishes, such as garlic prawns, tortillas, patatas bravas, Iberian ham and cheese, seafood dishes, paella – everything.
If you're new to tapas or simply want the best dishes with the minimum of fuss, consider the Introduction to Tapas for two, which comes with ten of the most popular dishes for a reasonable price.
As well as boasting larger dishes, including grilled lamb chops and seafood paella, the wine list is extensive, and the decor is warm and inviting.
Copita
Soho
££
Copita in Soho is tapas the way it's meant to be, with a short, concise and flavour-packed menu with all the favourites at reasonable prices.
From meat dishes like Ibérico pork shoulder to seafood like grilled octopus and king prawns, Copita has a proper fresh menu representing every region of Spain. Simple, delicious and flexible to anyone's tastes.
Of course, there's a superb wine list representing Spanish cavas, beers and spirits. Enjoy your tapas with top-quality wine from across Spain and the Mediterranean and thank us later.
Morito
££
Yet another modern tapas bar with a fantastic menu covering all the main tapas bases, Morito offers classics like chicharrones, pan con tomatoes and Padron peppers.
What makes Morito so special? Well, aside from the gorgeous restaurant setting, the menu consists of lovingly crafted, flavour-packed dishes made with fresh ingredients
We love the Hackney venue in particular; it borrows culinary ideas from Mediterranean and North African cuisine, combining the subtlety of tapas with robust flavours.
Prices here are reasonable too – about what you expect for tapas in Central London.
Lobos Meat and Tapas
Soho and Tower Bridge
££
With two venues in Soho and Tower Bridge, Lobos Meat and Tapas offers tapas and larger meat plates to share, with some mouthwatering options like Chuleton (sirloin), an Iberico pork selection, pan-fried pork shoulders and exquisite meatballs.
Aside from the fantastic meaty dishes, Lobos Meat and Tapas offer a pretty conventional tapas menu. Both venues are warm and authentic.
La Rueda Spanish Tapas Bar
££
Last but certainly not least, La Rueda in Ealing has a terrific range of tapas dishes, including a larger-than-average selection of veggie dishes, with classics like Padron peppers and patatas bravas.
Meaty dishes range from meatballs to succulent grilled lamb skewers. There's a wide selection of seafood, too, and a decadent paella if you're looking for an authentic take on a familiar dish.
Practical Tips for Exploring The Best Spanish Restaurants
When you eat at a Spanish tapas restaurant, London has both authentic tapas-focused venues with all small plates and restaurants with more conventional larger meals – something to be aware of.
Tapas is flexible. You can grab as little or as much as you want. Sharing dishes is standard. Many tapas bars do large plates in addition to the standard small plates, which may work out better value for money.
The Best Spanish Restaurants: Map
Still Hungry? Read More London Restaurant Guides