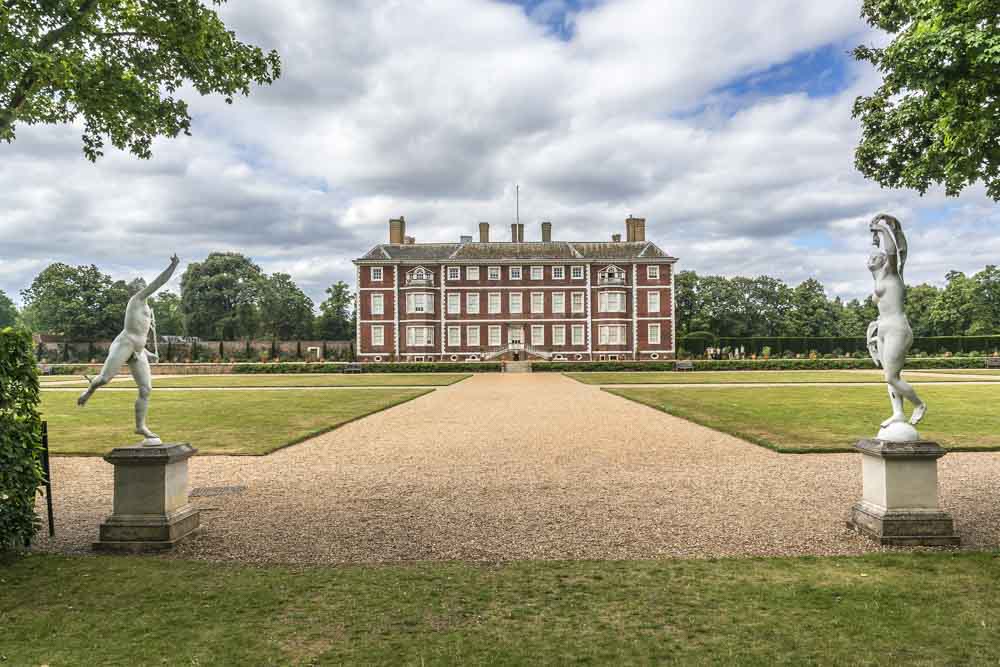 National Trust sites in London aren't hard to come by – the capital is bursting with gorgeous period properties and pretty grounds just waiting to be explored.
First founded in 1895 by Octavia Hill, Sir Robert Hunter, and Canon Hardwicke Rawnsley, the National Trust charity protects a number of historical properties and beautiful gardens throughout the country (and around the world!).
The first property on the organisation's roster was added just ten days after the National Trust's formation. Alfriston Clergy House, a 12th-century property that was in such disarray it was due to be demolished, was saved by the trust. After a fruitful couple of hundred years, today the National Trust boasts over 800 properties, parks, and gardens.
Whether you want to delve deeper into the city's history or just pack yourself a picnic and enjoy the views, these are the best national trust sites near London that you need to explore.
National Trust Properties in London
575 Wandsworth Road
Wandsworth
A more recent, but nonetheless impressive, acquisition by the National Trust is the property that sits at 575 Wandsworth Road.
The home once belonged to Khadambi Asalache, a Kenyan poet, novelist, and philosopher, among other things.
He transformed this space into what can only be described as a work of art. His heritage is clearly displayed throughout the house – which is now a museum – with earthy tones and carefully thought-out artwork adorning the walls.
Whilst some of the protected properties can feel a little bit samey, this is easily one of the most unique National Trust sites in the capital.
Address: 575 Wandsworth Rd, London SW8 3JD
Tickets: £11
Carlyle's House
Chelsea
Step into the Victorian era with a visit to Carlyle's House, the home of literary couple Thomas and Jane. After leaving Scotland, they rented this home in the unpopular Chelsea area (oh, how times have changed) for just £35 a year.
As well as traipsing through an adorable walled garden where the pair grew herbs and vegetables, you'll be able to marvel at an untouched Victorian property and all its grandeur.
Opulent accents, large portraits, and garish furniture fill the home, and you can also learn more about the Carlyle's and their story at this stunning National Trust property.
Address: 24 Cheyne Row, Chelsea, London, SW3 5HL
Tickets: check here for the latest information.
Fenton House and Garden
Located just five minutes from Hampstead Heath, Fenton House and Garden is a striking Georgian property that was once owned by Lady Binning, who filled the house with antique porcelain and 17th-century materials.
The house is adorable, but the garden really wows – a pretty hodge-podge of gardening styles that shouldn't work, but it does. The north terrace boasts exotic plants all year round, and the rose garden is a peaceful spot during the summer months.
Address: Fenton House, Hampstead Grove, London NW3 6SP
Tickets: £11 – tickets must be booked in advance.
2 Willow Road
Hampstead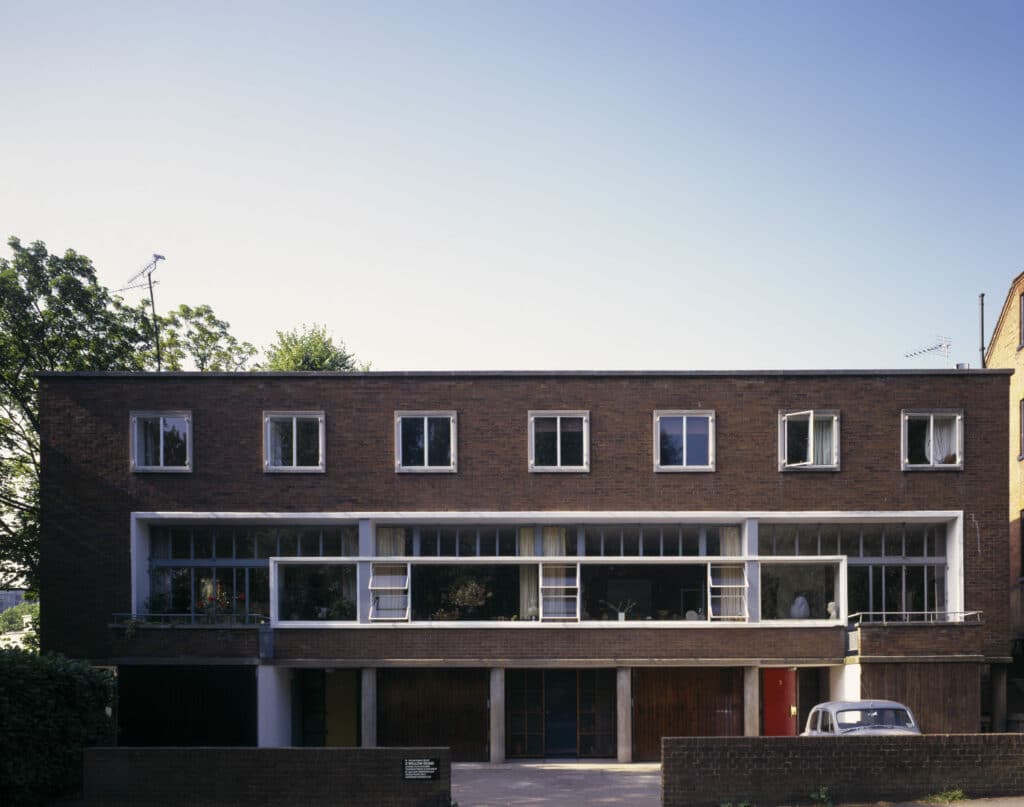 As huge fans of Ernö Goldfinger (the man behind Trellick Tower's controversial facade), we might be slightly biased when we say that this is one of the coolest National Trust sites in London.
2 Willow Road offers a glimpse into the mind of Ernö, with what would have been a very modernist home at the time – though now it's more of a swanky retro joint.
Ernö designed this home for himself and his family in 1939, and the National Trust has since frozen it in time as a museum where you can explore his genius.
Address: 2 Willow Rd, London NW3 1TH
Tickets: £10 – book your tickets here
Sutton House and Breaker's Yard
With over 500 years of history within the walls, the Tudor-style Sutton House and Breaker's Yard is one of the National Trust's more eerie properties.
This house was actually built in 1535 by Ralph Saleir who, at the time, was a close aide of Thomas Cromwell in Henry VIII's court – which perhaps explains the creepy feel within the building. Take a guided tour and you'll be told all the property's secrets as you are led through the house.
Just opposite the house is Breaker's Yard, a previously abandoned wasteland that has been transformed into a blossoming garden with exotic plants, a small orchard, and pots of herbs.
Take the time to explore both when you visit – the gothic Tudor house and delicate floral garden complement each other perfectly.
Address: Sutton House, 2 and 4 Homerton High St, London E9 6JQ
Tickets: £8.50
George Inn
If hours of endless exploring sounds too tiresome, George Inn is a brilliant historic London pub where you can chill out with a pint while you admire the protected details. It's rare that the National Trust lease out their properties full-time, but the opportunity to have a pub at George Inn was just too good to turn down.
This 17th-century boozer is London's only remaining galleried inn, and was even visited by Charles Dickens when the building was previously used as a coffee shop. He was so taken by George Inn that he actually mentioned it in Little Dorrit.
Address: 75 Borough High St, London SE1 1NH
Tickets: No need – just go in and get yourself a pint!
Eastbury Manor House
Barking
Elizabeth I commissioned Clement Sysley to build Eastbury Manor House in the 1570s, in what was, at the time, a totally isolated plot of land with beautiful views out over the city. Although the area is now residential, the striking Elizabethean house and peaceful garden remain.
The National Trust has protected many of the property's original features, including exposed timber in the attic, a grand spiral oak staircase, and a cobbled courtyard (sensible shoes, everyone!).
The garden is just as impressive, you could easily spend an hour or two admiring the flower beds or spotting the bee holes dotted along the wall.
Address: Eastbury Square, Barking, Essex, IG11 9SN
Tickets: £7 (or free for Barking and Dagenham residents)
Rainham Hall
Rainham
Following a £2.5 million renovation project, visitors can now discover Rainham Hall's long and interesting history.
Believed to originally have been an 18th-century merchant's home, the hall has been known to host a number of wacky and wonderful characters throughout its existence, including Captain John Harle and more recently, art collector Anthony Denney.
The hall features fun installations and educational events, perfect for all ages – this is one of the more interactive National Trust sites, so it's a brilliant place to bring the kids to.
Address: Broadway, Rainham RM13 9YN
Tickets: Book your £5 tickets here
Red House
Bexleyheath
As one of the most influential artists and poets of all time, William Morris' Red House is an important National Trust site near London that you need to visit.
Dubbed the father of Arts & Crafts, Morris' house has been a place of birth for many iconic art styles, including the Pre-Raphaelite circle.
The house still has many of its original features, such as stained glass windows, delicate embroidery, and a garden that was said to 'clothe the house'. As you would expect from someone with a keen eye for detail, his home is a masterpiece.
Address: Red House, Red House Ln, London, Bexleyheath DA6 8JF
Tickets: £11 – pre booking is essential
Ham House and Garden
Richmond-upon-Thames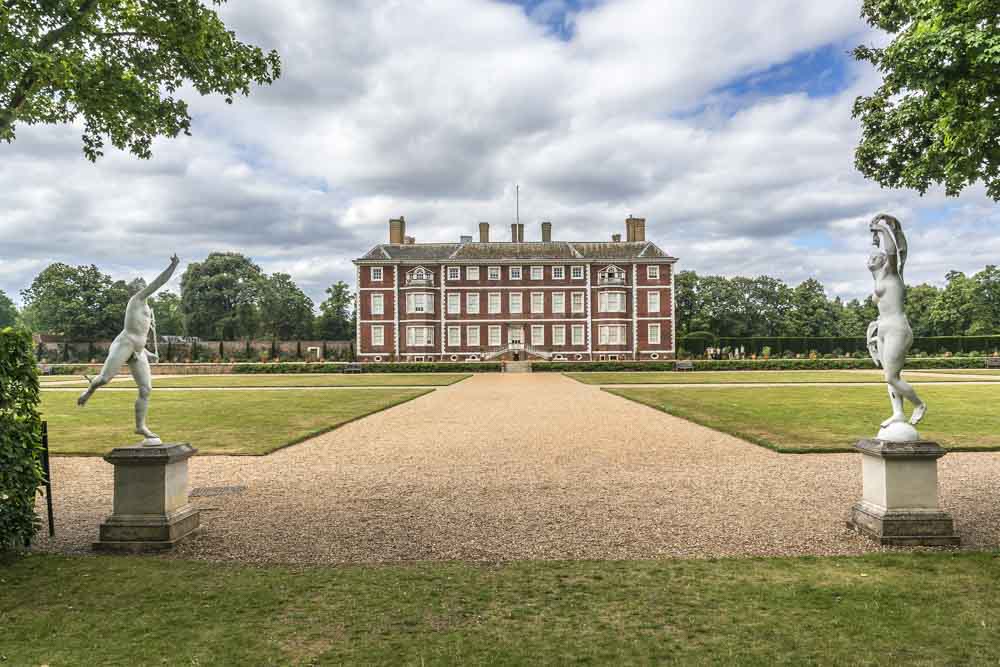 Situated on the very western fringes of London, Ham House and Garden is easily one of the most breathtaking National Trust sites in London. An opulent Stuart house and perfectly kept garden, Ham House was built by the Duke and Duchess of Lauderdale in the 17th century.
Ham House is also meant to be one of the most haunted places in Britain – If you're brave enough, see if you can sniff out the sweet Virginia pipe tobacco that the Duke used to smoke in the dining room.
Or if that sounds too spooky, opt to view the vast collection of art throughout the house, which are believed to be over 400 years old.
Address: Ham St, Ham, Richmond-upon-Thames TW10 7RS
Tickets: Tickets are £15.40 and you don't need to pre-book beforehand.
Morden Hall Park
Morden
Escape busy London life with a trip to Morden Hall Park, National Trust's leafy haven in the capital. Nature trails, outdoor theatre productions, and gorgeous floral fields await you.
The western building on the park, which was previously a snuff mill, has been completely transformed into an education centre where you can learn more about the region's agricultural history.
Once you've fully explored Morden Hall Park and the mill, head to The Stables, where you can grab a coffee and a light bite to eat.
Address: Morden Hall Road, Morden, London, SM4 5JD
Tickets: The park is free to enter.
The Homewood
Esher, Surrey
Venture just beyond London's border and you will be blessed with the architectural genius that is The Homewood. Ultra-modern in style, this house has an almost futuristic feel that completely clashes with the surroundings… but it works.
Nestled in idyllic woodland, the early 20th-century home was designed by architect Patrick Gwynne for his family and himself. Patrick was known to be totally besotted with this house (I mean just look at it, how could you not?) and he lived here from when it was completed in 1938, until he died.
Address: Portsmouth Road, Esher, Surrey, KT10 9JL
Tickets: £12 and you'll need to book in advance. You can do that here.
St John's Jerusalem
Kent
Another National Trust site near London is St John's Jerusalem in Kent, and boy, is it worth making the trip just outside of the capital for this one. This chapel is the only remaining structure of the Knights Hospitallers – a catholic military order formed in 1113.
The house opposite (which sadly, you can't enter) is believed to have been the residence of the Knights during the time the order was active. There's also a small but perfectly formed garden where you can sit and reflect towards the back of the chapel.
Address: Sutton-at-Hone, Dartford, Kent, DA4 9HQ
Tickets: The chapel is free to enter
Osterley House
Ealing
One of the finest examples of the grand English country house near London, Osterley House is well worth a day's visit. The expedition can be thought of as two parts. The first would be a tour of the house itself.
Built in the 1570s and added to over the centuries, the property originally belongs to Thomas Gresham, the man who founded The London Exchange. Since then it's been passed through generations of earls until it became a National Trust property in 1991.
The house is a sprawling network of drawing rooms, galleries and grand spaces, all hung with art and tapestries from throughout the ages. It's really something to look at and has been kept in excellent condition.
Once you're done perusing that, head out for the second part of the day: a stroll around Osterley House's expansive gardens. They're so big that they're often referred to as a park, and full of ponds and lovely paths that cut through the treelines and flowerbeds making it a perfect place to stretch the legs.
Address: Osterley House, Jersey Rd, Isleworth TW7 4RB
Tickets: £14 for garden and house entry, though there are more options. Check them all here.
Claremont Landscape Garden
Surrey
This expansive garden is one of the finest examples of an English landscape garden you can find in the country. That's in part due to the excellent job of preserving the place that's been done over the years and also because it serves as a great view into how the practice has evolved over the centuries.
Parts of Claremont date back to the 18th century, a time when the country house and grounds were the height of sophistication. It's truly beautiful. Take a picnic, spend a day walking about, you can't go wrong.
You can also time this trip with the nearby Homewood property mentioned above to squeeze in an extra site.
Address: Portsmouth Rd, Esher KT10 9JG
Tickets: £12
Practical Tips and Map for Visiting London's National Trust Sites
Whilst you don't need to be a member of The National Trust to enjoy these beautiful sites, membership does mean you get free access into the properties mentioned in this guide (and you get to support a well-worthy cause!). There are a number of memberships available, so check which one suits you here.
These sites make for a cheap but fun family day out. To make the most of it, bring a picnic and your comfiest shoes, and prepare to spend an afternoon exploring.
Make sure to check the National Trust website before turning up at any of these sites, as places will close for refurbishment often.